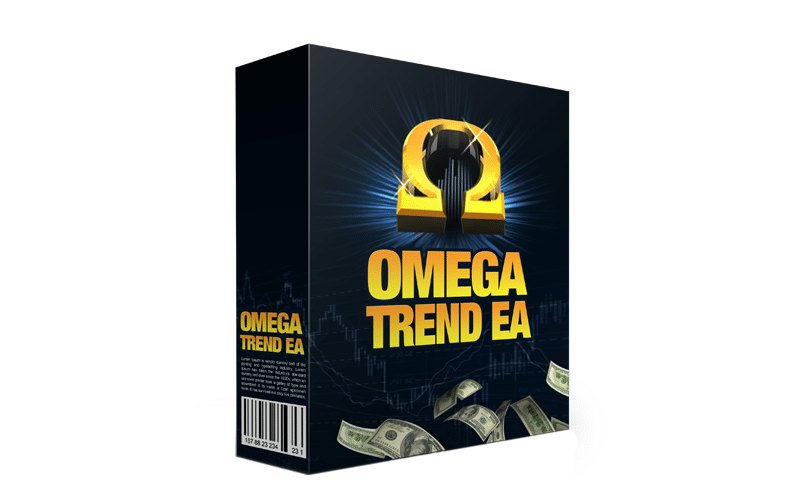 Omega Trend EA is an EA that was published by FXAutomater. The presentation looks extended and well-written. The devs inform us that the system is ready for 2021 market conditions. Let's check if it's true.
Is investing in Omega Trend EA a good decision?
We don't think so. The system has been going down for a significant period. The advisor must be updated to keep using it.
Company profile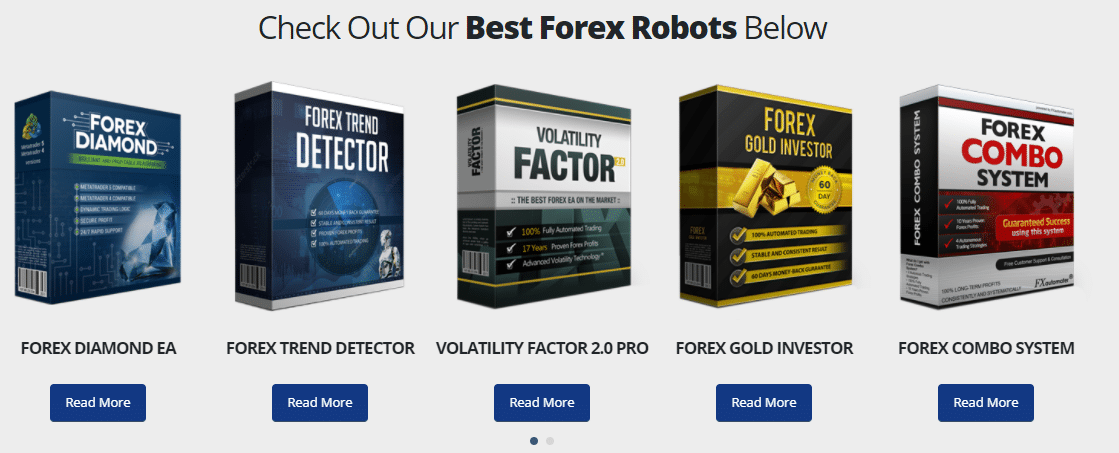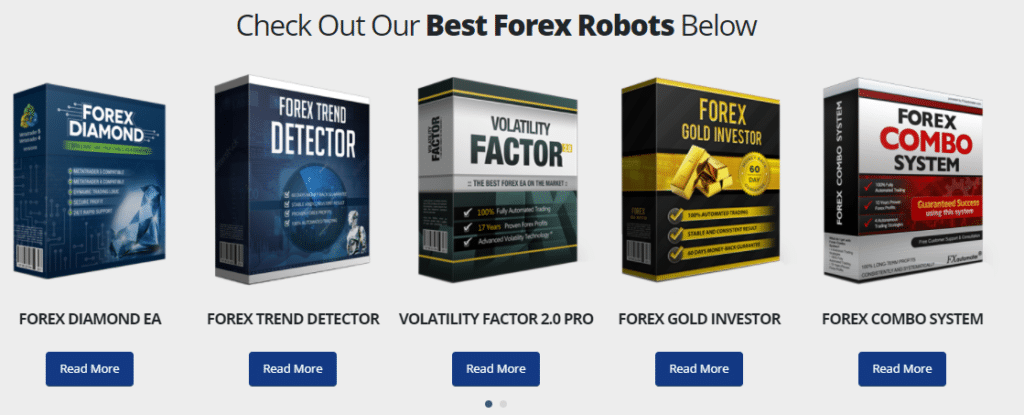 There are many products in the portfolio of the FXAutomater team: Forex Diamond, Forex Combo System, Volatility Factor 2.0, and many others. All of them are available for purchase on the dev's website.
Main features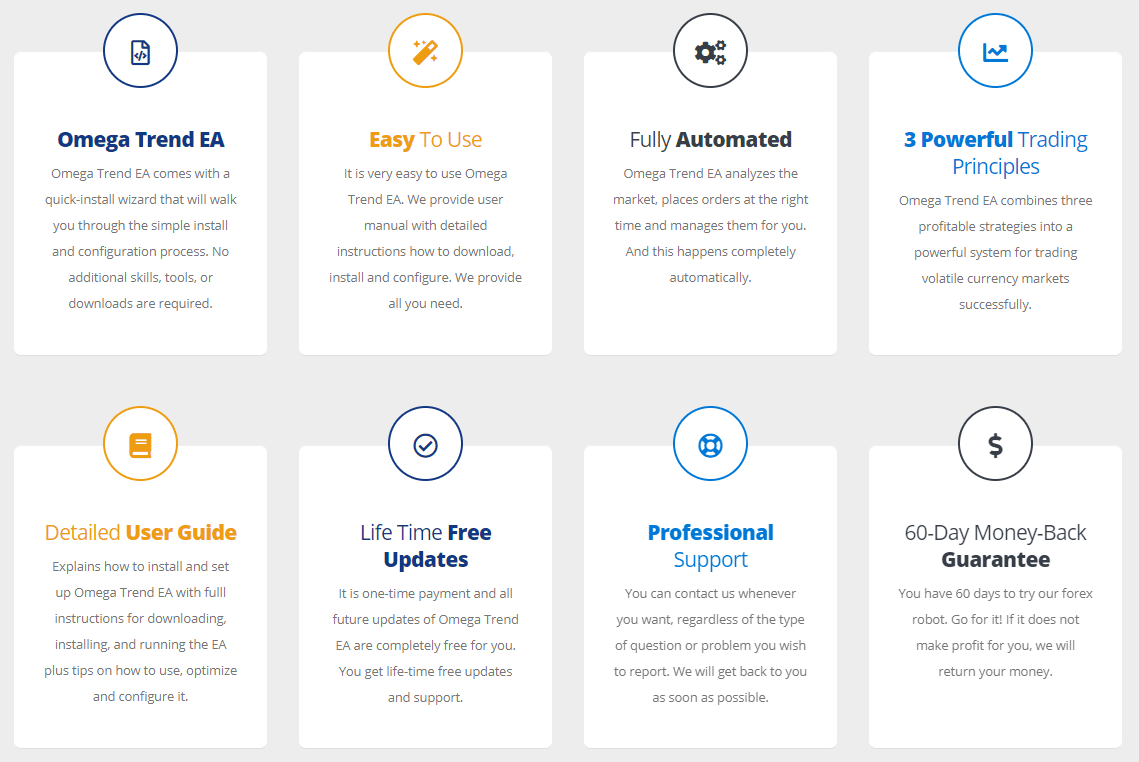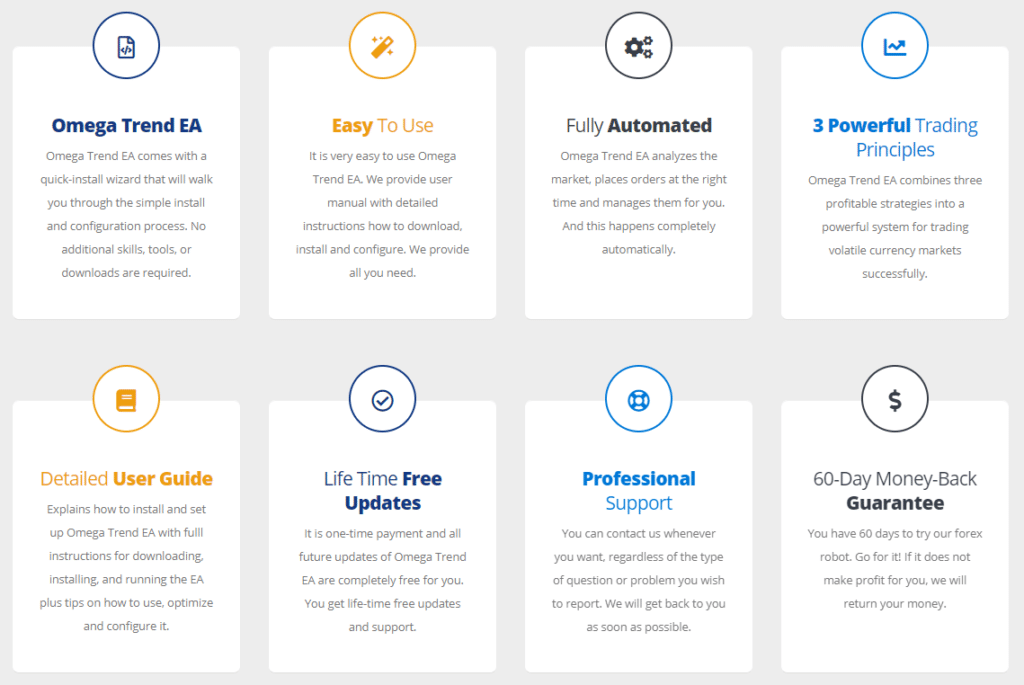 We have plenty of information.
The system was designed to trade for us fully automatically.
It works with various indicators to find the best entry points.
Omega Trend EA has two trend indicators tied to specific strategies.
It uses dynamic Entry and Exit points.
We have to work in the H1 time frame.
It supports currency pairs like GBPUSD, EURUSD, and EURJPY.
The default pair is EURUSD.
The robot works only on the MT4.
Omega Trend EA will work on any broker with 4 or 5 digits price quotes. It is not necessary to change any parameters for 5 digits price quotes.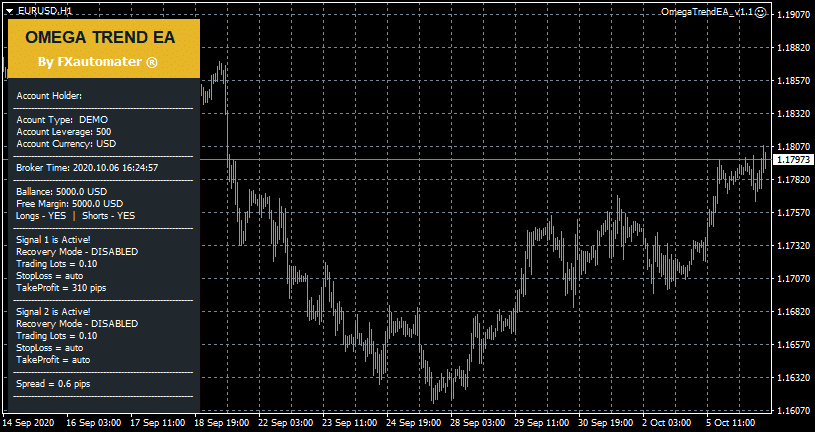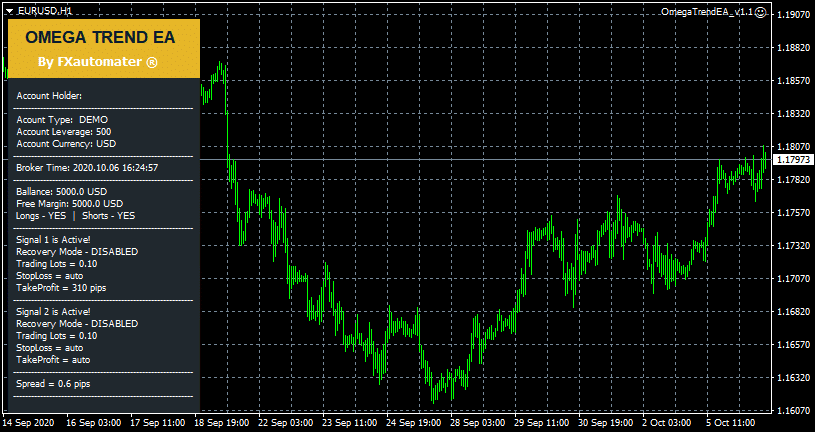 The system has big data shown when it's attached to the chart.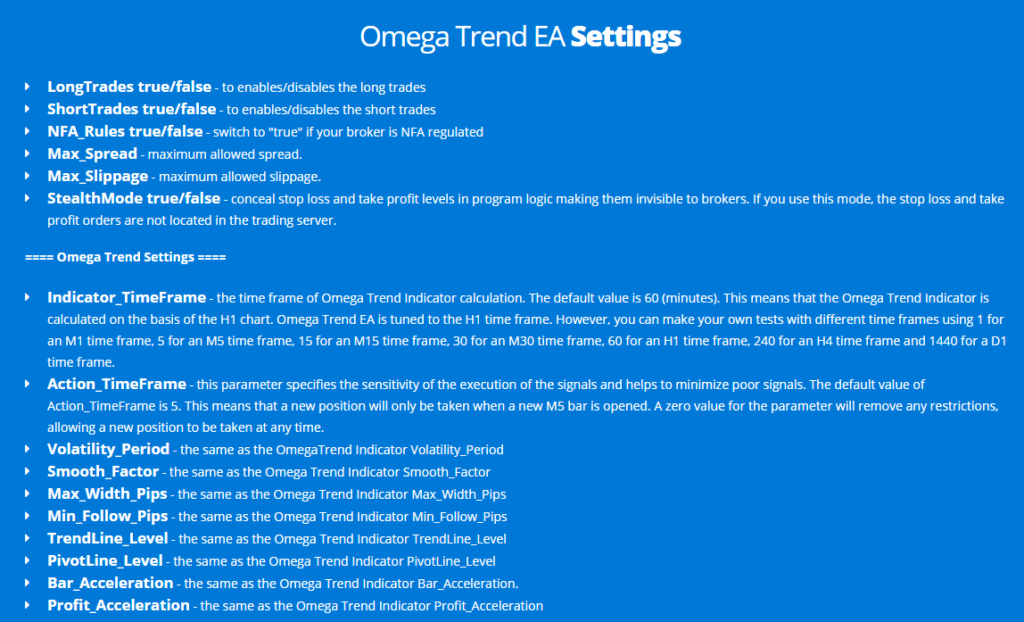 There's a settings list to check.
The system has a money-management feature that cares about drawdowns.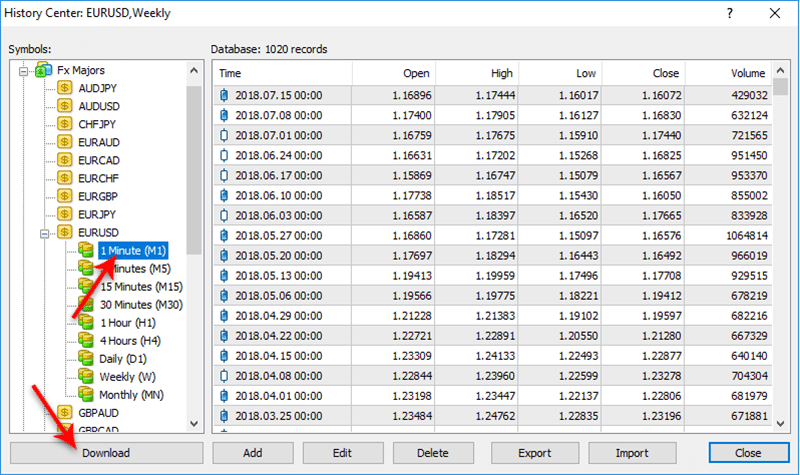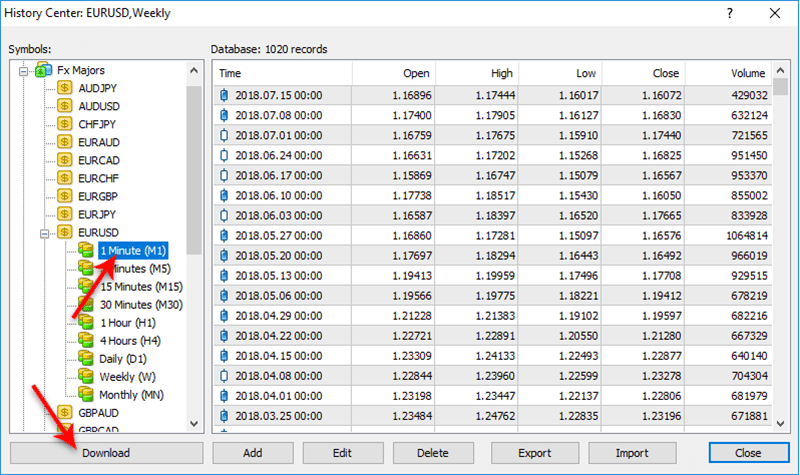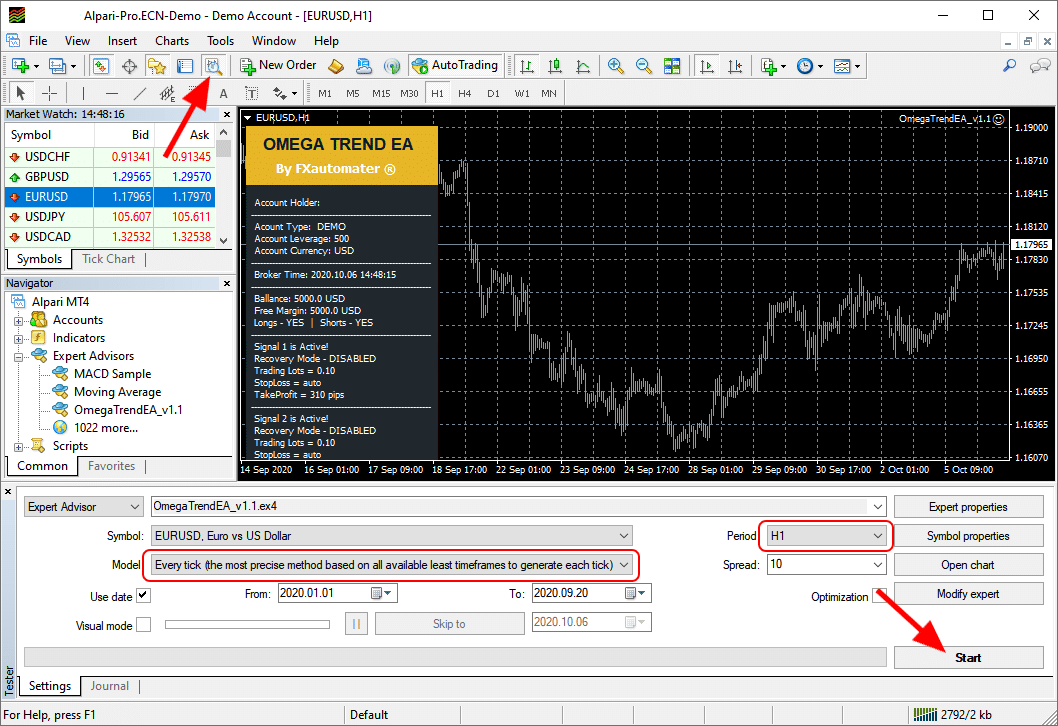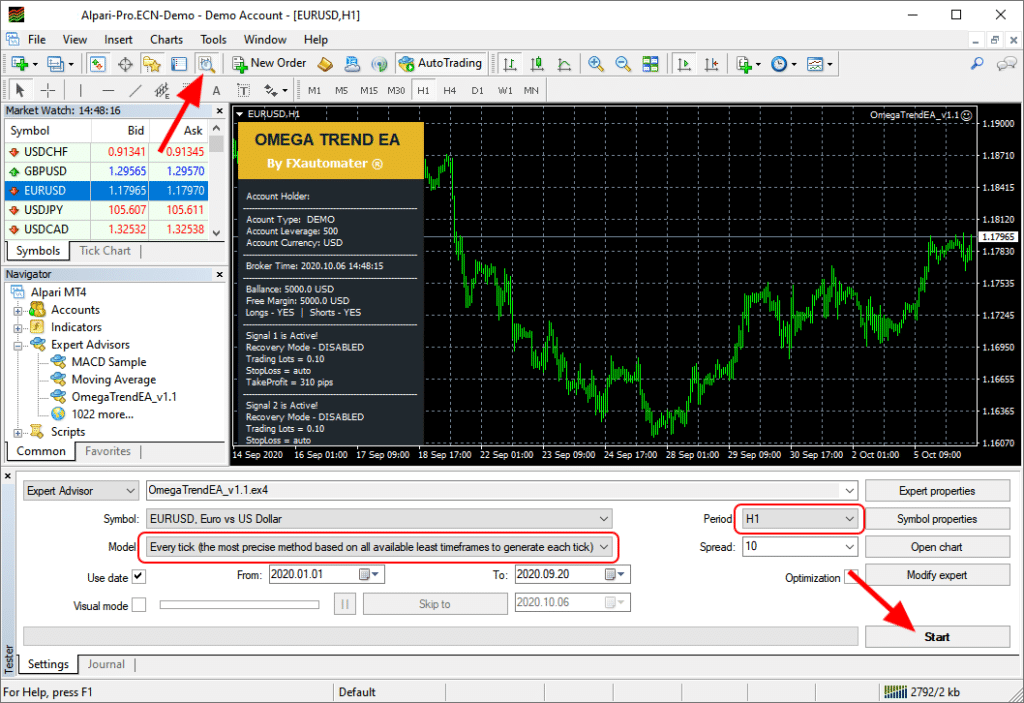 We may see how to start a backtest.


The devs provide settings for trading other pairs.
Price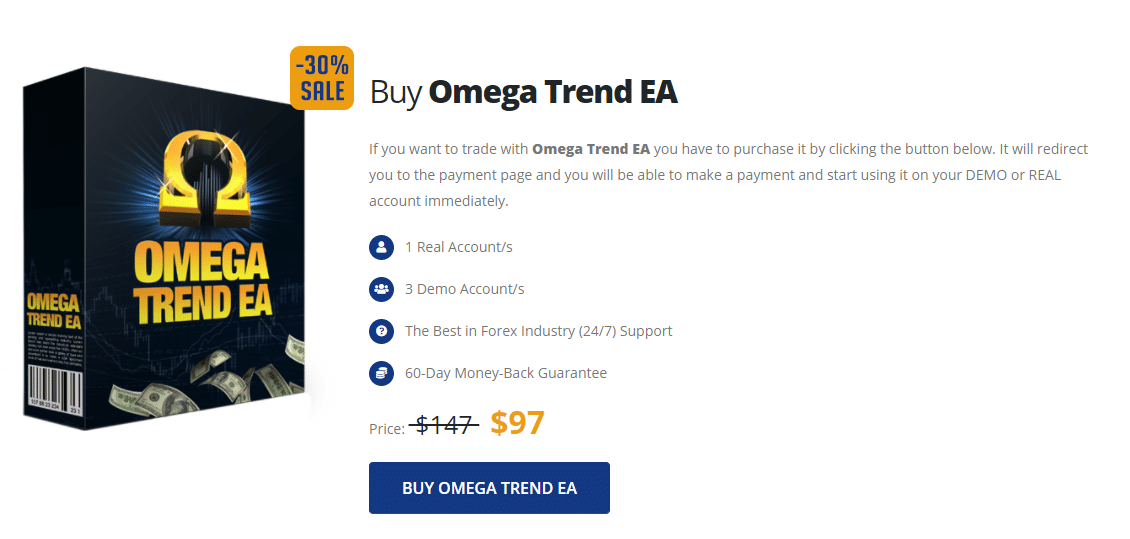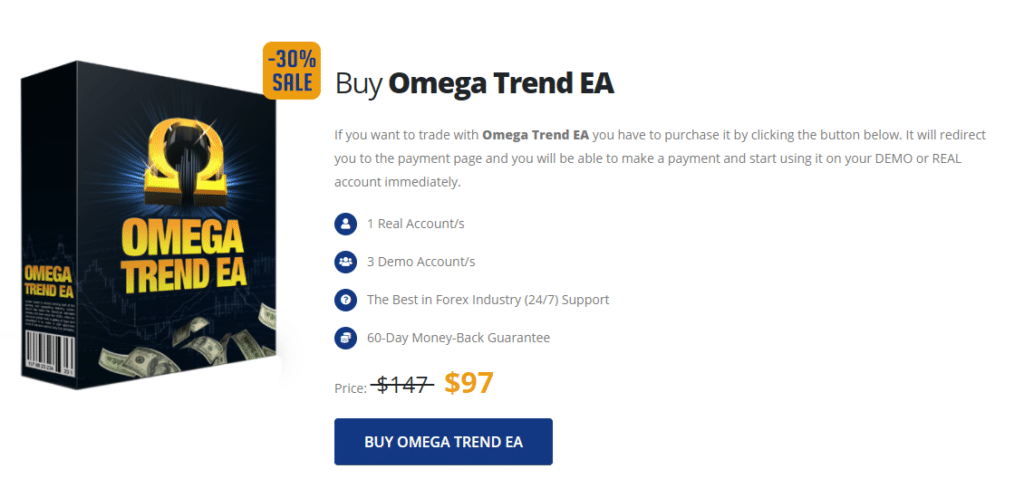 The system still has a 30% sale. It takes years. The final price is $97 instead of $147. The pack includes one real and three demo account licenses, the best in Forex industry support, and a 60-day money-back guarantee.
Trading results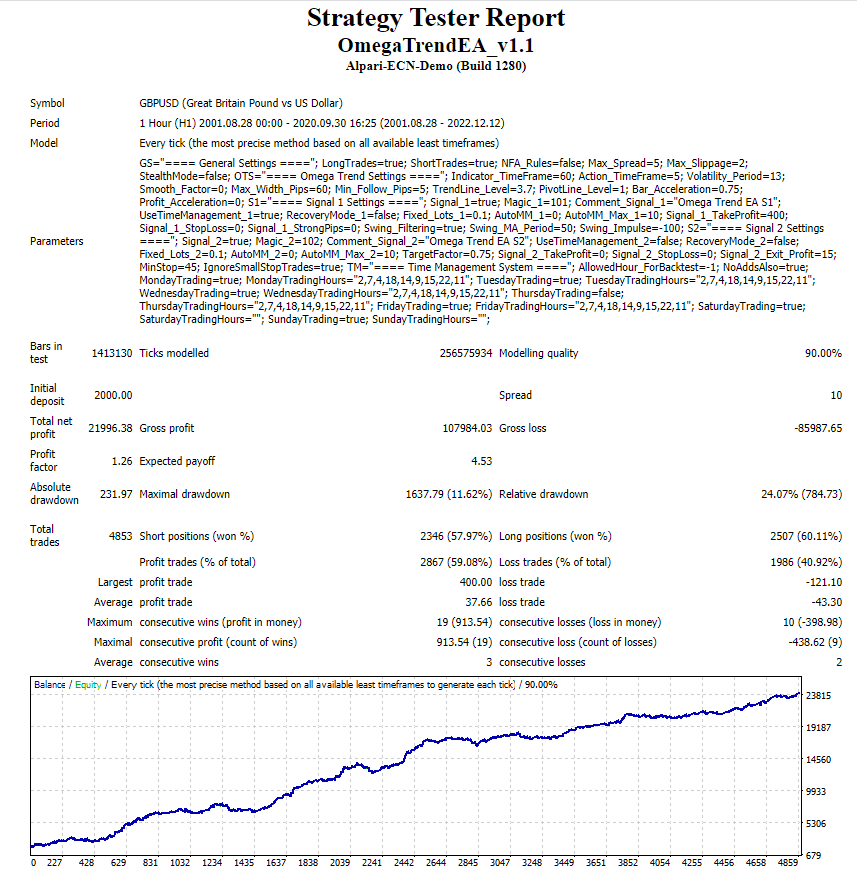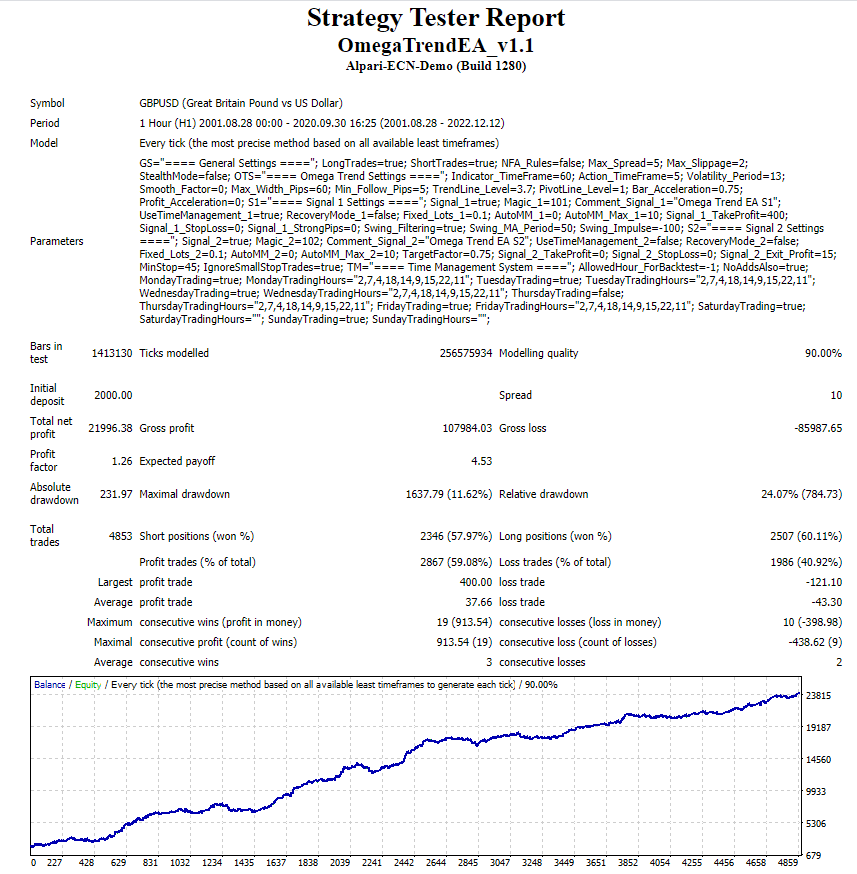 There's a GBPUSD backtest on the H1 time frame based on 19-year tick data. The modeling quality was 90.00% with 10 pips spreads. An initial deposit was $2000. The total net profit has become $21,996. The system has executed 4853 deals. The maximal drawdown is 11.62%. The accuracy rate was 57.97% for shorts and 60.11% for longs.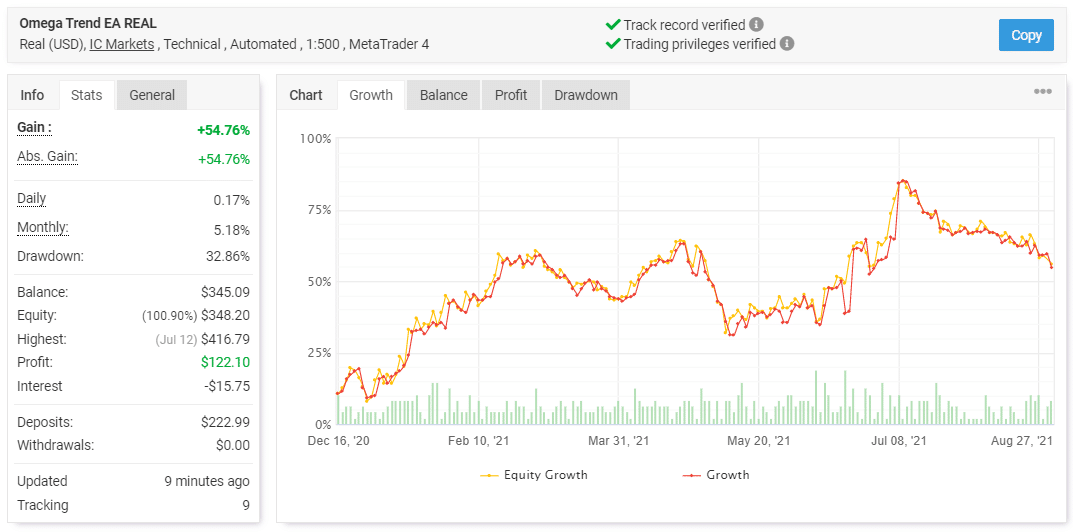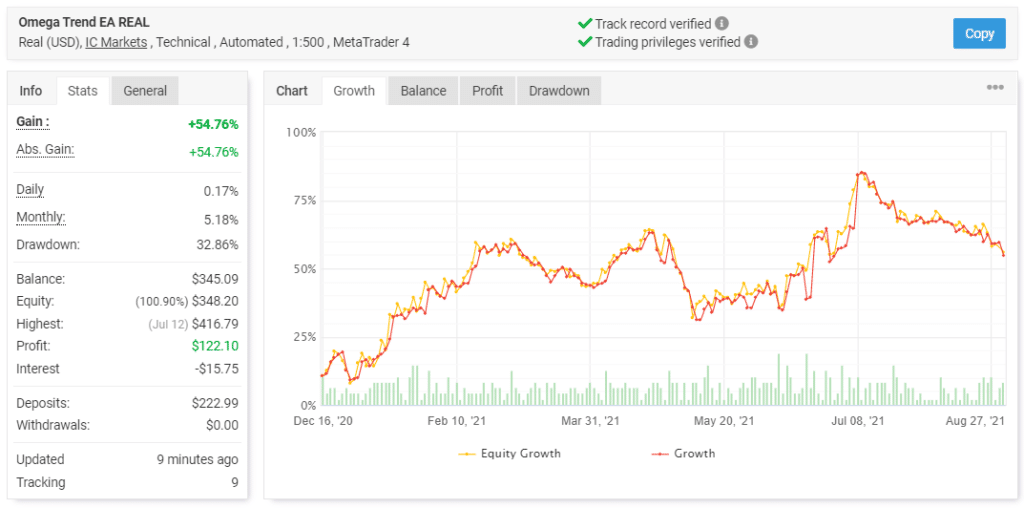 The robot still works on a real USD account on IC Markets automatically with 1:500 leverage on the MT4 platform. The account has both track records. It was created on December 16, 2020, and deposited at $222.99. Since then, the absolute gain has become 54.76%. An average monthly gain is 5.18%. The maximum drawdown is 32.86%. The trading results are tracked by nine traders.


The robot has executed 479 orders with 1152.4 pips. An average win is 22.35 pips when an average loss is -28.19 pips. The accuracy is 61% for longs and 59% for shorts. An average trade length is 21 hours 36 minutes. The profit factor is 1.19.


EURUSD is lost – $21.37. GBPUSD provides $104.29 of the profits.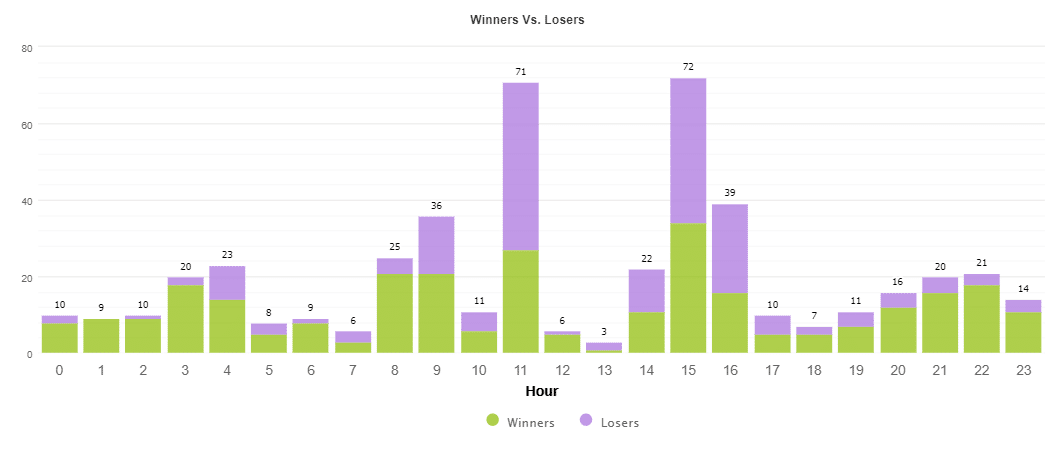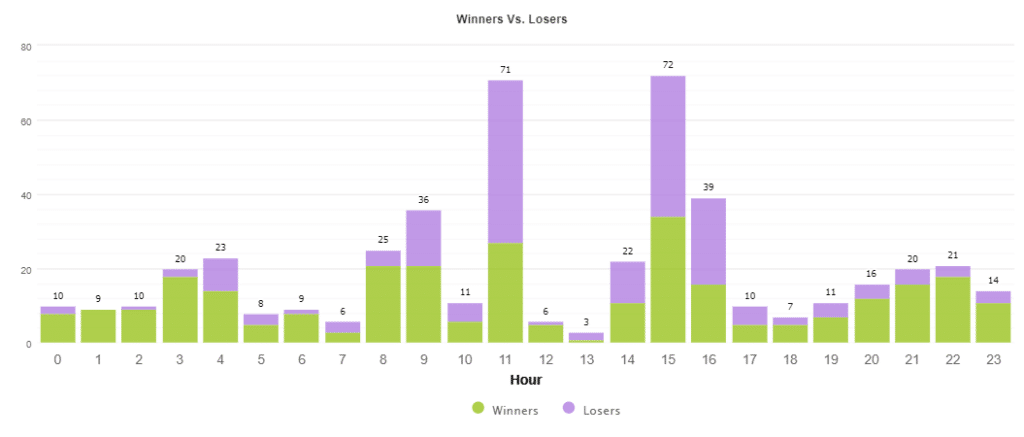 The robot trades during European trading hours.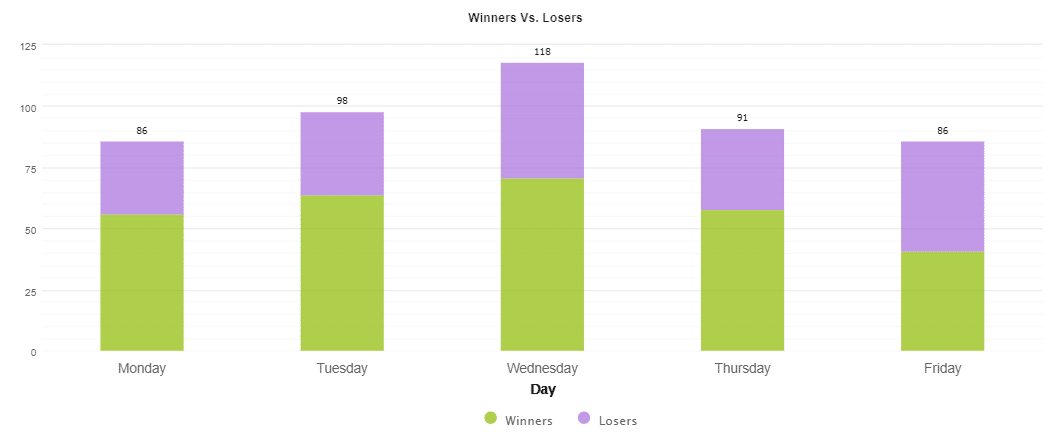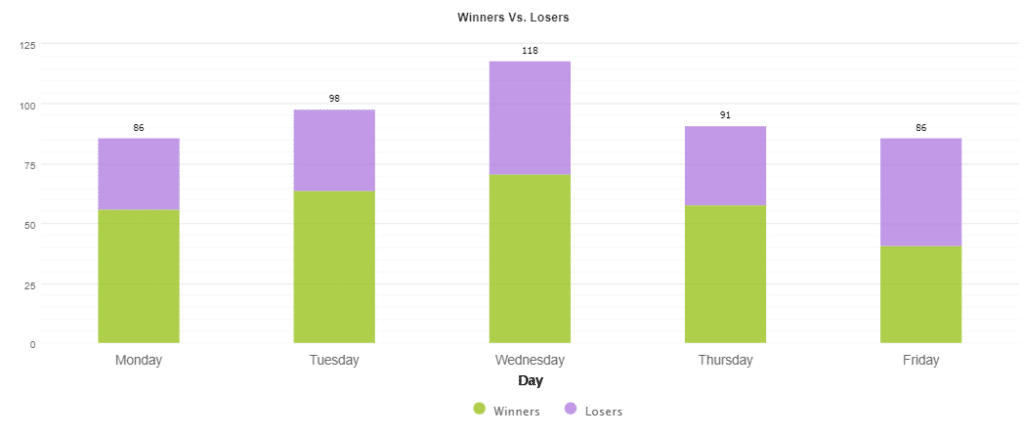 It works equally during the week.


It works with significant drawdowns.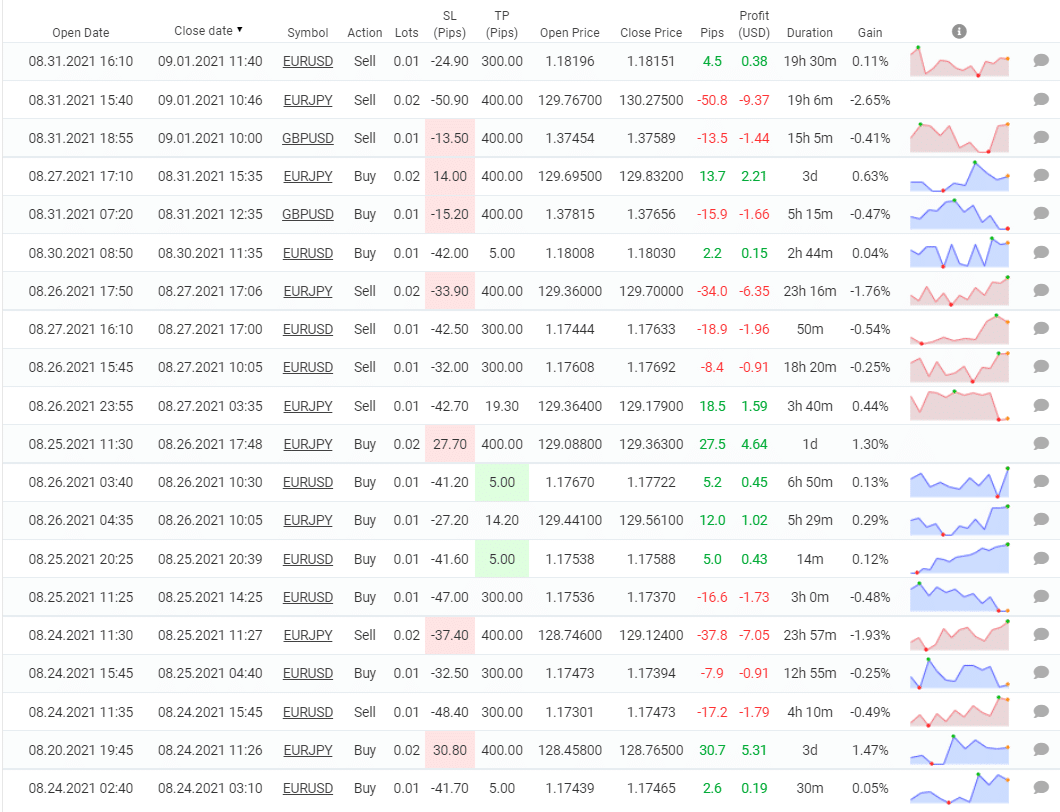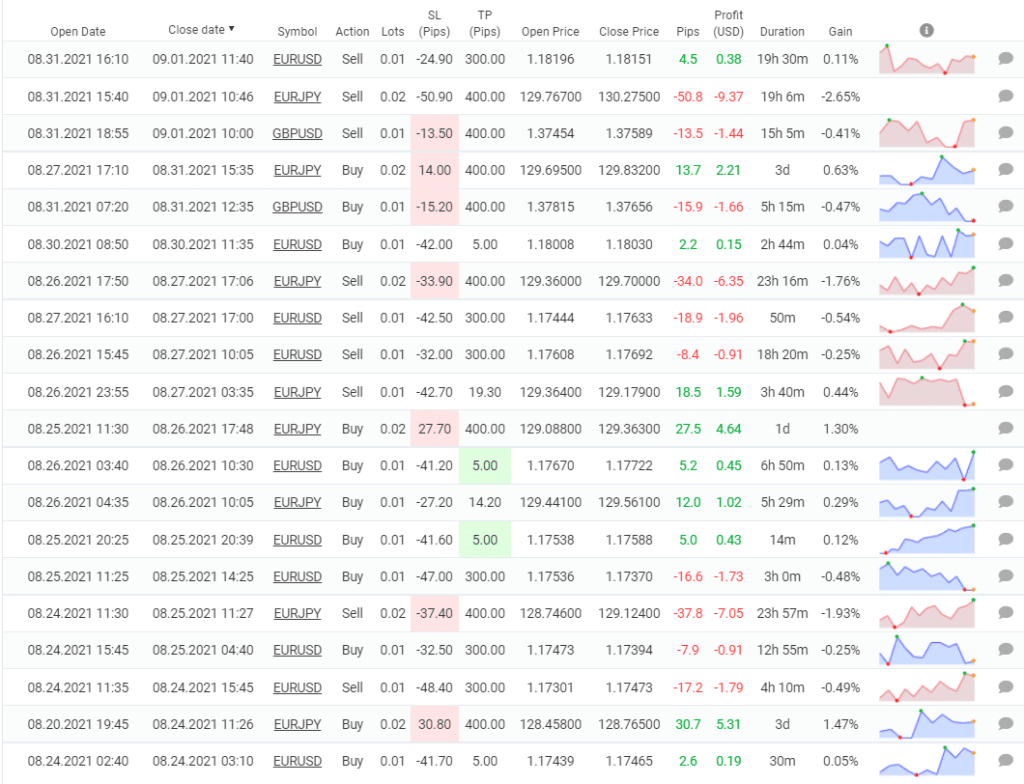 The robot uses trailing features to close orders with profits.


The system lost August 2021, and it is slowly going to lose September 2021.
People feedback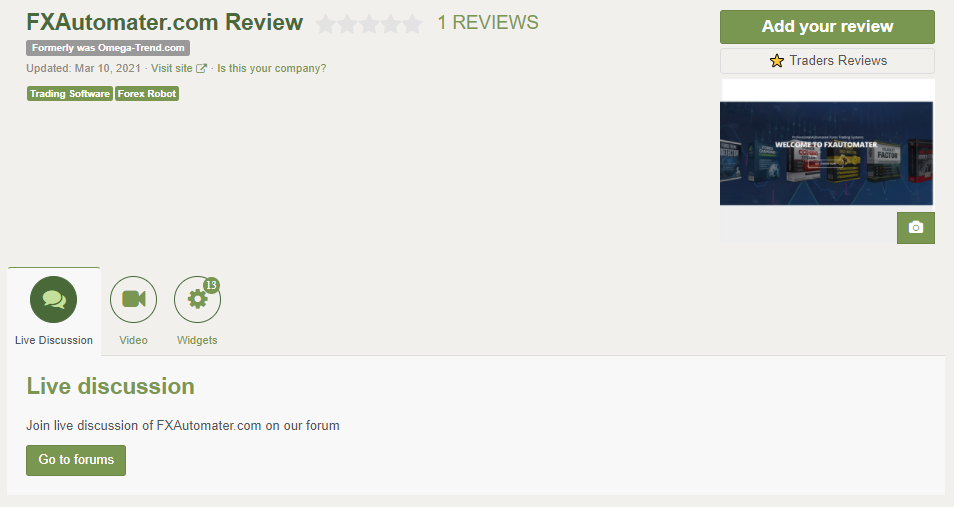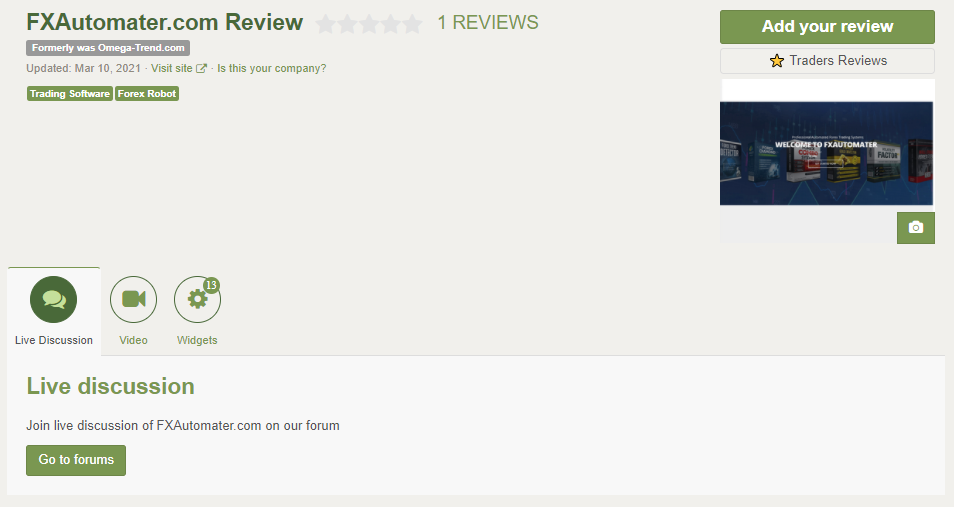 The robot has its own page on Forex Peace Army.


We have a single comment published. We can't be sure it's a real one because it's faceless.
Summing up
Omega Trend EA is a trading solution that slowly agonizes on a low deposited real account. The developers don't care about its updating. Now, it's not a time to give it a try. We'd like to see what actions the developers will do.