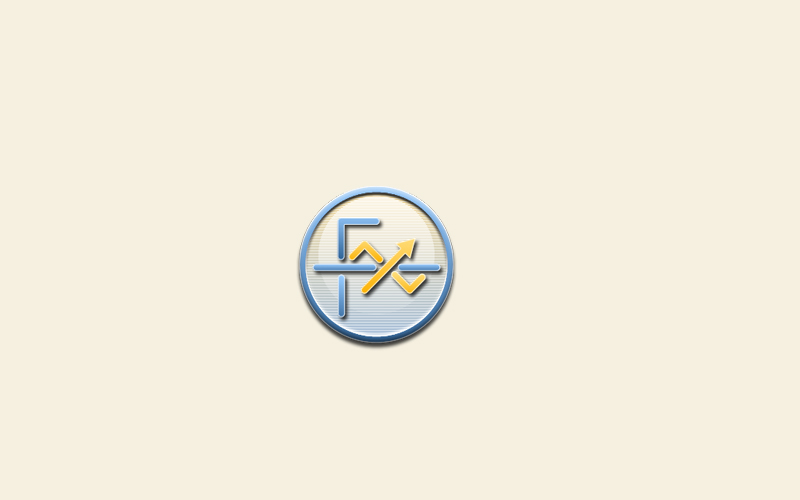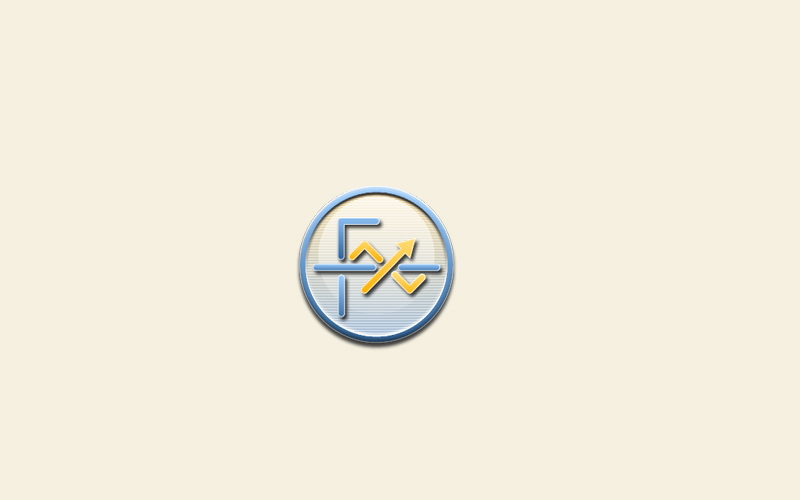 Today's review will be about Profit Forex Signals. This company, as we could see from its name, focuses on providing a signal service. From the promo, we know that it's The Best Signals Ever. The video explains to us the key robot's features.


Is Investing in Profit Forex Signals a Good Decision?
The developers didn't provide backtest reports. So, we can't be sure that the system is well-tested and can be a safe solution for our account.
Vendor Transparency
The company has a good level of transparency in general. There are trading results with almost all info revealed. There's a photo of the developer and it matches with the photo on his LinkedIn profile. Few devs reveal their LinkedIn profiles.
Main Features

Most likely, the main strategy works on trading an upcoming trend after the market breaks out the support or resistance line.
The win-rate is up to 90%.

The developers have 10+ years of Forex-related experience.
The robot has generated over one million pips since the beginning.
We can expect to get over 9000 pips monthly. It doesn't sound trustworthy.
The signals can provide 300% of the ROI level.
The signals format is only: Entry Price, Stop Loss, and one Take Profit level.
The robot sets SL levels at 35 pips.
They're delivered via SMS, email, and trade copier.
All signals are pending orders. So, we have enough time to execute them.
The company provides 24/7 support.

It's a pity that they didn't share other services they've used to compare.
The developers mentioned that we're safe, and the system has never lost three deals in a row.
We can use the free trade-copying software that the developers provided.
There's a free VPS service.
The company can help us with money management via the support desk.

As we can see from myfxbook widgets, it's one big Martingale madness.


The company has an award from someone.
Price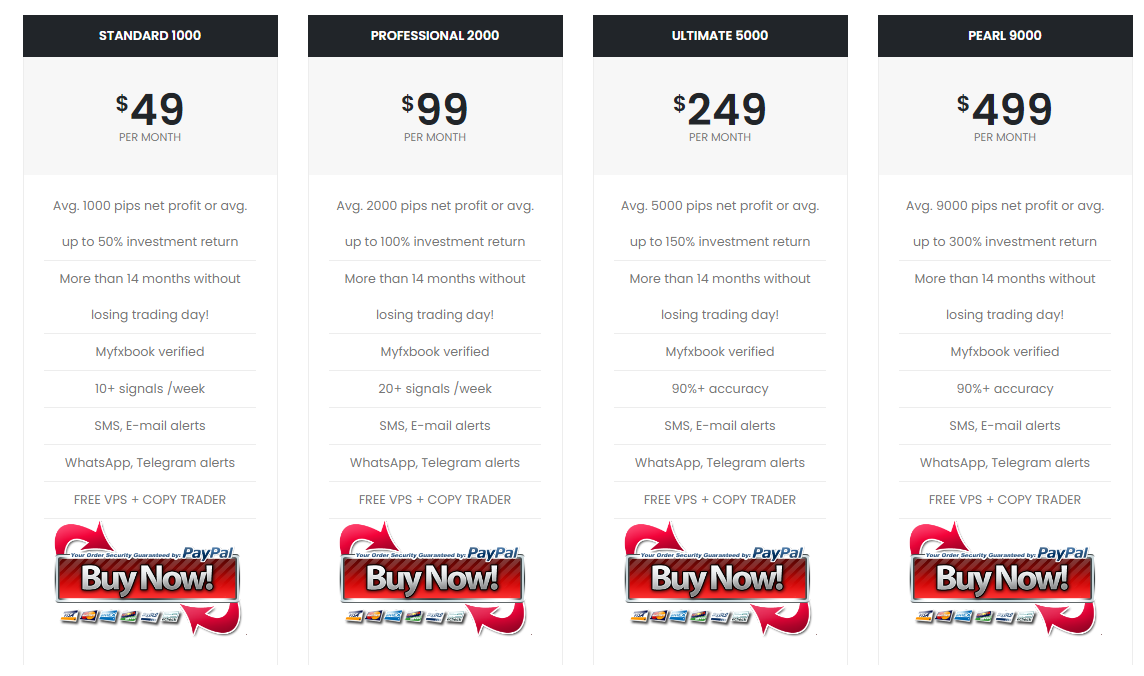 There are four packages: Standard 1000, Professional 2000, Ultimate 5000, and Pearl 9000. The standard package costs $49 monthly. We can expect to get 10+ signals weekly at 1000 pips. The Professional pack costs $99 monthly and includes 20+signals weekly and 2000 pips. The Ultimate pack costs $249 monthly – 5000 pips. The Pearl pack costs $499 monthly – 9000 pips monthly. The last two packs' signals win-rate is 90%. There are alerts from Whatsapp and Telegram as well. All packs include, in addition, a VPS service and copy-trader.
Trading Results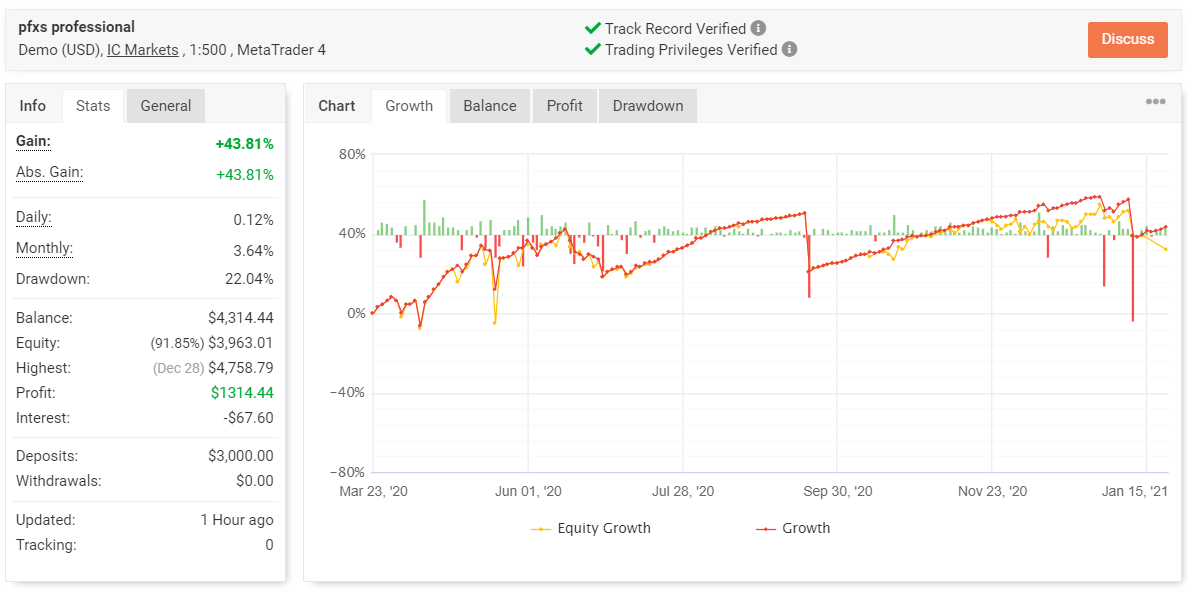 The robot runs a demo USD account. The chosen broker is IC Markets. Leverage was set at 1:500. A system works on the MT4. The account was created on March 23, 2020, and has a verified track record. It was deposited at $3000. The absolute gain is +43.81%. An average monthly gain is +3.64%. The maximum drawdown is 22.04. No one tracks this account.

The system has closed 1624 trades with only 1849 pips. An average winning trade is 11.98 pips. An average loss trade is -22.55 pips. The win-rate is 69% for the BUY direction and 67% for the SELL direction. An average trade length is seven hours. The Profit Factor is low – 1.11.

The robot mostly focuses on trading EUR/USD – 1304 deals and $1829 of the profits.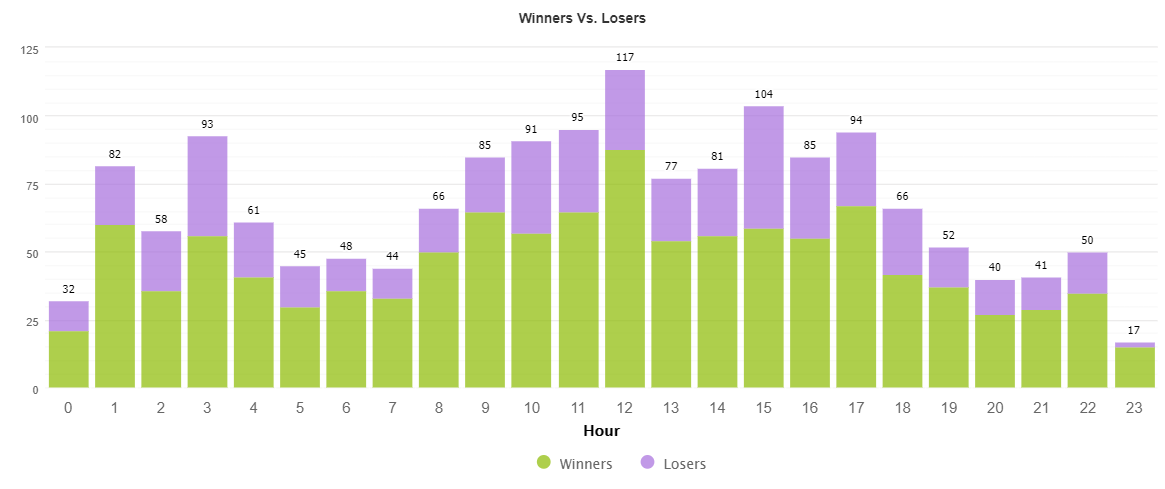 It opens trades mostly during the European trading session.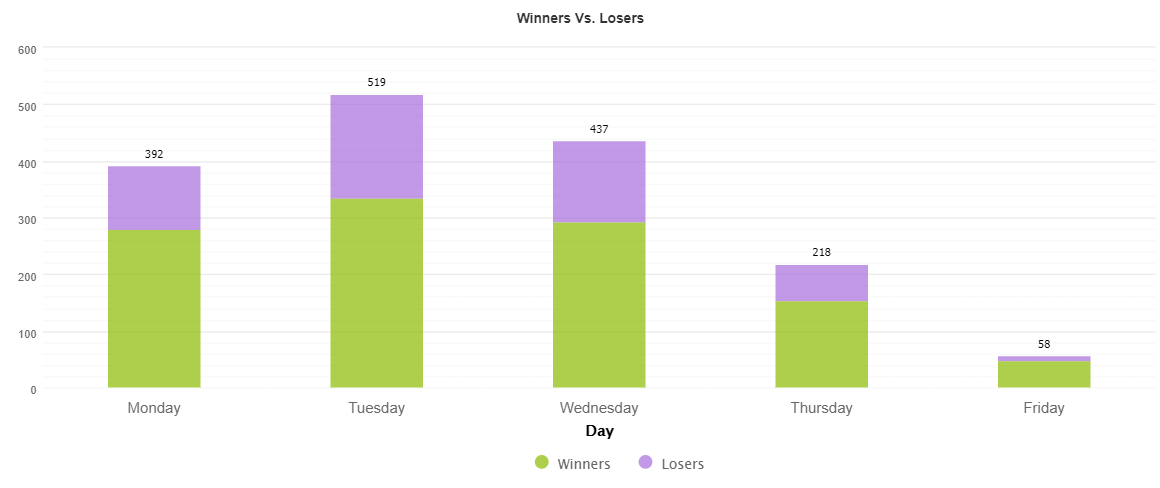 The most actively traded days are Tuesday – 519 deals and Wednesday – 437 deals.

It works with high risks to the account balance. There's a 43.07% chance of losing 10% of the account.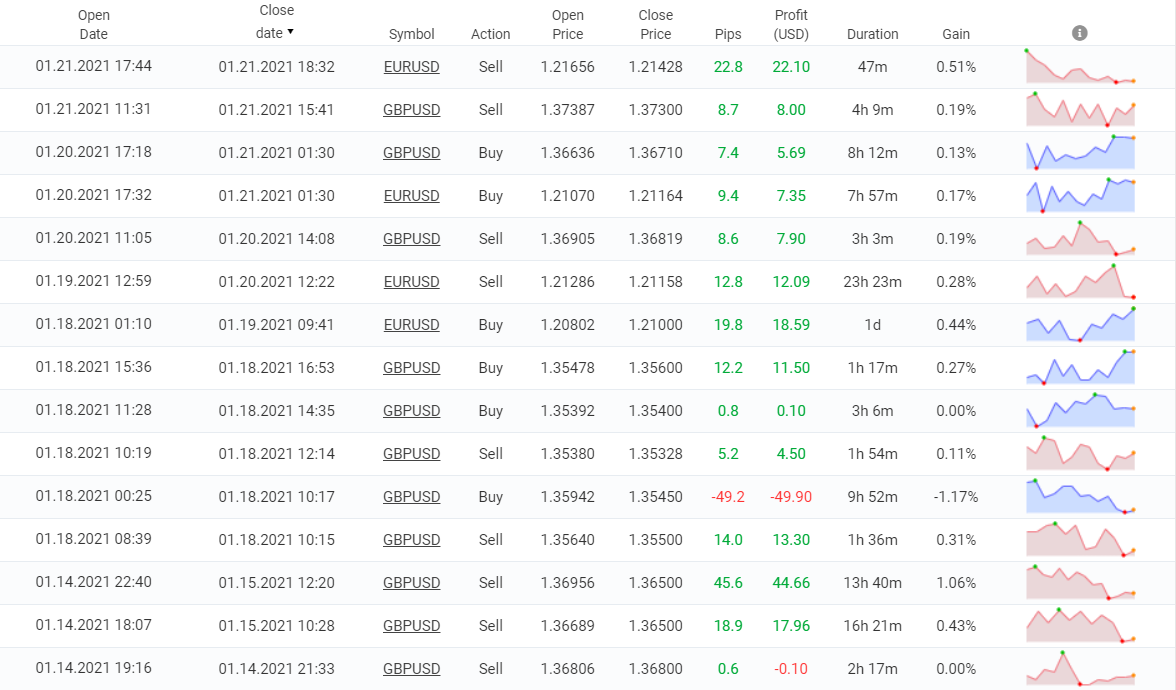 As we can see, there's a significant loss among little profits.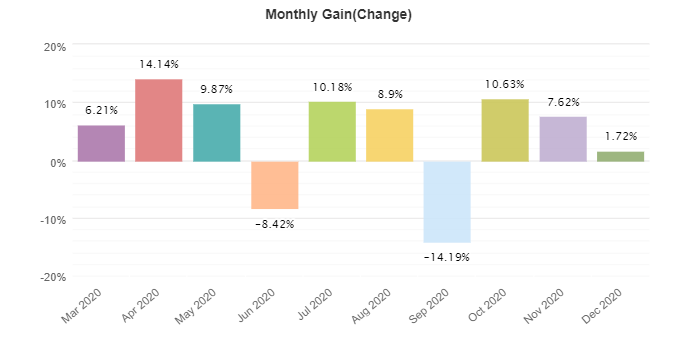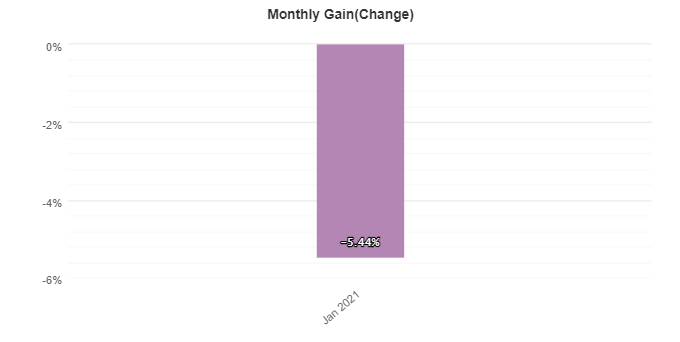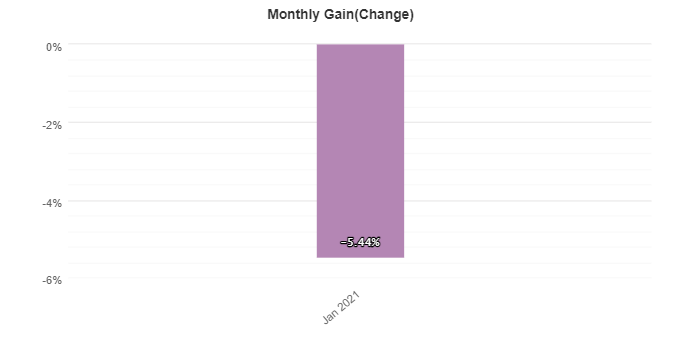 The robot and its signals have never been safe for an account balance. Trading results of January 2021 are far from being good.
People feedback

The company owner and CEO is Nino. Highly likely, he's a real person. The main trader Anna doesn't have profile links and probably was set here because of the diversity requirements.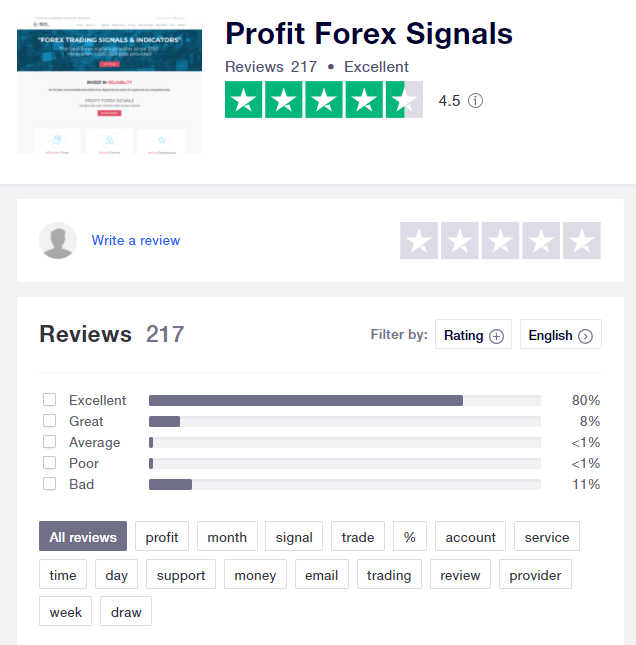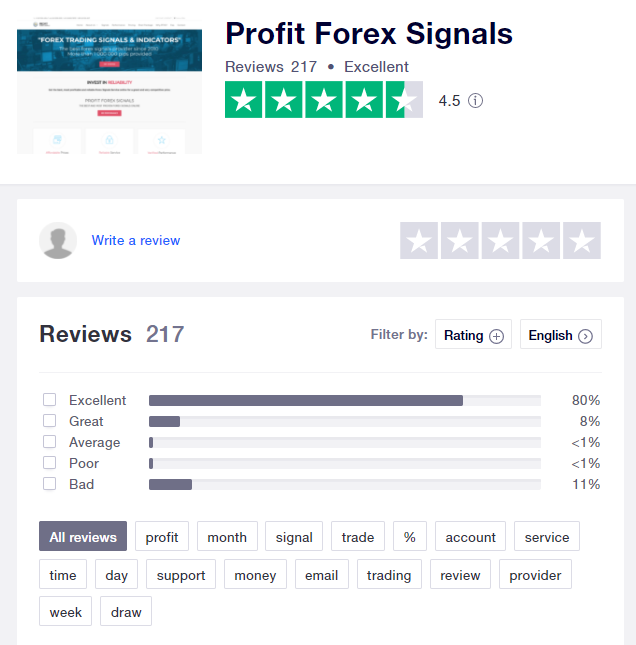 The company has a page on Trustpilot with a 4.5 rate based on 217 reviews.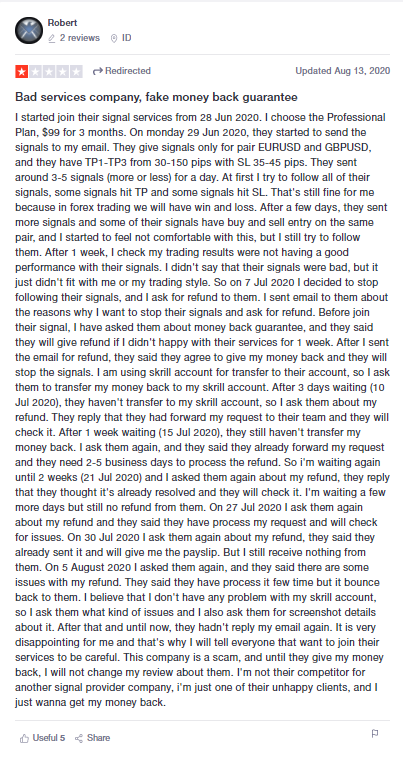 As we can see, there's much angry feedback that's liked by many people.
Summing Up
Strategy – score (1/10)
Functionality & Features  – score (6/10)
Trading Results – score (2/10)
Reliability – score (2/10)
Pricing – score (1/10)
Conclusion
Profit Forex Signals is a weird service. The vendor mentioned that it's possible to make up to 9000 (10000) pips of the profit monthly, but for ten months of trading, the EA could provide only 1849 pips. So, it looks like a scam. As soon as we compare numbers, trustworthiness is gone. Pricing is sky-high even with a VPS service on the board, compared to other similar services where signals cost $30-$40.