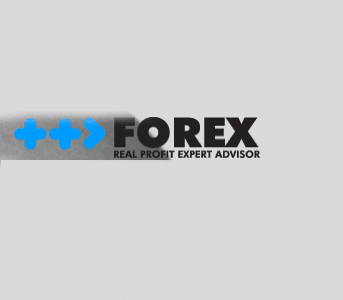 What do we know about Real Profit EA?
The main page of the presentation tells us that the devs work for years (2009-2020). The robot is introduced like an EA that 3rd part verified for 9 years and it's the most reliable forex robot ever built.
Details of the robot's performance:
Fully-automated trading
The main currency pair is EUR/USD
EA operates with any broker, ECN includes
Dynamic stop-loss and take-profit features
Invisible mode to prevent the non-ECN brokers from influencing the transactions negatively
News filter
Money management system
Protection from large spread and slippage
Operates with 4 and 5 digits after the decimal point
Operates with micro lots
The EA doesn't use martingale or recovery mode
NFA compliance filter
Automatic GMT adjustment of the trading time
It can be used with other robots
No restriction about the amount of deposit
Applied strategies and backtests
The robot runs six various patterns: two of them focus on scalping during the Asian market session, one is for scalping trends all day, and three breakout strategies which run all day.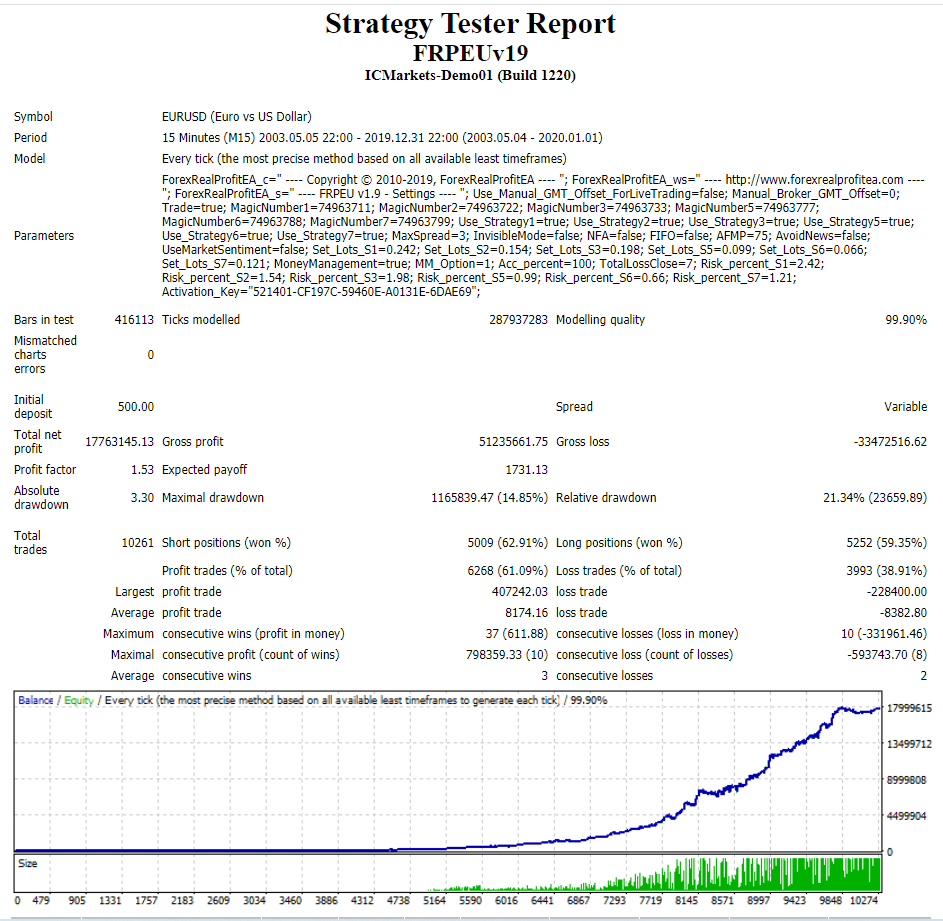 As we can see from the backtests, several last years were the period when a robot couldn't provide the profit, but a backtest shows that with $500 of the deposit we could reach $17.7M profit.
Myfxbook verified trading results
There are provided three accounts.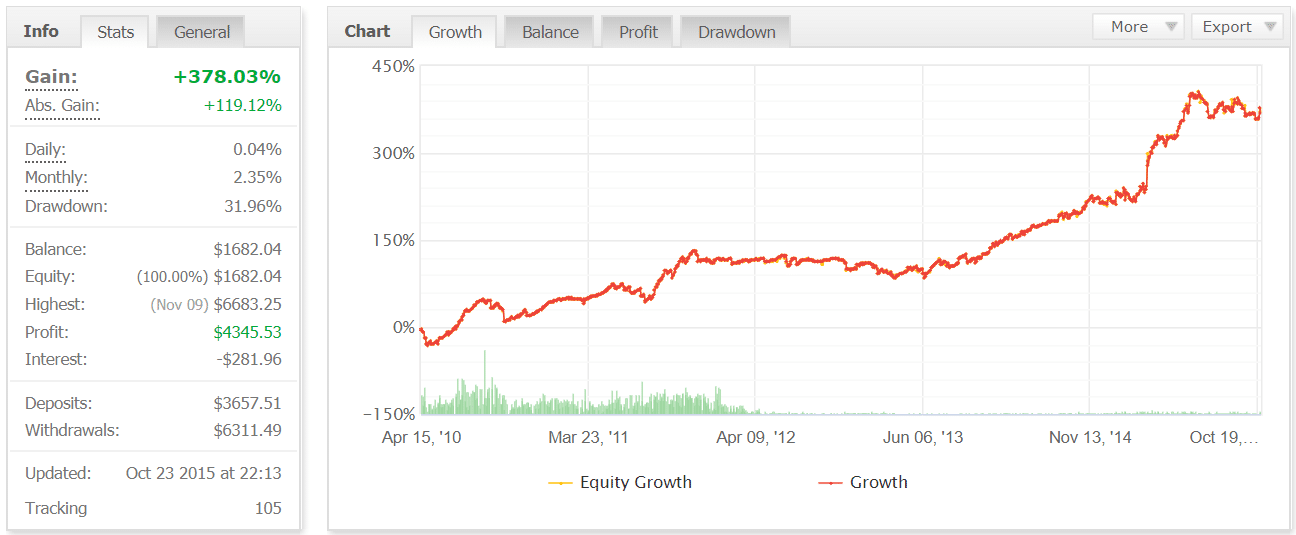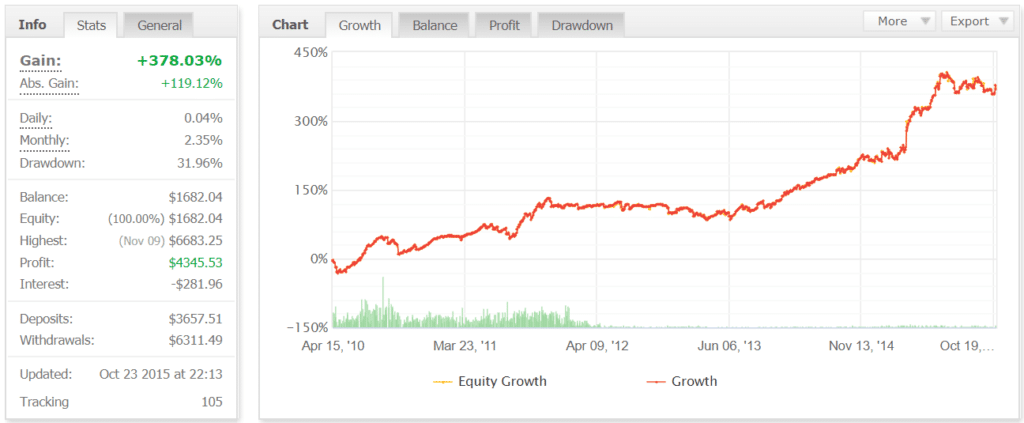 One of them been stopped and withdrawn about five years ago.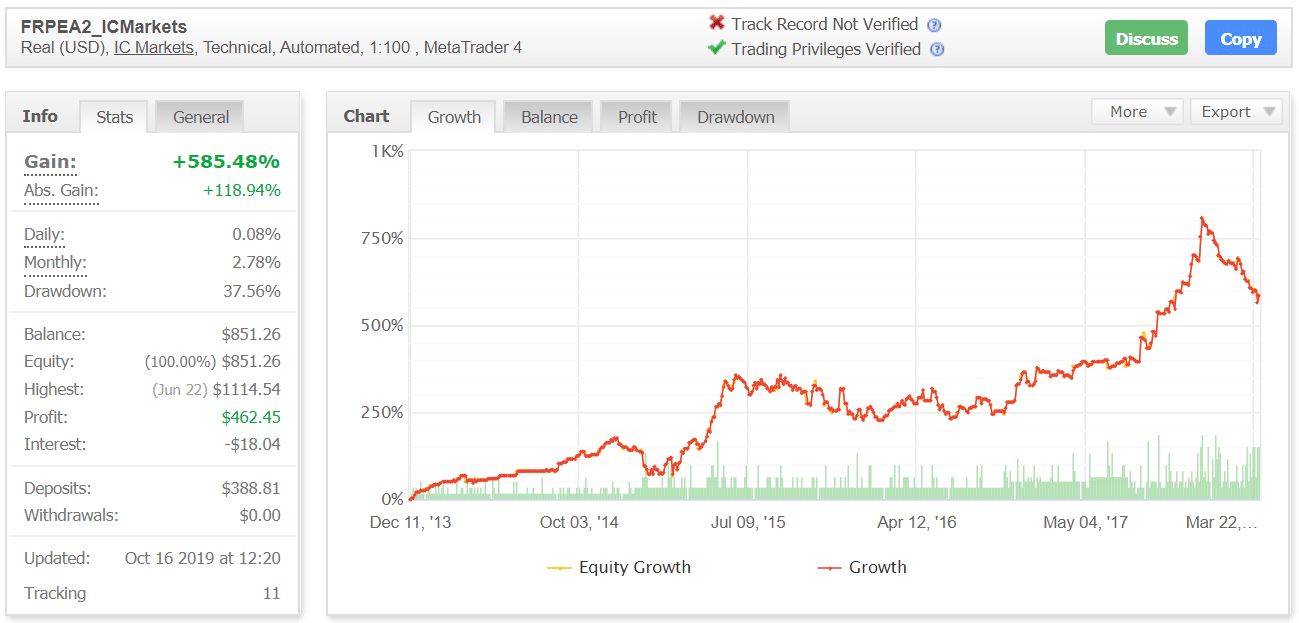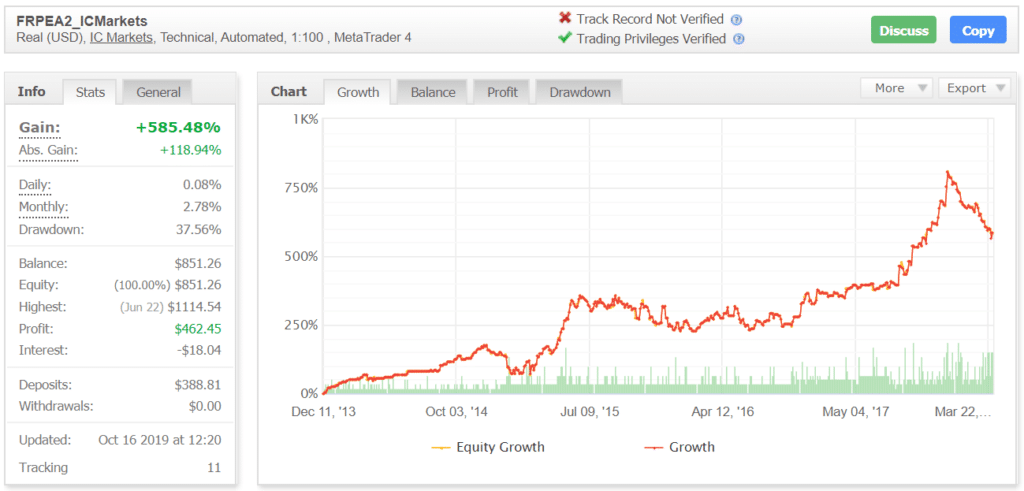 This one, after one year of consistent losses, has been stopped in September 2019. Lol. 2.78% of the monthly gain with a 37.56% level of the drawdown.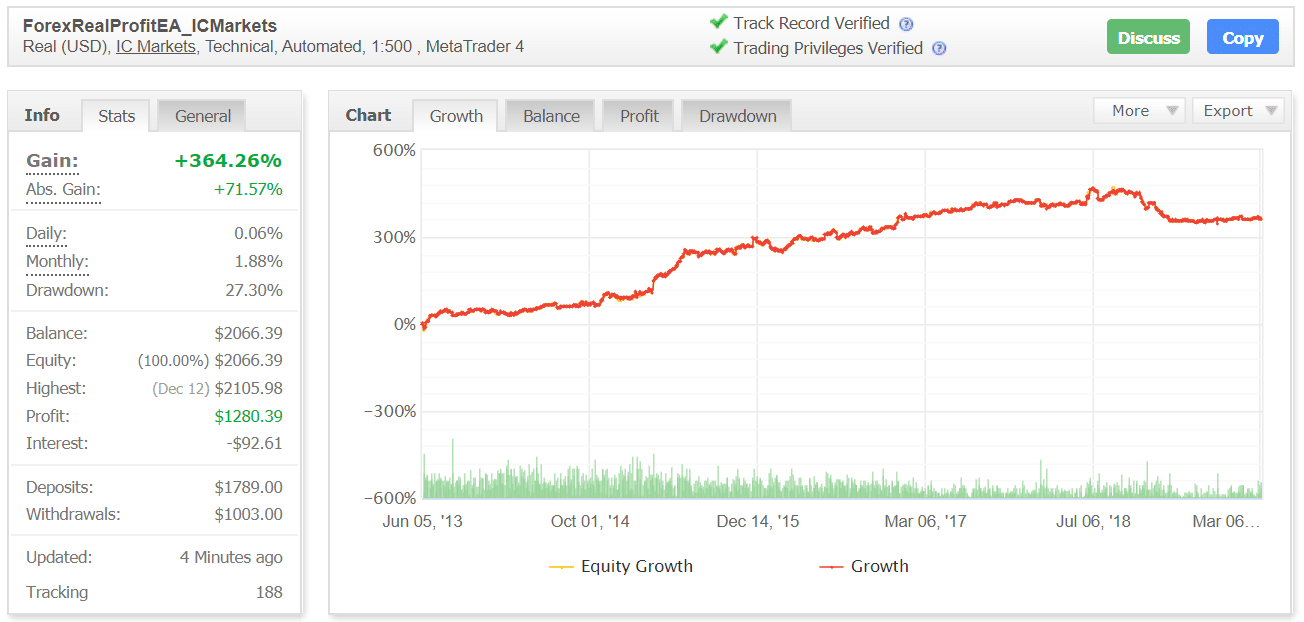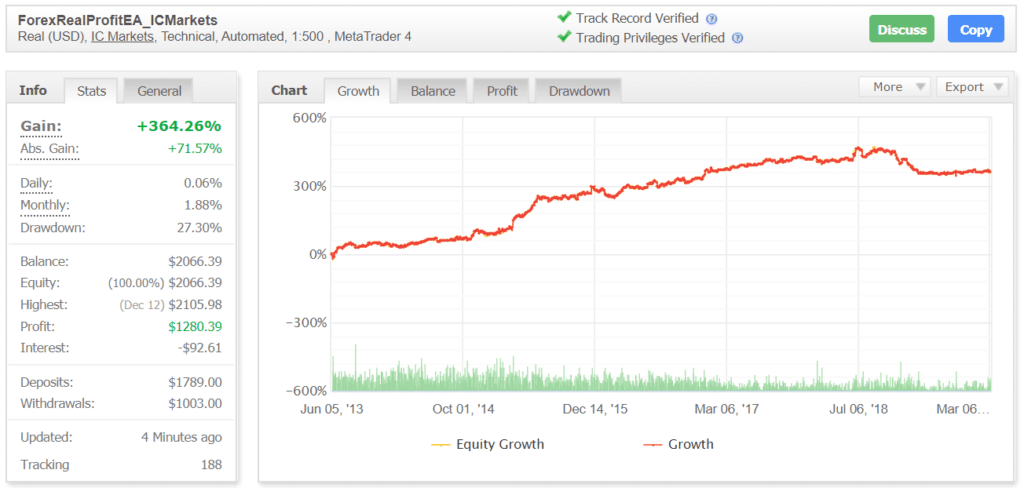 The last one works wise better, but not so. If we look at the chart, we notice that after September 2018 robot lost money a half and a year in a row. If's fallen from +453% of the account gain to +364% during the period and still can't recover.
This account is a real USD one. The robot works trough IC Markets, with 1:500 leverage on the MetaTrader 4 platform. This leverage with almost 30% of drawdown can easily halve or zero an account in a day. The monthly gain is 1.88%. With this amount of profit, there'd be 2-3% of DDs.


So, there have been traded 7339 deals with 12588 pips. Average win ($2.01) in a half less than the loss (-$3.25). The average win-rate is ok and equaled 63-66%. The average trade length is 3 hours. The profit factor is 1.15.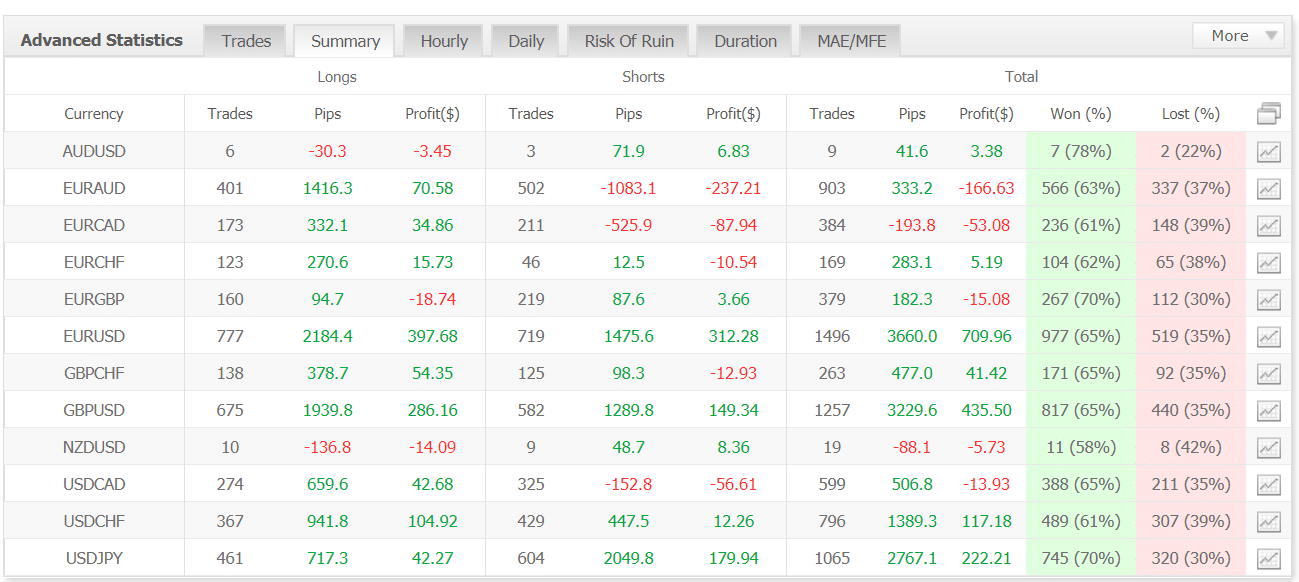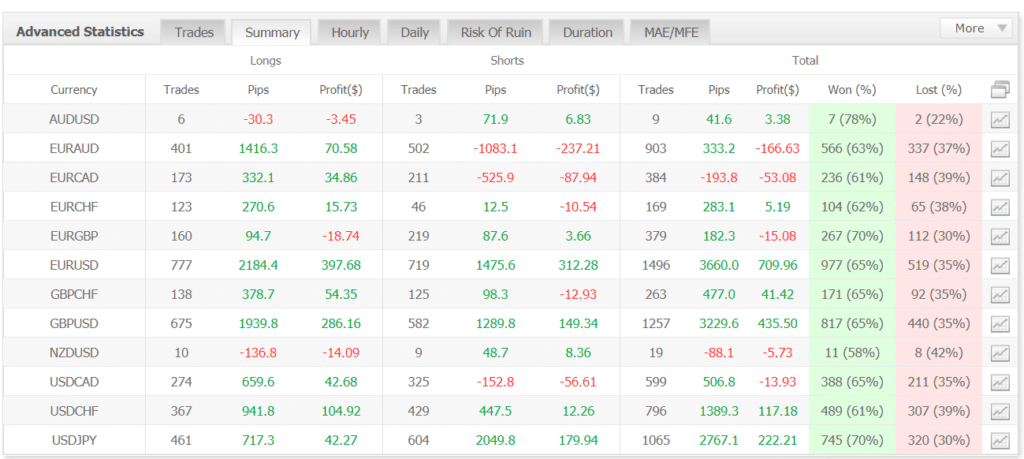 The most profit has been brought having traded two currency pairs: EUR/USD and GBP/USD.


As we can see, only scalping patterns work well.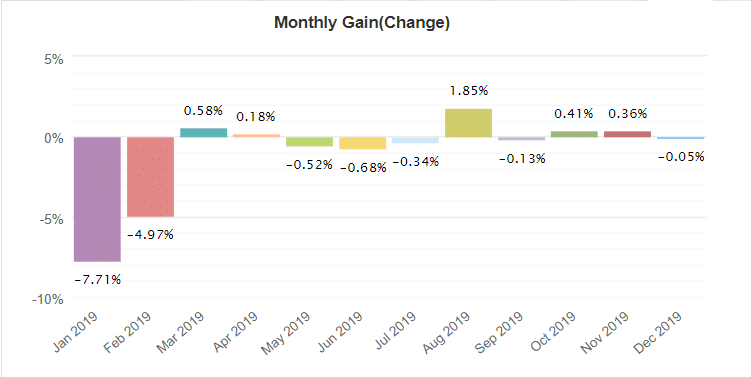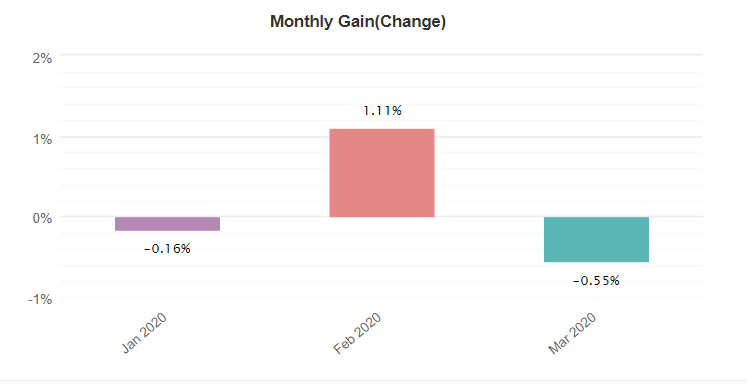 After trading results like these, the rest doesn't matter.
Pricing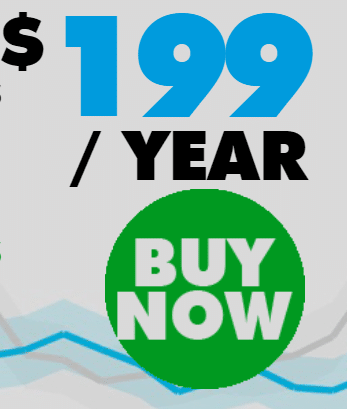 The robot costs $200/year. For this, we'll one live trading account and unlimited demo once, support, and 30-day money-back guarantee. For each additional "live trading" account Activation Key will be charged a one-time fee of $ 99. Devs don't provide refunds for additional live trading account Activation Keys.
Real Profit EA
Advantages
Strategy description provided
Real account 3rd part verified trading results
Support and forum
30-day money-back guarantee
Disadvantages
Low monthly profit
Trading with high risks
High drawdowns
Two years of no profit trading
Weak money-management system
Stop-loss and take-profit features don't work properly
Low win-rate
Low profit factor
Min win is 0.5x times less than the min lose
High pricing
No versatility in packages of the product