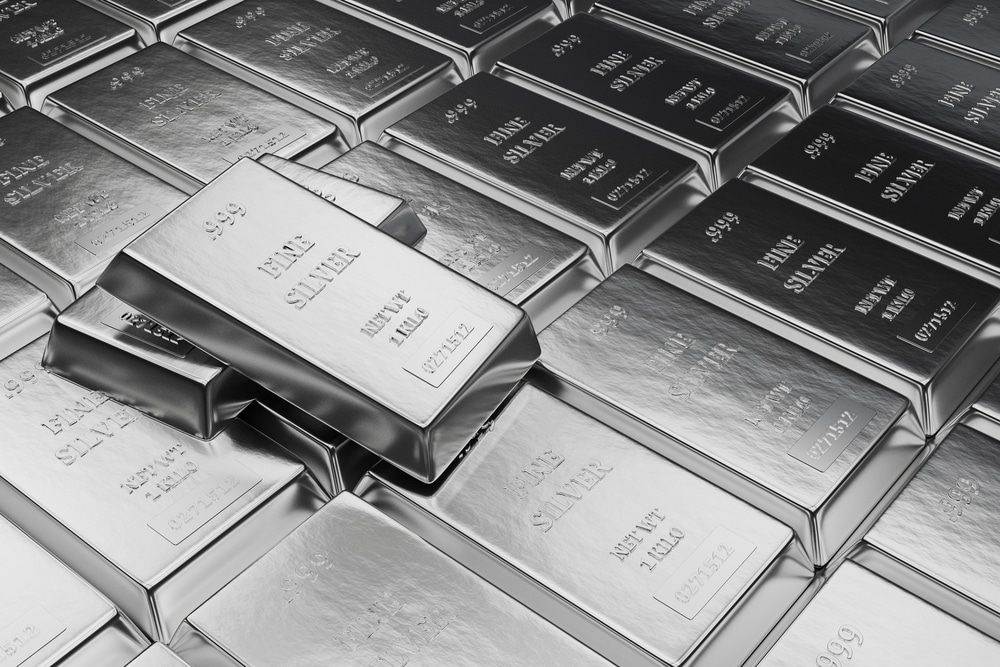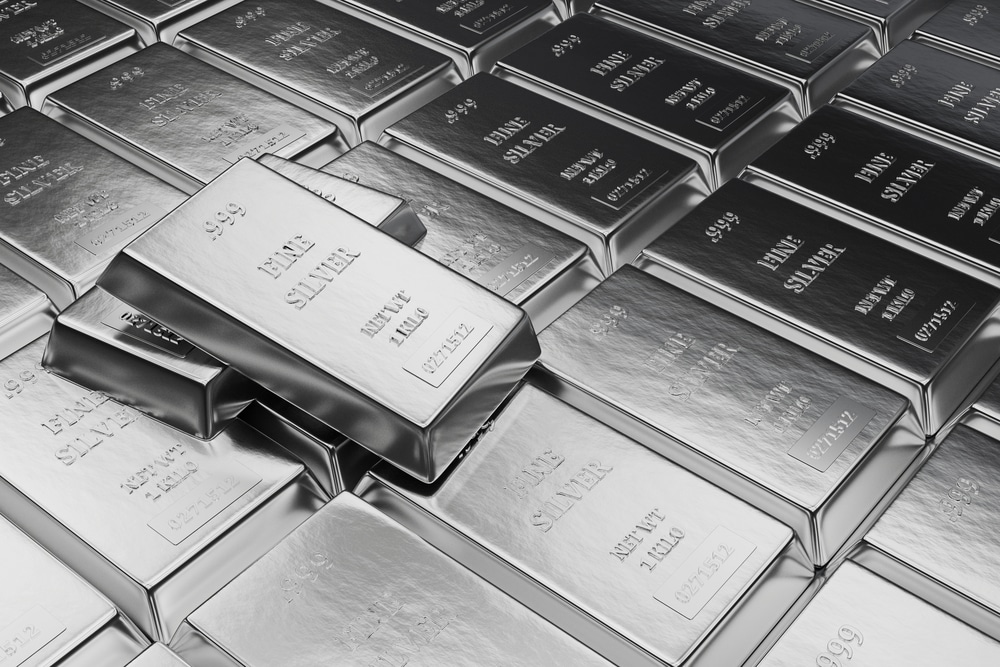 The dollar index (DXY) has gained close to 2% since June 10, 2021.
Fed's Chair, Jerome's pointer of a rise in interest rates jolted the prices of gold and silver.
Silver's price is likely to rise on increasing EV demand by automakers.
The silver contract fell 5.57% on June 17, 2021, from the previous day, trading at a range of $26.203-$27.317. The commodity was adversely affected after the Fed signaled it would raise interest rates not earlier than 2023. 
The regulator indicated that it would work to attain a long-term inflation rate at 2%, showing that paper currency would still retain its value and purchasing power. Silver is yet to take up its attribute as a hedge against inflation.
Dollar index
The dollar strengthened against major currencies, as depicted by the surge in the dollar index (DXY).
The dollar has been rising steadily against other currencies since June 10, 2021, when it hit a low of $90.072. It gained 1.98% to a high of 91.849 on June 17, 2021.
There is an inverse relationship between the strength of the dollar and the price of silver. The commodity has dropped 6.52% from $28.031 on June 10, 2021, to a low of 26.203 on June 17, 2021.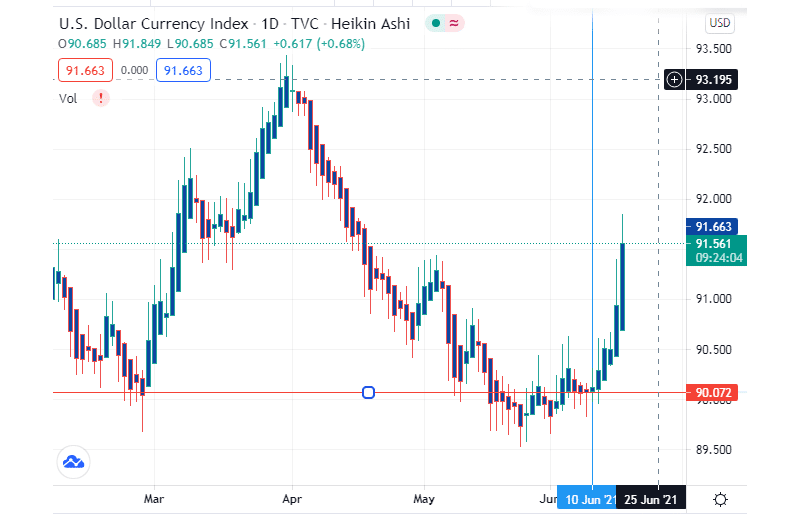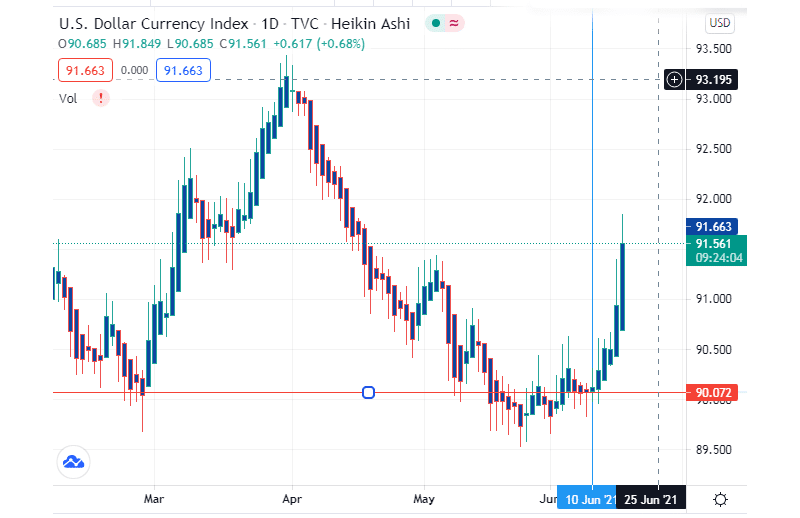 Like silver, the August contract for spot gold declined 4.16% to trade at a low of $1,776 on June 17, 2021. It reached a high of $1,826.20 an ounce after the Fed indicated that the inflation risks, while persistent, could still be temporary. 
May 2021 saw producer prices jump at a record high of 6.6% (YoY) while retail sales declined 1.3%. The inflation force was propelled by rising goods prices that surged 1.5% as compared to services that gained 0.6% in the month.
Interest rate
The FOMC kept interest rates at a target range of 0-0.25% on June 16, 2021. However, Fed Chair Jerome pointed out that the government would consider raising interest rates, a statement that jolted the prices of gold and silver. 
Additionally, the Federal Reserve also indicated that it would increase its Treasury security holdings by a monthly sum of $80 billion. The balance sheet will be supported by continuous bond purchases every month totaling $120 billion.
The surge in liquidity also played a role in decreasing silver's price. However, investors should consider the prospect of the Fed's raising interest rates in 2023 as the dollar continues to strengthen. At this time, though, the dollar's strength seems to have had a better impact on silver/ gold's price than interest rates.
Silver demand
GM, America's auto manufacturer, plans to spend $35 billion in purchasing electric vehicles through 2025. This expenditure represents a 75% rise in EV purchases since March 2020. 
By 2040, sales of electric vehicles are likely to reach 70 million as the world rushes towards a green economy. 
Silver is ranked as the primary metal that is used to manufacture EVs, followed by copper and aluminum. The commodity is also needed in the production of battery storage and other clean energy components.
Technical analysis
There was a broadening top formation in the spot silver (XAG/USD) chart as it met resistance at 28.9886. The downward breakout was seen at 27.2763.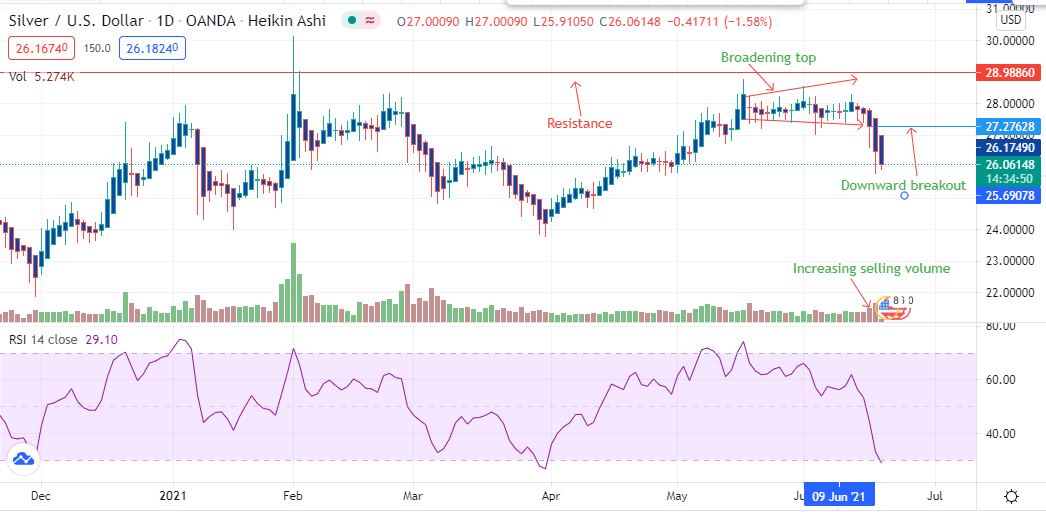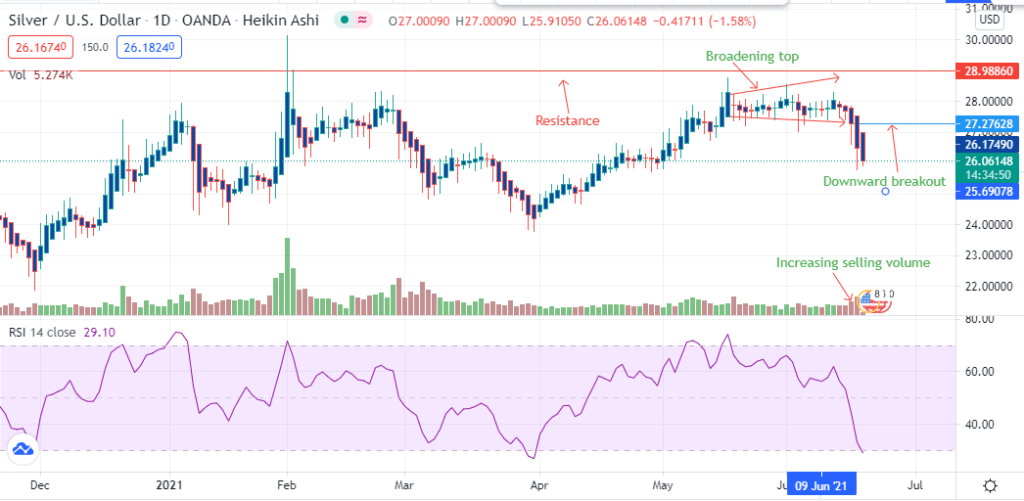 The downtrend is supported by the 14-day RSI that stands at 29.14. The indicator is moving past the oversold region at 30.00 on the high volume. We may see continual downward movement as the price targets the key level of 25.6908.