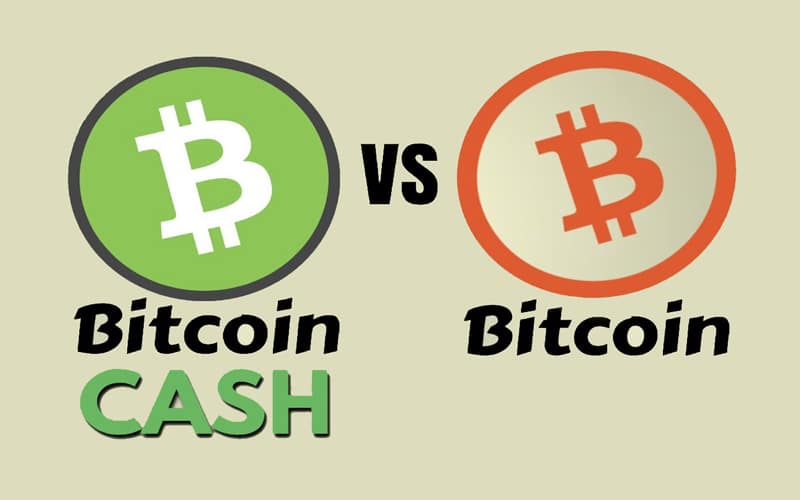 Bitcoin is arguably one of the most popular cryptocurrencies in existence today, even though it is the first of its kind. As the popularity of Bitcoin increased, so did transaction scalability issues. To resolve this conflict, the Bitcoin was split into the original bitcoin (BTC) and Bitcoin Cash (BCH) in August 2017.
The key idea behind Bitcoin Cash was to increase the maximum block size to process more transactions than the original Bitcoin. However, the two tokens are still compatible as both of them have proof-of-work mechanisms. For cryptocurrency traders, they have to approach both the tokens differently while trading. For instance, you can invest into BCH to use it as your main form of transaction currency. However, you can also invest in Bitcoin to get investment benefits.
About Bitcoin
Bitcoin was created in 2008 by Satoshi Nakamoto and was designed to act as a secure peer-to-peer decentralized payment system. Security is of utmost priority to Bitcoin, followed by speed. It uses C++ programming and has less than seventy specific commands that can be used. This limitation provides more security as it is more difficult to hack the Blockchain within those sets of commands.
At one-point Bitcoin's value skyrocketed when one bitcoin was worth more than $19000, most notably in December 2017. The price of Bitcoin has always been volatile, similar to other cryptocurrencies. As of 4/11/2020, Bitcoin is worth $13,886.56, with a market cap of $257,363,465,448 according to coin market cap data.
General guidelines on Bitcoin Trading
Bitcoin can be traded by using a number of different strategies. This is especially true during market crashes where you can be tempted to offload Bitcoin. In such situations, it is better to hold on to your coins and sell when the prices recover.
You can also keep an eye on current trends in the market. Consider how news events impact the Bitcoin market to make more informed decisions. Lastly, make sure to always test your strategies before applying them. A good way to do this is to use a practice account or demo account provided by your broker or trading platform.
You can trade Bitcoin in several ways: 
Bitcoin futures: These instruments allow you to buy or sell Bitcoin at a later date at a fixed price.
Bitcoin forex: These instruments will allow you to predict how the value of Bitcoin will move with respect to other currencies.
Bitcoin exchanges: These are platforms that facilitate the meeting of sellers and buyers. You can buy and sell BTC outright or can convert them into fiat currencies or other cryptocurrencies. Bitcoin is the base currency for almost all Decentralized and centralized exchanges in existence.
Common Mistakes to Avoid in Bitcoin Trading
Don't trade more than you can afford to lose: This rule becomes especially crucial when you are trading Bitcoin, particularly when using CFDs. The use of leverage on some platforms may amplify your losses if you are not careful.
Backing up your wallet: Make sure to always back up your Bitcoin on a frequent basis to avoid losing your coin, even if your broker does not offer an integrated wallet. Set up cold storage for your Bitcoin, as it can easily be wiped out by security breaches and other issues.
Look to diversify: Bitcoin is great but be sure to keep yourself informed about the cryptocurrency world. There is an astronomical amount of tokens you can consider and some of them are labelled as experts as the next big sensation in the crypto-market.
About Bitcoin Cash
In simple words, Bitcoin Cash (BCH) is the hard fork of Bitcoin. It was launched in August 2017. It increases the size of blocks which allows the processing of more transactions compared to Bitcoin. Most interestingly, Bitcoin Cash underwent another fork in November 2018, after which the cryptocurrency split into Bitcoin Cash ABC and Bitcoin Cash SV. Bitcoin Cash does not have a clearly defined governance model such as other cryptocurrencies.
The value of Bitcoin Cash also skyrocketed at one point, reaching over $3000 in December 2017, around the same time Bitcoin reached its peak. However, the cryptocurrency has struggled ever since. Currently, as of 4/11/2020, BCH is worth $242.26 USD with a market cap of $4,497,077,066 USD according to coinmarketcap.
Bitcoin Cash Trading Explained
One of the reasons many traders choose Bitcoin Cash for trading is the lower transaction fees. This is due to BCH's much larger blocks, which lets more transactions fit into each block. There is much less competition among users as a result. Users have to outbid each other with higher fees. Bitcoin Cash can be found in nearly 400 cryptocurrency exchanges around the world. You can check out the likes of Binance, OkEx, Upbit, Coinbase Pro, Coineal, HitBTC, P2PB2B, Huobi Global, Bithumb, Finexbox, Binance JEX, Bitcoin.com Exchange and others for accessing and trading BCH.
Risks involved in Bitcoin Cash Trading
There are a couple of things you need to be aware of when trading Bitcoin Cash. You might be susceptible to a phishing scam and have your coins stolen. You can also misplace your access codes, leaving your coins forever trapped inside a wallet. Lastly, there's always the risk of volatility. Bitcoin Cash's value has struggled in the last couple of years compared to the excesses of 2017. So it might not be a viable investment anymore.
Conclusion
When comparing the two cryptocurrencies, Bitcoin Cash is the faster and cheaper asset for you transactions on the Blockchain. Bitcoin is the original, and the most advanced one. It currently possesses the greatest value in the cryptocurrency market.
It's always a better idea to focus on Bitcoin rather than Bitcoin Cash, because of the obvious chances of earning a profit in the former. Bitcoin is still the largest cryptocurrency on the global financial market and the most used. However, it's always a better idea to diversify to really amplify your profits instead of just relying on Bitcoin alone.