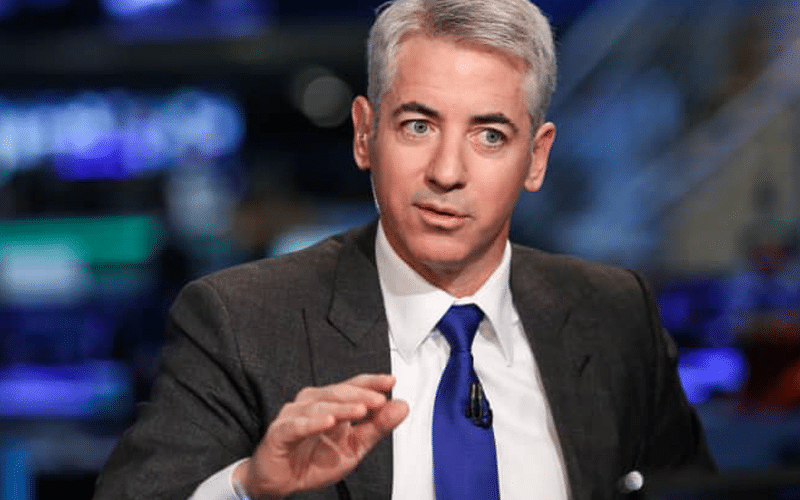 Bill Ackman is a leading hedge fund manager in the United States. He runs a fund known as Pershing Square Capital Management, which has more than $14 billion in assets under management (AUM). He also runs two publicly traded vehicles known as Pershing Square Holdings and Pershing Square Tontine Holdings. Forbes pegs his net worth at more than $1.4 billion. In this article, we will look at some of the biggest stocks in Bill Ackman's portfolio.
Bill Ackman performance
Before we look at some of his holdings, let us identify Bill Ackman's historical performance. For starters, Ackman started his first hedge fund known as Gotham Partners, shortly after completing his university studies.
After scoring several wins, the fund dissolved, and he established Pershing Square in 2004. Between 2004 and 2020, the fund had only five down years. His best performance was in 2020, when the fund returned more than 70%. Similarly, his second-best year was in 2019, when the fund gained over 58%.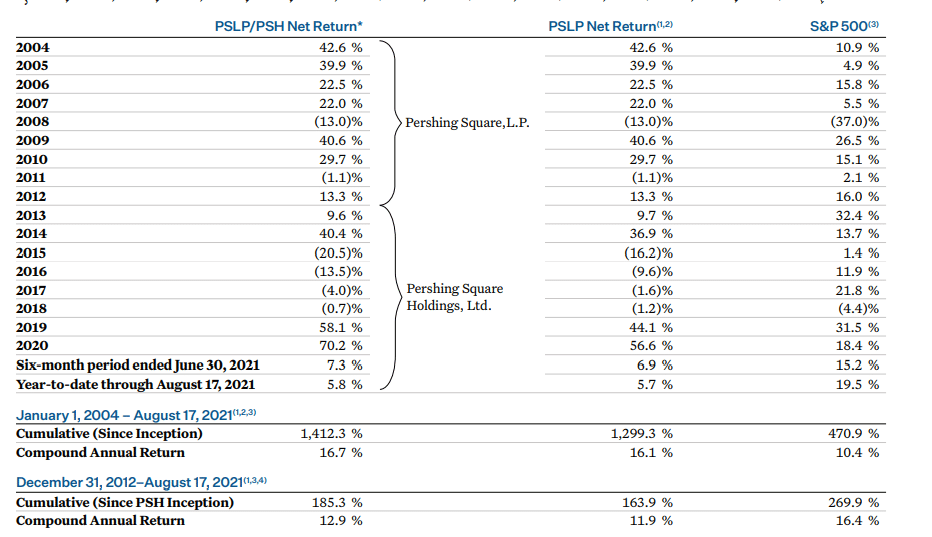 Bill Ackman performance
Bill has had some spectacular failures before. For example, a few years ago, he lost $4.4 billion when his investment in Valeant Pharmaceuticals crashed. He also lost more than $1 billion during his Herbalife short squeeze. Still, he managed to crawl back after these major losses.
Chipotle Mexican Grill (CMG)
CMG is Bill Ackman's biggest holding and one of his best performers. He invested in the stock a few years ago when the company was struggling from a major e-coli outbreak. His first purchase was when the stock was trading at around $400. Shortly afterward, it dropped to about $200, and he added more into the stake. At the time of writing, the stock is slightly below $2,000.
Bill loves CMG for several reasons. First, it is a fast-growing brand that has established a niche in the Mexican food industry. Second, the company has invested millions of dollars in boosting its technology, which enables people to order food at home. As a result, it benefited substantially during the Covid-19 lockdowns as customer orders rose.
Third, the company has improved its menu, with offerings like quesadilla and smoked basket. Additionally, the firm has a strong loyalty program that has over 24 million customers. In total, Ackman believes that the firm can increase its stores to around 6,000.
Still, the biggest challenge for Chipotle is that its stock is incredibly expensive. For example, it trades at forward guidance of about 79.50. This is substantially higher than that of its peer companies like Yum Brands, Restaurant Brands, and Dominos Pizza.
Hilton Group Worldwide (HLT)
Hilton is one of the biggest hotel chains in the world. It has a market capitalization of more than $35 billion, making it smaller than Marriott. In addition to its eponymous brand, Hilton owns other companies like Waldorf Astoria, Canopy, DoubleTree, and Homewood Suites. In total, it has more than 6,400 hotels globally.
Bill Ackman loves Hilton because of its business model. The company makes most of its money through management and franchises. Indeed, before the Covid-19 pandemic, the company generated more than $1.6 billion in its franchise and licensing fees. In the same period, its owned and leased hotels made just $1.42 billion.
In his letters, Bill believes that Hilton will keep growing its market share over time. Also, he expects that the firm will benefit as the global economy rebounds following the Covid-19 lockdowns. Before the pandemic, the company was recording strong revenue growth, with its revenue jumping from $2.9 billion in 2016 to $3.76 billion in 2019. At the same time, its total profits moved from $338 million to more than $778 million.
Lowe's (LOW)
Lowe's is a leading American retailer valued at about $141 billion. The company has 2,000 stores globally that sell everything from carpets to DIY products. Lowe's is also well-known for being a major competitor to Home Depot, the company valued at more than $350 billion. Indeed, many have compared the relationship between the two firms to that of Coca-Cola and Pepsi. Lowe's has $89 billion in annual revenue.
Bill Ackman believes that Lowe's management can do more to improve the company and bridge its gap with Home Depot. He has also praised the firm's CEO, which has reduced costs, expanded distribution abilities, and modernized its e-commerce systems.
Lowe's is a good investment because of its strong market share in the home improvement industry. This gives it the scale it needs as competition with newer firms like Amazon rises. The firm also has a loyalty program that targets both retail buyers and professional customers. Also, with the DIY trend rising, Ackman expects that the firm will benefit.
Restaurant Brands International (QSR)
Restaurant Brands is not a familiar name to most people. Yet, millions of customers shop from its businesses every month. The firm is best known for its Burger King, Tim Hortons, and Popeyes brands, which are the leading players in the restaurant business. The company has a market value of more than $29 billion, making it a bigger firm than Domino's Pizza and Darden. Bill Ackman also has a large stake in Dominos.
The case for QSR is relatively simple to make. Besides, the growing middle class means that the company's business will keep expanding. Second, like Chipotle, the company has invested in digital platforms that make ordering and delivery easy. It is also a dynamic company whose revenue rose from $4.1 billion in 2016 to more than $5.6 billion in 2019.
Summary
Bill Ackman's Pershing Square Capital is known for its concentration, meaning that he owns only a small number of companies. In this article, we have looked at just four of them. Other companies that you can look at are Universal Music Holdings, Agilent Technologies, Dominos Pizza, and Howard Hughes Corporation.