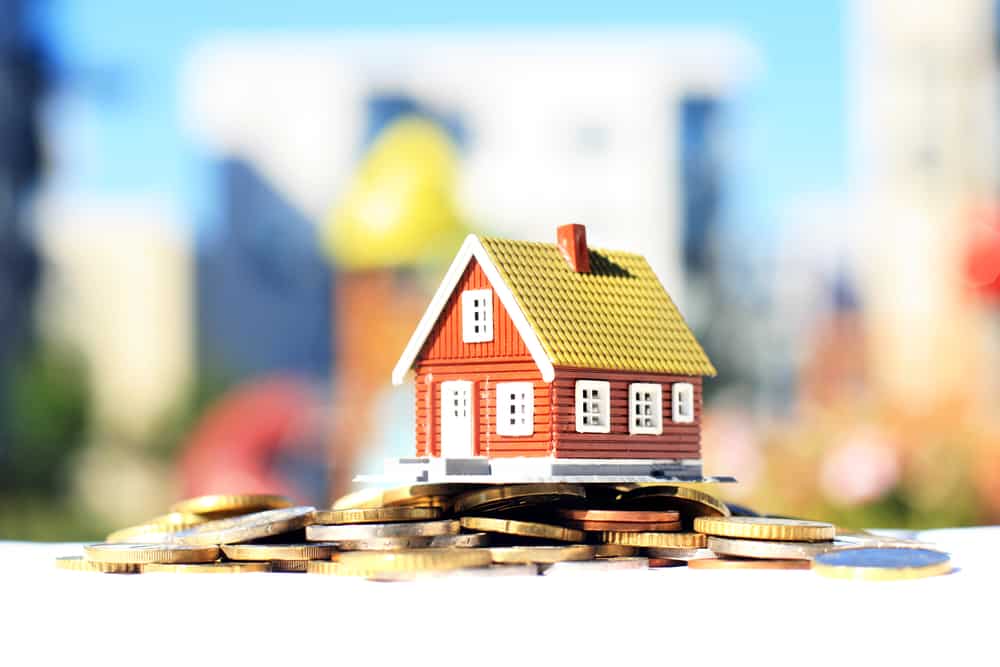 Real estate is a relatively popular investment asset because demand for most properties is always there. At the same time, in most cases, the overall price of the property is always rising. For example, the average price of a home in California in 2000 was about $119,000. In 2021, the median home price in the state has jumped to more than $340k. As shown below, the average home price in the US has been in a sharp increase in the past few decades.
US home prices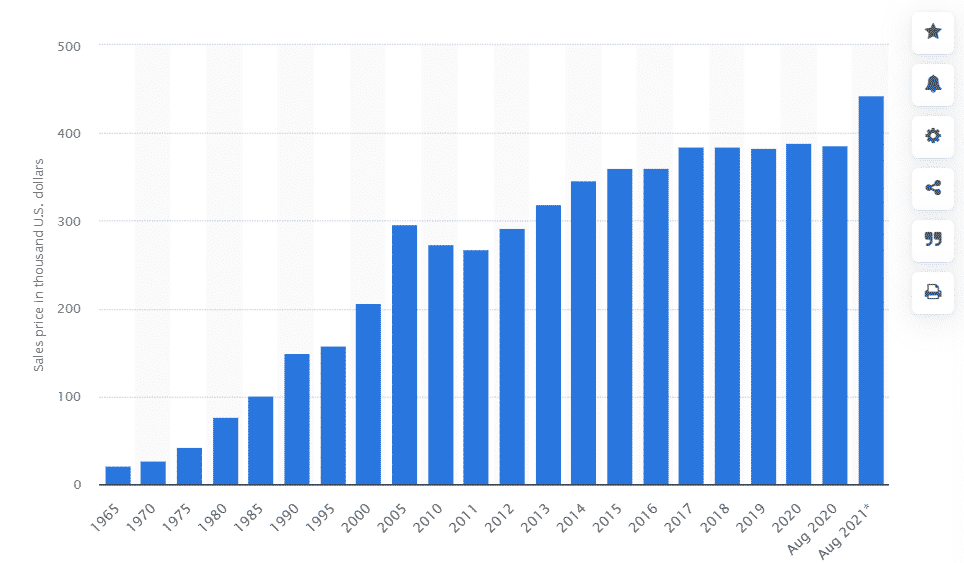 Therefore, in this article, we will look at some of the best strategies you can use to invest in real estate in the United States.
Real Estate Investment Trust (REIT)
One of the easiest ways of investing in real estate is to invest in Real Estate Investment Trusts (REITs). A REIT is a property company that operates in a relatively different method than an ordinary company. For one, according to the law, REITs are required to distribute most of their income to investors every year. They are also required by law to generate most of their income from properties.
You can invest in REITs just as you would invest in ordinary companies like Apple, Microsoft, and Google. However, because of their restrictions, REITs companies tend to record slightly slow growth. Besides, they have to return most of their earnings to investors.
Therefore, most people who invest in REITs do so because of the dividends that they generate. Indeed, most REITs have an average dividend yield of about 4.3%, which is significantly higher than the S&P 500 average of about 2%.
However, REITs are not created the same. For example, REITs that focus more on office building went through a challenging period during the pandemic as more people moved to work from home. Similarly, many apartment REITs went through challenges as many people struggled to pay their rent due to the pandemic.
At the same time, REITs that focus on products like warehouses, farmlands, and data centers did relatively well because of the rising demand for these services.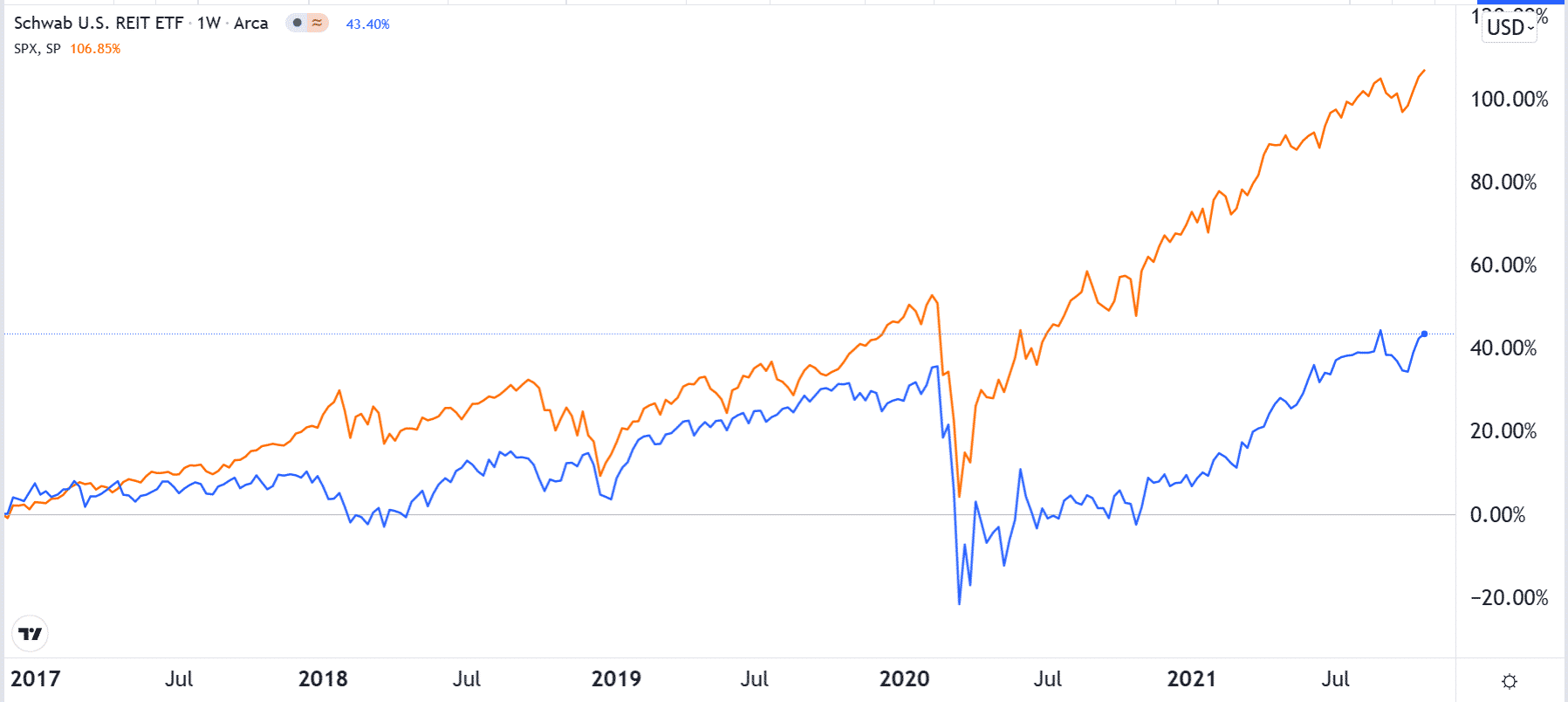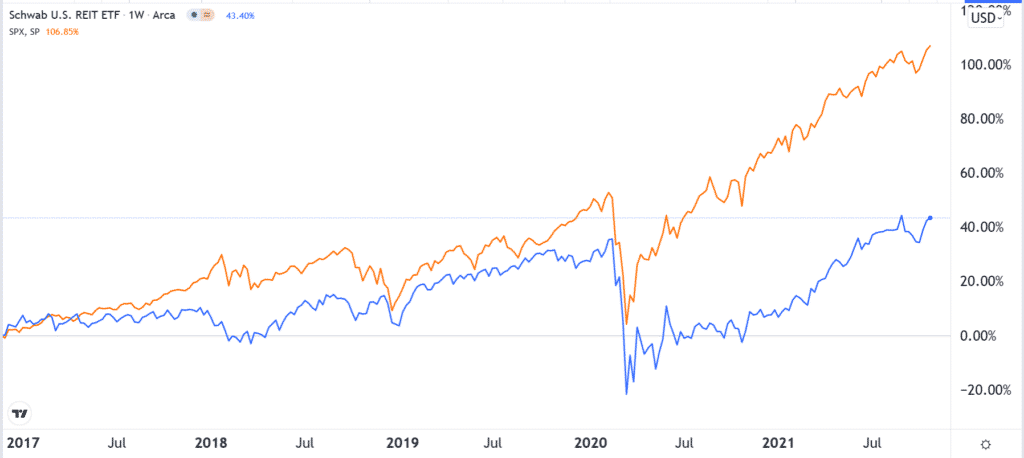 Therefore, you should do a lot of research when you are investing in REITs. For example, establish the main industry that the REIT operates in. Also, find out the historical performance and potential for growth for these companies. The chart above shows that the Schwabb REIT ETF has outperformed the overall S&P 500 index in the past 12 months.
Real estate affiliated companies
In addition to investing in REITs, you can invest in companies that are affiliated with the real estate industry. Fortunately, there are many such companies. For example, investing in a company like Blackstone gives you exposure to the industry.
This is because Blackstone is the biggest landlord in the United States. It owns real estate assets worth more than $230 billion. The total value of its real estate holdings is about $411 billion. Yet, Blackstone is primarily a private equity company.
Another good example is a company like Zillow. Zillow is a technology company that owns brands like Trulia, StreetEasy, Hotpads, and Premier Agent. The primary service the company offers is its website and apps that enable people to search for homes. Therefore, investing in the company is an indirect method of investing in real estate. Some of the other companies similar to Zillow are Realtor.com and Opendoor.
Meanwhile, you can also invest in real estate by investing in companies like Home Depot and Lowe's. These companies sell home improvement goods like bathroom fixtures, flooring, and kitchenware. In most cases, these firms tend to do well when the real estate sector is doing well.
Other real estate-affiliated companies are Sherwin Williams, which manufactures paint, and Mohawk Industries, a manufacturer of carpets.
Online real estate investments
Another popular method of investing in real estate is to use the fast-rising online real estate investing companies. These are firms that were created to provide an easy method for people to invest in real estate.
There are many such firms, but the most popular one is known as Fundrise. Fundrise is a unicorn that has raised more than $355 million from investors like Goldman Sachs and Blake Van Leer. The company allows Americans to invest in real estate with as little as $10. The firm has different packages for all types of investors.
To invest with Fundrise, all you need to do is to create an account, select your preferred package, and then invest. You will pay a small fee of about 0.15% when you invest with the company. The benefit of using such a company is that it is a relatively easy method for investing in real estate. It is also a highly reliable method.
Other companies that offer services similar to Fundrise are YieldStreet, RealtyMogul, and GroundFloor.
Home flipping
Another popular albeit expensive strategy of investing in real estate is known as home flipping. It refers to the process of buying a relatively old home, improving it, and then selling it at a profit. The process starts with finding an old house that can be remodelled. You then find a contractor to do the remodelling and then you get an agent to sell the home for you. Alternatively, you can be your own agent and post the home on several platforms like Trulia and Zillow.
Home flipping can be a highly profitable venture when done right. Its key challenges are that you need to have high initial investment costs. Also, unlike assets like REITs, home flipping is a highly illiquid method of investing. This means that at times, you may struggle to find a buyer after doing so much on a home.
Summary
Real estate is an excellent alternative asset you can invest in. The sector allows people to make money in an industry that has been relatively stable for years. Still, like in all investments, investing in real estate requires a lot of research and patience. For example, at the height of the Global Financial Crisis, we saw many investors lose money as the value of their investments dropped.