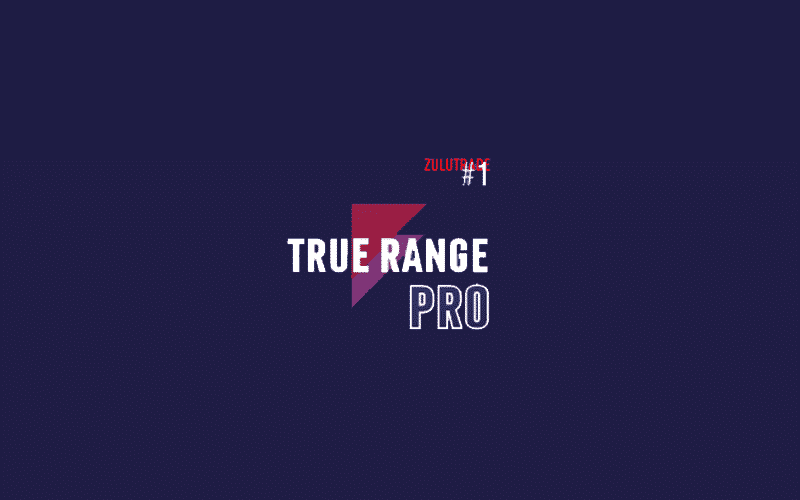 True Range Pro is a Forex expert advisor that was launched in late 2020. As per vendor claims, this EA generates an average 5-10% monthly gain for EUR/USD and 20-40% for GBP/USD. They have also stated that the robot holds the number 1 ROI spot in ZuluTrade Top 3. We cannot simply go by the words of the vendor, which necessitates a thorough analysis of the system's performance factors.
Is investing in True Range Pro a good decision?
In order to analyze the EA, we have looked into different aspects like features, price, trading results, backtests, and customer reviews. Both the live results and the backtests show high drawdown, and additionally, the vendor does not entertain refund requests. Thus, our first impression of this system is quite negative and we don't think you should invest in it.
Company profile
The presentation on the MQL5 website is not too detailed. We have a list of features and vendor recommendations. The vendor has also shared a list of input parameters as well as the pricing details. Finally, there are a few screenshots of trading and backtesting results. It is evident that the vendor has not attempted to provide the maximum possible information on this system.
True Range Pro is a robot built by Aleksei Ostroborodov, a Russian developer. We know virtually nothing about this person, except for the fact that they are the founder of Smart Forex Lab and that they have 4 years of experience. There is no information available on this company and we are not sure whether the developer works alone or as a part of a team.
Main features 
This is a 100% automated Forex trading system that uses a hard stop loss for every single position. You have the option of trading with fixed volume or to enable the auto volume option and let the EA calculate the lot size by itself. It trades using a dynamic basket, but we are not sure how exactly this works.
The vendor has mentioned the EA having high spread protection, but again they have not explained this feature properly. As per their recommendations, you should set the GMT values to GMT +3 during summer and GMT +2 during winter. You can trade with a leverage of 1:100 and sign up with brokers like Weltrade, IC Markets, and ForexChief DirectFx.
True Range Pro is a scalping bot that uses intraday and night smart grid strategies. These strategies involve indicators such as Relative Strength Index and Average True Range. As we know, scalping is a high-frequency strategy that can be quite stressful for novice traders. When the market turns volatile, it can lead to large losses, which is why many traders choose to avoid it.
Price 
You can buy True Range Pro for the price of $195, which is not exactly cheap compared to other systems. Also, there is no money-back guarantee for this robot, but you can download the free demo version to test the performance.
Trading results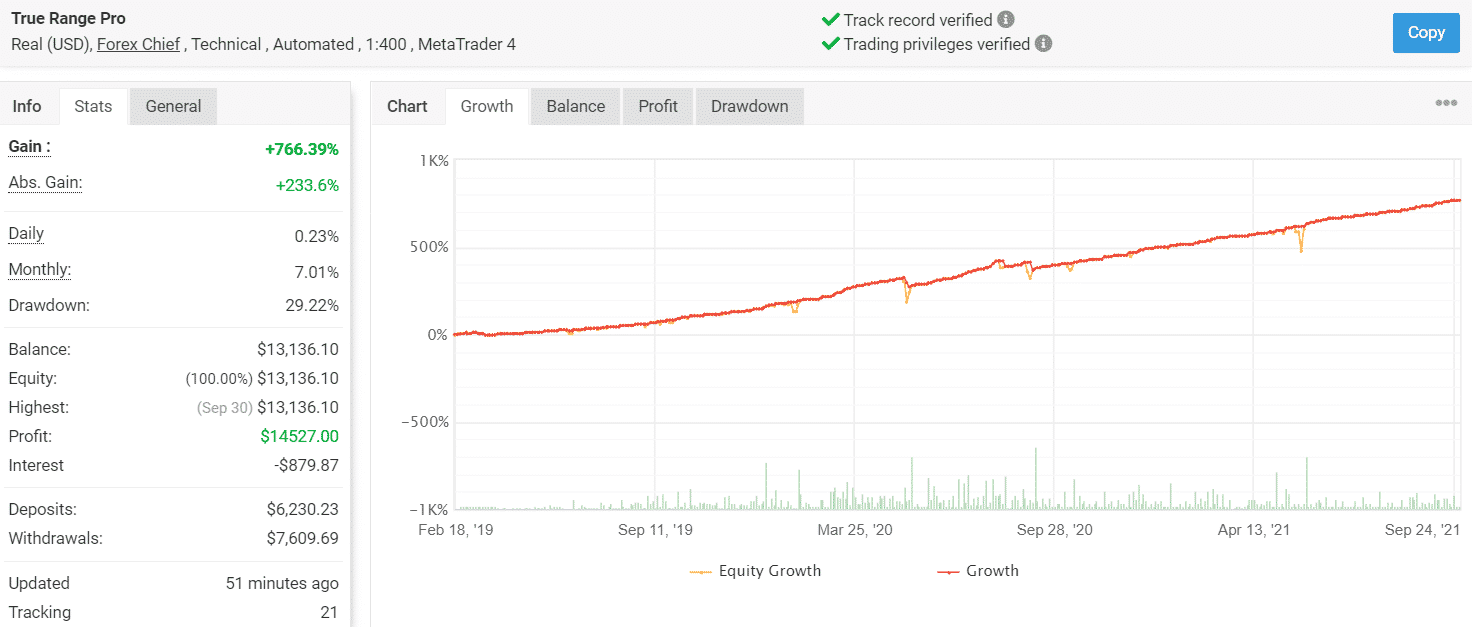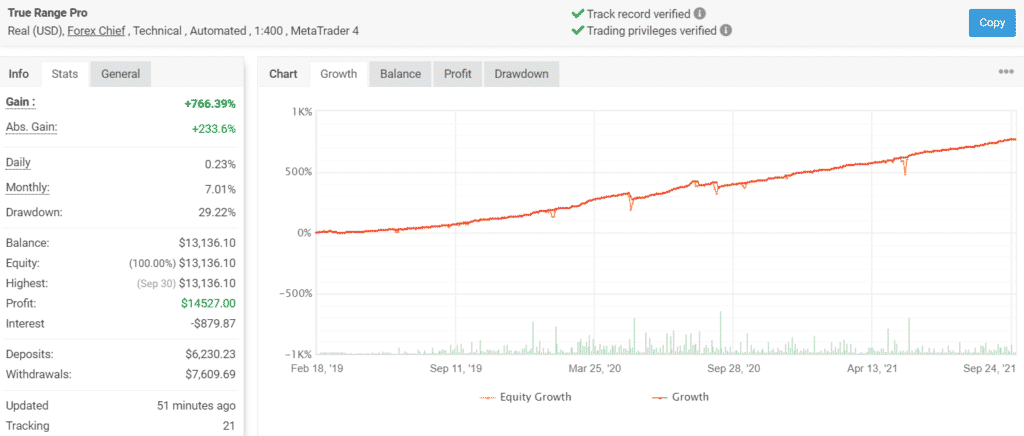 Since the vendor has not shared the verified results on MQL5, we had to conduct our own research to find this trading account on Myfxbook. The EA has placed 1304 trades through this account, managing a win rate of 79% and generating a total profit of $14527.
While the daily and monthly gains are 0.23% and 7.01% respectively, the drawdown is a bit high at 29.22%. This tells us the trading strategy followed by this system carries a high risk of ruin. The profit factor for this account is currently 2.47.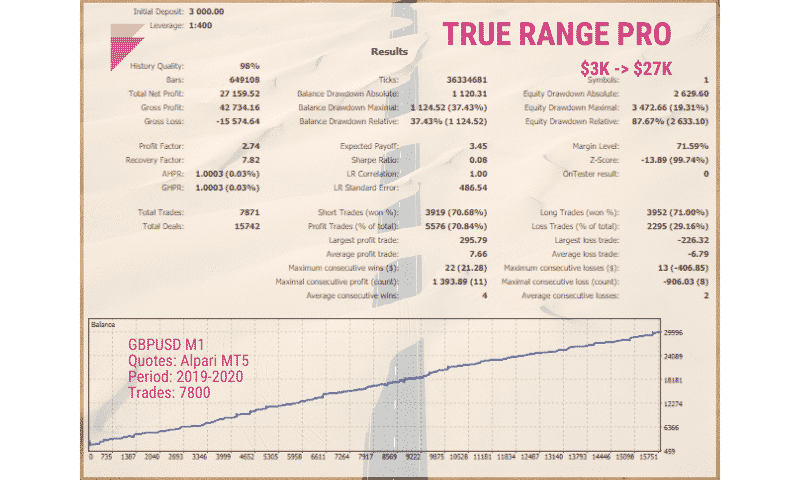 This backtest was carried out from 2019 to 2020 and involved 7871 trades in total. The EA had a win rate of 70.84%, which is slightly lower in comparison to the live statistics. One thing to note is the extremely high relative balance drawdown of 37.43%, which well exceeds the drawdown for the live results. It's clear that the EA followed a high-risk strategy for this backtest.
Customer reviews


There are a few reviews on the MQL5 website, but since the vendor could easily have manufactured them, we cannot take them seriously.
Summing up 
True Range Pro is not an EA that can win you consistent profits. Since it trades with a high drawdown, you risk losing a lot of money within a short time span. Furthermore, the lack of a refund policy means you won't be getting any of your investment back.