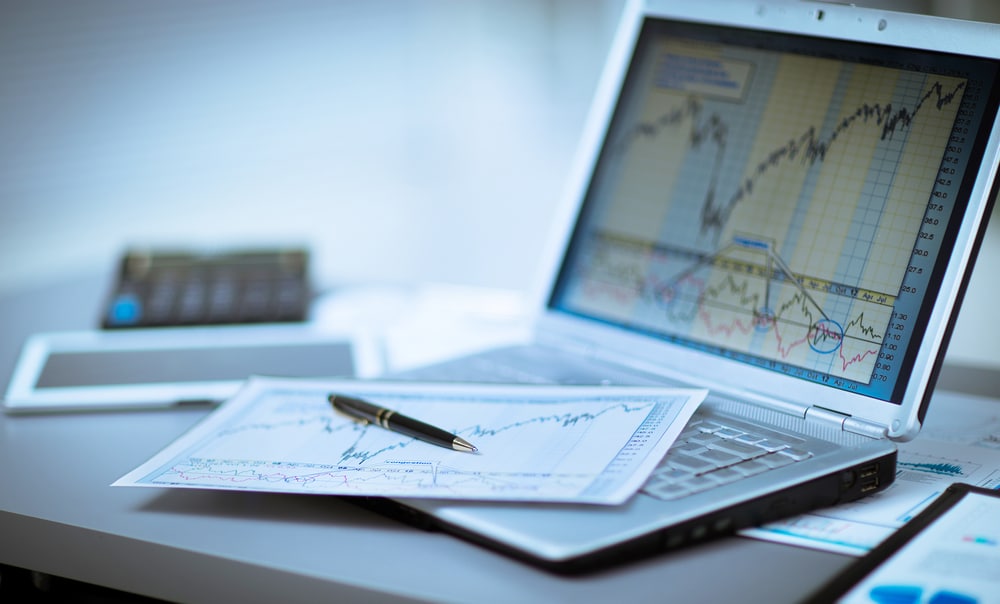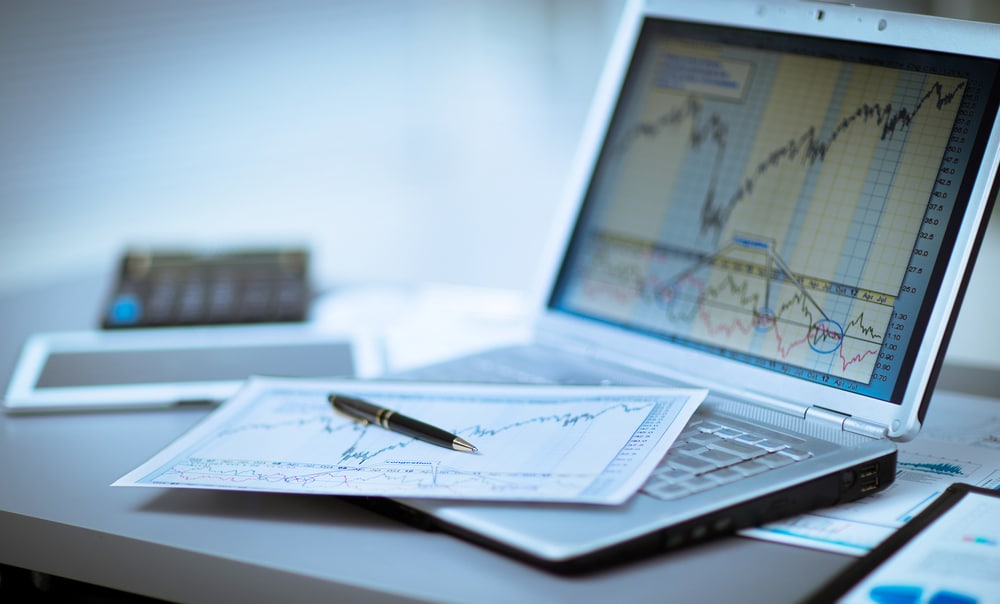 It is a good time to be an investor. Global stocks have rallied in the past few months to record highs. In Japan, the Nikkei 225 index has jumped to its highest level in more than 30 years, while in Germany, the DAX has risen to the highest level on record. Similarly, in the United States, the Dow Jones, S&P 500, and Nasdaq are at record highs. In this article, we will look at the four best contrarian stocks to buy and hold today.
What is a contrarian stock?
A contrarian stock refers to a company that is not receiving love in the market. In most cases, these are companies that underperform the market for a while. As a result, they tend to have relatively low price-to-earnings (PE), price-to-free cash flow, and enterprise value (EV) to EBITDA ratios.
There are several reasons why companies get out of favor from investors. First, they are in boring and unsexy industries like farmland and oil and gas. Second, they have just reported weak quarterly earnings. Third, they are losing substantial market share to relatively new competitors. Other reasons are poor management, slowing revenue and profitability, and internal corporate issues.
Top contrarian stocks to invest in
Intel (INTC)
Industry – Technology
Market cap – $253 billion.
TTM revenue – $77.8 billion
Intel is a well-known company that designs and manufactures computer chips. The firm's customers are the biggest computer manufacturing companies, which buy its CPUs and GPUs. The company also provides its products to companies in the data center, automobile, and telecommunication industries.
Intel has been in trouble in the past few years. It has had significant internal problems that have pushed it to delay its 7 nm chips. As a result, many buyers have moved to Advanced Micro Devices (AMD), a company that is building the fastest and most efficient chips. At the same time, companies like Apple and Amazon have started building their own chips.
Meanwhile, Intel is losing its market share in the GPU industry, where Nvidia is now the most recognizable brand. As a result, Intel's share price has lagged behind that of AMD and Nvidia, as shown below.
Still, Intel is a good contrarian bet for several reasons. First, the firm has a new CEO, Pat Gelsinger, who has pledged to turnaround the firm. Second, Intel spends more than $13 billion in research and development annually. This means that the company has the wherewithal to regain its market share.
Third, Intel has vast existing relationships with many top companies in the United States and Asia. Finally, the company has a solid balance sheet, enabling it to pay and boost its returns to shareholders.
Intel vs. AMD and Nvidia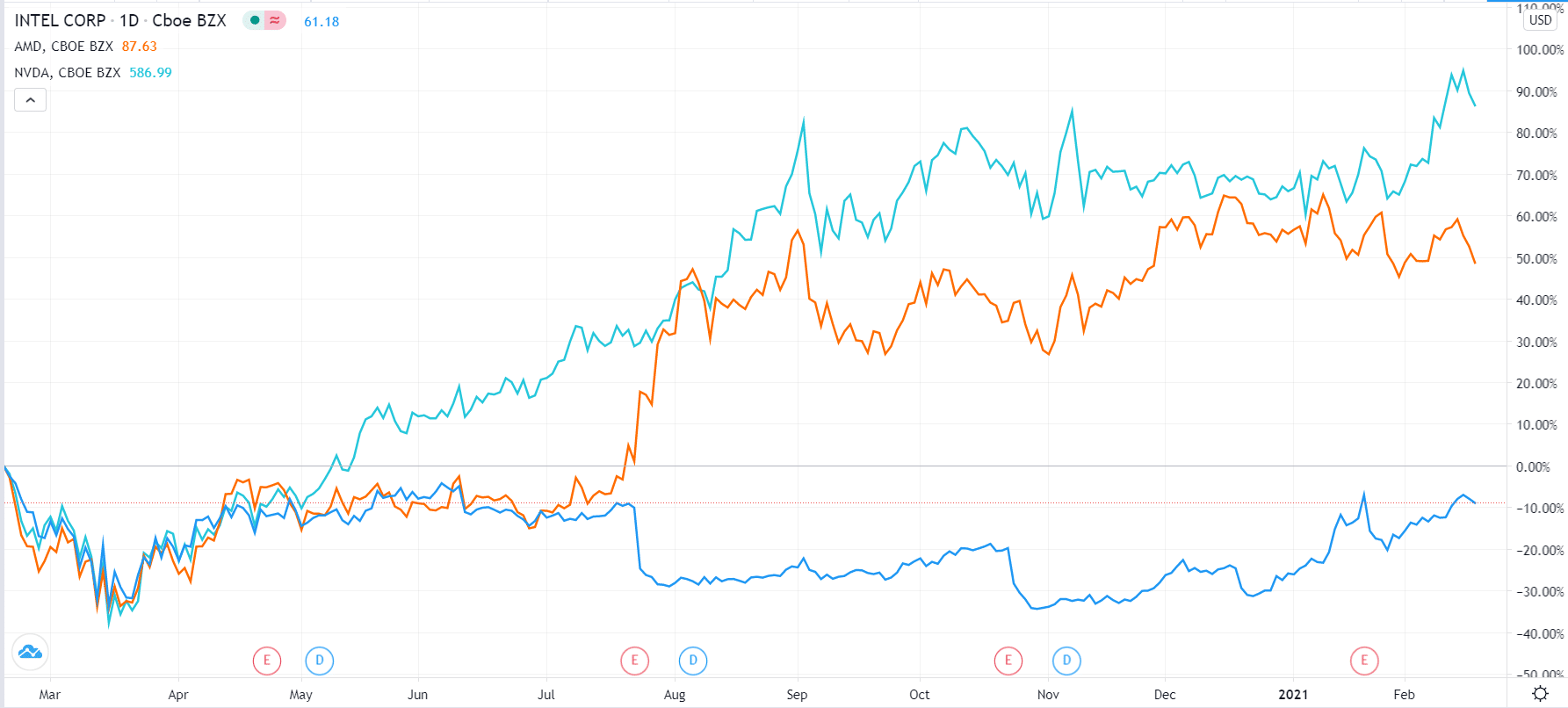 IBM (IBM)
Industry – Technology
Market cap – $106 billion
TTM revenue – $73.6 billion.
IBM, once the biggest company in the United States, is struggling. The company has a trailing PE ratio of 13, while its competitors like Microsoft, Oracle, and Amazon have a ratio of more than 20.
It also has a price-to-sales ratio of about 1.45, while its peers have a ratio of more than 4. That's not all. IBM has a dividend yield of about 5.4%, while companies like Microsoft and Oracle have less than 2%.
IBM has been in trouble for years. The company spent billions of dollars building Watson, a product that many potential clients ignored. The firm then missed the transition to cloud computing. By the time it got serious in the industry, companies like Microsoft and Amazon were already too far.
It then acquired Red Hat for more than $38 billion, a transaction that raised its debt to more than $70 billion. Additionally, IBM has retained some of its low-margin businesses like consulting. The company is also seen as being highly-bureaucratic.
Still, IBM may be a good contrarian stock. For one, the firm has a relatively new CEO who is trying to shed some of its traditional business. Also, the company has extensive customer relationships around the world. Most of these firms have turned to the company to implement their cloud strategy.
Further, while IBM has a small market share in cloud computing, it has room to grow this share, especially in the international market.
IBM vs. MSFT and S&P 500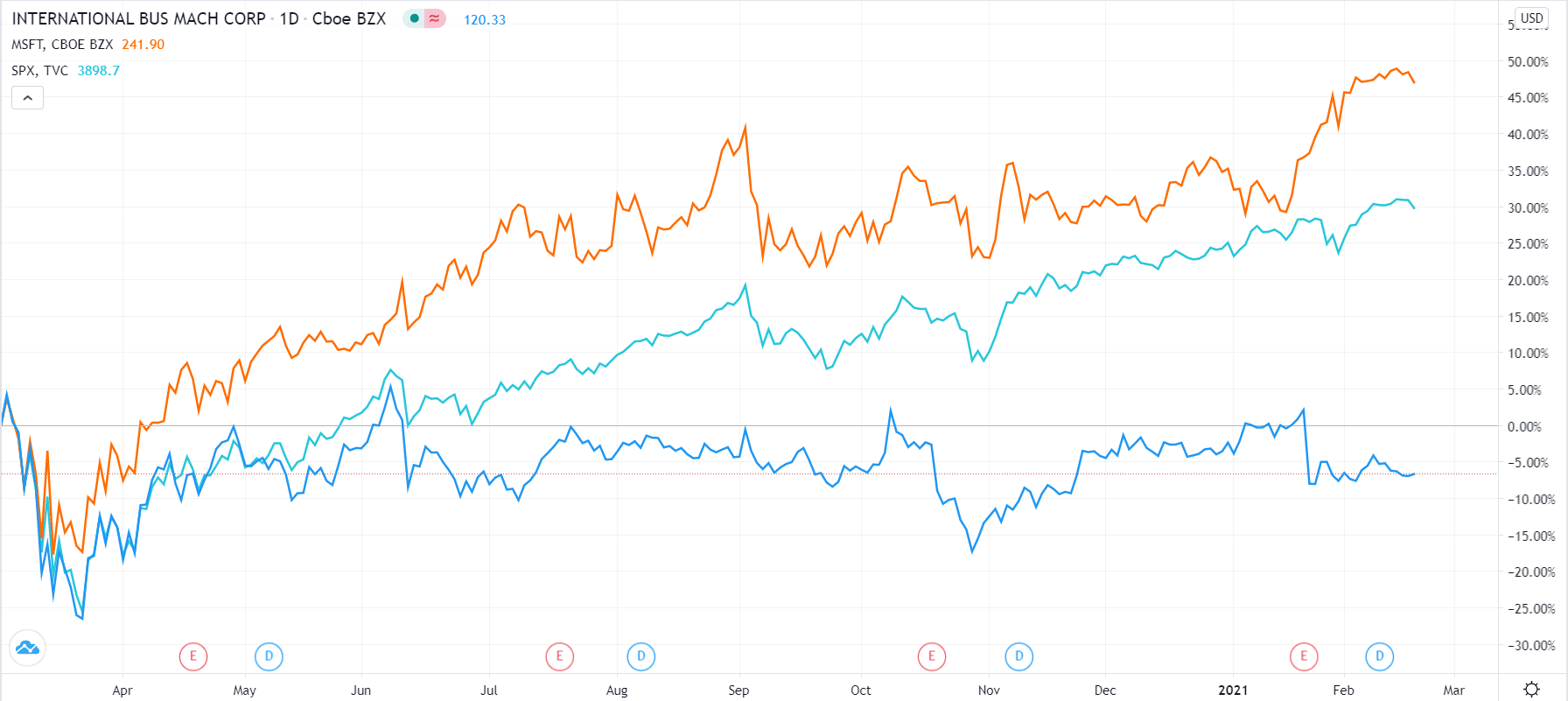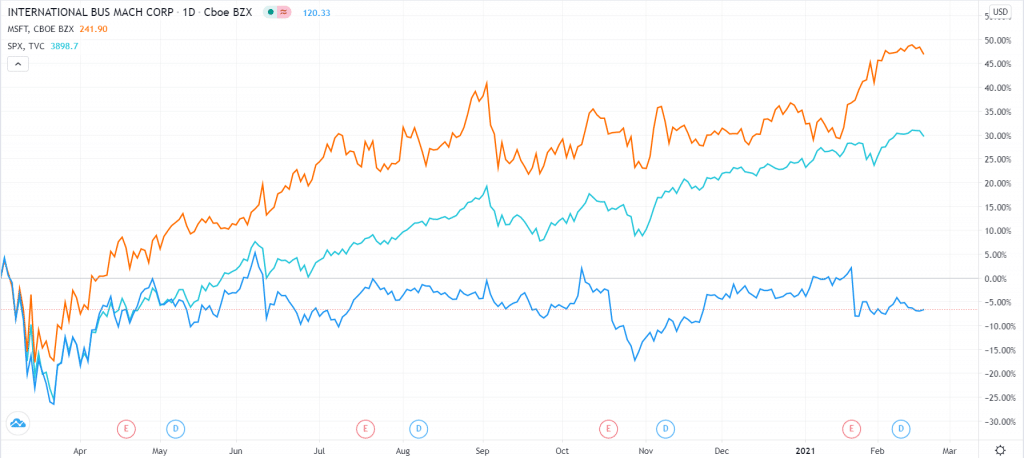 Boeing (BA)
Industry – Industrial
Market cap – $126 billion
TTM revenue – $58 billion
Boeing has had a long streak of bad news. Its problems started in December 2019 when a 737-Max owned by Lion Air crashed. This was followed by another crash by the same model owned by Ethiopian Airlines crashed in Kenya. The two accidents forced airlines to suspend the plane. As all this was happening, the pandemic hit, forcing most airlines to park their planes.
As a result, the share price has lagged the market. In fact, at the time of writing, the stock is 52% below where it was in February 2019. Its revenue has also dropped substantially. Its annual revenue has moved from more than $158 billion in 2018 to just $58 billion in the past 12 months. It also made a net loss of more than $11 billion in 2020.
Still, Boeing is good contrarian stock since global aviation will ultimately come back, and the 737-Max has already been reauthorized.
Boeing vs. S&P 500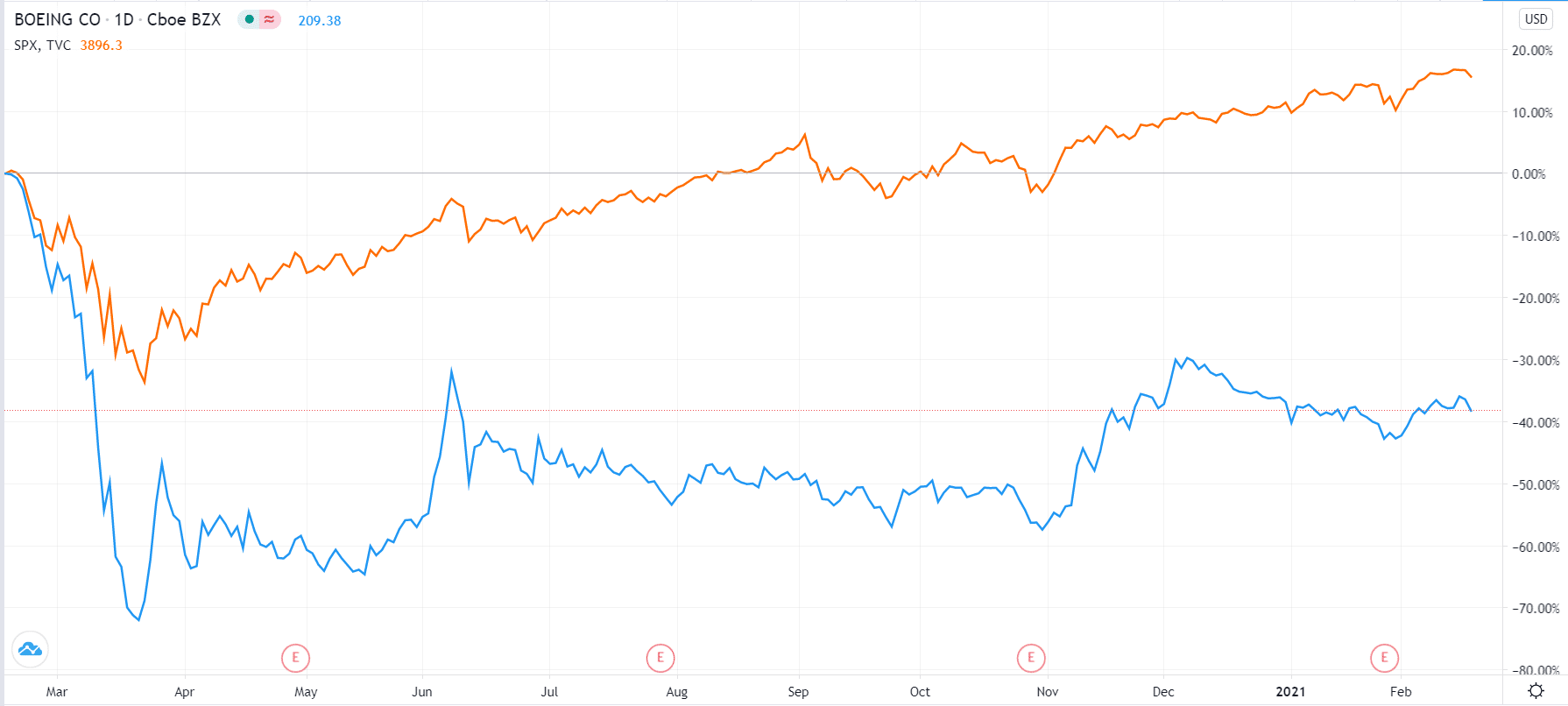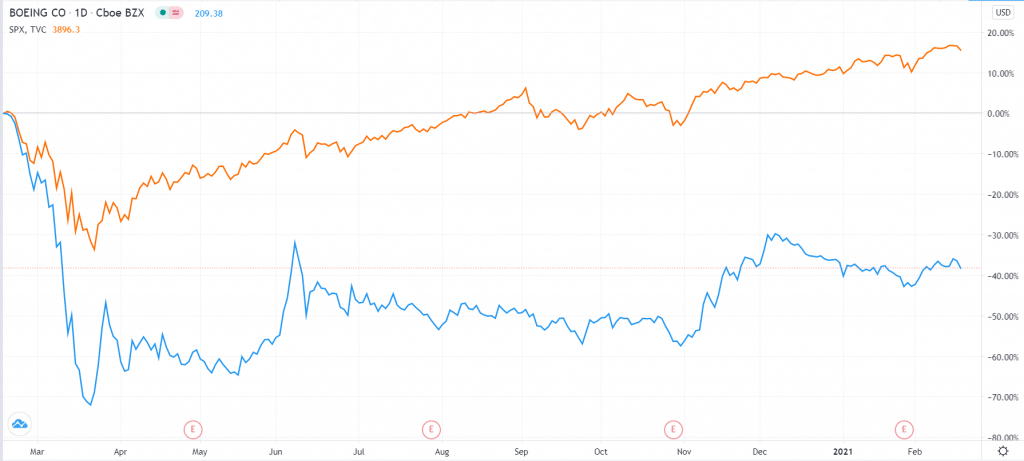 AT&T (T)
Industry – Telecommunication
Market cap – $206 billion
TTM revenue – $171 billion
AT&T has lagged its peers for a while. The company has a PE ratio of about 9x, while its competitors like Verizon and T-Mobile have a ratio of above 15.
This performance is mostly because of the company's debt load of more than $150 billion and problems in its media business. The company's streaming product, HBO Max, has had a slower start compared to Disney Plus. Also, the firm's Time Warner business was hit by the coronavirus pandemic.
Still, the company has some strengths that make it a good contrarian buy. First, it is in the process of reducing its debt by selling its DirecTV business. Second, the management has committed to reducing this debt while maintaining the dividend. Third, it has a substantial market share in most of its businesses.
AT&T vs. S&P 500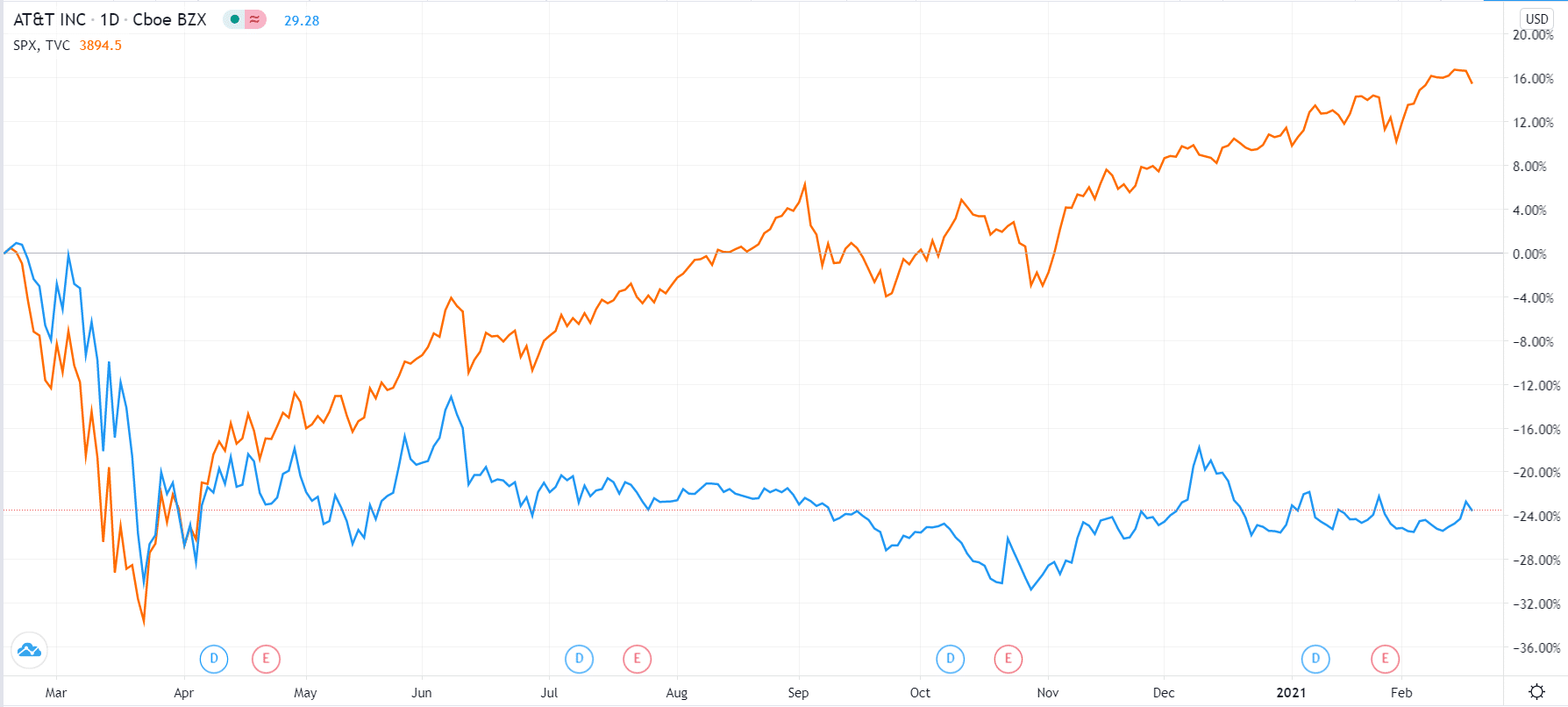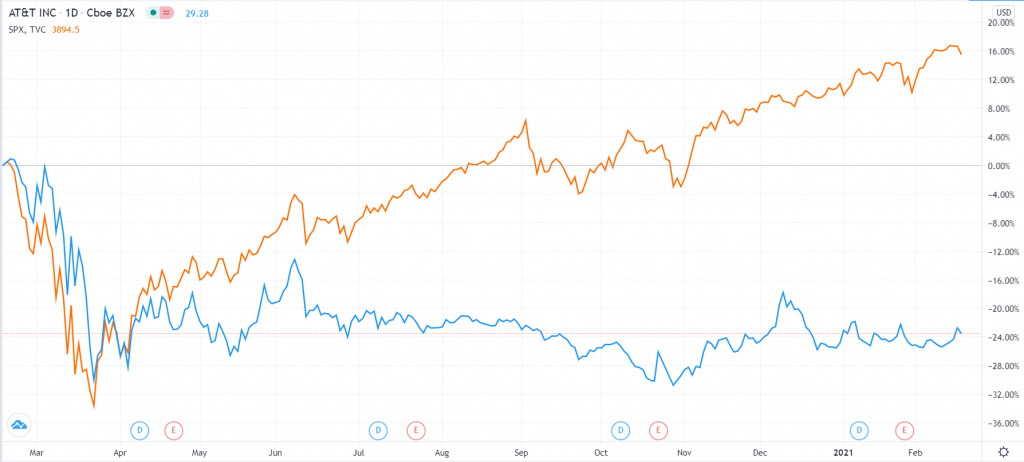 Summary
In this article, we have looked at some of the best contrarian stocks and why you should invest in them. Still, we have not scratched the surface. There are many good quality companies that have been left behind that you can invest in. We recommend that you create a portfolio that combines mainstream growth companies like Facebook and AMD with the contrarian ones. Also, you should have a long-term view when looking at these companies.