Bitcoin is the best-known cryptocurrency in the world. It is also a dominating asset, with a market cap of more than $345 billion, equivalent to more than 65% of all digital currencies. It has also been on a significant uptrend over the years and is enjoying its all-time high.
But Bitcoin is not the only cryptocurrency. Indeed, there are more than 4,000 of them. Since most of them are not worth your time, let us look at the five best alternatives to Bitcoin you should consider investing in.
Ethereum (ETH)
ETH is the second-biggest cryptocurrency in the world, with a market cap of more than $57 billion. Started in 2013 by Vitalik Buterin, Ethereum is an open-source platform that enables people to build decentralized applications. The network uses the concept of smart contracts, which helps these developers execute contracts through computer code.
Back when it was launched, Ethereum was well-known in the industry for the Initial Coin Offering (ICO) that helped people raise money using blockchain for their projects. That industry collapsed since it was mostly used for fraud. Today, the best use-case for ETH has been in the decentralized applications (DeFi) industry that is disrupting the finance sector.
DeFi simply helps people build decentralized financial companies in areas like lending, trading, and derivatives. In 2020 alone, the value locked in the industry has grown to more than $13 billion.
Ethereum makes a good Bitcoin alternative because:
It has outperformed Bitcoin in the past few years, as shown below.
It is significantly less expensive than Bitcoin.
The upcoming shift to Proof of Stake will significantly lead to more transactions in the network.
The total addressable market in decentralized finance is rapidly growing.
It has a big moat in DeFi since most platforms are built using its network.
Ethereum has outperformed Bitcoin.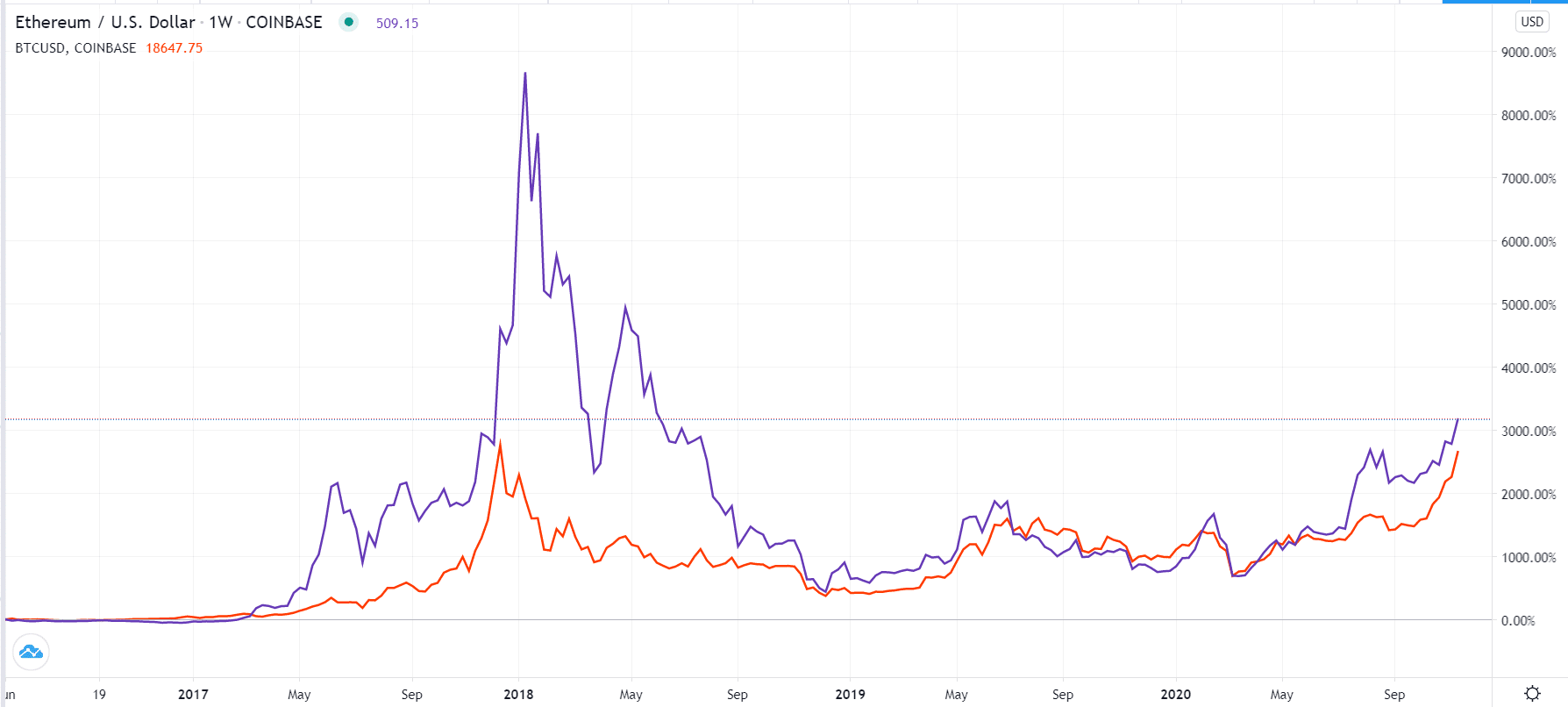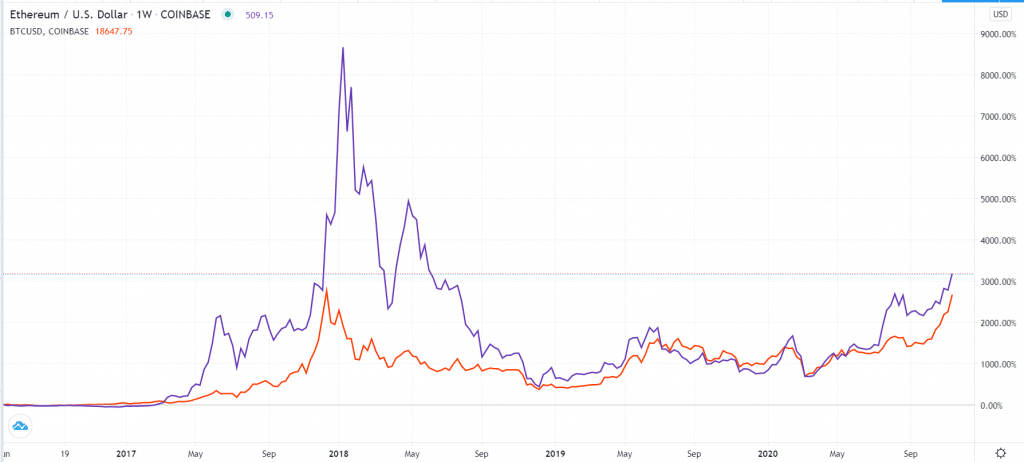 Tether (USDT)
Started in 2014, Tether has been on an upward trajectory ever since. Today, USDT has become the third biggest digital currency in the world, with a market cap of more than $18 billion. It is also the biggest stablecoin in the world.
Tether differs from Bitcoin because it is backed by fiat currencies like the US dollar, yuan, and euro. This means that for every single tether in existence, there is a dollar behind the scenes.
The goal of stablecoins like USDT is to remove the boundaries that exist in fiat currencies. For example, to conduct most transactions through banks or other centralized platforms, they are required to follow Know Your Customer (KYC) and Anti-Money Laundering (AML) laws. Since USDT is a decentralized network, most of these rules don't apply. USDT's transactions are also faster and less expensive.
Most importantly, USDT is being adapted more by some of the leading players in the blockchain. Among the platforms where it is accepted are Huobi, Poloniex, and Bitfinex, among others. Here are some of the reasons why Tether is a good Bitcoin alternative:
It is a safe stablecoin that is backed by existing currencies.
Unlike other currencies, USDT is relatively stable to use.
Tether use volume is growing, as evidenced by the growth of its market cap.
Tether is cheap to invest in for people with no significant amount of money.
Tether and Bitcoin market cap growth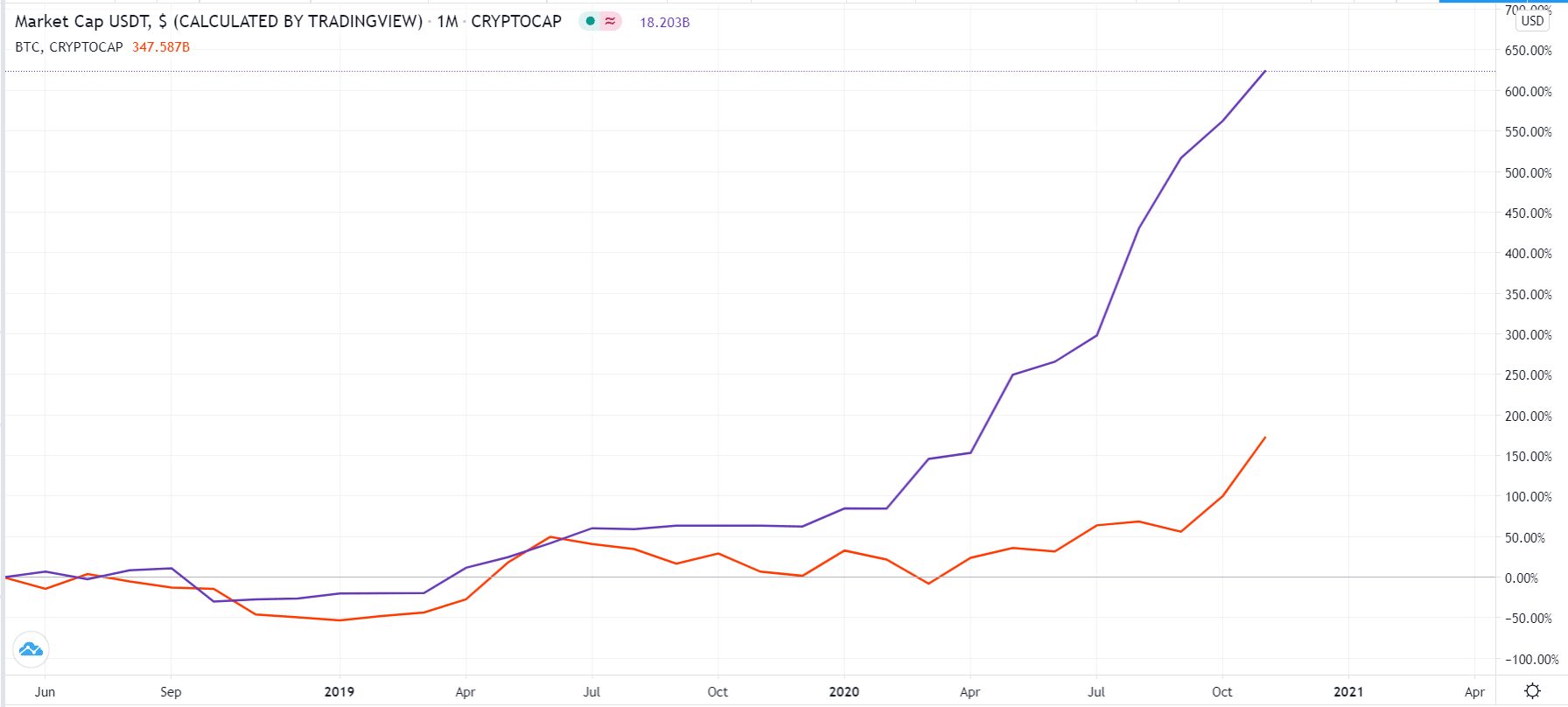 Ripple (XRP)
XRP is a digital currency that is significantly different from its peers. The currency is issued by Ripple, a company headquartered in San Francisco. Ripple's goal is to help simplify cross-border money transfers by partnering with banks and other financial companies that use its RippleNet technology.
Some of the companies that are currently using the technology are Santander, the fifth-biggest bank in Europe, MoneyGram, PNC Financial, and American Express, among others.
XRP is built using open-source technology and is powered by the XRP Ledger. The ledger is usually faster, safer, and scalable than most other cryptocurrencies.
Today, XRP has a market cap of more than $16 billion and is one of the most widely-traded digital currencies in the world.
While XRP is a good currency, it is a bit controversial, which has made it to underperform Bitcoin. For example, some of its leaders have been sued for promoting it while actively selling the currency. Still, it makes a good currency to diversify with for the following reasons:
Ripple trades at less than $1, meaning that you can invest in it regardless of your wealth.
XRP has a strong risk-reward proposition, meaning that if it works out, your reward could be enormous.
XRP solves problems, especially in cross-border transactions.
XRP has underperformed BTC.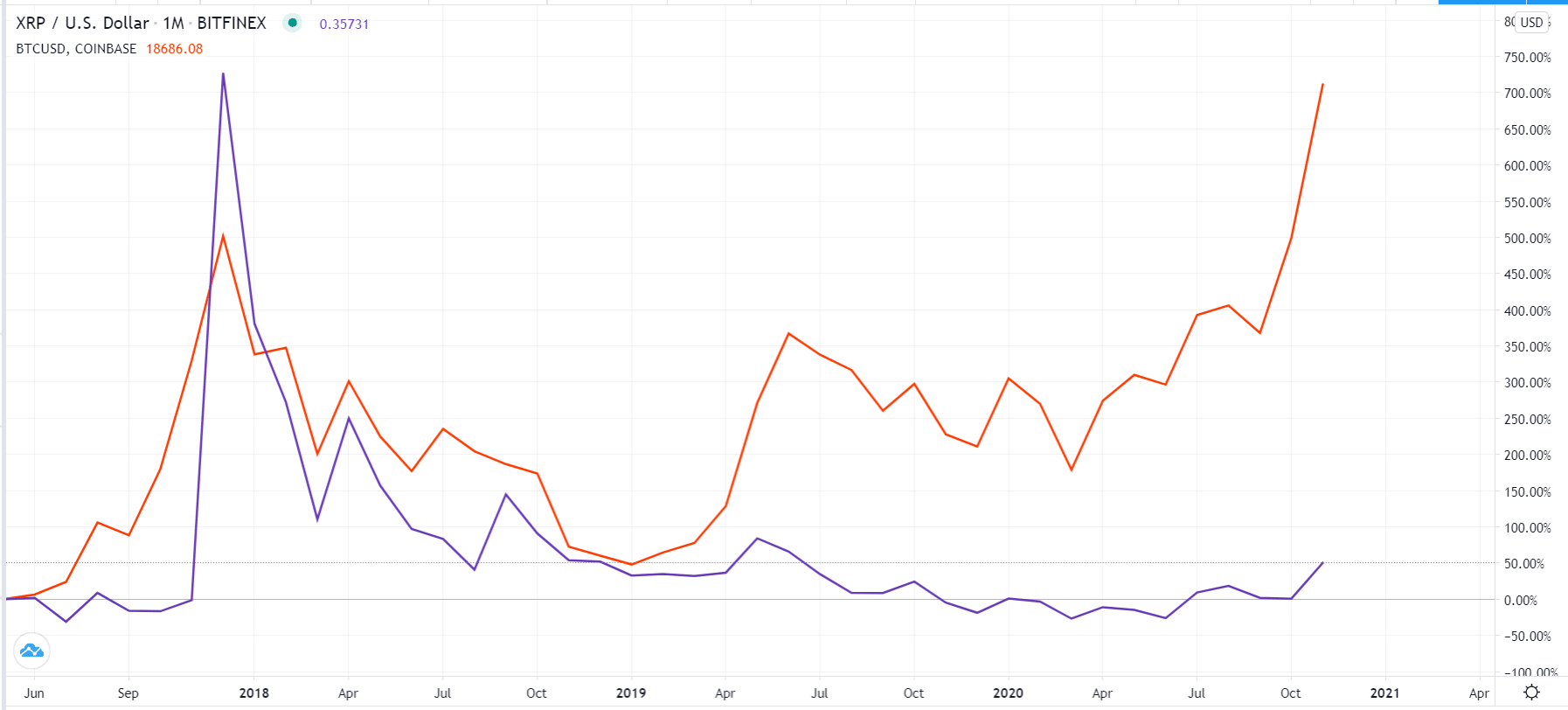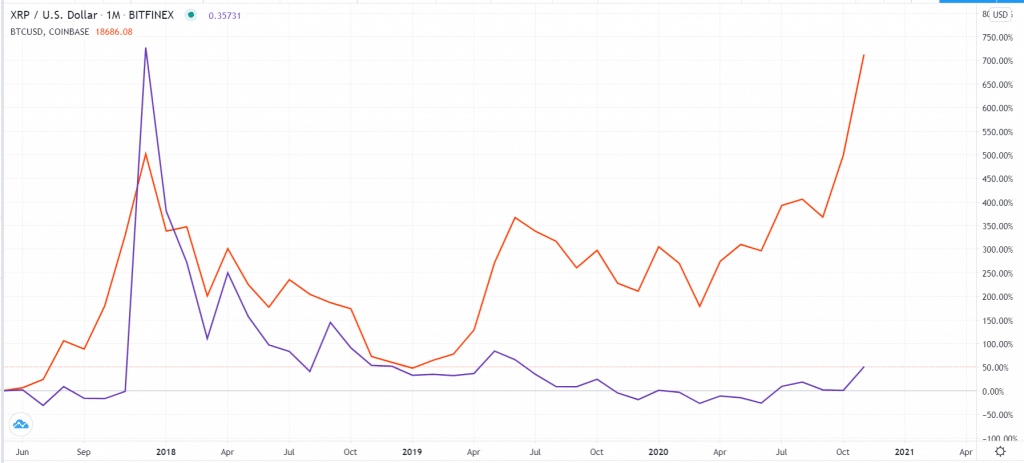 Chainlink (LINK)
In the past few years, Chainlink has grown from an unknown blockchain project to the fifth-biggest platform valued at more than $5.5 billion and daily volumes of above $1.8 billion.
Of the cryptocurrencies we have mentioned, Chainlink is closely related to Ethereum. That's because its goal is to connect highly disconnected smart contracts to the real world, including APIs, payment systems, and cloud solutions.
Chainlink explained


Chainlink solved the problem where decentralized apps (dapps) had the challenge of moving their information to the real world. To do that, it created systems that help this information to be released safely.
The use case for this process is enormous. For example, in the DeFi industry, it provides important market data that is needed to issue, settle, and secure applications. The biggest users of this are AAVE and Yearn Finance. Also, blockchain companies in most sectors are using the Chainlink product to link smart contracts to real world actions. For example, Open Law uses its network to automate contract signings.
ChainLink has been a strong outperformer, as shown below.
Chainlink vs. Bitcoin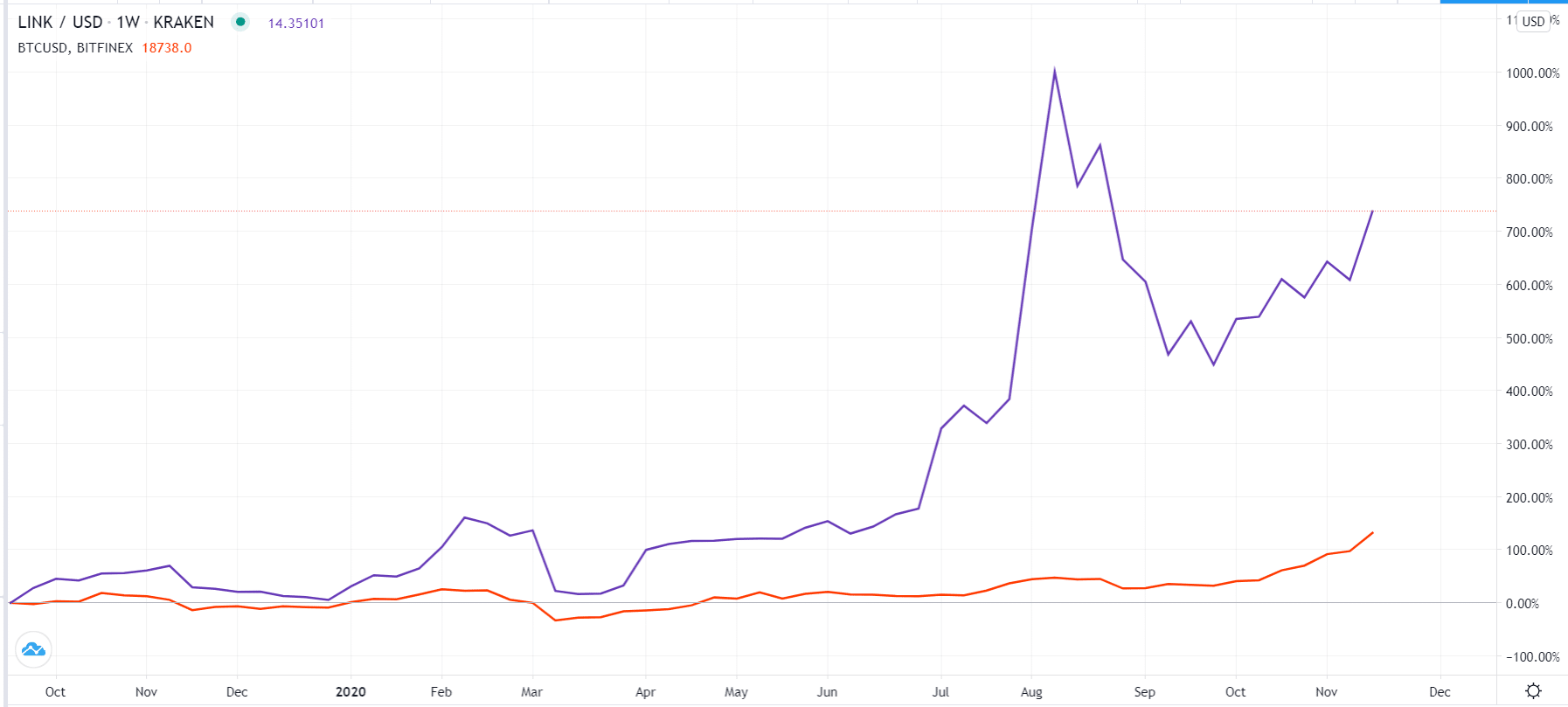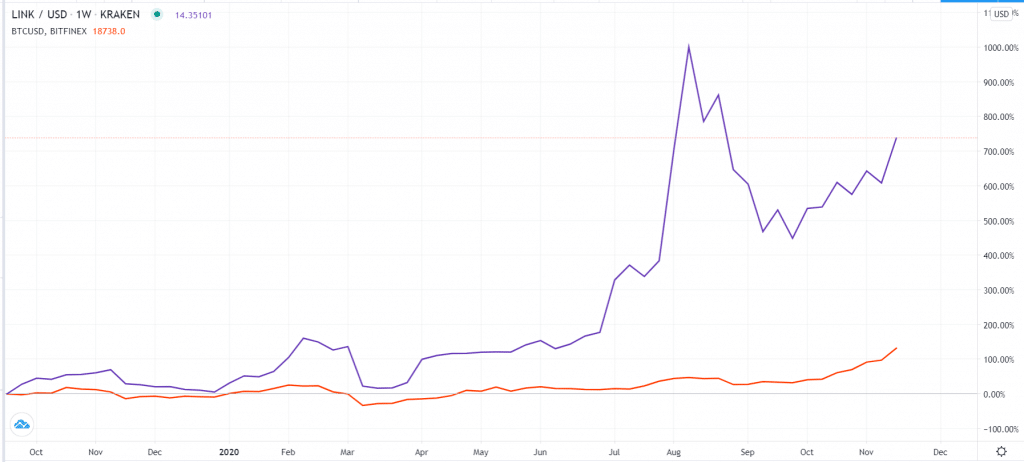 Bitcoin Cash (BCH)
Bitcoin Cash was created in 2017 through a hard fork of the Bitcoin network. A year later, it split, leading to the formation of Bitcoin SV, which now has a market cap of more than $3 billion. Bitcoin Cash, on the other hand, has a market value of more than $4.9 billion.
BCH was formed when disagreements within the Bitcoin community emerged. One group of participants preferred large blocks, while others preferred quite smaller ones. Since then, Bitcoin Cash has struggled against BTC because most people still prefer investing in the original Bitcoin.
Still, BCH is a good investment because of the strength of the underlying community and the fact that it is offered by most exchanges. It is also gaining popularity as a proxy for BTC.
BTC vs. BCH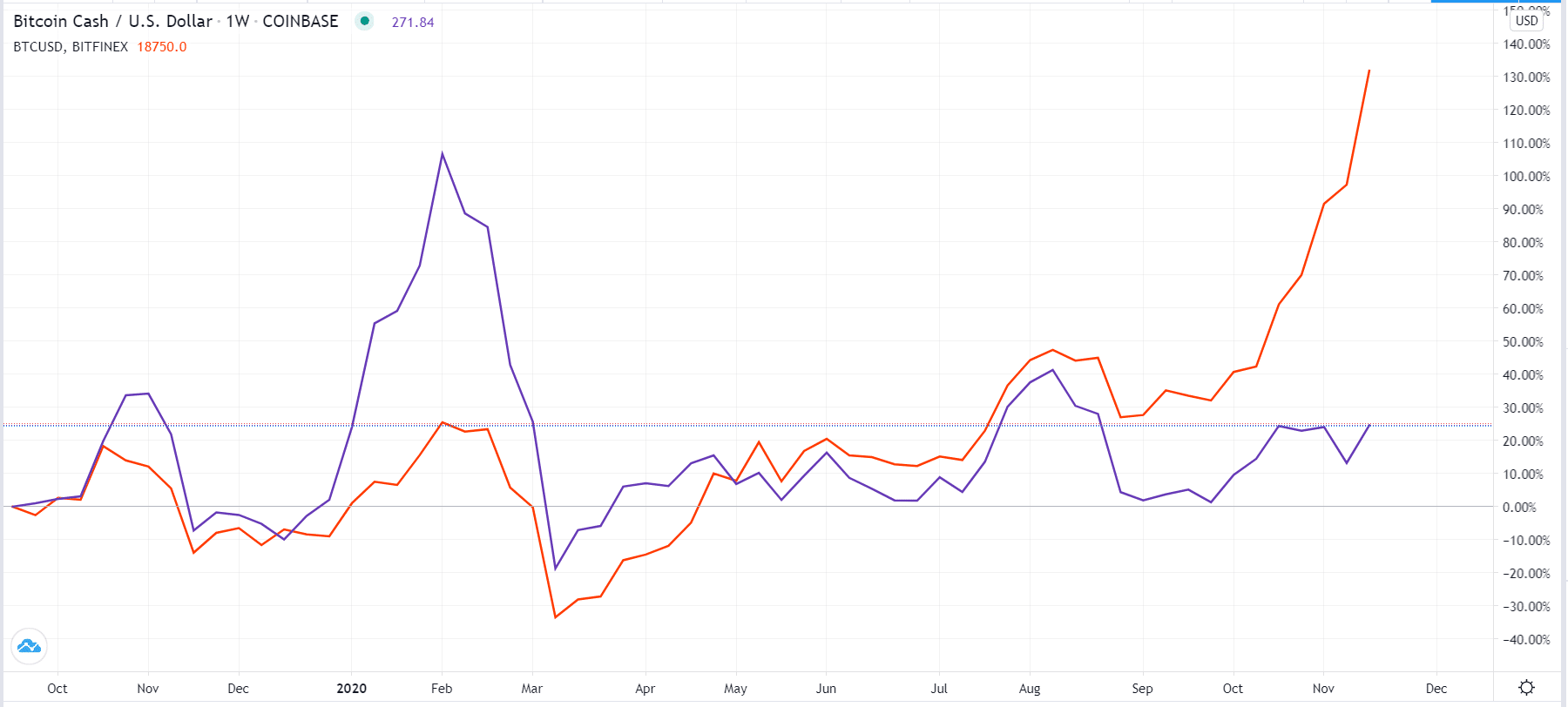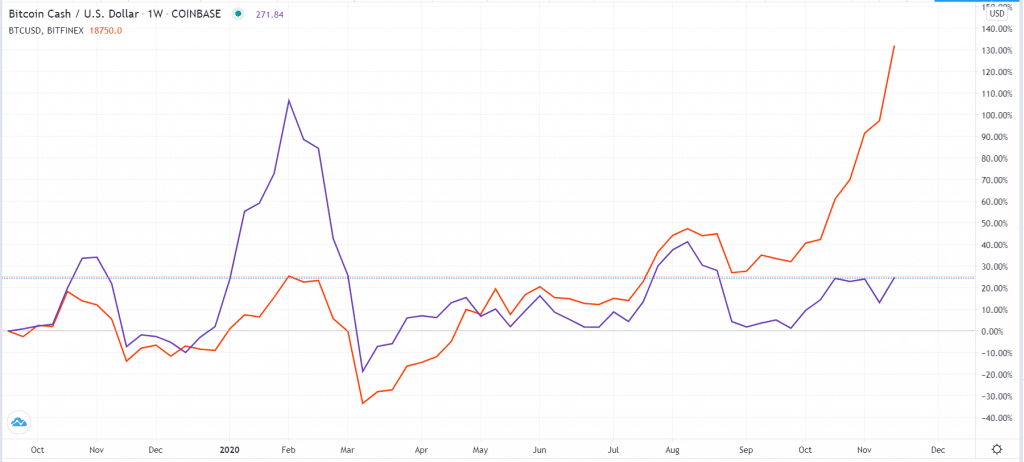 Final thoughts
If you are thinking about investing in digital currencies, we recommend that you allocate most of your capital to Bitcoin because of its size and the fact that it is the preferred investment among institutional investors.
Still, it is always a good thing to diversify your holdings, which makes these five Bitcoin alternatives good assets to invest in.