Ninja Scalper is a new robot that performs a scalping strategy. The presentation starts with a manipulation that there are "100% satisfied customers." Of course, it's a lie. 
Is Investing in Ninja Scalper a Good Decision?
Ninja Scalper doesn't look like professional software because it sold through MQL5 but was removed or delisted. We can't tell you to invest in this because there's a chance this EA or its owner violated MQL5 rules.
Company Profile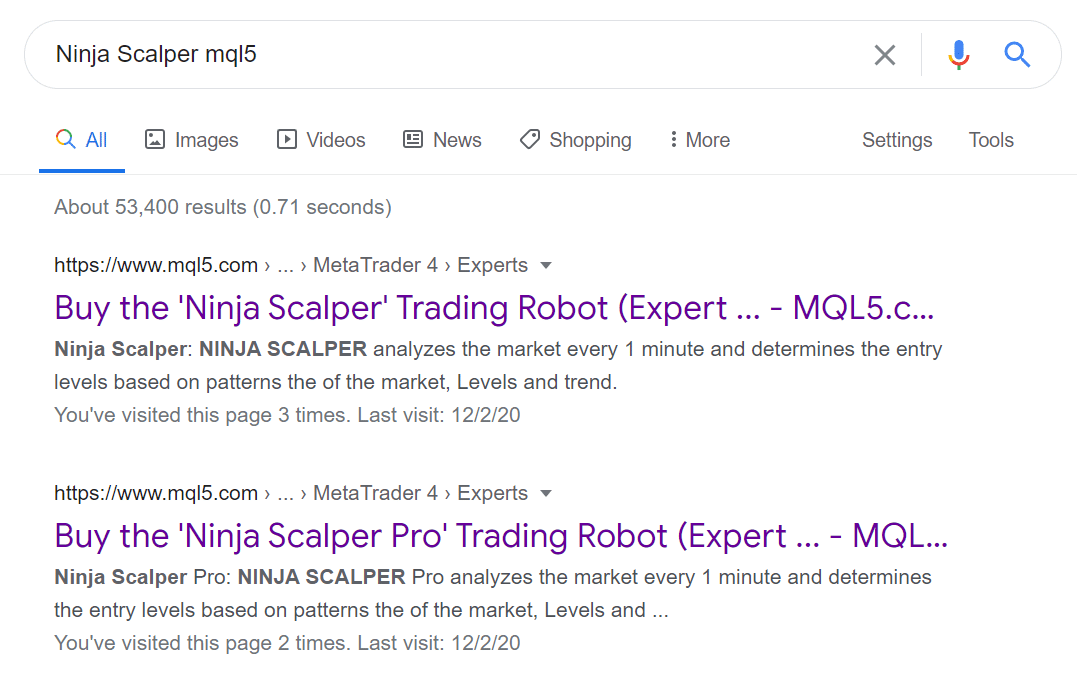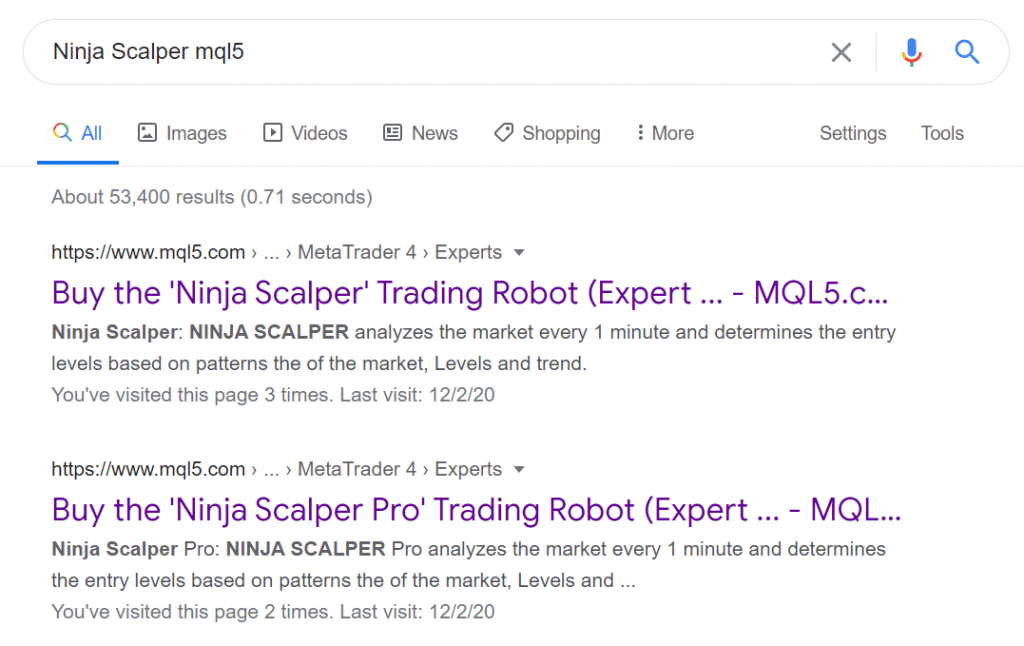 As we can see, Google knows about the robot's MQL5 pages.


Both links go nowhere. The robot was removed from the community. It's noticeable that the developers try to hide info about the EA's previous version.
Main Features
Let's talk about Ninja Scalper's features:
The robot focuses on scalping EUR/USD on the M5 time frame.
The strategy is based on a MACD indicator with other trend indicators (RSI, Moving Average, Moving Average Strange) to determine the best entry and exit points.
There were backtests based on 99.90% quality data.
We can start trading with as little as $50.
There are several risk modes: Conservative, Moderate, and Aggressive.
The robot takes into account swaps and broker's commissions when it closes deals.
The system allows setting a maximum allowed drawdown.
We can set an automatic Lot Size or based on an account balance.
The EA follows FIFO rules, so people from the USA can use it as well.
We can use other currency to deposit (?).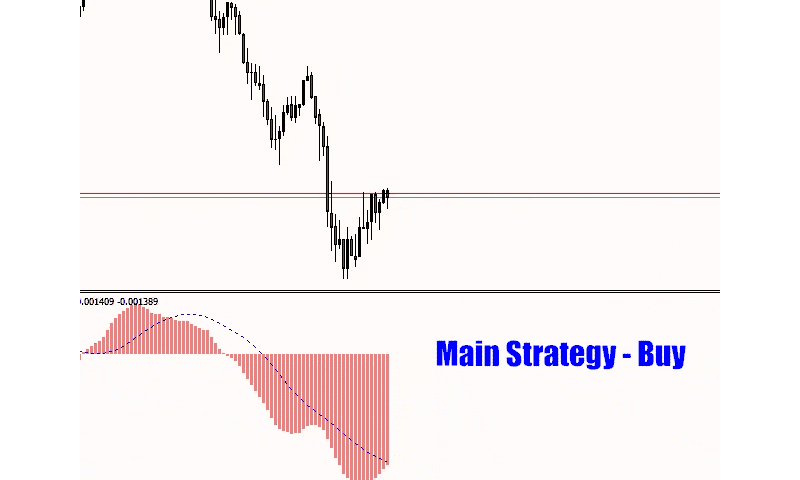 The main strategy is scalping.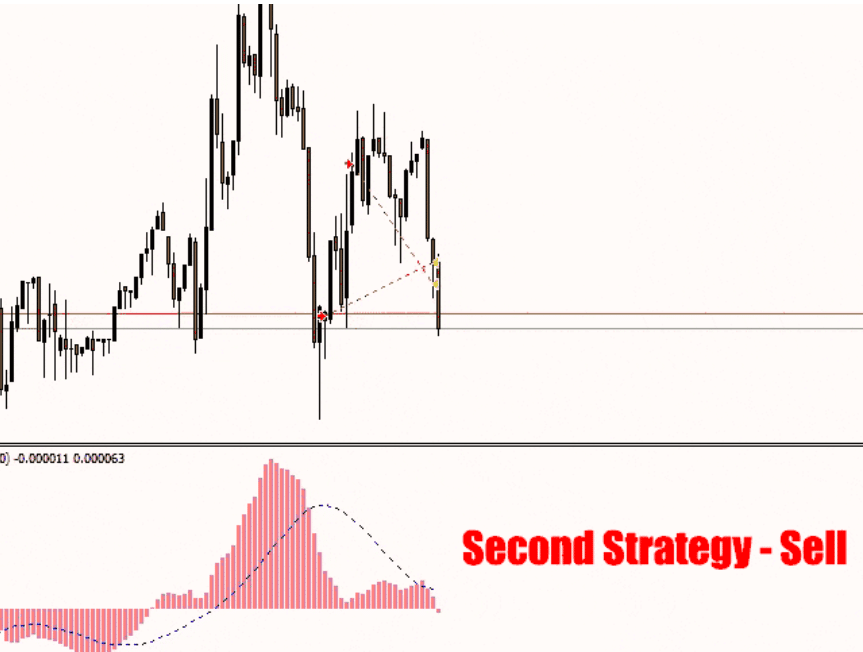 The support strategy is a Grid of orders.
The developers recommend we use ECN accounts and a VPS service.
The minimum leverage should be 1:300.
Price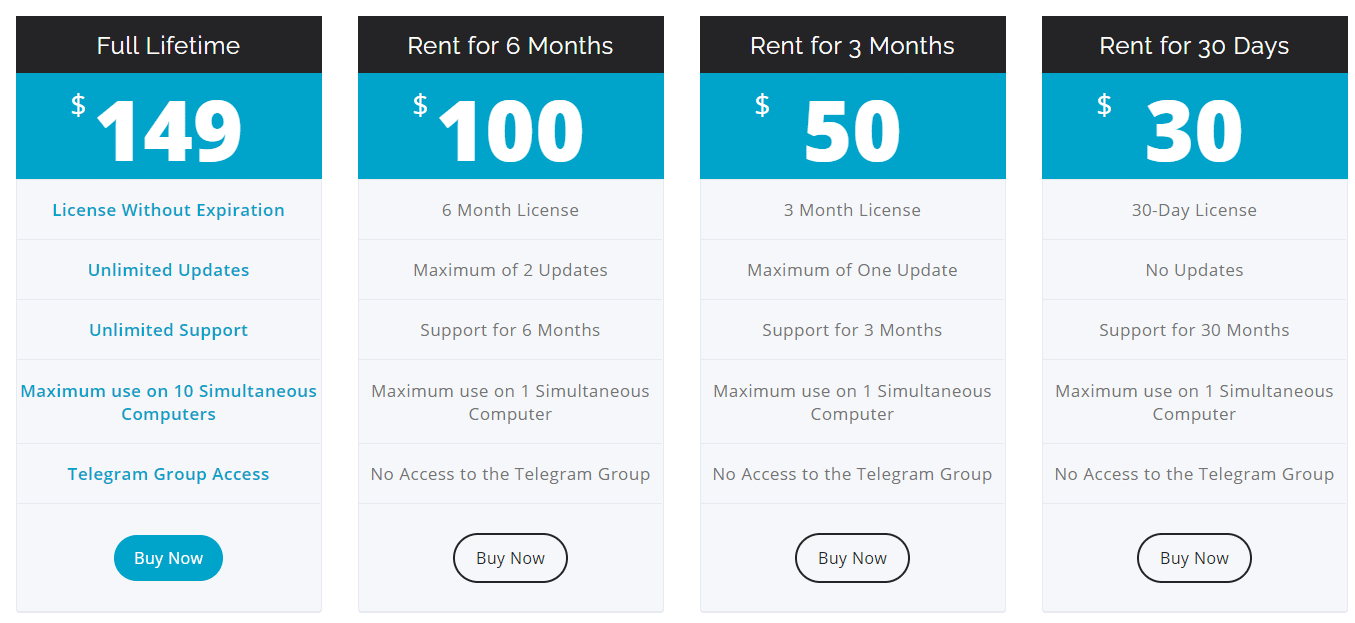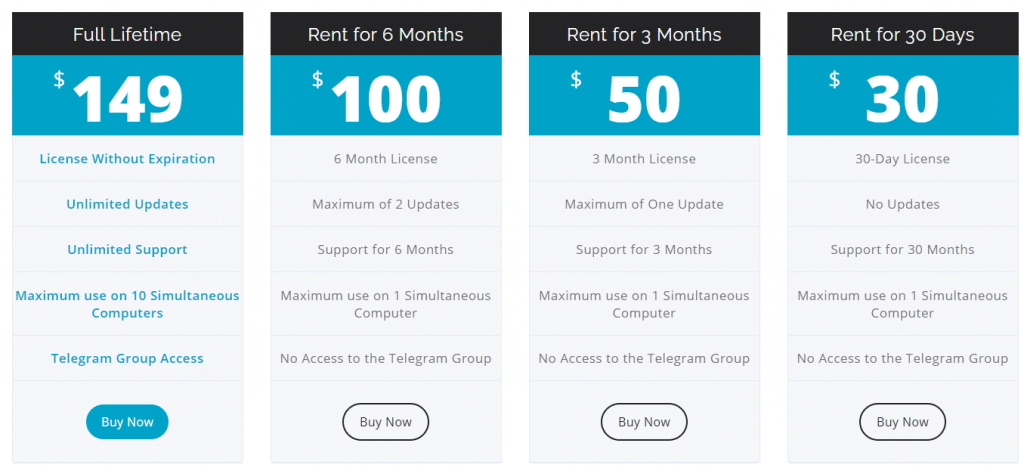 The robot sells in two packages: purchasing and renting. For $149 we can buy it. How many licenses, we don't know. There's an unlimited update, support, and access to a Telegram channel. There are three rental options. For 30 days, it costs $30. For three months, it costs $50. For half a year, the price is $100. They don't have support, updates (only a $100 pack has two updates), access to a Telegram channel.
Trading Results


The developers didn't provide a comfortable-to-read report. It's a screenshot from a slider. From the screenshot, as the devs mentioned (20-year backtest), the absolute gain became 62089% ($1241790). The robot closed 9402 trades with a 68% win-rate and a 1.96 Profit Factor. The maximum drawdown was 10.11%. An average monthly profit was 240.66%.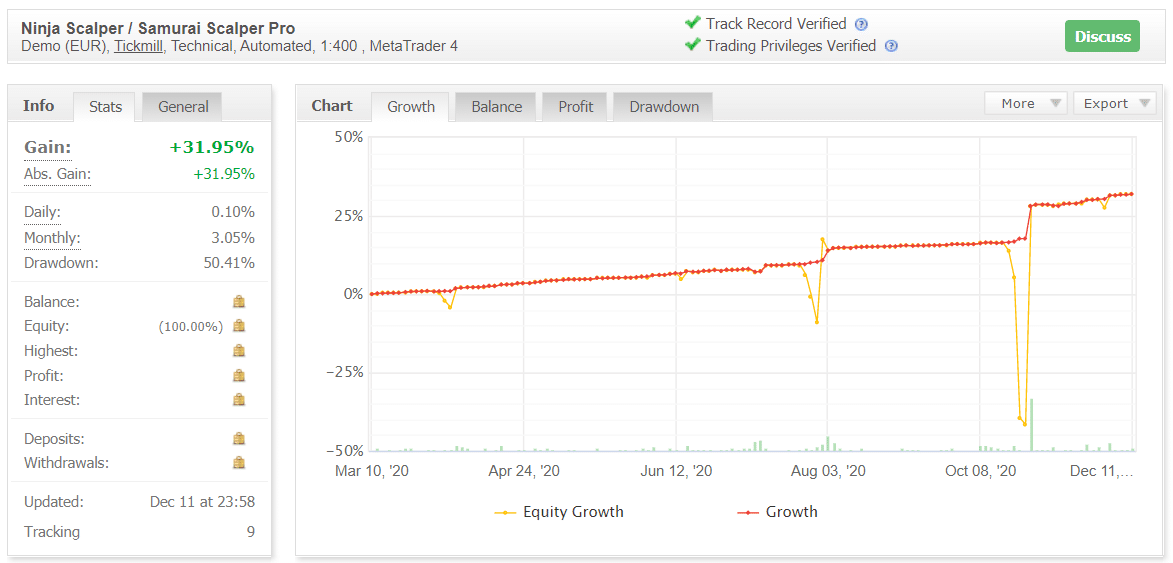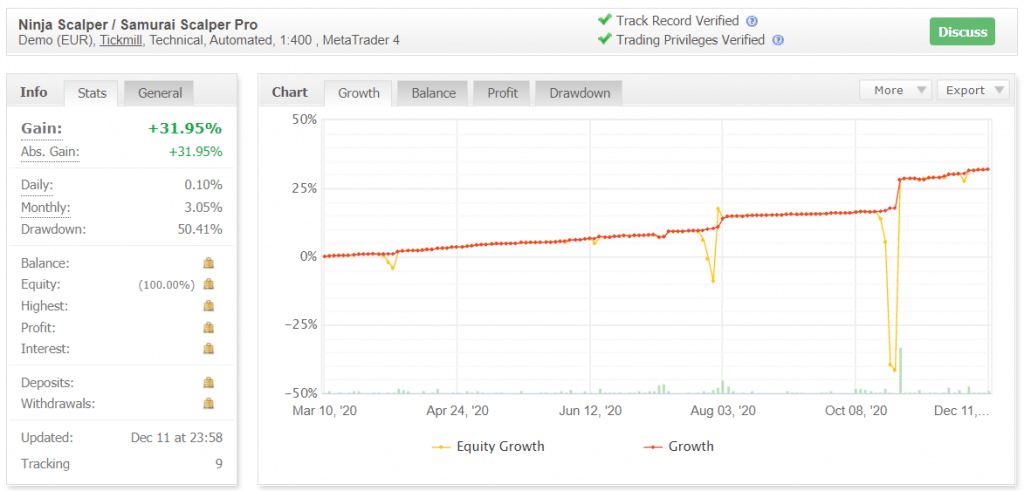 The robot runs a demo EUR account on Tickmill using technical indicators. It works automatically with 1:400 leverage on the MetaTrader 4 platform. The account has medium transparency because there's a verified track record, but much intel is hidden. It was created on March 10, 2020. Since then, an average monthly gain has become +31.95%. An average monthly gain is only +3.05%. The maximum drawdown was insane (50.41%).


The robot closed 421 trades with 924.5 pips. An average win (12.63 pips) is higher than an average loss (-10.61 pips). Win-rate is between 52% and 58%. An average trade length is over ten hours. The Profit Factor is 1.72.


It trades only EUR/USD in both directions equally. More pips were gained on long deals (598.4), compared with short ones (326.1).


Ninja Scalper focuses on trading European trading hours.


It trades almost all days equally.


Ninja Scalper works with high risks to the account balance. There's a 41.44% chance of losing 10% of the account balance.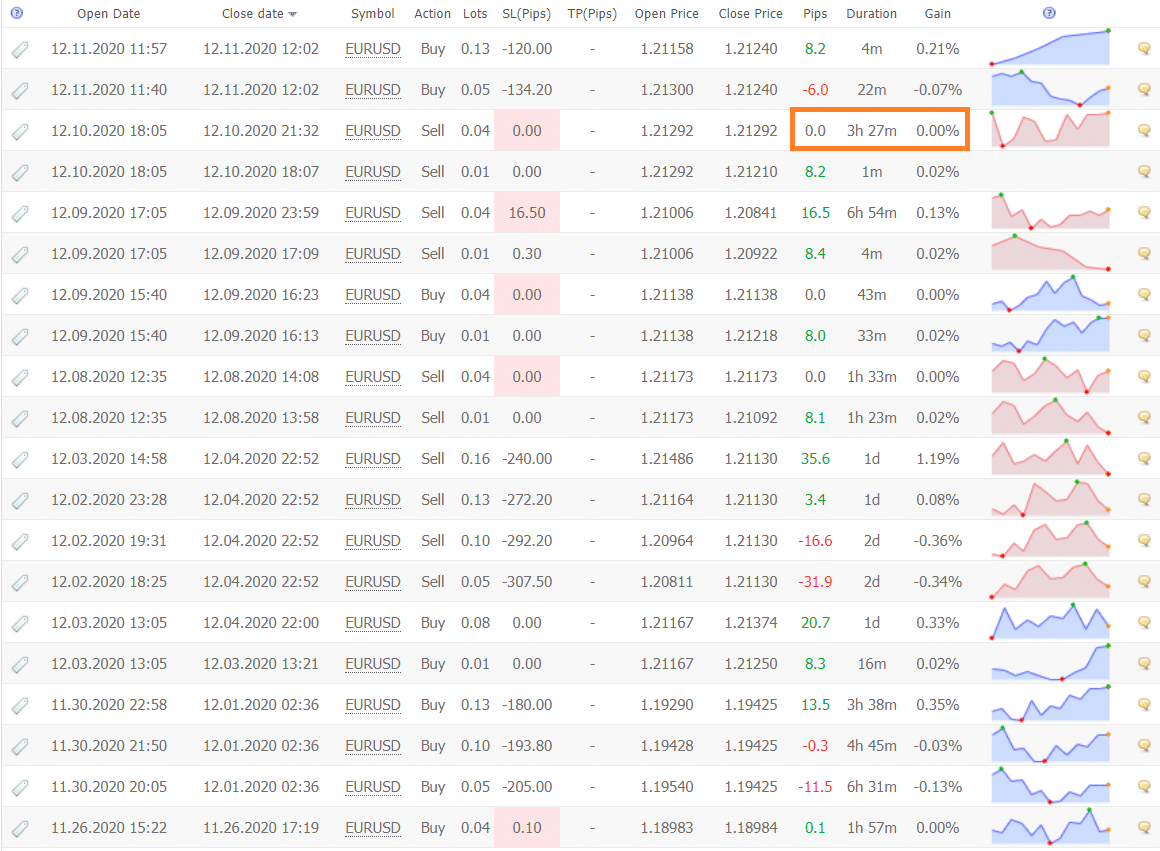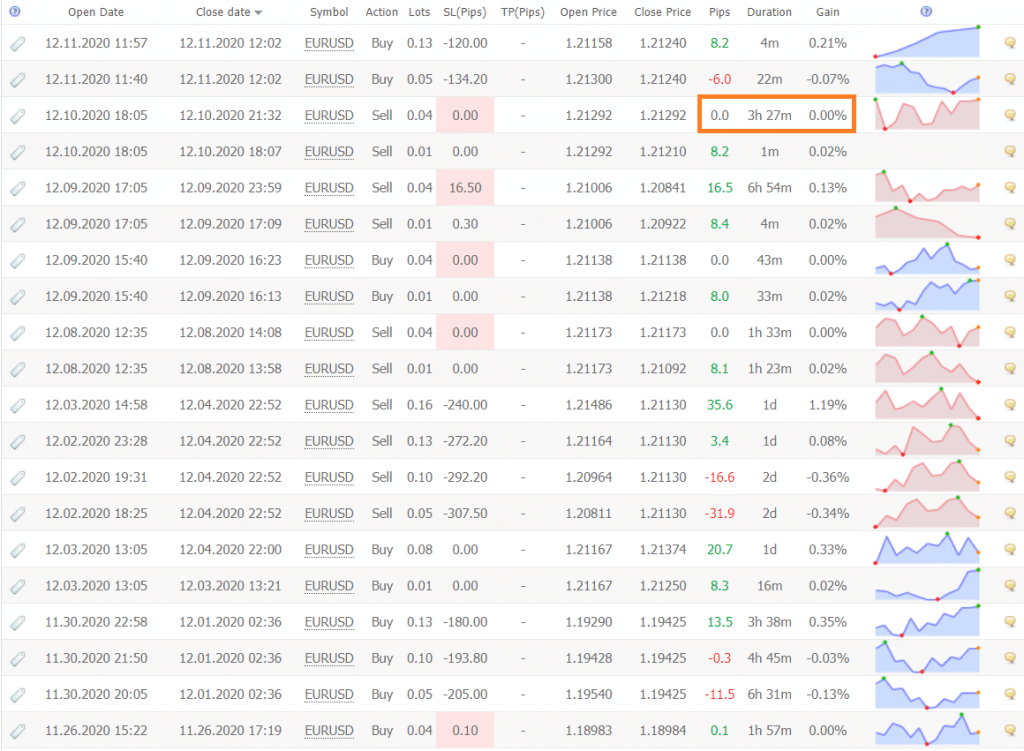 The robot uses a Grid of four orders and Martingale to recover after losses. It uses Trailing Stop Loss to work with big profits. From the closed in 0.0 deal, we know that this account is not an ECN one.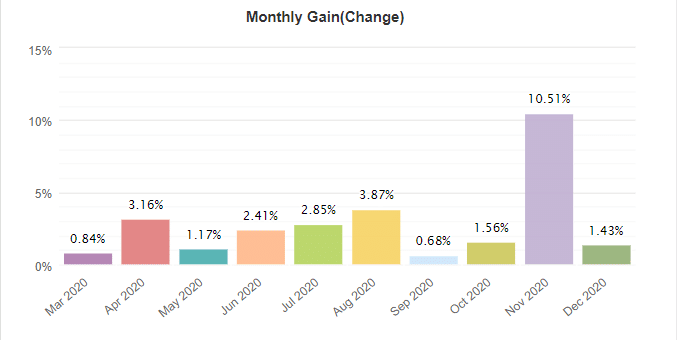 As we can see, profitability varies from month to month.
People's feedback


The presentation includes old feedback from MQL5. Some people called it Samurai. There are no other testimonials in Google, Trustpilot, and Forex Peace Army.
Summing Up
Strategy – score (4/10)
Functionality & Features  – score (5/10)
Trading Results – score (7/10)
Reliability – score (5/10)
Pricing – score (7/10)
Conclusion
Ninja Scalper is a scary combination of scalping, grid, and martingale. The presentation didn't manage to convince us that thor robot is the best option to go with. There are many questions unanswered. The developers explained nothing about what's happened with their MQL5 account and, most likely, a Samurai (previous) robot. There's no money-back guarantee as well.