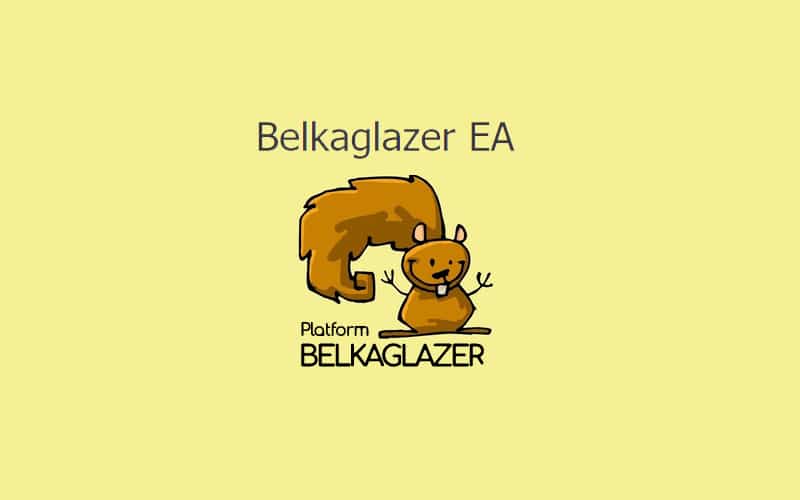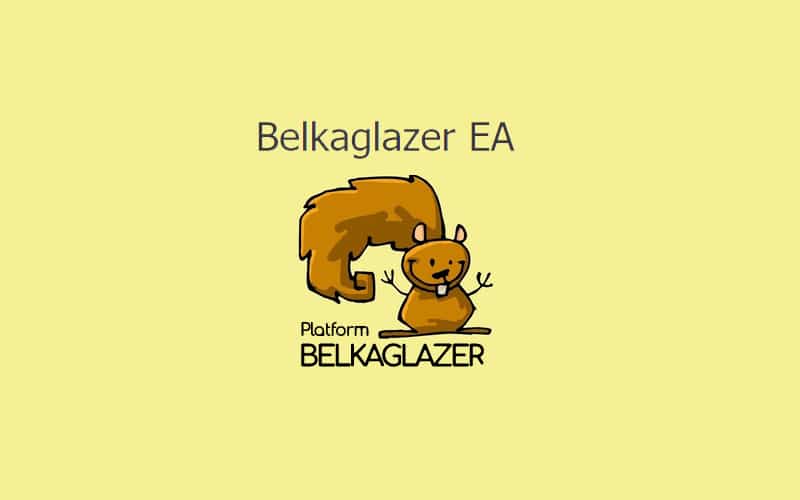 Today we are going to review a Forex Expert advisor, built to focus heavily on a trading strategy. It was designed to provide traders with 'diverse trading strategies in different markets (FOREX, FORTS, Crypto, Indices)'. Traders can easily use any of the trading systems based on the set files or settings of this Forex robot. In this review, we will tell you all about this EA, its advantages and disadvantages to help you make smart investment decisions.
Is Belkaglazer EA a Good EA to Invest?
No. We do not recommend the EA to the public:
Low trading results
Extremely high price
High trading risk
Multiple trading strategies are used (it can be complicated not only for newbies but for experienced traders as well)
Low-profit factor
The average loss is higher than the average win
Mixed customer reviews
Company Profile
On the MQL5 market, we have found that the creator of this trading software is Dmitry Shal, located in Russia. He published and placed for sale Belkaglazer EA on April 6, 2017. The recent update was on December 14, 2020 (the latest version of Belkaglazer EA is 2, 169). Dmitry has a high rating among the MQL5 community (3871). He says that he is a full-time individual trader, who has programming skills and a bachelor's degree in economics. His trading journey was started in 2006 and since that time Dmitry has been constantly working upon different trading algorithms, trading models, and strategies for stocks, futures, options, and currencies. His style is portfolio trading. Dmitry uses a very extraordinary analytical approach, using more than 10 different trading strategies, including mean reversion, momentum, and breakout:


To get in touch with support, traders need to visit their contact page and send an email to belkag[email protected] or send a direct message via the MQL5 community.
Main Features
Le's point out the key features of this expert advisor:
Uses diverse and long term trading strategies in 4 different markets: FOREX, FORTS, Crypto, Indices
Aimed at pro algorithmic traders, the robot uses Price action, PRNG, Pivot, and PriceChannel models with 'clear logic'
ES supports Limit/Stop/Market orders and works with Instant/Market execution
Automatically adjusts to four or five-digit quotes

The intricacies of the EA do warrant some skill to decode and maneuver, which afford traders to use multiple trading approaches. However, it may be too difficult to use the EA even by experienced traders. The robot is advertised as a smart trading tool, which can provide traders with enough room for research and creativity. However, it may be a challenge for most of the traders looking for automated trading which excludes any human interference. Most traders are searching for trading tools, which could simplify their work, not complicate it. Belkaglazer is not a good solution for those who are looking for easy, human-free trading requiring minimum trading skills.


The robot is based on 3 main trading strategies: Breakout, Mean-reversion, and Momentum.




In addition to this, the developer provides multiple trading modes for traders (Price Channel, PCh Mode, Pivot, and more) so traders can easily choose which one to opt for.
Price
The robot can be purchased only via the MQL5 market. It is sold for $499. It's also available for 3 months rental – $149 or for 6 months rental – $249 (devs say that opting for this rental offer you save 17%). Traders who are interested in the software can test the EA on a free Demo account before purchase.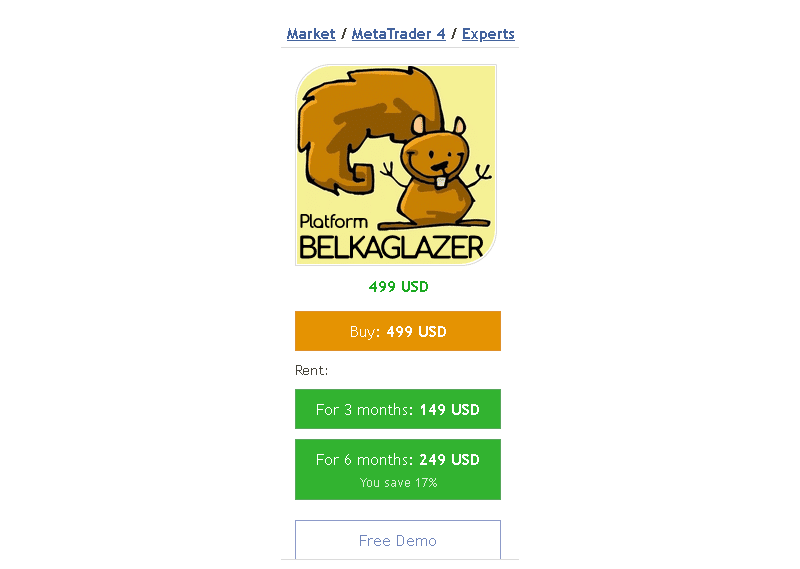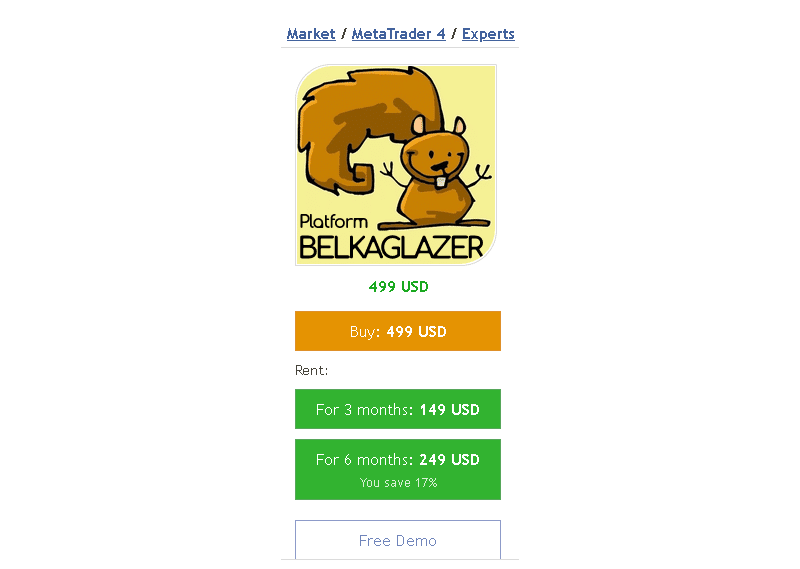 Trading Results
Well. Let's see how profitable the robot is today and compare the efficacy of the trading platform with its past trading results.
We have a live Real trading account verified my myfxbook: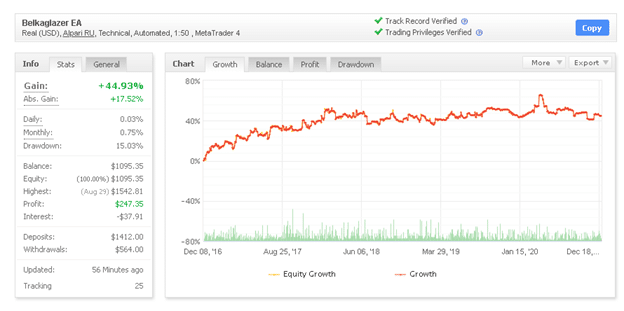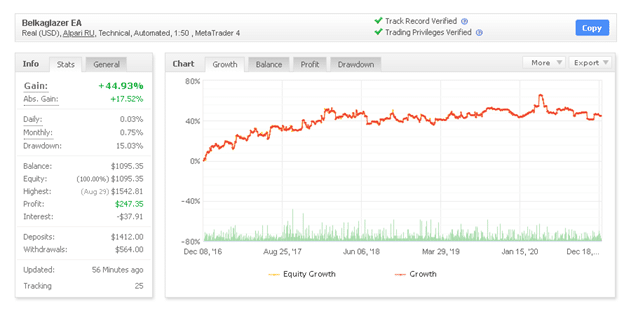 This active automated trading account was launched on myfxbook more than 4 years ago, on December 08, 2016. With leverage of 1:50, the MT4 compatible automated system shows a gain percent of 44,93%. It works with AlpariRU brokerage and trades 11 different currency pairs. The initial deposit was $500, and the total deposited funds count $1412. For over 4 years of trading, the robot has brought only $247 of profit. Its monthly gain equals 0,75%, while the average daily gain is 0, 03%. The peak drawdown was 15, 03%. Although the drawdown looks alright the gains are not that appreciable (see the screenshot below):


You can see significant vicissitudes in terms of profit growth. It is not good for trading.
The robot traded 1956 trades and 2875 pips. Its average win (16.30 pips / $2.57) is lower than average loss (-22.02 pips / -$3.74). The average trade length is 9 hours and 26 minutes. We have also noticed a low-profit factor of 1.09. The win rate for Longs positions is 60%, for Shorts – 61%.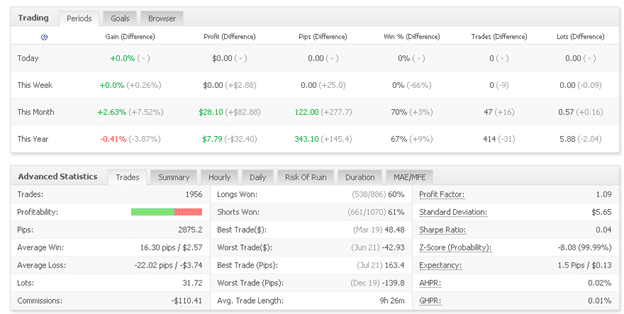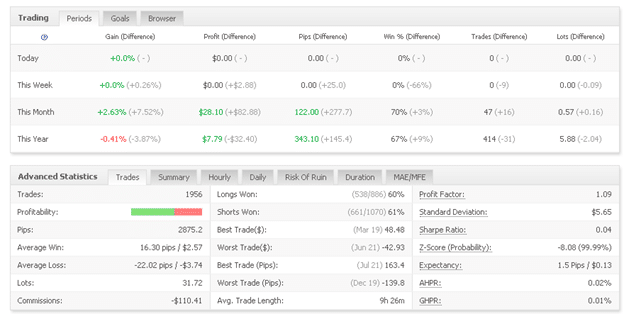 The EA trades 11 currency pairs. The most-traded one is EUR/USD – 567 trades, the less traded is GBP/CHF – 12 trades. The most profitable currency pair is EUR/USD ($133, 68), the worst one – EUR/AUD (-$28, 54).


The robot trades with high trading risks as there is a 39.06% chance of losing 10% of the account:


Since April 2020 Belkaglazer has had only 4 profitable months (monthly gain ranged between 0,82% -2,63%) and 5 losing months (ranged between -1,07% and -5%):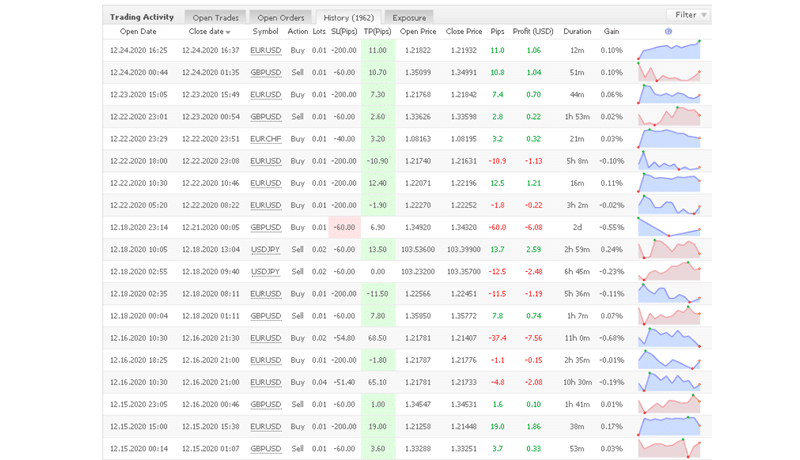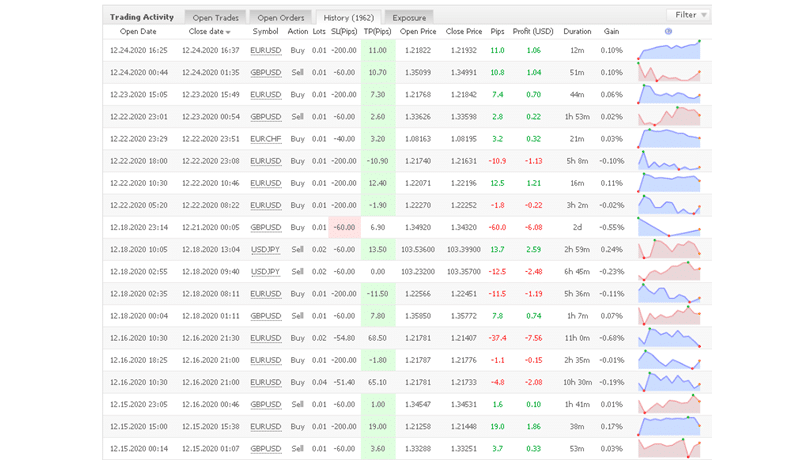 On the MQL5 market, we have found multiple screenshots of backtesting results provided by the developer. Backtests were performed using a breakout strategy, mean-reversion strategy, scalping strategy, and more.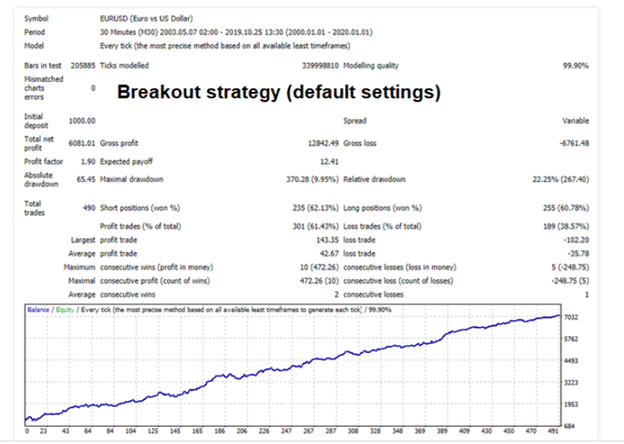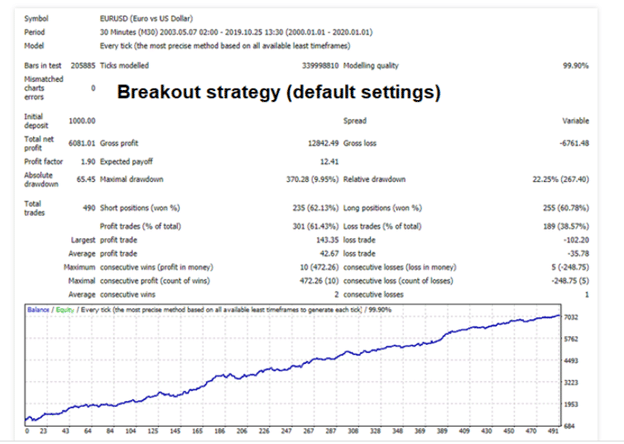 We have a screenshot of the EURUSD backtest on the M30 time frame. The modeling quality was 99.90%. The spreads were variable. The initial deposit was $1K. The total net profit of the robot equaled $6081. The peak drawdown was high – 65, 45%. The EA traded 490 trades with a 60%- 62% win rate (won 301 out of 490 trades). The profit factor was 1, 90.
Customer Feedback
Unfortunately, we could not find any customer review for Belkaglazer EA neither on FPA nor on the other third party website. However, there are 49 customer reviews on the MQL5 community. Most of these reviews are positive ones: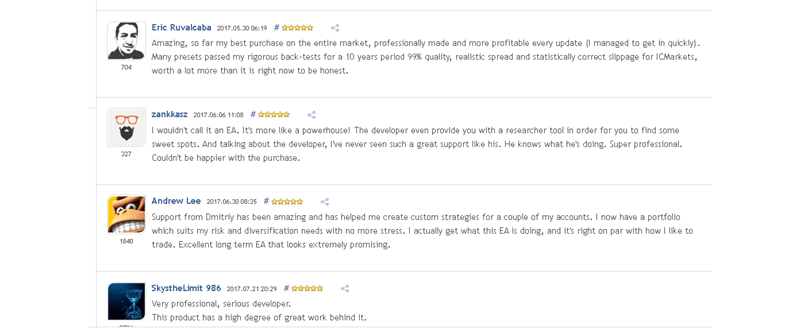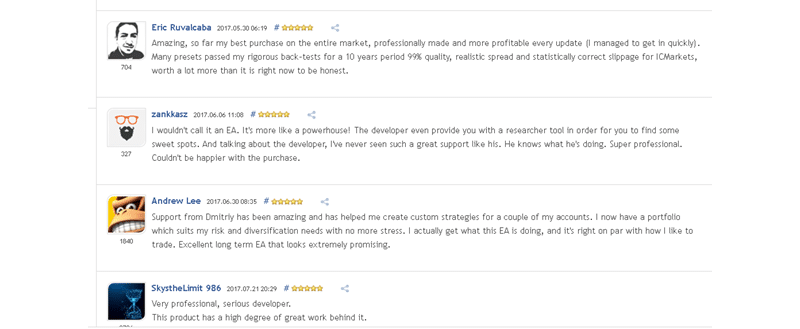 However, there are a few negative ones:


To tell the truth, we think that these 5-star reviews written on www.mql5.com are manipulated (as the EA can be only purchased via the MQL5 market). The screenshot above indicates that the system delivers very poor profit as we have already mentioned in the trading result section.
Summing Up
This Forex EA uses multiple trading strategies to provide returns for traders. However, despite Dmitry's claim to provide constant profits, this expert advisor manages to provide low gains. Moreover, the EA is not as profitable as it used to be in the past, and from April 2020 till December 2020, it has had more losing months than winning ones. Its extremely high price and complex trading approaches do not allow us to recommend this trading tool.