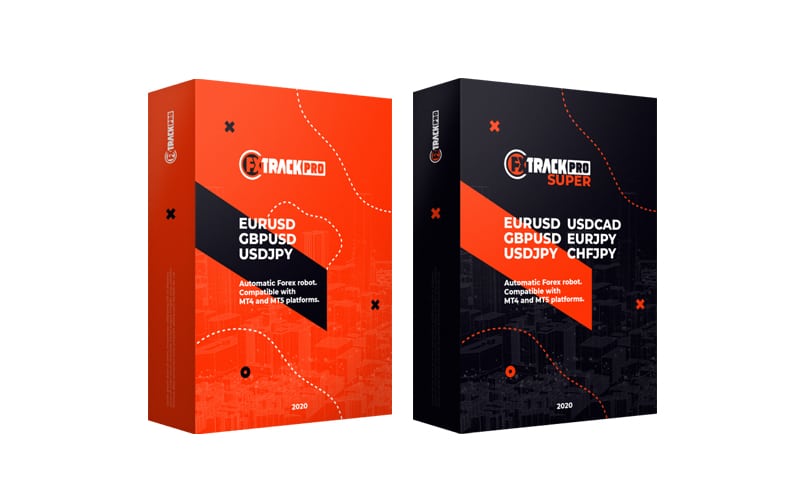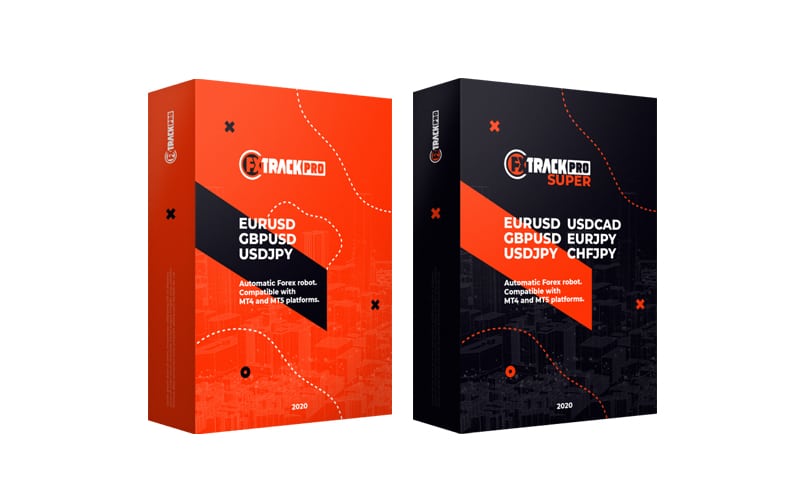 We'd like to talk about another powered by Forex Store EA. This time it's FXTrack Pro. As we can see from the main page, packages vary by the number of symbols. The EA was introduced as One Of The Most Profitable Forex Robots.
Is Investing in FX Track Pro a Good Decision?
After huge losses that were recovered with an aggressive martingale, we're not sure. We'd like to see for several months more if this is not repeated.
Company Profile
The company behind these powered by Forex Store robots has no profile. If you see the design like this, you can be sure it's a no-name developer team behind these products.
Main Features
Let's try to gather features from a several-page presentation in one place: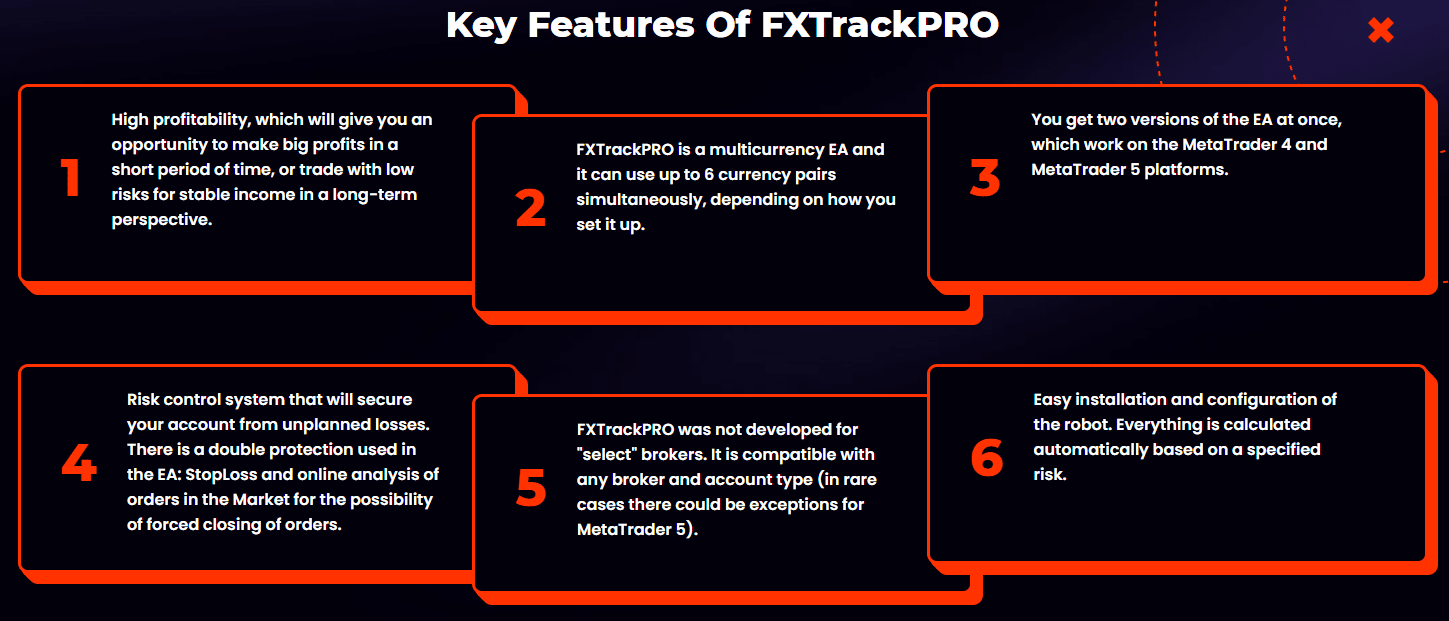 The robot trades fully-automatically.
There are two versions of it: for MT4 and MT5 terminals.
The EA is FIFO-compatible. This we know from its page on Forex Store.
The system works with three types of indicators at once.
It uses them apart to decide which one is good to open a new trade.
The EA uses trading styles depending on market conditions.
FXTrack Pro provides high profits with low risk. According to trading results, it's a lie.
It works with EUR/USD, USD/CAD, GBP/USD, EURJ/PY, USD/JPY, and CHF/JPY.
The system covers deals via settings Stop Loss levels and closing deals if needed.
We can use the robot with any broker we want.
Lot Sizes are calculated fully-automatically by the system for us.
Price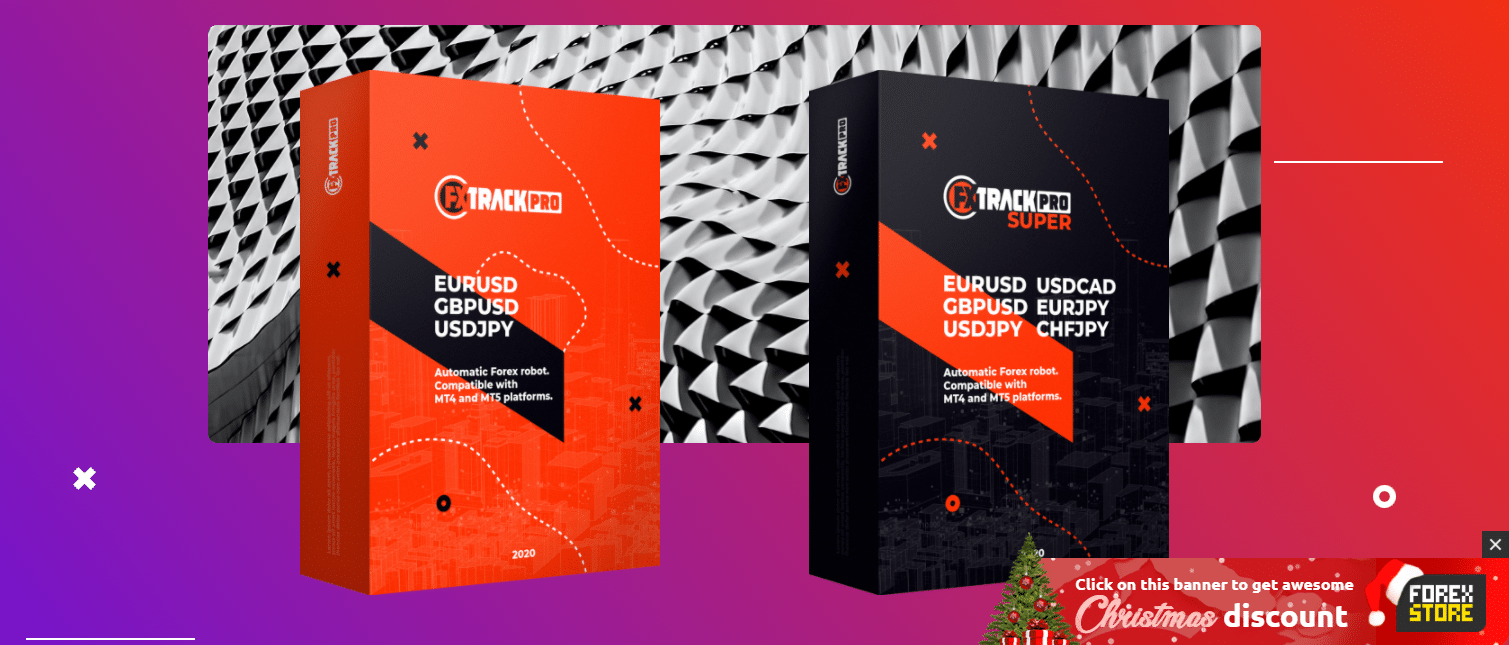 There are two packages on the site: Standard and Super. The Standard allows trading EUR/USD, GBP/USD, and USD/JPY. The Super pack, in addition to the first three currency pairs, allows trading on USD/CAD, EUR/JPY, and CHF/JPY. We're allowed to change accounts as many times as we need. We can expect to receive free updates for the EA and support.

The sale is only available on the Forex Store. The Super pack costs $325, like the Standard one.

There's a scam-like refund policy. So, if the EA halved a developers' account, it would mean nothing if the EA halved our account as well, right? Because our trading results equal their ones.
Trading Results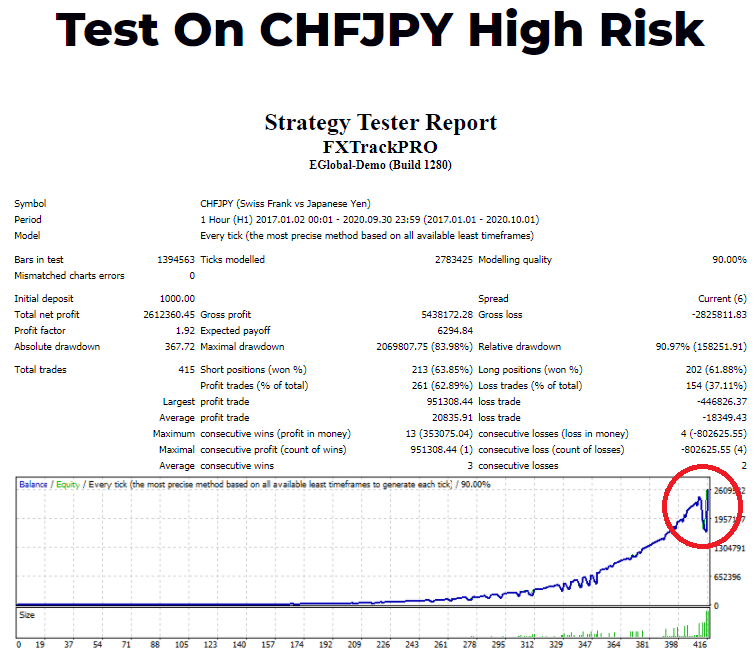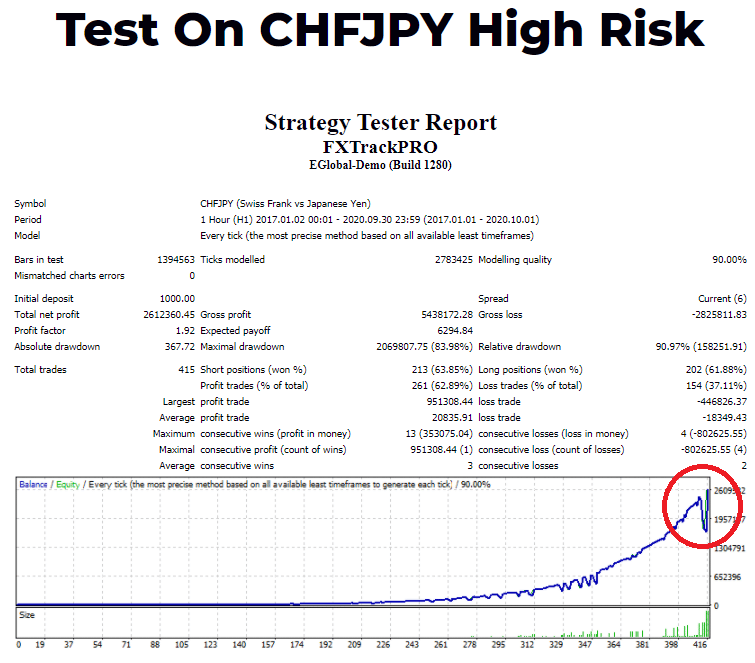 We've got many backtests with different risks. This one was on a minor symbol – CHF/JPY. The test was performed on the H1 time frame based on three and a half years' data. The modeling quality was 90.00%. An initial deposit was $1000. The total net profit has become $2612k. The spread was six pips. The EA closed 415 trades with 61%-63% of the win-rate. The chart showed that the robot could easily lose 25%-30% of the account.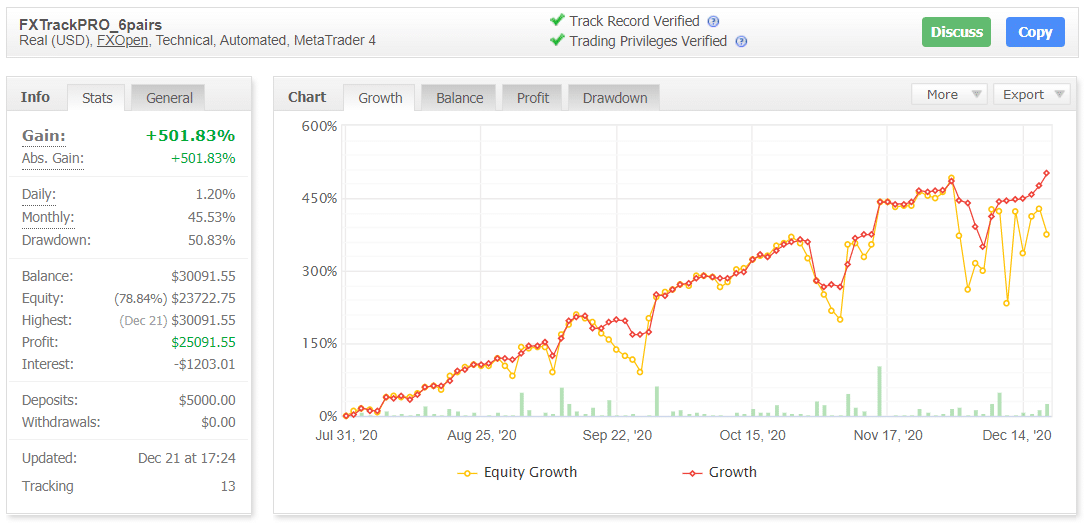 We've got a real USD account on FXOpen. The robot trades automatically using technical indicators on the MetaTrader 4 platform. There'd leverage, but the developers forgot to mention it. The account has a verified track record. It was created on Jul;y 31, 2020, and deposited at $5000, as usual. Since then, the absolute gain has become +501.83%. An average monthly gain is 45.53%. The maximum drawdown is insane and amounted to 50.83%. This account is tracked by thirteen traders.

FXTrack Pro closed 312 deals with 900 pips. An average winning trade is 47.67 pips when an average losing trade is -58.18 pips. The win-rate is 55% for Longs and 60% for Shorts. The average trade length is two days. The Profit Factor is 1.66.

The most frequently traded symbols are GBP/USD (78 deals) and USD/CAD (58 deals). The most profitable currency pairs are EUR/USD $6751 and GBP/USD $6232.

The robot focuses on trading during a European trading session.

The most frequently traded days are Monday (73 deals) and Wednesday (73 deals).

The robot works on the account with a high risk to the account balance.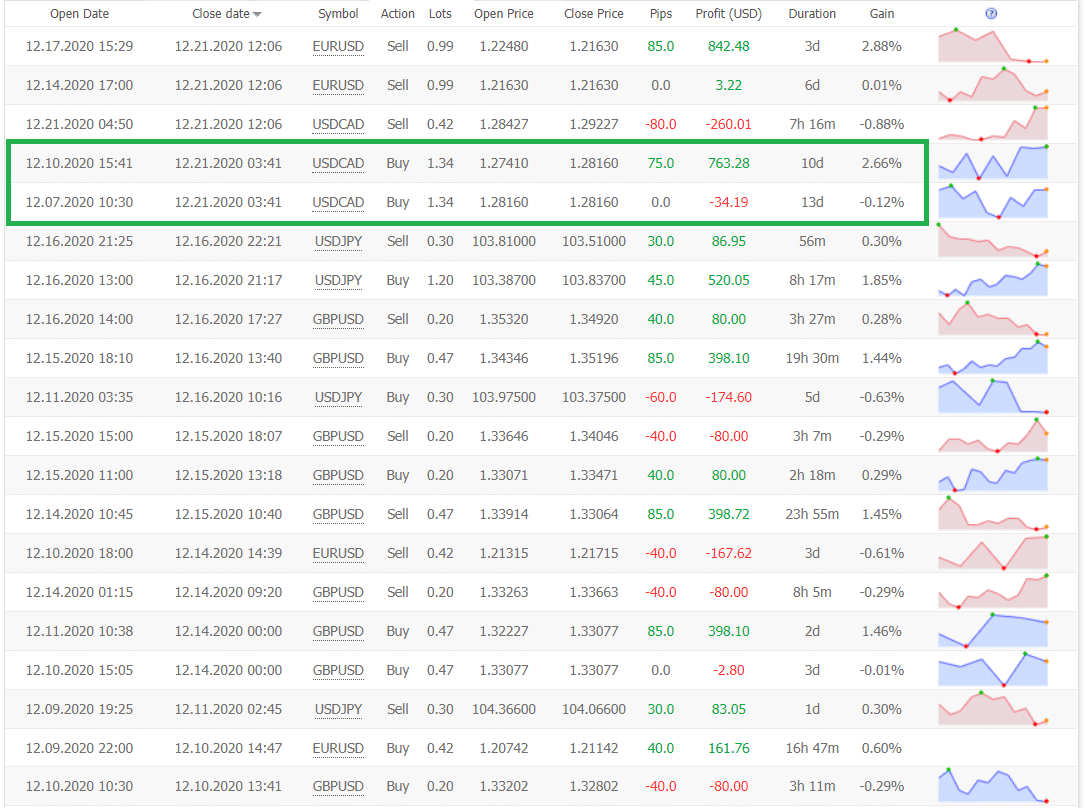 As we can see, FXTrack Pro uses aggressive martingale on a grid of two orders, increasing Lot Size from 0.20 to 1.34.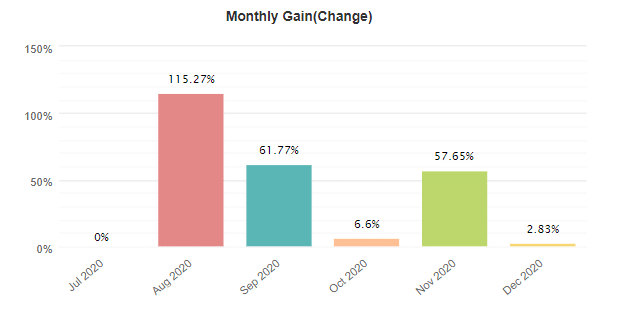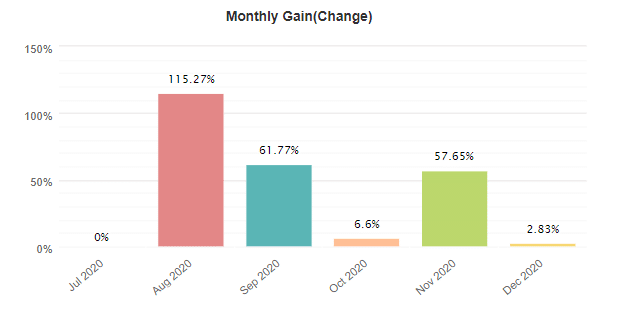 These experiments forced the EA to experience many losses. So, December 2020 most-likely will be closed with a little profit.
People feedback

The company has no pages on Forex Peace Army or Trustpilot. It still has an R-rate on Forex Store with all achievements.
Summing Up
Strategy – score (6/10)
Functionality & Features  – score (8/10)
Trading Results – score (6/10)
Reliability – score (8/10)
Pricing – score (7/10)
Conclusion
FXTrack Pro is a trend-based conservative Grid and aggressive Martingale trading solution. The presentation is informative but has a lack of settings, money-management advice, people's feedback, and so on. Trading results showed that the EA risks much, using Martingale on low win-rates. Sooner or later, it can be ended with significant losses.