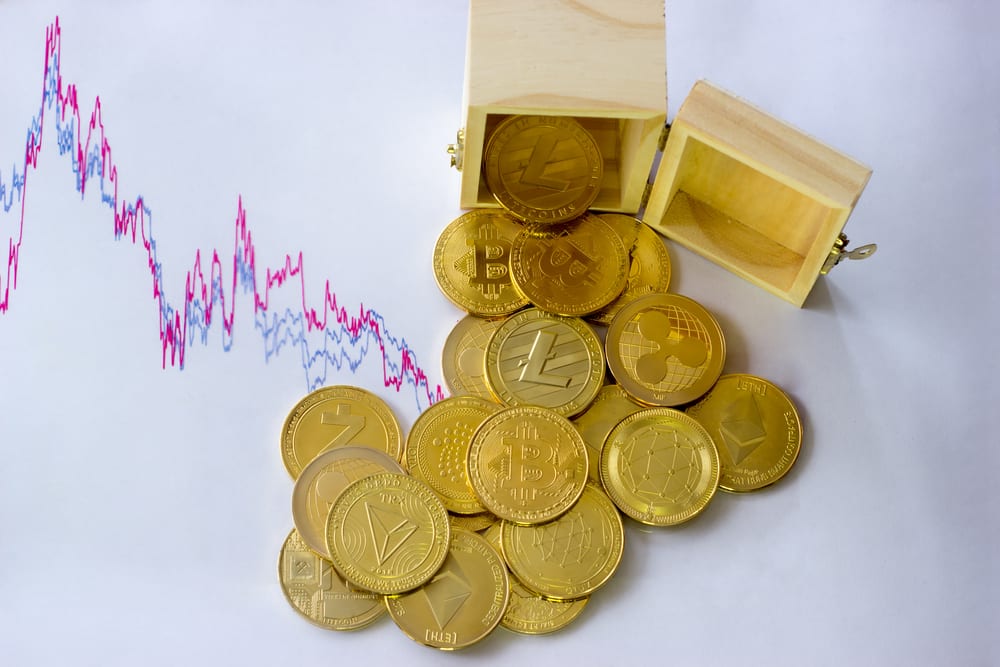 Every cryptocurrency was once valued at pennies at its inception. Even the leading cryptocurrencies, the likes of Bitcoin and Ethereum, once went for mere cents back before they were as big a deal as they are today. The chances of getting in on the ground floor of these established tokens are long gone, but there are still several up-and-coming projects poised to go the distance.
Why do investors fancy penny cryptocurrencies?
Most crypto investors prefer to invest in large-cap tokens such as BTC and ETH, as these tend to have high liquidity and lower volatility. However, more and more risk-tolerant investors are starting to choose tokens that only cost a fraction of a dollar. This is because some of these coins are grossly undervalued and thus have huge growth prospects.
Some of these cryptos stage impressive rallies in previous years, essentially turning their investors into millionaires overnight. Shiba Inu, XRP, and Stellar Lumens are a few examples of such tokens. However, these tokens are far more likely to be pump and dump schemes due to their low market capitalizations. Due diligence is of paramount importance before committing your funds to any of these penny cryptos.
Top penny crypto tokens worth investing in
Lucky Block (LBLOCK)
This is a token behind a project dedicated to revolutionizing online gambling. Hosted on the Binance Smart Chain, it utilizes blockchain technology and its underlying smart contracts to automate the bet placing and rewarding. This ensures transparency and fairness, as no central authority can contest the paying out of winnings.
Usually, running a lottery is an expensive endeavor. Automating the entire process significantly cuts expenses, which leaves more money for prizes and further technological innovation to streamline the betting process. With widespread adoption, Lucky Block will be able to pay out bigger prizes and hold more frequent draws.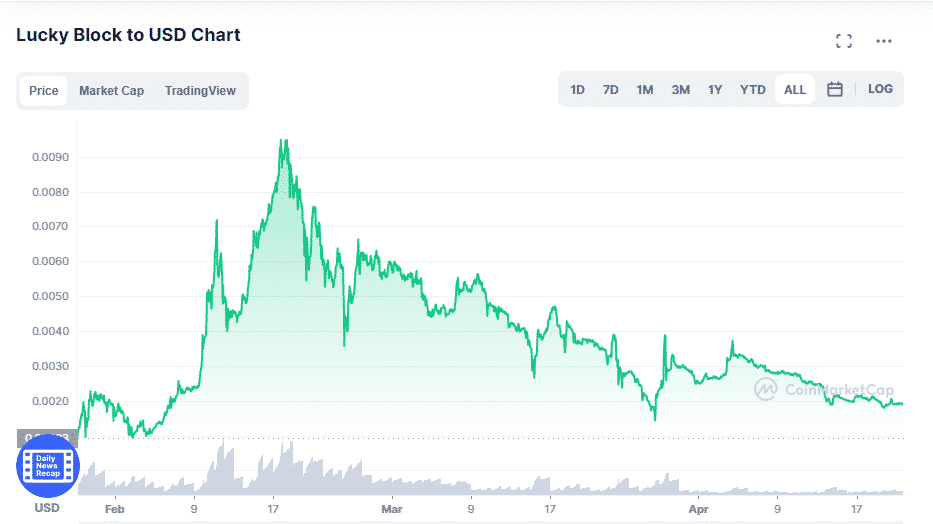 At the time of writing, LBLOCK is trading at $0.00188. Considering its ATH stands at $0.009, any investors would be getting this coin at a bargain. According to its project team, 10% of each jackpot will be distributed amongst investors; another 10% will be reinvested in the project, with another 10% being set aside for charity. Interested investors can purchase LBLOCK on PancakeSwap and Lbank.
Shiba Inu (SHIB)
This is a meme coin that was created around the Japanese dog breed that saw the likes of Dogecoin come to launch. In fact, SHIB soon earned the nickname 'The Dogecoin killer' since it attempted to overthrow the latter as the king of meme coins. In October 2021, the coin's price surged following rumors that it was going to get listed on Robinhood, a popular crypto exchange. This rally saw it briefly overtake Dogecoin in market capitalization.
Notably, this price spike actually made a billionaire. In 2020, an address had bought $8,000 worth of SHIB, and the October spike valued the address's holdings at just short of $6 billion. The coin enjoys price spikes caused by tweets from celebrities like Elon Musk and Vitalik Buterin, who are rumored to be the creators behind this coin.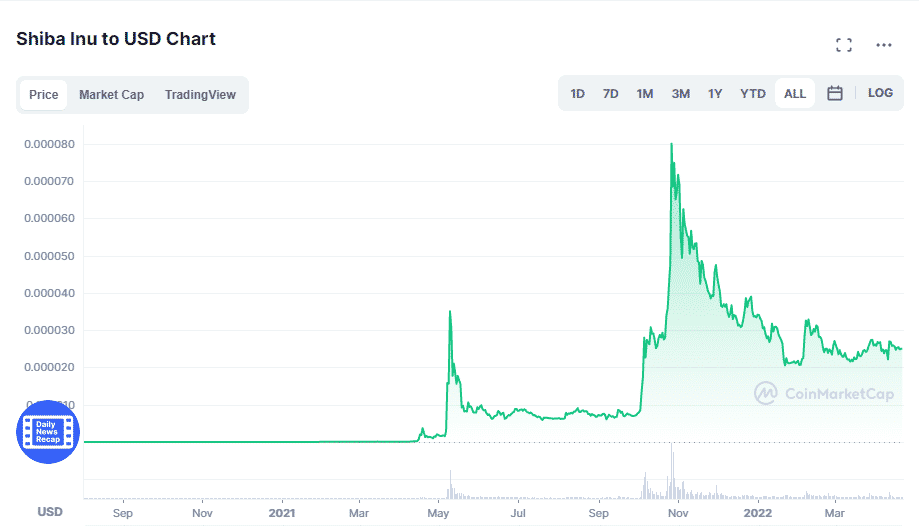 You can purchase SHIB on most major exchanges, including Binance, Coinbase, and as of April 2022, Robinhood.
Dent (DENT)
Traditionally, mobile communications and data have been under the purview of centralized service providers like AT&T, Verizon, and the like. These companies tend to charge exorbitant prices for these services, not to mention restricting their validity to a specific location. If their clients cross borders, then even more expensive roaming charges apply.
Dent is a project aiming to solve this by decentralizing the provision of these services. It introduced a global plan for both data and mobile communications. That means there are no roaming charges, no matter where you are in the world. Every transaction is recorded on the blockchain, which means you get what you pay for.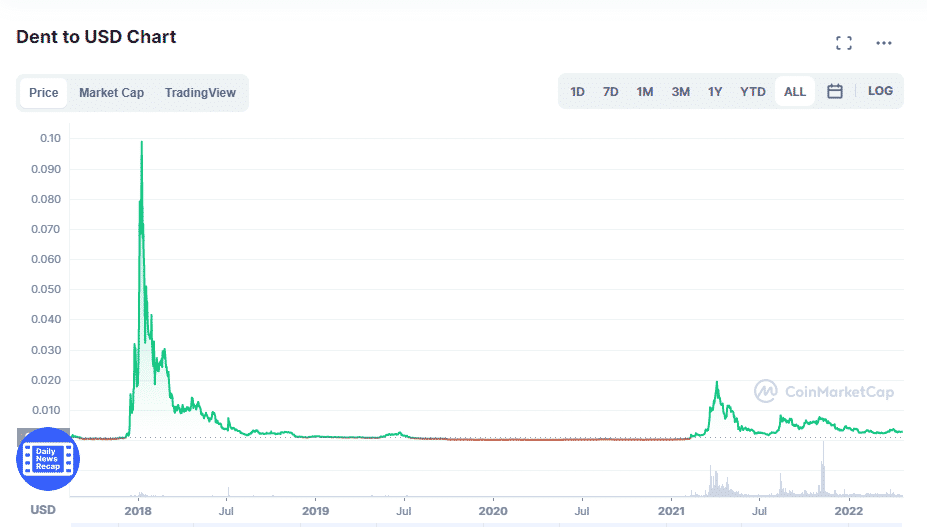 Currently, the company serves more than 140 countries and has more than 25 million users. At press time, Dent was trading at $0.002793. You can purchase this coin on Binance and KuCoin.
VeChain (VET)
This is a smart contract platform whose aim is to enable trustless data sharing between multiple participants, all in real-time. This is common in most supply chains, and VeChain will have applications in medicine, energy, the food and beverage sector, and even governmental and non-governmental organizations. In San Marino, the blockchain was used to track the UN's sustainable development goals (SDGs).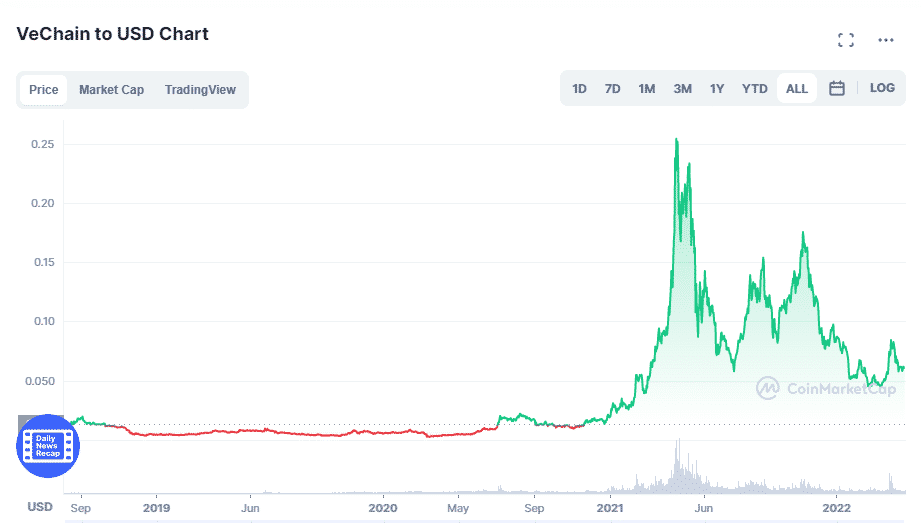 This platform is especially useful since it utilizes blockchain technology, which is characterized by decentralization, security, and transparency. This ensures easy tracking of information to the source, cost reduction, and the efficient running of supply chains. The VET coin can be purchased on most major exchanges, including Binance, Bybit, and FTX.
Holo (HOT)
This is a platform for hosting dApps built on Holochain, which itself is a framework meant for the creation of dApps that do not need to run on blockchain technology. Like Uber brings taxi services to your reach or Airbnb with accommodation services, Holo intends to bring dApp access to the mainstream internet user.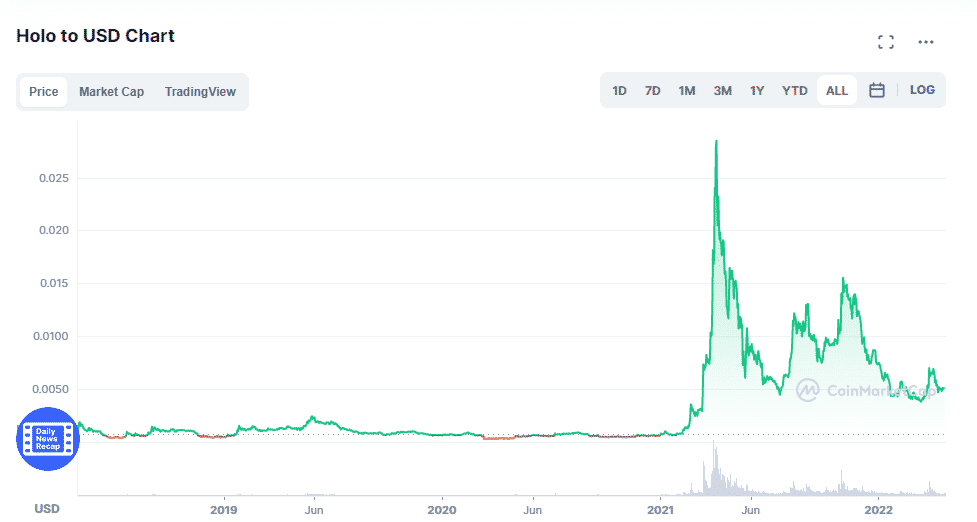 To achieve this, it relies on hosts to provide storage and processing power for their dApps. This could entail running software in the background that allocates unused processing power to the dApps or operating a dedicated node in the network. In return, hosts are awarded HoloFuel tokens. You can acquire HOT on most centralized exchanges, the likes of Binance, Bitrue, and ProBit.
Conclusion
As more and more headlines report millionaires being made from low-cost cryptocurrencies, many risk-tolerant investors are beginning to buy into this space. However, these coins are much riskier investments than established coins due to their characteristic high volatility. That being said, any opinions expressed in this article should not be construed as investment advice.