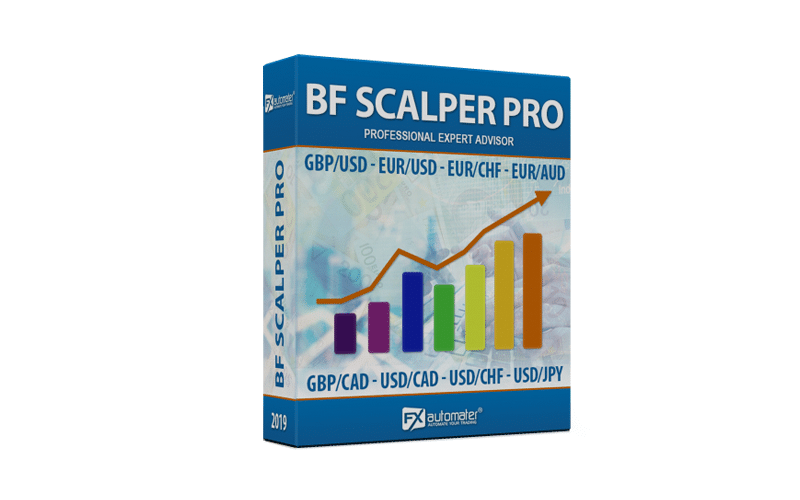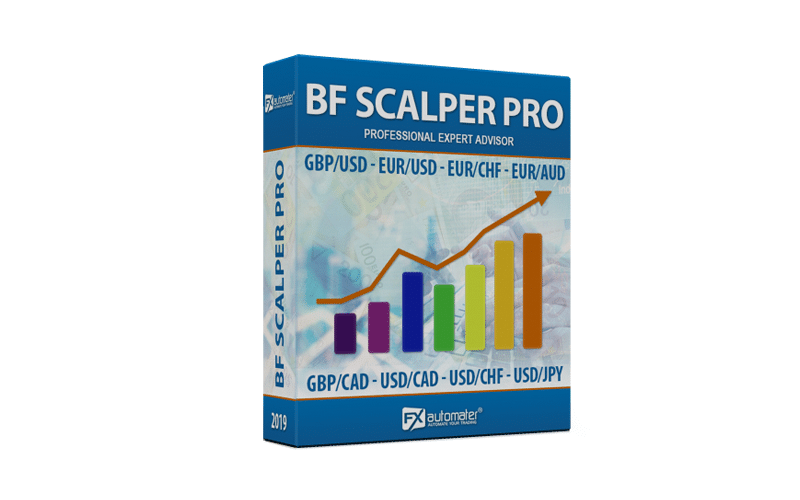 BF Scalper Pro is a robot that was designed by FX Automater several years ago. The company writes the best possible presentations ever. So, there's much info to discuss.
Is investing in BF Scalper Pro a good decision?
Trading results look okay, but this is a scalper. So, it requires many features like a VPS service, ECN account, low spreads, low slippages, and low commissions. It's hard to match them all.
Company profile


The developer is a veteran of Forex robot design. They have many solutions developed and consistently updated. Anyway, not all of them are profitable.
Main features
We have grouped up the most important features: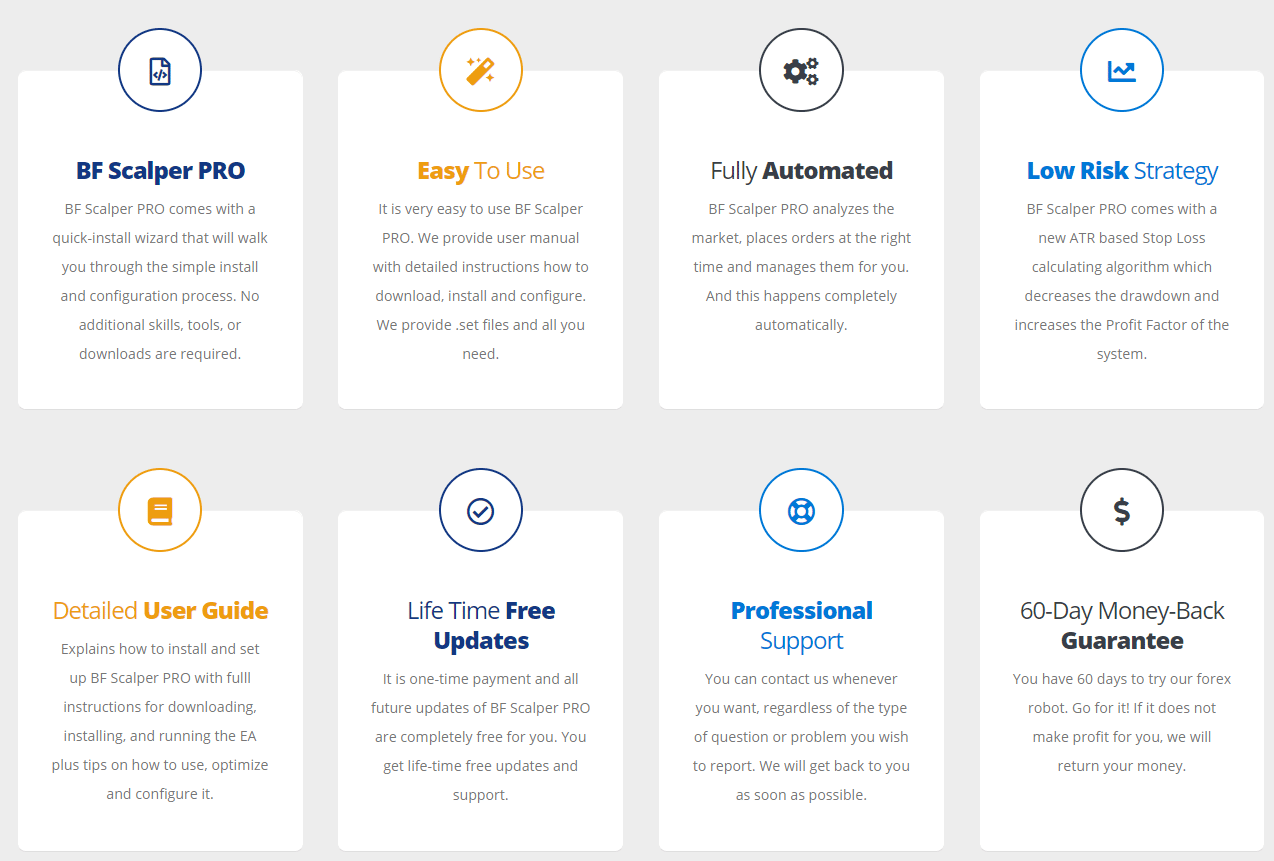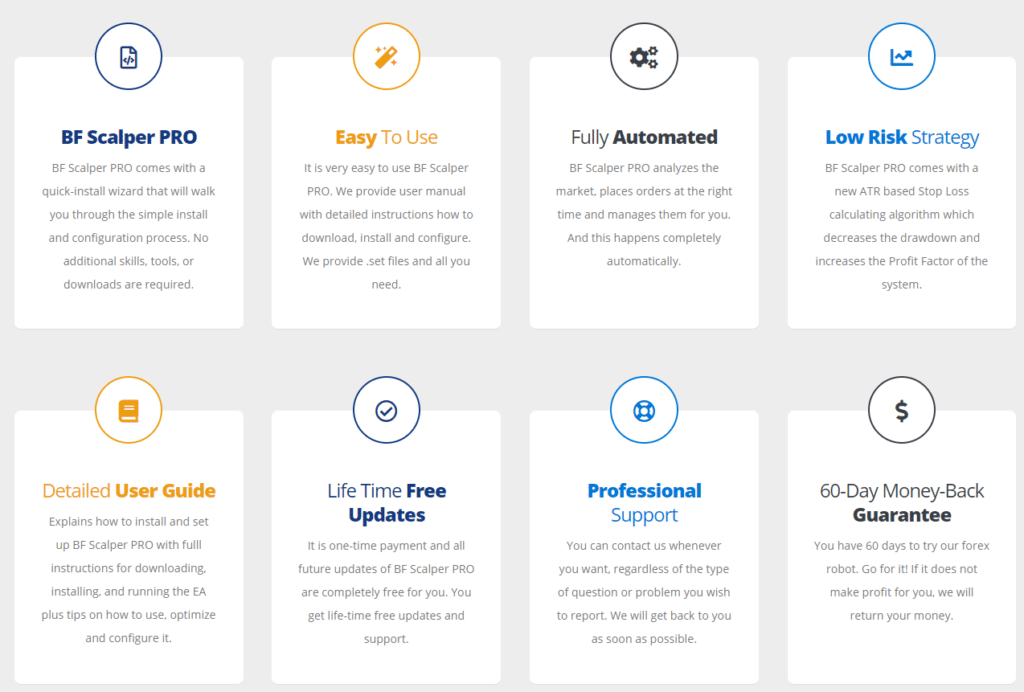 The system has a brand-new Exit Logic that decreases drawdowns.
We can set various Stop Loss levels for every symbol. 
There's a Grid strategy behind the Scalping. 
The robot sets TP and SL for every open deal.
We can trade the next symbols: GBP/USD, EUR/USD, EUR/CHF, EUR/AUD, EUR/CAD, GBP/CAD, USD/CAD, USD/CHF, and USD/JPY.
The advisor knows how to trade with low drawdowns. 
There's a news filter to avoid opening trades during high-impact news.
It provides various notifications to inform us when an order is placed. 
It includes broker protection to protect our orders.
Friday Exit System closes orders without keeping them over the weekend.
We can work with it on MT4 and MT5.
The EA works on the M15 timeframe.
The developers provide settings for each cross pair.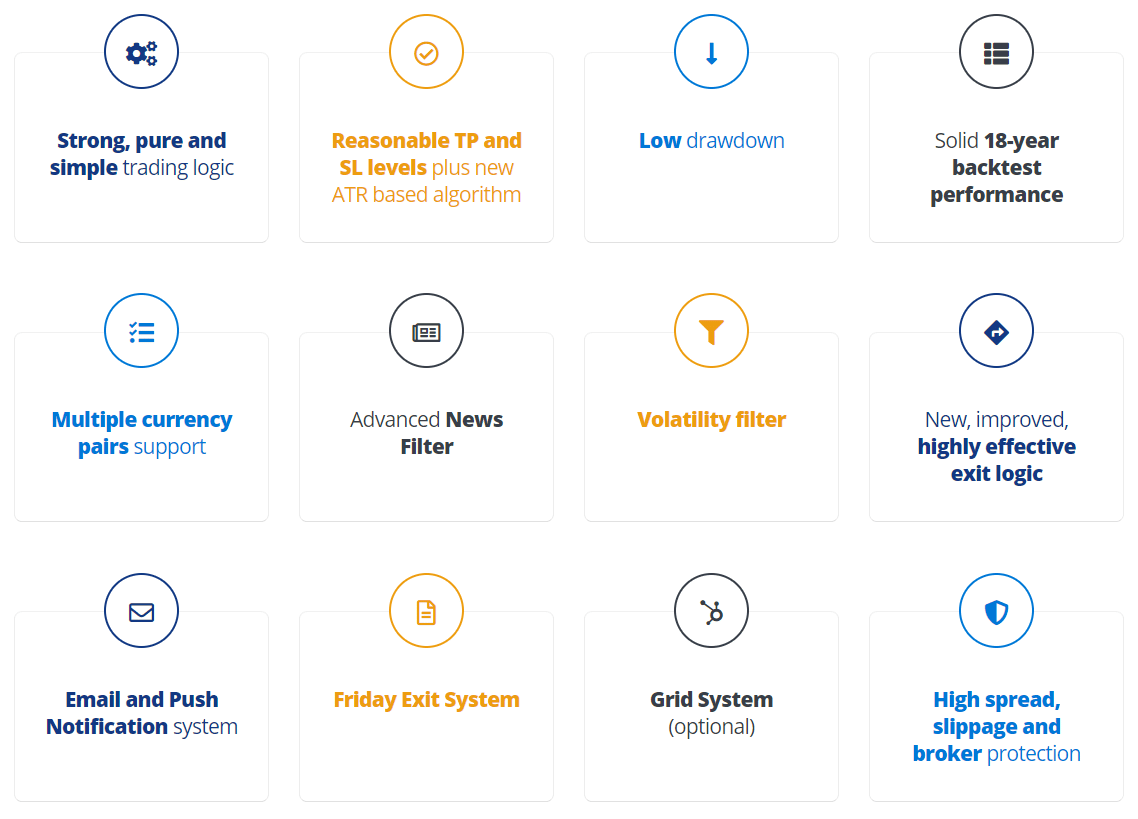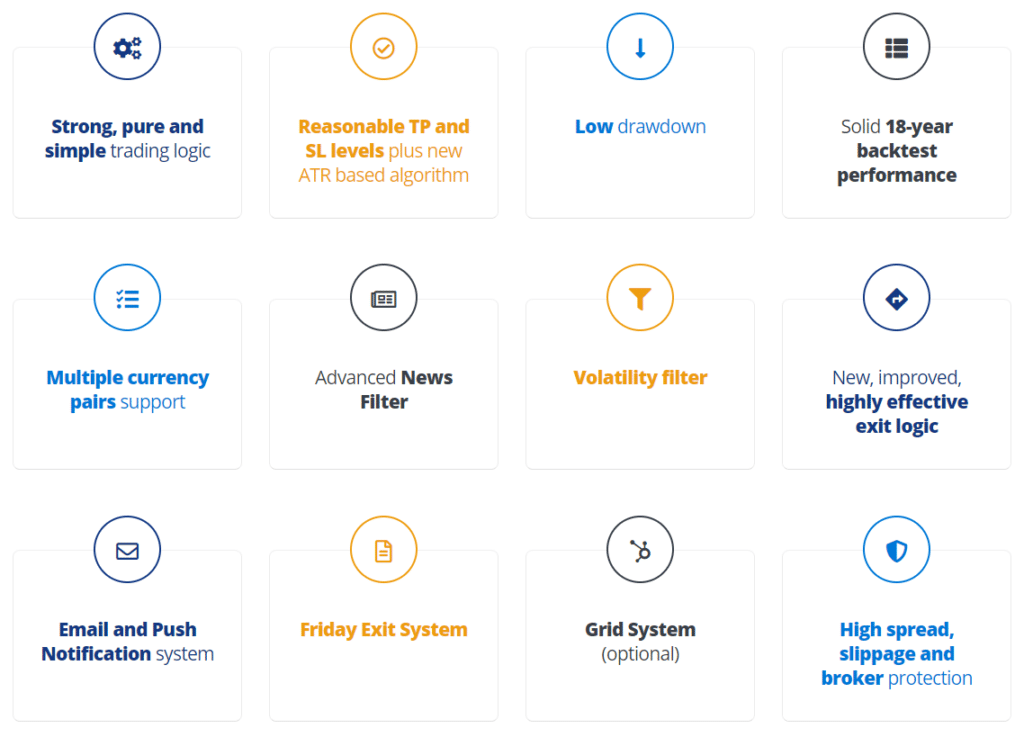 Trading hours can be customized as well.
We have to use it on an ECN account.
Price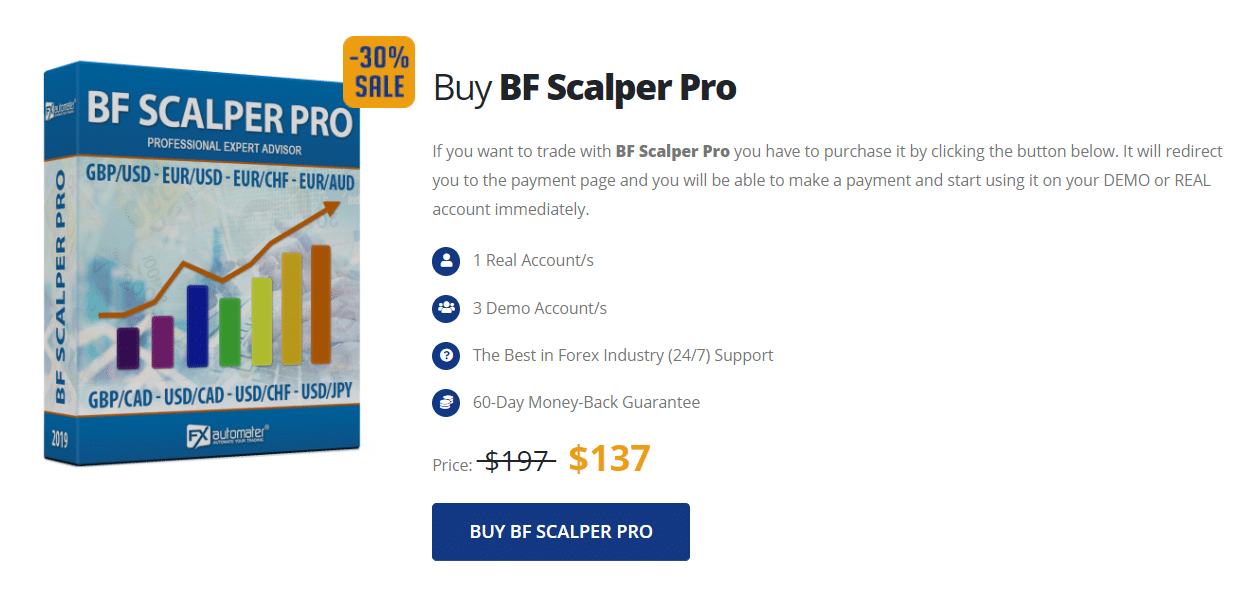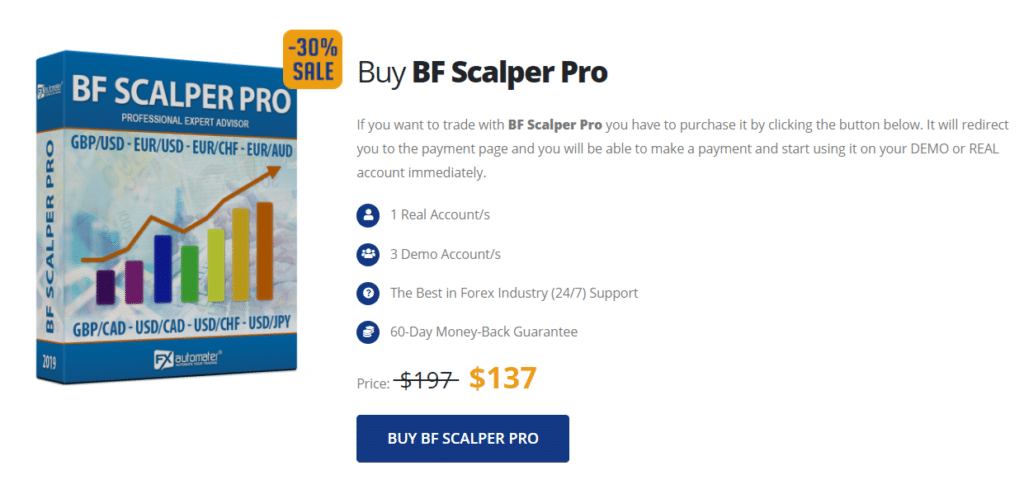 We know that the main price was $147. So, they increased it to make a sale. Now, the price is $137 after a discount. The pack is featured by one real account license, three demo licenses, support, and a 60-day money-back guarantee.
Verified trading results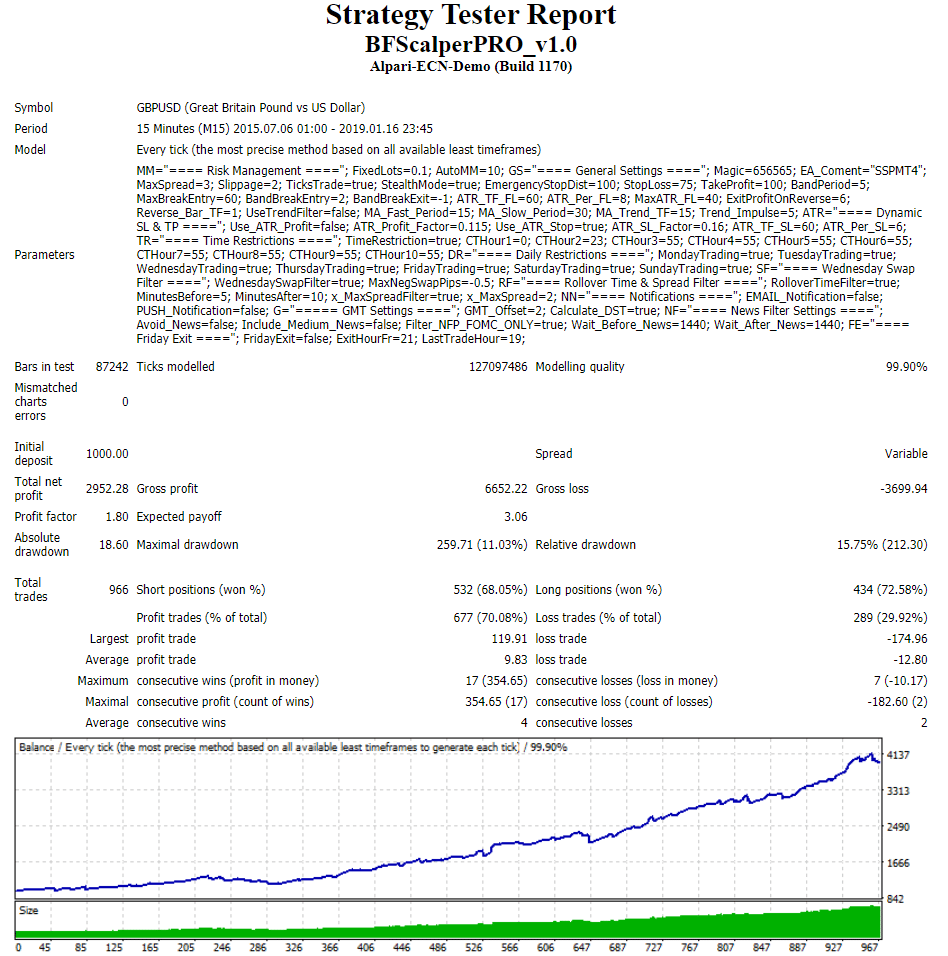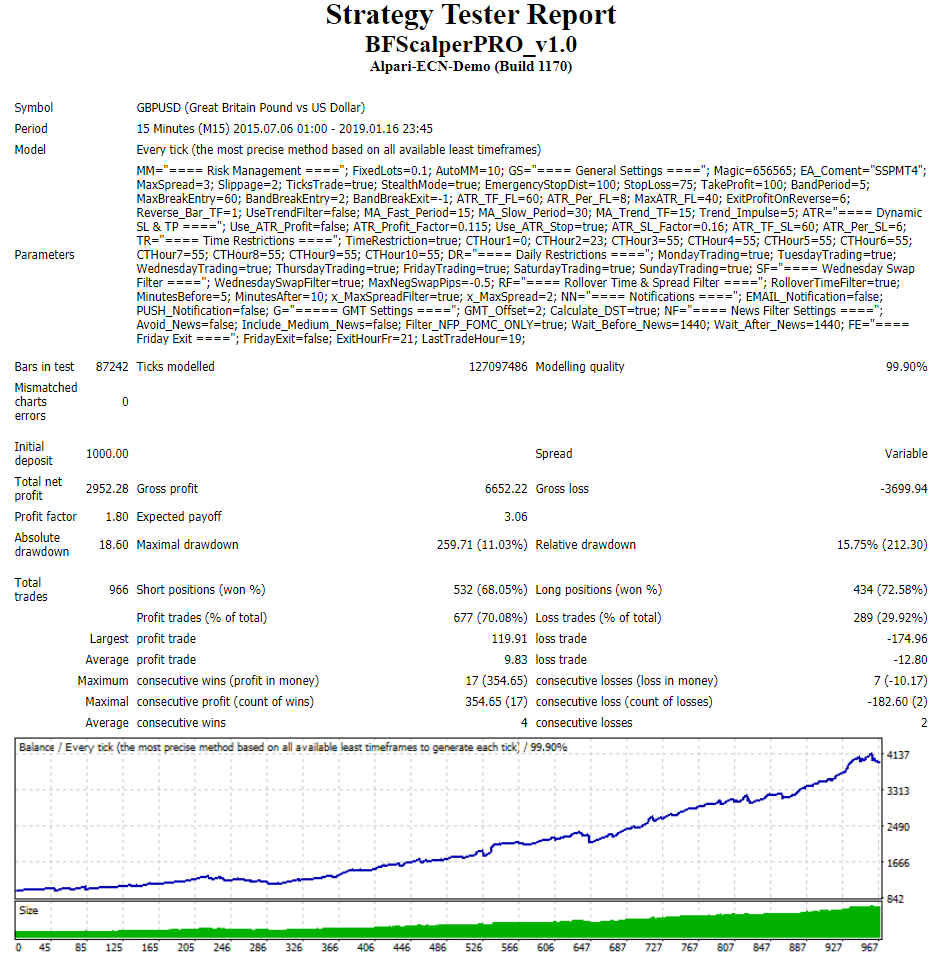 There's a GBP/USD backtest on the M15 time frame shared. The modeling quality was 99.90% with variable spreads. The initial deposit was $1000. It became $2952.28 of the total net profit. The profit factor was 1.80. The maximum drawdown was not so big – 11.03%. The system traded 966 deals with 68% of the accuracy for shorts and 72% for longs.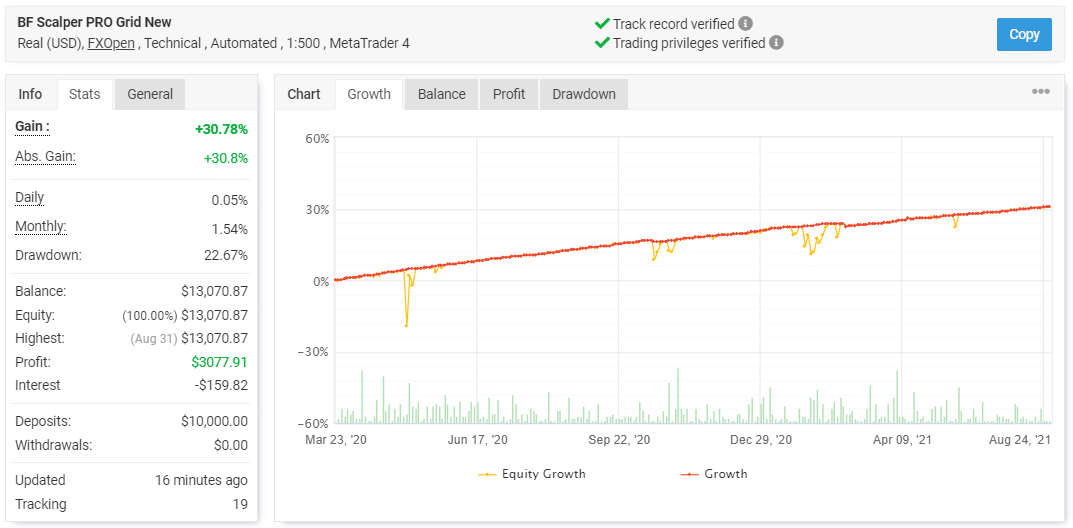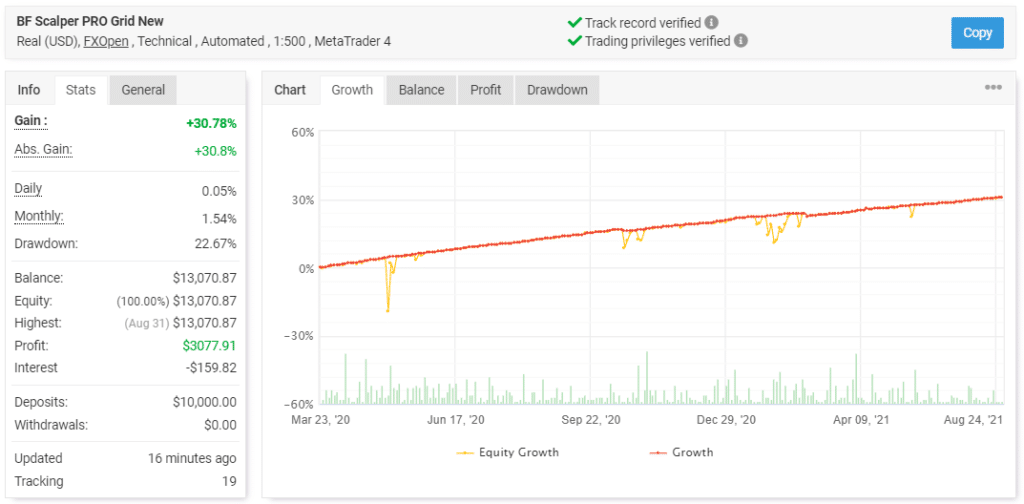 The advisor has been running a real USD account automatically on the MT4 terminal. The leverage is set at 1:500. The account has a verified track record. It was created on March 23, 2020, and deposited at $10,000. Since then, the absolute gain has become +30.78%. The average monthly gain is 1.54%. The maximum drawdown is 22.67%. 


BF Scalper Pro has closed 866 trades with 1958 pips. An average win is 9.46 pips when an average loss is -14.24 pips. The accuracy for longs is 72% when for shorts, it's 67%. An average trade length is over thirteen hours. The profit factor is 1.81.


EURCAD with 185 closed orders is ahead of others. GBPUSD is the most profitable symbol with $770.56.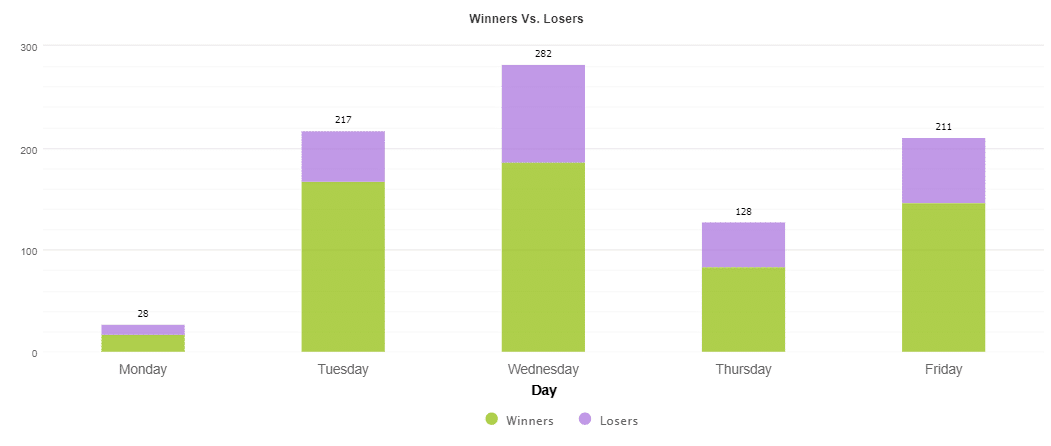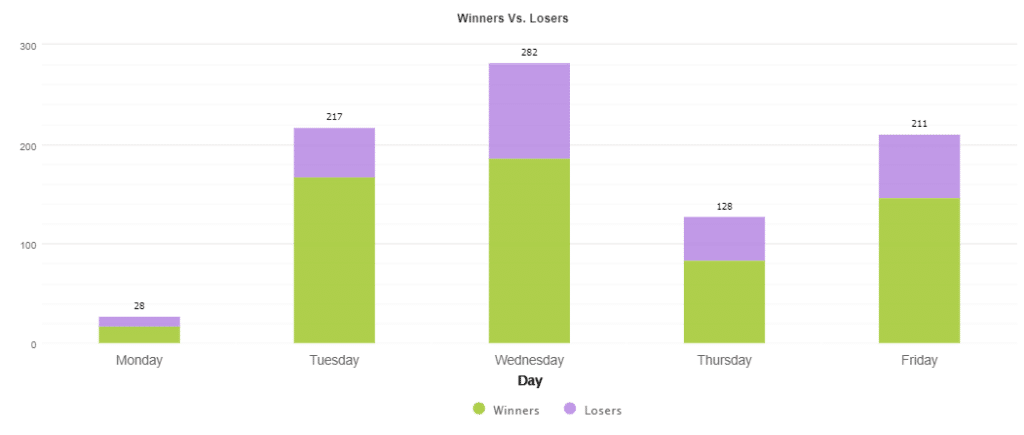 Most trades are closed on Tuesdays and Wednesdays. The advisor almost skips trading on Monday.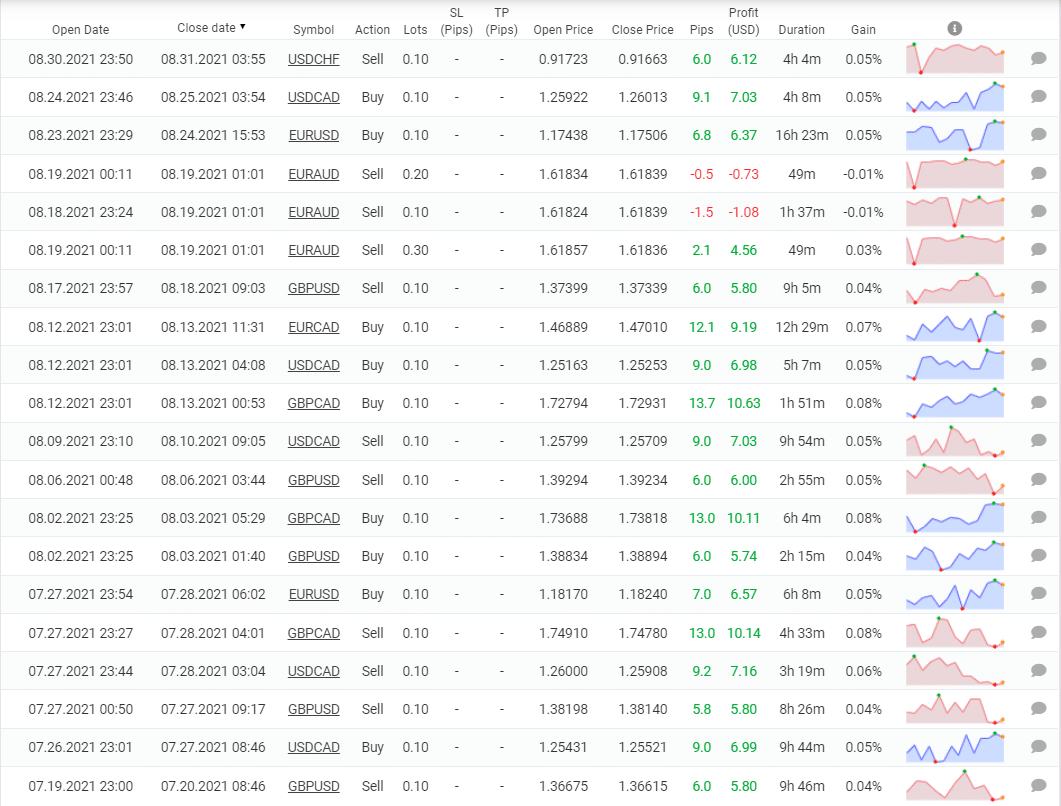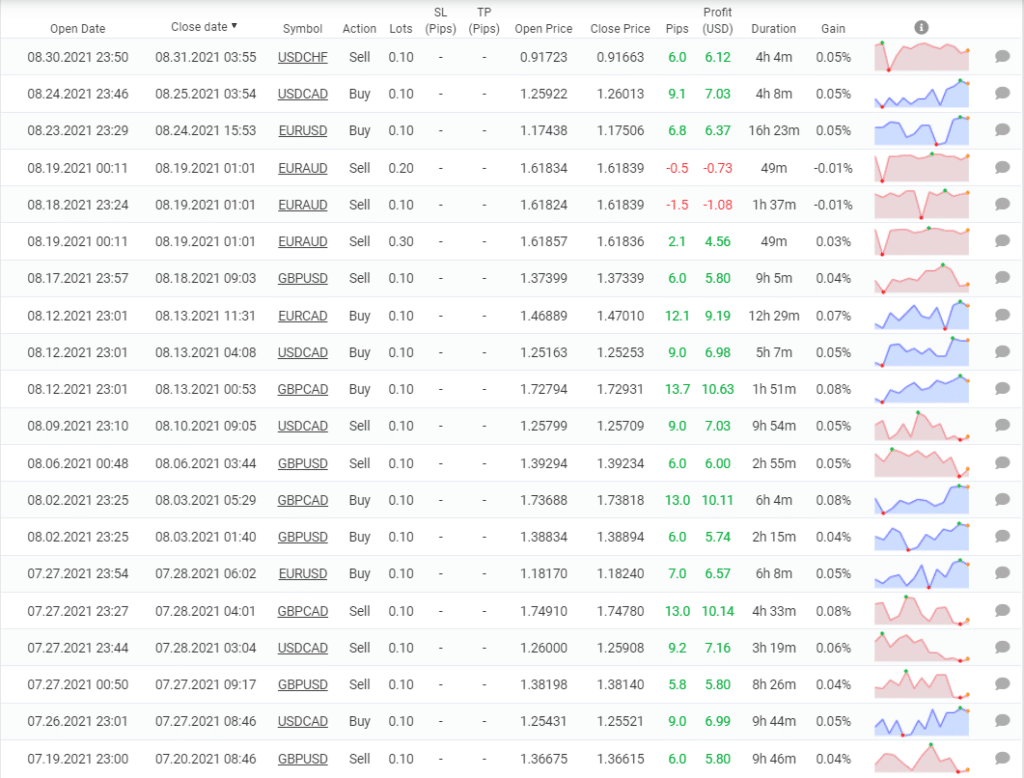 The EA hides TP and SL levels from a broker.


The robot works with low monthly profitability.
People feedback
The presentation doesn't include customer testimonials. We don't have them published even on Forex Peace Army or Trustpilot.
Summing up
BF Scalper Pro is a robot that scalps during a high session. The system requires much attention and customizations to be profitable. We can't be sure that these requirements can be reached on the ordinary traders' account.