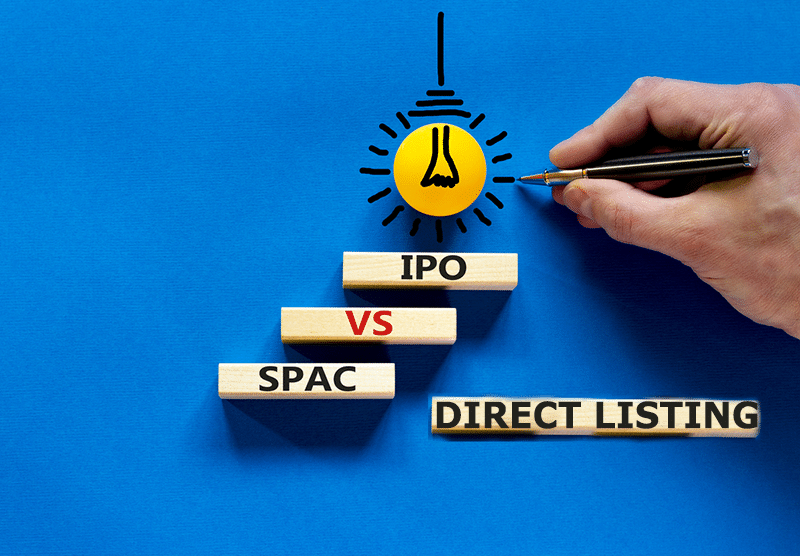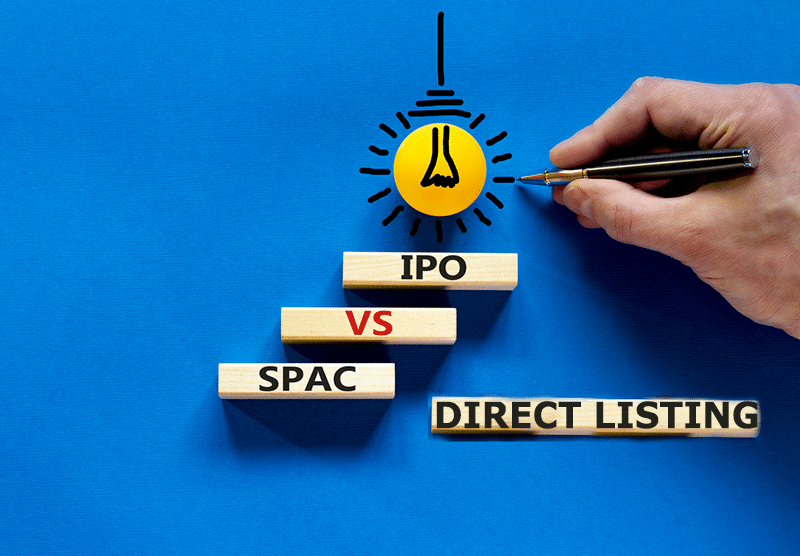 "Am I ready to be a public company?" according to Pete Flint of NFX (a San Francisco-based seed-stage venture firm), this question troubles many founders, especially in the current environment where almost everyone is going public. 
The US Securities and Exchange Commission (SEC) defines "going public" as referring to when a company sells its shares of stock to regular investors, including the general public. This undertaking could take place through the traditional initial public offering (IPO), direct listing, or with the help of a special purpose acquisition company (SPAC).
Usually, early-stage investors like venture capitalists exploit the "going public" process to exit their investment in a startup. Also, founders offer a share of their companies to the public in exchange for funding.
Initial public offering (IPO)
Going public is a big deal for companies and their founders. No wonder great effort goes into choosing the correct route.
Since time immemorial, most companies have opted for the IPO route, primarily because it creates new opportunities for more capital. According to the SEC, an IPO involves a company making and selling new shares to the general public. 
In the US, the IPO process begins with the company registering an offering with the SEC. Typically, the company outlines the offering's details in Form S-1 and a prospectus. The prospectus is a document that includes company information soliciting investors. In addition, it describes the company and the offering's terms.
For example, Eventbrite, Inc. (NYSE: EB), an online ticketing platform, filed Form S-1 in 2018, in which it aimed to raise over $200 billion. Further down the filing, Eventbrite mentioned Goldman Sachs & Co. LLC, J.P. Morgan Securities LLC, and four other companies as underwriters. 
Because of the need for underwriting, IPOs often incur high expenses in terms of associated fees. Also, the underwriters might require several months to provide a proper valuation of the company. As such, a typical IPO process lasts up to 12 months since the registration of the offer.


Figure 1: Different routes to go public
Going public via an IPO is an exacting process, and you cannot tinker with the deal structure. However, despite the rigor, IPOs are still a popular route to publicly traded companies. For example, 36 of the 47 companies that went public in the US between January and July 2021 chose the IPO route, according to Visual Capitalist.
Also, companies with a higher valuation were more comfortable going public via IPO. For context, consider the companies that went public in January 2021 in the chart below.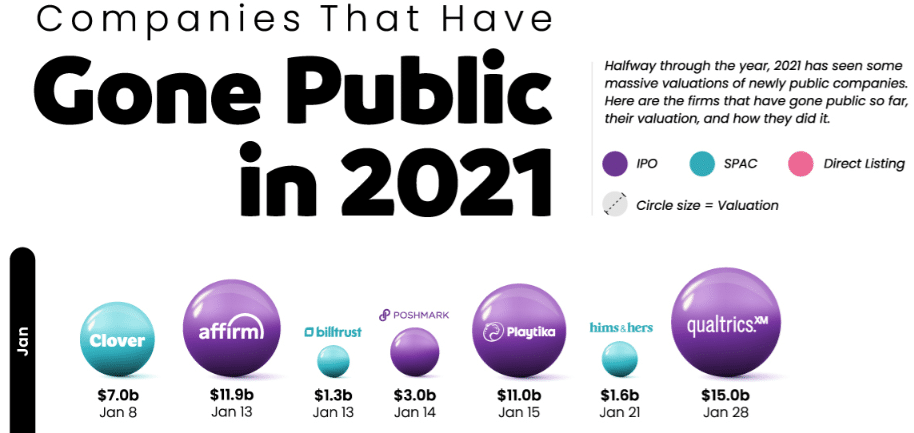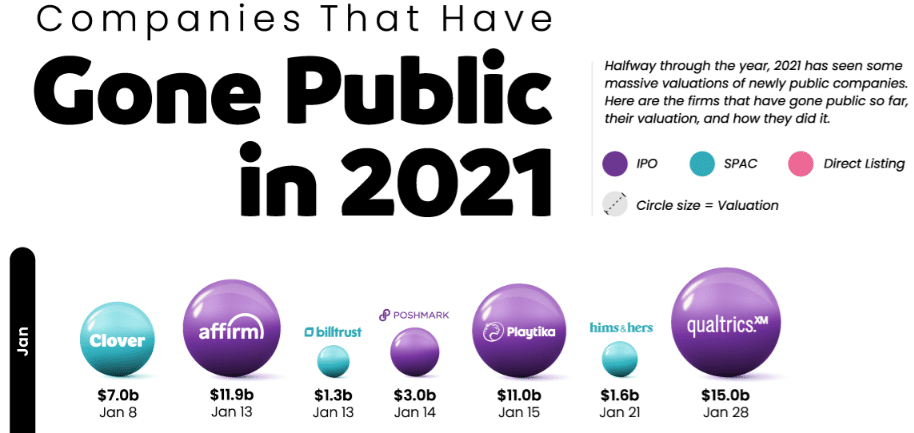 Figure 2: Companies that went public in January 2021 
Most of the companies going public via IPO had enormous valuations. For example, the Qualtrics International Inc. (NASDAQ: XM) IPO raised $15.0 billion. Also, Playtika Holding Corp. (NASDAQ: PLTK) and Affirm Holdings Inc. (NASDAQ: AFRM) raised more than $10 billion each, and they chose the IPO route.
The most significant upside for choosing an IPO is that underwriters help companies find a reasonable offering price and find the right investors. Also, companies often receive favorable coverage during the IPO process, which helps boost their stock.
What about the SPAC route?
From the chart below (Figure 2), SPACs are less lucrative than IPOs. Yet, they were trendy in the first half of 2021. For the first time in history, SPAC deals blew past 100 in a year to 417 at writing, according to SPACInsider data.


Figure 3: Number of SPAC deals by year 
Also, the average SPAC IPO size per annum increased to a record $336.1 million in 2021. This tells you that not only did more founders choose to go public via SPACs, but also more investors were willing to tap into this market.


Figure 4: Average SPAC IPO size by year 
According to the Harvard Business Review (HBR), a SPAC helps transition a company from privately held to publicly traded through a merger or acquisition. HBR further explains that the acquiring company is initially a shell company. It means such a company does not operate any business nor control any assets. 
One of the most recognizable SPAC deals is Virgin Galactic. In 2019, Social Capital Hedosophia (SCH) merged with Virgin Galactic to take it public. Before the transaction, SCH was a shell company registered in the Cayman Islands in 2017. SCH billed Virgin Galactic's transition to be publicly traded as IPO 2.0.
Unlike traditional IPOs, SPAC deals are flexible, and founders have more control over the deal's valuation. According to NFX's Pete Flint, SPACs take public companies that might have failed to meet the strict regulations of the traditional IPO. Also, the process is quicker and guarantees the valuation upfront.
And direct listing?
Some companies can bypass the SPAC and IPO markets and offer shares directly to the public via platforms like Nasdaq or the New York Stock Exchange. Unlike traditional IPO, companies do not create new shares when listing directly.
This means this route is ideal for mature companies, whose presence is already huge and does not need Wall Street's patronization.
The biggest allure of this approach is that founders have more control over stock pricing, meaning fewer fees paid to underwriters.
Nevertheless, Crunchbase data shows that, at writing, only three companies have gone public via direct listing: Roblox, Coinbase, and Squarespace. As per the data, Coinbase's IPO valuation was the largest at $86 billion. Also, this listing was the buzziest, mainly because it was coming on the heels of a cryptocurrency boom.
Conclusion: Which is trendier in 2021?
Granted, 2021 is the year of SPACs. However, one wonders whether investor enthusiasm will ever produce as many SPAC deals as seen so far in the year. Nevertheless, only nine SPAC deals have achieved successful IPOs at writing, according to Crunchbase. 
On the contrary, Crunchbase counts 38 traditional IPOs as of 23 August 2021, and many more are upcoming. Also, the SPAC boom seems to be fizzling. The SPAC Index is 34.53% (as of 30 August 2021), down from its 2021 high.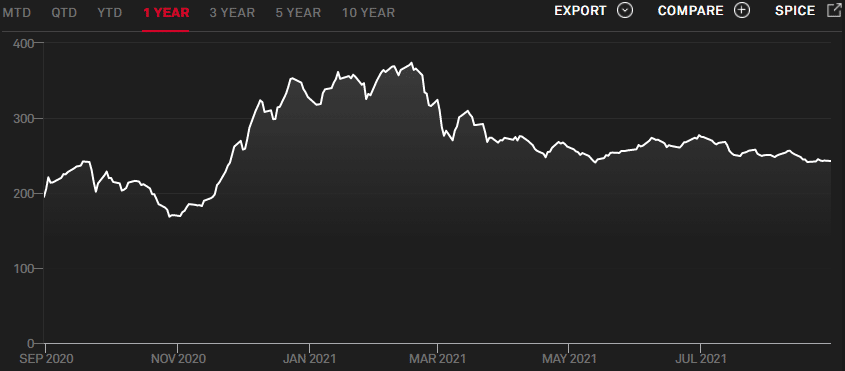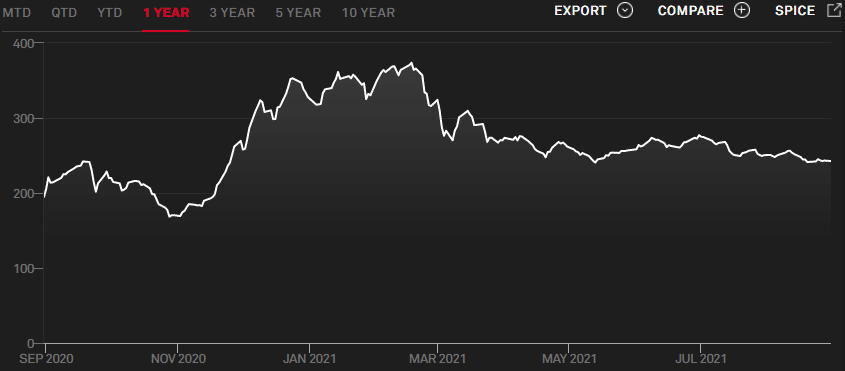 Figure 5: S&P US SPAC Index 
From the preceding, it seems traditional IPOs still mesmerize many founders. Moreover, the way things are today, the conventional IPO market is likely to witness more successful deals as fewer SPACs reach the IPO.