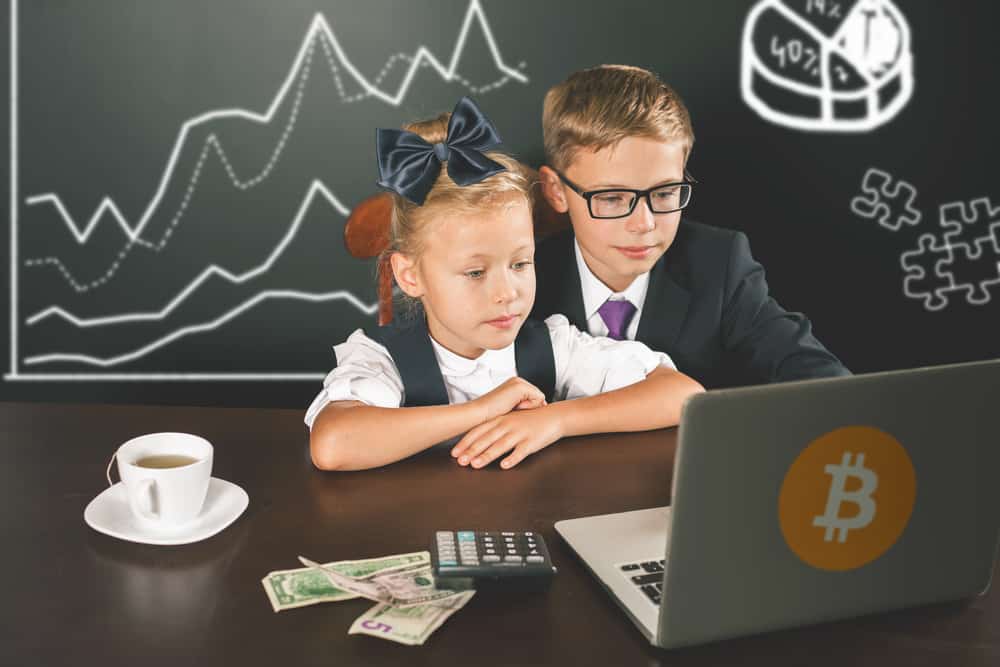 The world is increasingly shifting away from fiat currency in light of all the instability on the globe. People are starting to realize the need for a currency that's devoid of any governmental or institutional control. Cryptocurrencies have seen increased popularity and have even been accepted as legal tender in some countries.
Bitcoin, the leading cryptocurrency in market cap, is no exception. Having hit an ATH of $64,805 in 2021, one can only imagine where it'll be in years or even decades to come. In these times of uncertainty, if your idea of money is what it was yesterday, then you'll more than likely lose it to those who are able to imagine what may be tomorrow.
For this reason, it only makes sense that we should be teaching our kids to invest in crypto assets. Unfortunately, most cryptocurrency exchange platforms have a minimum age restriction of 18 years. Let's see how we can navigate past this hurdle and secure our kids some Bitcoin in four simple steps.
1. Buy some BTC
As aforementioned, most exchange platforms do not allow minors to hold accounts on them. However, as a parent or guardian, you can purchase Bitcoin for your kids on licensed platforms such as Binance or Paxful.
On such platforms, you'll be prompted to open an account and verify your identity. After the verification process, you can load your account with fiat currency or purchase Bitcoin in a peer-to-peer transaction using an online money transfer. Either way, the platform allows you to purchase Bitcoin and hold it in a wallet provided on the platform.
While your BTC is on the platform, you can easily trade it with any other cryptocurrency coins on offer. In the same way, you can sell your crypto assets and receive fiat currency straight to your bank account.
2. Get your BTC off the platform
The way these platforms work is similar to the conventional banking system. If you have an account with a bank, any money in that account is in the custody of the bank. If something were to happen to the bank, you stand to lose the money in your account.
Similarly, while your BTC sits on a platform's wallet, they are in the custody of the platform. This means you can only access your coins once the platform releases them to you. If the platform went offline for some reason or was closed, any crypto assets they held for you disappear with them.
In addition, whilst on this platform, your BTC is vulnerable to hackers. For these reasons, it is not advisable to leave your crypto assets on the trading platform long-term unless you intend to trade with them actively.
3. Transfer your BTC to hot storage
Hot storage is provided by hot wallets such as Exodus. They are called hot because they are accessible via the internet and thus are vulnerable to hacking. However, hot wallets provide more security to your crypto assets than the exchange platform's wallet.
This, however, is just temporary storage for our BTC. Since we're buying these coins for our kids, they should be stored in a wallet that guarantees their security in the long term. Therefore, we will need to send them to a cold wallet, one that is detached from the internet. However, sending BTC to these wallets takes time, which is why we send them to a hot wallet in the meantime.
4. Send your BTC to cold storage
BTC cold storage is done by sending your crypto assets to hardware wallets such as Ledger or Trezor. These are basically USB drives whose sole purpose is to store cryptocurrencies. Since the drives themselves cannot access the internet, they offer the highest level of security from hackers.
These hardware wallets often contain buttons on them that you have to press before making any transfer. In addition, the Trezor app uses a randomly generated keyboard when you're entering your PIN. Then the keyboard scrambles again and prompts you to enter your PIN a second time. This is to prevent any hacker monitoring your computer's keystrokes from obtaining your password.
The best part about these wallets is they also come with a 24-word passcode that's used to gain access. This ensures that if you lose or misplace your hardware drive, you can buy a similar drive, restore it using the 24 words and get your BTC back. Needless to say, these words need to be stored in a secure place, preferably one that's not susceptible to hacking. You should also take great care not to lose these keywords, as, without them, your coins are as good as lost.
Once you send your crypto assets to this cold wallet, you can give the drive to your kid or store it for them until they become old enough to carry that responsibility. Whoever holds the drive and has its private keys owns the cryptocurrency inside it.
The alternative: invest in BTC stock
Alternatively, you could also choose to invest in stocks of companies that have embraced cryptocurrency and its services. For example, Tesla and MicroStrategy have Bitcoin holdings and are invested in the coin. Any increase in the price of the coin will increase the stock valuation of these companies.
Therefore, you can choose to invest in such stocks instead. However, like the crypto exchange platforms, the stock market has an 18-year age limit. As a guardian, you would have to hold said stocks in a custodial account until the kid comes of age.
Conclusion
It is no secret that the cryptocurrency wave is taking the world by storm. Crypto is the currency of the future, and it is only fair that our future generations embrace this new currency system. As the saying goes, a rising wave lifts all dinghies.
To get your child into Bitcoin, you'll have to buy and transfer the coins into a hardware wallet, which you can then pass on to them for safekeeping. Alternatively, you could choose to invest in crypto stocks and turn them over to the kid once they turn 18.