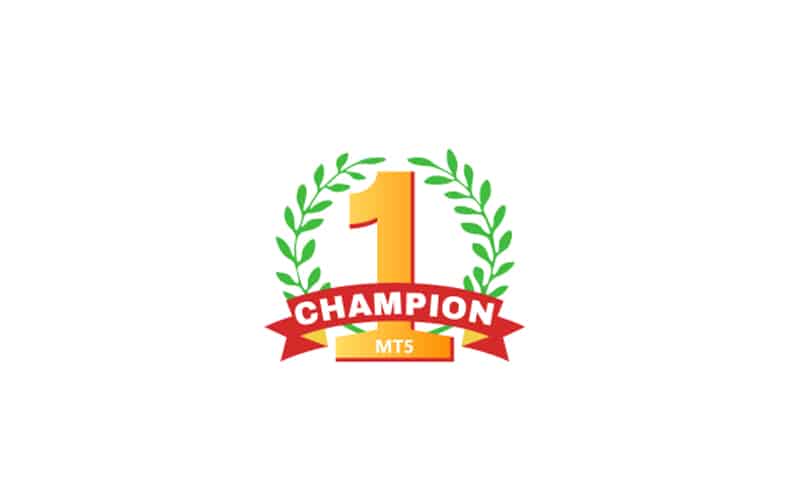 Champion EA is a trading system that is suitable for both veteran and novice traders. It incorporates a drawdown reduction function and a time filter to promote secure and lucrative trading. Therefore, the vendor assures us that it can generate a drawdown of <10% yearly.
Is investing in Champion EA a good decision?
We have assessed the different components of the product, including its features, strategy, vendor, past and current performance, along with customer reviews. Our findings have revealed that the EA is costly, has unverified live trading data, and lacks a detailed backtest report. However, customers are using it and are satisfied with the profits it produces.
Company profile
Evgenii Aksenov is the author of this Forex robot. He lives in Russia and has been in this market for 3 years. His profile features 20 signals, 12 subscribers, and 43 trading systems. Some of the products developed by Evgenii are: Index Scalper Pro, Gold Eagle, Gold Dragon, Joker EA, Fibo Trend EA, Spread Meter, and many more. So far, the demo versions of these systems have been downloaded 1153 times.


Main features
According to the developer, the EA has the following features:
The system supports 5 currency pairs, which include AUDCAD, NZDCAD, EURCAD, GBPCAD, and AUDNZD.
It has no analogues in the market.
Only one chart is needed to trade all symbols.
It is simple to use and does not need optimization or extra set files.
It includes built-in profit ratio system/drawdowns.
A news filter is available to avoid random transactions during erratic periods.
It is suitable for FTMO and FIFO conditions.
As per the vendor, Champion EA's strategy entails looking for optimal entry/exit points. The system evaluates the price on every candle and its dynamic deviation in the flow of quotes, and when the candle closes, it decides whether to enter or exit the market.
Price
Champion EA is currently priced at $799. A 6-months renting option is also available at $499. Unfortunately, none of the two packages features a money-back guarantee.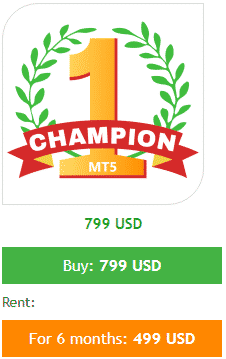 Trading results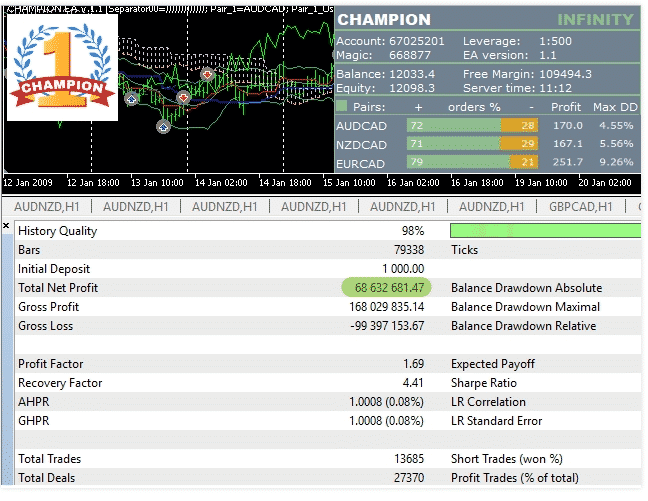 As you can see above, backtest results for this EA are available, but some details are missing. So, we can't figure out the drawdown generated, win rates for short and long trades, average profit and loss, profitability rate, timeframe, etc. The system completed 13685 trades using a $1000 deposit. As a consequence, a huge profit of $68632681.47 was made. The profit factor was 1.69.
Live trading results are also present, but they are unverified.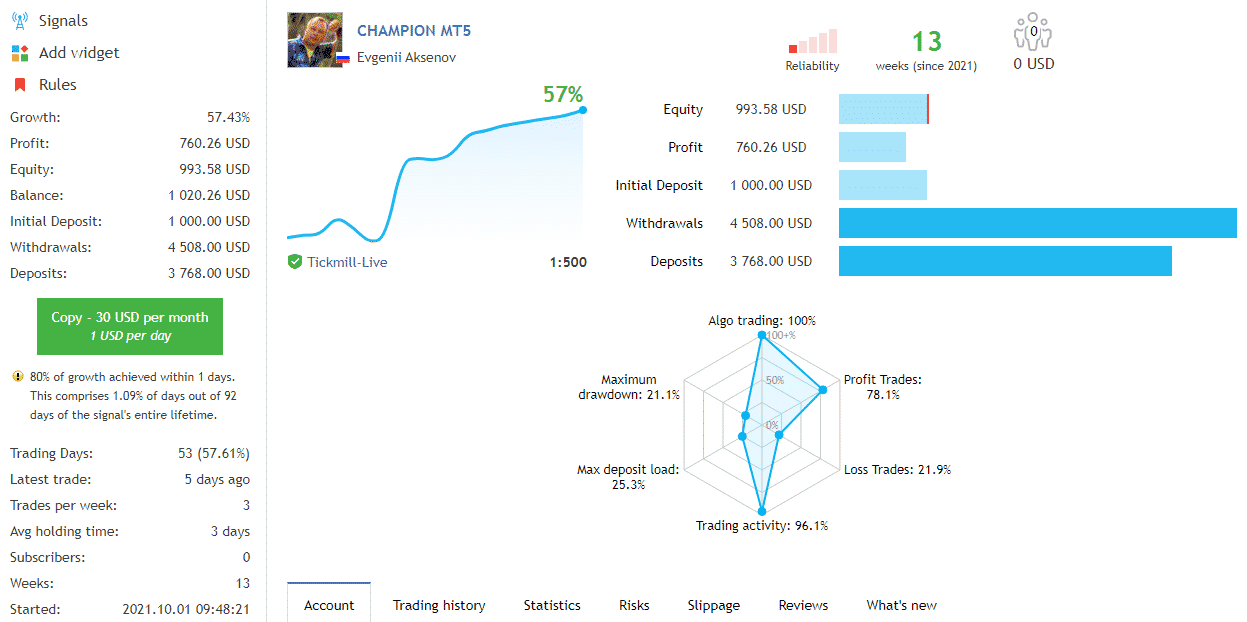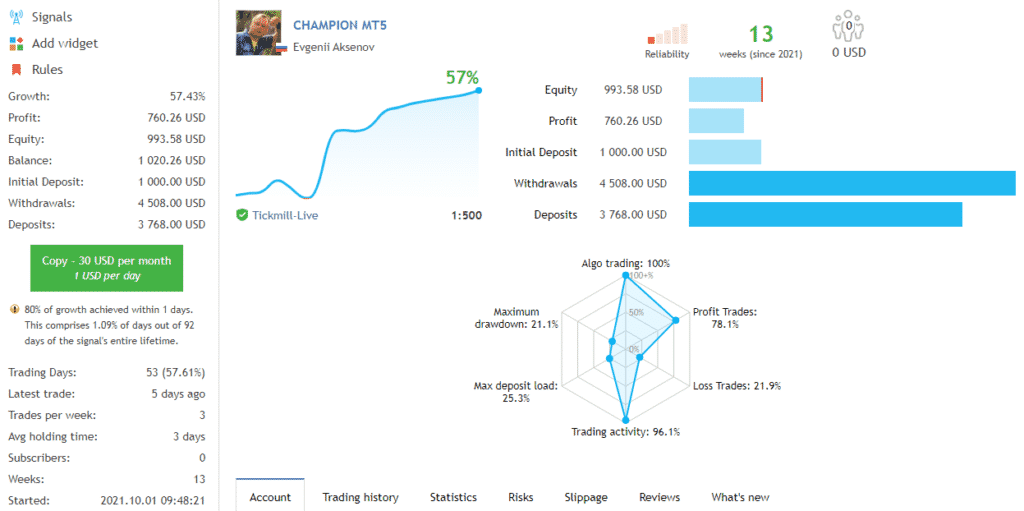 The account reports a 57.43% growth rate from 196 trades implemented using a deposit of $1000. Since its opening on October 1, 2021, to date, the account has gained a profit of $760.26. On average, a trade is held for 3 days. The maximum drawdown, which is 21.1%, means that the strategy used has not caused many losses yet.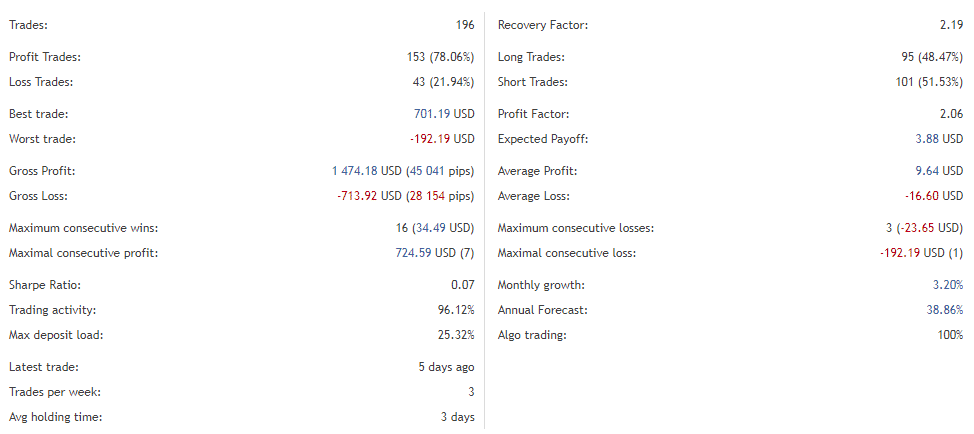 The win rates for long (48.47%) and short trades (51.53%) are poor. The EA generates a monthly profit of 3.20%, and so far, 78.06% of the trades completed have been successful. There's a profit factor of 2.06. The average loss trade of -$16.60 is higher than an average profit trade of $9.44. This shows that the EA makes more losses than profits.
Customer reviews
Customers seem to be happy with the EA going by the positive reviews it has received on mql5. They are praising the system for producing steady profits and low drawdowns.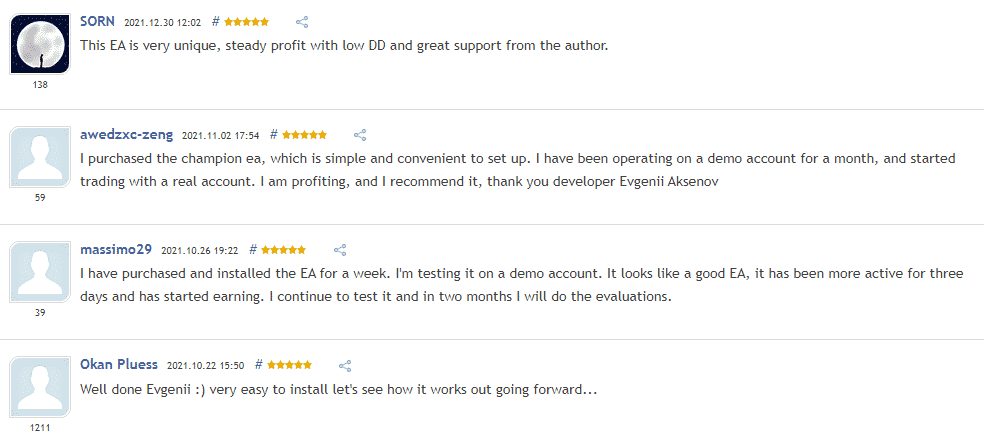 Summing up
Champion EA is easy to use. However, the system is expensive and may be out of reach for some traders. We are concerned that it has already generated a drawdown of 21% within 3 trading months. This is a far cry from the promised low drawdown of less than 10% in a year. Anyway, you might not need to worry yet as some of its customers suggest that the EA applies low-risk trading.