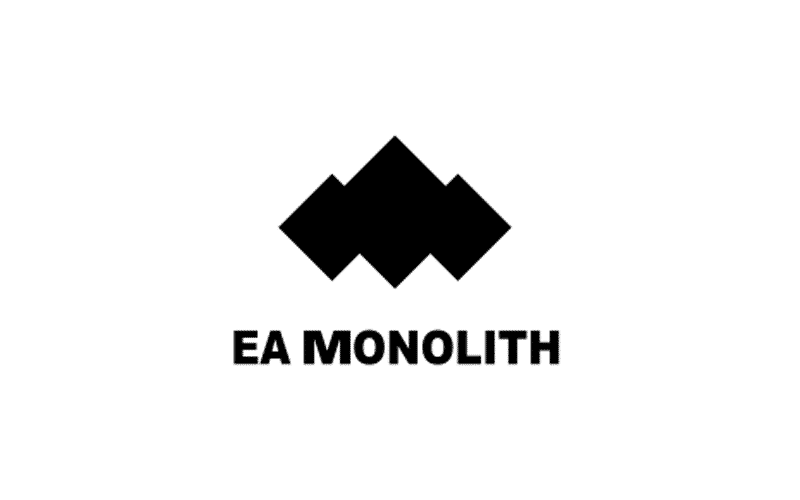 EA Monolith is a fully automated Forex expert advisor that works on the Metatrader 5 trading platform. It was launched on 21st October 2019 and is currently available on the MQL5 marketplace. To determine whether this robot is profitable or not, we need to conduct an in-depth analysis of its various performance aspects.
Is investing in EA Monolith a good decision?
To analyze this robot, we have looked into things like live performance, trading strategy, price, backtests, and user reviews. We are not satisfied with what we have seen, and this seems like an overpriced system sold by a vendor who fails to maintain transparency. Therefore, we don't think it's worth trying.
Company profile
EA Monolith does not have an official website. On the MQL5 page, the vendor has described the functionalities of the robot in brief. We can see that there is not enough information about the features. They have shared a couple of screenshots showing backtesting results, as well as a few recommendations.
EA Monolith is a product from Vasily Kolesov, a Russian trader with more than 5 years of experience. There is no information available on this person and their background. We don't know if they have the required technical know-how to develop efficient automated trading systems. Their other products include EAs like Yellow mouse scalping and Mr Martin.
Main features
This EA uses netting orders for trading in Forex and avoids hedging techniques. You can use it with a regular or a cent account. In the EA settings, you can specify a critical drawdown level, and when this is reached, the robot will close all orders. You can use EA Monolith with multiple currency pairs at the same time.
To test this robot, you need to download the set files shared by the vendor. It has two settings, namely conservative and aggressive. The vendor has not clearly explained what these settings are, but we can assume it has something to do with the risk setting.
For the aggressive setting, you can start with a minimum deposit of $5000. While using the conservative setting, the minimum deposit is considerably higher at $10,000. You can adjust the possible profit and drawdown by modifying the EA settings or by excluding or adding currency pairs.
Nowhere in the presentation has the vendor explained the trading strategy used by this robot. As such, we don't know how it gauges the strength of a trend or how it spots profitable trading opportunities. Most experienced traders look for strategy before investing in a robot, so the lack thereof might disappoint them.
Price
EA Monolith has a hefty price tag of $1700. Even the most well-known EAs on the market are available at half this price. The vendor is clearly guilty of overpricing, and there is no way you should spend this much money on a robot. Additionally, there is no money-back guarantee that protects your investment. For testing purposes, you can download the free demo version.
Trading results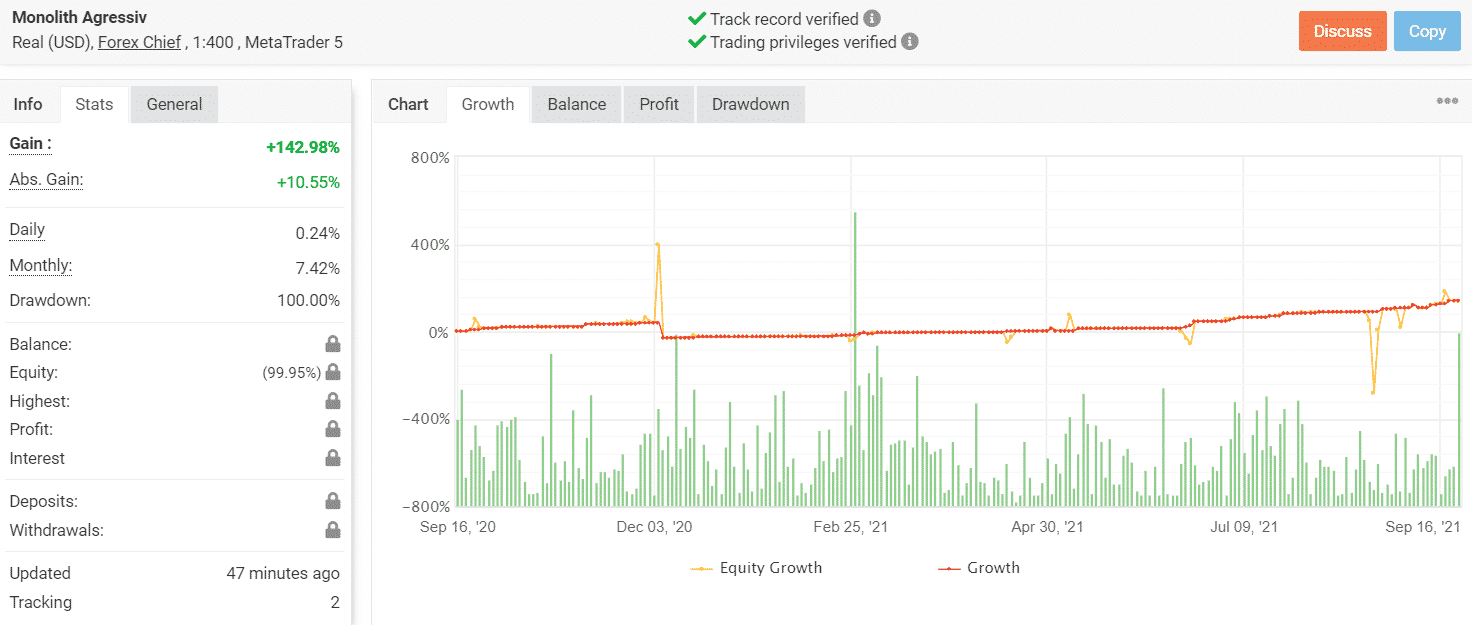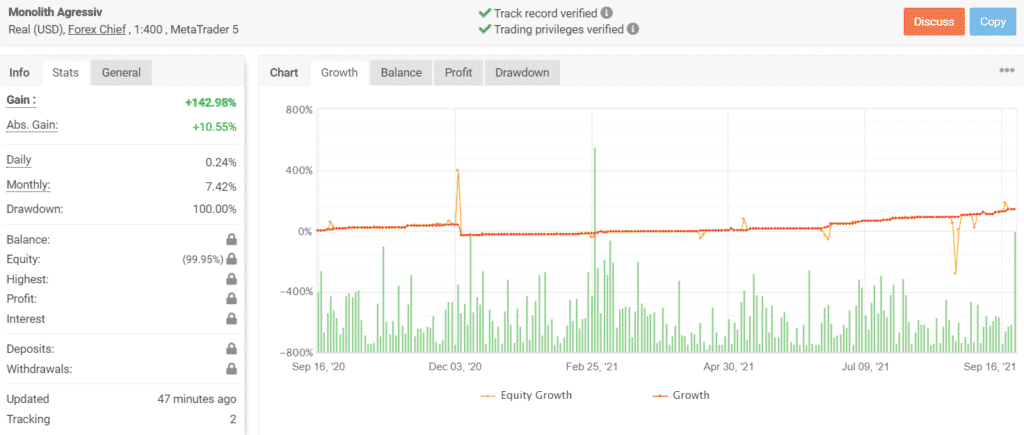 Here we have a live trading account for EA Monolith on Myfxbook. Since September 16, 2020, the EA has placed 864 trades through this account, winning 98% of them. The daily and monthly gains for this account are 0.24% and 7.42% respectively.
We must mention the fact that the vendor has hidden some key parameters like balance, equity, profit, interest, deposits, and withdrawals. Therefore it is difficult to accurately measure the account's profitability. It has an extremely high drawdown of 100% which indicates a high-risk strategy that can drain your account.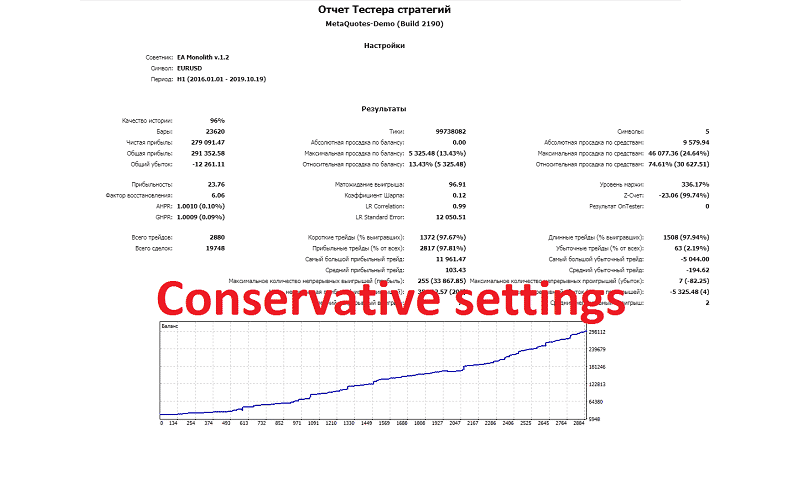 This backtest was conducted from 2016 to 2019 for the H1 timeframe. All the parameters are written in Russian, which prevents us from accurately analyzing the results. However, we can see that the win rate was 97.81% and the relative drawdown was extremely high at 74.61%. Although the drawdown was a little less in comparison to the live results, it was still too much.
Customer reviews


We were unable to find any user reviews for this expert advisor on third party websites like Trustpilot, Forexpeacearmy, Myfxbook, and Quora. On MQL5, there are few user reviews, but since the vendor could have manufactured them, we cannot consider them genuine.
Summing up
EA Monolith is an overpriced robot that trades with a high drawdown. Since there is no refund policy, you will lose the amount invested on the robot as well as that suffered due to trading losses. Another reason not to invest in this expert advisor is the lack of strategy insight.