Euro Hedge is a trading solution that was released on the MQL5 forum on October 28, 2021. The system got some updates in the past up to a 3.9 version. It was downloaded for demo usage 189 times.
Is investing in Euro Hedge a good decision?
We don't think so. The system was delivered without trading results. Hedge strategy is a risky one. So, we have to have real proof that it can run a real account quite safely without deep drawdowns.
Company profile


Sugianto is a developer from Indonesia who has 32 products on the board. He has over six years of MQL5 experience. His products have a 5 rate based on eight reviews.
Main features
The system has some settings, features, and details explained.
The advisor knows how to trade fully automatically for us. We may do nothing in addition.
The system is "a combination of hedging, averaging, pyramiding, lot martingale and anti-martingale strategies plus the ability to close partial losing positions, with the aim of getting in and out of the market as quickly as possible so as not to be trapped by unexpected market changes."
It's simply insanity to work with that bunch of risky strategies.
We can work with the following pairs EURUSD, GBPUSD, and XAUUSD.
The system should be used on a VPS service.
The system can open and close orders for us.
That's it. Frankly, it's nothing we talk about that risky advisor.
Price

The robot is available for $349 for a single lifetime copy. We can enjoy several subscription options. There is one rental pack for $99 monthly and another one for $199 for three months. We are allowed to download a copy of the robot for demo purposes.
Trading results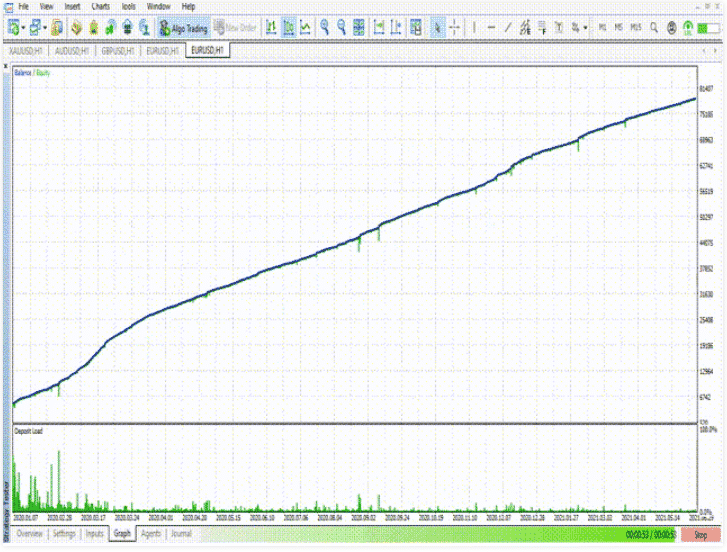 Instead of a chart and a final table, we have only a chart. It's clearly not enough to convince us that the system was tested properly. We don't know details about win rate, drawdowns, from what broker tick data was received, and so on. So, we have zero trust in this chart.


We have six accounts with trading results provided. Alas, there's no Euro Hedge system among them. It's a disadvantage. It means that the developer doesn't risk his money to make profits but wants us to do this. It's suspicious that he didn't provide us with either backtest reports or trading results. We are sure that there's something wrong because we'd like to know what results the system can achieve here and now. The pricing is high for a single copy, so the owner could easily set the system up on at least a $500 account.
People feedback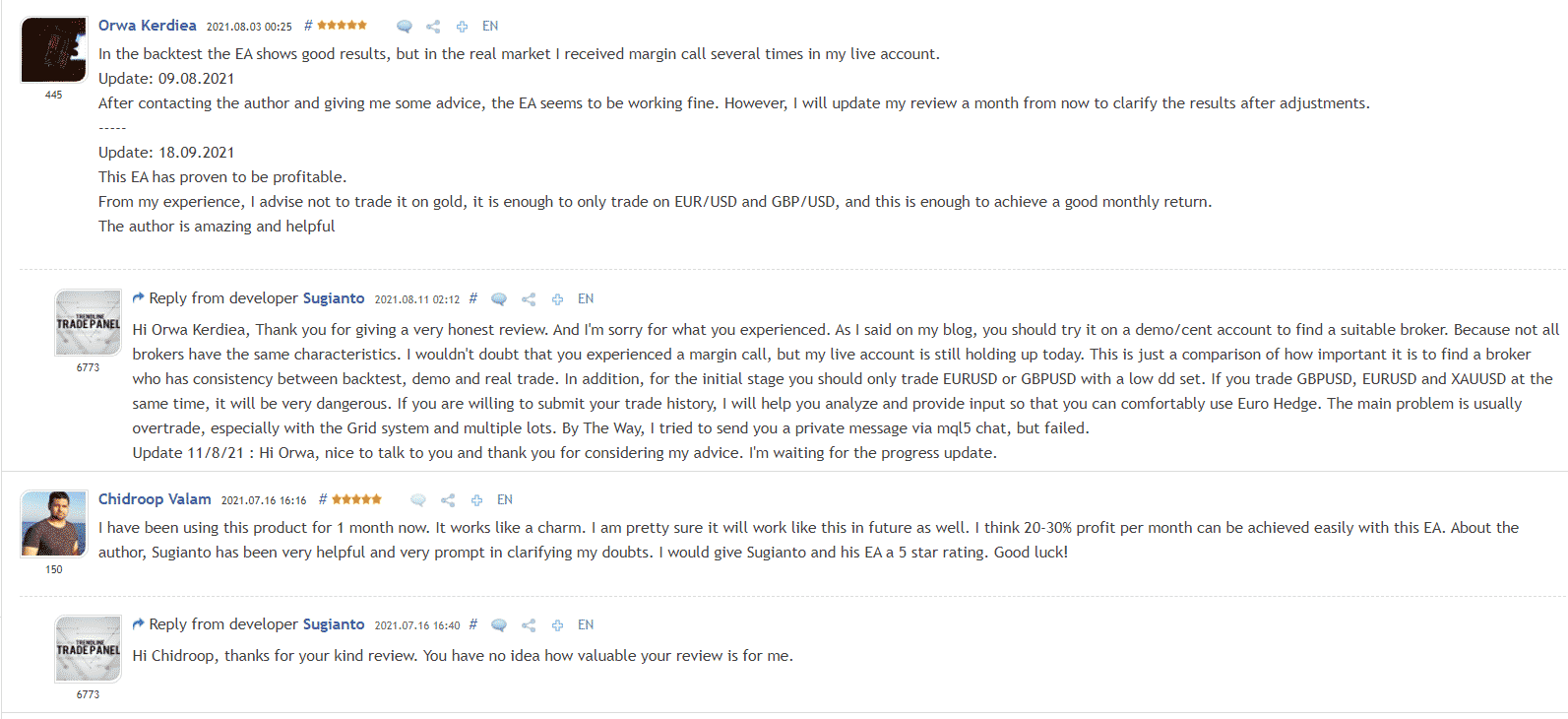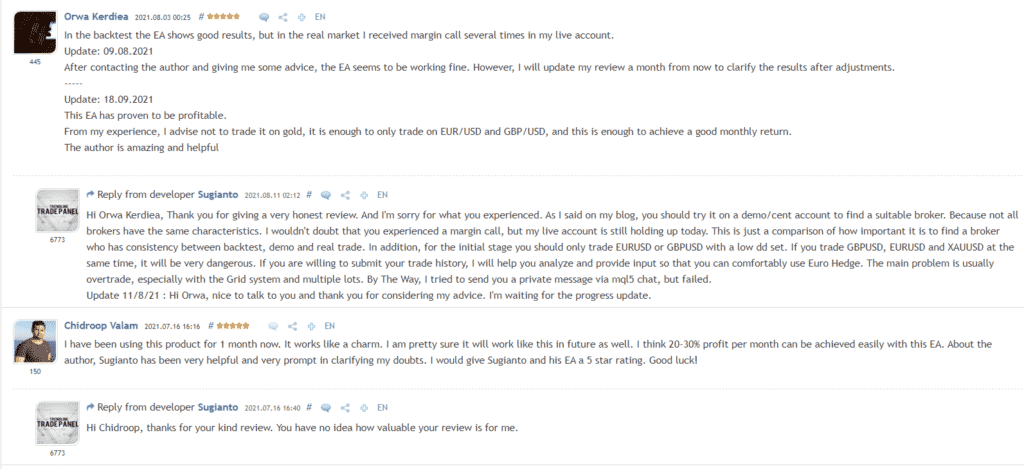 The presentation includes only two testimonials about how the system works on the people's accounts. We cannot be sure that they weren't paid ones. So, it's clearly not enough to convince us to buy the system.
Summing up
Euro Hedge is a ridiculously scam-looking trading advisor. The presentation is short and not informative. If we talk about the system, we'd like to note that it is truly dangerous. The dev didn't provide us with backtest reports and didn't risk his money to set the system on a real account to work. The pricing is high as for a no name solution. We can't suggest anyone use this system.