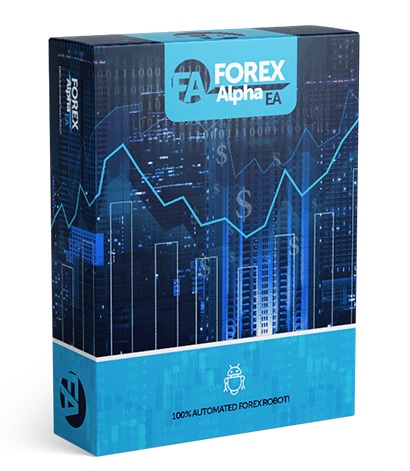 Today's review is about Forex Alpha. It's a kind of a new robot. So, what do we know about it? The robot is introduced as a fully-automated trading solution that adapts to the market conditions and works on the MetaTrader 4 platform.
Forex Al[ha is, how the devs say, "is always making decisions with the most up-to-date trading logic possible."
List of robots advantages looks like this:
Adaptive trading based on an up-to-date trading logic.
Money management system.
All MT4 brokers' compatibility.
8 currency pairs trading.
24/7 Life Time Support.
Trading requirements are "Leverage: 1:30 and higher. The balance of not less than 5,000 USD or its equivalent in cents ($50). A broker must allow hedging in the current account. A number of simultaneously open transactions is not less than 30." The recommended amount of funds is $1000-$5000. We can use cent accounts from $50 to $4999 and normal accounts from $5000.
Robot's features and backtests
One of the well-explained features is an automatic leverage level setup. This pattern allows changing leverage levels depends on trades: "When Forex Alpha EA is doing well, the leverage grows with it. So on the upside, your leverage is infinite. You can go as fast and make as much as you want to."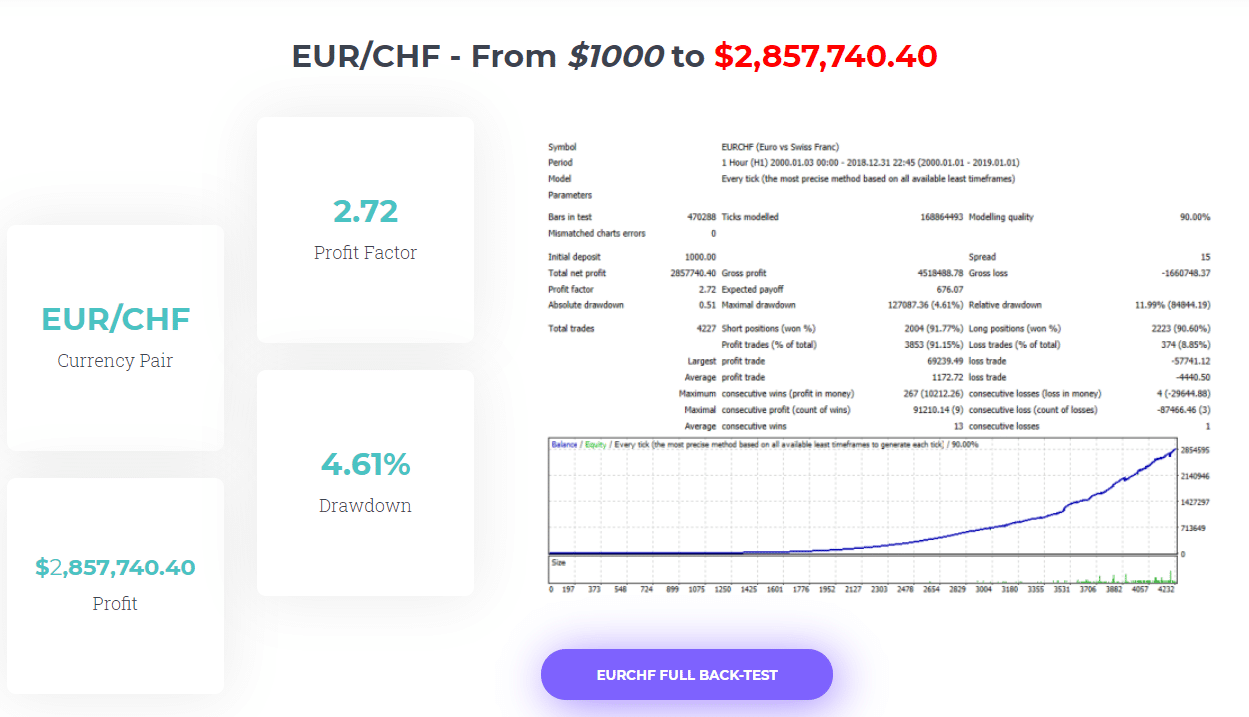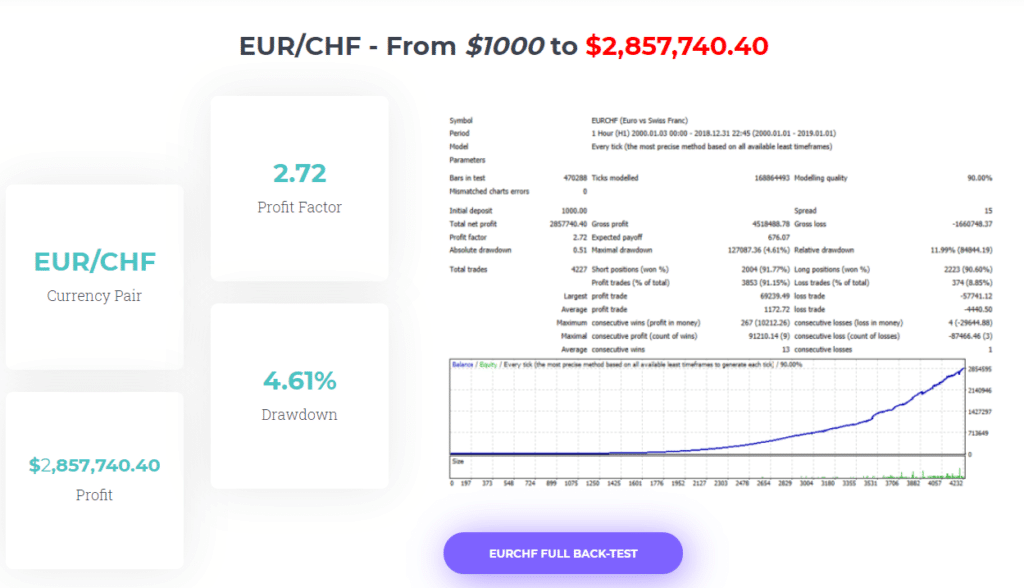 There are 8 backtests provided. Let's take a look at one of them. So, we've got the EUR/CHF currency pair. There have been traded 4227 trades on the 1H time frame. The profit factor has equaled 2.72. The maximal drawdown has been just 4.61%. From a $1000 deposit, the robot has managed to grow $2.587M profit during 19-years.
Fxblue verified trading results


As we can see. the robot has destroyed the account and total $11000 of the deposit and $32000 of the balance. The account has been live for 258 days.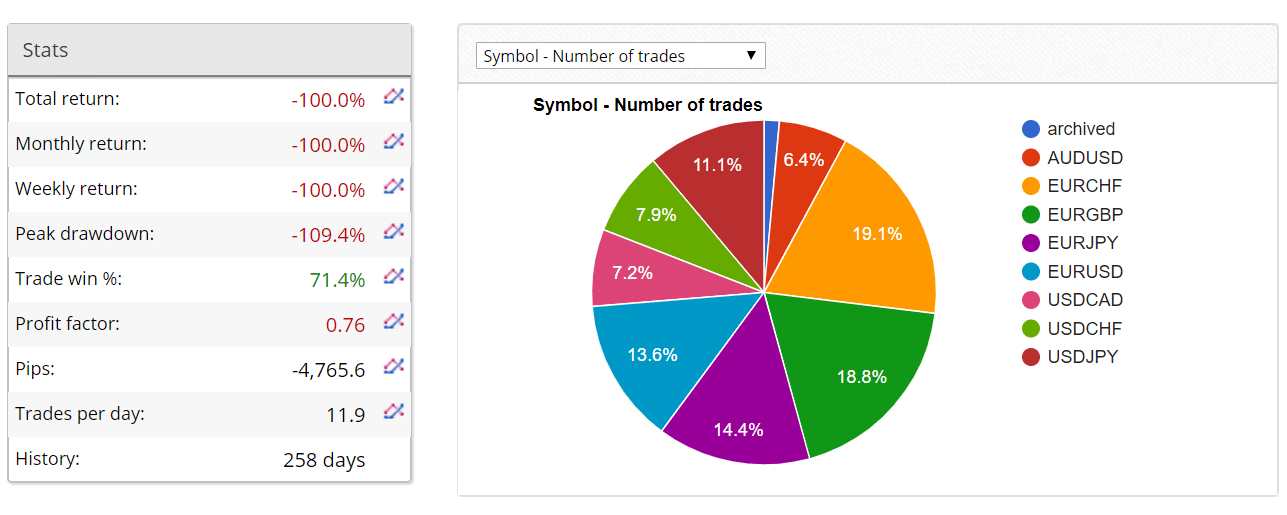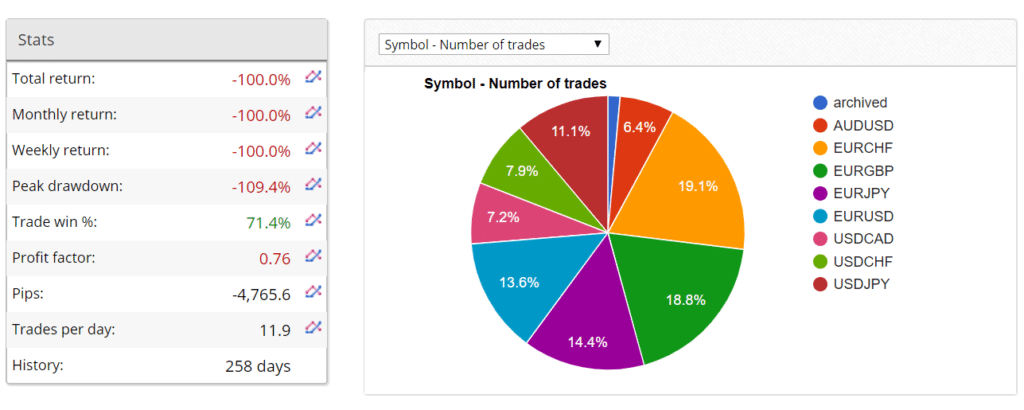 It's funny because the win-rate is ok, but playing with the leverage level made ended with zeroing the account.


Most of the money has been lost trading the EUR/CHF currency pair.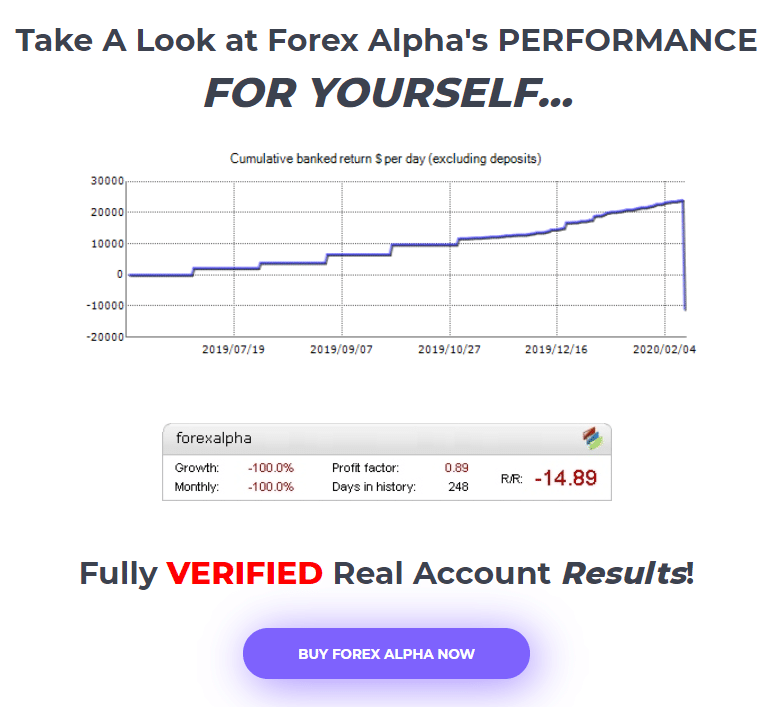 We don't know why devs didn't remove the official account results from the site having kept only backtests. There will be a little chance that someone will be hooked by backtesting and buy a robot. After seeing this, no way someone buys it.
Pricing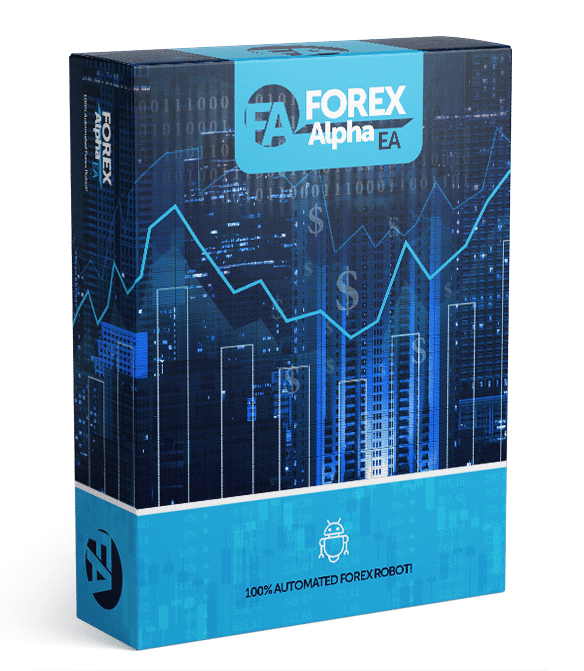 Forex Alpha costs $150 for a limited time and the package includes one real account, unlimited demo ones, and a 60-day money-back guarantee.
Summing up
Pros
Cons
The robot has zeroed the account
Yeah, we can write more pros and cons but only if one case exists that a robot works. Forex Alpha is no longer a robot it's a scammer. Playing with leverage levels with a weak money-management system always ended the same – nulling a balance. This robot just proves this statement. The second, we'd noticed, has been that devs didn't check its performance. as well as. the site presentation. So, we can't be even sure about the money-back guarantee.