Is Forex Gold Investor good-to-go EA to trade gold?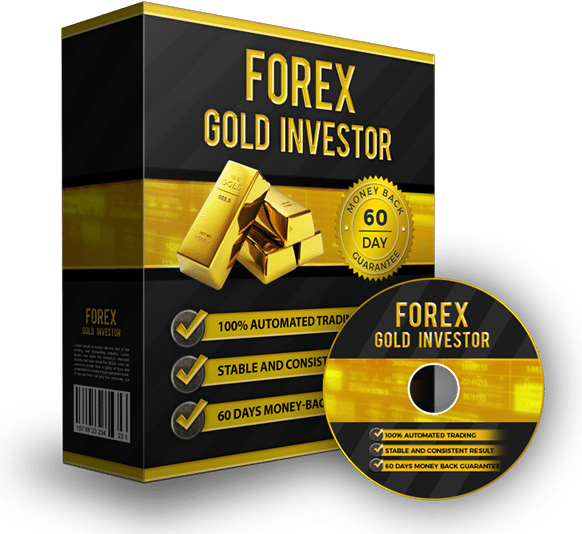 The Forex Gold Investor robot is an EA that has been designed by the FXAutomater company. It's been introduced as a fully-automated trading system that provides a stable and consistent profit. The robot specializes in gold trading.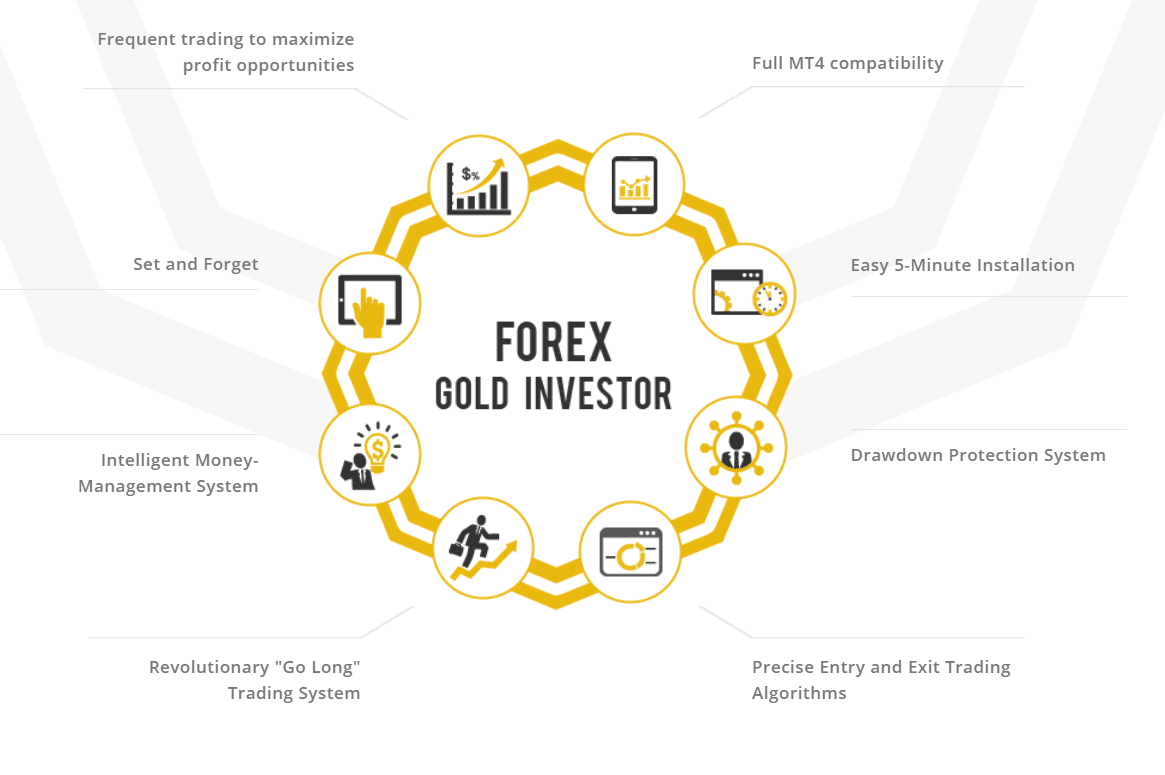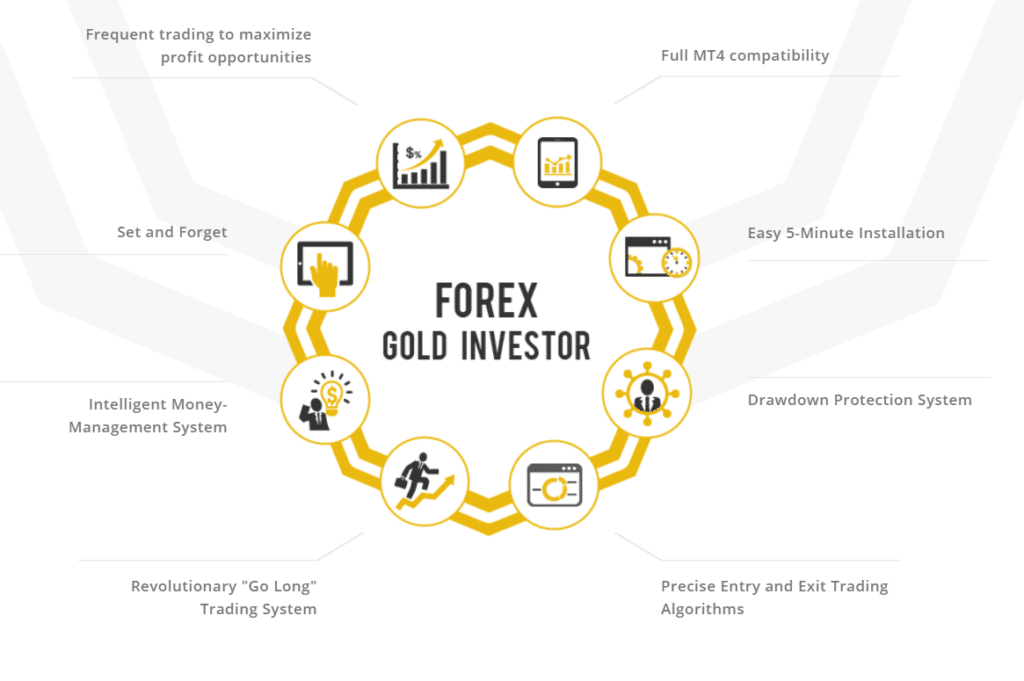 The robot trades frequently and maximized trade opportunities. The system provides a smart money-management system, a revolutionary "go long" trading system. The robot is fully compatible with Meta Trader 4. The system runs with a drawdown protection system. There implemented entry and exit trading algorithms.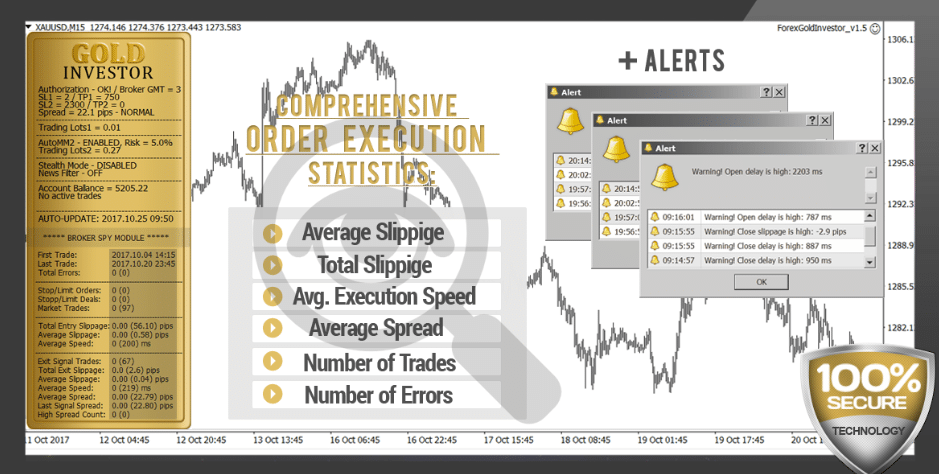 Like other systems of FXAutomater, there is a broker spy module. According to the devs FAQ, we can start trading even with a $100-$500 deposit, but we're suggested to start with at least $1000-$5000. The robot is allowed to run with other EA without any interruptions between them. Forex Gold trades on the M15 timeframe. The answer about running on PC when the power is turned off (who don't use VPS): "The trades that are currently open will stay open until the computer's power is restored. Just start your computer, run the Metatrader again and be sure that your Forex GOLD Investor Expert Advisor is turned on. It will continue working."
Strategy explanations
The devs tried to ensure us that "trading precious metals is easy when you have the right tools. Unlike equities, the price movements of commodities are linear – making them easier to predict. All you need to know is what events are triggering price movements." They've noticed that "expert traders and history agree that the long-term price projections for gold are bullish."
FXAutomater explains what strategies built-in the system they offer.
IntraDay Gold Price Cycles. There exist set-times for buying and selling gold.
Frequent trades. The robot actively looks for opportunities opening and closing trades during trading sessions.
Entry and Exit logic. The system starts and finishes deals based on time and the best trading scenarios such as "buy on deep" and "buy on strong" impulse.
Has got two proven strategies.
Backtesting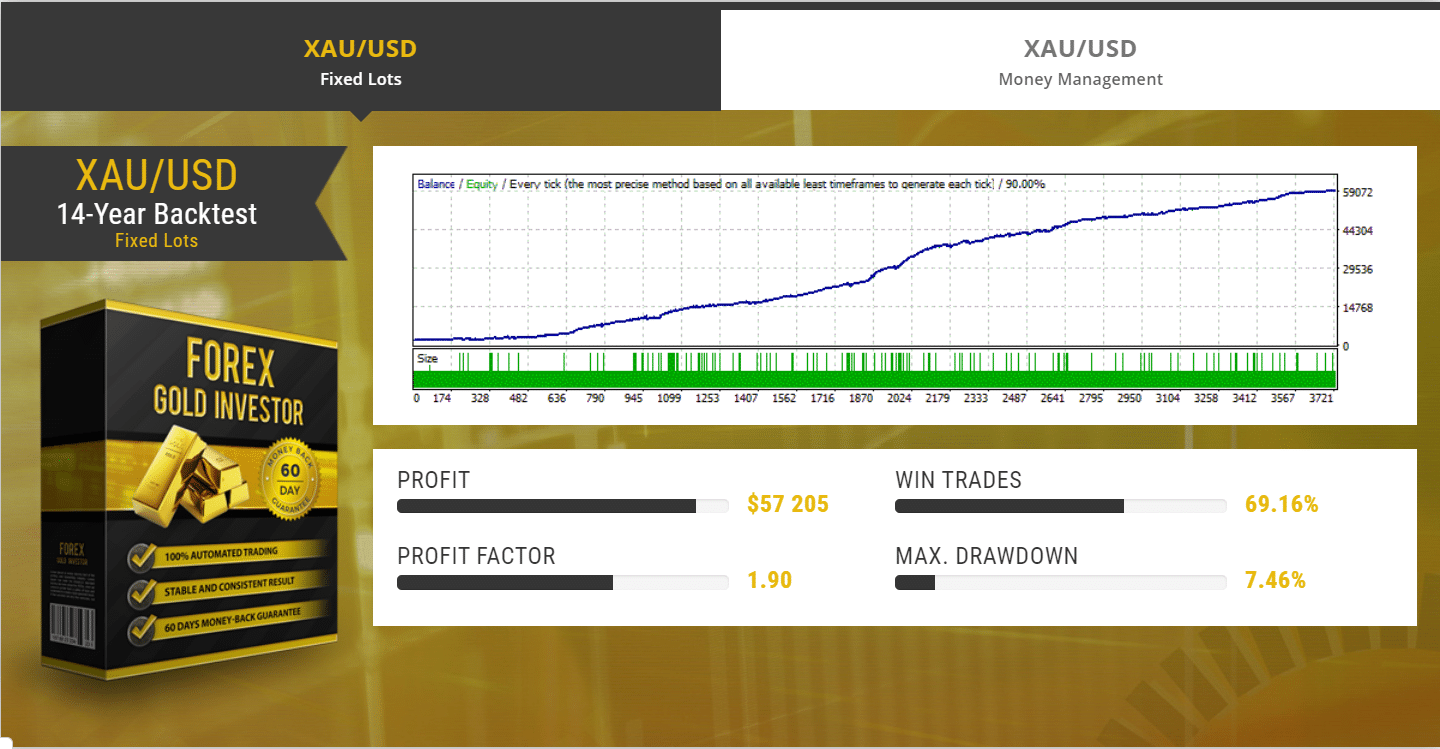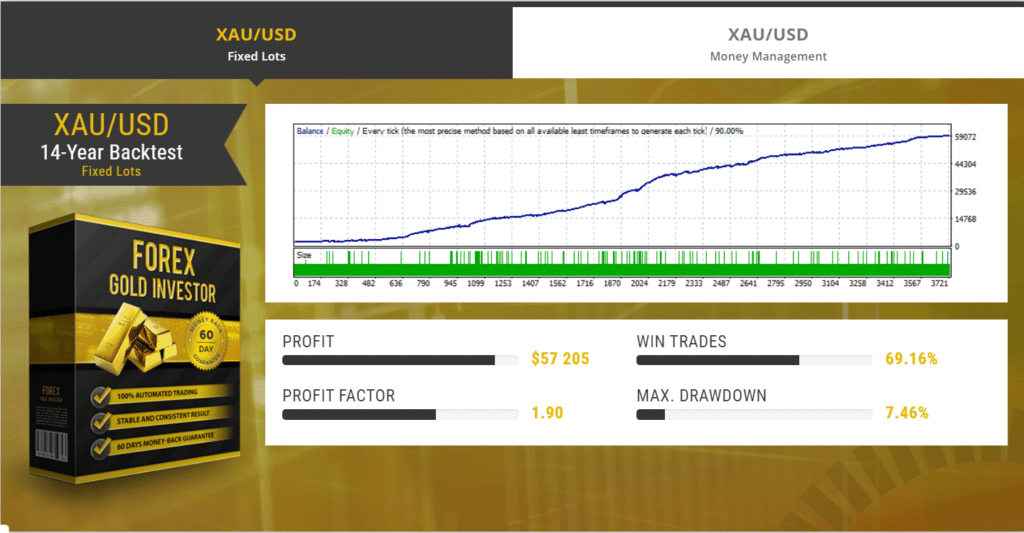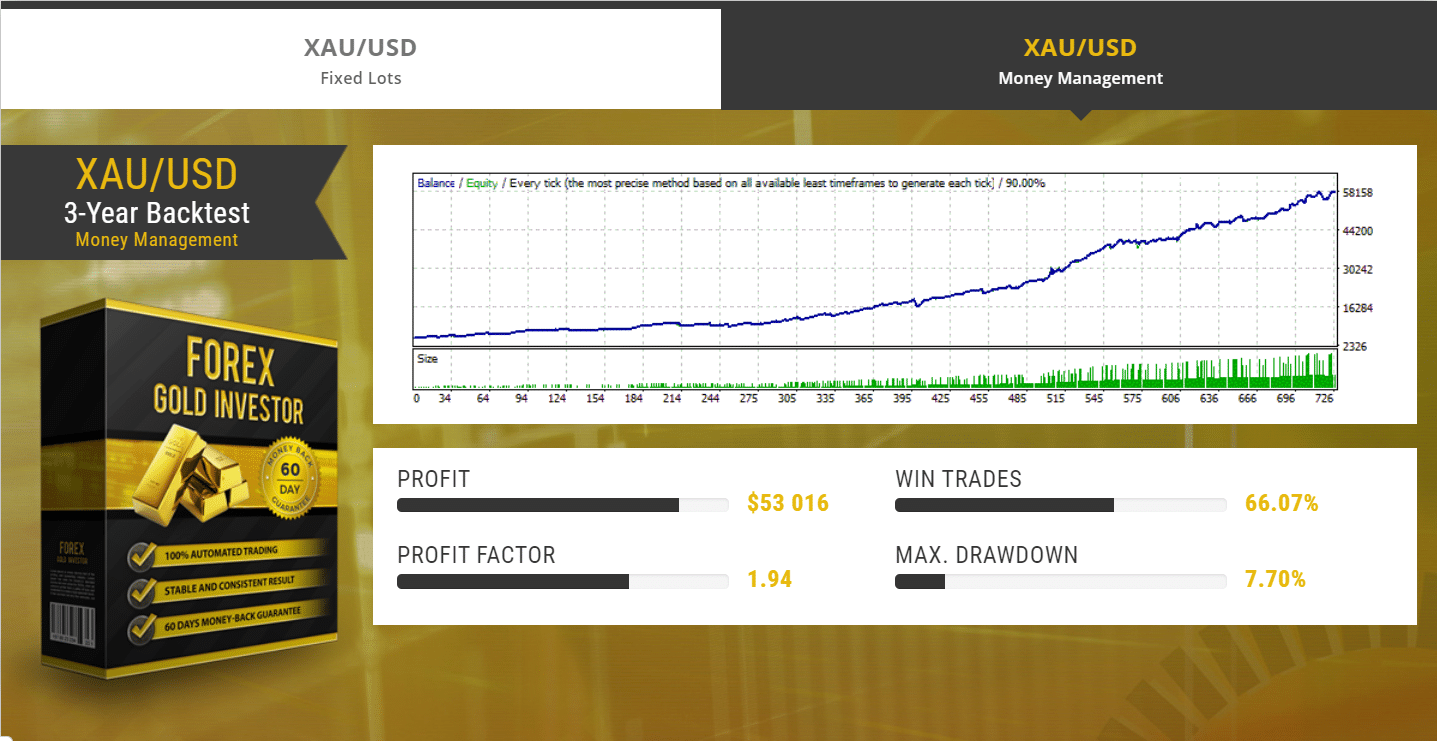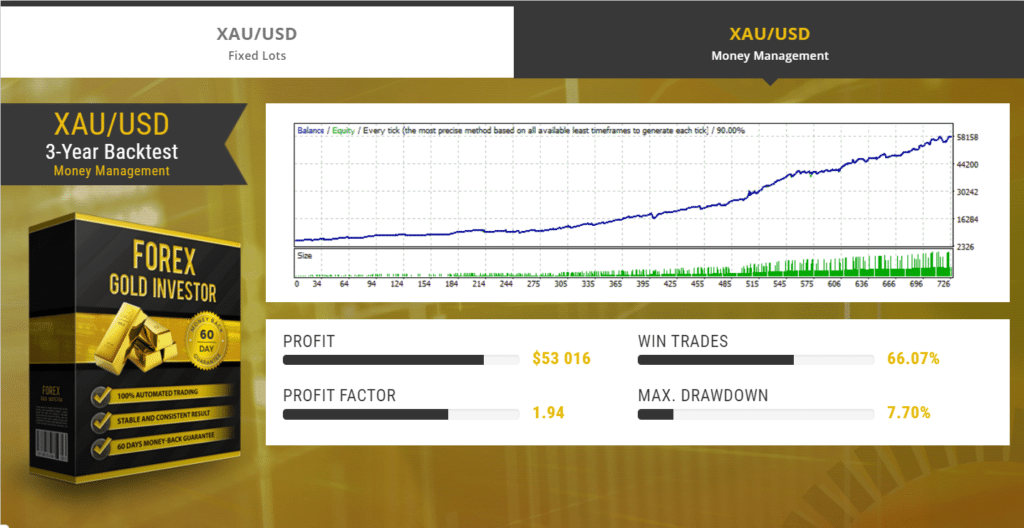 There are provided two backtests. The first one is with fixed lots for 14 years. The second one is with money management and for 3 years. The profit factor for both of backtests is about 1.9, the win-rate is 66-69%.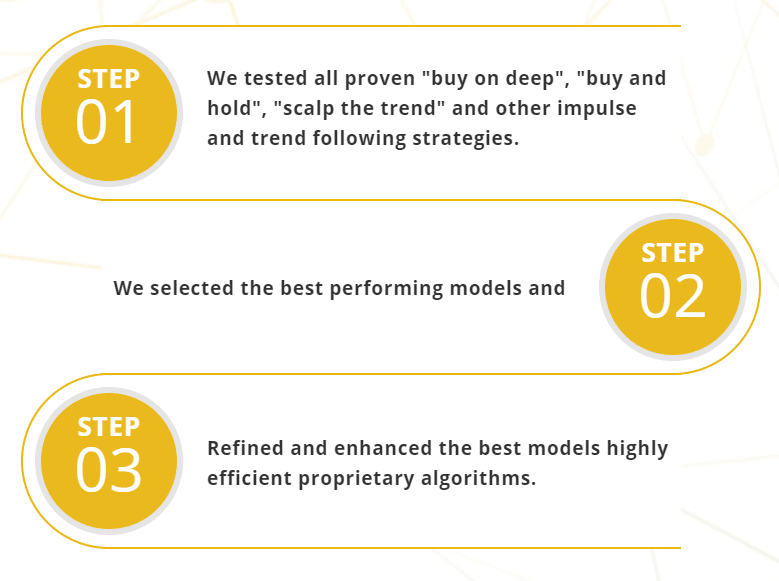 From the scheme, we can see the names of tasted strategies.
Real account trading results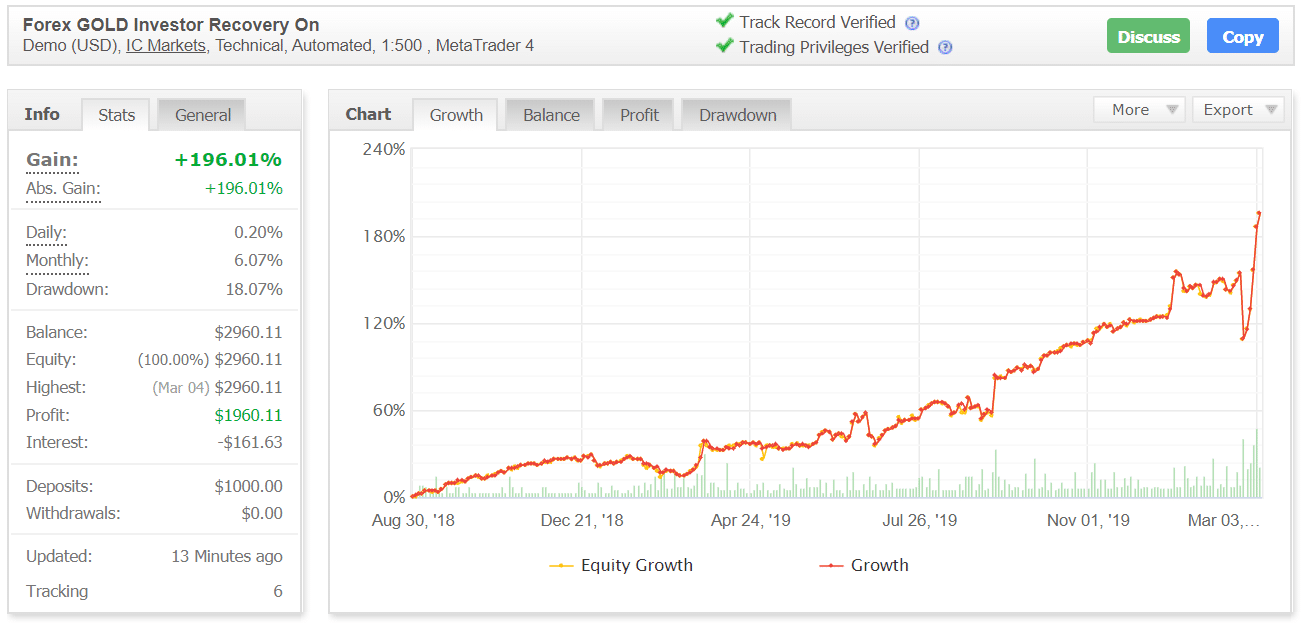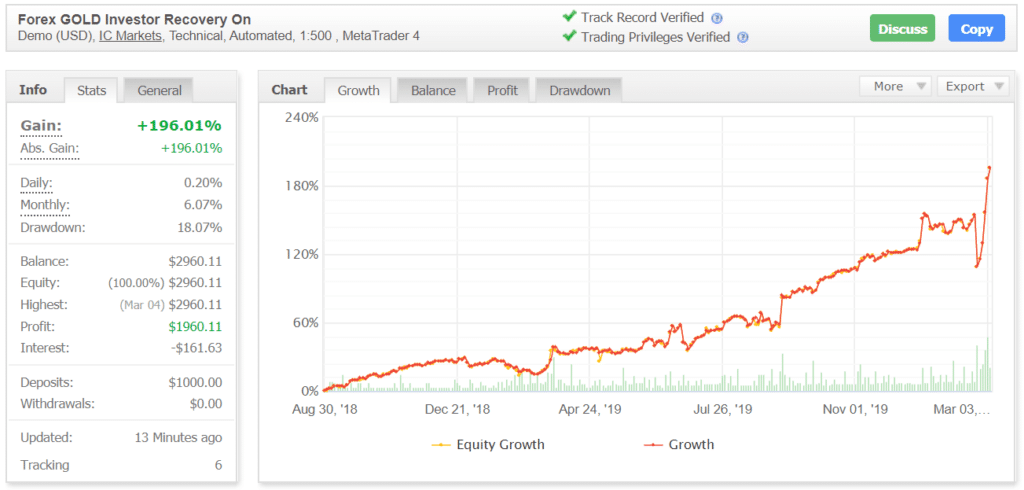 So, the devs provide two accounts one is with "recover mode" on, another one is with "fixed lots." This account has been started in August 2018. The robot runs a demo USD account with IC Markets as a brokerage company, 1:500 leverage on the MetaTrader 4 platform. During the period, the robot provided +196% of the gain. The average monthly gain is 6.07% with an 18.07% drawdown.


There have been traded 372 deals with 33.3K pips. The average win ($20.83) almost equals the average loss (-$19.93). The robot has traded 320 longs with 58% of the win-rate and 52 shorts with the 80% win-rate. The profit factor is good and equals 1.69.


Forex Gold Investor opens trades monthly during the evening hours.


After February losses, the robot has been set in the recovery mode and started trading with high risks.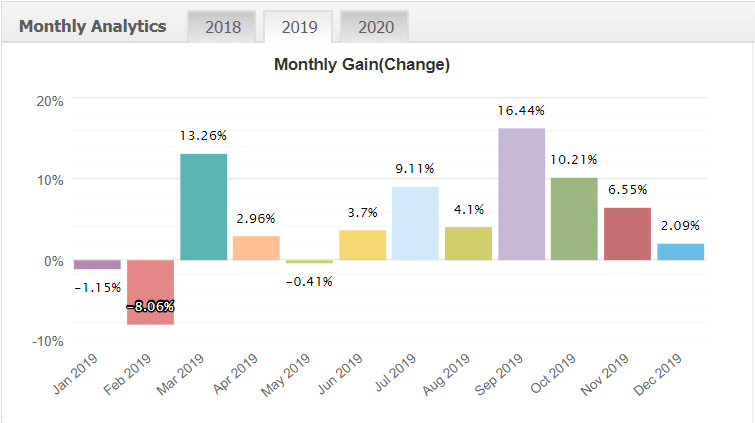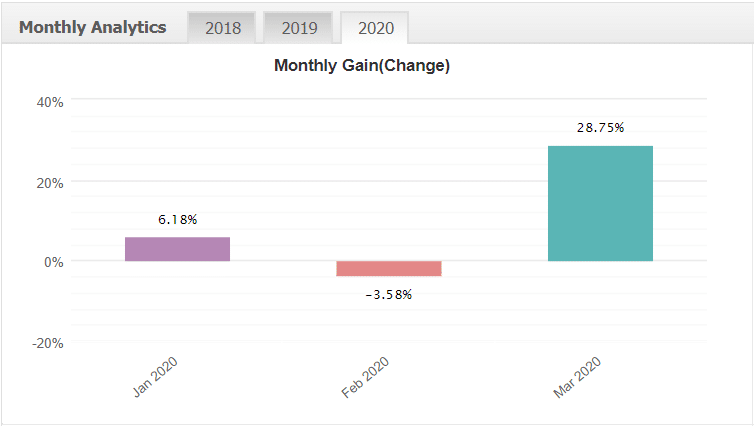 Forex Gold Investor trades variously. Some of the months showed good profit when the other mediocre one or even losses.
The offer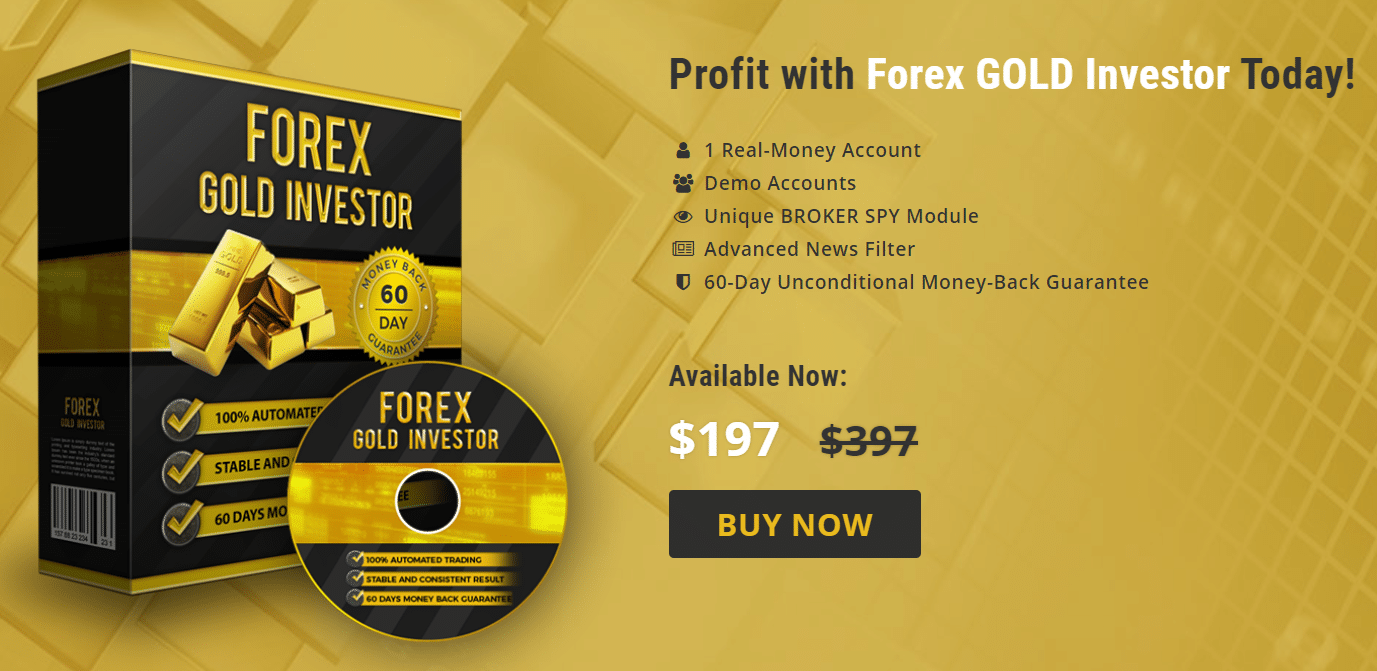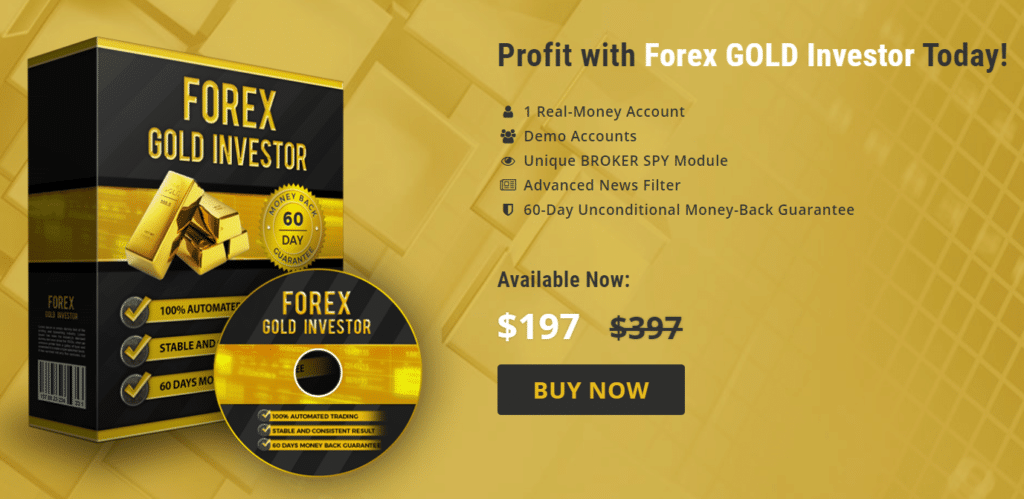 The offer includes -$200 OFF. Paying $200 we'll get one real account, many demo accounts, Broker Spy Module, Advanced News Filter, and a 60-day money-back guarantee.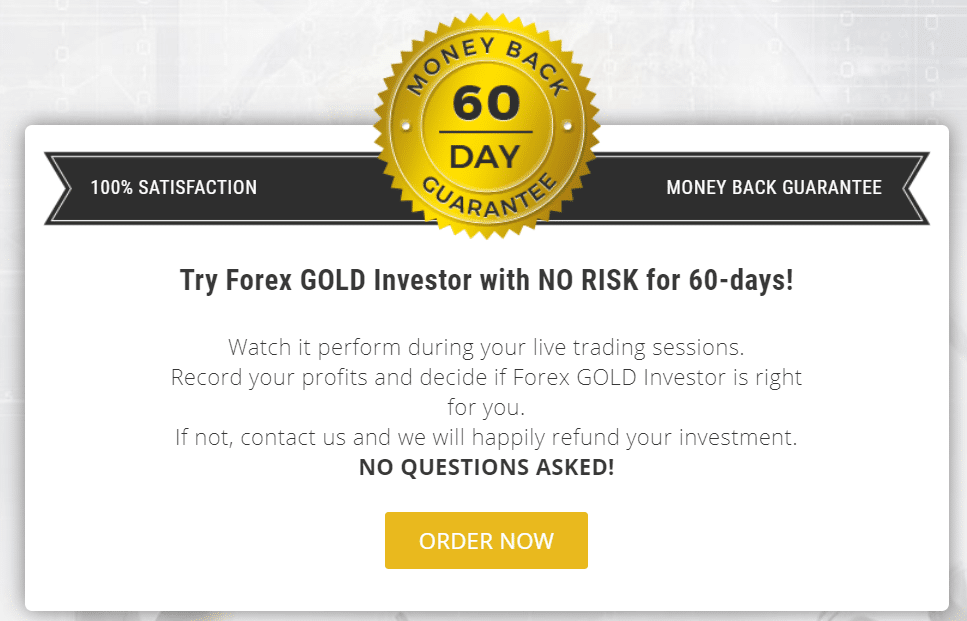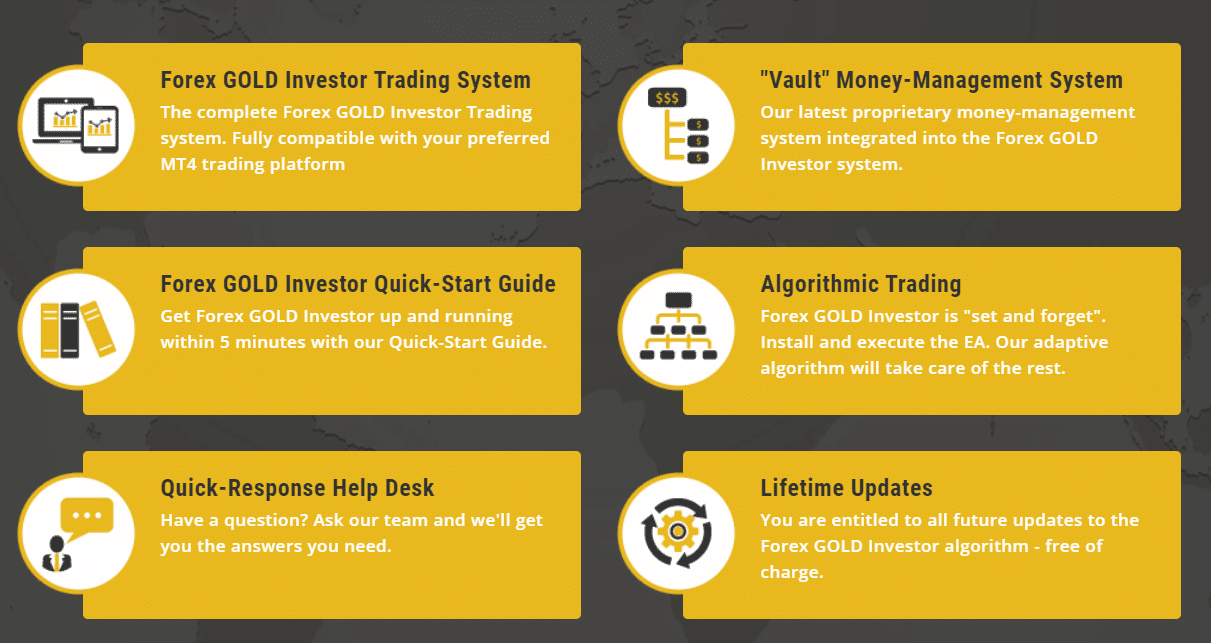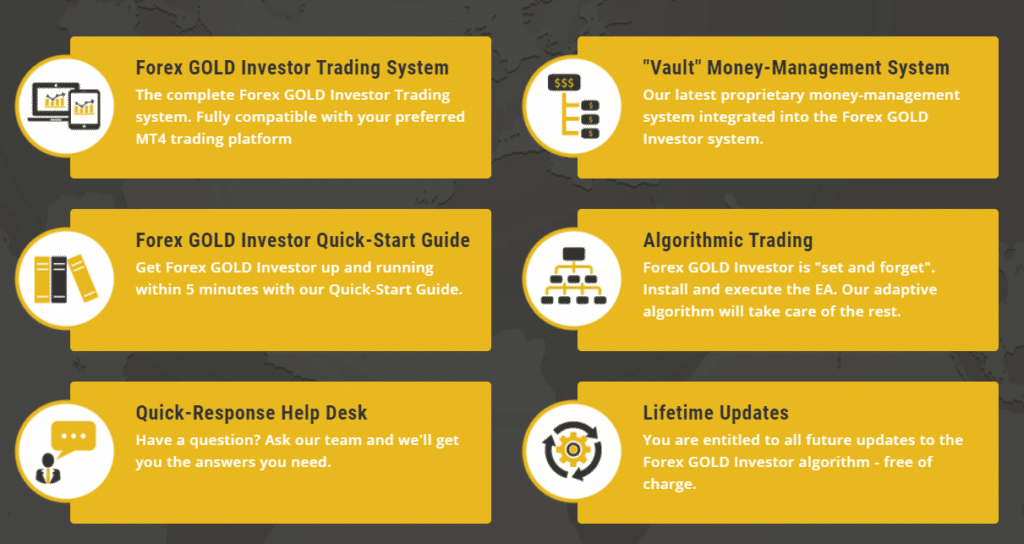 According to the scheme, we also will get a quick-start guide, quick-response support, the "vault money-management system", fully-automated algorithmic trading, and lifetime updates.
Wrapping up
Pros
Broker Spy Module
Money-management system
Real 3rd part verified data
Well-explained strategies
Backtests provided
-$200 OFF provided
60-day money-back guarantee
Welcome support
User guide
Free lifetime updates
Cons
Demo account trading results
Some of the months ended with losses
Less than average win-rate

FXAutomater offers us another robot of its. Having taken a look at it, we've found that the robot may be an option for those investors who want to trade gold. The robot has got a huge list of advantages including the Broker Spy Module. As an addition, it can be run with other EA at the same time, because Forex Gold Investor doesn't mess up with them and works only with XAU/USD charts. $200 is nothing price to try the system for 60 days.