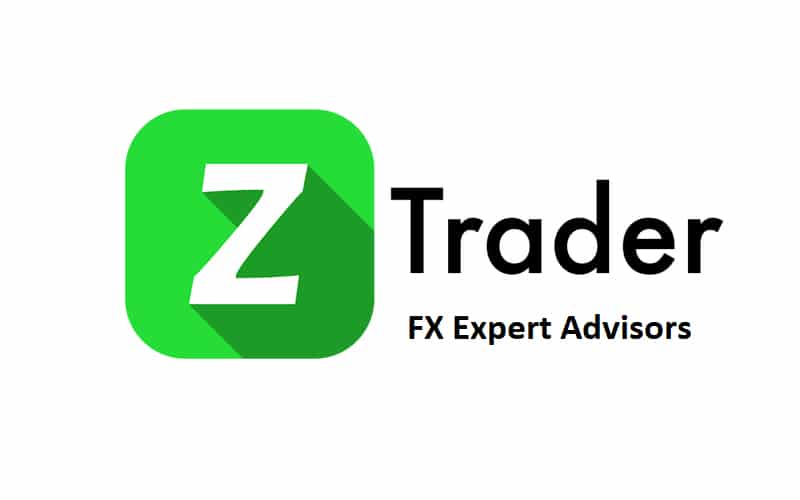 Z Trader FX EA is a Forex automated software built to provide traders with smooth trading experience. The developers of this expert advisor tell us that they had worked very hard on Z Trader FX EA for about a year. They convince us that the results theor software provides are "really impressive".
Today we have many traders who are using Forex robots for automated trading. Z Trader FX EA is not an exclusion. However, to decide whether traders have good trading experience with this MT4 robot or not, we have prepared a detailed Z Trader FX EA review. Here you will find everything you need to know about this trading system, its pros, and cons. So, let's start!
Main Features
The creators of this MT4 robot believe that their software "will become one of your favorites on the market". On their sales page, they spelled the word "software" wrong, but we will try not to focus on the clear unprofessional nature of the development team, if possible. Our goal is the software.

The vendors of this EA want to point out three main aspects on their sales page:

Money management settings, that is a very comfortable way for traders because they help in the fine-tuning of their trading approach
Frequent and free updates that keep the EA in the current market conditions
The system works on Demo and Real live accounts with a minimal deposit of $100/0.01 Lot
To tell the truth, we do not think that the above-listed aspects set this trading system apart from the other EAs currently available in the market. These are basic and prevalent ones in just about every robot on the Forex market. Besides, the one thing we like about Z Trader FX EA is a low deposit. It makes sense for most traders who are newbies and are just starting trading with Forex robots.
Price
Z Trader FX EA is sold for $117. It includes 2 real and 2 demo accounts, lifelong license, constant support, and free updates of the software. There is another package sold for $137 for 3 Real + 3 Demo accounts, constant support, and free updates of the software.

Trading Strategy
We have not found any information about the trading strategy of this EA. The vendors just tell us that their software is not a scalper or averaging. They also point out that Z Trader FX EA does not use Martingale. Yet, they do not explain the trading approach or methodology they use for this EA. So, the question arises: how can an ordinary trader understand the trading strategy of the robot if there are no details about it on the official website? A poor explanation is a red flag for this robot.
Trading Performance Data
The developers provide us with a single fxblue account on their sales page.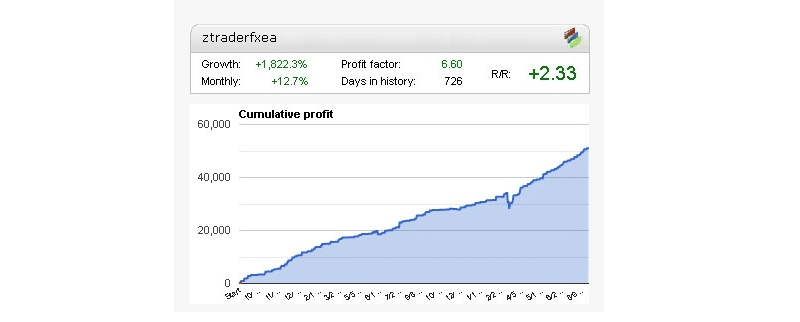 This is a Real RUB account, which is working on the MT4 platform. It launched on October 27, 2018, and since that time it has been showing a +757.1% of total return. For 1 year and 10 months, it has been showing only positive trading results in terms of income which has risen from 53,3% (on August 28, 2018) to 1,810% (on August 21, 2020).
The account is trading only one currency pair (EUR/USD). The drawdown is at -15.5%. Z Trader places 0.5 traders per day, which comes out to 359 trades over 726 days. It does not trade frequently but it is boasting a good win rate. It has won 322 out of 359 trades, which represents 90%, and lost 37 trades.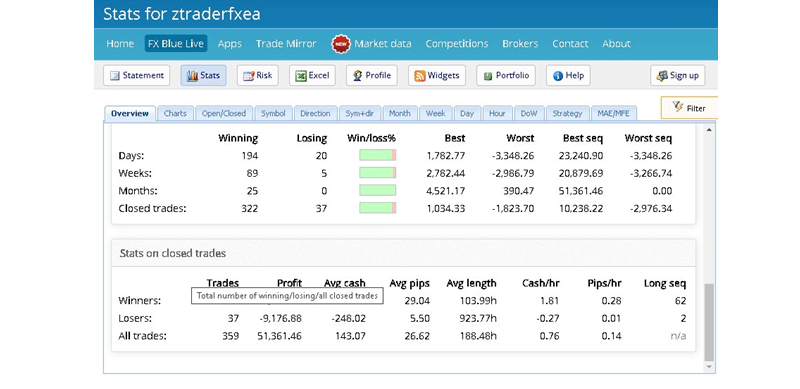 The trade win rate is 89.7% with a risk-reward ratio of 2.33. The statistic of this trading account shows that the average trade win is +188.01 while the average loss is higher and equals -248.02. The average trade length is 7 days and 9 hours and the profit factor is 6.60.

The risk of ruin is low and equals 0,1%:

So far, the results look very good.
However, the case is we would like to analyze a real trader's account, not the one being managed by the Z Trader FX EA team. These results may easily be manipulated.
Company Profile
There is no information about the developers, their location, or trading experience in the Forex marketplace. We know nothing about people who stand for this EA. This software is not the first day on the market and it is strange why its developers are still to be incognito. In today's highly competitive Forex marketplace, every vendor offering a new product tries to be as transparent to the public as possible. Hiding information is not a good sign. If the devs of this EA do want to sell out their product, they need to pay more attention to the transparency factors.
To get in touch with support, traders can email [email protected].
Summing up: Is Investing in Z Trader FX EA a Good Decision?
This expert advisor is showing good and stable profits and although we do think that this software is worth a try, certain issues require an immediate solution:
No trading strategy insight
Unprofessional approach to their website
Lack of vendor transparency
We like the trading results the vendors provide on their sales page. However, we want to see live trading accounts of real traders. Moreover, we want to see more from the vendor in general. We would like a detailed explanation of their trading strategy and a more professional approach to their website. Therefore, the final decision depends upon you and it is your choice to invest money in this EA or not. Currently, the system is showing impressive trading results. However, with -15.5% drawdown, it is clear that the system may carry trades pretty far into negative, but the developers have been able to handle it so far. Long story short, we think that this EA is worth at least a try, but the developers should work on certain issues we have mentioned above.