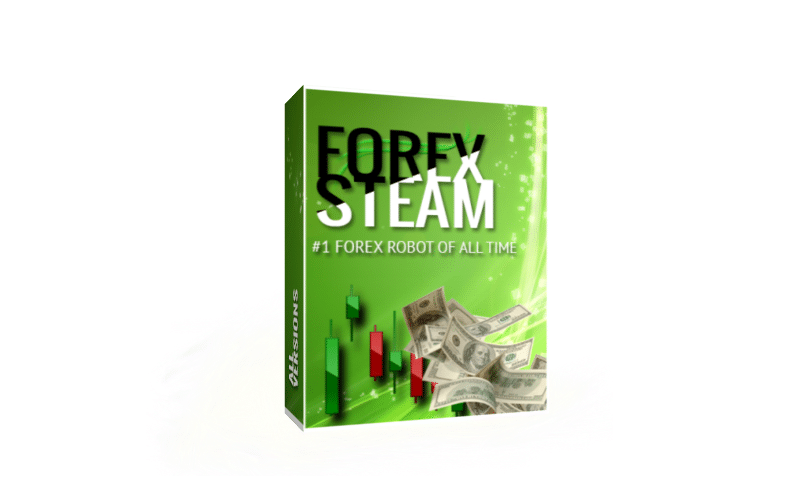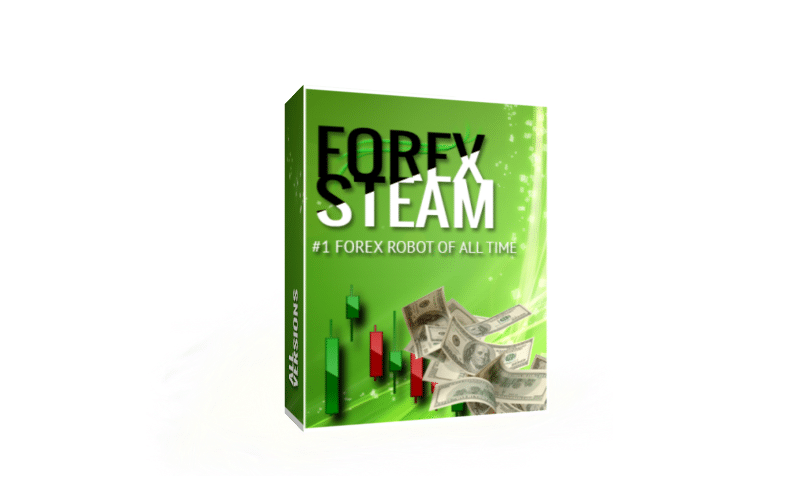 Forex Steam is an Expert Advisor that claims to possess more than 10 years of proven track record. As per the vendor, it is the longest-running robot of its category and is supported by a group of expert developers. It is further claimed that it is currently active on more than 10,000 user accounts.
Is Investing in Forex Steam a Good Decision?
In order to gauge the robot's reliability, we have looked into its different aspects like presentation, vendor transparency, main features, price, trading results, customer reviews, etc. Taking a quick look at the website, we can see that the vendor has made some tall claims about high win rates, but has only shared unverified trading results to back them up. This makes us think that it is not worth investing in this Forex EA.
Company Profile
On the official website of Forex Steam, the vendor has highlighted the main features of the system, while also focusing on the year-wise winning percentage. The trading history is presented in tabular format and some of the advanced features of the software have been explained. Next, we have a few customer testimonials, followed by the pricing details.
The vendor claims that the team has more than 25 years of experience trading in the foreign exchange market. Some of the team members include Paul Demonde, the lead support member, coding team manager Dmitri Kozlov, marketing executive Julie Zhang, and market analyst Allan Brisebois.
Main Features
This Forex robot has a detailed guide for novice traders which helps them set up the software without any problems. The system is optimized and tested on a regular basis to keep it updated. It has a retrace technology that allows it to secure profits and minimize losses. As per vendor claims, this technology is perfect for those who wish to trade with a low-risk setting, and you can use it even if you are a novice trader.
Moreover, it has a holiday filter that stops it from trading on holidays where the market often makes unpredictable moves. Forex Steam also has a spread filter that checks all the market conditions before entering a trade. Finally, the trailing stop loss feature is used for securing large wins, and the break even feature is used for setting hard stop losses.
No clear explanation of the trading strategy has been provided by the vendor, so we don't know how exactly the robot spots profitable trading opportunities, or whether it uses any indicators. The lack of technical details surrounding the trading strategy might be taken as a red flag by some potential buyers.
Price
Forex Steam is available for $117.99, and after purchasing it you get access to 4 licenses. Free lifetime upgrades are provided for all users. In order to get a refund, you must provide the company with 30 days of trading proof. This is only applicable for the first 60 days, and the robot must have been used for trading on the EUR/USD pair only.
Trading Results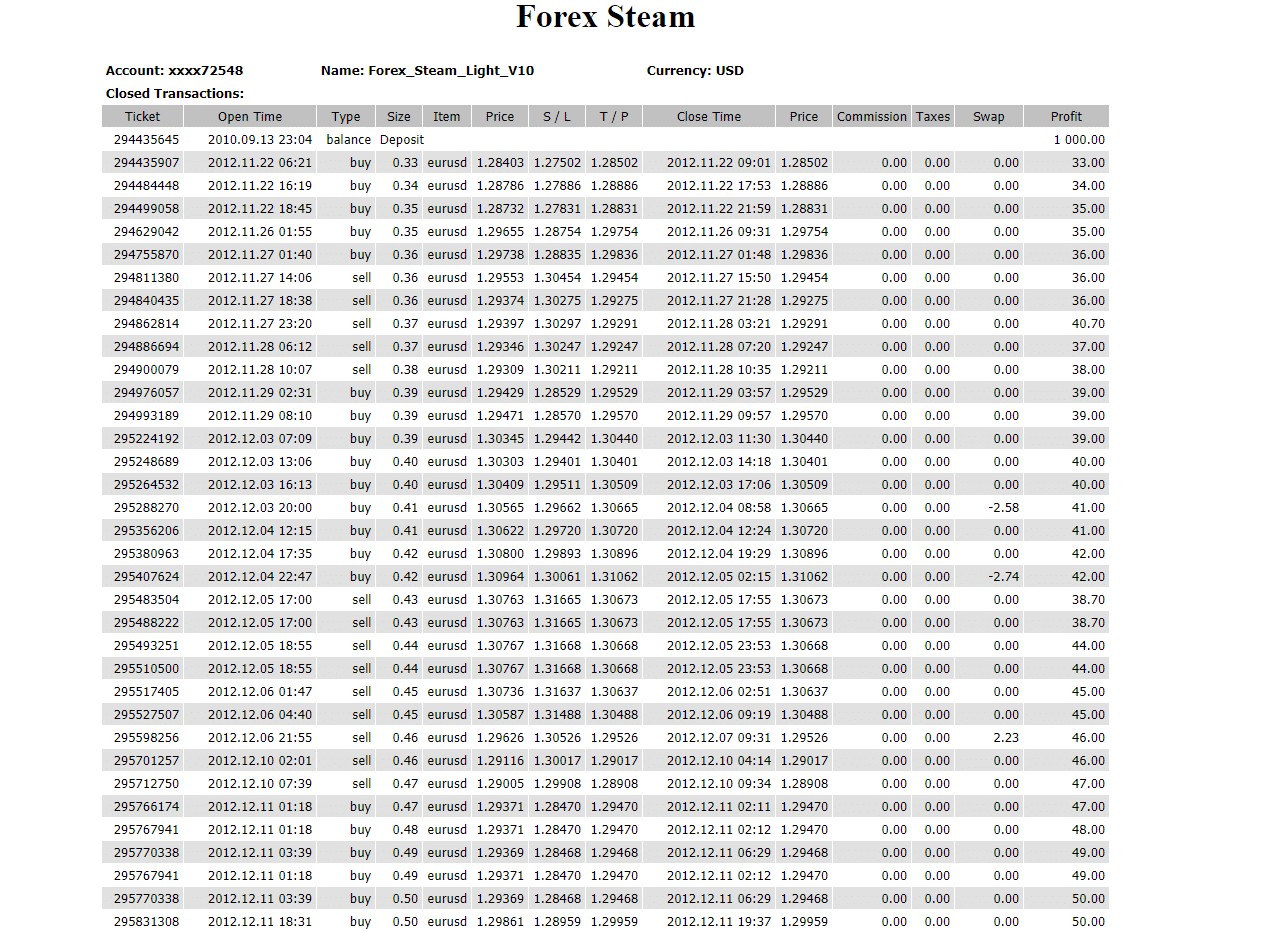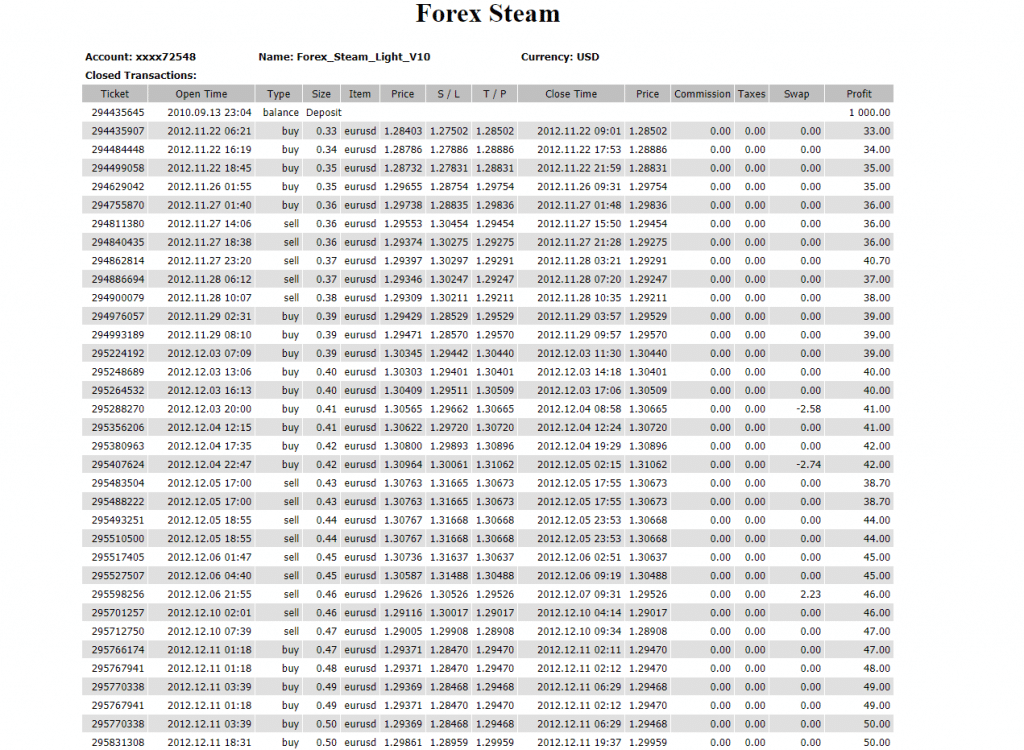 On the official website, the vendor has provided the trading results in tabular format. Here we can see when the trade was opened and closed, the lot size, stop loss, take profit, gain, etc. But since this is not verified by a third-party website, we cannot consider it genuine.
All experienced Forex traders look for verified trading results before investing in a robot. Not only is this a sign of authenticity, but it also reveals some important details about the robot's performance. In the absence of live trading results, we cannot take the claims of high win rates made by the vendor too seriously.
We were hoping to find some backtesting data related to Forex Steam, but unfortunately, there is none to be found. This is yet another disappointment, and it means there is no way we can verify that this EA is capable of generating a steady stream of profit every week.
Customer Reviews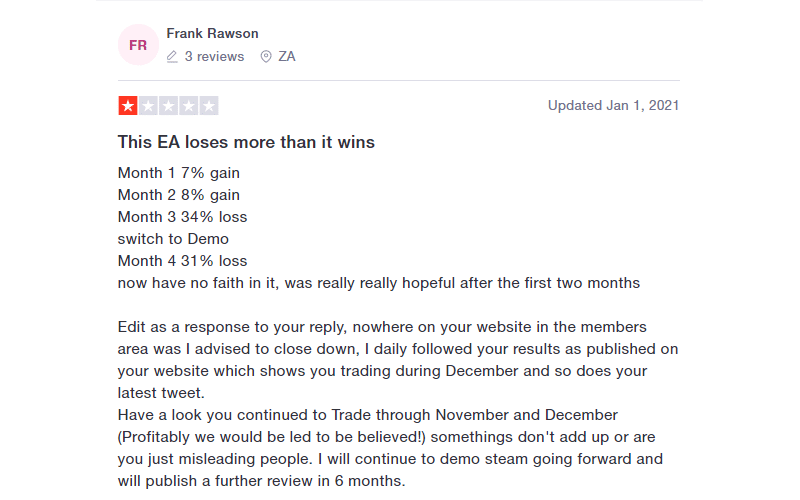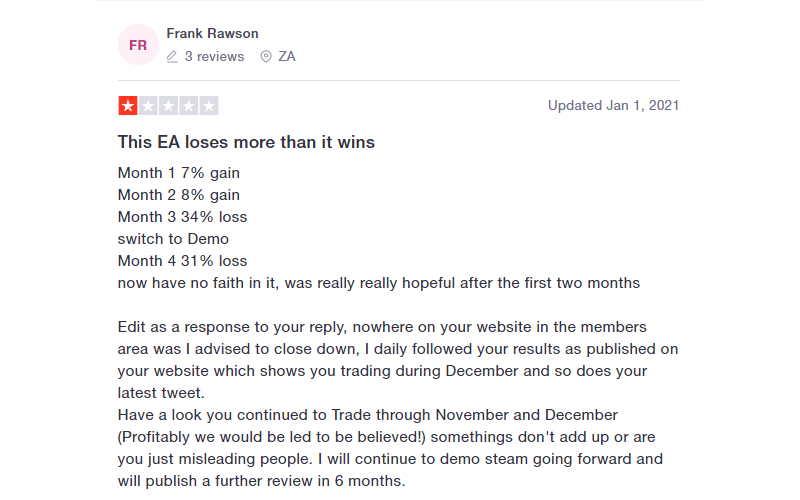 There are several user reviews for Forex Steam on the Trustpilot website. One user has complained about the results getting increasingly worse over time. They have stated that in spite of the bad results, they weren't advised to close down the trading by the service team, and following the instructions provided by them did not help the user recover their losses.
Forex Steam Review Summary
To summarize, Forex Steam is a robot that you definitely should not consider investing in. As a rule, Forex traders do not trust EAs that do not share their live trading results, and this is very much justified. Seeing as the vendor has not provided any verified proof of the system maintaining a high win rate, we assume they are making false claims.
As such, you would be better off investing in an EA that has a verified track record and a long trading history.