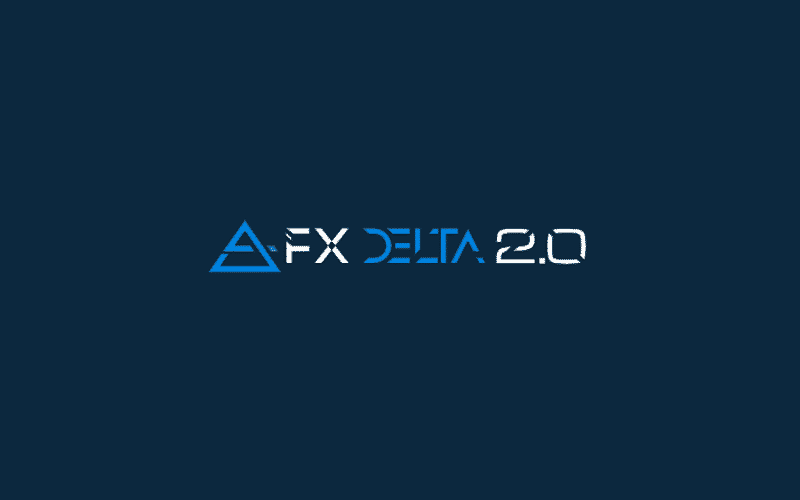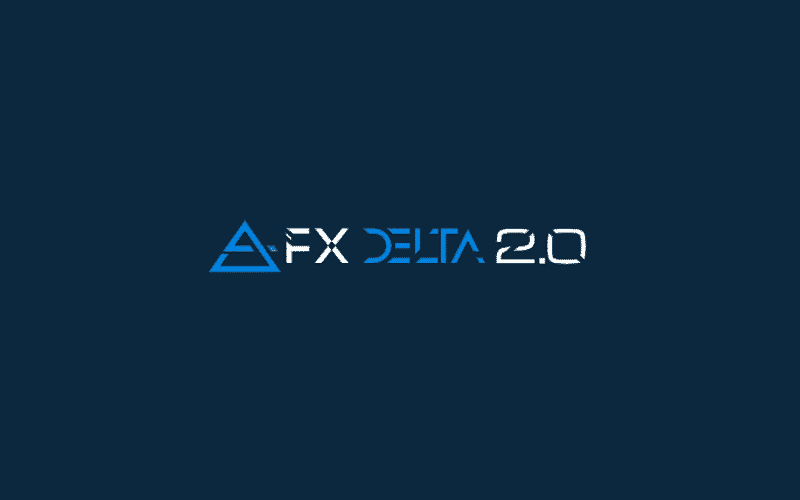 This FX Delta 2.0 review is dedicated to a Forex trading system, which was designed to autonomously generate 'high probability trading signals through price action, momentum, volume, and divergence trading fundamentals'. The main goal of this system is to help traders by identifying trend trading opportunities.
The main motto on the website of the developer tells us that this indicator was one of the most accurate trading tools last year. It sounds quite optimistic, but can we rely on this Forex system? In this review, we are going to analyze the price, vendor transparency, accuracy, profitability, and other important data to help you make the right investment decision.
Is Investing in FX Delta a Good Decision?
We do not think so. We are not sure the system is still valid.
Company Profile
The person who stands for this Forex system is Yordan Kuzmanov. Firstly, he treated trading as a way to earn some money when being a student. He experienced losses and wins. A few years later, he became a member of Vladimir Ribakov's trading club where his trading skills have significantly improved. Then he became a guest trader there and in a few years of consistent trading activity, he joined Traders Academy Club as a chief trader.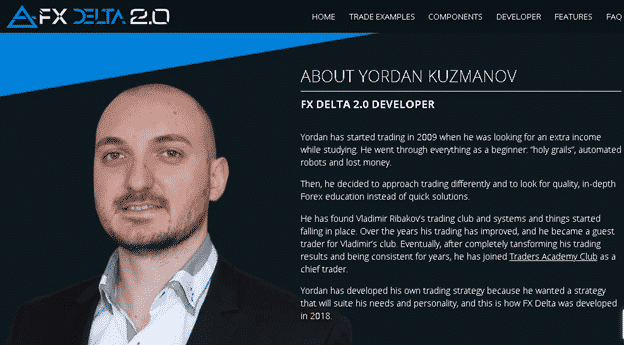 Yordan developed his own trading strategy. That is how FX Delta appeared.
Main Features
This Forex trading system includes The FX Delta 2.0 Scanner and The FX Delta 2.0 Dashboard components. Scanner analyzes market conditions.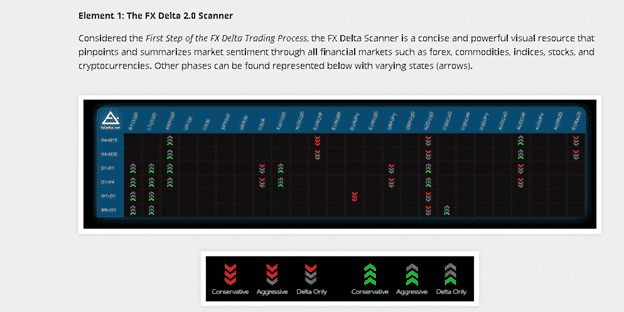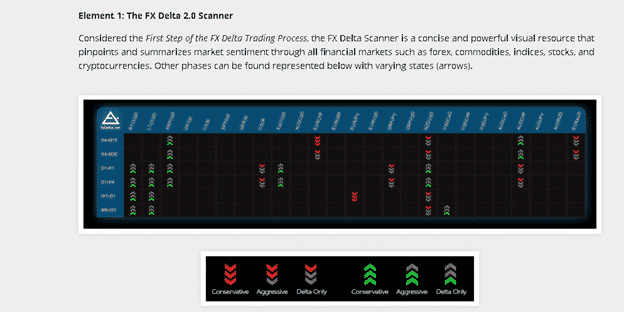 Delta Dashboard includes four subareas: trade management, filters, Alfa pattern, and Delta patterns. Each element has its function that responds to smooth and profitable trading.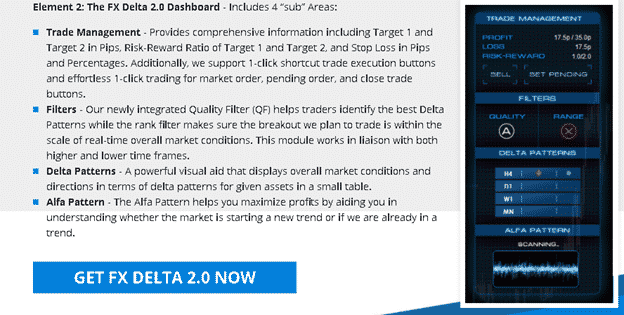 The dev also points out the main features of Delta 2.0: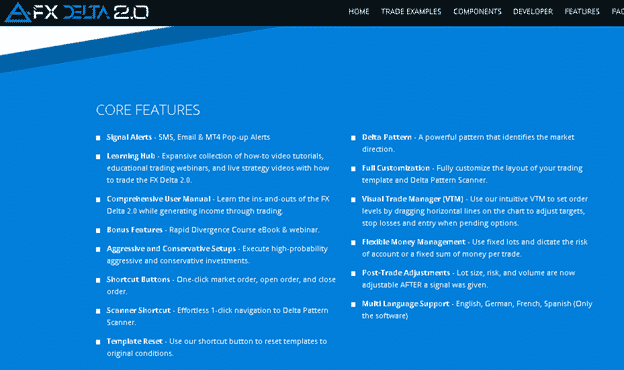 The system was designed for scanning trends in long timeframes and identifying market corrections on shorter time frames.

This trading approach that combines price action, volume, momentum, and divergence-trading fundamentals guarantees high profitability trading signals. Although the trading strategy behind FX Delta is not described in detail, it is much better than most other competitive indicators offer.
Price
This indicator is sold for $347. The package also includes 60 days money-back guarantee. Thus, if you find that this system does not meet your trading needs, you can ask for a refund within 2 months after purchase.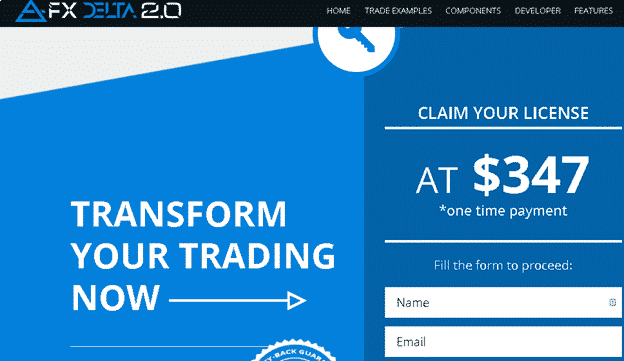 Trading Results
Trading results go back to August 7 2018 up to March 27, 2020. The table looks impressive as it includes the date, traded currency pairs, Entry price, SL and TP, and the final result.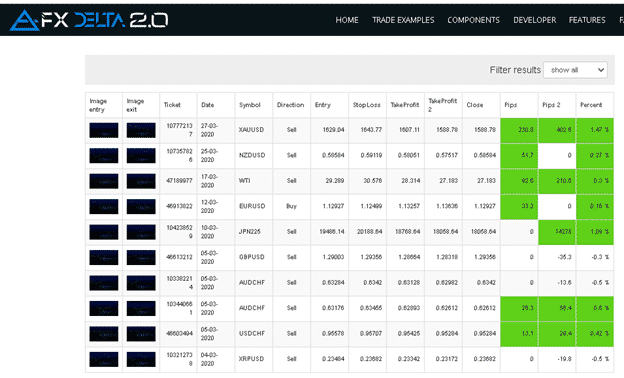 Unfortunately, the dev failed to provide backtest and live trading results that could be verified. There is neither myfxbook nor fxblue account provided. We never trust results that cannot be verified. We do not want to say that what we see on the website of the developer is manipulated or paid, but we have to be always skeptical when investing our money in any trading tool. Moreover, it looks odd that the dev stopped updating the trading results of FX Delta. There has been no update in the table since September 4, 2020. Why?
Customer Reviews
FX Delta has a 4.9 out of 5-star rating based on 14 customer reviews on the Forex Peace Army website. The rating is too high and impressive. Most of users were satisfied with their service.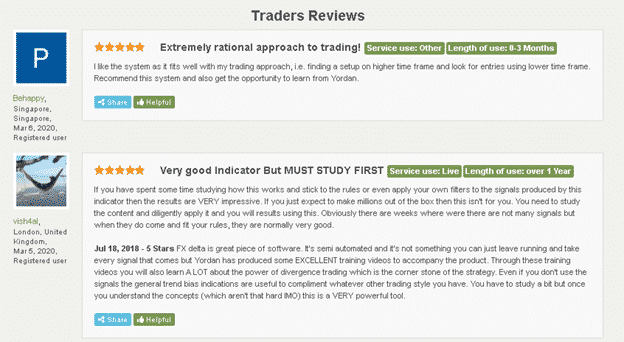 Here we see that the last review was written in March 2020, which only proves the fact that something wrong happened with FX Delta. The question arises: if the system was as profitable and good as its dev claimed, then why was there no review written since March 2020? What happened?
Summing Up
We would not recommend you invest in FX Delta. Firstly, there are no live trading results provided on the website of the developer. Secondly, there was no update on the trading results table since September 2020. The most recent client testimonial was written 1 year ago, which also looks odd as for a system with a 4,9 rate on FPA. Because of lack of transparency, we would not recommend FX Delta to traders.