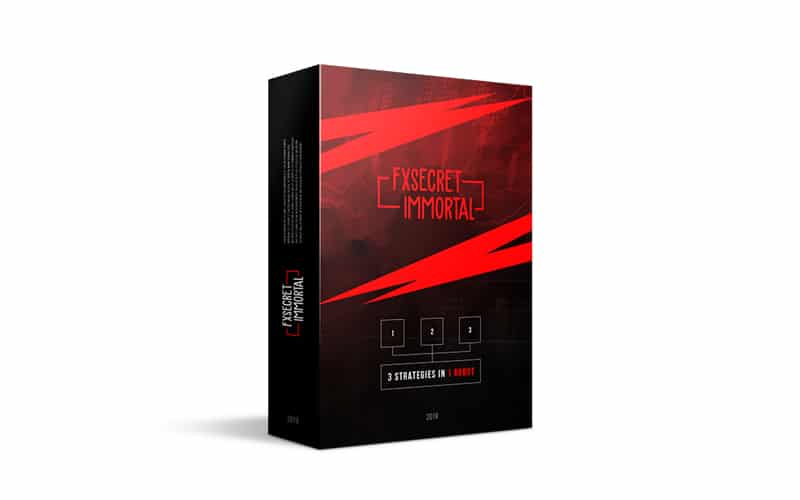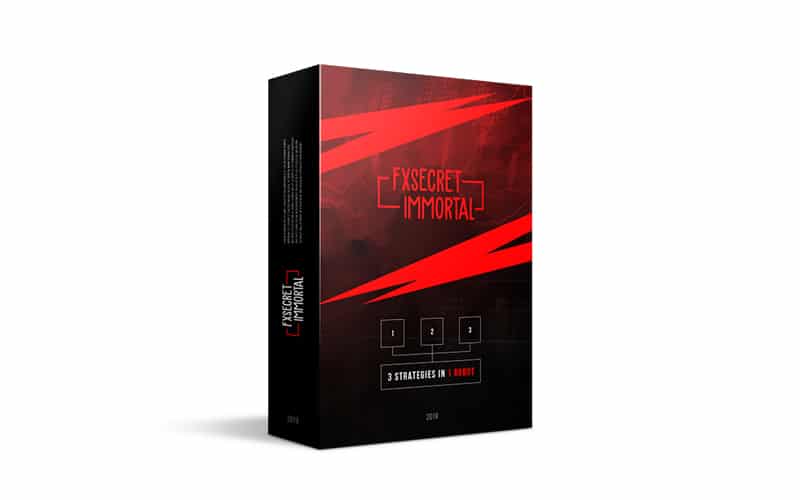 Welcome to our FX Secret Immortal review! As soon as you log in to the official website, the vendor introduces FXSecret Immortal as an effective automated trading tool and a private community of successful traders. This Forex automated system uses 3 different systems combo, which is said to reliably and profitably carry out operations on the trading market. Its trading algorithm focuses on high profitability and drawdown control to ensure that its traders win the majority of trades with minimal risk to the account balance.


Today we are going to provide you with a detailed robot review and let you know whether this is a worthwhile investment opportunity. Read the entire post for an in-depth look at this EA.
Is FXSecret Immortal a Good EA to Invest?
This EA is a risky investment. It trades with high drawdowns and high risks to the account balance. Its price is too high considering that only 1 account is offered.
Company Profile
The website is aesthetically pleasing. It includes product details, trading statistics of the robot, pricing information, and an online contact form. It does not cover all the necessary and important details we would like to see. When dealing with investment opportunities, especially with expert advisors, the more information the developer provides on his website, the better.
The vendor tells us that FXSecret is a private community of successful traders that provides automated trading solutions for trading on the Forex market. The company was established in 2012, but the development of trading tools was started earlier, in 2009. They tell us about a 'lot of experience in the financial sphere' but provide no information about themselves or their location. Our additional research has shown that this company owns other websites: FXMower.com, ForexBringer.com, ForexSeven.com, FXStabilizer.com, FXCharger.com, Forex-InControl.com, ForexIMBA.com, ForexCapt.com, and FXTurbine.com. FXSecret Immortal website and many other websites were hosted on the same server: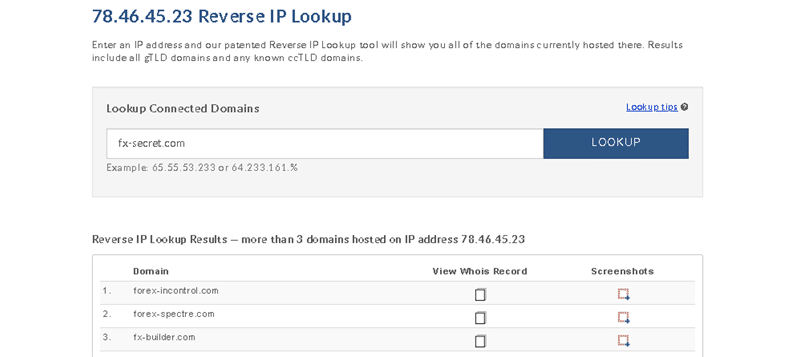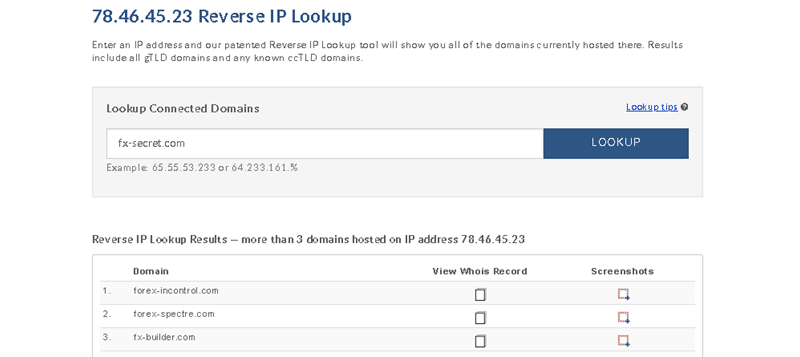 Oddly that the vendor does not mention this info.
To get in touch with support traders need to fill out an online contact form on their website: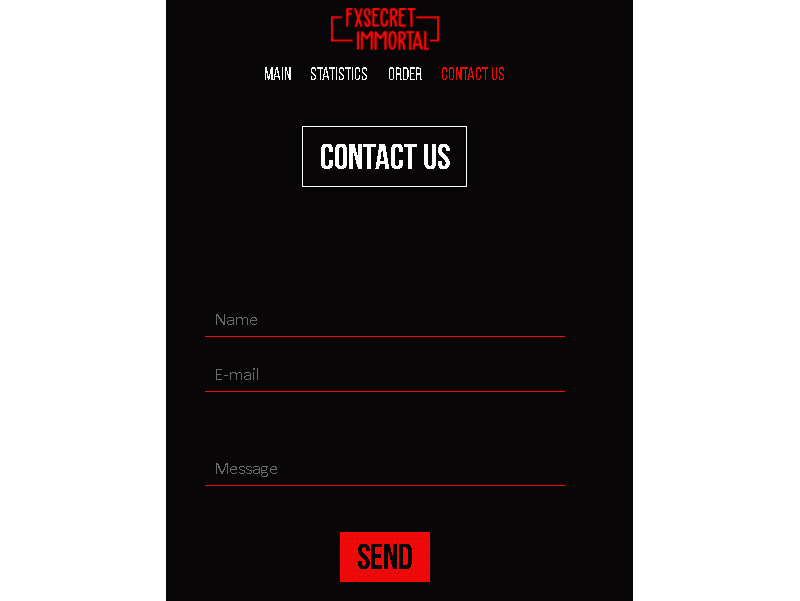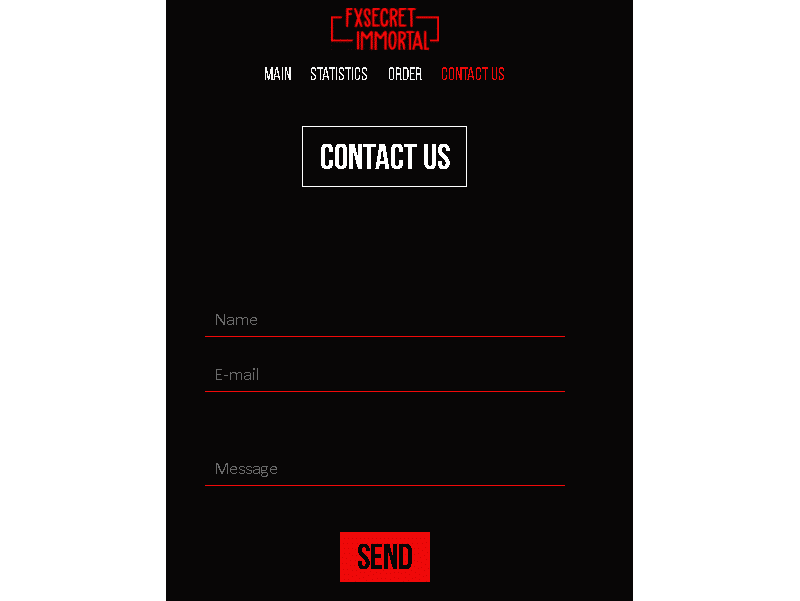 Main Features
Let's start from the list of feature the vendor wants us to know about:
It's a fully automated Forex trading tool
I was designed to work on the MetaTrader 4/5 terminal
The timeframe used is H1
It works with Grid/Scalping strategy
The system uses 2 trading modes: aggressive and a reliable
The minimum deposit for a reliable trading mode is $1400
For aggressive trading mode, the minimum required deposit is $700
The EA trades only with the EURUSD pair
The robot promises a high win rate and drawdown control to minimize trading risks
The robot uses 3 different systems. They can be used all together or separately
The system calculates SL and TP based on the risks specified in the settings of the robot
The software is easy to set up
The developer does not provide in-depth information on the trading strategy. The only thing we are told is that the robot uses 3 strategies combo that 'are reliably and profitably combined on one account'. The expert advisor has customizable settings, so traders can choose what trading strategies they want to implement for trading (it's possible to use all strategies or a certain number of them).

Price
In this section of our review, we'll tell you about packages and prices available on the official website. There is only 1 package offered. The price of 1 digital copy of the robot is $549. The package includes 1 one license for any account, software versions for MT4 and MT5 platforms, the ability to change accounts unlimited number of times, setting for easy setup, and full-time customer support.


Frankly saying, the pricing is high and it is odd that for this price they offer only 1 license. There is no possibility to run the EA on several Demo accounts for testing purposes.
Traders can make payment online with a Credit Card, PayPal account, or even through Skrill, UnionPay, Check, or Neteller.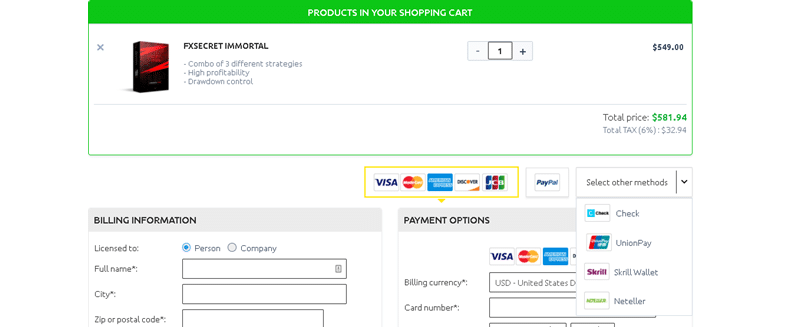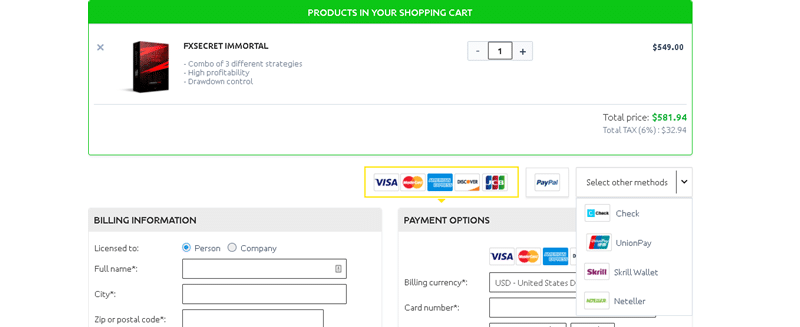 Payments are securely processed by 2Checkout. A 30-day money-back guarantee is included.
Trading Results
We have a Real (USD Cent) trading account that works with Forex4you brokerage on the MT4 terminal. The account was created on May 27, 2013, and is still active today, that is a rare thing to see. For over 8 years of trading, the robot grew the total gain to 9032,13%. It is showing a monthly gain of 4,83% with an insanely high drawdown of 65, 84%.


The robot could generate 47702.45 dollars of profit. Now the balance equals $47702.45 including $1,863.80 of deposit.
The EA has made 3216 pips with an average trade length of 1 day. The average win is 42,36 pips/$274.71 when the average loss is -50.30 pips/-$304.53, meaning the robot trades with an acceptable risk/reward ratio. The profit factor is 1.13. Its long and short positions are mostly equal (53% and 57%).




The robot trades 24/5 with the highest trading activity from 1 p.m to 4 p.m.


The most trades are opened on Wednesday (671 trades; 323 out of them were profitable ones) and Thursday (611 trades; 369 out of them were winning ones).


The robot trades with high risks to the account balance as there is a 69,45% chance of losing 10% of the account balance in the case of 16 consecutive losing trades in a row.


The robot uses a grid-trading approach. Although it brings gains, it also shows some major losses.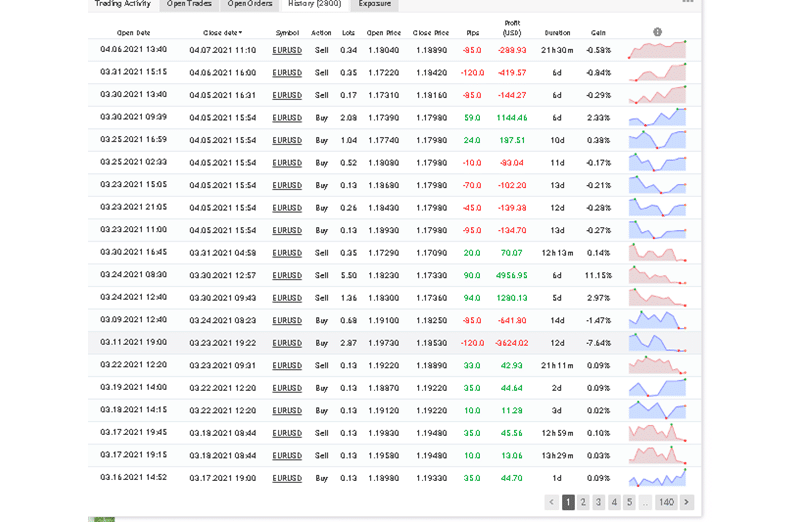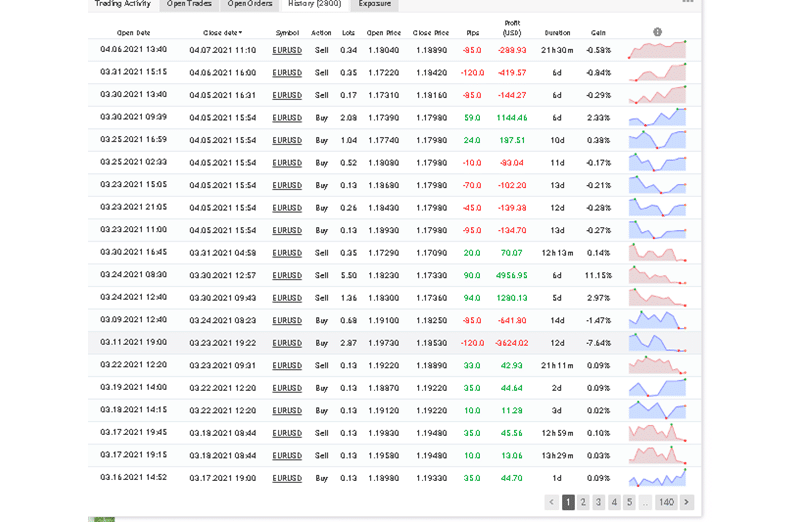 The system is not as effective as it was in 2019, but it shows better performance than the one of the previous year:






A backtesting report is not provided. Therefore, we cannot compare the present system's productivity with the past one.
Customer Reviews
FX Secret has a page on the FPA website. It was created 2 weeks ago, on March 21, 2021. The system shows some major losses in the performance test: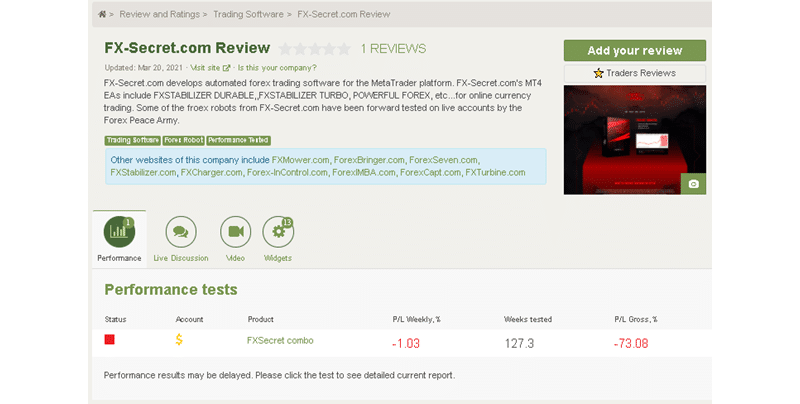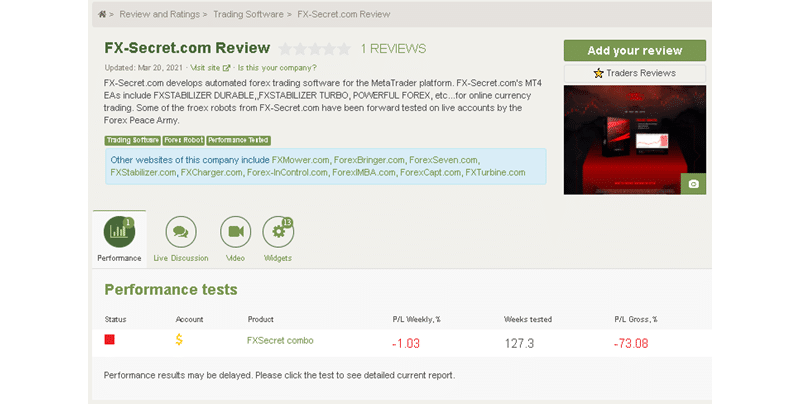 There is only one customer review. The trader provided the EA with a 2-star rating. The user wasn't satisfied with the trading performance FXStabilizer, InControl, and FxChanger. These robots have brought him only losses.


FXSecret Immortal Review Summary
We'd not recommend this trading platform as it fails to show any promise. The risks involved are high, considering that all traders are looking to make a profit. There is no need to lose your money with such EAs when the market offers credible trading systems.