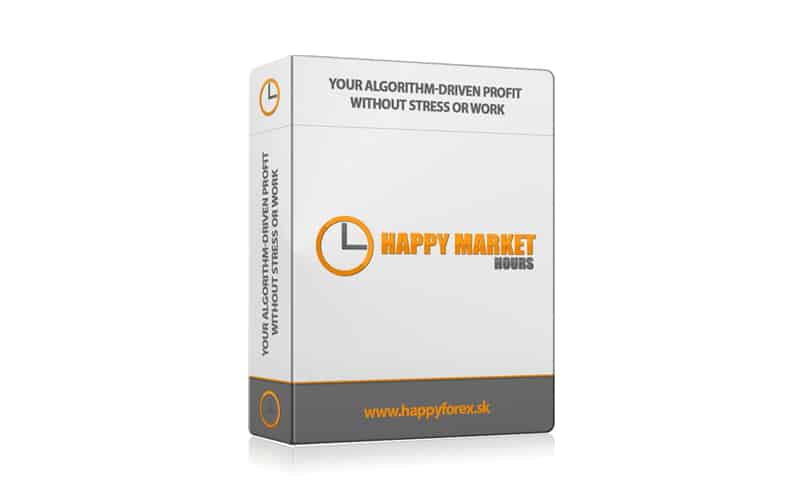 Happy Market Hours claims to deliver steady profits without stress or effort from the trader's side. It is compatible with multiple currency pairs. According to the developer, it is ideal for both experienced as well as new traders.
Is investing in Happy Market Hours a good decision?
As a part of our analysis, we have reviewed the main features of this system. We have looked into the company profile, trading strategy, price, live trading results, backtests, and customer reviews. We can see that it is capable of generating profits at a steady rate while keeping the drawdown low. It is quite affordable compared to other systems and comes with a money-back guarantee. Hence, we think it is definitely worth trying.
Company profile
On the official website, the vendor has shared the pricing details and highlighted special offers. We have a short description of how the system functions, along with a list of minimum requirements and features. We have the link to a live trading account on Myfxbook and the backtesting results for multiple currency pairs.
The parent company behind this EA is known as Happy Forex. This team is based in Germany and they've been around in the industry for more than five years. Apart from Happy Market Hours, this developer has built other expert advisors like Happy Frequency, Happy Gold, Happy Algorithm PRO, Happy News, Happy MartiGrid, Happy Trend, Happy Fast Money, Happy Way, and Happy INDIcators PRO.
Main features
This EA runs on operating systems like Windows, Linux, and Mac OS. It is compatible with the MT4 trading platform and you can run it on different account types like standard, micro, and mini. To get started, you need to make a minimum deposit of $100.
There is no complicated installation process for this robot. It does not use risky trading strategies like grid, martingale, or hedging. Happy Market Hours supports ECN brokers and auto-quotes detection for 4 or 5 digits.
This robot follows a combination of trend and scalping strategies that involve technical indicators. The vendor recommends running the EA on M15 charts for currency pairs like EUR/USD, GBP/USD, EUR/CHF, EUR/GBP, USD/CAD, and USD/CHF. It is recommended that you use a standard or an ECN account for the EA. Not all brokers can support a high-frequency strategy like scalping.
In case the broker spread is too high, the robot will not initiate trades, thanks to the spread filter. Depending on the market sentiment, it employs take profit and stop loss.
Price
For 2 EA licenses, you need to pay 299 Euros, while 5 five licenses cost 499 Euros. The prices are pretty standard and the vendor offers a 30-day money-back guarantee. Moreover, you get the Happy Forex Full Pack containing 10 EAs for free.
Trading results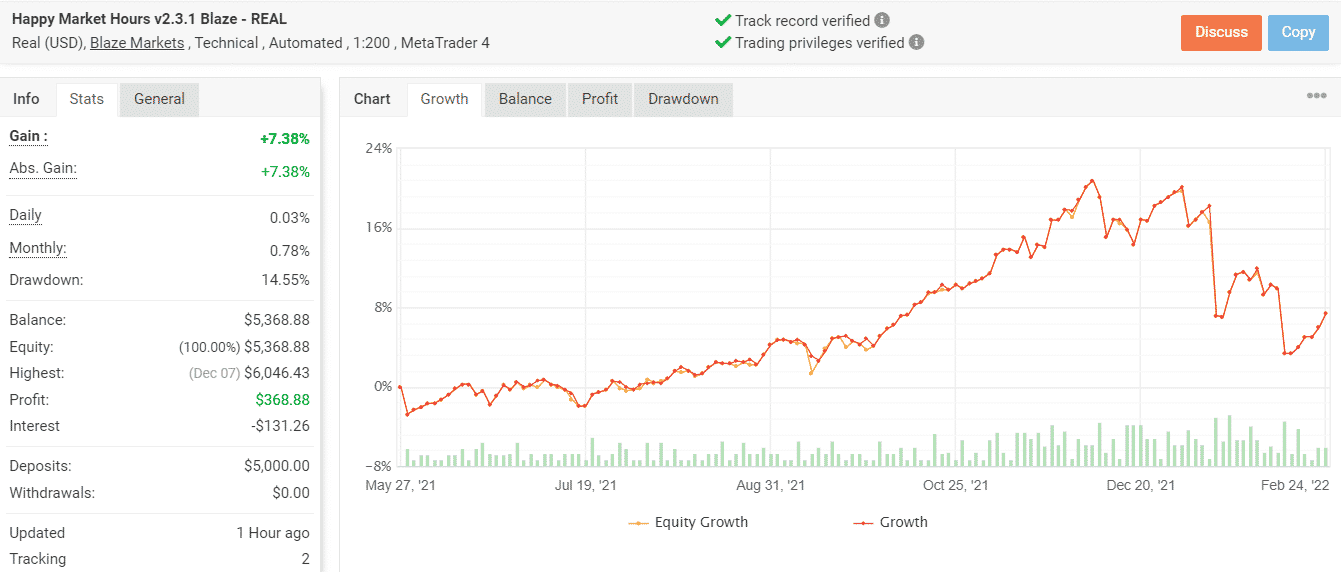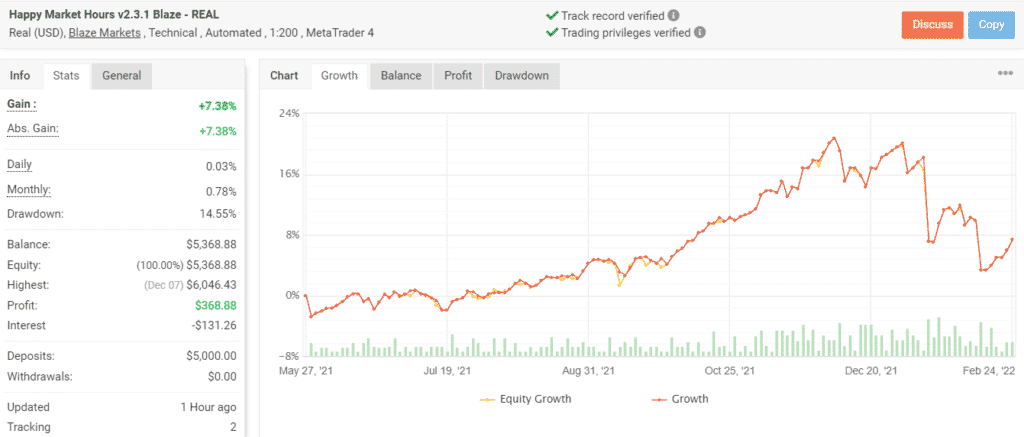 Since March 27, 2021, the EA has conducted 369 trades through this account. It has a healthy win rate of 61% and has generated a total profit of $368.88. While the daily and monthly gains are 0.03% and 0.78%, respectively, the drawdown is 14.55%, which is within the acceptable margin. The account has a decent profit factor of 1.09.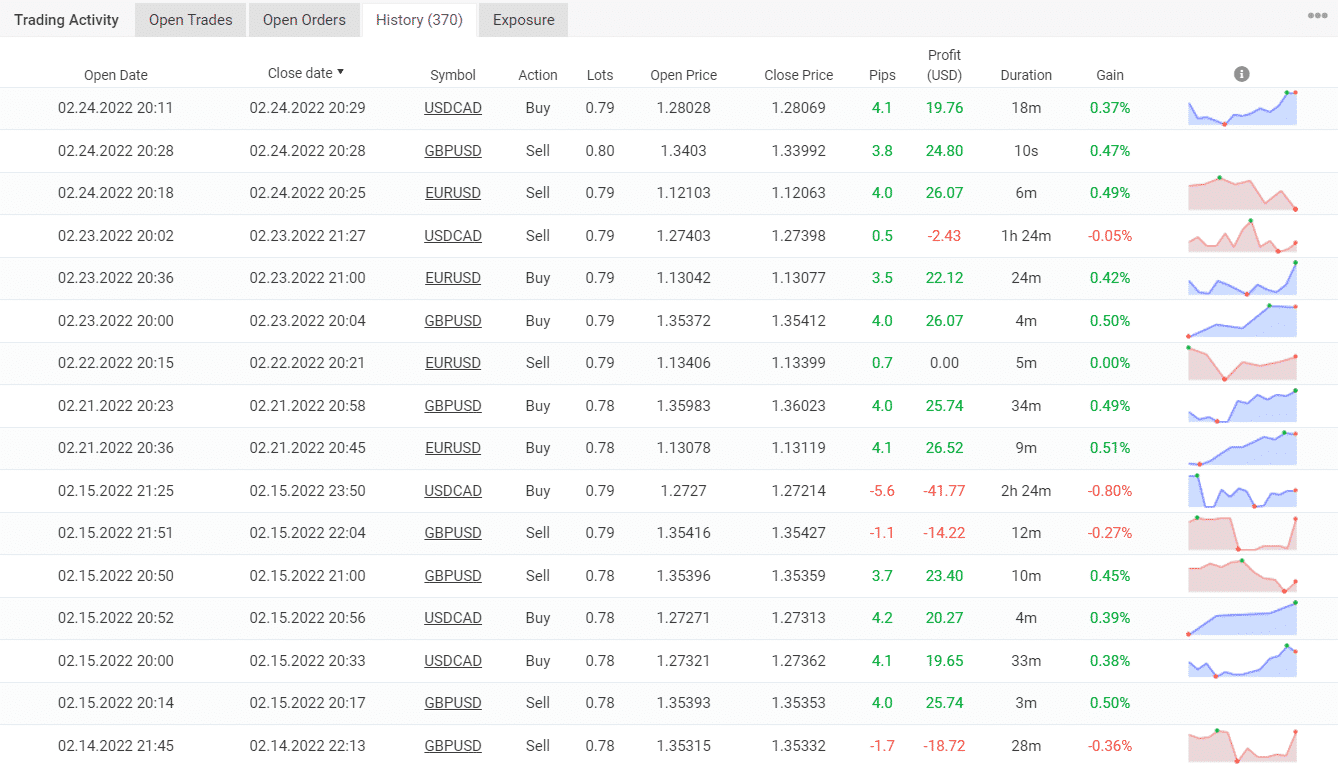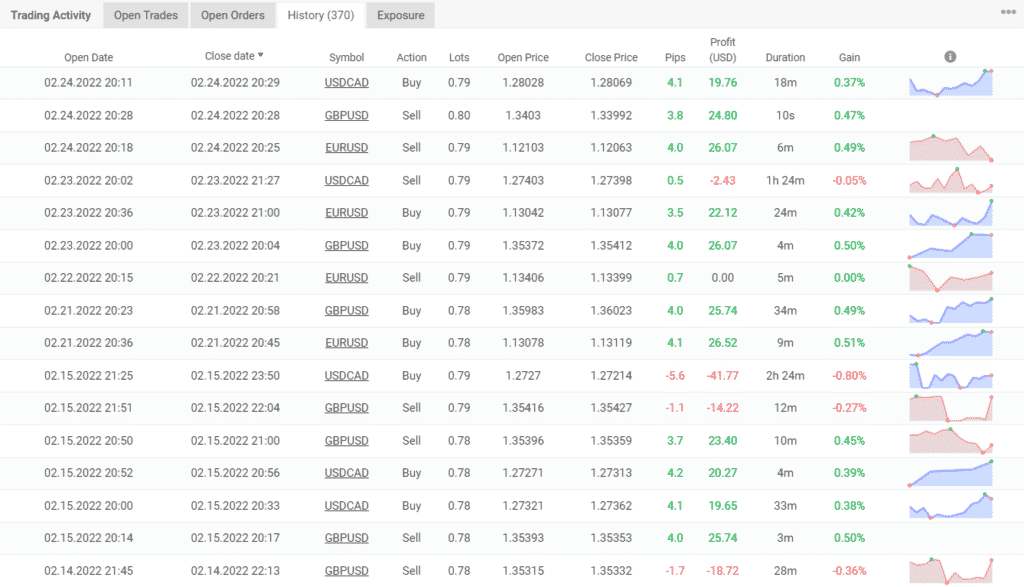 Here we have the recent trades conducted through this account. The robot trades with a lot size of 0.78-0.80, holding each trade for an average of 57 minutes. It generates sizable profits from each trade and does not suffer from losses too often. The average win and loss for this account are 3.33 pips/$19.17 and -2.72 pips/-$27.38, respectively.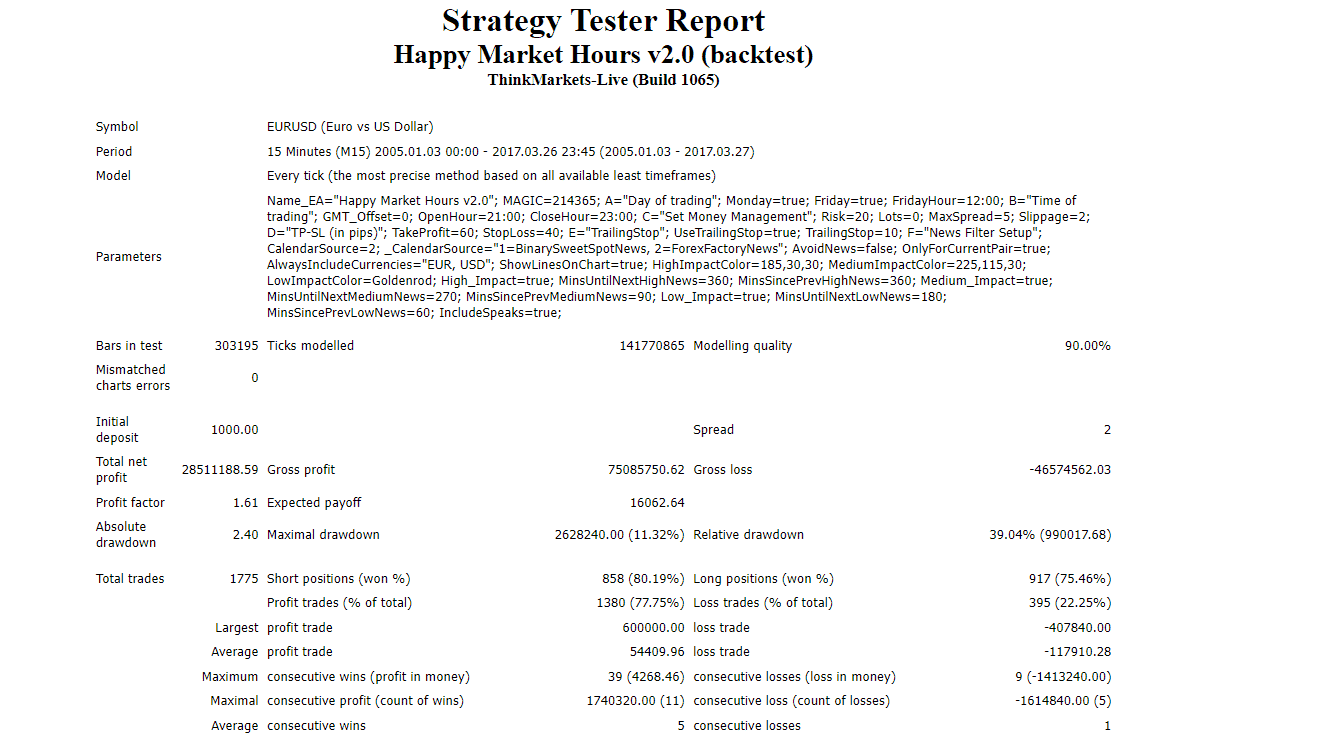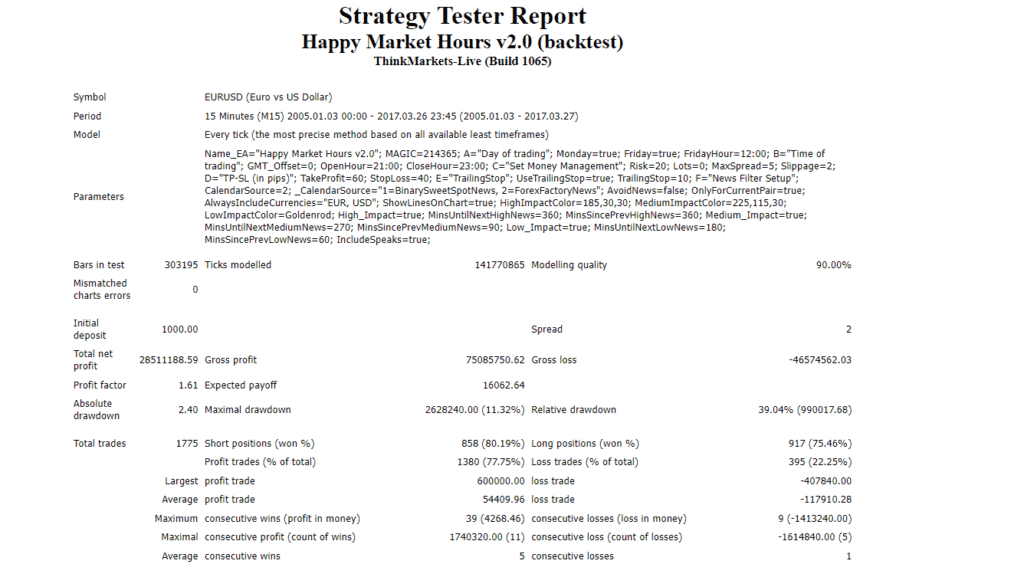 This backtest was conducted from 2005 to 2017 using an every tick model. The EA placed 1775 trades for the EUR/USD pair, winning 77.75% of them. Compared to the live trading results, the win rate was significantly higher. Using an initial deposit of $1000, it managed to generate a profit of $28511188.59. Also, it had an impressive profit factor of 1.61. There were 39 maximum consecutive wins and 9 maximum consecutive losses.
Customer reviews
At this moment, there are no reviews for this expert advisor on websites like Trustpilot, Forex Peace Army, Myfxbook, and Quora.
Happy Market Hours review summary
Happy Market Hours is a reliable Forex expert advisor that has a verified track record of generating steady profits in the live market. The vendor offers the EA at an affordable price, along with a money-back guarantee. Moreover, there is an attractive offer for this robot where you get 10 EAs without paying anything extra.