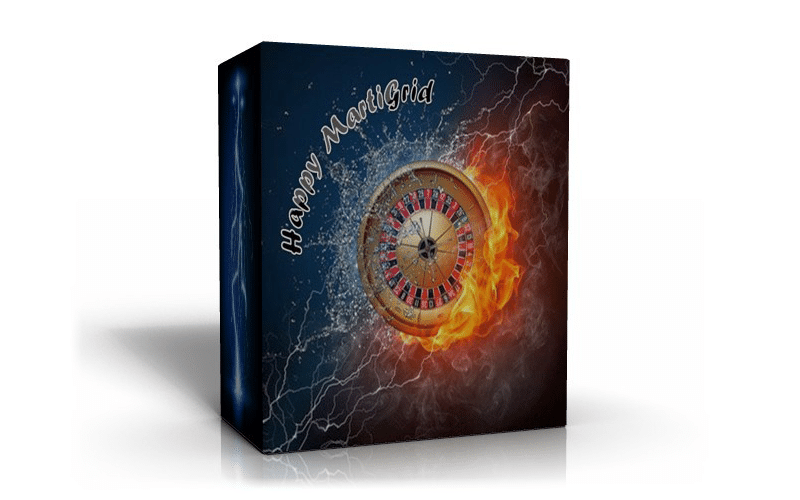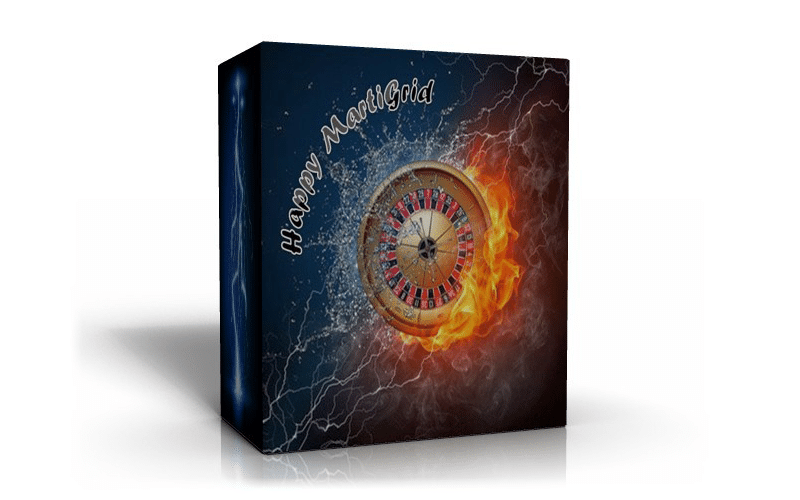 Happy MartiGrid is a fully automated trading software that opens and closes trades by use of Grid in combination with Martingale alongside technical indicators and news filters. It uses strategies requiring the most attention when in the markets. Its developer claims that the Expert Advisor uses sophisticated dynamic step and profit.
Is Investing in Happy MartiGrid a Good Decision?
Due to the fact that this robot uses martingale and grid strategies which are very risky for trading, we do not think it is a good decision to invest in the software.
Using a system whose owner does not provide a proper explanation on how they are mitigating risks of martingale and grid trading approaches is not advisable unless you are willing to lose your capital.
It is also clear that there is no information about the owners. Most customers want to make purchases from people who have their details such as identity, location and a brief history about their trading experience.
Company Profile
Happy MartiGrid robot was developed by Happy Forex.de, a forex trading platform that provides solutions to traders in different ways with an aim to make them have a stable income.
Besides Happy Martigrid, other expert advisors they offer include Happy Power, Happy Breakout, Happy Gold, Happy Forex and many more as shown in the screenshot below.


Happy Forex runs a blog that provides educational content about trading. They are also signal providers and affiliates to various brokers and other companies.
We must remember that any reliable vendor should not hide information like personal data and trading history from potential clients. That's the only way to stand out in this competitive forex industry.
Traders can submit inquiries through the "Contact Us" page by filling out the contact form as shown below.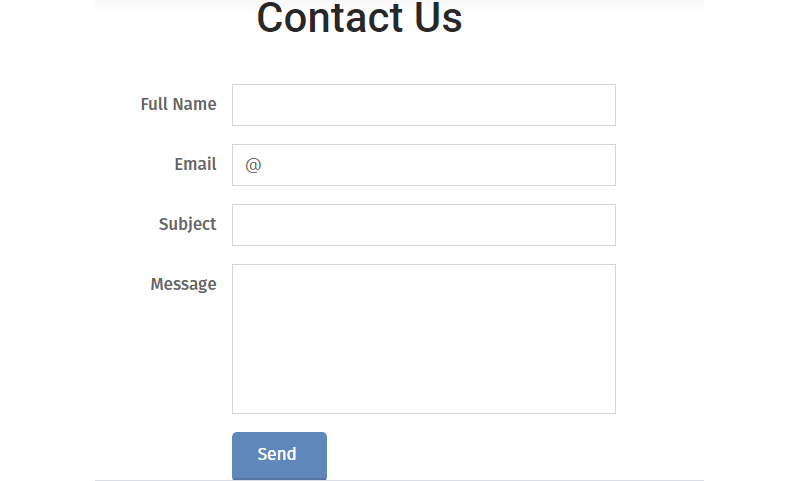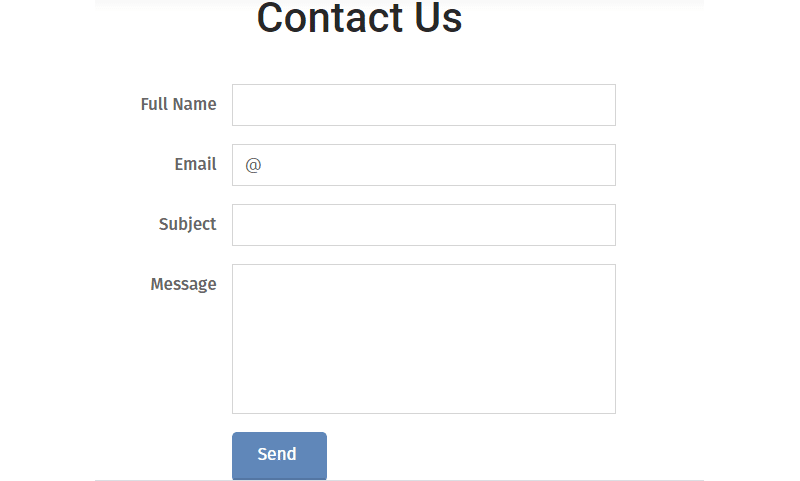 Main Features
Happy MartiGrid robot is currently in its latest version of V1.9.1. This version works on MetaTrader 4 and can trade multiple currency pairs. It can run on Micro, Mini and Standard Account. According to its developers, it works well with ECN brokers. The minimum account to run the system is $3000.
Some of Happy MartiGrid features include:
Fully automated
Auto quotes detection 4 or 5 digits
Easy to install
After purchase the order also comes with the following:
Complete tutorial user guide on how to install
2/5 licenses for 2/5 real accounts and unlimited demo accounts
Free update and upgrade
30 days money back guarantee
Unlimited use for the client
Price
Happy MartiGrid software cost Euros 299 for 2 licenses and Euros 499 for 5 licenses. It is currently at a discount of 30% applicable in any of the two options.
The license is for the first month, however you will automatically receive a free lifetime license on your email.
The payment for the license is only done once and it has a money back guarantee of 30 days. If a client feels unsatisfied with the robot after that period, he can request for a refund.
The price is not that expensive with the fact that each choice comes with more than one license.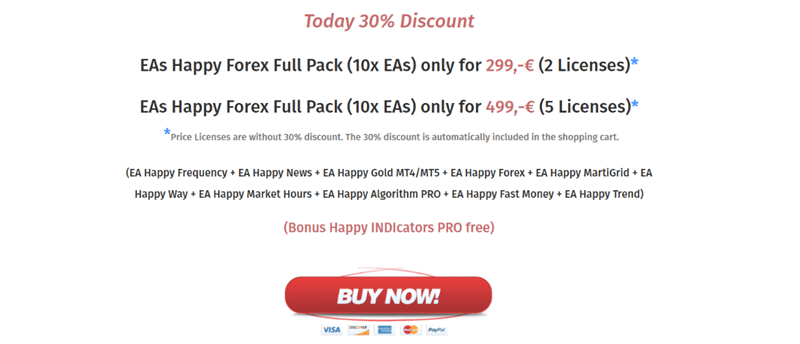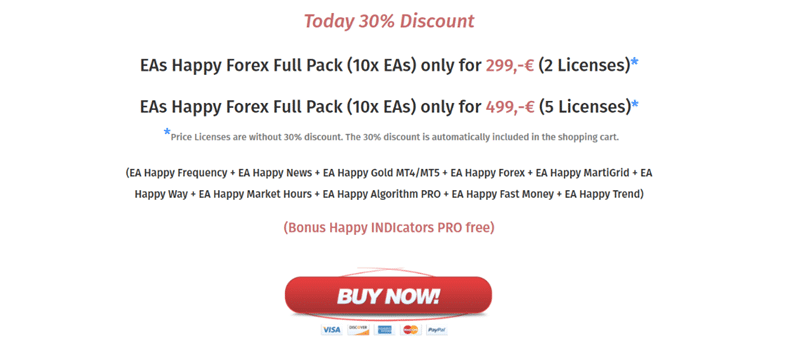 Trading Results
On this Real myfxbook account, Happy Martigrid software has been running since June 09, 2013. It is showing a profit gain of $190,006 (+237.18%) with a drawdown of 22.31% over the last 8 years. The initial deposit was $158,323.36 and the trading balance is now $118,302.63. This trading software has won 2554 out of 3370 trades, which represents a 74% win rate. A total of $200000.49 has been withdrawn.
Average win and average loss is 26.22 pips and -70.42 pips respectively. This shows a poor risk to reward ratio where one loss can wipe out two to three wins especially if the lot size used per trade is the same.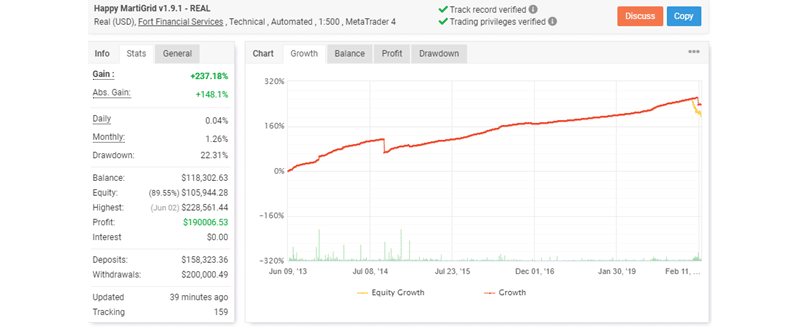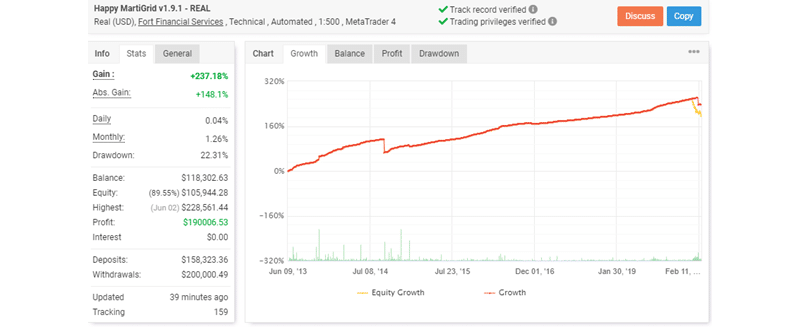 It is important to note that the majority of trades happened from 2013 to 2016. From 2017 to 2020, the robot has been running but its best monthly gain of 4.06% was in March 2020.
This means the gain rate has dropped over the years. However, one sure thing is that 2020 is showing better trading results in comparison with the last 5 years.


Martingale and grid strategies are used in this account. This type of trading strategy requires a lot of attention and monitoring hence is so risky.


From the above screenshot on back test analysis, we can see that the robot ran on this account from May 31, 2011 to May 30, 2013 and with a deposit of $3000.00, it gained a profit of $9103.56 in 2105 trades.
It had a winning percentage of 72.40% with a maximal drawdown of 16.91%. There is no information indicating the current balance and if there was a withdrawal.
Martingale and Grid strategies were also applied in this account. As you can see in the screenshot below for the backtest report, there is no use of stop loss and this can be very dangerous.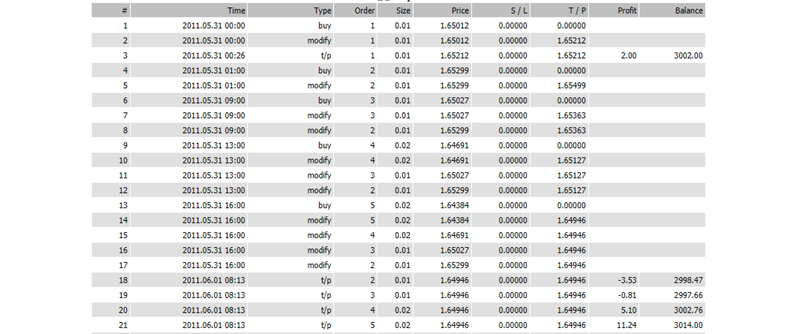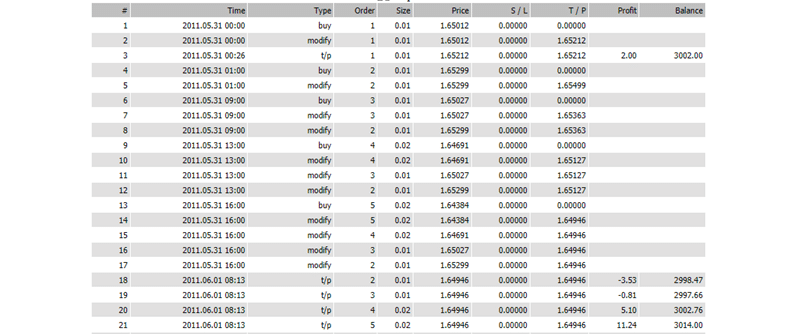 What Else You Should Know About Happy MartiGrid
When we checked for any customer review about this trading tool to see what traders who have used it have to say, we didn't find any information. We thoroughly checked TrustPilot, Forex Peace Army and Quora and came out with nothing. Same way there is no feedback from users on the robot website.
A robot without any customer feedback from its users is a warning sign to potential customers as it leaves them with question marks on whether it works or not.
Happy MartiGrid Review Summary
It is good to note that the team behind this software is making an impact in the forex industry by providing educational content and offering different trading strategies through their robots, but they need to be open with their personal data.
From what we have seen on the robot's website, there is absolutely no information about the vendor identity, location or history of trading experience. This clearly is a red flag. Again the vendor does not explain properly how their strategies work in detail therefore this EA cannot qualify for good robot status.
Make an informed decision
Check out the selection of the most efficient forex robots
here