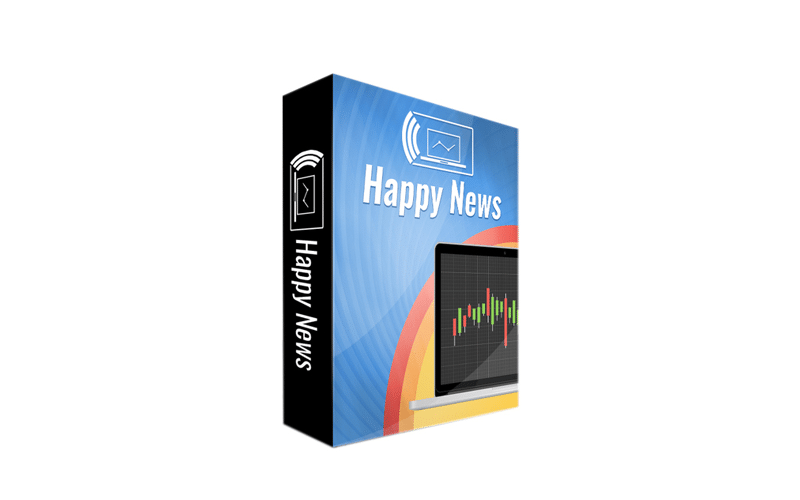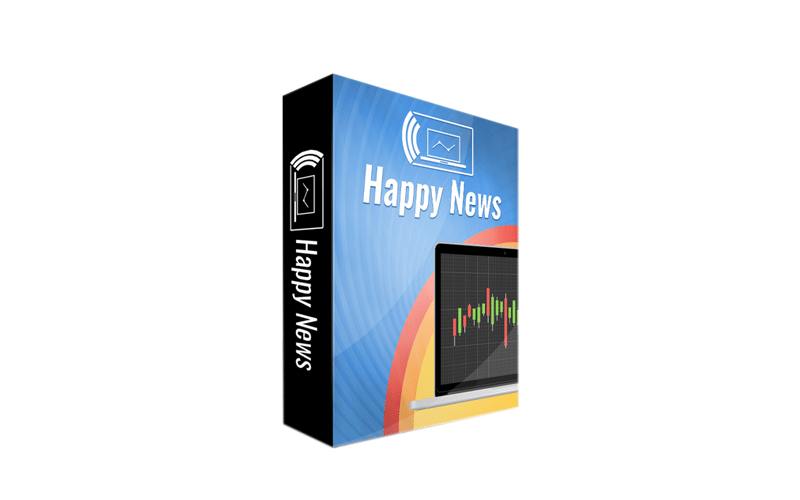 Happy News is a Forex robot offered by Happy Forex, which is known for creating a wide range of trading solutions for many years. This trading system is completely automated and works on the Metatrader 4 terminal. The creator has created 9 trading tools till now, along with some pro-indicators. In order to know if this trading tool offered by this well-known company is worth investing in or not, we decided to review it.
Is Investing in Happy News a Good Decision?
Happy News majorly trades in currency pairs like USD/JPY, GBP/USD, AUD/USD, and EUR/USD. As per the developer, the system does not employ risky trading approaches, such as martingale, hedging, or grid.
However, this contradicts with the vendor's claim that it "places pending orders in both directions" to grab moves from news events that can significantly affect the Forex market. Happy News is an old Forex robot that has been running on a demo account for many years. This is why we think you can try many new EAs out there that have real accounts.
Company Profile
Happy Forex trades the news automatically. The company makes use of a hedging trading strategy for major market events and claims that it delivers positive results. It directly downloads the news events from the Forex factory calendar and puts them on the chart. Then, as a trader, you can choose the news in which you want to trade.
Some of the news types you can select include low impact news, medium impact news, high impact news, and speeches. Plus, you can trade the news about your particular currency pair. You can easily install this system, which comes in a full package of 10 different systems provided by Happy Forex.
Main Features
Happy News boasts several features, including:
This is an automated system on the MT4 platform.
It allows you to select the news in which you want to trade.
It shows you the latest news, including the upcoming ones, and the ones already traded
There is an auto GMT setting in the EA
The system suggests Admiral Markets as the broker, which is a renowned name in the trading world
You need to have an ECN account for low spreads
You have to deposit at least $100 for starting trades with a lot size of 0.01
You can use this tool on the four and five digit charts
Price
On the top of the website, you can see a 30% discount for today, which is there since the system was created.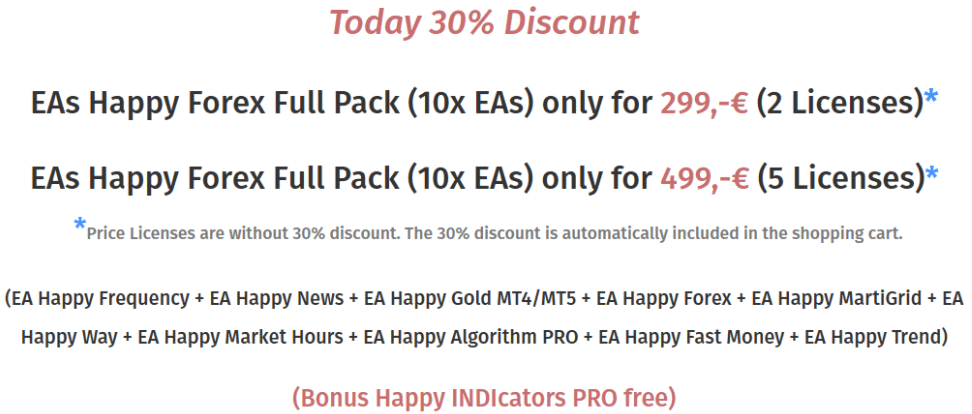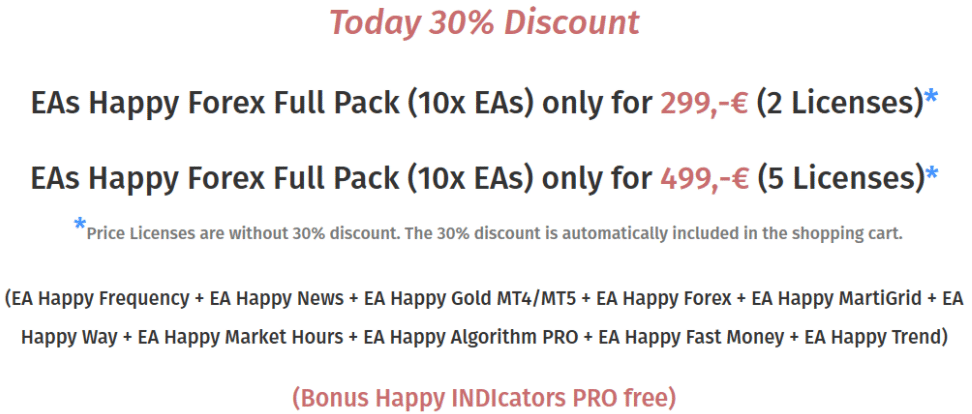 The robot comes in two price packages. One is of 2 licenses with 10EAs and it costs 299 EUR. The other is of 5 licenses with 10EAs and it is priced at 499 EUR. These prices seem quite high as compared to the company's performance. Nevertheless, in both these price packages, you get the following items:
10 expert advisors; most of these are called scams by users, which means you have to check if they are up-to-date as per the latest market scenario
A free download of Happy INDIcators feature
Demo test without any limitation on the number of accounts
A complimentary PDF user manual
In case of any issues or queries, you can contact them 24/7 through Desk, TeamViewer, or email
Lifetime and free upgrades and updates
Trading Results
When it comes to the trading results, the company has a demo USD account with the Fort Financial Services broker on Myfxbook. It makes use of fundamental data to identify trading opportunities. This account works automatically without any indicator information of the platform.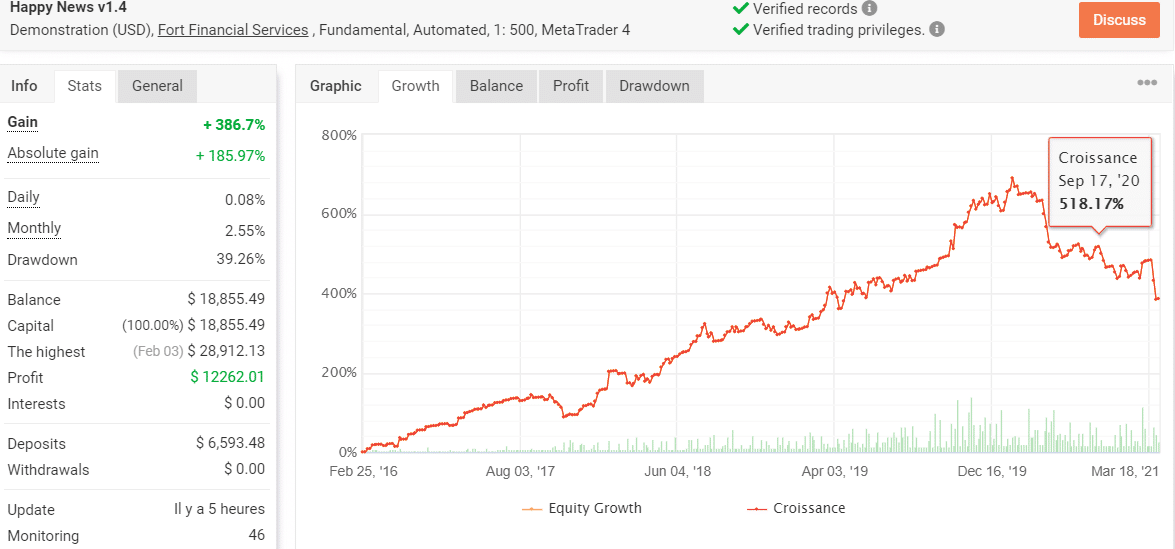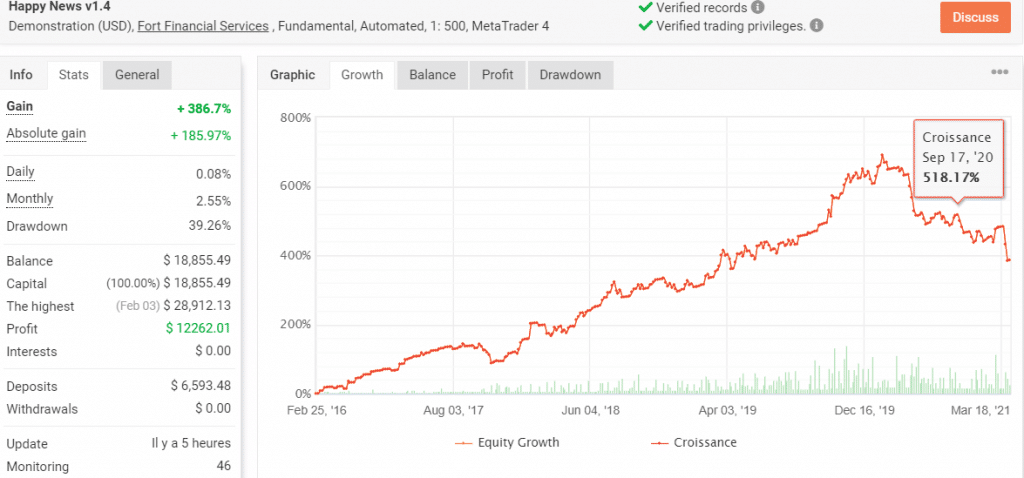 The tool shows that it has a verified track record and trading privileges with a leverage of 1:500. It was started on February 25, 2016, with total deposits of $6593.48. The absolute gain is 386.7% with an average monthly gain of 2.55% and a maximum drawdown of 39.26%.
Its average win is 3.95 pips and average losses are of -15 pips. The EA closed 749 deals with 875.3 pips. When seeing the history, the robot lost 6 out of 19 last deals after they reached -15 pips, which is the Stop Loss level. This shows that the robot has poor trading results.
Happy News uses a scalping strategy while trading news. It lets you choose the news in which you want to trade, that is, all news or the ones related to the currency pair shown on the chart. However, this approach can be quite risky as the markets are quite volatile during news releases. This results in higher slippage and spreads with faster price movements, which means that the stops are not carried out at the said prices. This is why many traders refrain from trading news.
There are no backtesting results of Happy News. This means we cannot know if this trading tool can make profits while anticipating any kind of news.
Customer reviews
Happy Forex does not have any specific customer reviews. However, there are five reviews for the expert advisor on the Forexpeacearmy site with an average rating of 3.5. Out of these five, three reviews are positive and two are negative.


The positive reviews state that the robot has high performance in volatile markets and provides immediate returns. Though, all these reviews are provided by faceless people. The site also shows the affiliated accounts of the vendor, out of which four are scams and only two have real accounts.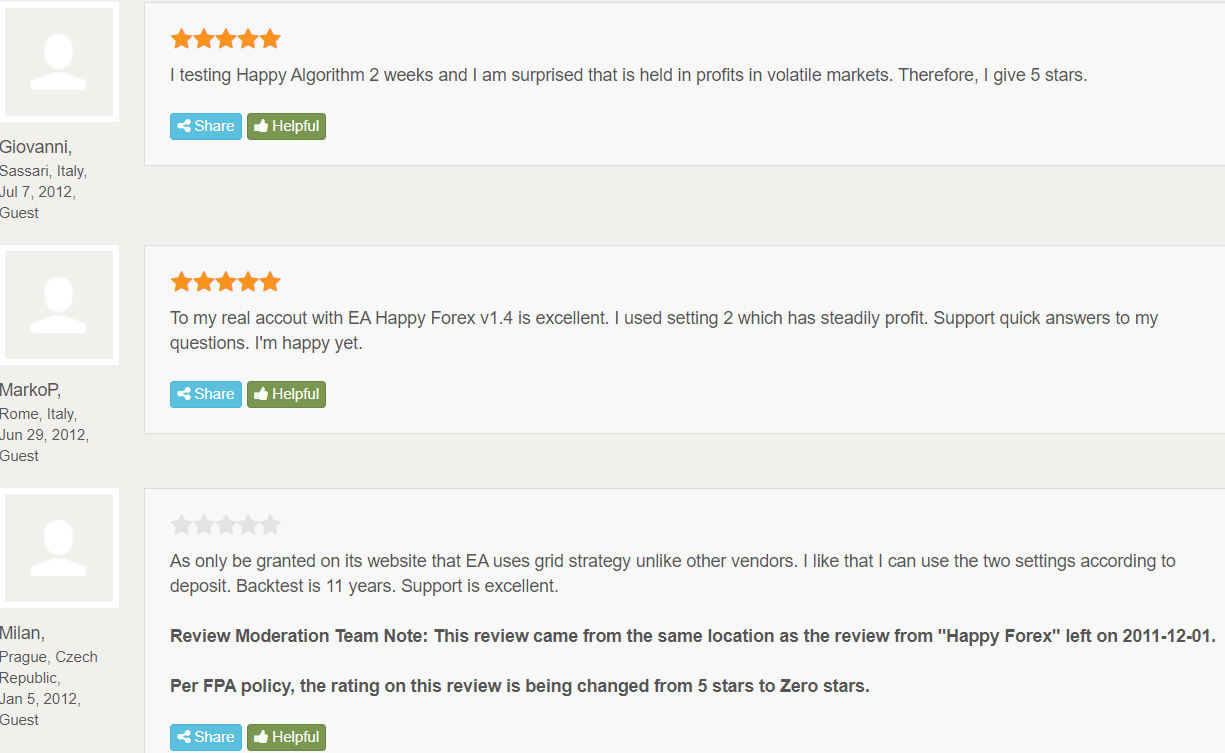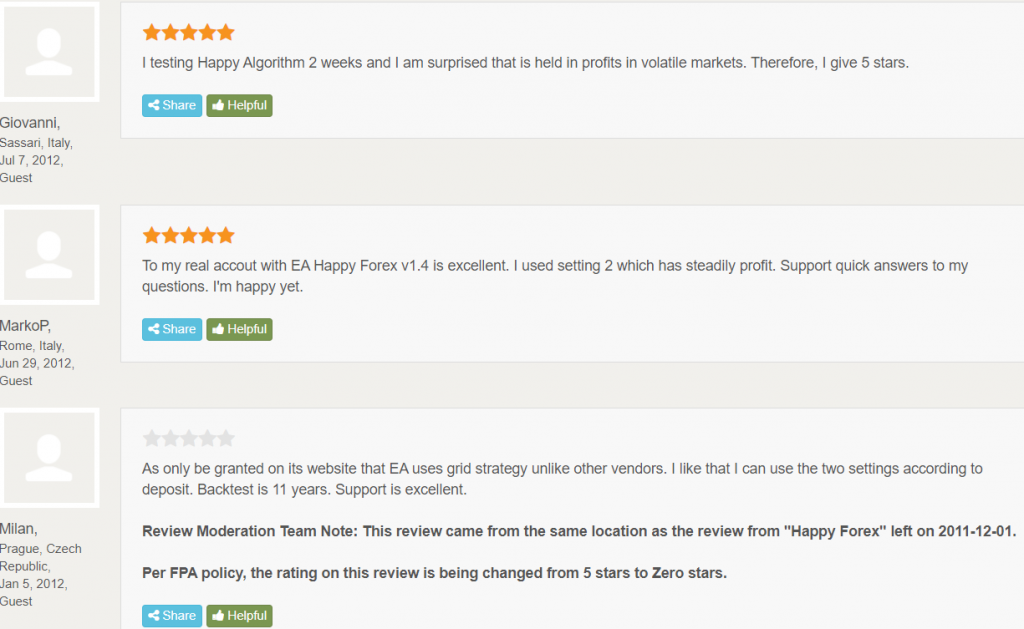 Summing Up
Happy News has more negative points than positive ones. In its positives, the website shows verified trading results. Moreover, the trading tool is created by a popular firm and it explains its strategic approach in detail.
However, on the negative side, it has a demo account since 2016. The account is not growing since 2019 and shows an unstable performance. It looks like a scam with no backtest reports, high prices, and no customer testimonials. Thus, we would not recommend you to use this EA.