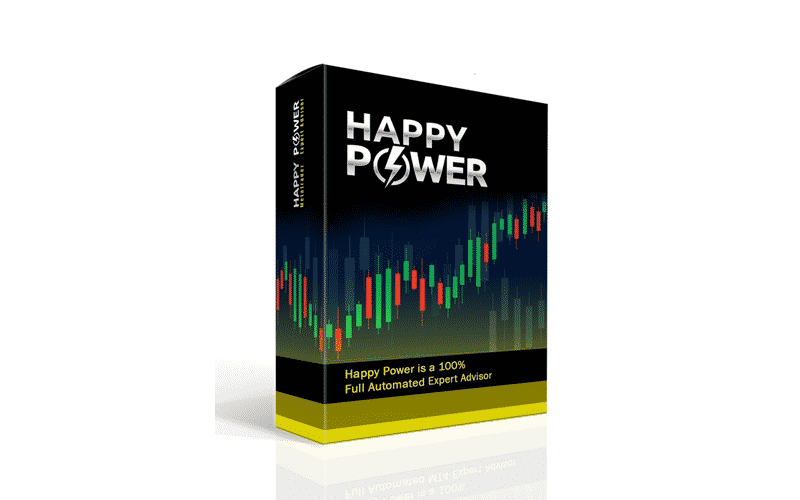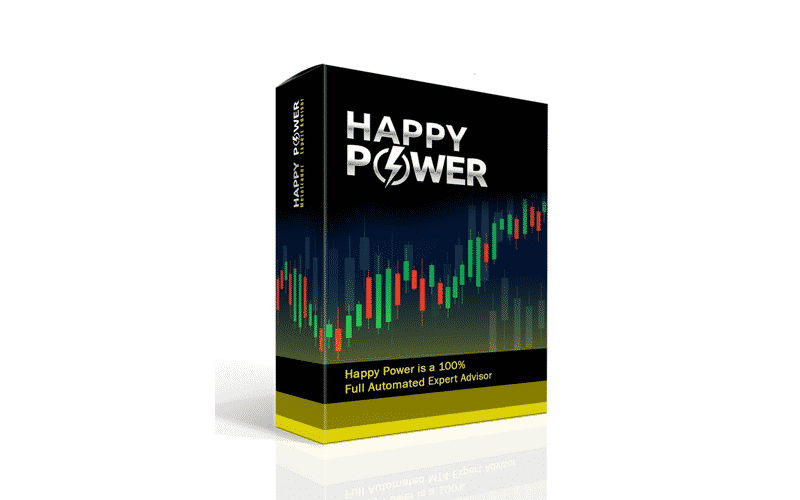 Happy Power is a system that was designed by the Happy Forex team. The robot shows that it's possible to be profitable on the Forex Market. So, we checked it out and provided a vision about it.
Is investing in Happy Power a good decision?
Yes, it is. Happy Power shows a stable performance and it allows us to recover even after losses.
Company profile
Happy Forex is a veteran in developing trading solutions. So, we can rely on great performance and stable service quality.
Main features
The robot has many features explained. We have picked the best one into following list.
The robot can cover us with performing our orders completely automatically.
It can calculate entry points pretty precesisly.
We can adapt the algorithm to the actual market conditions.
There's machine learning as a part of the system.
The core strategies are Price Action that also checks support and resistance levels to work between them.
There's a Grid of orders applied.
The only one pair to open orders is EURCHF.
The core time frame is M30.
It works well on a balance of $1000 or more.
The ECN account will be a good addition to the system to work better.
Happy Power manages 5-digit charts.
It's possible to get started within several minutes.
The core operational systems to work on is Windows 7, 8, 10, Mac OS, and Linux.
We will get MT4 and MT5 copies of the system.
Price
The system is availble for a single price if €325 for a copy. We can enjoy ten extra robots and on indicator in addition. We can work on an unlimited number of real or demo accounts. If we work with other their products we can rely on a 30% discount. There's a 30-day money-back guarantee povided.
Trading results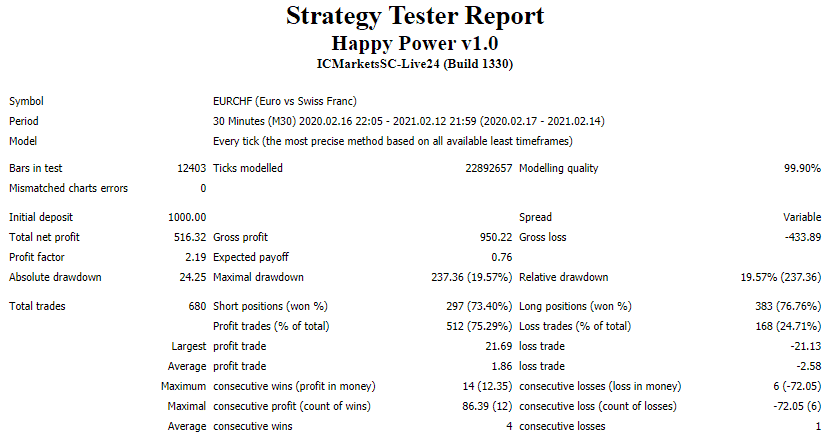 We have a single report of testing EURCHF on M30. The data was chosen for two years. The modeling quality was 99.90% with variable spreads. An initial deposit of $1000 turned into $516.32 of the total net profit. The profit factor was 2.19. The maximum drawdown was acceptable–19.57%. It has performed 680 orders. An average win rate was between 73% and 76%.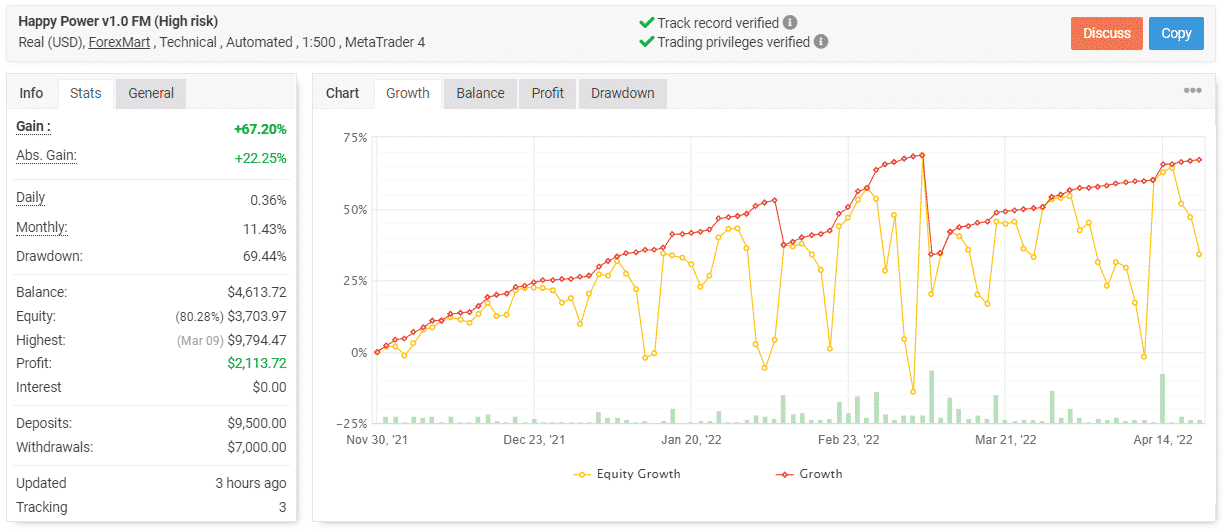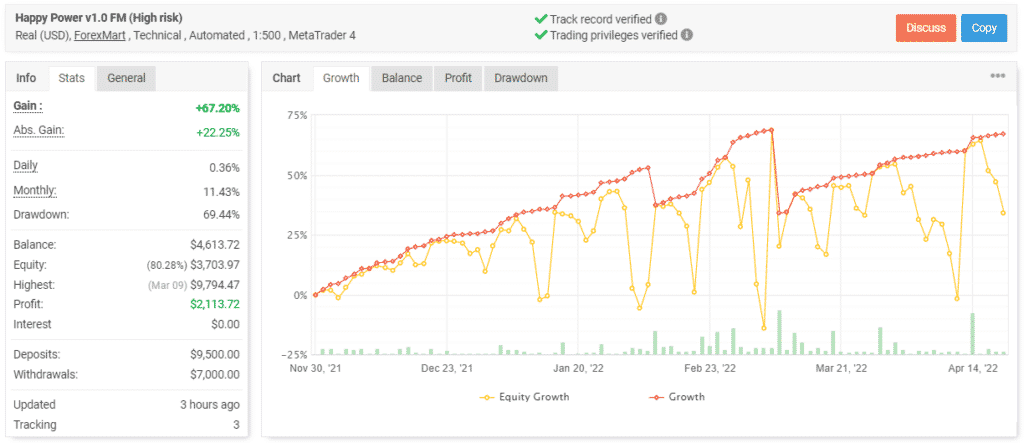 The robot works on a averagely-known broker–ForexMart. The leverage is 1:500. It receives data from the MT4 terminal. The account has a verified track record. So, we can trust the data and charts that we see. It was created on November 30, 2021, deposited at $9500, and withdrawn at $7000. Since then, the total gain has become 67.20% with an average monthly gain of 11.43%.


Happy Power has performed 2799 deals it could manage to obtain 19,591.9 pips. An average win rate of 26.24 pips is a bit less than an average loss of -38.73 pips. The win rate for long trading direction is 67% when for short one it is 72%. An average trade length is 2 days. The profit factor is 1.61. So, it's a good to go solution.


The robot manages directions equally in pips and gains.


The most traded sessions are European and the beginning of American traing session.


We may note that Tuesday and Friday are the less traded days.


The robot works with low risks to the balance. So, we can be safe with it.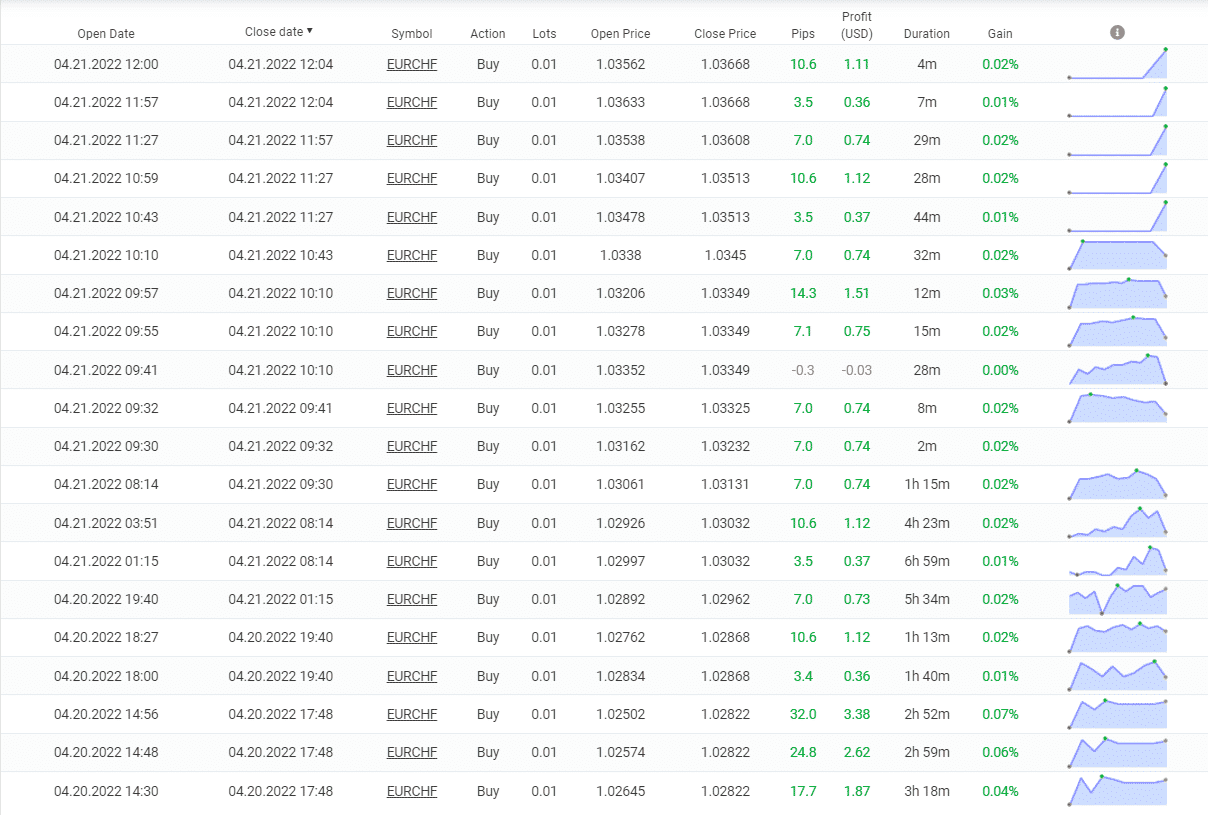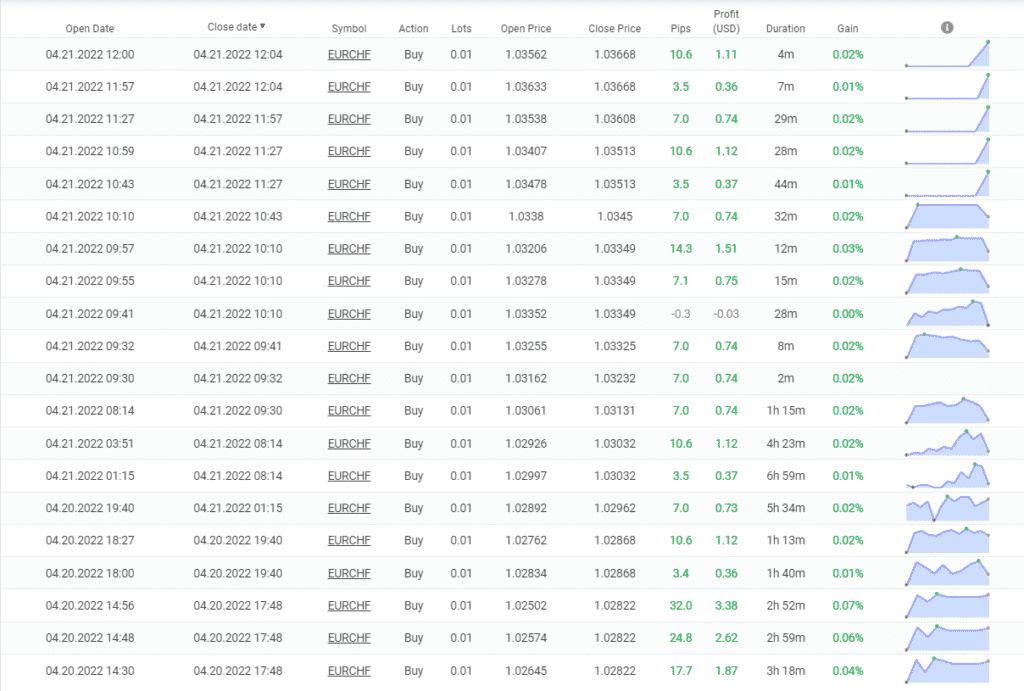 It's great that from the last of 20 orders, 19 were profitable.
People feedback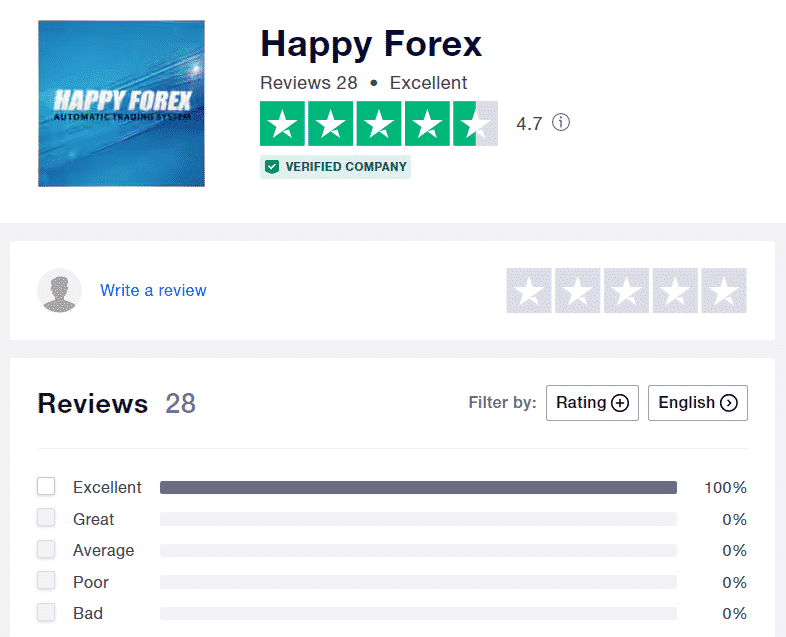 People who use the Happy Forex's systems are satisisfied with their efficacy and reliability.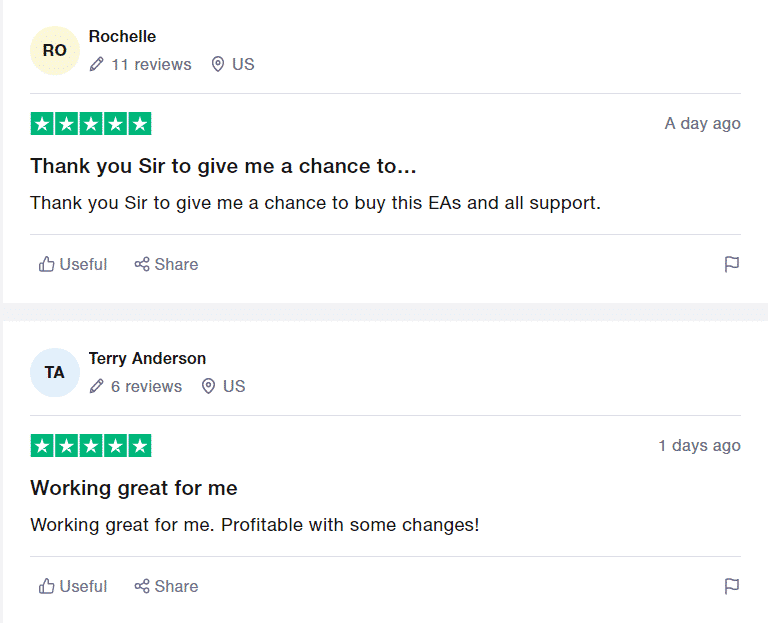 The former and current clients write that the Happy Forex' products work well for them.
Summing up
Happy Power is an expert advisor that shows stable and reliable performance. There are many positive reviews about the company written. Moreover, we can expect to receive good support or money refund, if needed.