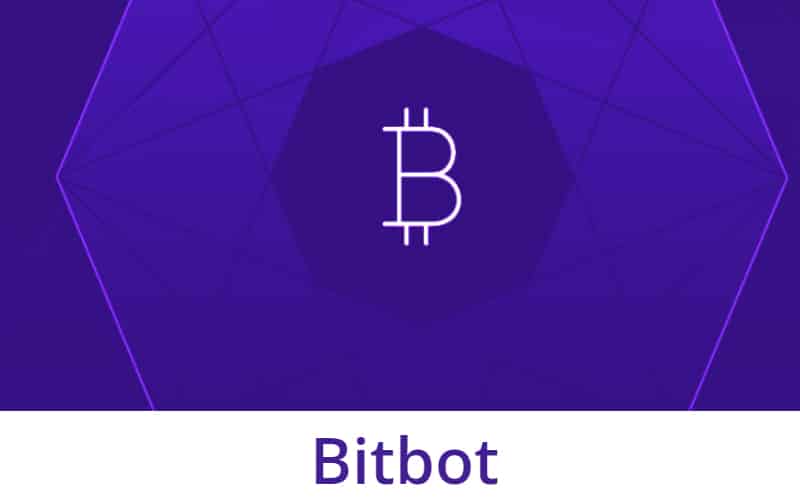 Bitbot seeks to address some of the repetitive market inefficiencies to ensure you profit from the crypto market. As per the vendor, the software is capable of making positive financial gains utilizing the algorithmic trading strategy integrated into it. Let's find out what more the bot has to offer.  
Quick summary
We have summarized the features of the software below:
It has an inbuilt machine learning/AI.
The system engages in high-frequency trading.
It capitalizes on a few Ruby/Java microservices responsible for its trading system.
It's built using the following technology: Ruby on Rails, Java 8, Ruby, Docker, React, Rabbit MQ, and Postgres.
Bitbot: pros and cons
| | |
| --- | --- |
| Pros | Cons |
| A variety of customer support options are present | Pricing details are missing |
| Fully automated | No info on the exchange used |
| Supports high frequency trading | |
| Capitalizes on AI to adapt to changing market conditions | |
What is Bitbot?
Bitbot is an RPA (Robotic Process Automation) trading system designed to perform high-frequency trading in the crypto market. So, it can implement millions of orders after scanning numerous markets and exchanges within seconds. By removing the human element in crypto trading, the bot has supposedly served to give users a huge advantage in the open market.
| | |
| --- | --- |
| Price: | N/A |
| Withdrawal fee: | No fees |
| Deposit option: | N/A |
| Supported countries: | N/A |
| Supported exchanges: | N/A |
| Free trial period: | N/A |
| Multiple currency support: | N/A |
How does it work?
Bitbot seeks to eliminate the limitations associated with manual trading. As the vendor puts it, the timeframe for identifying a trading opportunity in the crypto space is normally measured in milliseconds. Manual trading obviously makes it impossible for the user to leverage these opportunities to the maximum. This is where this bot comes in. As such, it works by discovering, analyzing, and implementing these trades to ensure you profit from the market.
Pricing and fees
There is no place in the sales pitch where information about the bot's price or trading fees is presented. We find this both odd and inconveniencing. As an interested customer, you may have to go to great lengths to find out how much you will spend to acquire this bot. The vendor should just do the obvious and post the product's price for everyone to see.
Privacy and security
The API protocol is at the core of this system's security. The information at hand is that the bot works with a series of APIs that feed real-time data to a protected web-based frontend with data relating to the following:
Balances in exchanges
Potential trading opportunities
History by hours and days
Implemented opportunities in the last one month
Values of dynamic parameters
Smallest profit, largest profit, and average profit percentages
Dynamic parameters' values
Reliability
The devs of this product insinuate that it is reliable. They say that Bitbot was able to implement a series of micro-transactions, producing a profit of $5 after trading live for only two minutes. So, they confirmed that the initial trading strategy was viable and have since continued to build on it to make it more efficient.
How to start trading using Bitbot
We have no clue what steps you are supposed to take to begin using this product. We could not find any info that covers this subject. There are no sign up, get started, or purchase buttons that you can click on to create an account or pay for the product to start using it. One wonders why the vendor is marketing the bot when these signs suggest that they don't have any intentions of selling it.
Who is Bitbot suitable for?
Bitbot may be appropriate for individuals tired of engaging in manual trading and wanting to take advantage of artificial intelligence in trading. In this case, the bot has an inbuilt AI system to help it remain competitive as time goes by, evolving with the ever-changing market.
Bitbot support
To receive customer support, email the vendor with your concerns or questions. Alternatively, engage the team through the live chat window present on the official website. A phone number is also provided for those who want to talk to the team directly. You can stay tuned for updates on the product by following the company's various social media platforms, such as Facebook, Twitter, and Instagram.
Bitbot community
Bitbot has a wide trading community. First in line is Codelitt, the company behind its development. It consists of a group of 45 talented individuals (located in 12 different countries) passionate about technology, solving problems of users, and innovating at startup speed. Secondly, it has users and fans spread out across different social media platforms. For instance, there are 154 followers on Facebook, 2041 followers on Twitter, and 1471 followers on LinkedIn.
The Review
Bitbot review verdict
Bitbot can help you to conduct numerous trades across different exchanges within a short period, enabling you leverage the lucrative opportunities presented in the market. The integration of AI into the system also allows it to adapt to changing market conditions. Unfortunately, the software is shrouded in secrecy with the vendor failing to disclose its pricing details, exchanges used, sign up process, among other things.
Review Breakdown
User Interface:

0%

Ease:

0%

Price:

0%

Features:

0%

Support:

0%