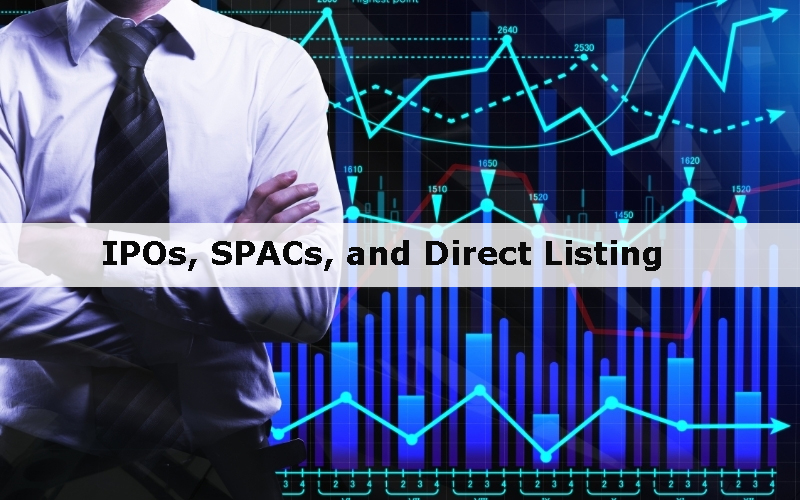 The number of companies going public in the United States has remained relatively stable during the coronavirus pandemic. In recent months, we have seen companies like Unity Games, Snowflake, and JFrog go public. However, a common theme that has happened is that more companies are opting to use the SPAC model of becoming public. In this article, we will look at the differences between an IPO, SPAC, and direct listing.
What is an IPO?
An Initial Public Offering (IPO) is the selling procedure in which the company stake is offered to institutional and individual investors. The process of launching an IPO tends to be relatively long because of the participants involved.
Some of these participants are lawyers, investment banks who sell and underwrite the transactions, auditors who verify the transactions, and the printers who print the prospectus.
In general, the process of an IPO starts when a company scouts for these participants. Then, the company submits its prospectus to the Securities and Exchange Commission (SEC). In this prospectus, the company talks about itself and the services it offers, the amount of money it makes, its segments, the amount it is raising, and how it will use them.
After this, the company works with the participants and starts to market itself in a process known as a roadshow. Finally, the company works with the exchange – such as Nasdaq and New York Stock Exchange – and lists its shares. The moment it lists, any investor can buy and sell its shares.
Most of the listed companies you know today, like Apple, Uber, Lyft, and Facebook, went public through an IPO. In 2020, there have been 363 IPOs, as shown in the chart below.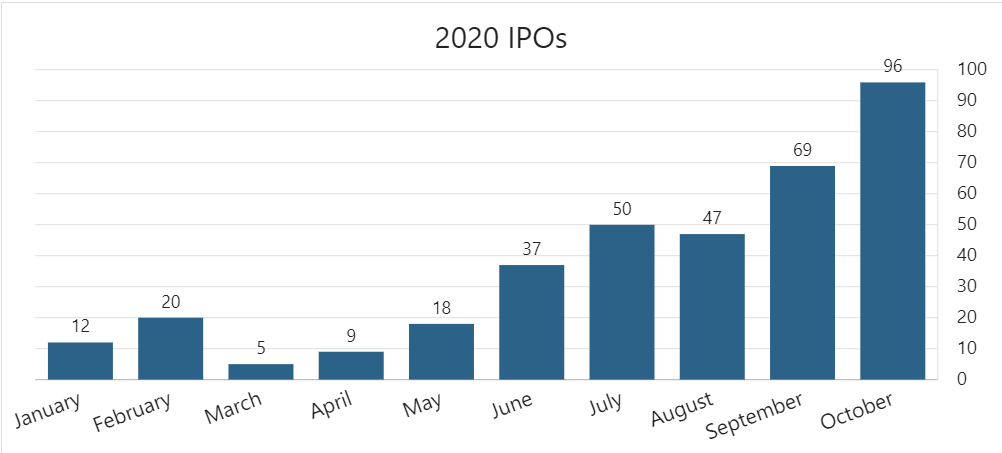 What is SPAC?
A Special Purpose Acquisition Company (SPAC) is also known as a blank check company. Its business model is to raise money from investors, get public, and then it puts this money into a blind trust. This process ensures that the money is safe until the company decides to spend it by merging with a private company. If the investors accept the merger, the company's shares now start trading in reflection on the acquired company's valuation.
In general, anyone can start a SPAC. However, history suggests that people who succeed in starting their SPACs usually have a prior history in finance or in an industry. For example, this year, Bill Ackman, the renowned hedge fund manager, raised $4 billion for his SPAC. Investors had confidence in him because of his exceptional performance in the past two years.
Similarly, Chamath Palihapitiya, a renowned venture capitalist, has raised millions of dollars in the past three years. For example, he raised $600 million and merged with Virgin Galactic.
According to data from SPAC Data, we have had 169 SPAC IPOs this year that have raised more than $62 billion. As shown below, that figure exceeds the 59 SPACs launched in 2019 and the seven that were launched in 2010. Indeed, the amount of money raised this year is more than those raised since 2003.
Some of the notable companies that have gone public using SPACs are DraftKings, Virgin Galactic, and Nikola Motors.
Amount raised using SPACs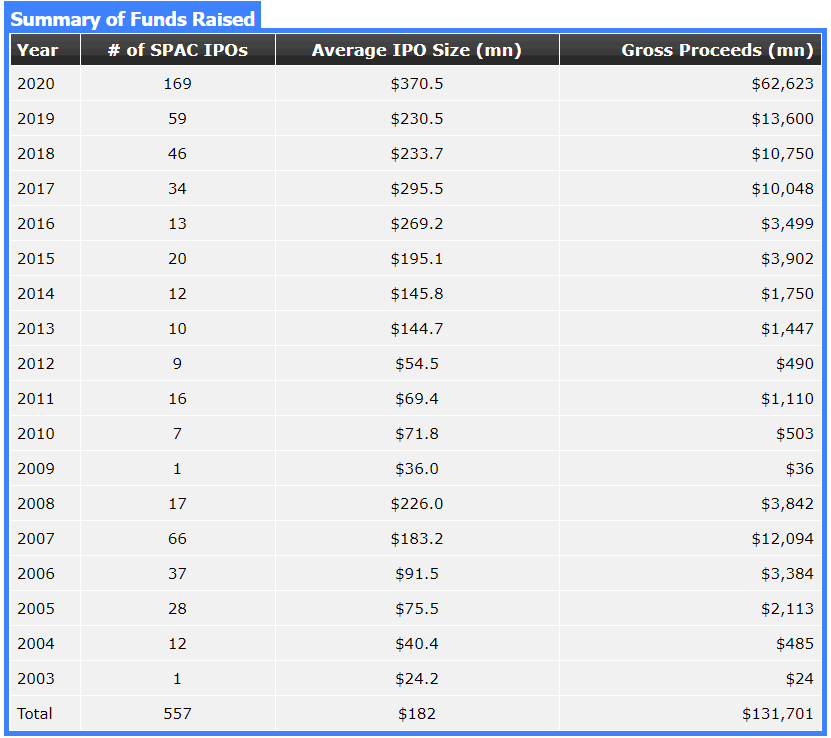 What is Direct Listing?
Direct Listing, or Direct Public Offering (DPO), is another approach to trading your company stock publicly. There is a significant difference between IPOs and SPACs. That is because, in a direct listing, existing shares of the companies are sold to institutional and individual investors. This is different because, in an IPO, a company issues new shares and raises money. In Direct Listing, they just want to become public.
The number of companies going public through a DPO has been relatively smaller than those using SPACs and IPOs. Among the notable companies that used DPOs this year are Palantir Technologies and Asana. Others that have used the approach are Slack and Spotify.
IPO, SPAC, and Direct Listing: the key differences
As seen above, IPOs, SPACs, and direct listings are the main ways in which companies become public. Each of these strategies has its own pros and cons.
First, direct listings are usually cheaper than both SPACs and IPOs because the number of participants is usually limited. For example, in an IPO, the typical fee for an investment bank that is leading the process is usually about 7%. This is a substantial amount of money for all companies. For example, in 2013, Facebook paid its bankers more than $1.2 billion. Since SPACs are similar to IPOs, the typical fees to the bankers are usually about 5%.
Second, the initial public offering process is usually very long, which also leads to more costs. Most of this time is usually spent on preparing documents, dealing with regulators, and talking to large investors who are pivotal to the entire process.
A typical IPO takes between 6 to 9 months. A SPAC, on the other hand, is usually a relatively short process because of the limited amount of documents that are required. The documents are not large because the company has not been in operation and has no major disclosures to make. Most of the time is spent on selling the SPAC to investors. A typical SPAC lasts for about four months.
In Direct Listing, the process is relatively short. Indeed, there are only three stages. First, the company prepares and submits documents to the SEC. This process is followed by a quiet period, where the company or its management team is required to follow strict rules when making statements. Second, the company holds investors ' briefing, where it markets its business. Finally, the company goes public by selling existing shares.
Third, in Direct Listing, there is no lock-up period since a company sells its existing shares. This is a period where key investors cannot sell shares to the public. In a standard IPO and a SPAC, there is a lock-up period of about 180 days.
Final thoughts
As an investor, having a good understanding of the differences between SPACs, IPOs, and direct listing is an important thing. However, there is no material difference in how companies that use either of the listing processes perform in the long term. For example, Spotify has gone up by 81% since its Direct Listing in 2018 while DraftKings has gained by 280%.