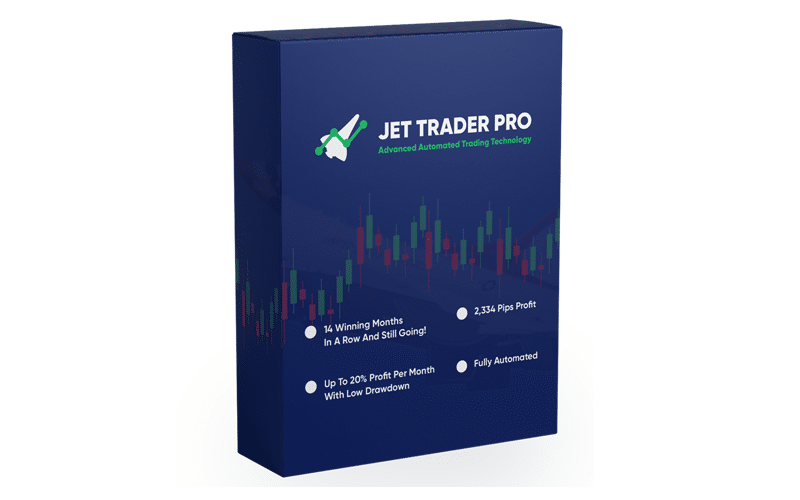 The vendor of Jet Trader Pro is very confident about its performance. He does not shy away from singing the praises of the EA's capabilities. As he puts it, the system has a record of winning trades 14 months in a row while keeping the drawdown low. In particular, it has been averaging 6.5% profits monthly and even making up to 20% gains in some cases. Our analysis of this EA has revealed that there is no truth to these statements.
Is investing in Jet Trader Pro a good decision?
Investing in Jet Trader Pro is the worst decision you could ever make. We have assessed the various components of the bot including the vendor, trading strategy, pricing, trading results, and customer reviews.
We have discovered damning things about the above components that cannot allow us to promote this EA. We invite you to read this review and learn what we found out.
Company profile
Jack McKennon is the creator of Jet Trader Pro. He is part of the LeapFX group, a company that claims to assist traders to manage their investments intelligently. Jack ventured into Forex out of necessity —to fend for his family. We believe that such an individual is not best-suited to develop a ground-breaking trading tool. Programming is a skill that takes years to perfect and without a proper background, it is easy to make a product with significant anomalies. In this case, it will come at a great cost to the trader's investment.
Main features
Jet Trader Pro has the following characteristics:
Lifetime updates.
Customized to only trade the EURUSD currency pair.
Works on almost any broker the same way.
No special setup is needed.
Hands-on support is available.
Traders can begin trading with anywhere between $100 and $250 in the account.
According to the developer, Jet Trader Pro is customized to use what he calls a "dynamic price protection strategy." Nonetheless, our analysis of the trading results led us to discover that both grid and martingale are being implemented. Grid can really mess up the trader's account really quickly if the robot takes a series of bad trades. Also, martingale's attempts to recover the consequent losses by increasing lot sizes can worsen the situation.
Price
Jet Trader Pro has two pricing plans. None is cheap though. The first plan is a one-year license that costs $347. The second one retails at $697 and is a lifetime license. A 30-day money-back guarantee is available for both options. With the high drawdown already in place (as shown in the next section), we believe that you will not get value for money.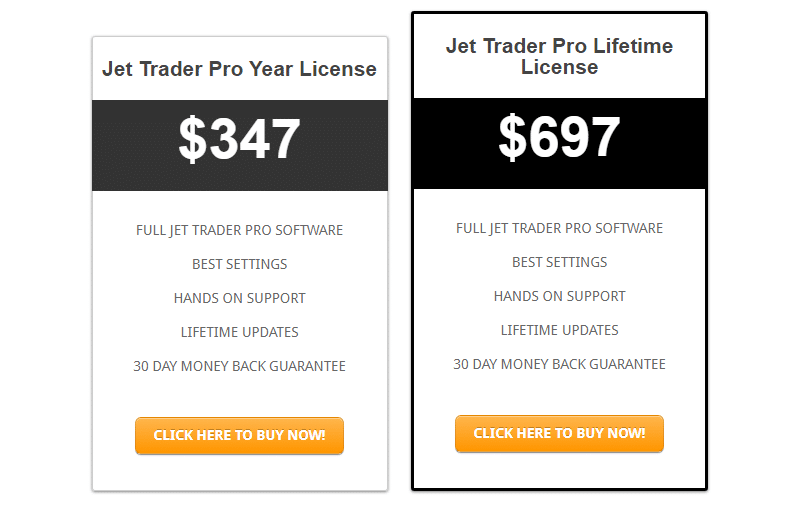 Trading results
While the vendor should be commended for posting the robot's live trading results, it is worth noting that the same compliment cannot be extended to backtest data because it is not there. We need proof that the system can sustain the said winning streak in the long term, and what better way than supplying us with these statistics?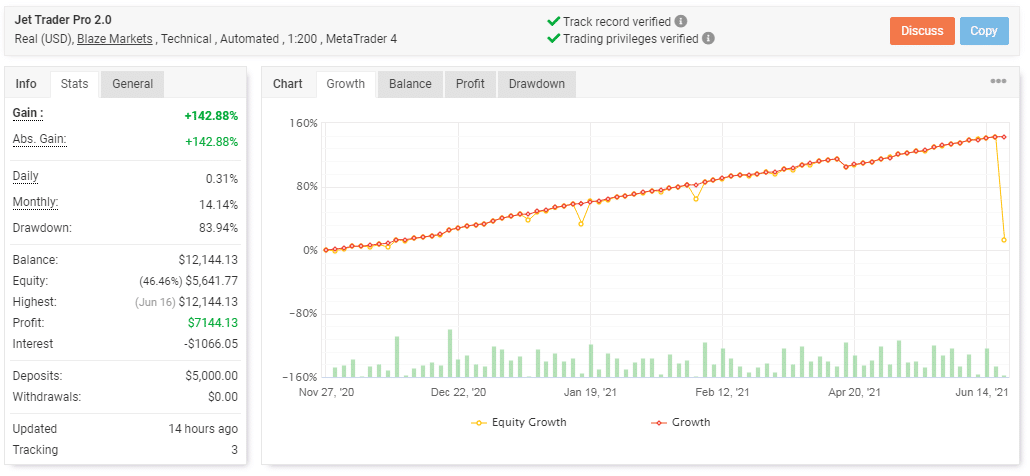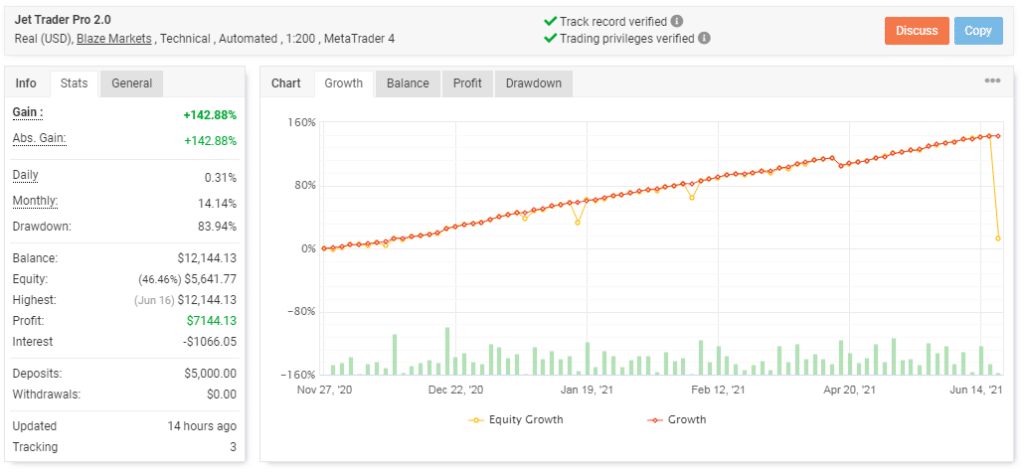 This real USD account works with the Blaze markets brokerage. Its activation can be dated back to November 27, 2020. Till now, the gain made is 142.88%. This is after the robot translated a deposit of $5000 to a profit of $7144.13. The drawdown is 83.94% and very massive. The capital is at high risk of being lost. The daily profit is 14.14%.


The EA has made 914 trades with 3297.3 pips. The average loss is -16.36 pips. The average win which is 10.84 pips is lower. This outcome tells us that the system does not trade successfully on most occasions. The lots are 125.67 and big. The profit factor is 2.34.
The success rates of long and short positions are 72% and 74% respectively. Apparently, the system does not bring in lucrative deals.

The profits made on a monthly basis have been decreasing since February and by June, the gains were 4.79%. However, we do not understand why the results for July, August and September have not been shared.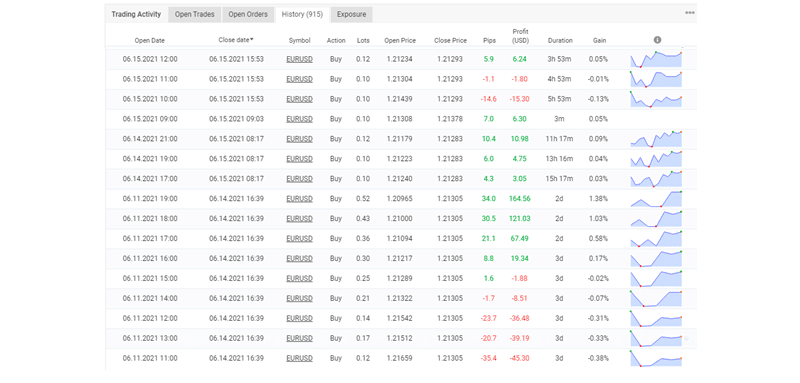 The system carried out a considerable amount of trades daily except for Sunday. Nonetheless, Thursday stood out for completing a total of 213 deals.
Customer reviews
At the moment, there are no client reviews. This is strange bearing in mind that the robot has been in the market for a long time.
Summing up
Investing in Jet Trader Pro is risky because the proficiency of the vendor is in question. Also, the profits generated by the EA have taken a downward trend for some months now. And the worst is still to come given that grid and martingale approaches are working behind the scenes. Therefore, we advise you to run away from this product while you still can.