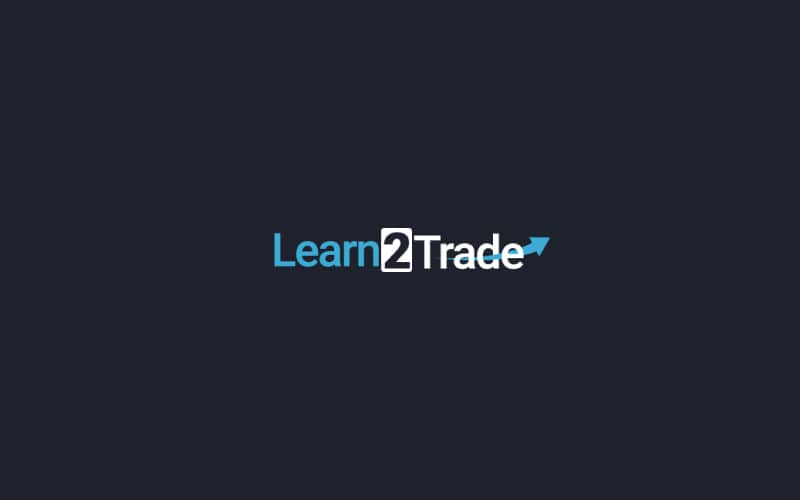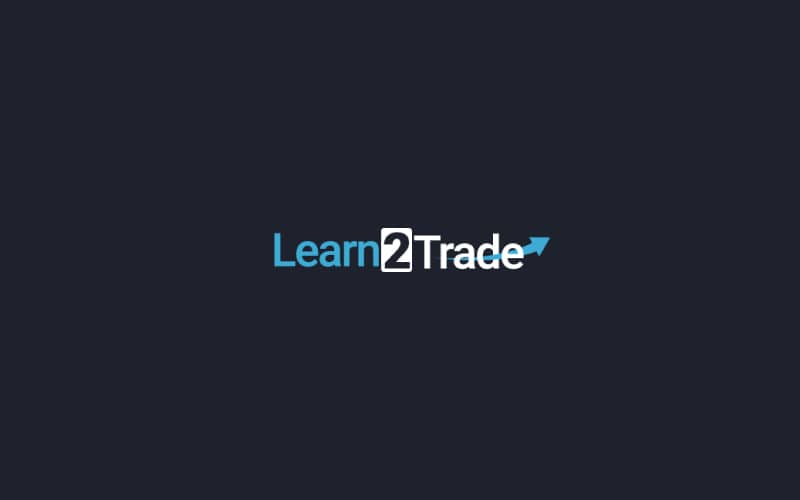 We'd like to talk about a Learn2Trade company in our review. It unites many various services like Crypto, Forex signals, Broker reviews, education, and various courses. The main promo informs us that they're the World's Best Forex Signal Provider.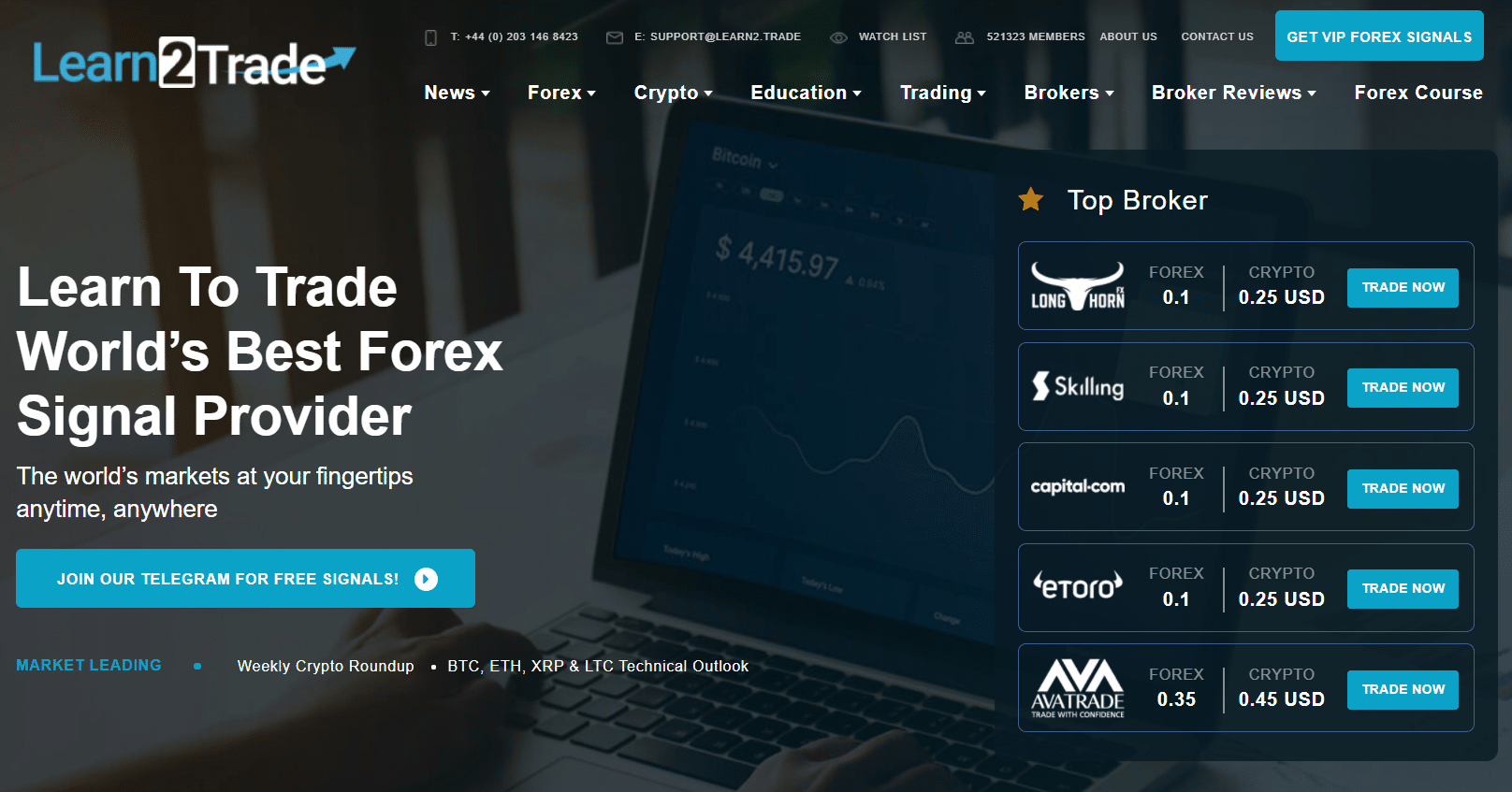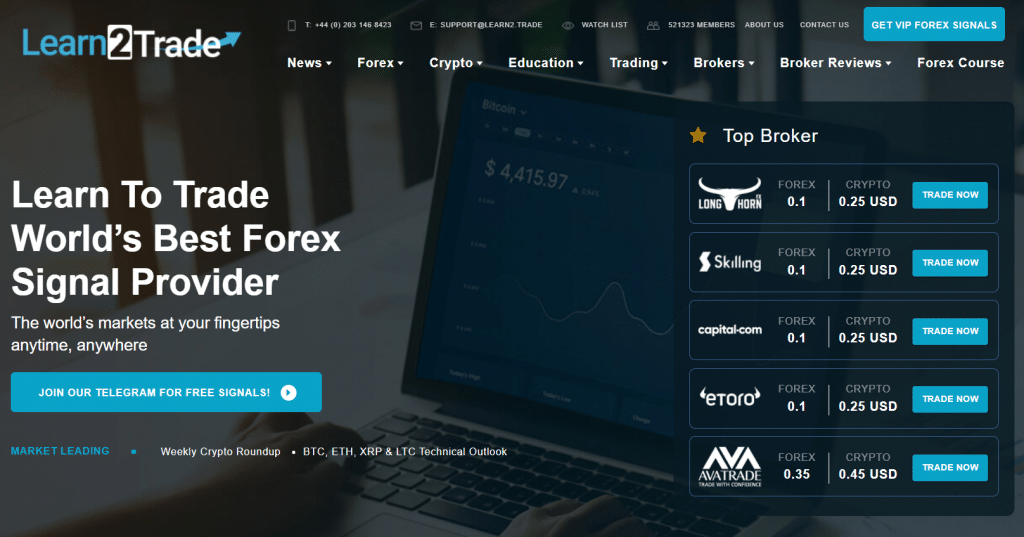 Is Investing in Learn2Trade a Good Decision?
The company doesn't provide verified trading results. It's a huge con that can't cover the fact that there are free signals. Their frequency is so low, so it can take months of using free signals to understand if it works for you.
Vendor transparency
The company has a medium level of transparency. From one side, there are many materials from analysts, free signals, strategy explanations. From the other side, we didn't see the master account where these signals are generated from. If they let us know, it'd be a great move toward clients' loyalty.
Main Features
The system generates signals based on the RSI indicator that works with revealing trends and overbought/oversold levels on the chart. It uses many other indicators to catch all trading opportunities.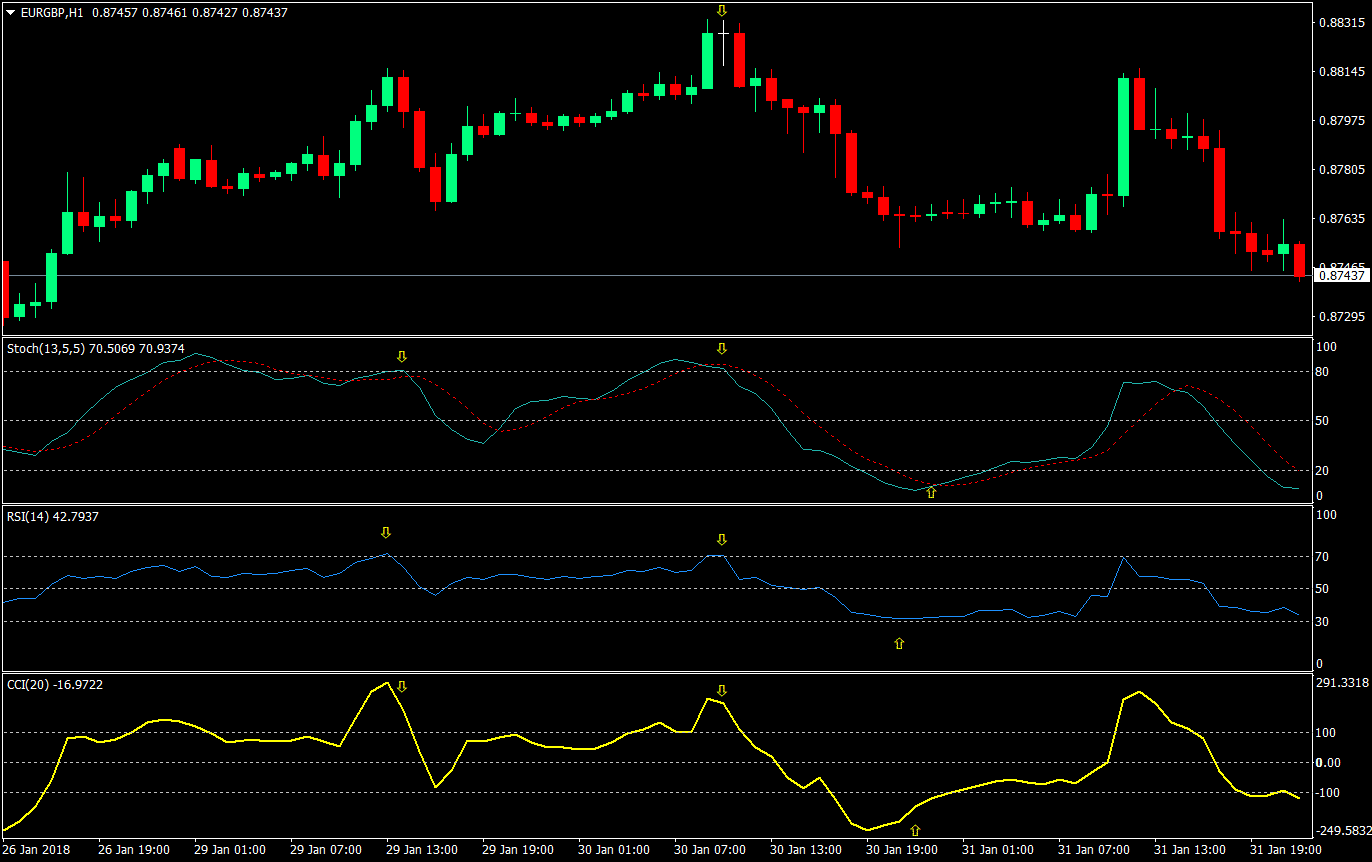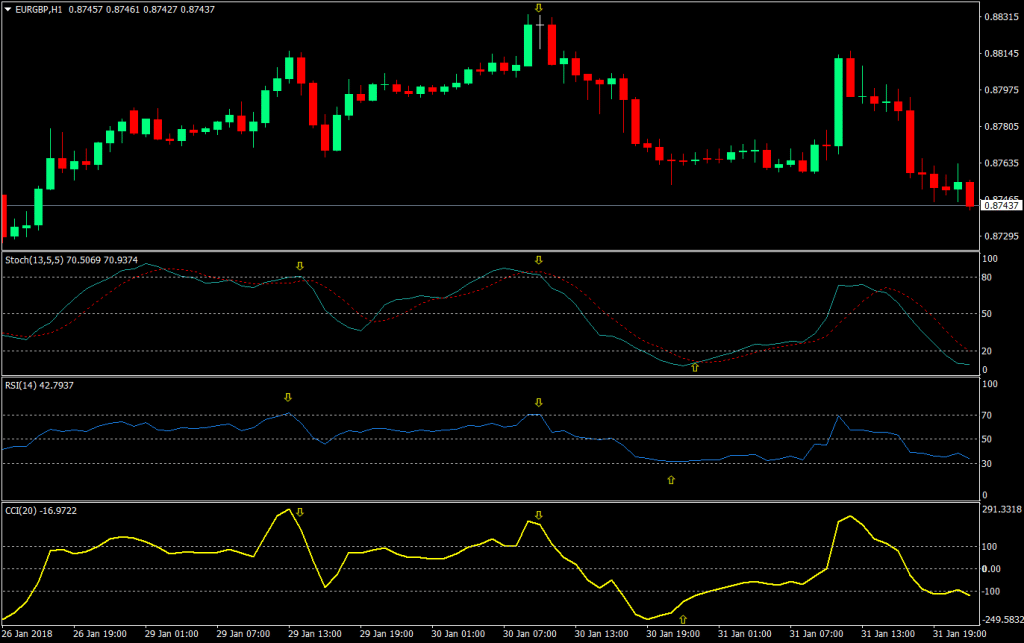 There are Stoch, RSI, CCI indicators on the chart.







The developers use Fibonacci Retracement Levels, Support and Resistance levels, Bollinger Bands, and Moving Averages to spot trading opportunities.
The signals have the next features:


The premium signals have a 3-5 signal frequency daily.
These signals are generated for Forex, Indices, Commodities, and Crypto.
We have access to the Premium Telegram channel.
The win-rate is up to 82%.
We can expect 30-40% of the monthly gain.


There are free signals for every one delivered via the Telegram channel.
We can expect to get several up to three signals weekly.
We don't need to pay or provide our payment data.
We can test these signals wherever we want on a demo or real account.
The signals are generated only for Forex pairs (major, minor, and exotic).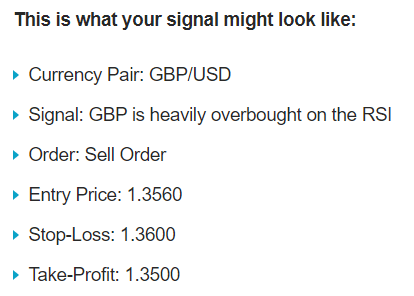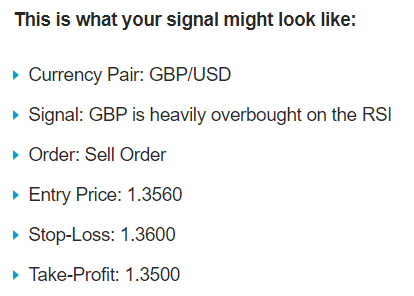 The signals format is standard: currency pair, trigger, direction, Entry Price, Take Profit, Stop Loss.
We have real-time notifications of what's up with the signals.
Daily technical analysis reports are posted on the channel.


There are many analysis articles on the site for free.
The system generates email and smartphone alerts.
Price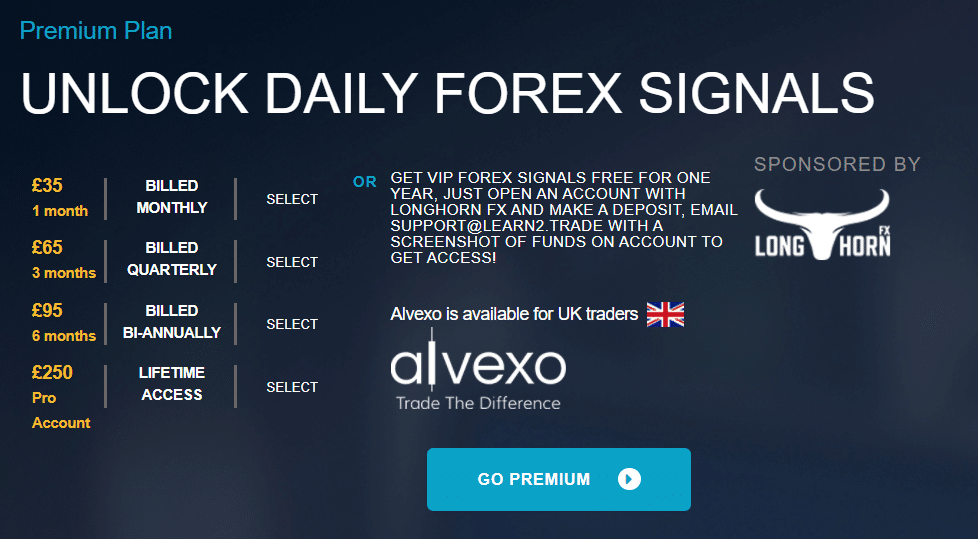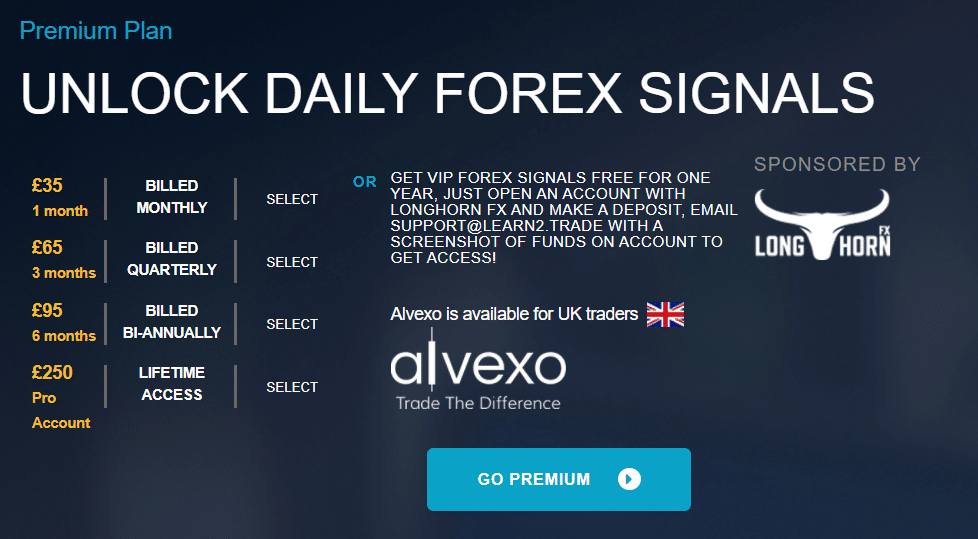 The subscription prices start from 35 GBP monthly. The three-month subscription costs 65 GBP. 95 GBP costs half a year subscription. For 250 GBP, we can buy lifetime access. It's not big pricing. It's quite common to see these prices for signals.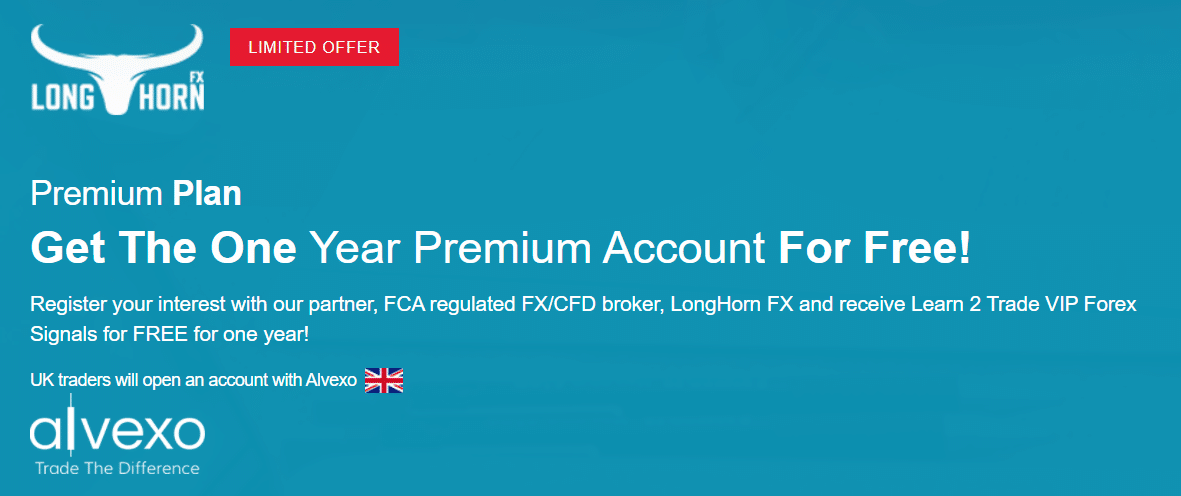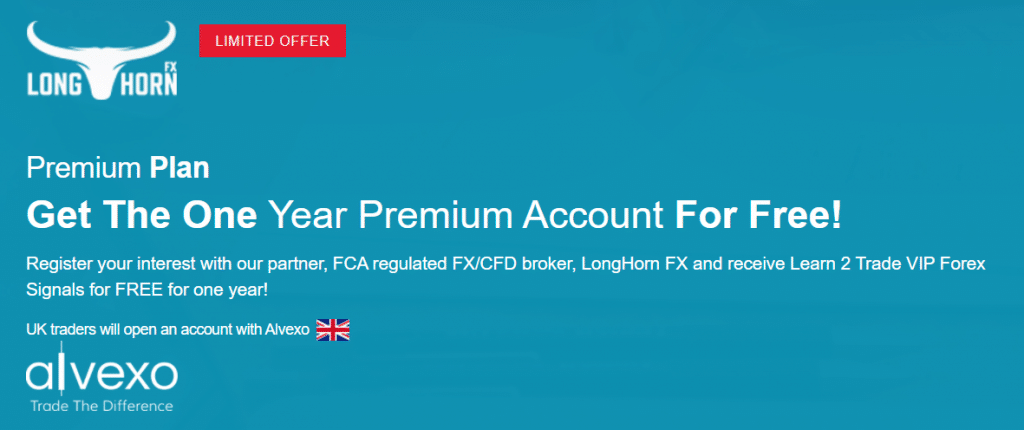 We're allowed to get the premium signals for free for one year. We have to register and fund an account on the LongHorn broker. The developers didn't mention how big the deposit should be. For UK clients, they have an Alvexo broker.
Trading Results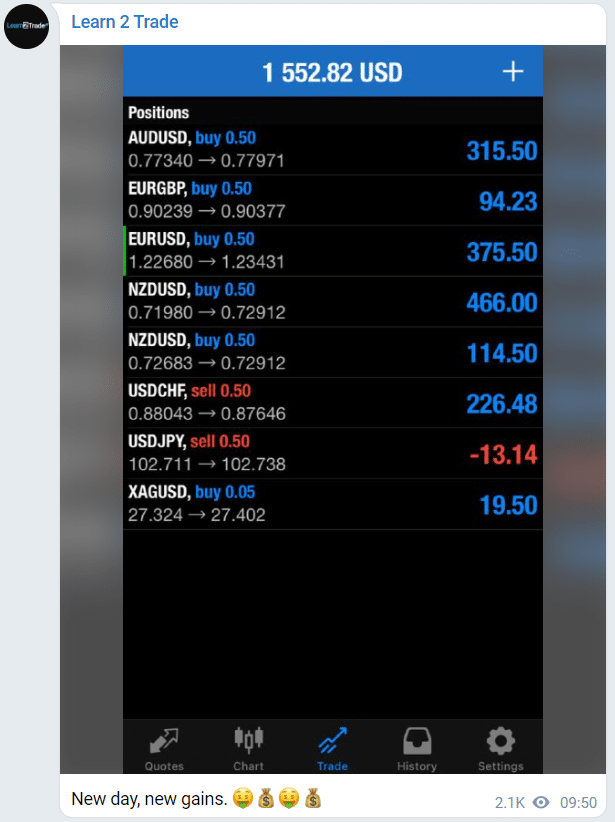 From the telegram channel, we find this type of trading results. Of course, they're not verified.

This is the second version of how they shared trading results. It's a huge con that the developers didn't disclose an account where they generate signals from. It would help us to understand what we can expect from the signals.
People feedback


The site has some positive feedback from many customers.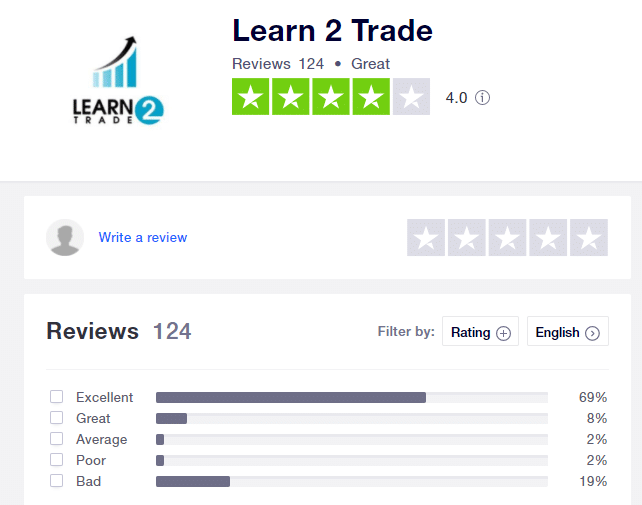 Learn2Trade has a 4-star rate based on 124 reviews on Trustpilot.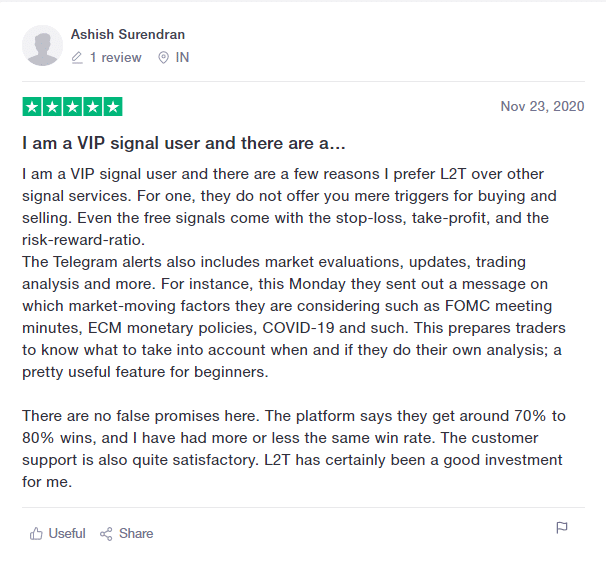 There's the positive feedback of the signals usage experience.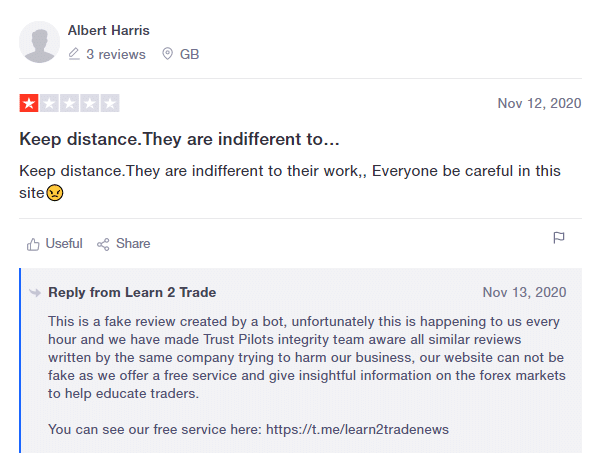 This is a negative testimonial without any explanation of why we have to stay aside.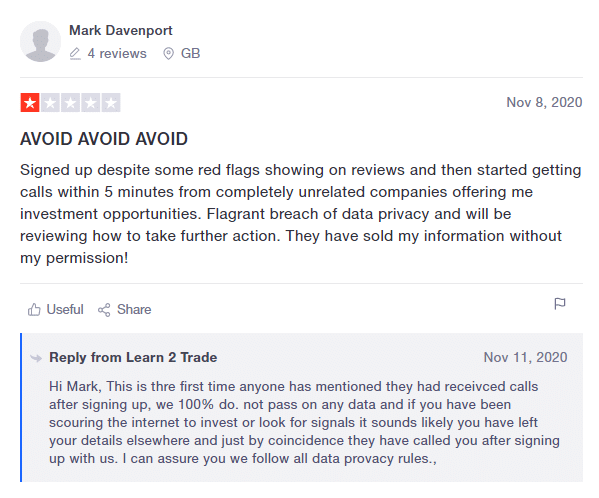 Some users experienced selling their data by Learn2Trade to third-party companies.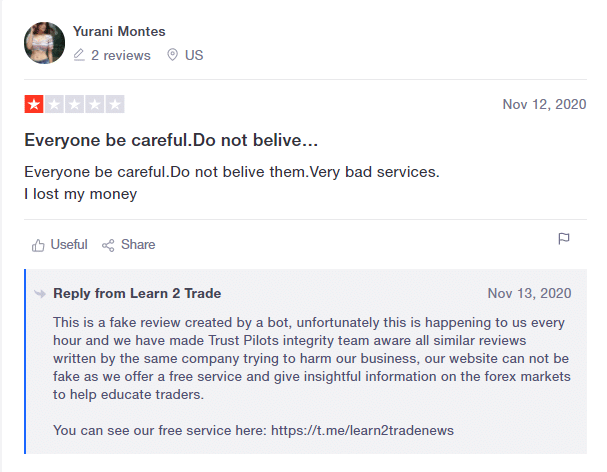 There are many negative reviews that people lost their funds trading these signals.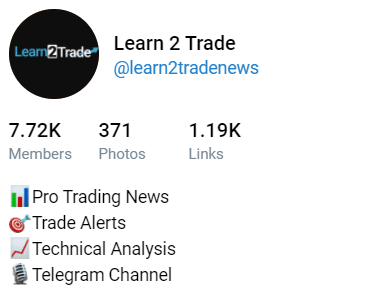 They run The Telegram channel with 7720 members. The channel has pro trading news, trade alerts, technical analysis, and free signals.
Summing Up
Strategy – score (0/10)
Functionality & Features  – score (3/10)
Trading Results – score (0/10)
Reliability – score (5/10)
Pricing – score (8/10)
Conclusion
Learn2Trade is one sided service. The site looks professional, but the presentation doesn't. The developers don't provide backtest reports of the EA or EAs they run to generate signals. The same we have for trading results. We know absolutely nothing about currency pairs, trading strategies, an average trade length, an average win and loss, and so on. Several free signals weekly don't help at all in understanding whether this service fits us or not.