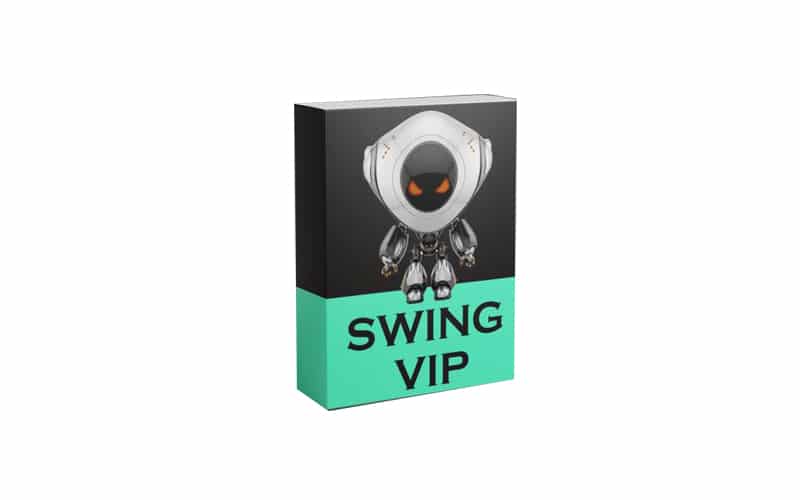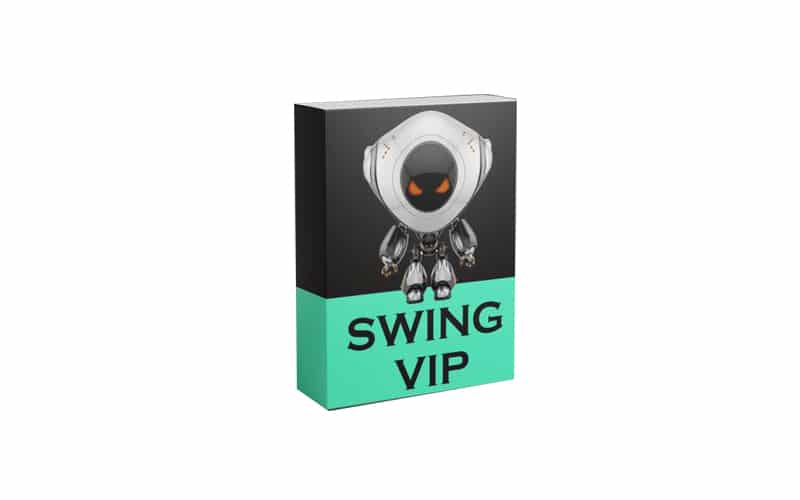 We'd like to talk about the Swing VIP robot in our review. It's one of Sinry Advice's EAs. From the presentation, we know that it's the first Forex EA that's based on Price Action. We're sure it's so far from being true. There is much other software based on the Price Action strategy.
Is Investing in Swing VIP a Good Decision?
We don't think so. The robot is half a year young. There's not enough data to be sure it handles all market conditions and can be profitable for the next half a year.
Company Profile


The company has a "most-downloaded" software in 2020 with 1829 of the total downloads.


As we can see, Scenery Advice is an award-winning company.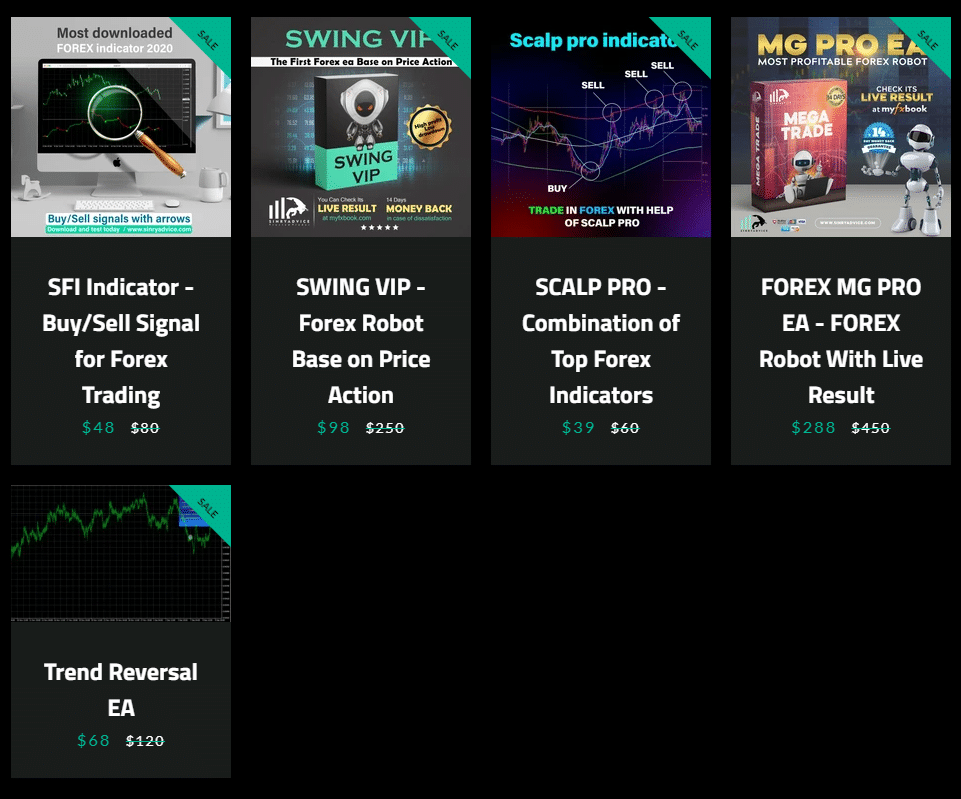 They have five products in the portfolio in total. All of them are introduced with big discounts.
Main Features
Let's talk about Swing VIP's features starting from the strategy:
The EA works based on data from indicators: Price Action, Trend, CCI, PPO, RSI, Moving Average Strange.
The developers mentioned that there's no martingale strategy in the system.
It uses a Hedge strategy to open several trades for each signal.
The EA works with EUR/USD, NZD/CAD, USD/CAD, AUD/CAD, and CAD/CHF.
The system works only on the M5 time frame.


We can expect to have a 76% win-rate.
The EA works automatically.
We can set the robot on the MetaTrader 4 platform.
The average monthly gain is up to 30%.


We have checked the win-rate. It's 66%, not 76%, as it was told.
We can't be sure that 560 copies were sold.
The statements about more profits and lower pricing are weird too.
The robot trades with low and short-term drawdowns.
The default settings are well-optimized, so there'll be no need to change something.
It opens and closes orders automatically.
Everything we have to do is attach the EA to proper charts. That's it.
After purchasing, we have to mail them our real account number to get approval to start trading.
The system requires a VPS service to run smoothly and well.
It requires much margin. We need $500 for each 0.01 Lot.


A bit lower, we see other requirements for a stable performance.
We have to try the EA on the demo account first before applying in on the real account.
Price


The company sells Swing VIP with a huge discount. The original price was $250, and it was okay. Now, we can buy it for $98. The pack is featured by one demo and one real license. The devs provide a 14-day money-back guarantee if the EA is not profitable. Fourteen days is a short period to be sure that the EA performs exactly how we want. Many companies provide a 30 or even 60 days money-back guarantee. The vendor suggests we pay via PayPal that doesn't support a money-back guarantee on digital products.
Trading Results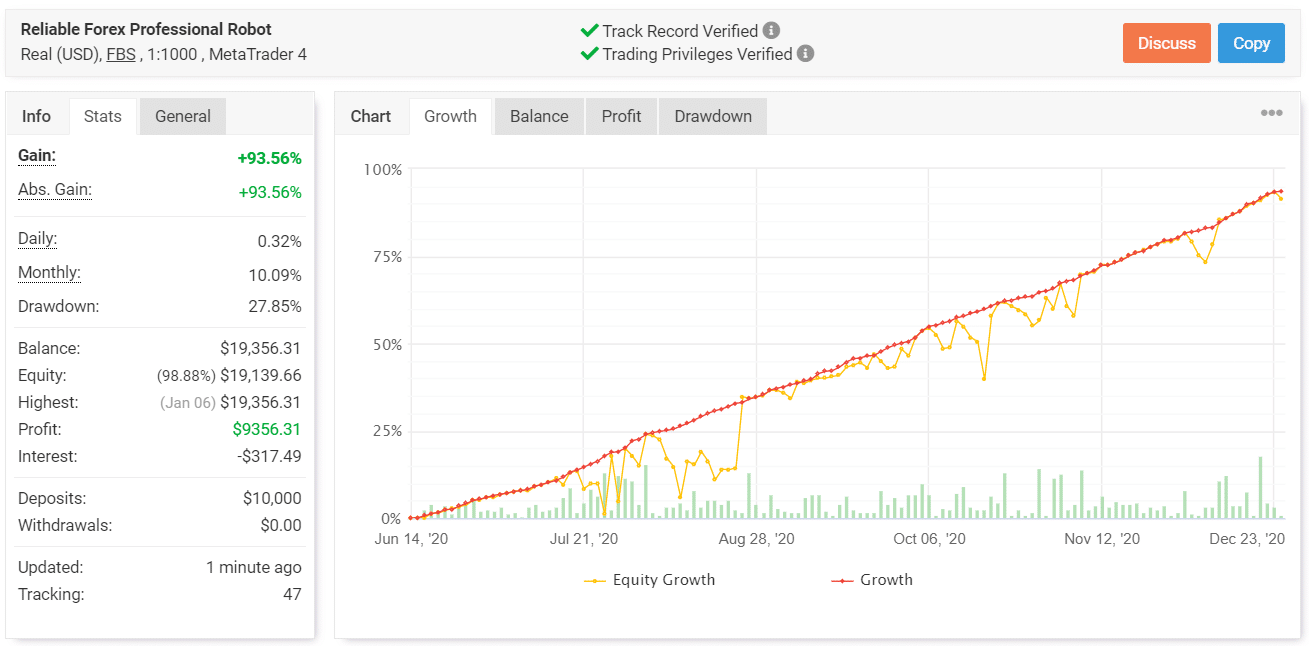 We've got a real USD account on FBS. The robot works with 1:100 leverage on the MetaTrader 4 platform. The account has a verified track record. It was created on June 14, 2020, and funded at $10000. Since then, the absolute gain has become +93.56%. An average monthly gain is 10.09%. The maximum drawdown is 27.85%.

Swing VIP closed 718 deals with 7246 pips. An average win is 26.25 pips when an average loss is -22.10 pips. The win-rate is 66% for both Longs and Shorts directions. An average trade length is one day. The Profit Factor is 2.25.

There are five currency pairs: AUD/CAD, CAD/CHF, EUR/USD, NZD/CAD, and USD/CAD. The most profitable symbol is EUR/USD $2316. The most traded pair is USD/CAD.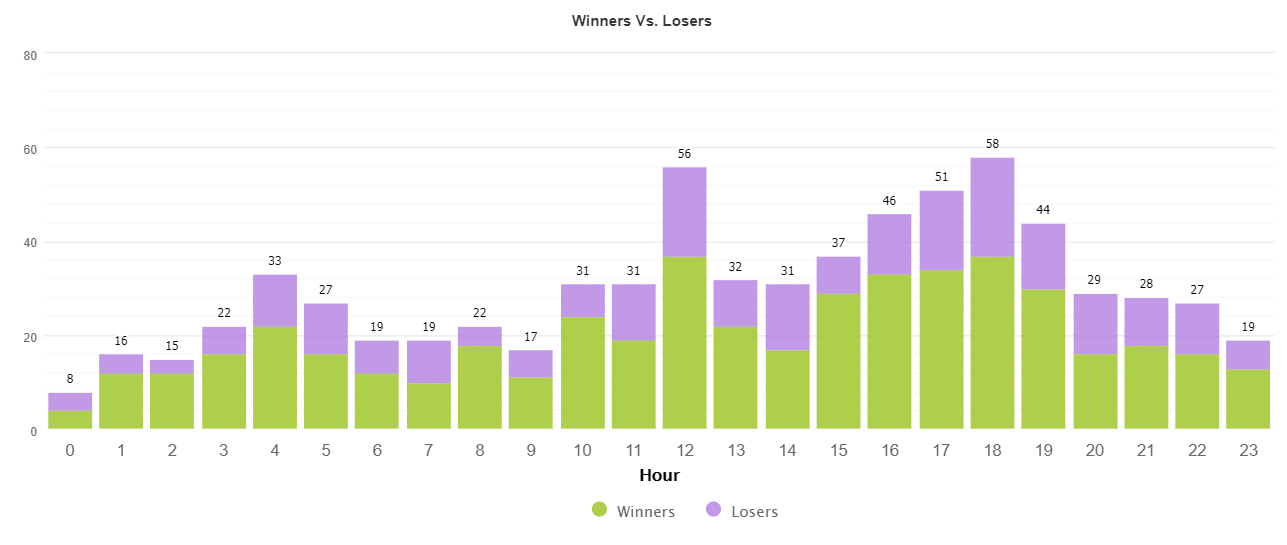 The EA focuses on trading the ending of the European at the beginning of the American sessions.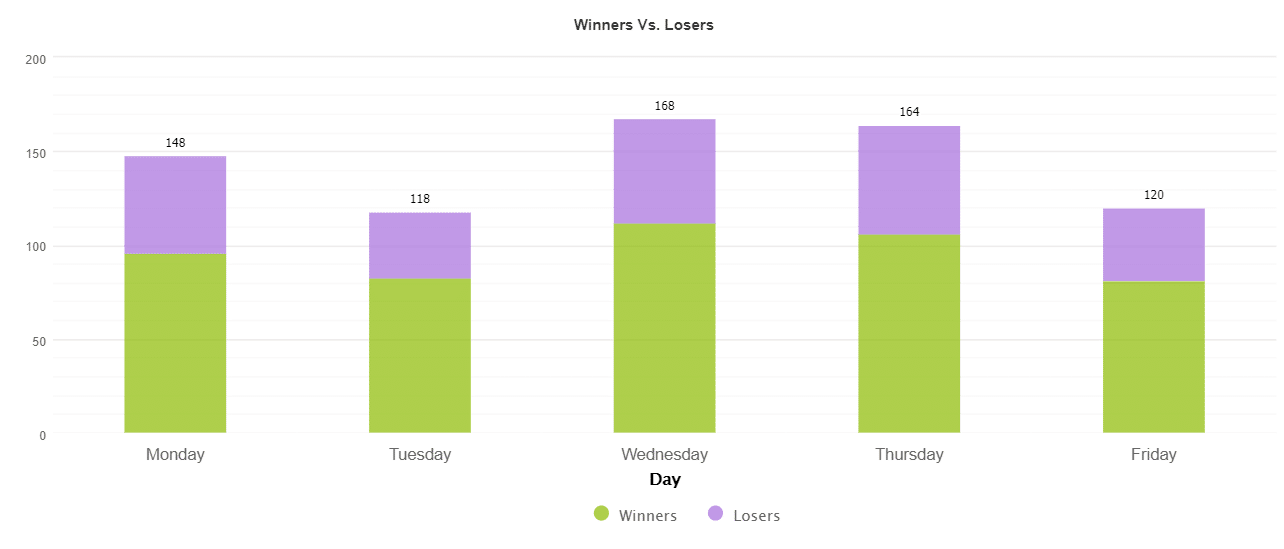 The less traded days are Tuesday (118) and Friday (120 deals).

Swing VIP works with a low risk to the account balance.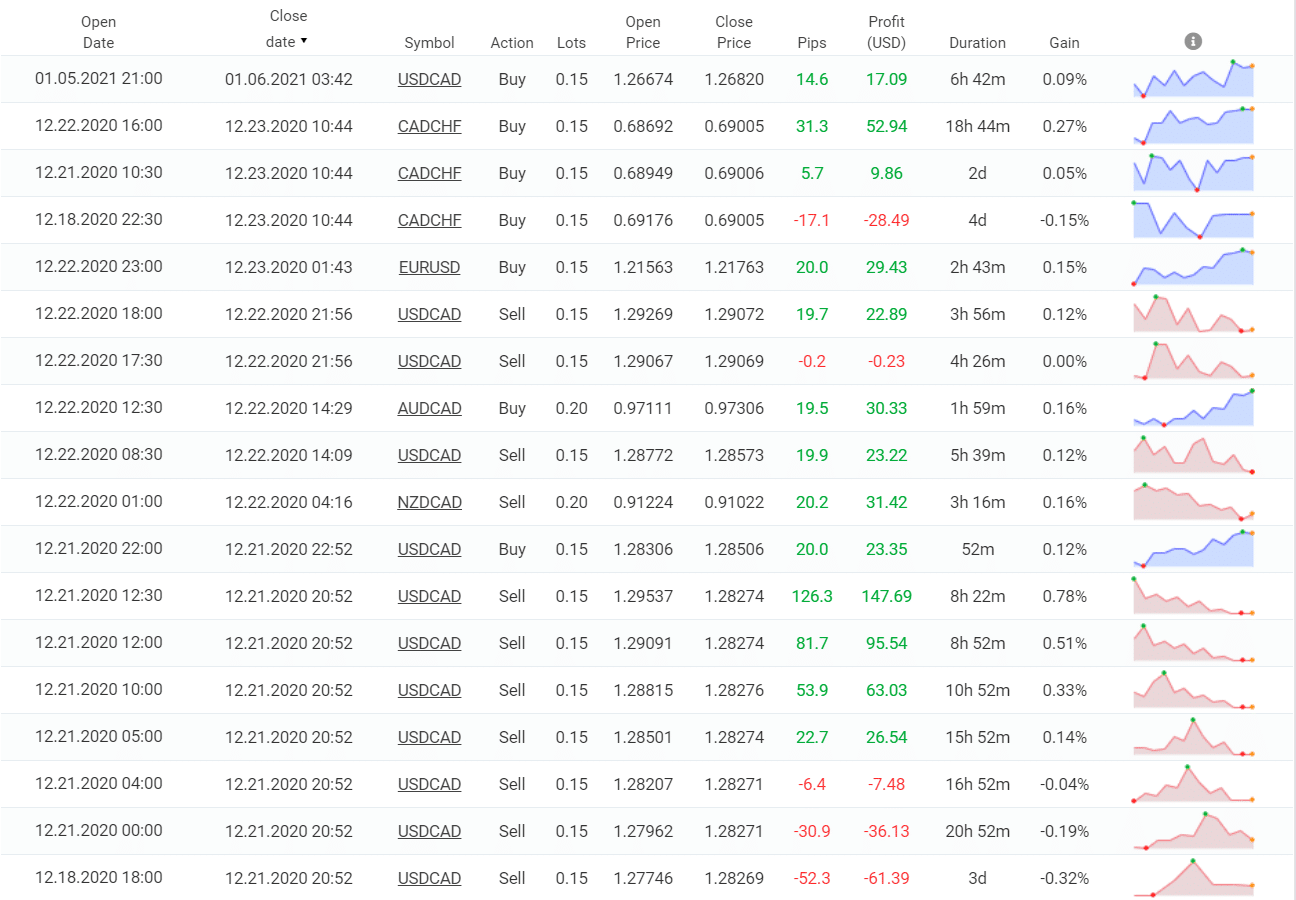 The EA uses a Grid of eight orders with increasing Lot Sizes sometimes.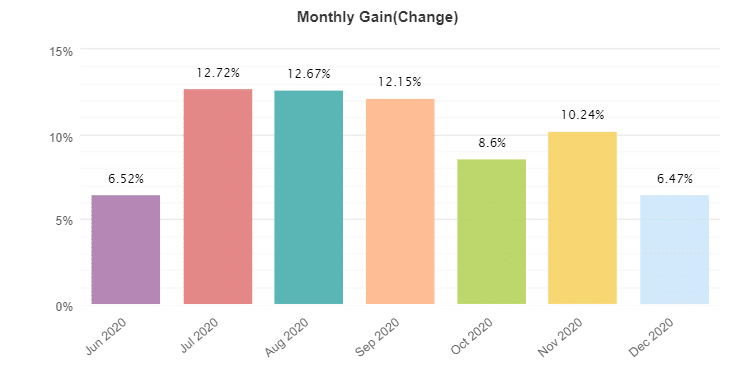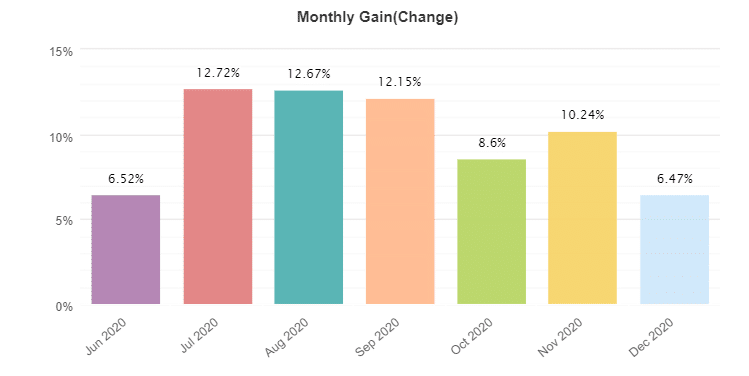 All months in 2020 were closed with good profits.
People feedback

There's a 4.9-star rate from 5 possible. Of course, all 64 comments are positive, but how did they get 98% of recommendation?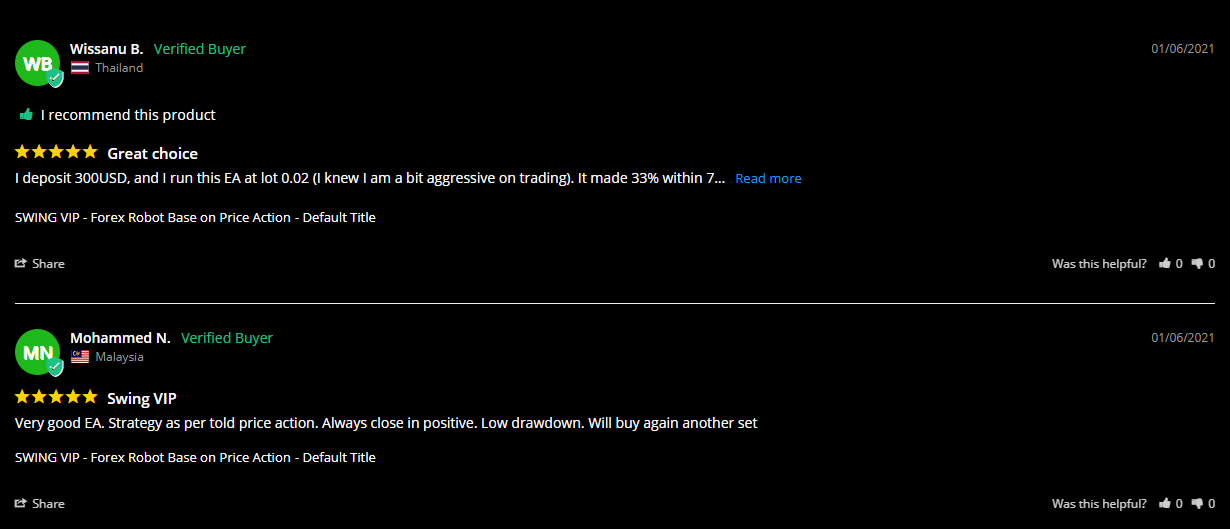 As we can see, people wrote positive comments. We couldn't find comments on Forex Peace Army and Trustpilot.
Summing Up
Strategy – score (7/10)
Functionality & Features  – score (5/10)
Trading Results – score (8/10)
Reliability – score (6/10)
Pricing – score (10/10)
Conclusion
Swing VIP is a grid, gedge, and conservative martingale robot that works for the rest of half a year. Trading results showed that profits were obtained trading with big drawdown periods. The vendor provides only a 14-day refund policy. It won't be enough to check the robot's performance. Having checked support, we've noticed that they didn't have professional representatives who know English well and can explain everything about the robot's features.