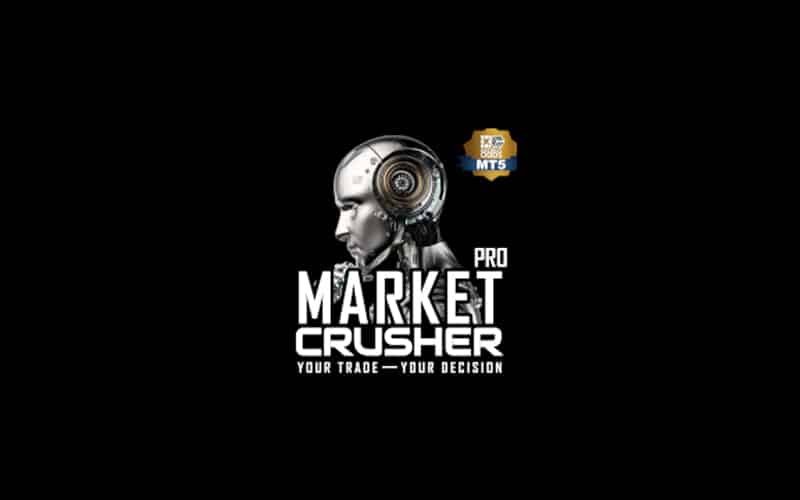 Market Crusher Pro combines four expert advisors into one and trades using many strategies. It is able to evaluate up to twenty-eight symbols to establish which symbols are strong in the trend. So, you will know which pair is moving frequently, helping you to make a trading decision in the process. For now, the EA is designed to trade Indices, Forex, crypto- currencies or commodities such as silver or gold.
Is investing in Market Crusher Pro a good decision?
This EA might be good for you if you love trading with multiple symbols and trading strategies and don't mind earning small profits. You also need to note that the vendor has not provided us with the system's backtest results or verified live trading stats. So, you need to be careful if you intend to use the product.
Company profile
The Market Crusher Pro is a product of a company called Destroy the Odds. The main face behind the company is Scott Fredeman, a developer of Forex Advisors who is based in the United States. Scott says he has a passion for creating the best trading systems that will help traders profit yearly. So far, his other creations on MQL5 include The Gratified Long-Term Day Trader, Midnight Blitz, Blazing Night Scalper, Trend Crusher, EA Monster, etc.
Main features
The main features of this EA are listed below:
Includes a stop loss and a take profit
Supports the MT5 account only
Vantage, Tickmill, IC Markets, Pepperstone, and Fusion Markets are the recommended settings
Trades on whichever instruments are found in the symbol field separated by a comma
Allows you to switch the trading to reversal trading whenever you want
Works with 28 different trading symbols
Can trade specific hours or days adjusted in the time settings
Provides you with the option of trading with grids
Permits you to limit the number of symbols that can be opened concurrently and also restrict the number of trades per symbol you can open
If you adjust the timeframe, the robot will automatically modify its assessment processes to fit into that new timeframe for all instruments
Offers all kinds of training videos
Includes ADX filters, Bollinger Bands filters, and a bull/bear filter
The Market Crusher Pro works with multiple strategies. These include night scalping with a stop loss, reverse trading, trade correlation gaps between two symbols, auto hands-free trading, day scalping, trading the strongest trending symbol, day trading, and semi-auto trading. Several indicators are also included to make your trading more efficient.
Price
To get a lifetime license for this robot, you need to pay $399. We also have a quarterly plan that goes for $149 and a yearly plan that has a price tag of $299.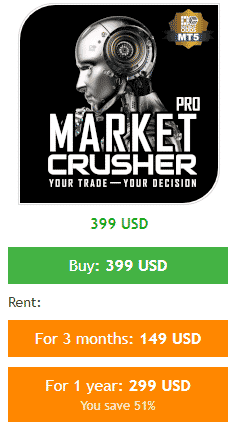 Trading results
We cannot conduct a backtest analysis because the vendor has not displayed this data. Consequently, it is impossible for us to know the performance of trading parameters, such as the trading frequency, win rates, recovery factor, profit factor, average profits, losses, etc.
Live trading results are presented, but we need to caution you that a third-party like Myfxbook or FXBlue has not been engaged to verify the validity of the stats. Even then, let's just look at what they say below: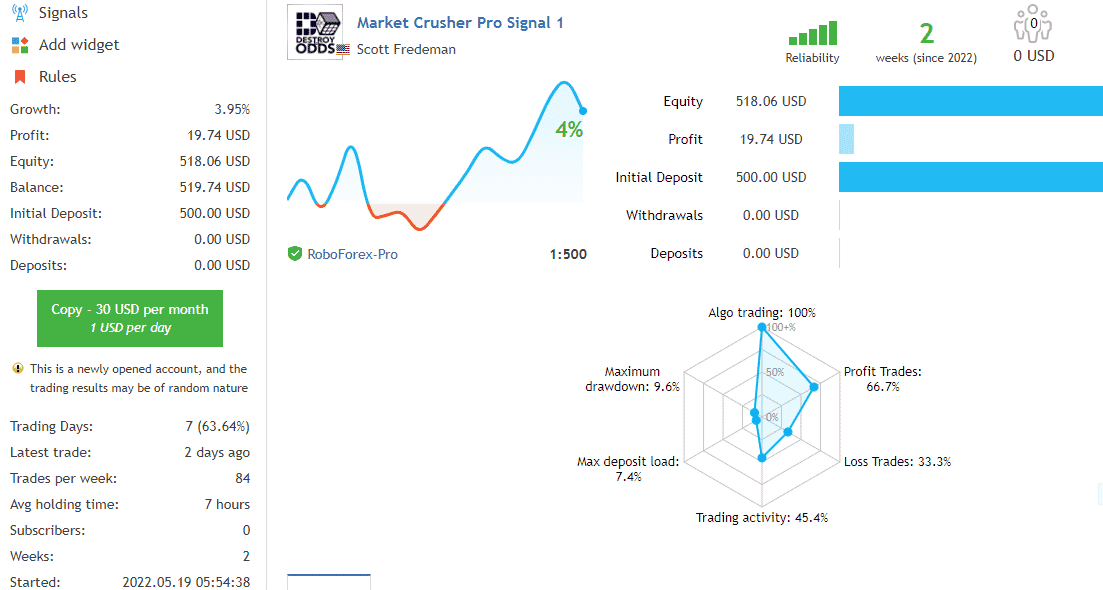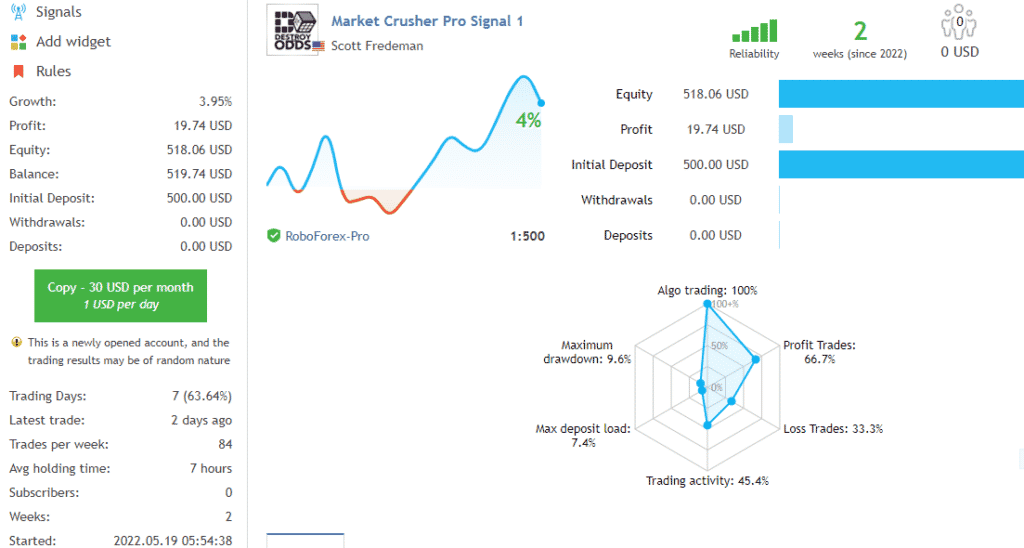 The EA has been trading on this account for a few days, and so far, it has made a profit of $19.74 from 87 trades. This is unimpressive as it means that gains made from successful trades are quite small. For now, we have a growth rate of 3.95% and a balance of $519.74. The drawdown value is small at 9.6%, indicating that the system implements safe trading.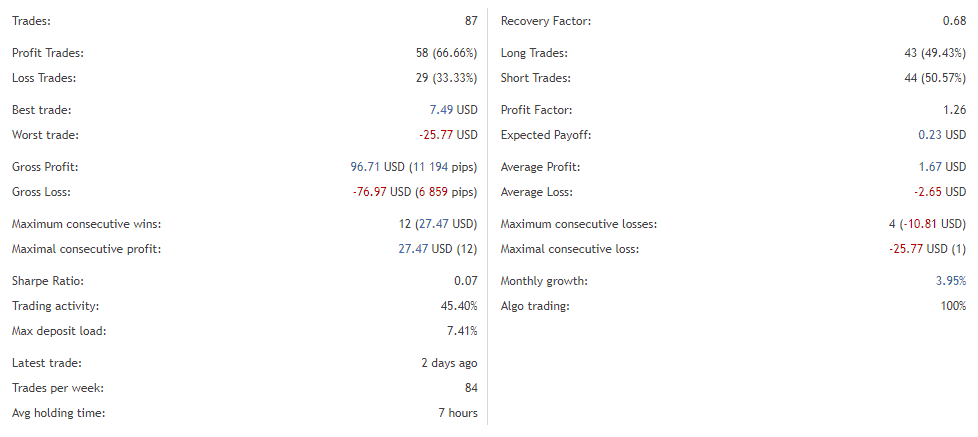 The system has a 66.66% profitability rate and a 33.33% loss rate. To date, the best trade has made a profit of $7.49. The loss made by the worst trade is much higher at -$25.77. This has, subsequently, reduced the user's earnings significantly. The profit factor, which is 1.26, also highlights the low profitability rate of the robot.
Customer reviews
All the five customers that have commented on this EA have given it a 5-star rating, some stating that it has good trading strategies and great functions to assess trends. Also, a trader is happy with the system's ability to trade indices, gold, Forex pairs, and bitcoin.

The Review
The Market Crusher Pro is overpriced, and based on the available live results, it generates small profits. As a result, you may have difficulty recovering the cost of the investment. Be that as it may, the system supports 20+ symbols, which helps to expand your income potential and diversify your risks.