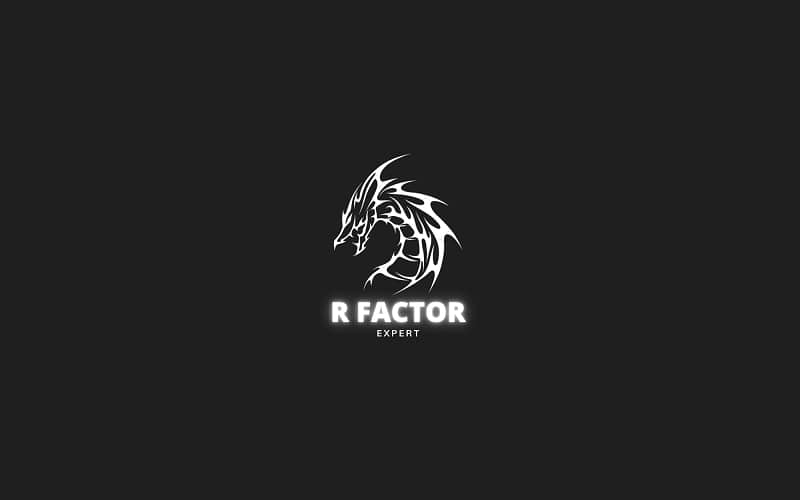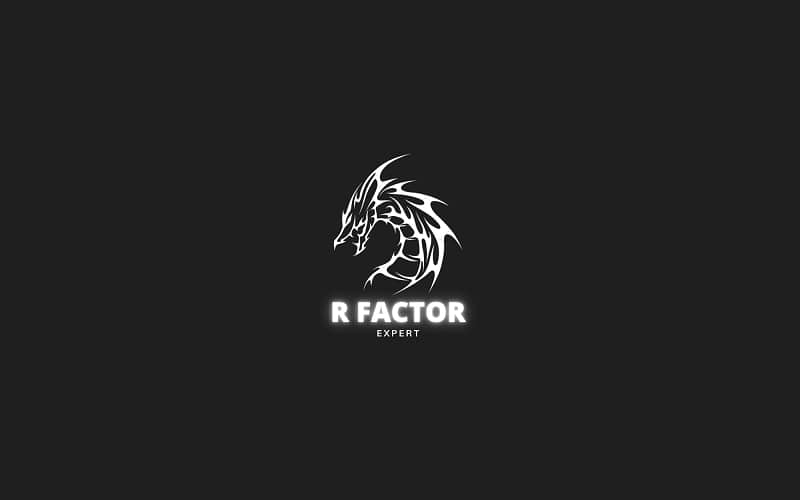 R Factor EA is a Forex robot with a 'proprietary dynamic portfolio management system'. The developer of this trading software, Raphael Minato, claims that he has developed an effective automated trading system with a strong strategy for markets in times of congestion. The robot includes a dynamic portfolio balancing algorithm to "add more weight to the winning pairs" and "lessen the impact of losses by losing trades in the period'.


Today in this R Factor EA review our experts will analyze a new EA, launched on January 9, 2021. We are going to discuss its trading strategy, drawdowns, price, vendor transparency, backtest report, risk factors, profitability, and more for letting you know whether it is a good choice for you.
Is R Factor EA a Good EA to Invest?
Not now. Although the robot is too young to be judged, we do not think it is a good option to invest money now. The robot trades with high drawdowns and has an extremely high price. For $499, there should be at least a money-back guarantee, but this is not represented by the vendor.
Company Profile
On the MQL5 forum, we are told that the developer of R Factor EA is Raphael Minato, located in Brazil. Raphael has a high 3449 rating on MQL5. He says that he's been working on the stock market, futures, and options for 16 years. Raphael convinces us that he has over 6 years of trading experience in the Forex market. He says that he developed this R Factor expert advisor during the last 4 years and convinces us that this robot will meet our expectations.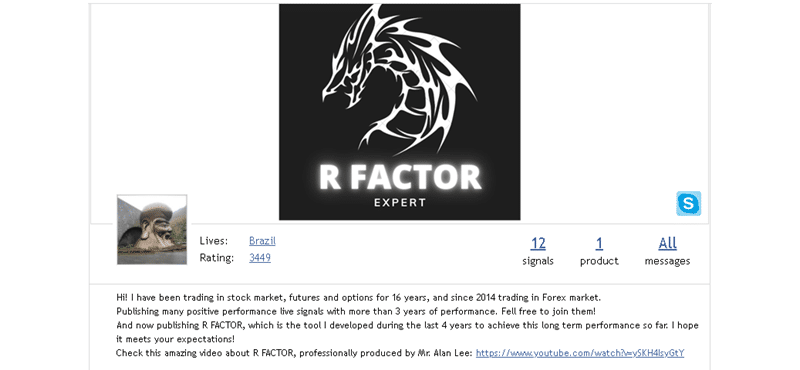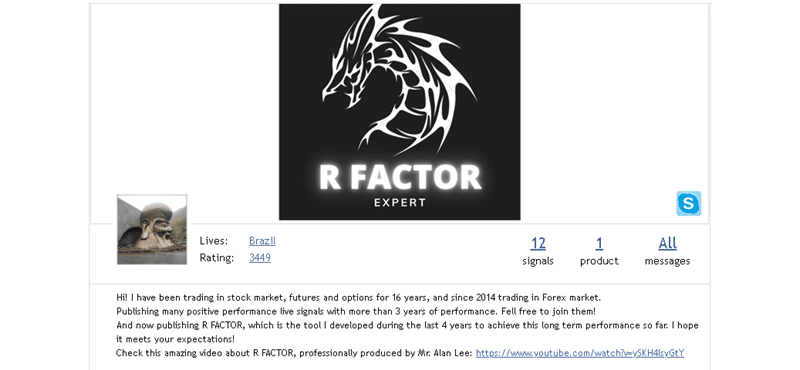 Main Features
Well, let's talk about the main features of this newly launched robot:
It's 100% automated EA
The last version of the R Factor robot is V.1.5, released on January 30, 2021
It was designed by Raphael Minato on January 9, 2021
It works on the MT4 platform
The developer points out that there were 4 years of development and almost 3 years of real positive results
The system applies Defined Stop Loss (SL) and Dynamic Take Profit (TP) on all trades
There is only one trade per pair at a time
The robot does not use any risky strategies like Averaging or Martingale
It is equipped with dynamically portfolio balance proprietary algorithm


There is an 'intelligent trade exit system'


The dev recommends trading on the ECN accounts with low spreads
Recommended broker is the IC Markets broker
Minimal capital for 1 pair is $30
Minimal deposit for a complete portfolio – 12 currency pairs is $100
There is a Telegram group for R Factor traders
Price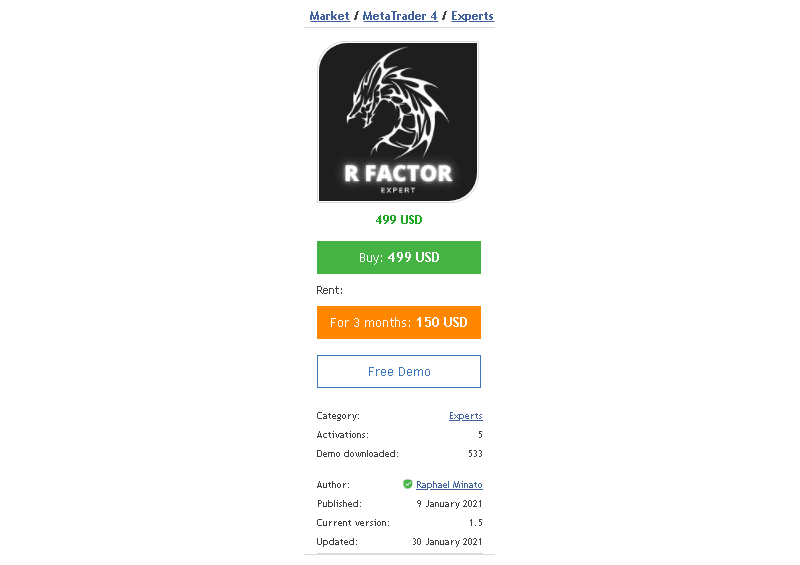 The R Factor's cost is $499 for a copy. In addition to this, the robot is available for rent and costs 150 dollars/3 months. Traders are also provided with a Free Demo account. Thus, they can test the EA on Demo before they move to the Real trading account. The dev also points out that the first 10 clients who buy their R Factor EA will be able to allocate their account on R Factor's private VPS.


Paying $500 for a recently released EA looks too much. Moreover, the vendor does not provide a money-back guarantee which is bad as in case you find the EA unprofitable you won't be able to ask for a refund.
Trading Results
We are provided with backtesting results of the R Factor robot. However, the vendor represents their backtests in a quite unusual way – through YouTube Video produced by Mr. Alan Lee.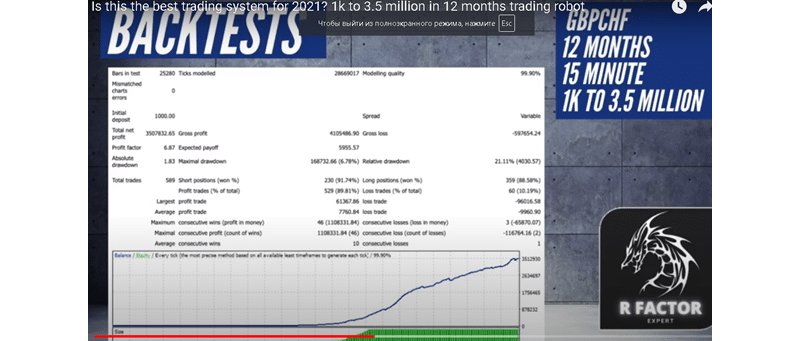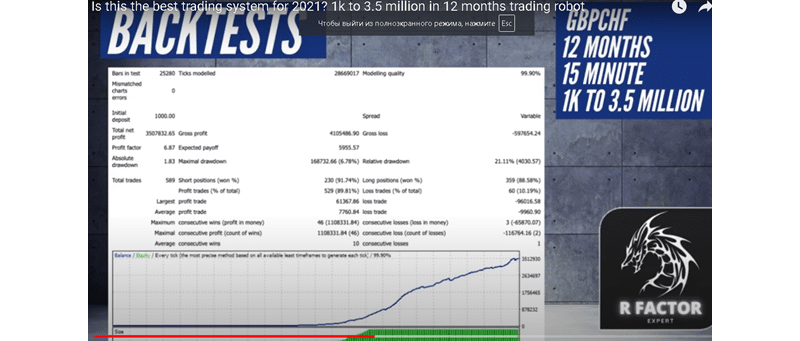 The robot had been trading GBPCHF for 12 months. It worked on the M15 timeframe with 99, 90% modeling quality. It was deposited at $1000. For 1 year of trading, it has earned $3507832, 65. Its win rate for short positions was 91, 94% and for long positions, it was 88, 58%. It traded 589 trades and won 529 out of them. Its average win ($61367, 86) was higher than the average loss (-$9960, 90). The maximal drawdown was low – 6, 78%. Its profit factor was extremely high – 6, 87. However, as the vendor says 'past performance does not guarantee a good future result', thus, we are going to analyze the current efficacy of this trading system to see how profitable it is today.
On Raphael's profile, we've found screenshots of live trading results verified by myfxbook. Having made short research, we've found this account on myfxbook.com.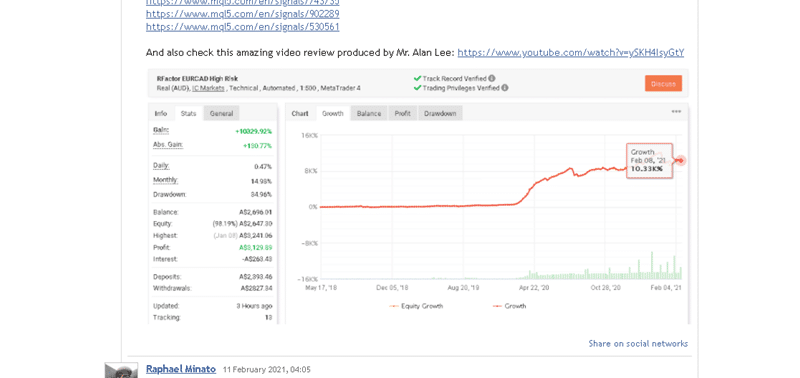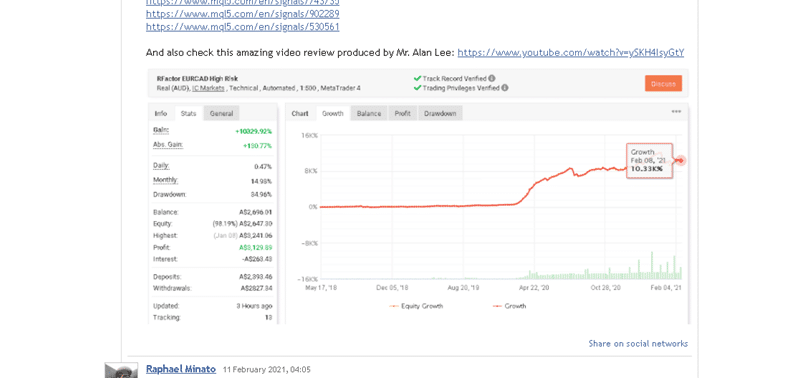 The robot trades on a Real AUD account on ICMarkets brokerage. It is run on the MT4 platform and trades with 1:500 leverage. The account was launched on May 17, 2018. Oddly, but you may see that for some reason the developer decided to hide its trading activity data (compare screenshots). Therefore, we cannot analyze either its balance or profit charts. What does he hide? For what is it done? It seems that there are some manipulations traders should not see.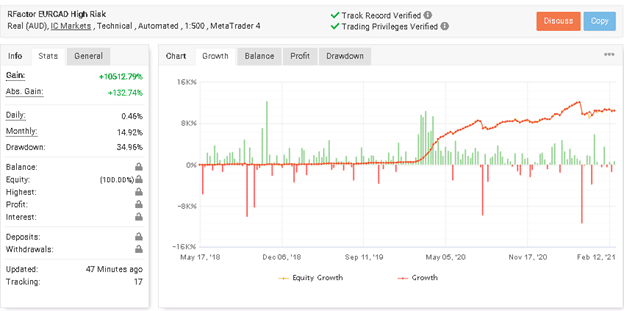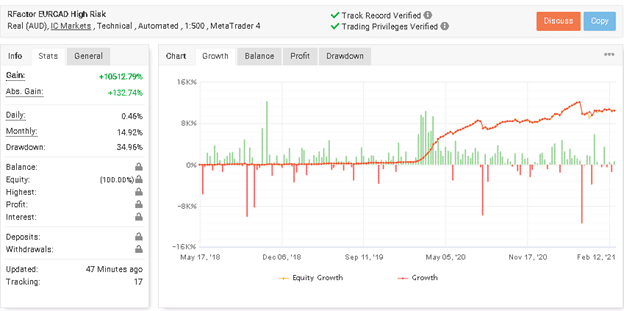 For over 2 years of trading, the robot's gain has grown to +10512. 79%. An average monthly gain is +14.92% while an average daily gain is 0,46%. The drawdown is 34.96%. The system trades with incredibly high drawdowns:


This week the robot lost 2, 20 pips which led to losing -1,77% of the account balance.


The robot traded 195 trades (won 139 out of them) and 656,6 pips. Its average win (6, 96 pips) is a little bit higher than the average loss (-5, 55 pips). Its win rate for Longs is 66% (352, 7 pips) and 76% for Shorts (656, 6 pips).


The average trade length is 1 hour and 37 minutes. Its profit factor is high – 2, 26.


R Factor EA is a night scalper that trades from 11 p.m. to 1 a.m. It trades daily, from Monday to Friday. The most-traded, as well as the most profitable day for trading, is Tuesday – 63 trades (46 winning trades) closed, the less traded day is Monday – 13 trades.




The robot trades with high risks to the account balance. If it loses 61 trades, there will be a chance of losing 100% of the account balance.


Customer reviews
There are 4 customer reviews written on the MQL5 market. However, we are not sure they are trustworthy. The robot trades with extremely high drawdowns, but the trader mentioned low drawdowns.


Customers say that the author, Raphael Minato, is very professional, kind, and attentive. They add he is 'extremely helpful' and 'gives detailed explanations'. Anyway, it is easy to check.
Summary
Until now, we do not think it is a good EA to invest in. The robot trades with insanely high trading risks and it is hard to say how good it will be if we decide to trade with common risks. The $499 price is too high for a robot, which was launched 1 month ago. Lack of a money-back guarantee is another drawback of this MT4 system.