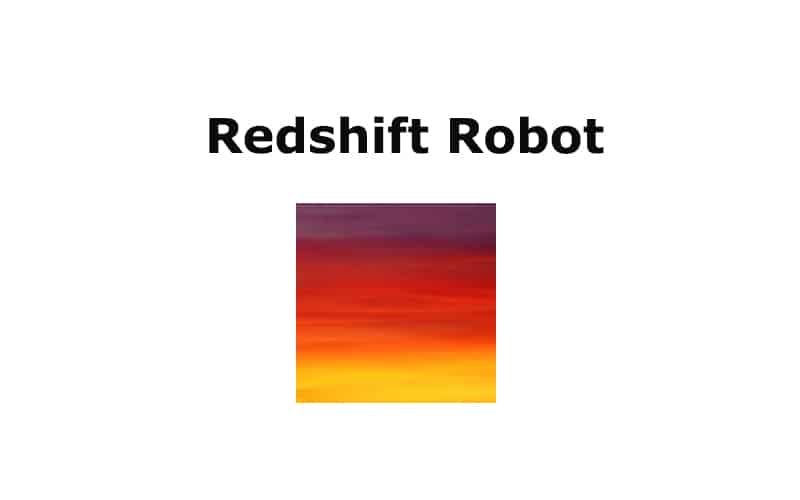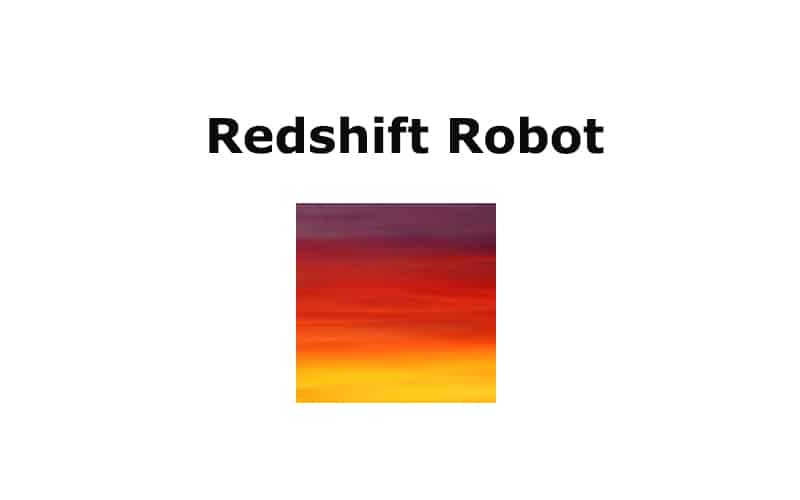 Redshift EA is a 100% automated trading system designed for intraday trading that promises 'a very high-rate of winning trades' for its traders. On the MQL5 page where this product is offered, we are told that Redshift was backtested on EURUSD, GBPUSD, USDCAD, AUDUSD, and USDJPY currency pairs and showed 'exceptional results'. Nevertheless, we cannot trust the vendor's words blindly. Therefore, we've prepared a detailed Redshift robot review to analyze this EA and decide whether it is a good choice for traders.
Is Redshift a Good EA to Invest?
We need more time to monitor the trading performance of this EA. Until now, we would not recommend you invest in Redshift EA. Keep on reading our review to get more details.
Company Profile
Redshift EA does not have an official website. The product is sold on MQL5 that is where we can find some sort of information about Redshift EA and its developer. From the MQl5 page, we know that the robot was released on December 31, 2020, and its recent update was on February 19, 2021. It was developed by Marco Solito, who is based in Italy. Marco has a high 45001 rating that is high compared to ratings of the other developers offering their products on the MQL5 market. Marco also developed Blueshift and Dark Venus Systems in the past.
On Marco's profile, we see the vendor's recommendations on how to use his EAs and very little to no information about himself. The one thing we know is that he is from Italy. We know nothing about his trading experience or history in the Forex marketplace.

Main Features
Although Redshift EA does not have its official website, we could gather some information about the robot from the MQL5 page:
It is a fully automated expert advisor that works for us
It was designed for Intraday trading
The robot is based on MACD Indicator
The dev claims this EA can provide a very high win rate
Its current version is 1,80
The robot was tested on 5 currency pairs: URUSD, GBPUSD, USDCAD, AUDUSD, and USDJPY on M15 timeframe and showed great trading results
It can run on the MT4 or MT5 platform
Backtests were performed with 99,90% modeling quality, the actual spread, and additional slippage
The vendor claims the robot does not use Martingale or Grid
Traders can change the EMA periods for the MACD indicator from fast to slow and from slow to fast

Recommended timeframe is M15
Leverage of 1:10 or more is recommended, along with a minimum deposit of $100
It is not a broker-sensitive EA, but the developer recommends using the ECN broker and a low-latency VPN
Price
This EA can be purchased on MQL5 only. Its cost is $399 for a digital copy. The dev warns us that only 1 copy for this price is left. The next 10 copies will be sold for $599. The system is also available for rent and costs $348. Interested in the software traders can try the robot on the free Demo account.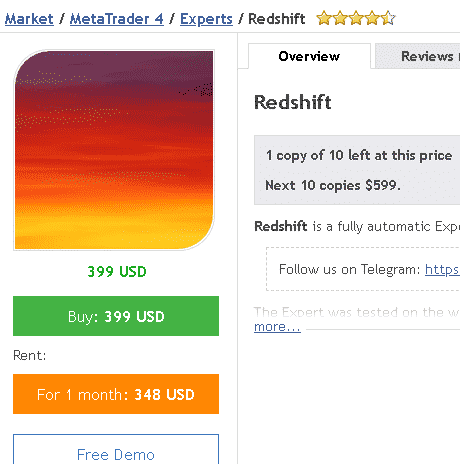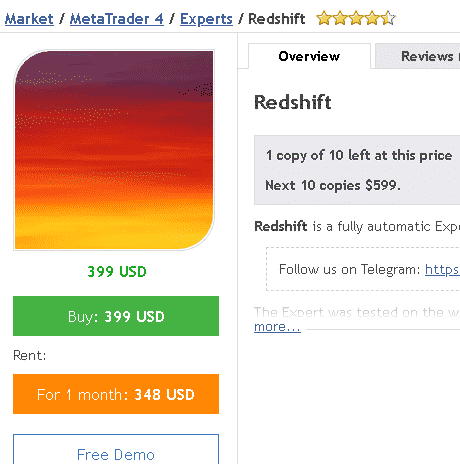 Trading Results
Here we have a backtesting report generated for the AUDUSD currency pair. It was started in 2003 and ended in 2021. The robot traded on M15 timeframe with a 99, 90% modeling quality and variable spreads. It was deposited at $100. For 8 years of trading, it has brought over $681K of profit. Redshift has won 94.08% of short positions and 93,61% of long positions, with the percentage of profitable trades being 93.84%. Its profit factor was high – 25, 38. The absolute drawdown was 16, 76%, and a relative drawdown was 18,41% after placing 3878 trades. For the whole period of its trading g activity, the system experienced 82 consecutive wins and 3 consecutive losses. It means that the system can generate stable profits with minimal losses over a long time.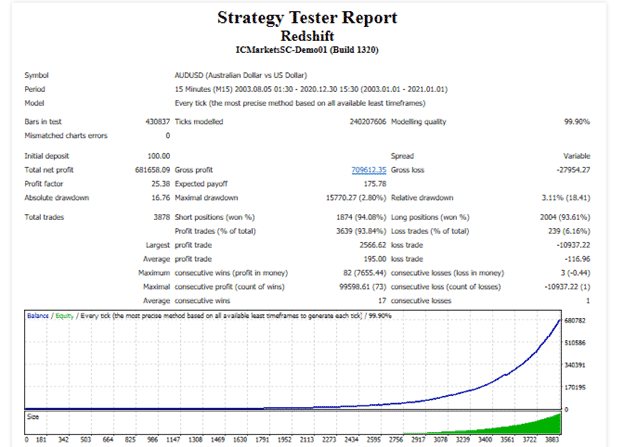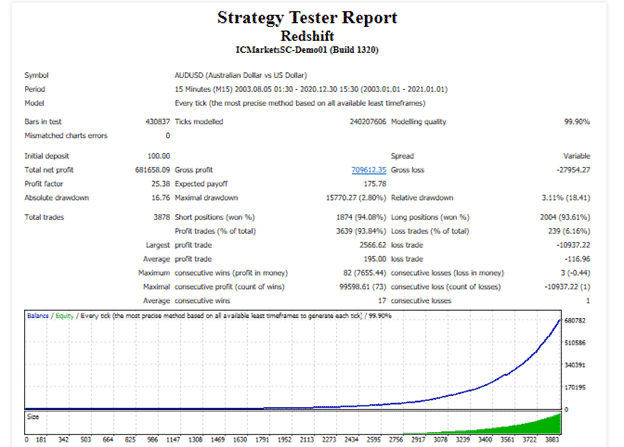 The vendor failed to provide live trading results of the Redshift robot on the MQL5 page. Therefore, we have decided to conduct additional research and find live trading results on third-party websites. As a result, we've to find a live trading account on myfxbook.com.
This is a Real EUR trading account with 10% of the risk on RoboForex broker. It trades with 1:500 leverage on the MT5 platform. The robot trades 5 currency pairs. The most profitable currency pair is GBPUSD (€44.35) and USDCAD (€38.53). Its trading record and trading privileges are verified.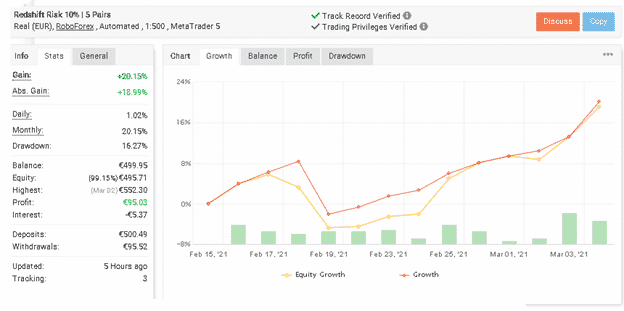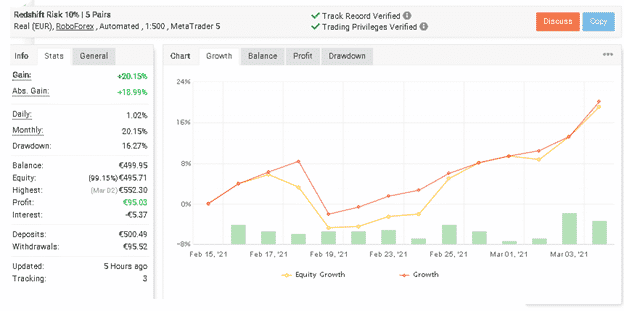 The account was added on myfxbook.com three weeks ago, on February 15, 2021. It was deposited at 500 Euros and the total net profit the EA generated through it amounts 95, 03 Euros. Since the date of its activation, its absolute and monthly gain amounted to 20,15%. The maximum drawdown is – 16,27%.
The robot traded 56 trades and 414, 5 pips. Redshift robot has won 85% of short positions and 96% of long positions. It has won 51 out of 56 deals, which represents 91% of profitable trades. The average win (12.68 pips / €3.01) is 4 times lower than the average loss (-46.44 pips / -€11.67). The profit factor is high 2, 63.

It trades daily with the highest trading activity on Thursday (16 deals were closed).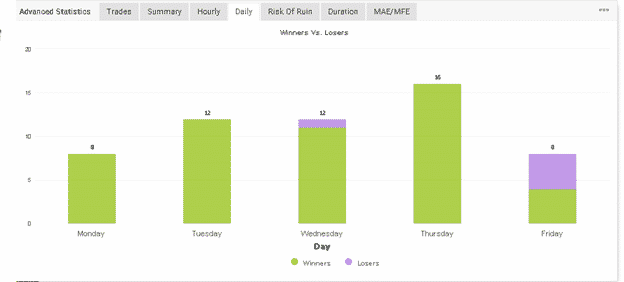 The robot trades with high risks to the account balance. If the robot gets 4 consecutive losing trades in a row it will lose 10% of the account balance.

Customer Reviews
The robot has 92 reviews from customers on the MQL5 page. Most traders say that the robot is a scam and beg us to stay away from this EA.



Some traders say that they've experienced several loss deals that reached Stop Losses. They say that to overtake 1 SL the system needs 10 TP.

Redshift Review Summary
Wrapping up our Redshift EA review, we do not think this trading system is worth $399. The robot uses a risky trading approach to generate profits. Negative customer reviews warn us that this is a risky investment solution. Moreover, we'd like to see more transparency from the vendor. At this price, you can get a more reliable and efficient expert advisor that won't trade with sky-high risks.