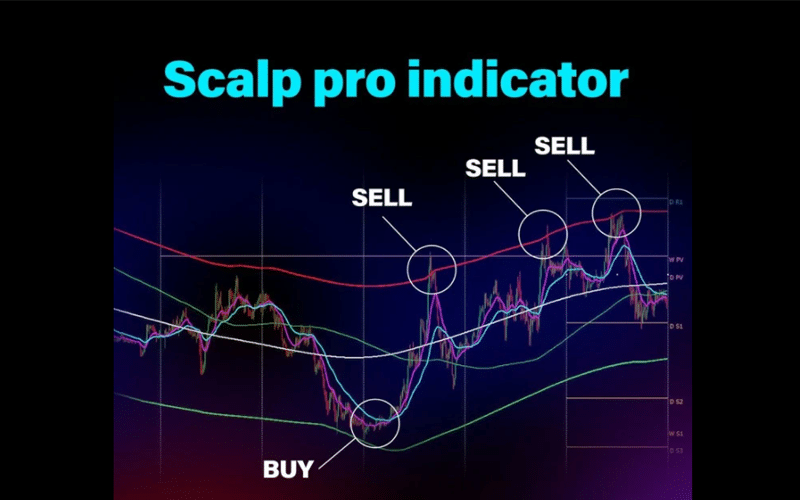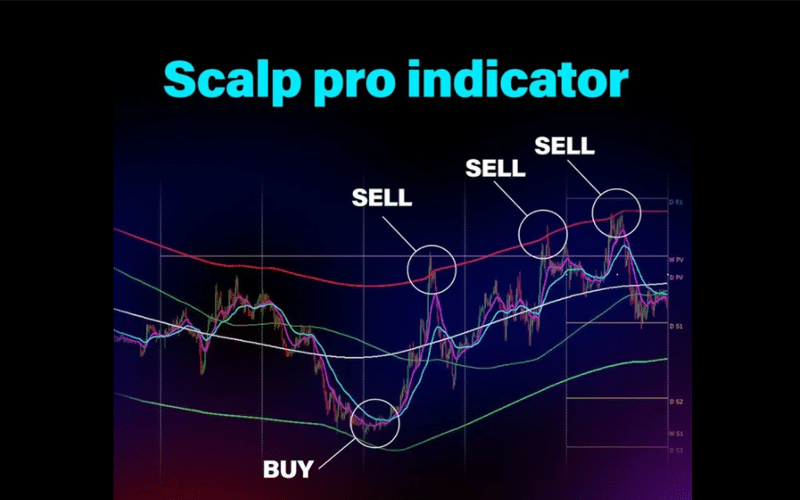 Scalp Pro Indicator promises to assist the trader to attain high win rates in their Forex trading account. As per vendor claims, it is the most trusted and downloaded tool in 2020. So far, 1498 orders have been delivered.
Is investing in Scalp Pro Indicator a good decision?
Scalp Pro Indicator is not worth trying. We have analyzed the system's author, features, strategy, pricing, trading results and user reviews to ascertain if it is a good system to invest in. We have learned that it does not have your best interests at heart.
Our findings have shown that the seller of this software is untrustworthy. They hide pertinent info about their qualifications and provide phony trading results and user reviews. Therefore, it is highly likely that their indicator does not perform as efficiently as purported.
Company profile
Scalp Pro Indicator is a creation of SinryAdvice, a registered company with an official certification from SSM. It mainly develops trading indicators and expert advisors that run on the MT4. The firm has employed 18 professional traders and developers. They work from different countries including Malaysia (its headquarters), India, Turkey and London.
We are a bit disappointed by the vendor's low level of transparency. The firm does not provide relevant details about the real identities and credentials of professionals it works with. We would like to know their qualifications, achievements, contact details, and designations.
Main features
The features of this system as described in its official site are listed below:
Works best on the 15-minute time frame
Trade signals are based on price action
Traders are advised to buy/sell when it is near the line
Daily auto-updates on daily-weekly support and resistance points
Is easy to use
Runs on the MT4 platform
Can be used on all Forex pairs
The vendor provides some recommendations to users:
Traders should not trade the 200-period simple moving average since it is hard for a signal to be created in this zone
They should also exit when the price reaches a sensitive area which is against them
Track their risk management since without it, the indicator will not win
The strategy of this indicator entails obtaining an edge and locating small trends in the lower time frames. In other words, the system applies scalping. However, the developers should have gone out of their way to explain in detail how the indicator helps the trader gain an advantage in the market. What information does it focus on? What indicators does it monitor? By answering such questions, traders may develop some faith in the system's effectiveness.
The vendor guarantees a 65% win rate for traders who purchase and use this indicator for trading Forex.
Price
Scalp Pro Indicator is currently being sold at $39. This is after the seller reduced it from $60. Maybe they realized that traders were not buying it and were forced to lower the price to lure them into acquiring it. A money-back guarantee is unavailable. So, it is not worth the money.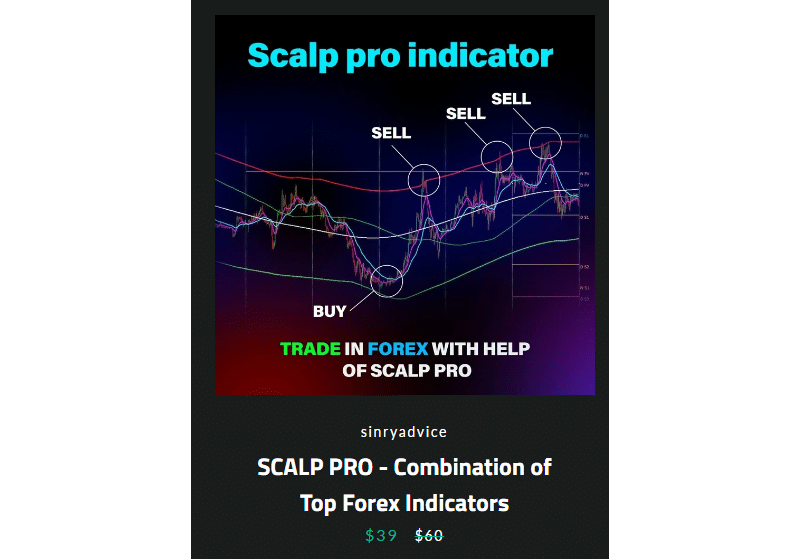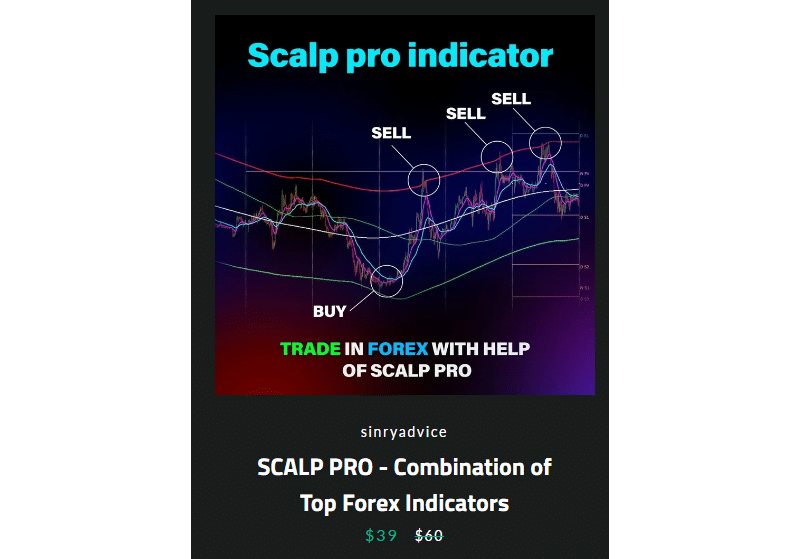 Trading results
There are no backtest results that can show us how the indicator performed in the past. Therefore, we are not sure if its strategy works or not.
SinryAdvice has posted an image that shows the system's performance on myfxbook.com. However, we chose to ignore these results after realizing that this is the same picture posted on one of their other indicators' official website (SFI Indicator). Clearly, the company is desperate to trick traders into using their product. For this reason, we have concluded that the results are not genuine and traders should not give them much thought.
Customer reviews
The user testimonials on the indicator's official site are unreliable. This is because they are reviews from the company's Facebook page. We highly suspect that they are fake and are meant to portray the company in a good light so as to persuade clients to purchase their product. We could not find credible feedback on trusted websites like Trustpilot and Forex Peace Army.
Summing up
Scalp Pro Indicator is simply a scam. The vendor has no intention of helping the trader succeed in the Forex market. The fake trading results and user reviews point to a company that is only interested in making sales. The team is also not ready to show us the backtest data since they are afraid that we may discover the poor performance of their system. To this end, we recommend you steer clear of this system.