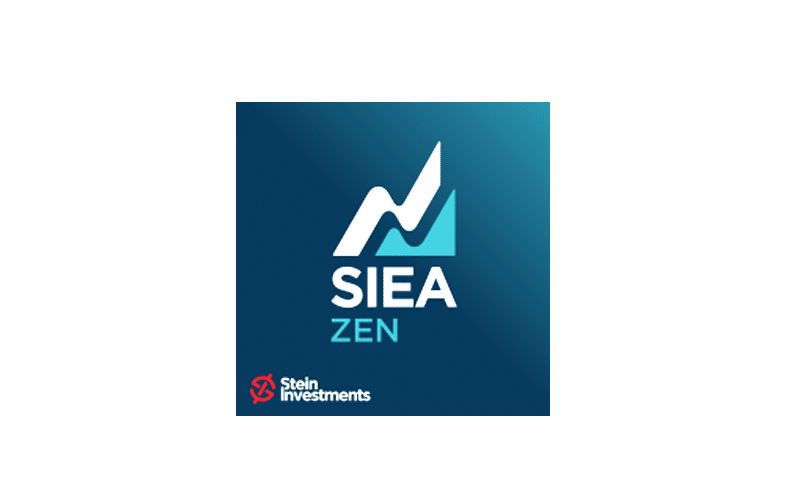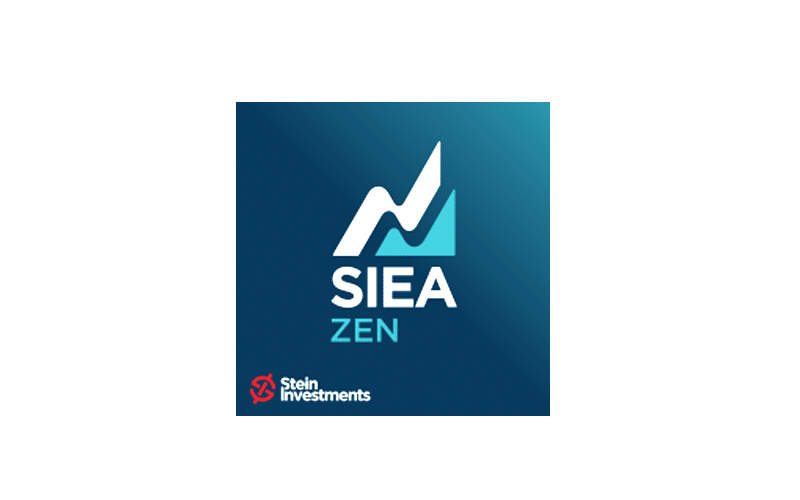 SIEA Zen apparently offers FX traders "peace of mind," allowing them to trade the FX market devoid of worries. It also offers what the developer terms as a very balanced risk-reward ratio and survives all conditions in the market easily including the critical ones like Brexit, corona etc. There are more claims that the system is robust and characterized with awesome performance. Unfortunately, as we will see in this review, these statements are just meant to dupe unsuspecting trades.
Is investing in SIEA Zen a good decision?
You are in for an unpleasant surprise if you decide to invest in this system. We have learned a few things about it that concern us. The vendor conceals his credentials and the trading strategy used by his product. This kind of behavior makes him untrustworthy. Furthermore, we have found out that it generates insignificant profits.
Company profile
SIEA Zen is marketed on the mql5 website. To convince traders to purchase it, the vendor highlights its unique features which he thinks makes the EA stand out. He also displays the backtest report so that users can see how it has been performing in the past.
Daniel Stein is the brains behind this FX robot. He is from Germany and the founder of a company called Stein Investments. His profile also indicates that he has more than 7 years experience and 14 other products in his portfolio. Unfortunately, there are no credentials that we can use to verify his qualifications. Details about his company profile are also missing. We only know its name and nothing more.
Main features
SIEA Zen is an expert advisor which performs trades on the Forex market automatically. So, it can begin trading on your behalf as soon as you rent it. There is also a free demo option that allows you to test the system and see how it works before deciding to invest your money in it.
The developer has disappointed us big time by failing to share the trading strategy his EA utilizes. If he was confident about the effectiveness of the approach, then he should not have hesitated to post and explain it in detail.
On another note, he describes the robot's features as follows:
Trades on all 28 currency trading pairs but mainly focuses on 8 currencies: USD, CAD, EUR, CHF, GBP, AUD, NZD, and JPY
Closes all its positions at the end of each month and begins a new cycle when the next month begins
Has a built-in news filter that stops new positions of trading around central bank news events
Has a swap management module that averts costly trades and monitors the swap continuously
Offers global risk management
Provides a single parameter that enables the trader to ascertain their maximum acceptable risk and the whole money management will be modified accordingly
Fully customizable
Can be used by both novice and veteran traders
Runs on the MT5 platform
Price
You can only rent this product at $299 for 6 months or at $499 for a whole year. A money-back guarantee is not provided.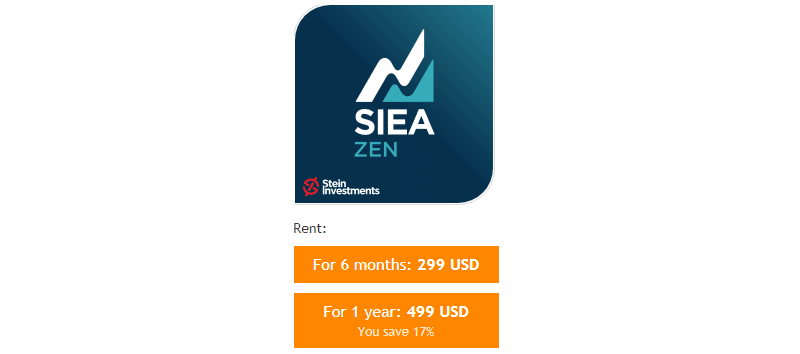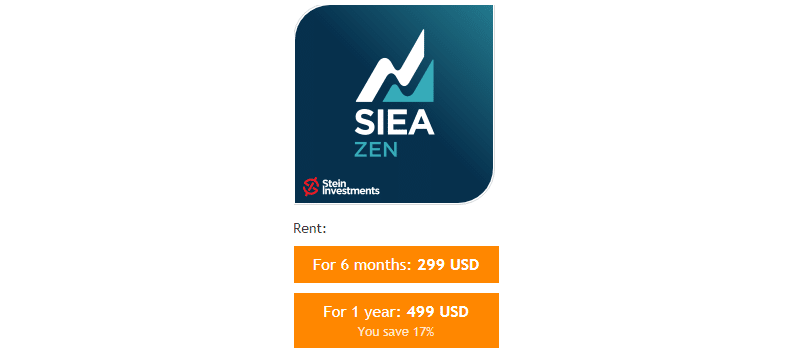 Trading results
The vendor has provided backtest results.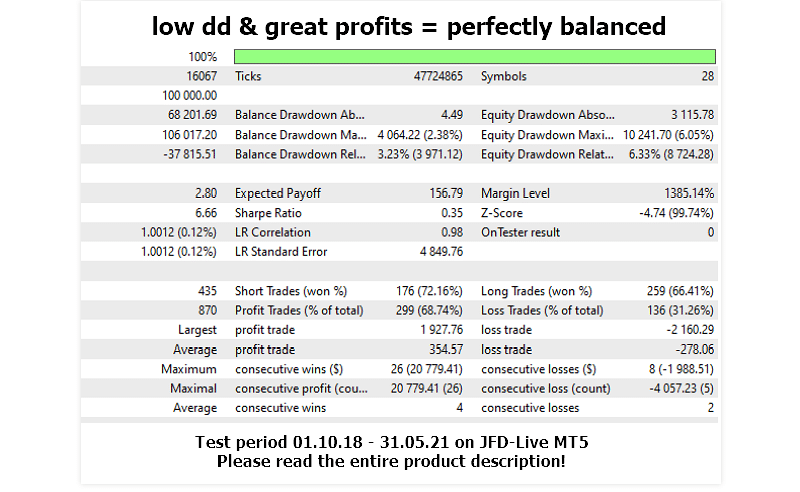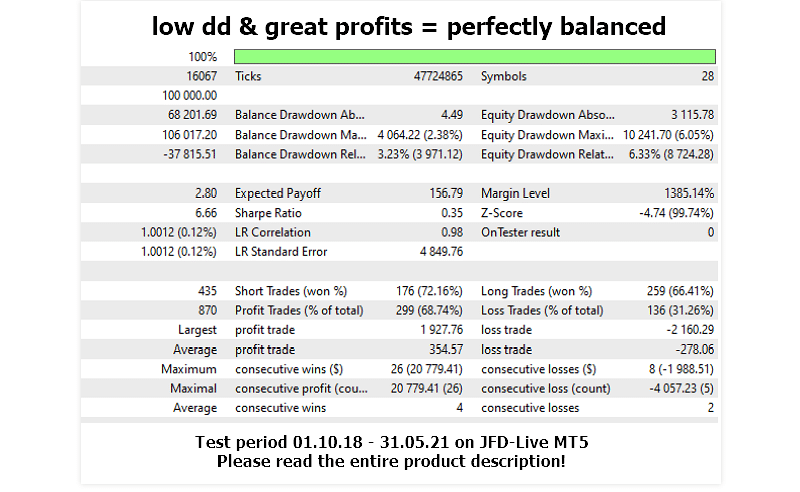 It is evident that the system was backtested from October 2020 to May 2021 on the MT5 terminal. During this time, it executed 435 trades. Out of these, it attained win rates of 72.16% for shorts and 66.41% for longs with a profit factor of 2.08. The average profit trade was $354.57 while the average amount of losing deals was -$278.06. The maximum drawdown (2.38%) was small.
Live trading results are available on the Myfxbook website.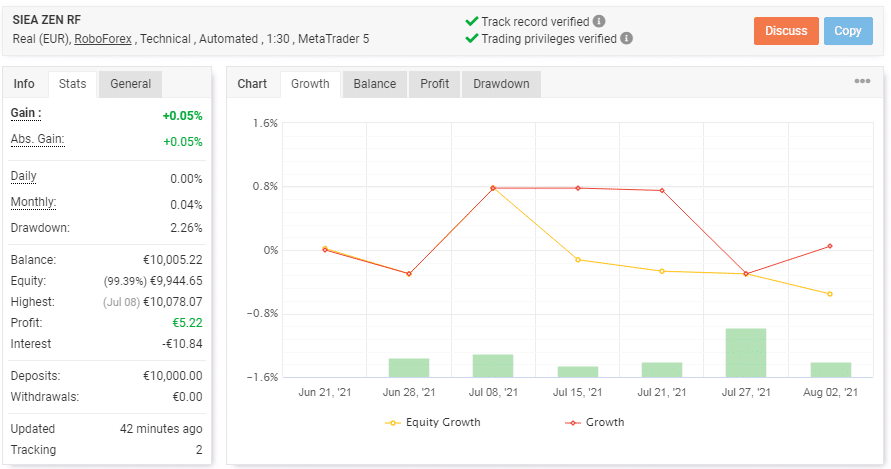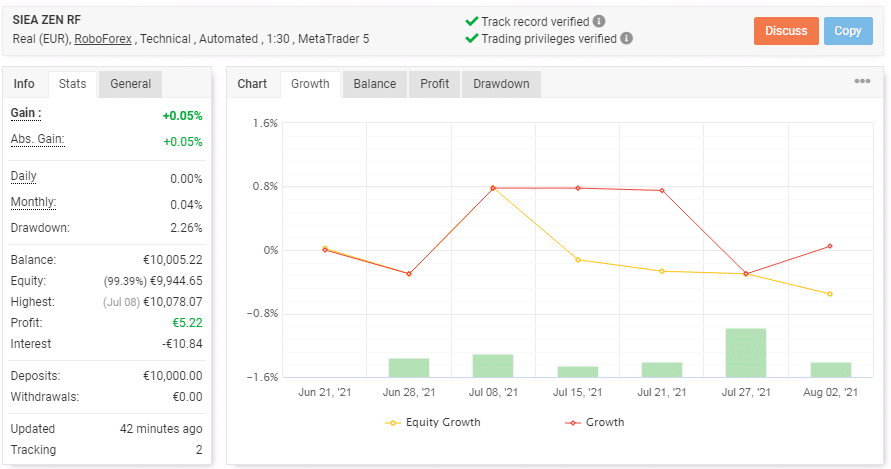 Here we have a real EUR account operating under the RoboForex brokerage. It is running on the MT5 platform and using a leverage of 1:30. The account is very young as it started its operations on June 21, 2021 with a deposit of €10,000. It grew the balance to €10,005.22 after making a profit of €5.22. The gain of 0.05% and the monthly profit of 0.04% are extremely low. The drawdown is 2.26%.  


So far, the EA has performed 11 trades with 6.1pips. The average win is 70.06 pips whereas the average loss is -57.37 pips. The win-rate results of 33% for longs and 50% for shorts are below average and hence disappointing. There is also nothing to write home about the profit factor (1.04). The traded lots are 0.62.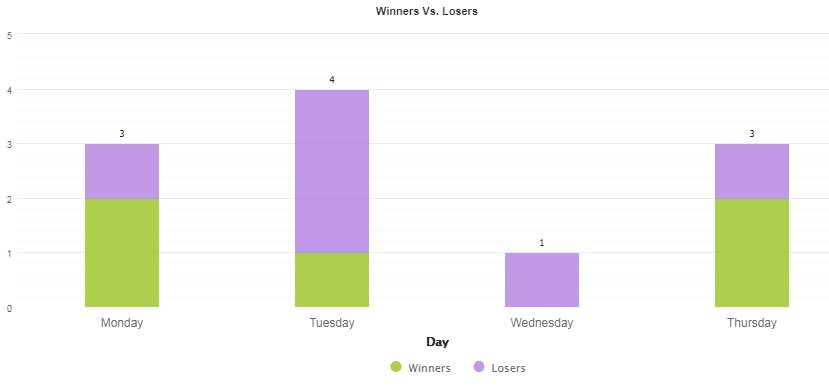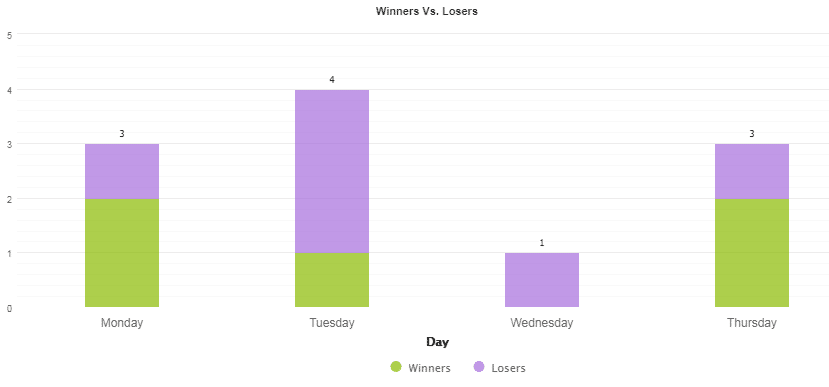 Tuesday is the most traded day with 4 deals.


The likelihood of the account going under is small. 


The monthly gains are very small. In fact, the account has only made a minor gain of 0.36% in August. It made a loss of -0.3% in June and did not manage to generate any profits in July.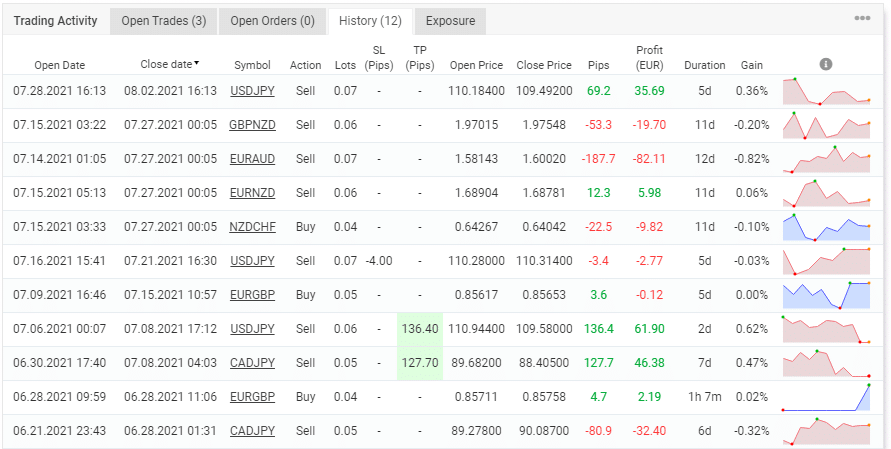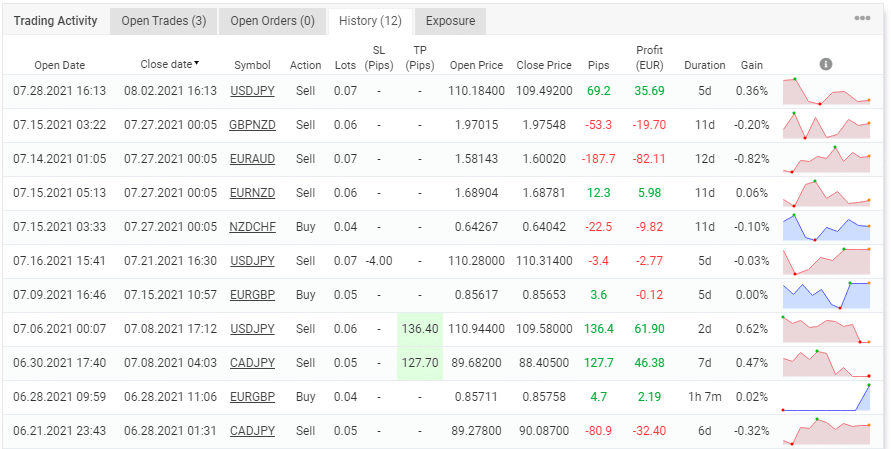 The EA trades with lot sizes that range between 0.04 and 0.07. Trailing stop losses and take profits are applied as well.
Customer reviews
There are only 2 user testimonials present on the mql5 website. As usual, they are both positive. One client says that even though the EA executes a few trades, they are good ones and he is thus satisfied with it. The other one indicates that this is the best trading tool he has ever had so far. 




Summing up
SIEA Zen is very young in the market and you will be risking a lot should you decide to try it. Little is known about this developer and his company. So, we are not sure if he is qualified to create profitable trading tools in the FX market. The trading results have given us a glimpse of the system's performance in the live market, and it is not promising at all. The profits are too low, and if the system makes losses, the gains will be drained quickly. Therefore, we advise you to refrain from using this product.