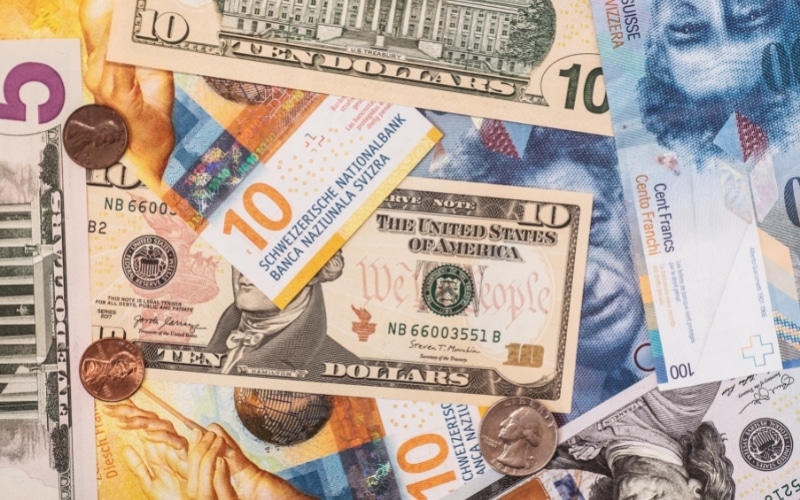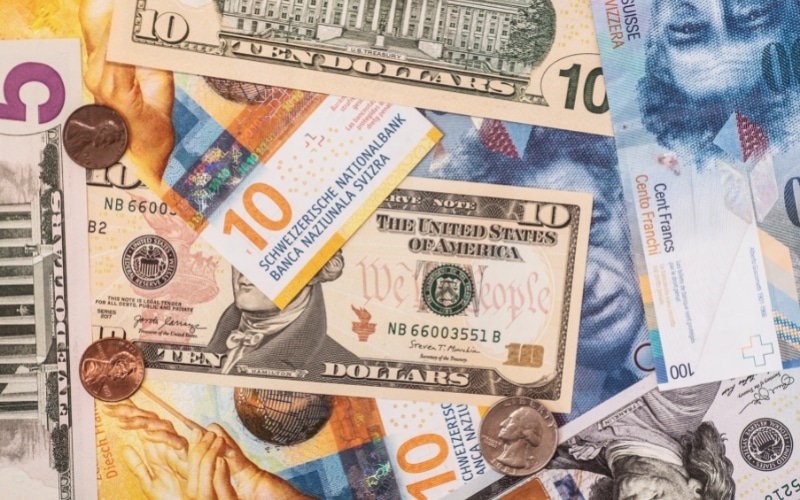 Switzerland's KOF leading indicator dropped to 113.5 on August 30, 2021.
The US national GDP is likely to grow at a rate of 6.5% in the remaining two quarters of 2021.
Swiss KOF indicator data failed to meet analysts' expectations at 125.0.
The USDCHF pair traded to a -0.18% price change as of 1:25 am GMT on August 31, 2021 hitting a low of 0.9151. It had gained 0.65% as of 9:48 am on August 30, 2021 before the US pending home sales data was released. It traded at a high of 0.9162 at the time.
The pending US home sales data for July 2021 (MoM) declined 1.8%. It failed to meet analysts' estimates at 0.4% but was slightly higher than the previous decline of 2.0%. The index for the pending home sales for the month rose to 110.7 but was lower than June's 112.7.
The Swiss franc lost against the US dollar after the KOF leading indicator slumped to 113.5 from 130.9 recorded in July 2021.
The KOF leading indicators failed to meet estimates at 125.0. This low metric shows poor performance in banking confidence rating, production and acquisition of new orders in manufacturing.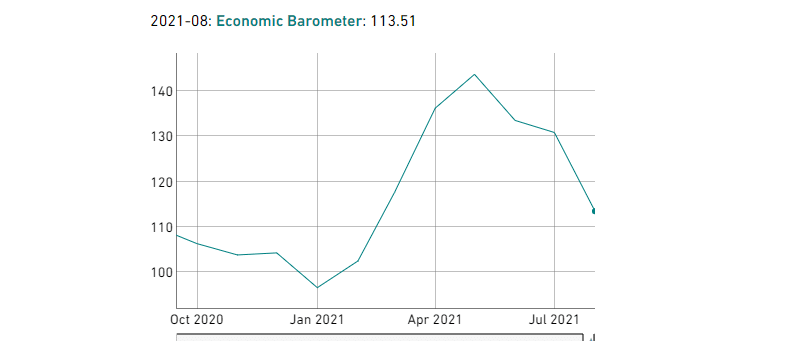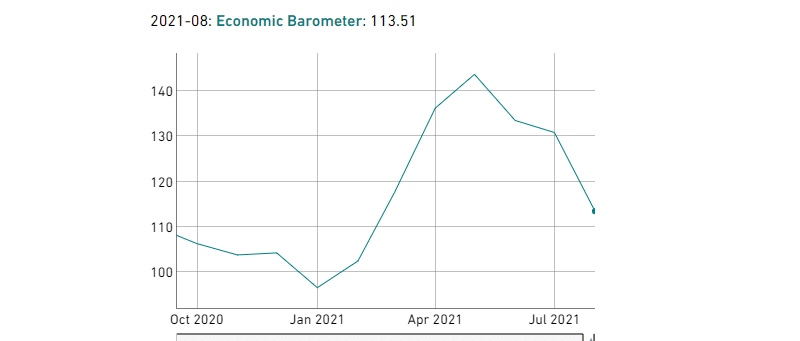 The Swiss franc declined against the US dollar after KOF indicator data decreased to 113.51. The indicator stood at 130.9 in July 2021 with analysts predicting a decline of 125.0.
Switzerland's KOF Economic Institute stated that the KOF barometer remained above the average index (in the long-term) despite weakening. Economic recovery was set to continue in the succeeding months despite the progress of the coronavirus pandemic.
There was a reprieve in the construction industry that did not face a massive decline during the month of August. This sector is forecast to grow 2.5% in 2021 after it had declined 4.2% in 2020. Value addition had contracted 3.1% in Q4 2020 and was followed by 1.2% decrease in Q1 2021.
Likely economy downgrade
The US economy is likely to be downgraded following the devastating impact of Hurricane Ida. According to Mark Zandi, an economist from Moody's Analytics, the US national GDP is likely to grow at a rate of 6.5% in the remaining two quarters of 2021.
This rate is similar to the growth witnessed in the first half of 2021.
The high transmission rate of the Delta Covid-19 variant was also cited as a leading cause of worry in the US. Up to 280,403 new cases were recorded as of August 30, 2021 up from 22,894 cases noted on August 1, 2021.
The number of deaths has also soared to 639,000 from a total caseload of 39.2 million since the pandemic began. However, an improvement in vaccination is expected to help in recovery. The US vaccination rate currently stands at 52.9% with 174 million people fully vaccinated.
Technical analysis
Since August 3, 2021, the USDCHF pair has tried to trade above the support level at 0.90184. The top of the trading range is seen at 0.92716. However, the its significant resistance level is at 0.92000. A breach beyond this range will lead to a stronger buying momentum. An extension towards 0.94000 (after the upward breakout) is possible after this breach.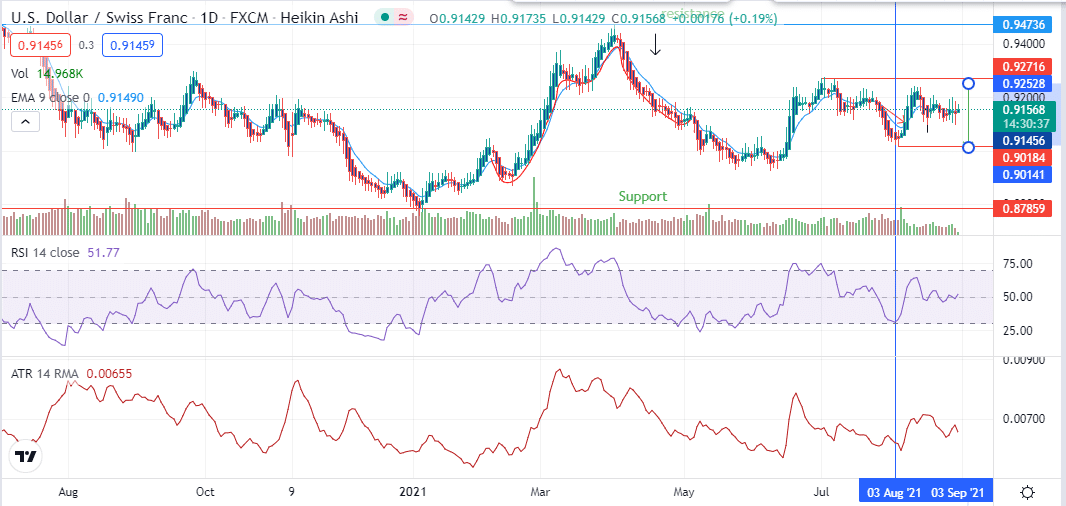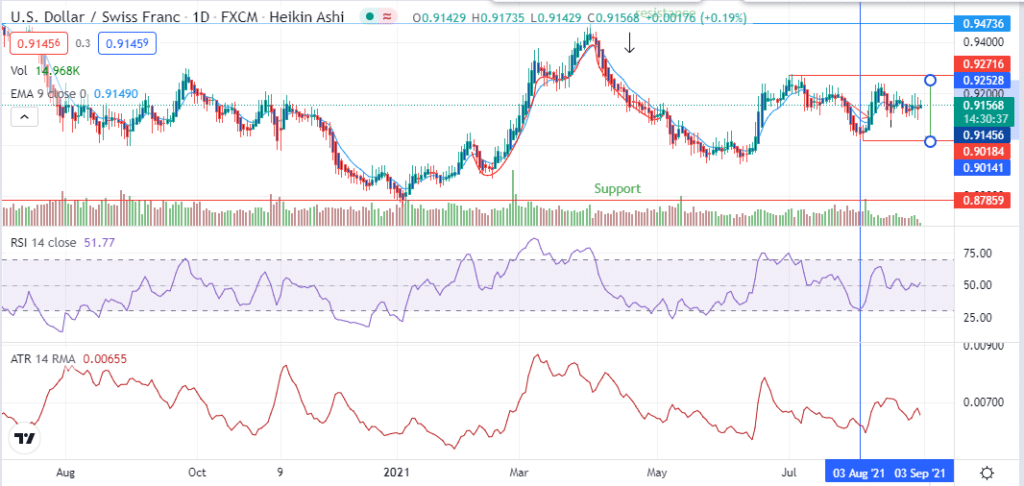 There is an increase in selling momentum with the 14-day RSI at 51.77. A decline below 0.91456 could lead to a movement beyond the support line at 0.90141 and a deeper correction to 0.87859.