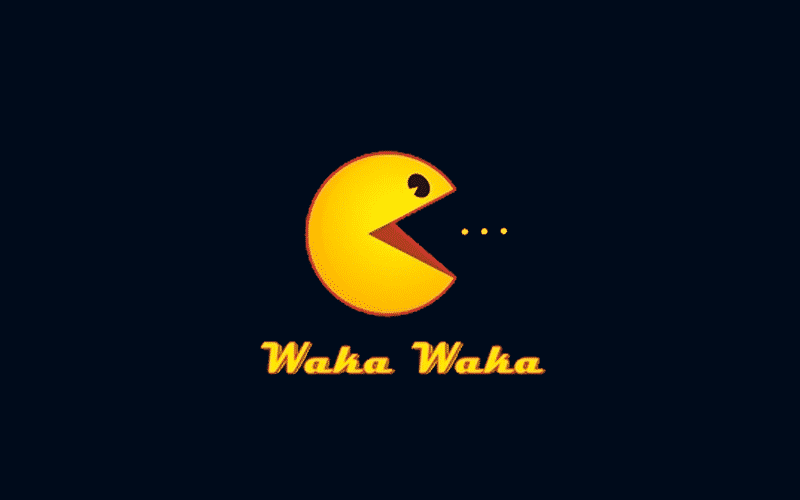 The developer of Waka Waka EA says that the system has been trading stably in the live market with a low drawdown for many years. So far, the product has caught the attention of numerous traders going by the number of reviews, activations, and demo downloads. In this review, we ascertain whether the EA is useful and risk-free as advertised.
Is investing in Waka Waka EA a good decision?
No, it is not. We arrived at this conclusion after assessing the robot's features, customer comments, and trading results. The findings have revealed that the system uses the grid approach, a technique that can devalue your account quite fast.
Company profile
Waka Waka EA was developed by Valeriia Mishchenko. She lives in Russia and has also created another product known as Night Hunter Pro. Surprisingly, this is all the information presented about her. So, we have no knowledge about her experience in trading, motivations, or even expertise.
Main features
Below is a list of features of the EA:
Supports 3 main currency pairs; AUDNZD, AUDCAD, and NZDCAD
Should only be attached on the M15 chart
Very easy to use
No need to modify GMT
Runs on the MT4/5 platforms
The developer has also highlighted the requirements of the system, which can be found below:
Needs a hedging account
The advice is to use a good ECN broker
It should run on a VPS continuously
A leverage of 1:30 can be used, but traders are told not to utilize higher than low risk settings on a less than $6000 account. Otherwise, you may experience problems with free margin
The recommended leverage for a $1000 account is 1:100
Waka Waka EA is alleged to be an advanced grid system, which has worked on a real account for several years. Its design is meant to exploit the current inefficiencies in the market rather than reproduce historical data.
Price
Waka Waka EA is highly priced. It is being sold at a discounted price of $499, which will expire after a few days. The next price will be $699. Sadly, a money-back guarantee is unavailable.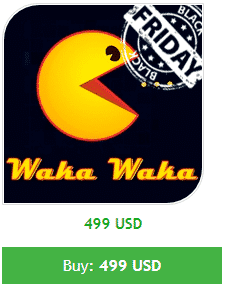 Trading results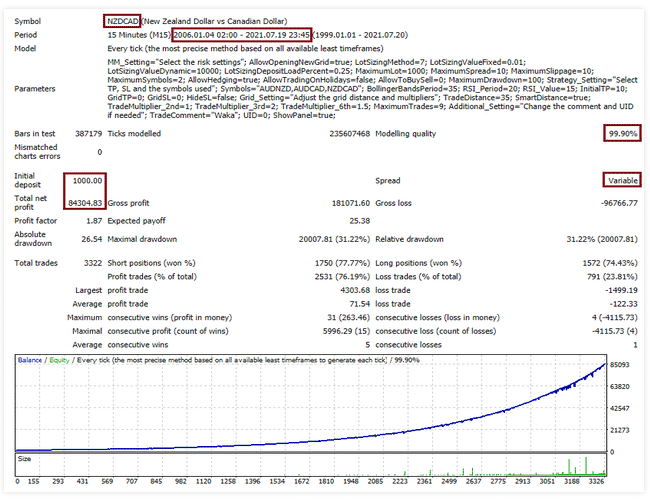 We have here the test results for the NZDCAD currency pair. The EA commenced its trading activities in January 2006 using the 15 minute timeframe. Using a capital of $1000, the system managed to produce $84304.83 by July 2021. There were 3322 trades, which attained a success rate of 76.19%. With a profit factor of 1.87, we can tell that the return rate was not extraordinary. The maximal drawdown (31.22%) is concerning as it indicates that a significant portion of the investment was lost due to the program's risky activities.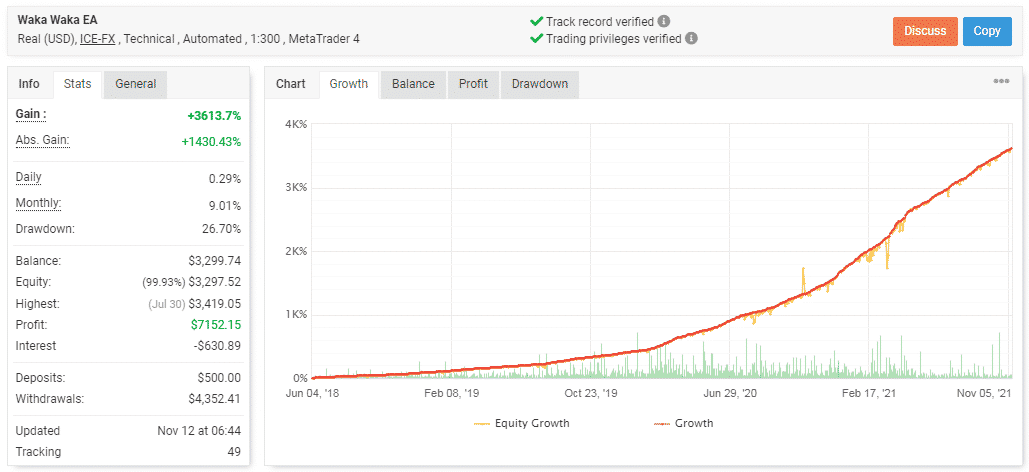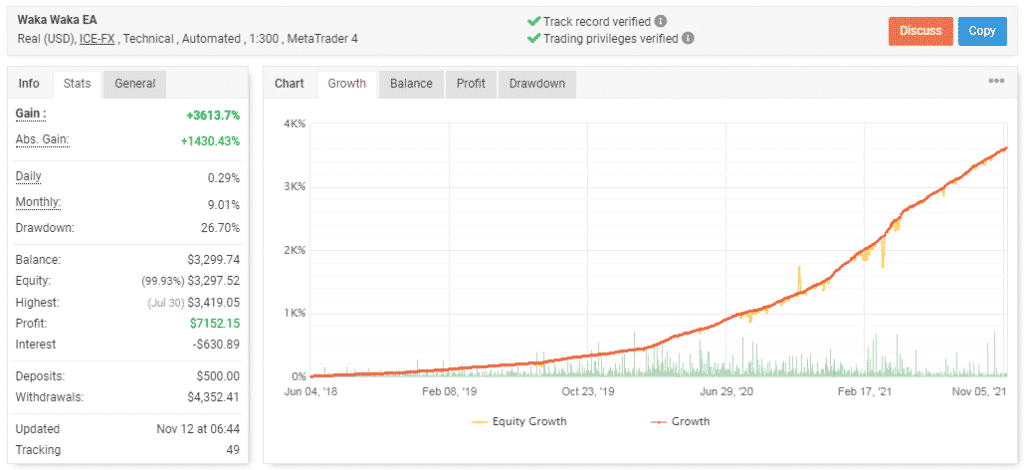 This account was launched in June 2018, but it has been inactive for a while now. Its dormancy should not raise any alarm yet. As you will see in the trading history, the EA can remain inactive for days. During its active period the system turned a deposit of $500 to a profit of $7152.15. This growth can be equated to a 1430.43% absolute gain. The monthly profit was 9.01%, whereas the drawdown was 26.70%. The balance is now $3297.74 after the owner withdrew $4352.41.


The robot carried out 2413 trades, but it had a higher likelihood of losing than winning them. This is illustrated by the average loss (-28.70 pips) value, which was twice higher than the average win (14.63 pips). The success rates for long (72%) and short positions (74%) were also uninspiring. A profit factor of 1.73 was recorded.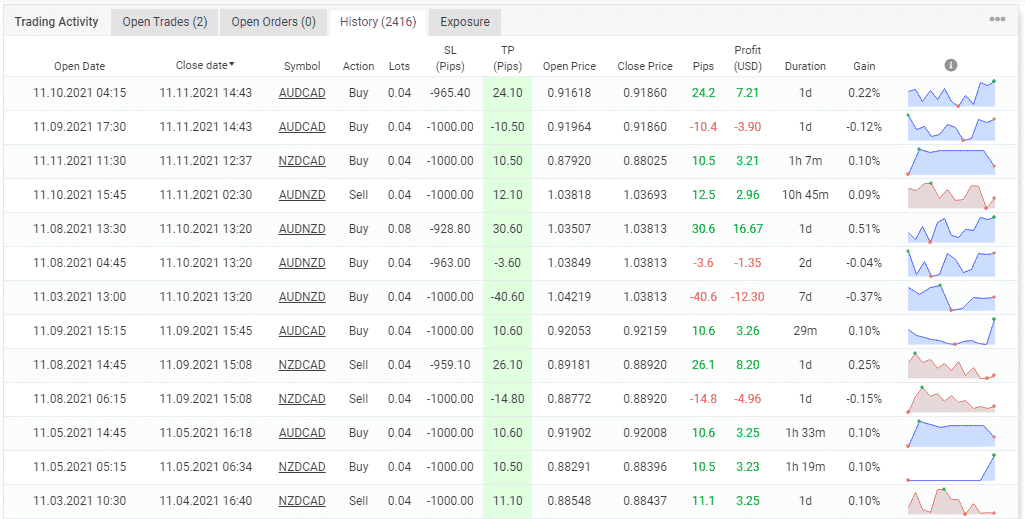 The system applied risky approaches — the grid and martingale. Large SL levels were used.
Customer reviews
Nearly all customer reviews for this EA on mql5 are positive. Most of these traders have commended Valeriia for being supportive. However, none of them talk about the performance of the EA. It seems that by the time they were commenting, they had not used it yet. Anyway, we have one disgruntled client who reveals that the system blew up his account. He even thinks that the available backtest results were forged by the author so as to make sales.

Summing up
Waka Waka EA earns small revenues and the grid strategy present means that the robot engages in many trading risks. However, we are surprised it has managed to sustain the account this long. The protection systems are probably working to the robot's advantage. Anyway, we wouldn't advise that you take a chance with the product. You may not be that lucky since you may lose your investment quickly if not careful.