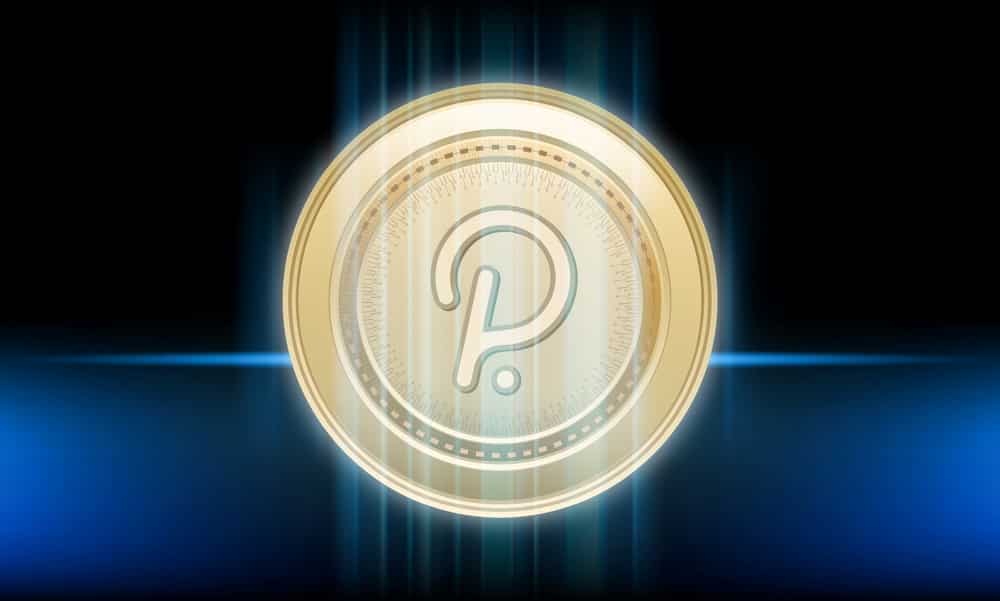 Polkadot breakout looms
Polkadot blockchain growing use case
Polkadot bullish long term outlook
Cryptocurrencies are showing the affinity to move higher amid improving risk-on demand in the capital markets. Demand for speculative assets is rising after months of sell-off, resulting in major coins retreating from all-time highs.
Polkadot technical analysis
Polkadot is one of the coins showing signs of breaking out after a recent correction lower. DOTUSD remains well supported for a potential bounce back after finding support near the $17.45 area. The formation of an ascending channel signals bulls are coming into the fray.
After powering to highs of $23 a coin as part of a 60% plus rally from February lows of $14.50, Polkadot has come under pressure in recent days. A 20% pullback from April highs appears to be a minor correction following the blockbuster move up.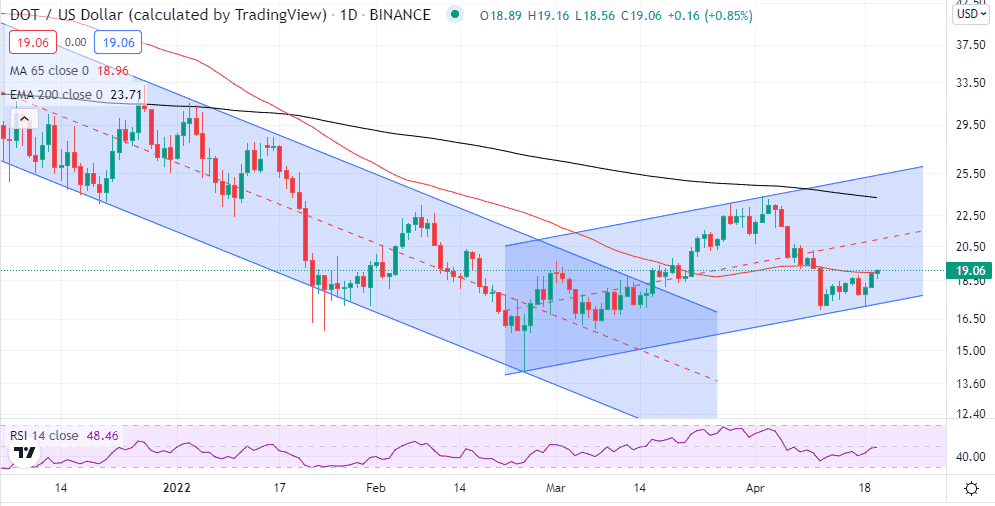 The coin finding support above the $17 a coin area affirms that bulls are still in play and likely to steer another leg higher in continuation of the emerging uptrend. Bulls need to overcome strong resistance near the $19 a coin area to fuel another leg higher. Clearing the resistance level would open the path for DOTUSD to rally to the $23 level, the next resistance level.
Failure to find support above the $19 a coin area could leave DOTUSD susceptible to further losses in continuation of the long-term downtrend to lows of $ 15, which could be accelerated to lows of $13.64.
Continued dollar strength is one factor that could weigh heavily on Polkadot rallying after the recent pullback. The greenback has been strengthening across the board, supported by a rise in treasury yields. However, investors are increasingly looking for alternative assets to hedge against rising inflation, all but fuelling demand for cryptocurrencies, some of which are seen as hedges against inflationary pressures.
Growing usages of Polkadot cases
While Polkadot's short-term outlook remains uncertain, its long-term prospects remain intact. As one of the largest cryptocurrencies and blockchains, it has more room to grow because of the ever-increasing use cases.
Its blockchain is finding significant use cases in the development of decentralized applications thanks to respectable transaction speeds and a vibrant developer ecosystem. In addition, Polkadot is attracting strong interest in helping other cryptocurrencies work on other blockchain networks.
Cross-chain compatibility is one competitive edge that is setting Polkadot apart from other blockchain projects. Consequently, developers are using it to come up with powerful applications that don't have any limitations on the networks they can operate from.
Polkadot operates two blockchains, the main network, and 100 sub blockchains dubbed Parachains that enhance the creation of decentralized applications. The Parachains ensure more privacy and control while also ensuring the security of the main network.
The use of Parachains allows the Polkadot blockchain to process up to 167 transactions per second, more than ten times faster than Ethereum. The unique design allows the network to make up for its shortcomings in speed compared to other blockchains, given that each Parachains functions independently, therefore, averting the risk of congestion.
Final thoughts
The broader cryptocurrency market has been under immense pressure in recent months. However, the sell-off dust is slowly settling, providing an opportunity to buy highly prospective coins at a discount. Polkadot is one coin for anyone looking to bet on a cryptocurrency rebound.
Polkadot's edge in the development of decentralized applications and enabling cross-chain compatibility should affirm its long-term use case expected to drive demand for the DOT native token. While cryptocurrencies can be volatile, the focus should be on the long term and what is being built on the underlying blockchain.