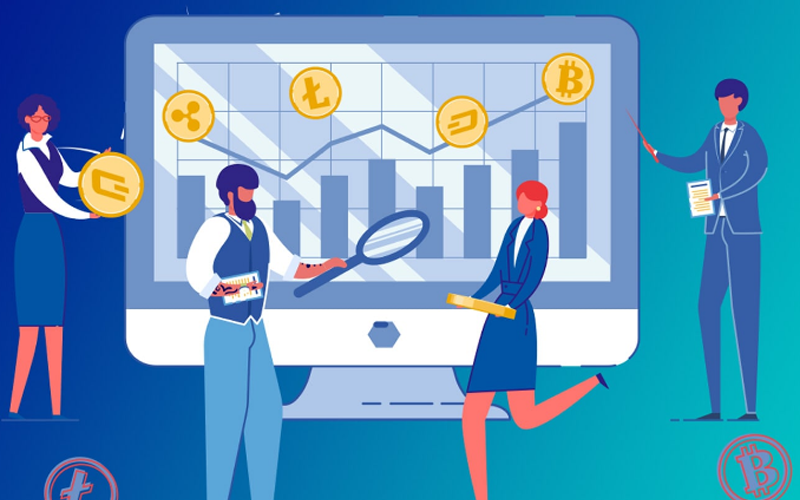 The cryptocurrency market is home to innovation, one of which is Bitcoin and cryptocurrency loans. They are becoming popular among investors who are searching for liquidity in a way that doesn't require them to sell their cryptocurrencies. In this case, crypto is being used as collateral for the loan, which can be used in many ways to alleviate yourself from financial troubles. A loan backed by bitcoin or cryptocurrencies is not subject to capital gains tax as well.
The interest which is offered can fluctuate. However, DeFi platforms, in general, offer a higher APR across the board. There is an obvious passive income advantage when it comes to cryptocurrency and bitcoin lending. Additionally, it can also let an investor add liquidity without triggering any taxable event. There are several ways in which a user can access a Bitcoin or cryptocurrency loan. Let us look at each of them.
Constant
Constant is a secure P2P lending platform that offers an interest of up to 11% APR. All lending is backed by borrower collateral, buy-back guarantee, or smart contracts. Those who borrow have the option of choosing either to be paid out in fiat currency or in stable coins. It accepts over 60 cryptocurrencies as collaterals. Constant acts like a platform where investors and borrowers can do business together. Measures such as crypto collateral and buyback guarantees help protect the funds of investors. Its custodial partner safely manages the movement of collateral and all funds.
Aave
Aave is another non-custodial platform offering flash loans at flexible rates. It requires a loan to be taken out and put back in the same transaction. It was initially known as ETHLend when it launched back in 2017 but rebranded to Aave in 2018. It provides its holders with discounted fees on the platform. According to the coin market cap data, the AAVE token, which serves as a governance token, is currently valued at $26.46 USD with a market cap of $298,946,623 USD.
Salt Lending
Salt Lending is a popular Bitcoin and cryptocurrency loan provider based out of Denver, Colorado. It was founded by a team of Bitcoin enthusiasts dedicated to looking at cryptocurrency with a long-term outlook. The platform offers loans in BTC, LTC, and ETH, and others with a 50% LTV ratio. SALT also lets users monitor their loan health using a real-time system. This lets you stay informed and manage the risks or opportunities. Its main platform token is the SALT token, which is currently valued at $0.091537 USD as of 5/11/2020, with a market cap of $7348905.
Crypto.com
In crypto.com, there is a service called Crypto Earn, which allows users to deposit their cryptocurrency and earn interest on them up to 8%. It offers both online as well as mobile applications, which easily assist in moving tokens between wallets and the platform. They are also the major stakeholders of their own currency MCO, which comes with an advantage of lower interest rates by up to 2% as well as bonuses. The MCO token is currently valued at $1.34 USD as of 5/11/2020, with a market cap of $21,183,024 USD, according to coin market cap data.
Nexo
Based out of Switzerland, Nexo is also a major crypto lending entity, providing users access to an instant line of credit by depositing bitcoin or other cryptocurrencies. It offers loans in Bitcoin, Ethereum, Binance coin, Ripple, and Litecoin, to name a few. Users simply have to go through a four-step process for getting their loan. There are no credit checks required. The Nexo wallet is insured and allows a user to take a loan in over forty-five different fiat currencies.
Compound Finance
The compound is a Blockchain-based app that gives crypto lenders the opportunity to earn interest by lending their tokens. Alternatively, they can deposit crypto to the smart contract as collateral and borrow against the amount. It is primarily built on the Ethereum network, providing permission for less lending and borrowing. Compound Finance prioritizes few Ethereum based stable coins such as USDC and DAI over other tokens when accepting payback currency and loan amounts. The Compound platform also has its native COMP token, which is valued at $88.10 USD as of 5/11/2020, according to the coin market cap, with a market cap of $358,023,170 USD.
SpectroCoin
Spectro Coin is a Lithuania based crypto brokerage firm. It has recently launched its loan service and is known to offer one of the lowest minimums in this sector. It also provides an option to issue a loan with an LTV ratio of 75%. The company offers a wallet, debit cards, dedicated IBANs, and a crypto-fiat exchange service to its customers.
SpectroCoin provides multiple methods for depositing and withdrawing funds, including bank transfers and credit cards. It also supports Bitcoin exchange and wallet hosting from over 150 nations. SpectroCoin also functions as a payment platform for merchants, allowing them to process mass payments via Bitcoin through its wallet's commerce plugins.
BlockFi
BlockFi is a crypto asset management company based in New Jersey, servicing customers worldwide, including 47 U.S. States. It provides low cost USD loans and interest-earning accounts backed by crypto. They accept Litecoin, Bitcoin, or Ethereum as collateral. BlockFi currently offers an LTV ratio of 50% to the cryptocurrency. It has an impressive list of investors, including the likes of Coinbase Ventures, CMT Digital, Galaxy Digital, Susquehanna, Akuna Capital, Fidelity, Recruit Strategic Partners, SoFi, and ConsenSys Ventures, just to name a few.
Final Thoughts
There's no doubt that blockchain is at the forefront of the Fintech revolution. The key advantage of blockchain technology when it comes to crypto-lending is that it removes the intermediaries associated with traditional banking. However, users have to incur an increased amount of risk, owing to the volatile nature of the crypto-market and the lack of regulation.