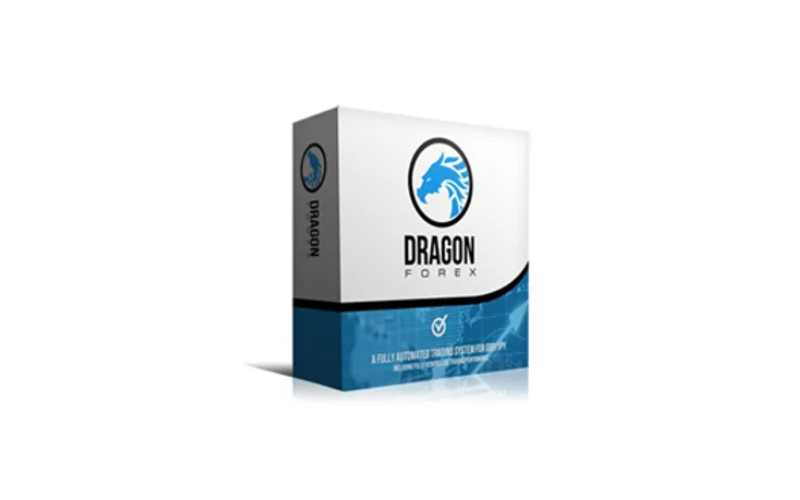 The presentation of Alnotrade's robot, called Dragon Scalper, started with lies and manipulation. Alnotrade doesn't have even closer to a five-stars rate on Forex Peace Army.


Half of these links when to the same article on the same site.
Is Investing in Dragon Robot a Good Decision?
It's a scalping software. It doesn't use Grid, Martingale, and Cost Averaging strategies. It's everything we know from the presentation.
Company Profile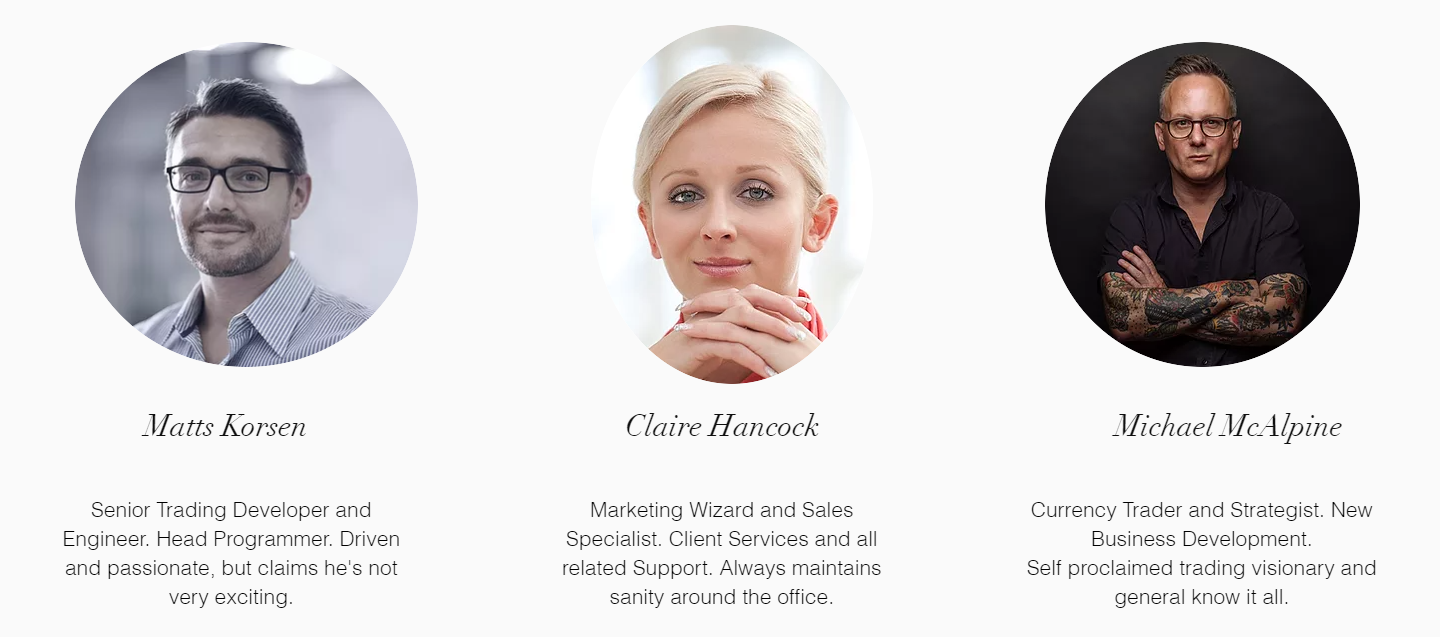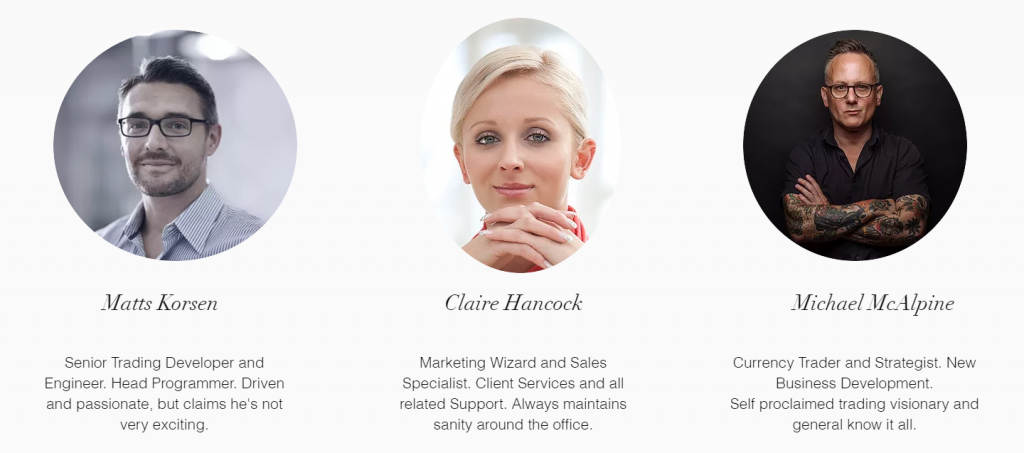 Not only our team has noticed that these photos were from the stock. If they wanted to introduce the team, they'd share their FB and LinkedIn profiles as well.
Main Features
It's an MT4 expert advisor that trades fully automatically.
The robot trades consistently.
We can choose Lot Size that we want to use.
The system set Take Profit and Stop Loss levels.
There's an inbuilt money-management system.
It can be applied to many charts at the same time.
There are optimized default settings.
The robot can work on all major account types: Standard, Mini, and Micro.
Price
The robot sells in one package. It costs 199 EUR. We can't buy it only through PayPal. The developers don't provide a money-back guarantee.
We can get the EA "for free" if we complete the registration via their referral link on Vantage FX and make a deposit at over 500 EUR.
Trading Results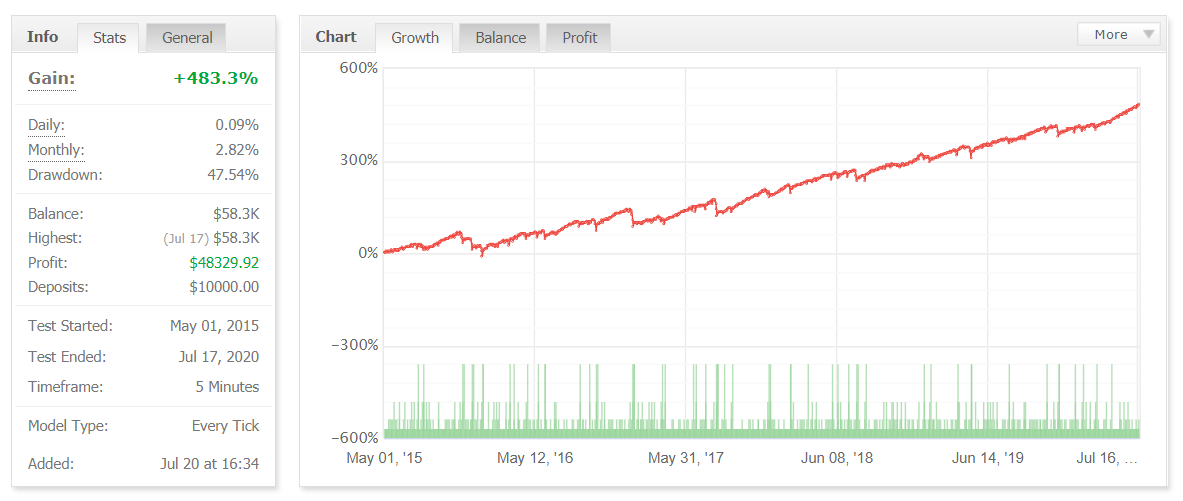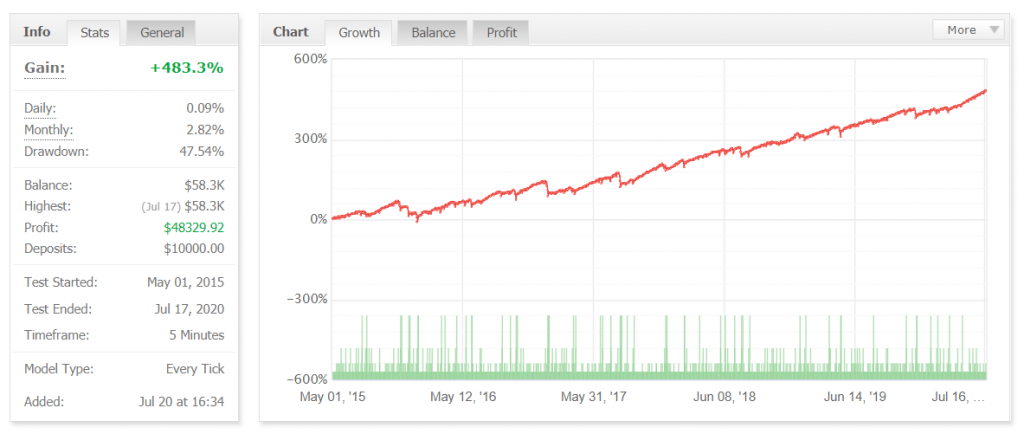 The devs didn't share backtest reports on the site. We've found this one on their profile in myfxbook. It was a GBP/JPY test from May 01, 2015, until July 19, 2020. The absolute gain has become +483.3%. An average monthly gain was low (+2.82%), but the maximum drawdown was impossibly high (-47.54%).


There were 1262 deals traded with 3058.9 pips with an average win-rate between 65% and 67%. An average win of 16.00 pips was a bit lower than an average loss of -24.70 pips. The average trade length was less than an hour. The Profit Factor was low (1.29).


Most of the trades occurred during the opening of the London Stock Exchange.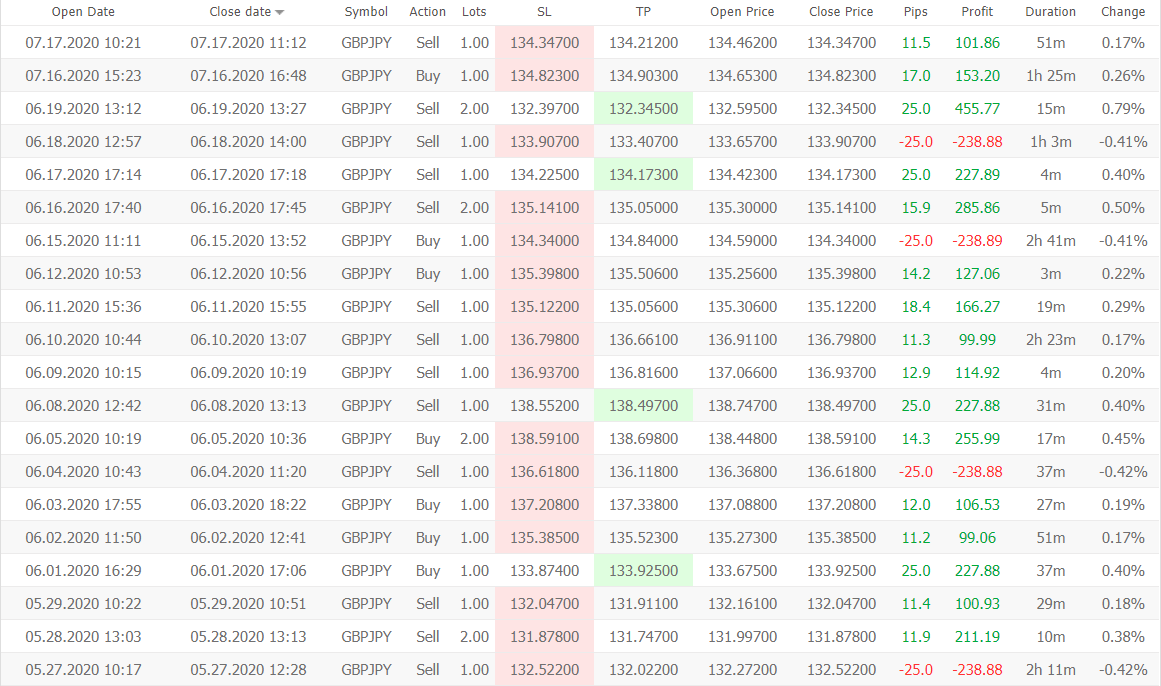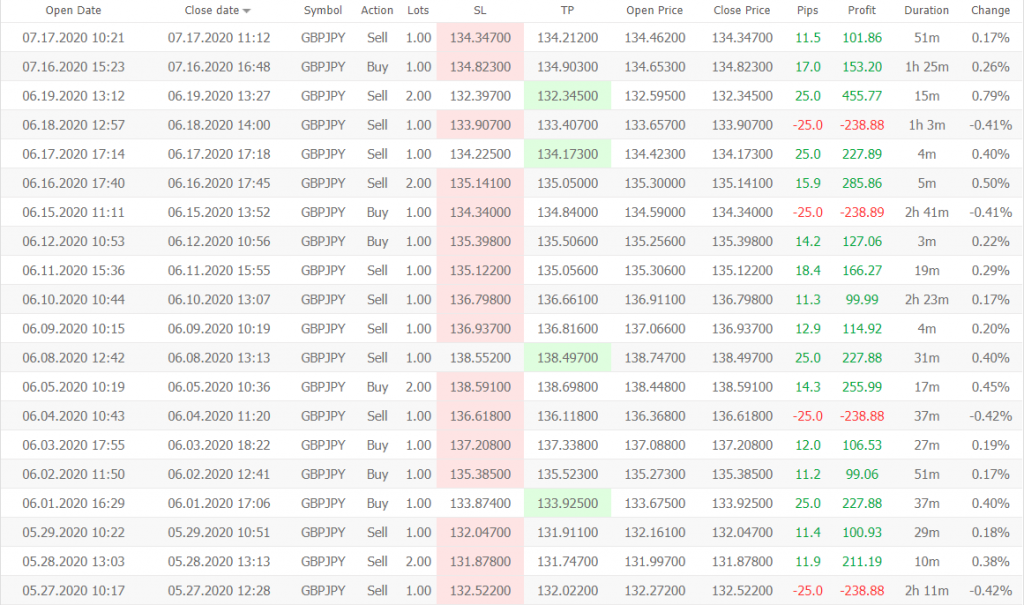 As we can see, the devs lied about not using Martingale in trading.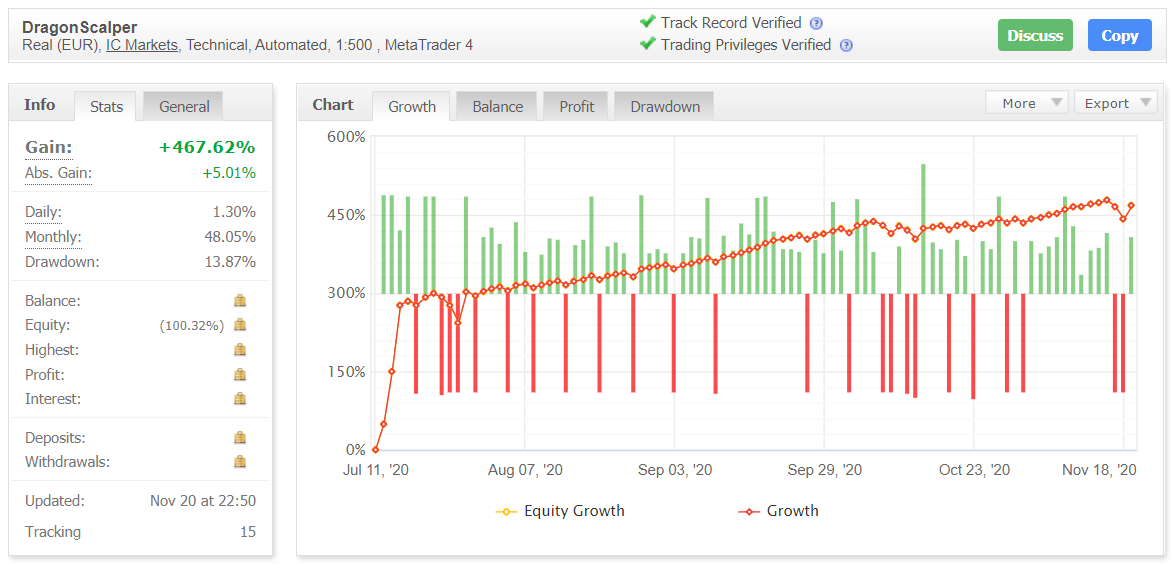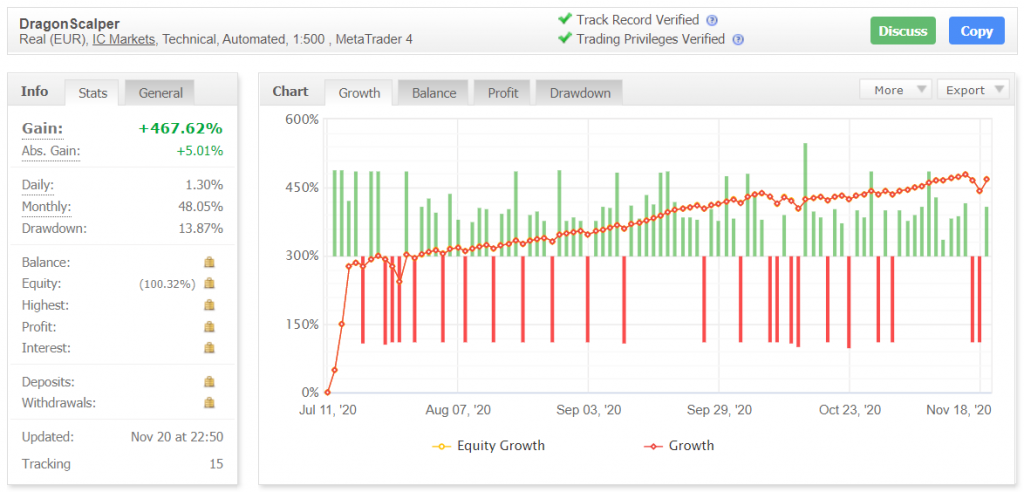 The robot was set on this real EUR account. It trades through IC Markets with 1:500 leverage on the MetaTrader 4 platform. This account has a verified track record, but much info is hidden. It was created on July 11, 2020. The first period was traded with insane risks to the account balance. Since then, the robot has provided +467.62% of the absolute gain. An average monthly gain is +48.05%, with 13.87% of the maximum drawdown. The account is tracked by fifteen people.


The EA traded 83 deals with 452.7 pips. An average win is 15.60 pips, while an average loss is -24.31 pips. The win-rate is between 73% for Longs and 72% for Shorts. An average trade length is 65 mins. The Profit Factor is low (1.39).


It trades both directions equally (53 deals for BUY and 40 deals for SELL).


Most of the trades were opened during a European trading day.


The weekly chart shows that all days are traded equally.


The robot works with still high risks to the account balance. There are 13.37% chances to lose 10% of the account balance.


We can see opened trades.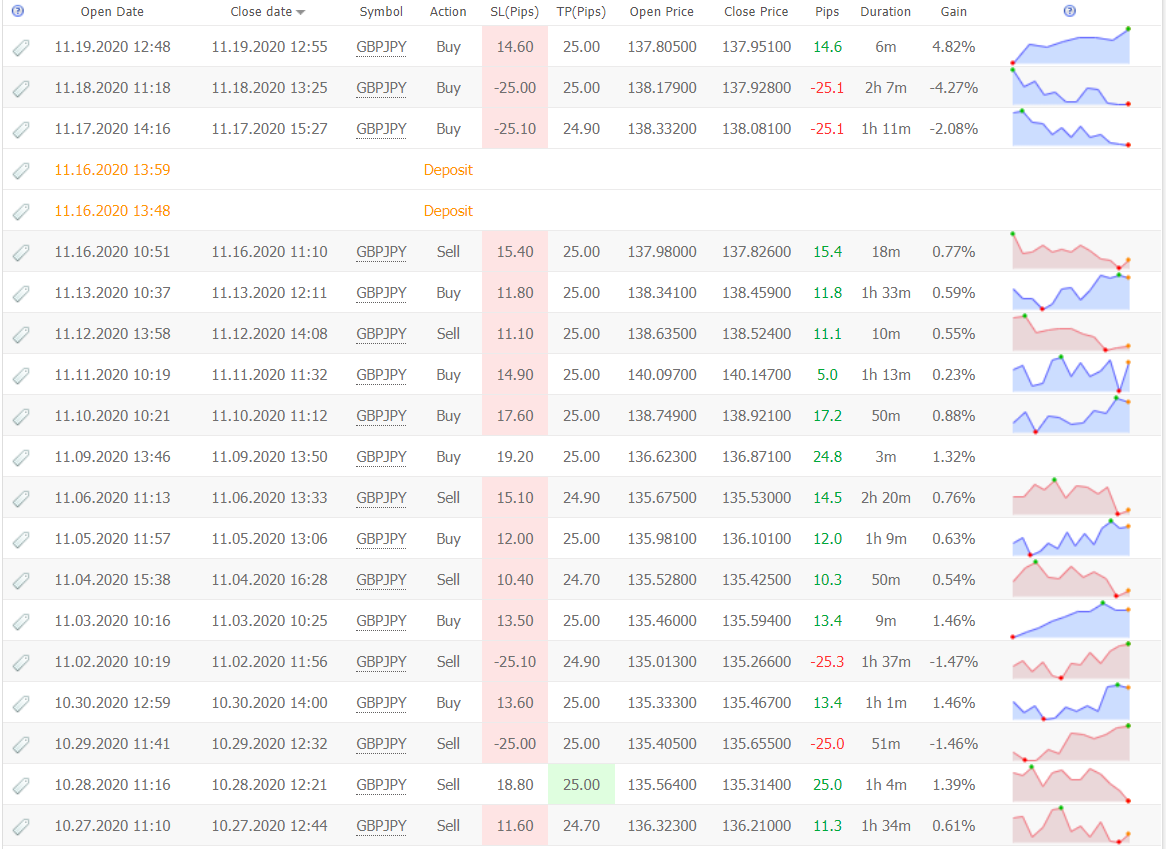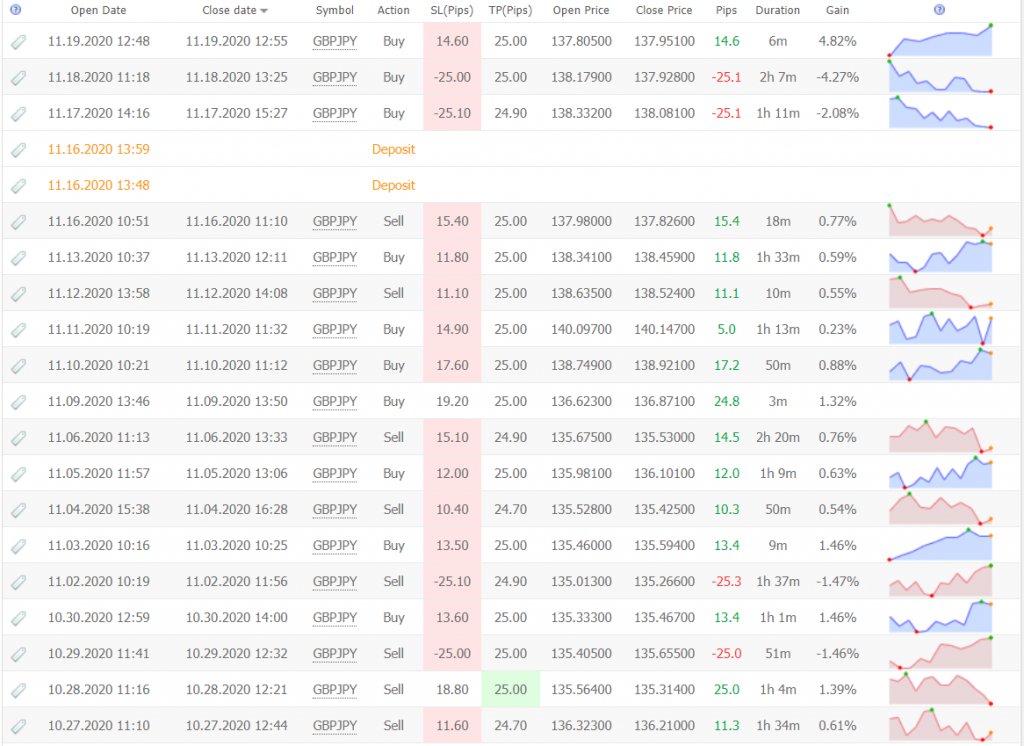 Most of the trades were closed after reaching Trailing Stop Loss levels, and just there was a single time in the nearest past when a deal was closed at a TP level.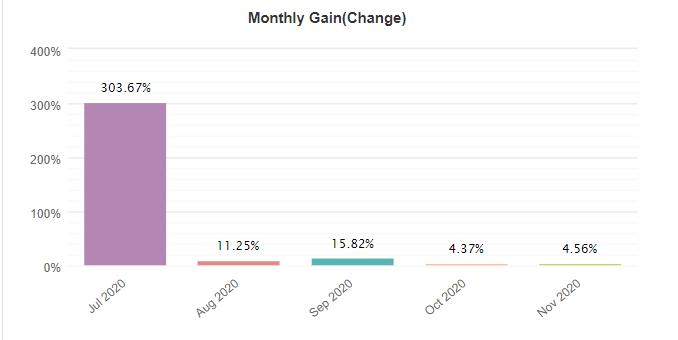 Even with these big risks, the robot can't provide more than 5% of the monthly gain.
Other notes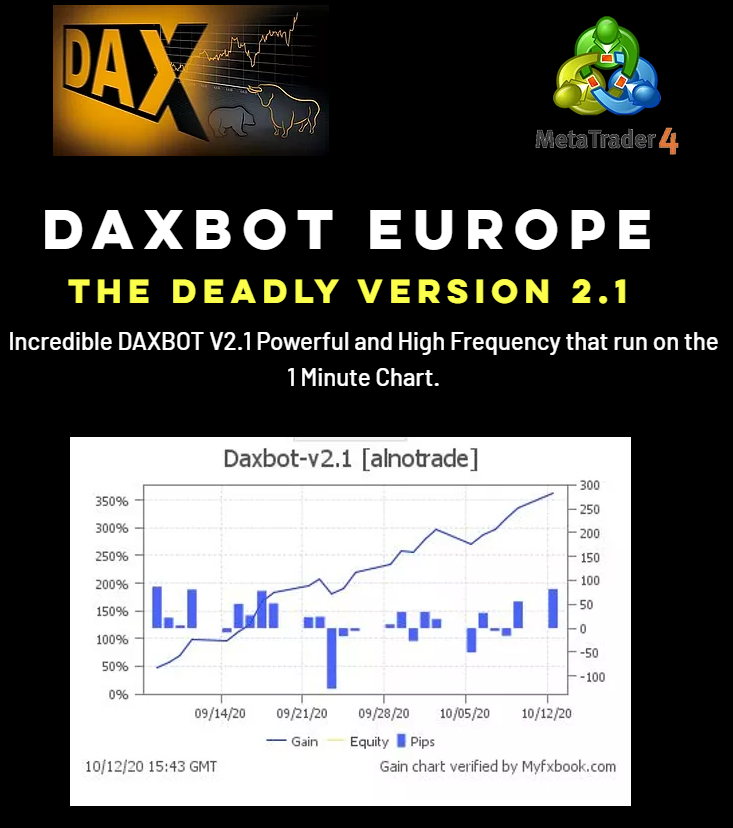 AlnoTrade also has designed a DAXBOT that trades the DAX Index during a European trading session. It works based on technical indicators on the scalping time frame – M1. There are several live accounts with DAXBOT's trading results.
Summing Up
Dragon Scalper, as well as the Alnotrade company, is 95% a scam. The developers manipulate people's opinions during the presentation to force them to buy the EA asap. The presentation looks horrible and bad-designed. The myfxbook-verified account has a huge lack of transparency. The backtest showed that the EA uses Martingale to recover. Real trading results proved that the robot couldn't reach TP levels. It provides low profits performing high-risk trading.