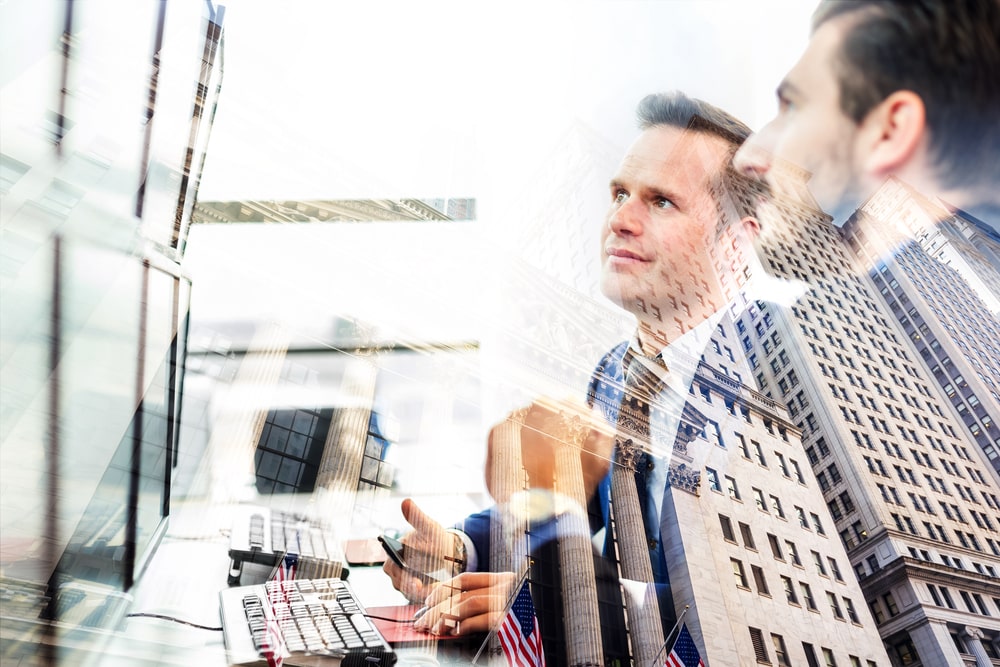 Hedge funds are not having a good time as the stock and bond market suffer one of their worst years. Between January and May, the tech-heavy Nasdaq 100 index dropped by over 24%, while the S&P 500 index fell by 16%. In the same period, Treasury yields rose to their highest levels in years.
As a result, many hedge funds have recorded negative financial results. For example, Bill Ackman's Pershing Square Holdings, a fund that saw strong returns in the past few years, has lost 20% of its value in 2022.
However, hedge funds are still attracting record investments from pension funds and other institutional investors. According to HFR, hedge funds saw inflows of over $19.8 billion in the first quarter of 2022, which was the biggest increase in 7 years.
In this article, we will explain how a hedge fund works, how hedge fund salaries are set and then look at their performance in 2022.
How hedge fund works
The concept of hedge funds is a relatively easy one. It is the process where high net-worth individuals, pension funds, cryptocurrency hedge funds, and other institutions provide funds to an experienced money manager. The manager will then promise to offer them exceptional returns that are typically uncorrelated to the broader market.
Hedge funds make money from two main sources. First, they charge a small administration fee that is used to pay salaries, rent, and other subscriptions like Bloomberg Terminal and Refinitiv Eikon. In most cases, this fee is usually 2% of assets. Second, they charge an incentive fee, which comes from the profits they generate from their investments. The typical incentive fee is usually 20%.
Therefore, assume that a fund has $1 billion in assets. In this case, it will make $20 million in administrative fees regardless of the fund's performance. If this fund makes a 10% return in a year, it means that its profit will be $100 million. In this case, the company will make another $20 million. Therefore, in that year, the fund will have a gross profit of $40 million.
How hedge fund manager salaries work
In most cases, hedge funds are usually small companies staffed with less than five people. This is primarily because most of them are small firms that have between $100 million and $500 million in assets.
Some giant hedge funds are also known to have a small number of employees. For example, while Pershing Square has over $18 billion in assets, it has just 30 workers. However, some large hedge funds like Citadel and Bridgewater Associates have over 1,500 employees.
Hedge funds employ people like investor relations staff, analysts, portfolio managers, data scientists, and administrative assistants.
The head of a hedge fund is usually the manager, who is mostly the firm's founder. Since they own these funds, these managers typically have the final say on their overall salaries. These people are also the chief investment officers.
They are then followed by portfolio managers who are responsible for making investing decisions and finding opportunities. In most cases, they have a fixed salary and annual bonuses based on their fund's performance. Many hedge fund managers generate most of their income from bonuses.
What affects hedge fund salaries?
There are several factors that affect hedge fund salaries in 2022. First, there is the size of the fund. In most cases, large hedge funds with a small number of employees pay more money. For obvious reasons, these funds generate a lot of money and are then shared with a small group of managers.
At times, however, many large funds pay managers a lot of money because of the battle for talent in the industry.
The age of the fund also has a role to play. Some new funds are more conservative since they don't have a long track record.
Location is also another factor. In many instances, funds in places like New York pay more money than those in smaller states. As shown below, the median salary of a hedge fund manager in New York is $114,670.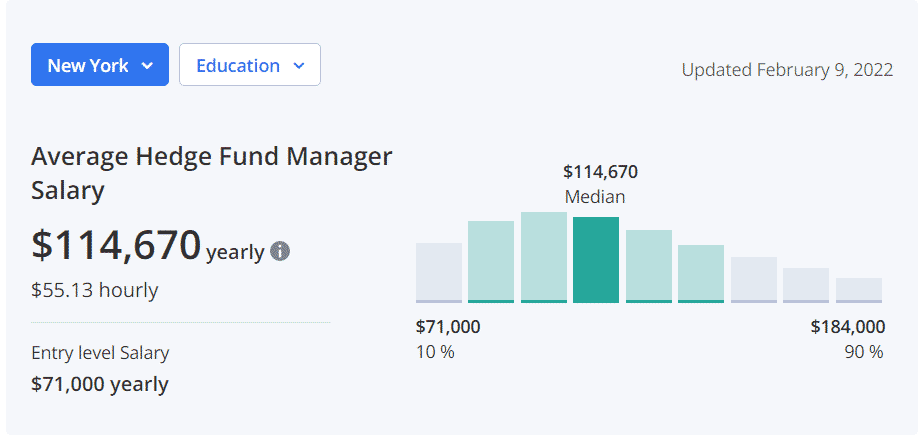 On the other hand, those in Alabama make about $74,239 per year.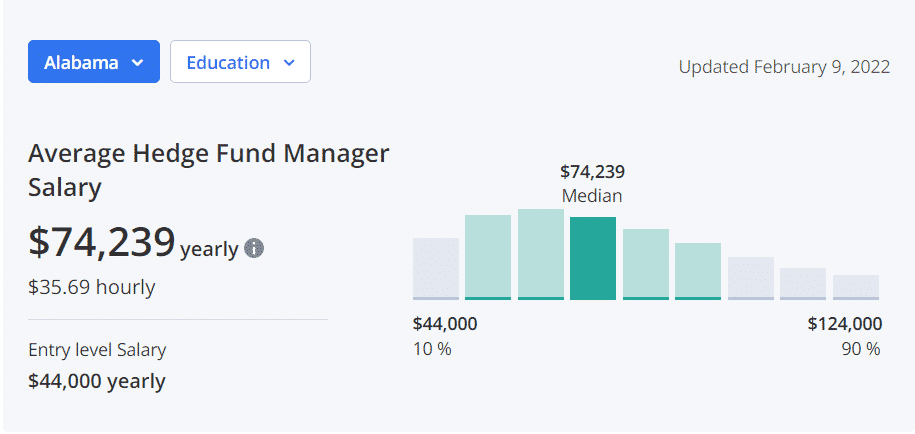 Finally, experience is a major contributor to hedge fund salaries. Highly experienced managers make more money than those who are starting their careers. For example, in New York, a fund manager with a doctorate degree earns an average of $176k while an associate has an average salary of $103k.
Hedge fund manager salaries in 2022
While hedge funds are having a bad year in 2022, many managers are still expected to make good salaries because of the administration fee. Besides, with inflows rising, many hedge funds are expected to generate more admin fees. However, if the year ends like this, they will miss out on the hefty bonuses that are tied to asset returns.
Notable hedge fund manager salaries
Bridgewater Associates, the biggest hedge fund in the world, has some of the highest salaries in the industry. For example, according to Glassdoor, an investment associate intern earns $149k per year. Senior investment associates earn an average of $370k per year.
Meanwhile, AQR, a hedge fund with over $143 billion, also has attractive salaries. Software engineers make an average of $190k, while investment analysts make about $93k per year. Most jobs in Ken Griffin's Citadel have salaries of more than $150,000, as you can see below.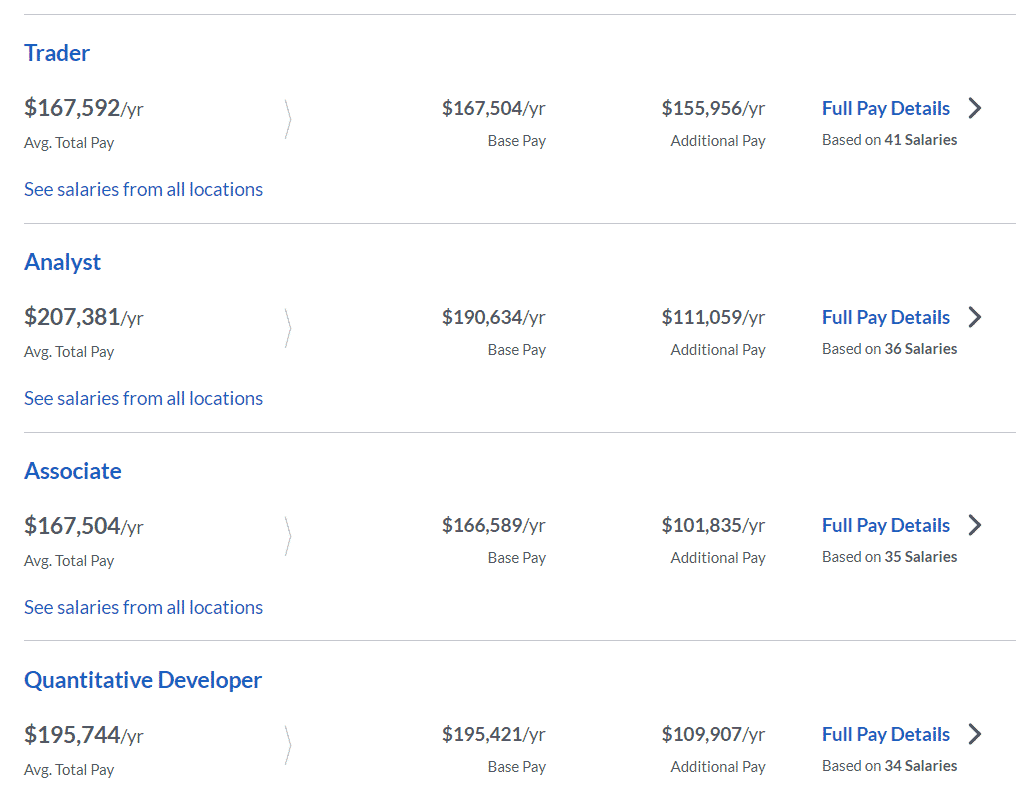 Summary
Hedge funds are some of the most attractive industries for most people. The biggest challenge, however, is how to get in. Typically, hedge funds tend to hire from prestigious institutions like Havard and Yale. They usually get experienced professionals from large investment banks like Goldman Sachs and Morgan Stanley.