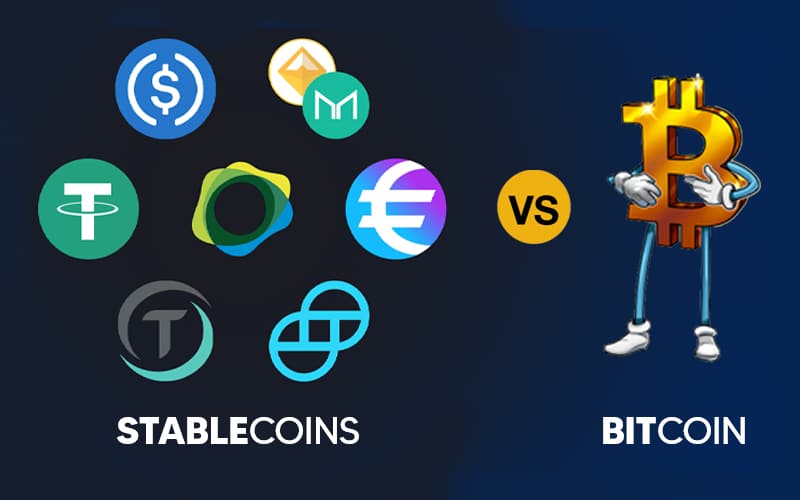 It's hard to deny Bitcoin's far-reaching influence ever since it became mainstream, spawning many other different kinds of cryptocurrencies and tokens. While Bitcoin is undoubtedly an influential force, there should be a lot more worldwide adoption. Although many consumers use Bitcoin as a reliable medium of exchange, there are still risks for businesses and other large organizations.
The main perceived detraction with BTC is the somewhat volatile prices that analysts consider unstable. As a result, we could say stablecoins exist for the sole purpose of offering a more stable cryptocurrency. Stablecoins seek to fuse the best of both worlds in fiat and cryptocurrencies.
What is Bitcoin?

Although a lot more people know what Bitcoin is, it may help to define the coin broadly. Bitcoin is a cryptocurrency started in 2009 by the pseudonymous founder, Satoshi Nakamoto. It's a decentralized digital currency that consumers can exchange on a peer-to-peer blockchain network without the presence of a central authority. With the luxury of first-mover advantage, Bitcoin is presently the most traded and popular cryptocurrency globally.
What is stablecoin?

Stablecoins are another class of cryptocurrencies with pegging to a reserve asset, most notably an already established fiat currency such as the US dollar or euro. Some stablecoins have the backing of a commodity such as gold and silver. As the word suggests, stablecoins aim to offer stability, unlike the somewhat erratic price movements experienced in traditional cryptocurrencies. Popular stablecoins presently include Tether, TrueUSD, USD Coin, PAX, and DAI. Analysts class stablecoins into three main strands:
Fiat-backed
Crypto-backed
Non-collateralized

These forms of stablecoins are the most popular. They seek to maintain a fiat currency as their reserve asset like the US dollar, and the euro used as collateral for a specific amount of crypto coins. Well-known examples of such stablecoins include USD Coin, TrueUSD, Gemini, and Tether, the latter of which is the third most-traded cryptocurrency globally. Other forms of collateral can also be certain precious metals, but in most cases, the US dollar is the reserve fiat currency.
Crypto-backed stablecoins
As the word suggests, instead of using fiat currencies as collateral, these stablecoins rely on other cryptocurrencies' backing. Unlike fiat-backed stablecoins on a 1:1 basis to the reserve currency, we could say that crypto-backed stablecoins are on a higher ratio, leading analysts to conclude them as over-collateralized. Although cryptocurrencies are inherently volatile, over-collateralization means there is at least a 2:1 basis.
The higher ratio compensates for any price swings which may occur. The prime examples of crypto-collateralized stablecoins are MakerDAO and Havven, which follow the values of Ethereum and Nomin, respectively.
Non-collateralized stablecoins
These coins don't rely on specific collateral that needs to be in reserve. Instead, they rely on a concept known as Seigniorage Shares. This system uses an algorithm through smart contracts that maintain the token's price according to a pegged asset such as the US dollar or a commodity like gold. Examples of such coins include Basis, Carbon, and SagaCoin.
The main advantages and disadvantages of Bitcoin
The benefits of Bitcoin are evident by offering power to the ordinary folk in creating a currency that can act as an electronic medium of exchange and storer of value. Through decentralization and a proof-of-work system, any of the blockchain nodes can see and confirm transactions.
Compared to the mainstream means of financial transactions, Bitcoin transactions are generally faster, seamless, and secure. Perhaps we could argue at least two practical drawbacks with Bitcoin:
The transaction costs are inconsistent and can fluctuate daily for various technical reasons.
Although a decentralized currency, mining is costly and is reserved for a minority of users.
Despite its existence now for close to 12 years, detractors still argue that Bitcoin is a speculative bubble, which has always been the main argument.
Many investors are uncomfortable with the volatility of its price. They are quick to note the unprecedented, record-high surge in December 2017 of nearly $20 000 to the rapid decline where prices fell to $3747 by the 1st of January, 2019.
Bitcoin hasn't experienced that much volatility from 2019. The same goes for coins that move in line with the dollar, such as Ethereum, Litecoin, and Ripple. There is a fear Bitcoin may lose value tremendously and become worthless, though it's highly unlikely. The reason for this, as we've outlined the benefits already, is Bitcoin is a valuable asset with a defined need in the market.
The main advantages and disadvantages of stablecoins
Stablecoins offer many benefits that Bitcoin does, such as seamless peer-to-peer transfers, lower fees, and highly secure transactions. The overarching advantage of stablecoins is they act as digital assets free from the erratic price fluctuations of traditional coins.
However, the biggest shortcomings with stablecoins are questions over the validity of the reserves they suggest to have. For example, Tether has come under fire numerous times and still has not presented any form of audit that clearly shows sufficient reserves that back the currency.
Stablecoins are also generally more centralized than a coin like Bitcoin that is favorably known for being a non-centralized network. Therefore, it's much harder to verify a company like Tether Limited owns the reserves they claim.
Conclusion
We can observe that stablecoins attempt to bridge the gap between fiat and cryptocurrencies, using the stability of fiat while utilizing the technology of crypto. The ongoing criticism with Bitcoin is the price swings that it tends to experience. Although this characteristic makes the coin very attractive to speculators, there is no regard for being sustainable for everyday use.
The most significant criticism with stablecoins is its centralized structure and lack of transparency, which goes against the values of die-hard cryptocurrency enthusiasts. Nonetheless, it will be interesting to see how the crypto market will fare in the future by adopting these unique cryptocurrencies.