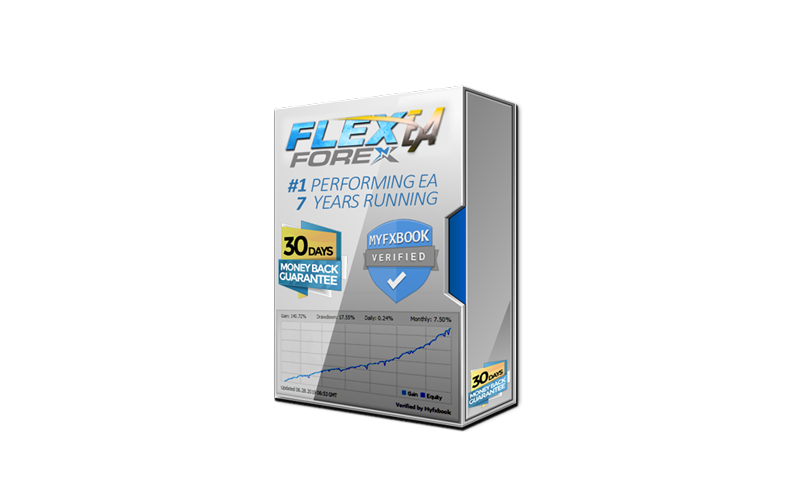 Forex Flex EA is today's robot to review. The robot has a little presentation. So, let's find all the important information about its functionality that allows us to make a balanced decision.
Is Forex Flex a Good EA to Invest?
The robot has many trading strategies behind it. It uses a technology based on opening virtual trades to check what's up with the market to find the best Entry Point before opening a real trade.
Company Profile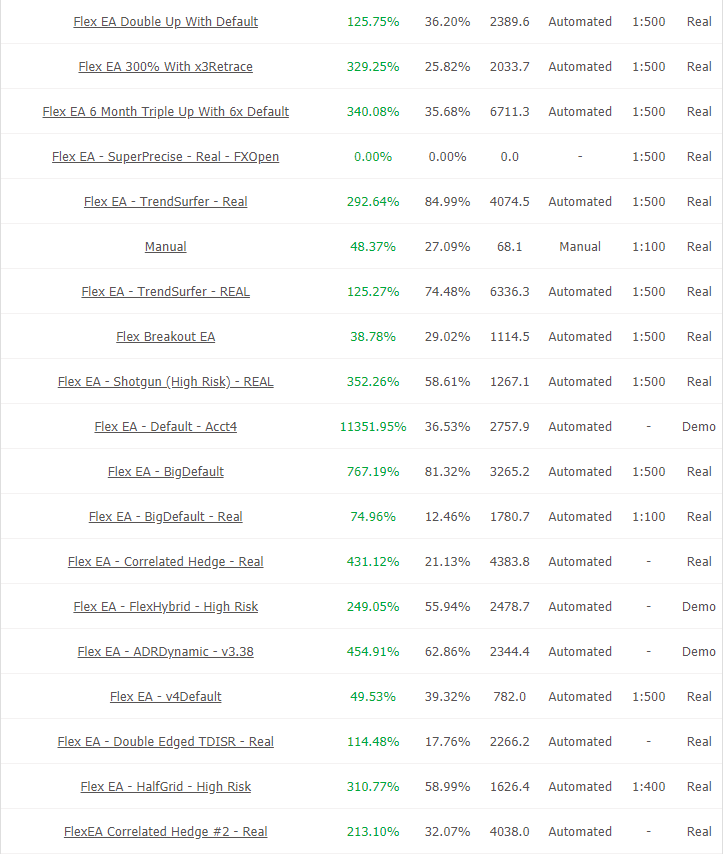 The company has been working since 2015 and has a four-page wall of trading results.
Main Features
The robot supports 28 currency pairs.
There's a money-management system that allows setting flexible Lot Sizes.
It can trade with any style (what does this mean?).
There are twelve trading strategies on the board.
The EA avoids trading during high impact news.
We can trade with any MT4 broker.
We'll receive a 4.95 version of the EA, free updates, and well-optimized settings.
The robot is compatible with NFA and FIFO brokers.
Works the best on the GBPUSD, USDJPY, USDCAD, USDCHF, EURUSD, AUDUSD, EURJPY, EURCHF, EURGBP, and NZDUSD charts.
News Filter allows us to avoid trading during high-impact news.
Drawdowns control lets us close all deals if the drawdowns are higher than the percentage we set.
We can avoid any session if we want.
Almost all of the indicators can be turned on or off.
We can close trades based on information received from indicators.
Hedging can be turned on and well-customized.
There's the protection of SL and TP levels from brokers.
Symbol filter manages how many deals can be opened for every symbol.
The minimum deposit should be $1000 for a standard account.
We're recommended to trade through HotForex and FXOpen.
Price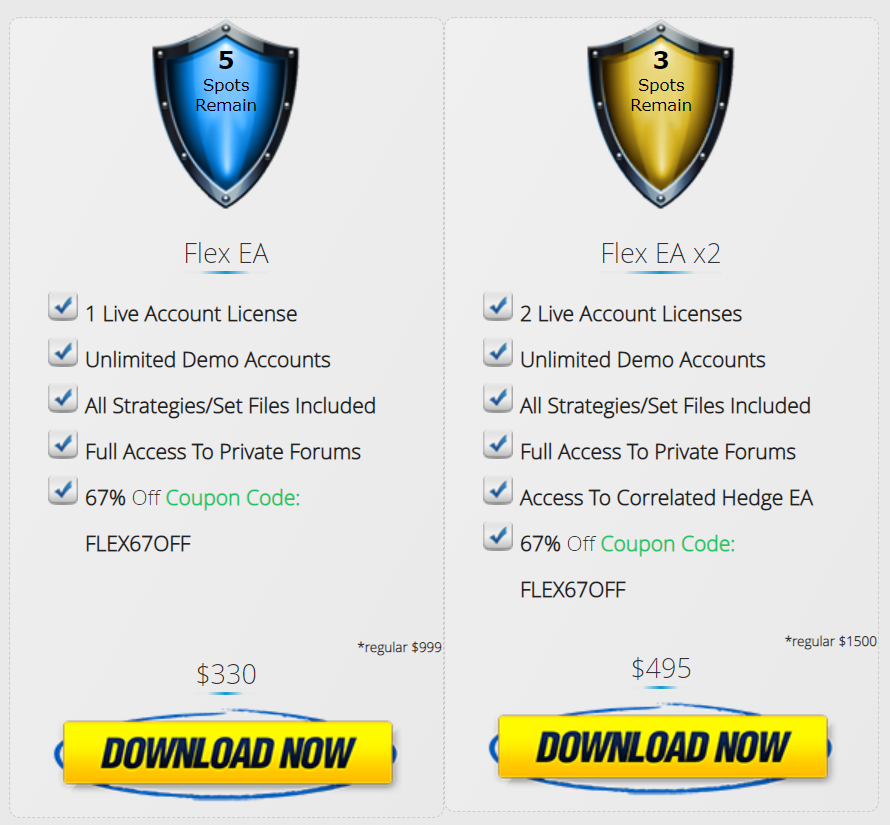 Forex Flex EA is introduced in two packages. The one-license package costs $330 (with $670 OFF). It includes one real account license and unlimited demo ones. We can get access to the private forum. The two-real accounts package costs $495 with $1005 OFF. There's a 30-day money-back guarantee.
Trading Results

We've got this onsite screenshot of backtests results.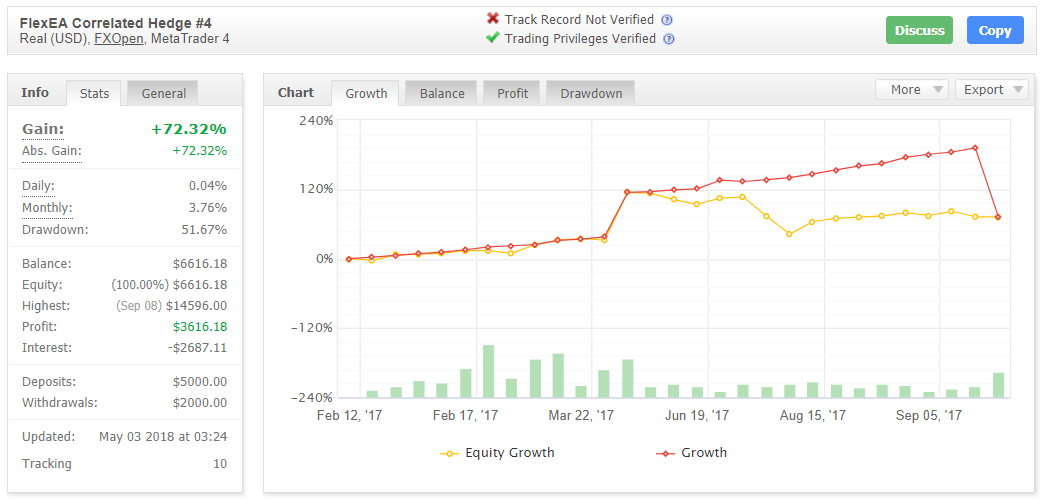 This is an account where they traded using hedging. Now, it's abandoned, but not withdrawn.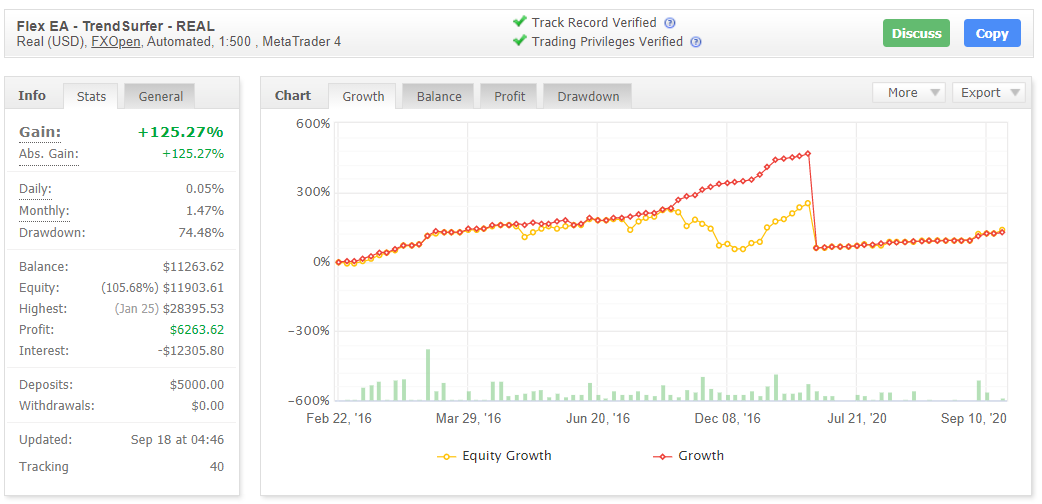 A trend strategy account worked without SL trading for four years.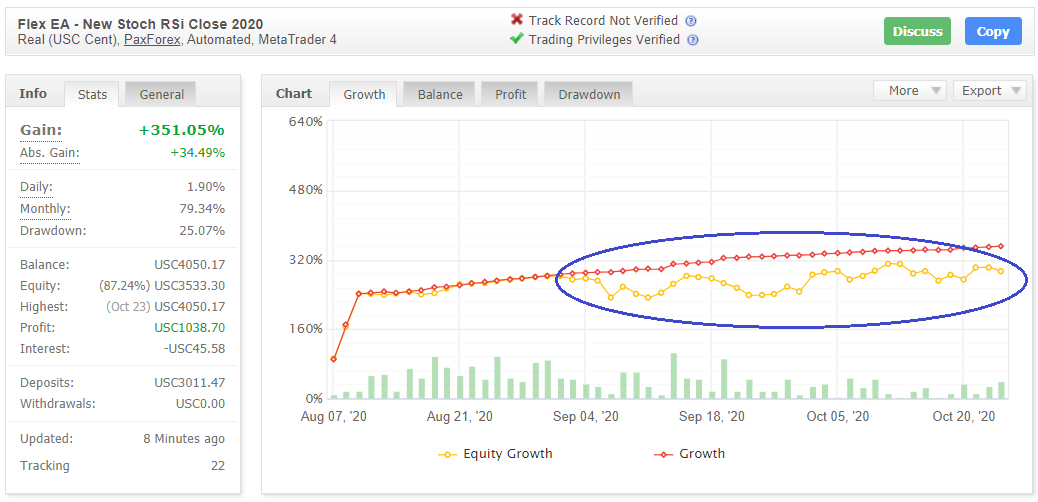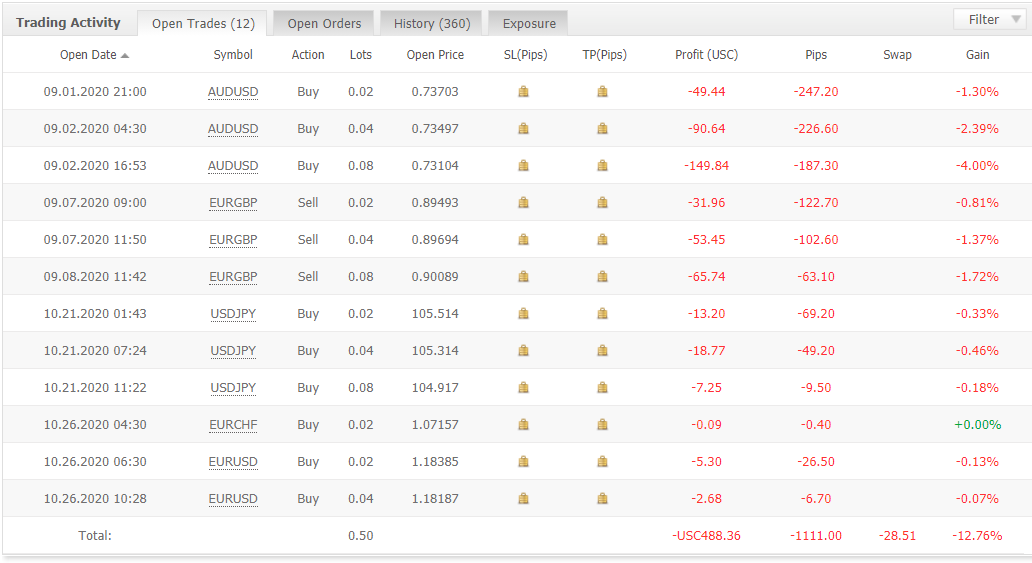 As we can see from many accounts, the EA loves sitting in huge drawdowns for days.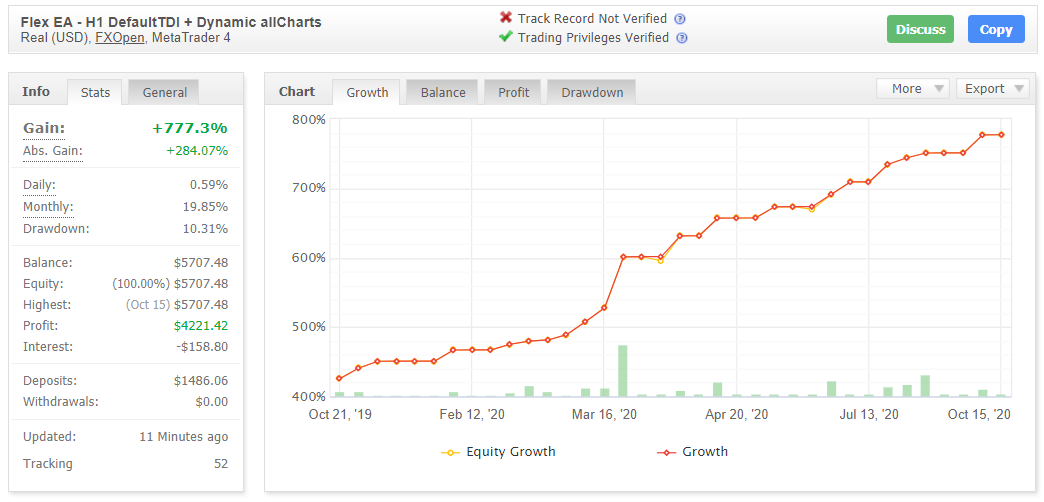 Let's take a look at this account where a new strategy is tested. It's a real USD account on FXOpen without leverage. The robot trades through MT4. The account was created on October 21, 2019, and deposited on $1486. Since then, the absolute account gain has become +777.3%. A monthly gain is 19.85% with little drawdowns (10.31).

It trades one trade in several weeks. The EA closed 79 deals with a huge number of pips (1716.8). An average win (42.52 pips) equals an average loss (-43.92 pips). The win-rate varies much. For Longs, it is 84%. For Shorts, it's 68%. An average trade length is one day. The Profit Factor is 5.03.

There are several core profit bringers: GBP/USD (+921 pips) and GBP/CHF (+259 pips).

It opens trade all day long.

There are little numbers of closed trades, so a weekly chart tells us nothing in addition.

The robot trades with quite high risks to the account balance (from 5% to 7%).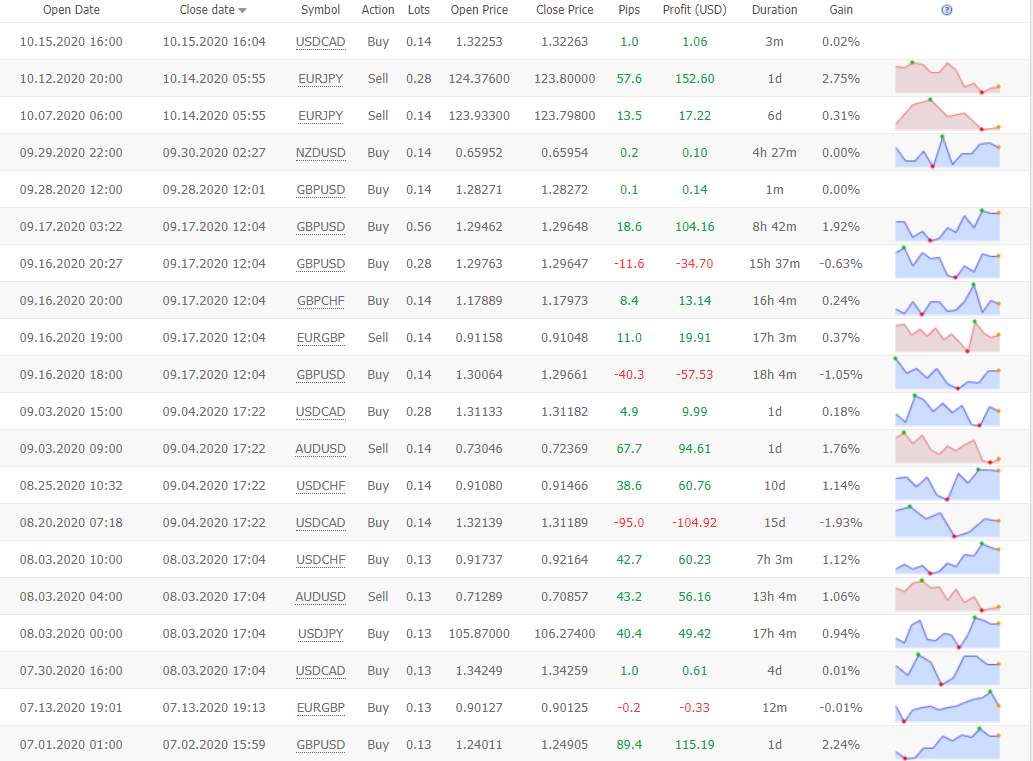 It seems like the EA uses equal SL and TP in pips, and they are hidden from a broker.

Just look at this single two-months-length trade that quadrupled the account.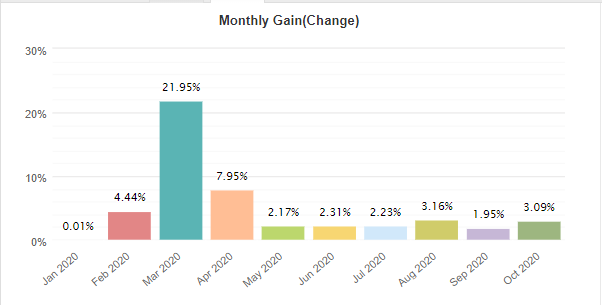 Now, the EA trades much calmly with 2%-4% of the average monthly gain.
Forex Flex EA's profile on Forex Peace Army

The FPA profile has many reviews (73) that are mostly positive. They formed a 4.2-star rating for a 5-star scale. The last update was just several days ago.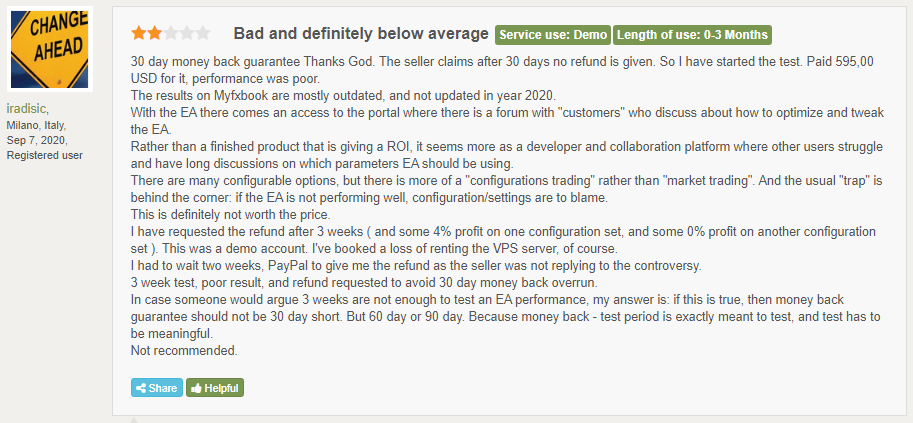 There's negative feedback.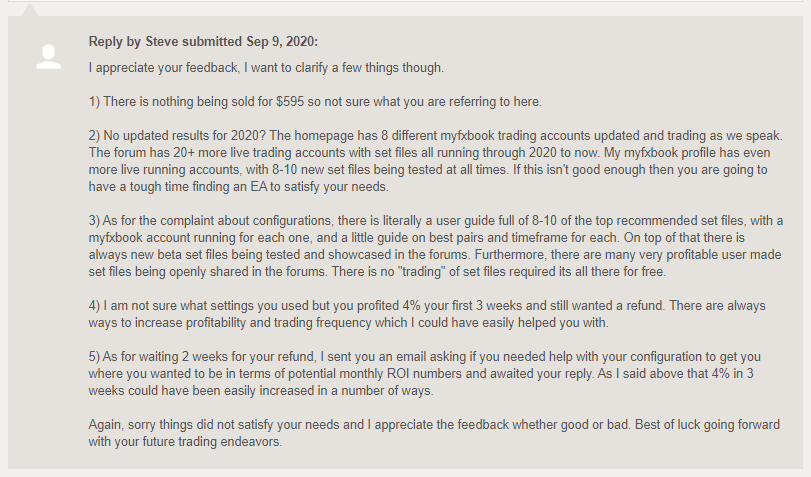 The vendor was quick to answer all the asked questions. From this dialogue, we may notice that the comment is probably fake.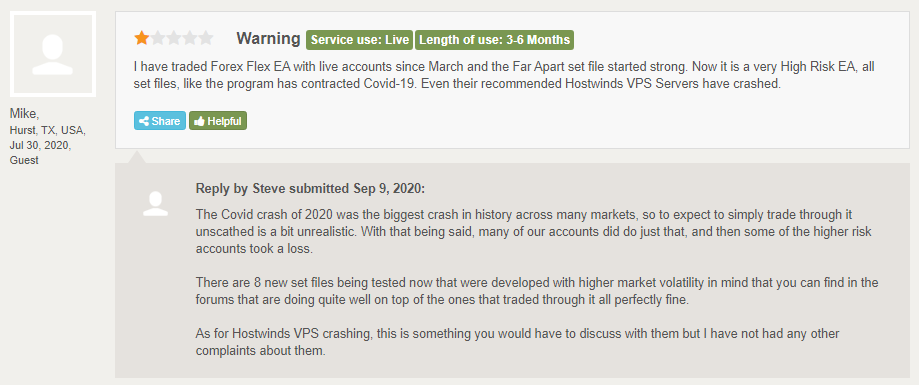 From this comment, we know that the robot doesn't have any kind of news filters against high impact news. Their influence is so strong, especially when people trade on real accounts.

People noticed that the user manual doesn't provide a proper level of information, so every person can customize these settings.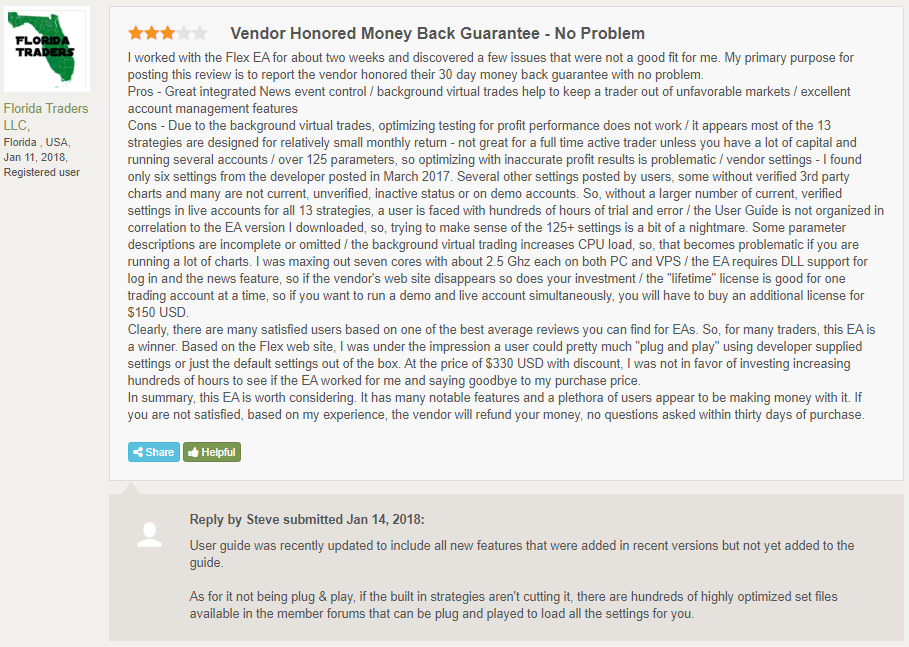 If you have a low CPU PC, you may experience that the terminal grabs all resources to function well. There are many settings files on the member forum, so we can try different ones.
Forex Flex EA Review Summary
It's a very complicated and not a beginner-friendly robot. Can you imagine that any person can customize twelve strategies for 28 currency pairs? We can't. The developers don't provide a list of these strategies so people can be prepared for what they'll face. Pricing is unfriendly too. As for a robot that they've been selling for seven years, they'll be able to provide better offers. Talking about trading results, it was hard to understand what strategy is good and which one should be turned off and forgotten forever. These strategies don't equal because results vary so much, depending on the trading account.
Make an informed decision
Check out the selection of the most efficient forex robots
here