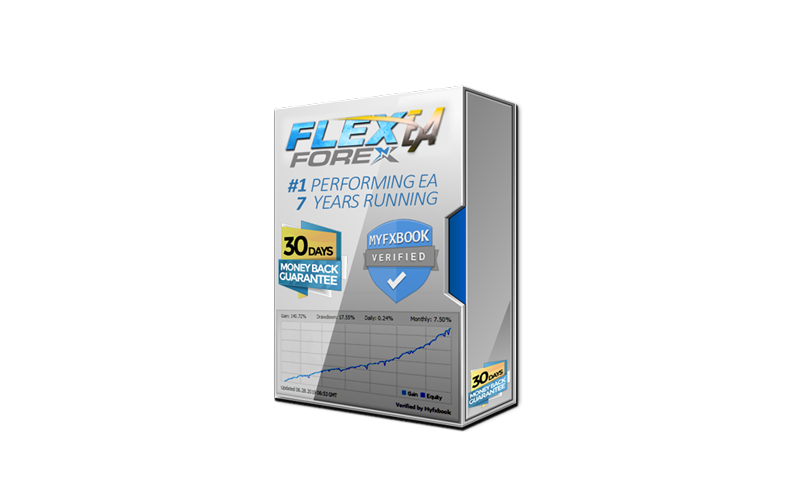 In this review, we will be talking about one of the oldest trading tools on the Forex market‒Forex Flex EA. The devs behind this trading tool claim: 'No automated system out there can work long-term without consistently updated settings.' For this reason, they included an automated update system. We have to admit that this feature is very important as well as useful. It is certainly one of the core features every good trading system should have. However, what about the other features the EA has? What about its profitability? Is it still valid to invest in 2022? Should we consider other automated trading systems? Keep on reading to find out.
Is Forex Flex a Good EA to Invest?
The system shows good trading results in 2022. For experienced traders adjusting the system using 12 different strategies may be acceptable, while for 'green' traders it is a daunting task.
Company Profile
Unfortunately, information about the developer or a team that stands behind this EA is missed. However, on their Forex Steam forum, we have found that the admin's name is Steeve. He has been producing products in this market for over ten years. Although it sounds good, we cannot say it's true. Firstly, the dev is still unknown to us, Secondly, there is no info on the other products the dev developed provided. And last but not least, we do not know whether the company is regulated. Trusting money to a person we know very little to no info is absurd.
Main Features
There's a money-management system that allows setting flexible lot sizes.
There are twelve trading strategies on the board.
The EA avoids trading during high impact news.
It works with any MT4 or MT5 broker.
The robot is compatible with NFA and FIFO brokers.
It works the best on GBPUSD, USDJPY, USDCAD, USDCHF, EURUSD, AUDUSD, EURJPY, EURCHF, EURGBP, and NZDUSD.
News filter allows us to avoid trading during high-impact news.
Drawdown control lets us close all deals if the drawdowns are higher than the percentage we set.
Almost all of the indicators can be turned on or off.
We can close trades based on information received from indicators.
Hedging can be turned on and well-customized.
There's the protection of SL and TP levels from brokers.
Symbol filter manages how many deals can be opened for every symbol.
The minimum deposit should be $1000 for a standard account, $100 for a cent/micro account, and $10 on a nano acount.
We're recommended to trade through HotForex and FXOpen.
The devs say that if we run the EA on 5 charts on default settings, then we can expect 4-8 trades/week. In the case of 10 charts it may exceed 8-10 trades a week, and so on.
Full-time 24/7 support.
Price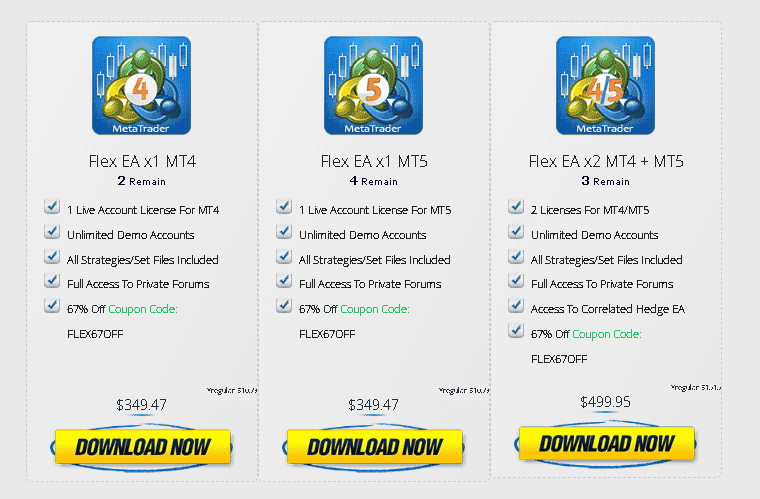 Forex Flex EA is introduced in three packages. One package allows trading on the MT4 ($350), the other one on the MT5 ($350), and the last one ($500) on both trading terminals. The common features of these plans are full access to private forums, all strategies set files included, an unlimited number of demo accounts, and a 67% OFF coupon code that could be found on the dev's website. The MT4, as well as the MT5 version, come with only 1 account license, while the MT4/MT5 version offers 2 licenses for both trading platforms. The vendor also mentions a 30-day money refund if we are not happy with the trading results we achieve.
Trading Results

We've got this onsite screenshot of backtests results. Here you can see two backtests using GBPUSD and EURUSD pairs. The modeling quality was 99,9%. The gain achieved with EURUSD was higher than the one achieved with GBPUSD. We can say nothing about the drawdown, average win/loss result, risk/reward ratio or so. It looks like the dev doesn't want us to know more about its past performance.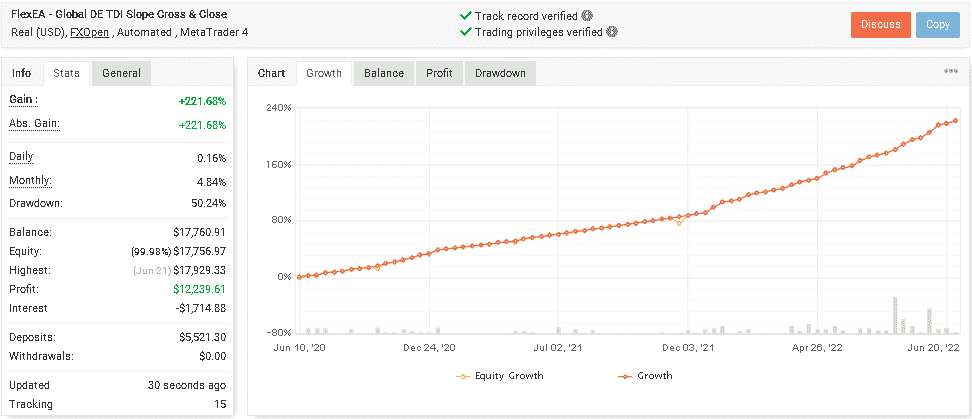 The account's total gain has reached a +221.68% mark for more than 4 years of trading activity on Myfxbook. Trading with FXOpen broker and a deposit of over $5.5K, the profit could grow to over $12K. Although the daily and monthly gains stand at 0,16% and 4.84%, the high drawdown of 50,24% makes us worry about its reliability.
If you open its trading statistics, you will see that the average win rate leaves much to be desired.

Only 5 out of 9 currency pairs the EA supports are profitable. The best trading result the system achieves is with GBPCHF ($7,297.58) and USDJPY ($5,838.96). The highest win rate has GBPUSD–68%.

Grid of orders and unfixed lot size are two main things you have to consider when trading this EA. The system used to sit in huge drawdowns for days.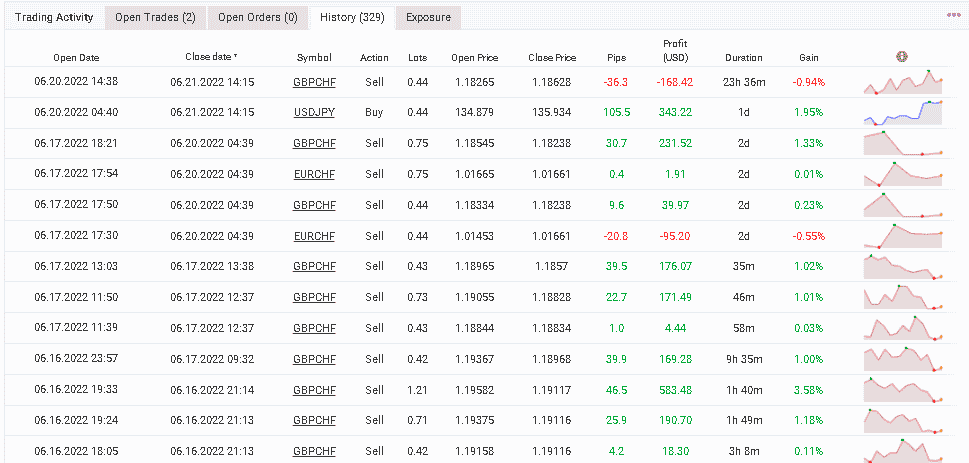 Although the system is a risky trader, it keeps closing all months with profits this year: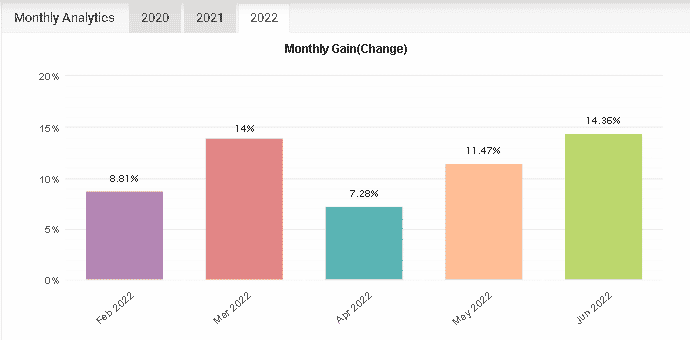 Customer reviews on FPA

The FPA profile has many reviews (73) that are mostly positive. They formed a 4.2-star rating of a 5-star scale.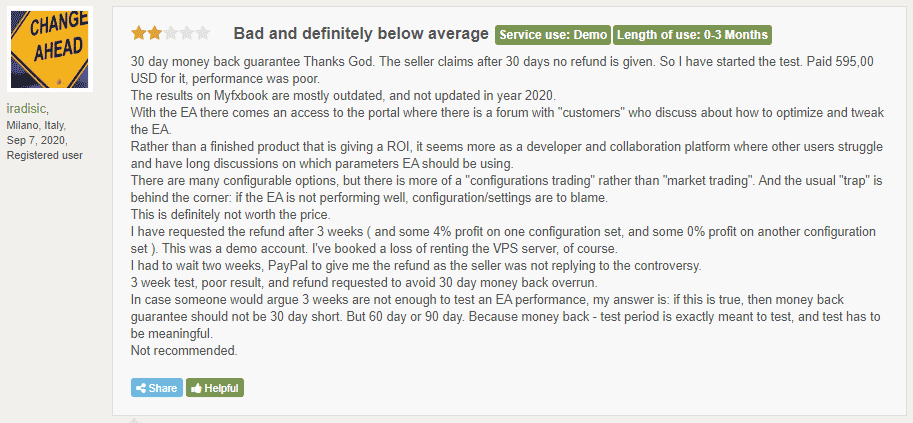 There's negative feedback.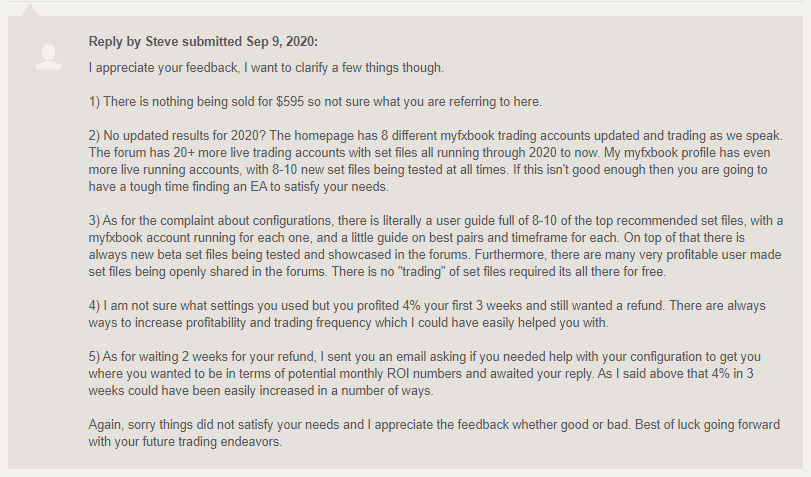 The vendor was quick to answer all the asked questions. From this dialogue, we may notice that the comment is probably fake.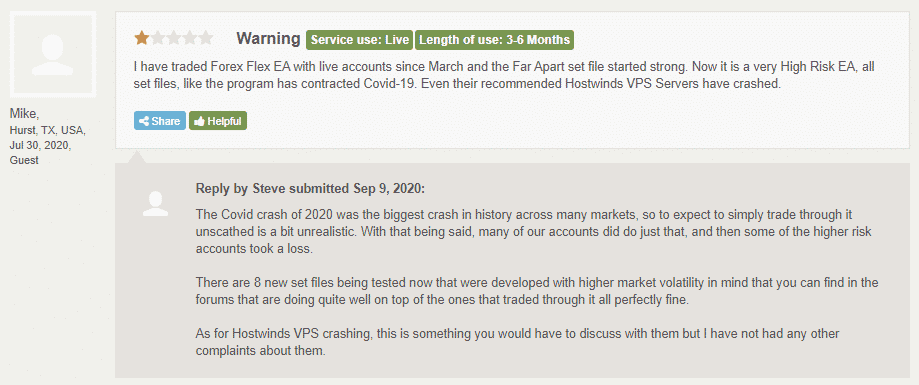 From this comment, we know that the robot doesn't have any kind of news filters against high impact news. Their influence is so strong, especially when people trade on real accounts.

People noticed that the user manual doesn't provide a proper level of information, so every person can customize these settings.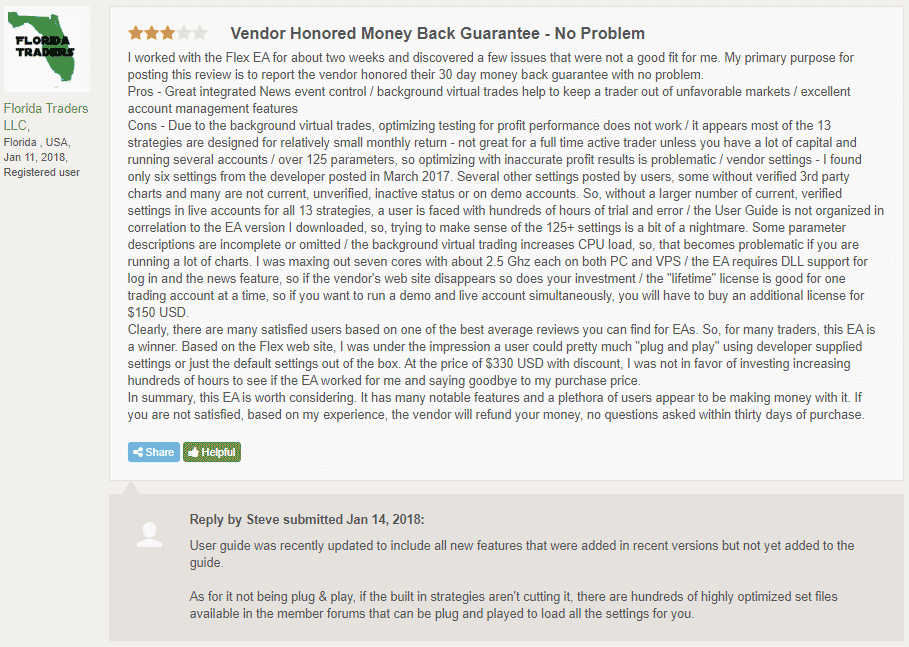 If you have a low CPU PC, you may experience that the terminal grabs all resources to function well. There are many settings files on the member forum, so we can try different ones.
The Review
Forex Flex EA Review Summary
It's a very complicated and not a beginner-friendly robot. Can you imagine that any person can customize twelve strategies for a successful trading with this EA? The developers don't provide a list of these strategies so people can not be prepared for what they'll face. Pricing is unfriendly too. As for a robot that they've been selling for years, it would be nice to provide better offers. Talking about trading results, it was hard to understand what strategy is good and which one should be turned off and forgotten forever.