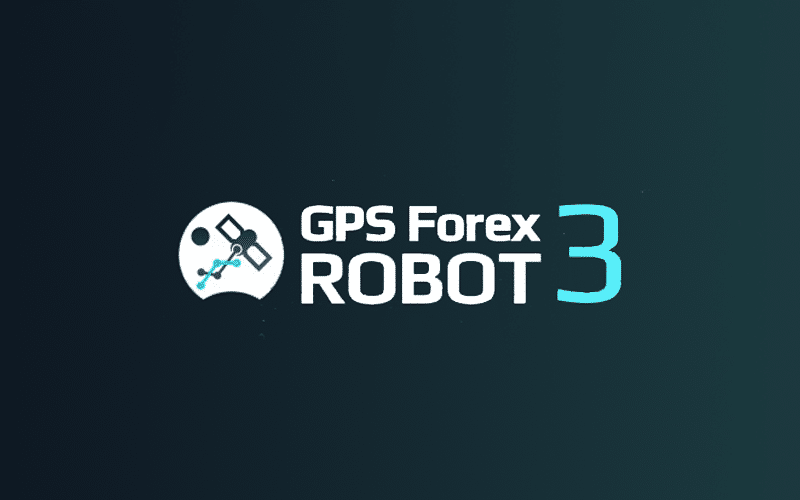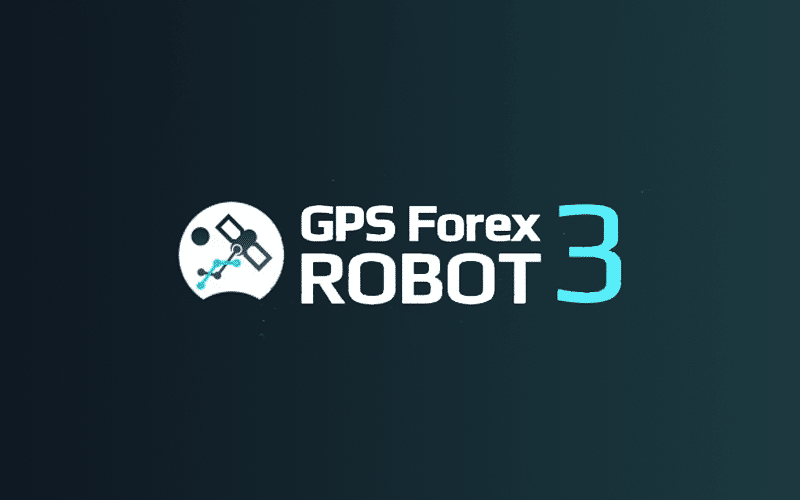 Developed by Mark Larsen who has several years of experience in Forex, GPS Forex Robot assures low risk and very high returns. However, after the detailed system analysis, we found some issues that cannot be ignored.
Is GPS Forex Robot a Good EA to Invest?
We have evaluated the features, functionality, performance, price, and user reviews for this expert advisor. Our initial conclusion is that this system shows potential. The verified trading results make it look like a good trading tool. However, a combo of Grid and Martingale is a drawback to consider.
Company Profile
This system is developed by Mark Larsen and his team of two programmers, Ronald and Antony. Mark Larsen has done reviews of several Forex systems and produced Forex videos over the past 16 years. He also hosts many review blogs and sites like Forex Tester, Forex EA Lab, and more. Larsen has beta-tested many of the commercial and free trading systems in Forex. There is an online contact form for customer support and phone contact.
Main Features
While the official site has elaborate info on why other Forex systems fail and other such matters, there is very little info provided on this system. From the developer info, the system has been optimized and given the name GPS Forex Robot 3.
According to the developer, this system is four times quicker, has better-optimized settings, and twice profitable as the original version. With the new version, you can make changes in all the parameters and customize the settings to your specific style of trading. Another feature added in the new system is a trailing take profit feature which can be applied when necessary.
While Mark Larsen explains that the system can make 30% profit, he does not disclose the exact trading strategy used. There is mention of the system being bulletproof and sustaining any market situation. The system can predict the short-term movement with a high probability.
A reverse strategy is also part of the system to cover any losses accrued during movement happening opposite to the direction predicted. Larsen claims that the design of the robot makes it undefeatable in live trading as well as in backtesting.
Price

This Forex robot is priced at $149 which is a one-time fee. The price includes access to the Forex robot, additional bonus features such as video tutorials and webinars, and more. A 60-day money-back guarantee is offered which makes the system more reliable.
Trading Results
Larsen provides real account trading results verified on the Myfxbook site. A screenshot of one of the trading results is shown below: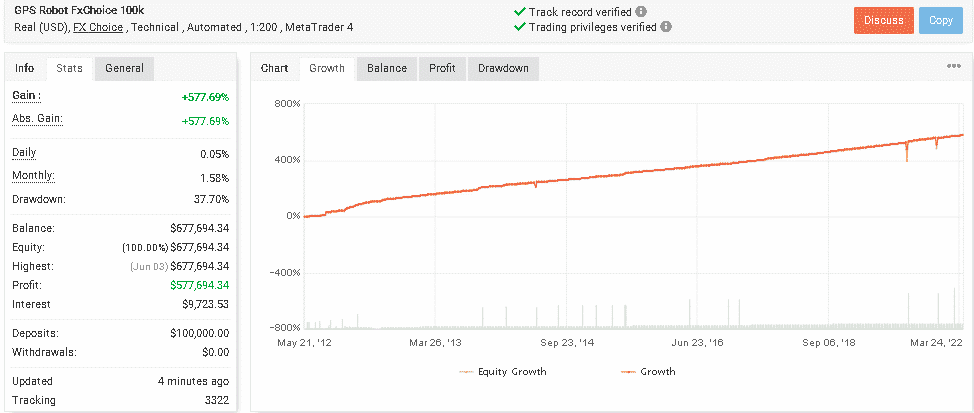 The robot trades on the real USD account with the leverage of 1:200. It trades under the well-known FX Choice broker automatically, using technical indicators. The account was created on May 21, 2012, and the same day it was deposited at $100K. For over 10 years of trading activity, the system's total gain has grown to 577.69%, representing a profit of $577,694.34. A daily profit of 0.05% and a monthly profit of 1.58% are recorded for this account. The peak drawdown was 37.70%. It should be noted that the growth chart looks impressive, especially for the trading account that was created a decade ago.

The profit factor, risk/reward ratio, and average win rate look good. The system closes over 94% of all orders with profit. It impresses. However, the next thing you will see may shock you: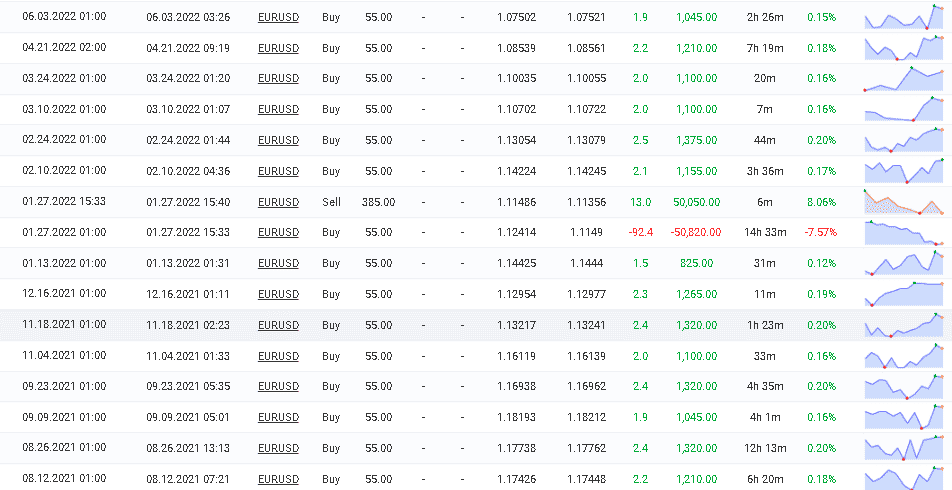 At the first glance, you may see that it trades with a fixed lot size of 55. Its gains range between $1K-$1,3K. However, it's only an illusion. In case of loss, you can lose 50 times more than win!!! As you may see on the table above, the loss that occurred on January 13 led to an enormous money loss of -$50, 320! To recover after this loss, the system increased lot size. Now instead of 55, you have 385. This lot size is required to place an order and cover losses. We need to note that it also applied a scalping approach. As you know, this combo is risky for any trading account.
The system is a rare trader. It has only racked up 512 trades, most of which came in 2012. Now from January till June 2022, there have been only 9 trades performed. It means that it places 1-2 trades per month.

This trading approach works well for the devs as they do not have a losing month in the long term. However, the gains we see in 2022 are significantly lower than they were in 2012.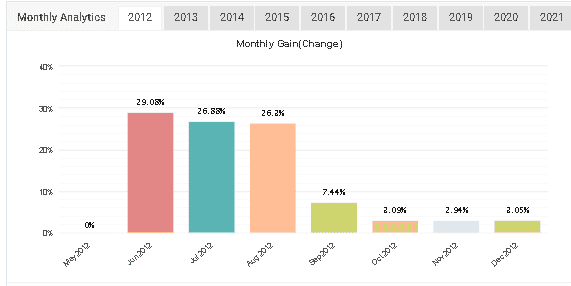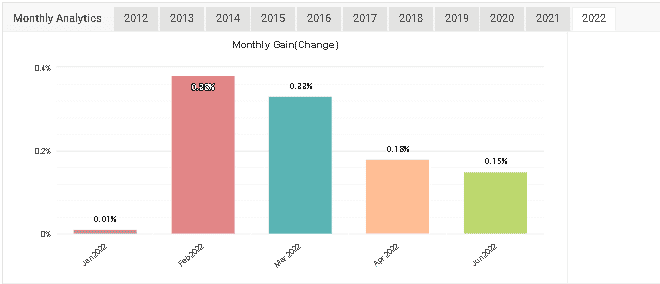 Although the system is still positive in 2022, its monthlt hain has dropped to 0,2% on average.
Backtests are also displayed on the site. Here is a screenshot of a backtesting report: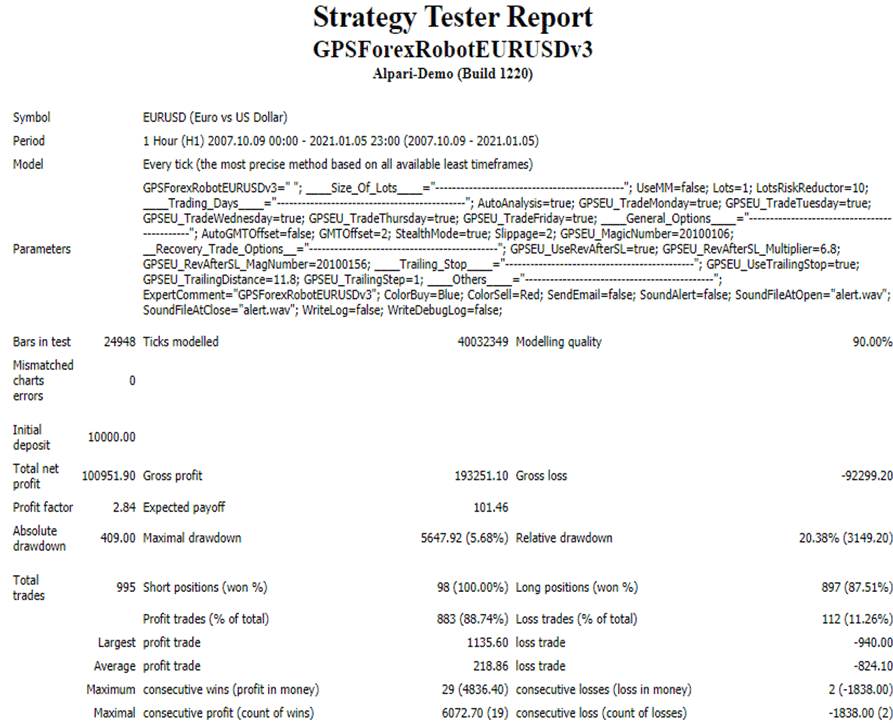 From the strategy tester report, we could find the modeling quality is just 90% which is not sufficient to know about the slippage, commissions, spreads, and other relevant details. For an initial deposit of $10,000, the profit factor is 2.84 and the maximal drawdown is 5.68%. The backtest uses a one-hour timeframe and is done for 14 years. Comparing the backtesting and the live trading results, we could see the drawdown is 7 times higher in real trading.
Customer Reviews
We found user reviews for this system on the Forex Peace Army site. The screenshots below show the reviews: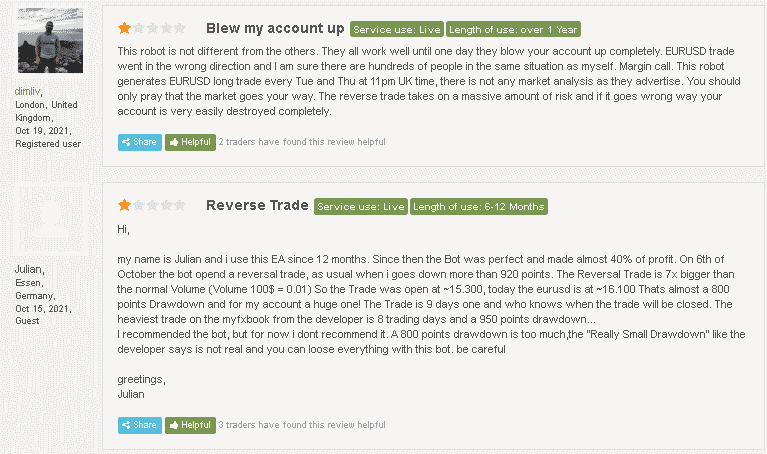 From the reviews, we can see that the system is not as undefeatable as the developer claims. The reviews mention the reversal trade feature not working as it should and the ineffective support.
The Review
GPS Forex Robot Review Summary
Summing up this GPS Forex Robot review, Mark Larsen's system shows potential with its live verified trading results and backtests. The trading details show a decent profit percentage and a risky trading approach. When compared to the backtesting, the live trading account does not reveal similar results. Drawdowns are x7 times higher. GPS Forex Robot is an EA you may be nervous about.