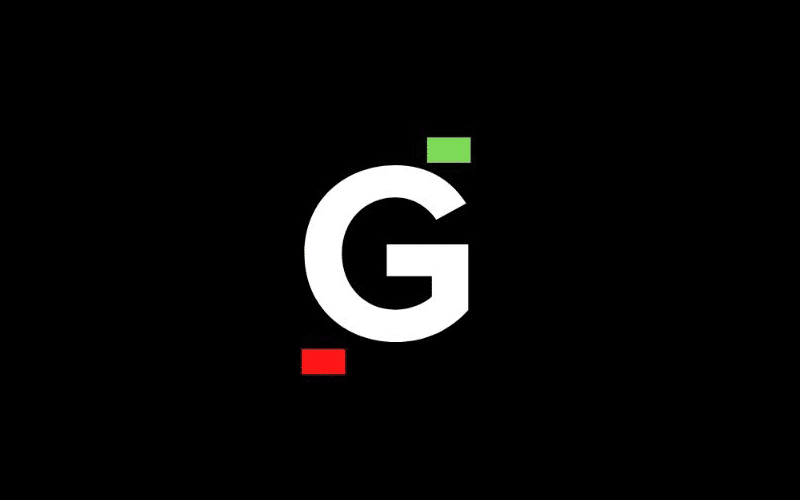 The robot has a weird presentation that provides not so much information about how the system functions. The main claim is "Galileo FX: 100% automated trading software." There are some additional claims like automatic trading 24/5, 60+ settings, support, and so on.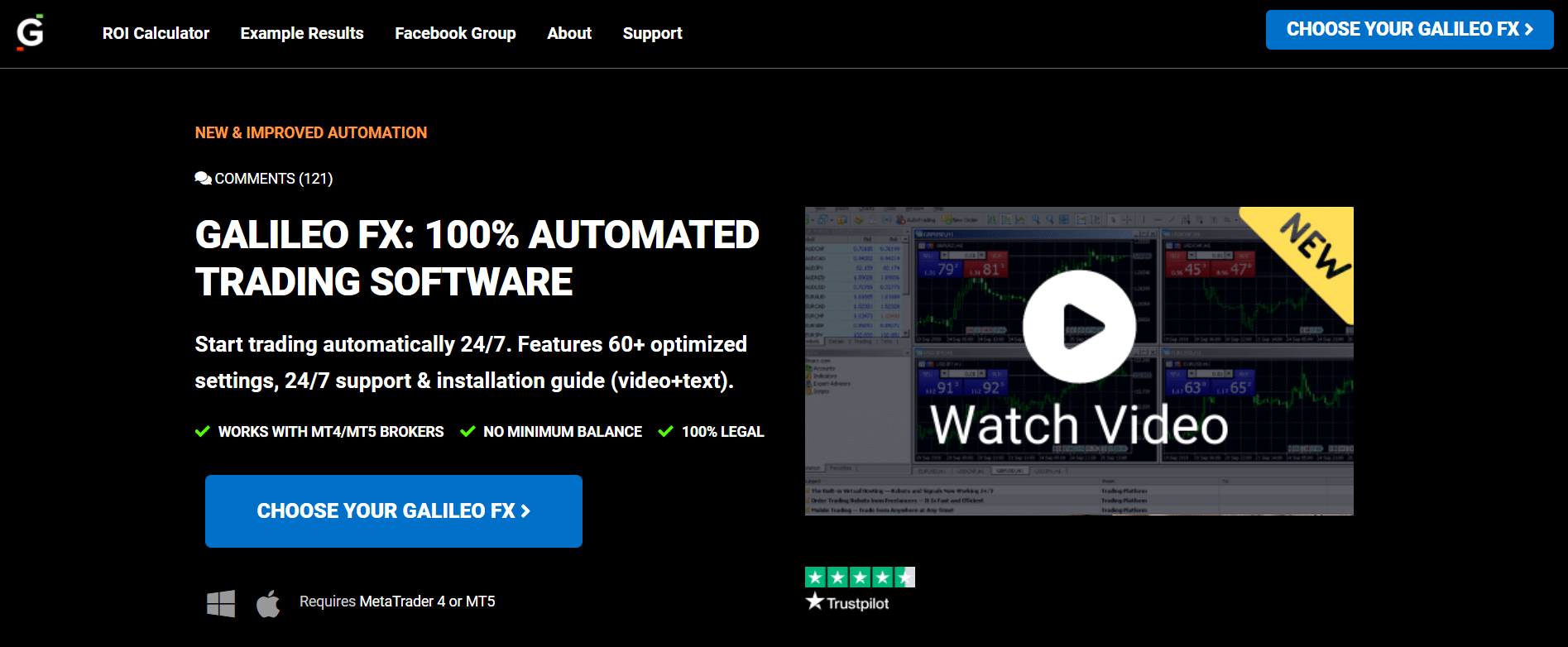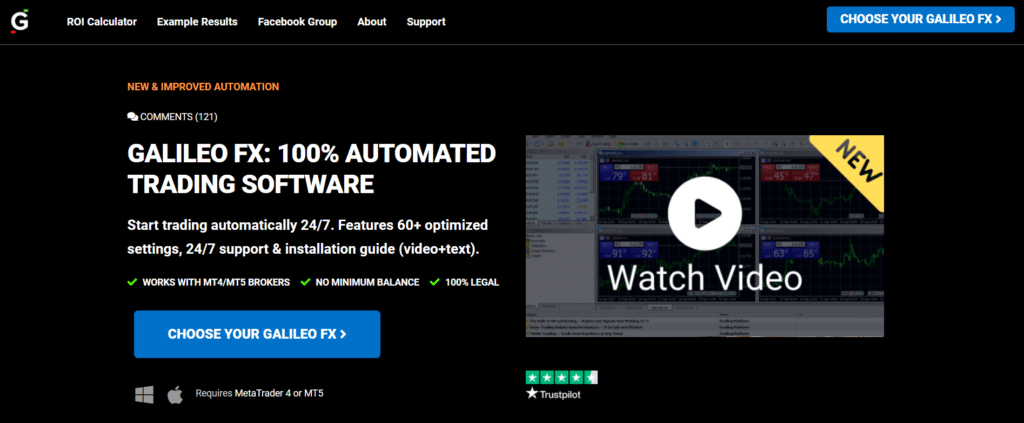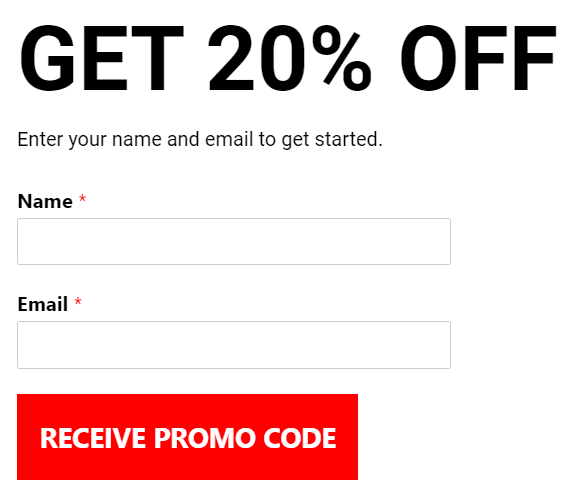 Is Investing in Galileo FX a Good Decision?
We don't know because trading results were removed without a reason from the site, but they are available on Myfxbook. Is something going wrong? Time will show.
Company Profile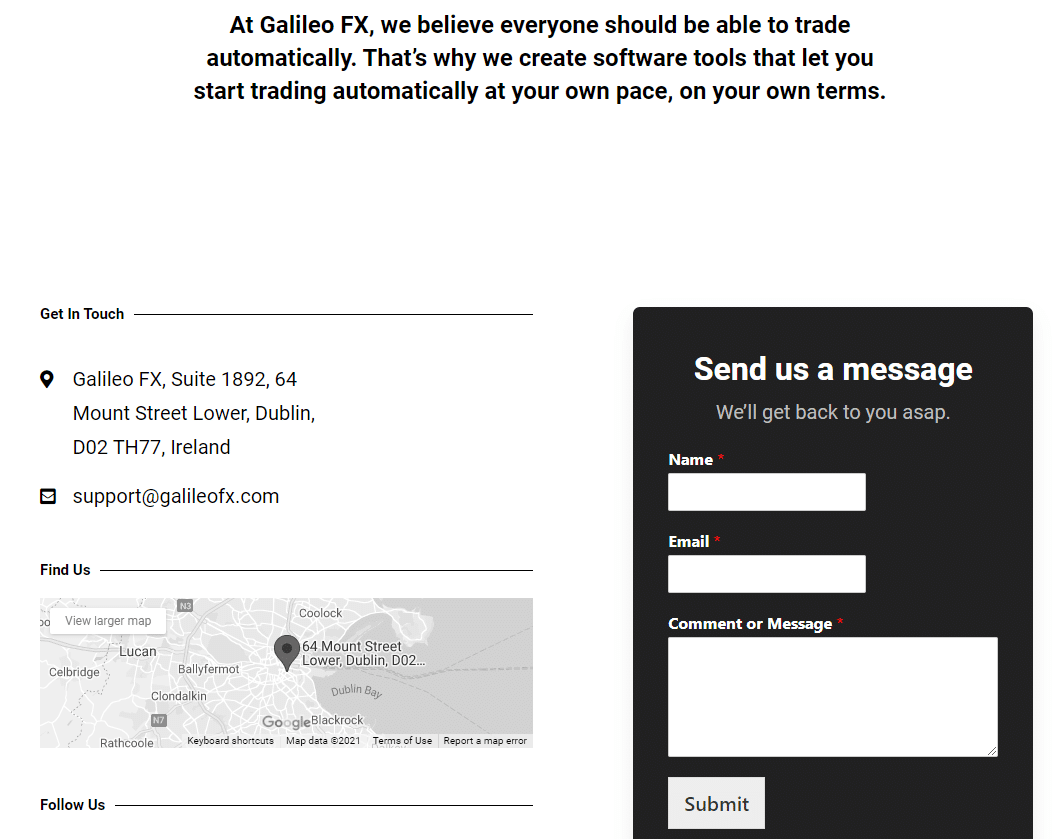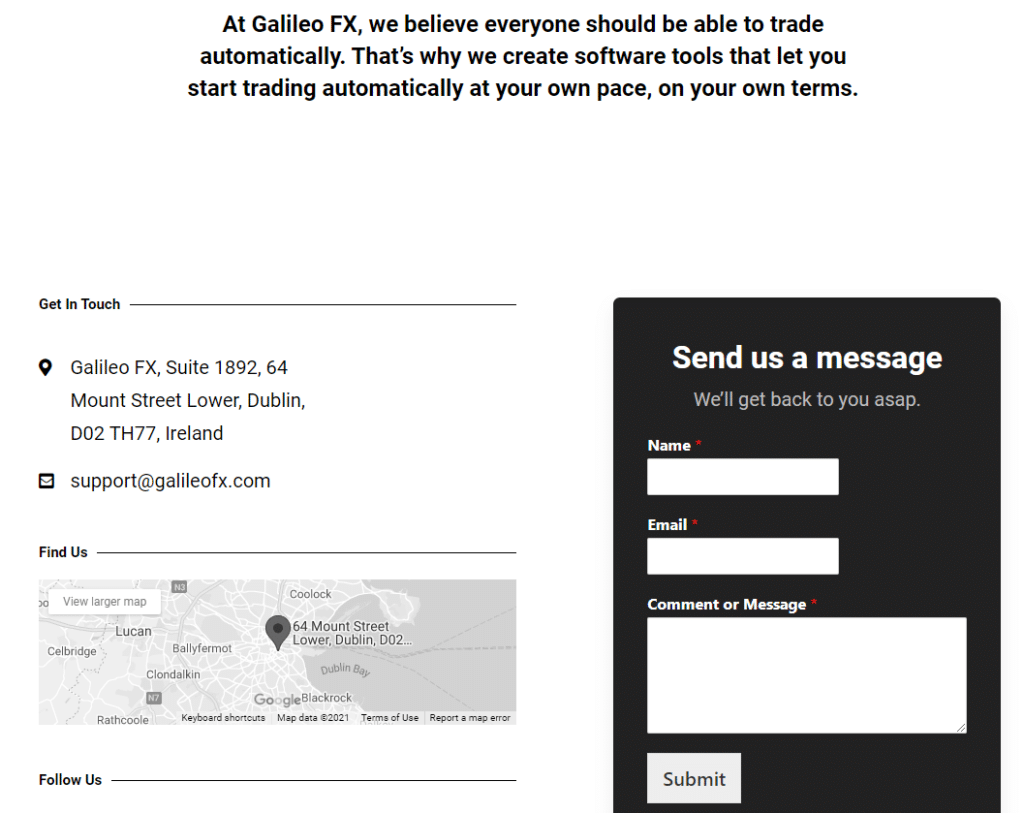 It's rare to see a company getting a real registration to provide services or Sell something on Forex.
Main Features
We have two lines of short statements with icons. It's far from great, but it's at least something.


It can trade for us automatically. We may do nothing in addition.
We have 60+ settings files in addition. Of course, people without experience can't handle them.
There's a user guide and support provided if needed.
The robot delivers in MT4 and MT5 versions.


We are free to use any broker we want. 
The robot can execute orders without pressure on the margin. 
The win rate is up to 96%. 
The money-management system places Stop Loss and Take Profit levels in order to protect orders from sharp market moves. 
The main time frame for trading is H1. 
We may close the order manually if we want. 
The robot was backtested on twelve brokers' data. 
The presentation doesn't inform us about strategies and what risk trading with them we are involved in.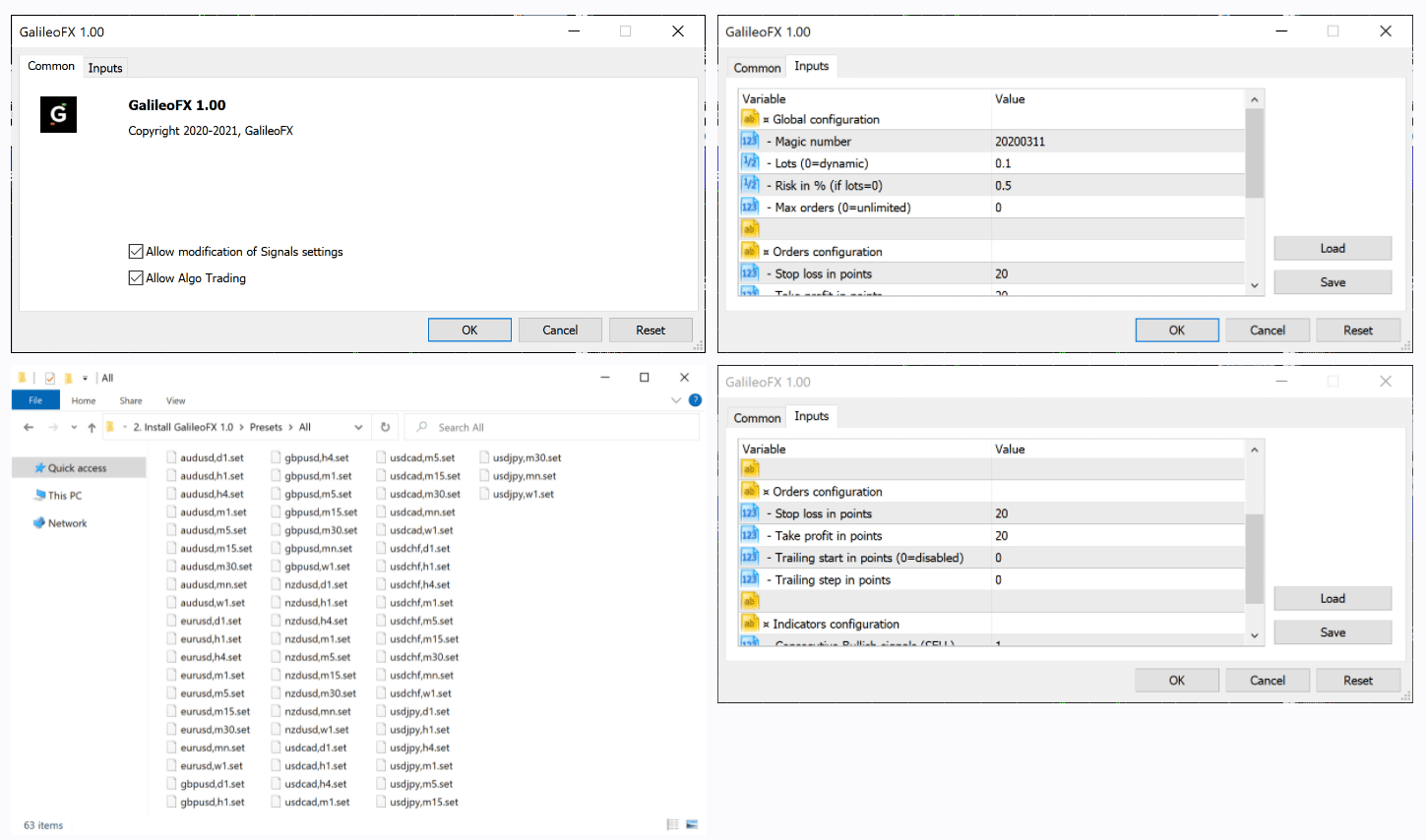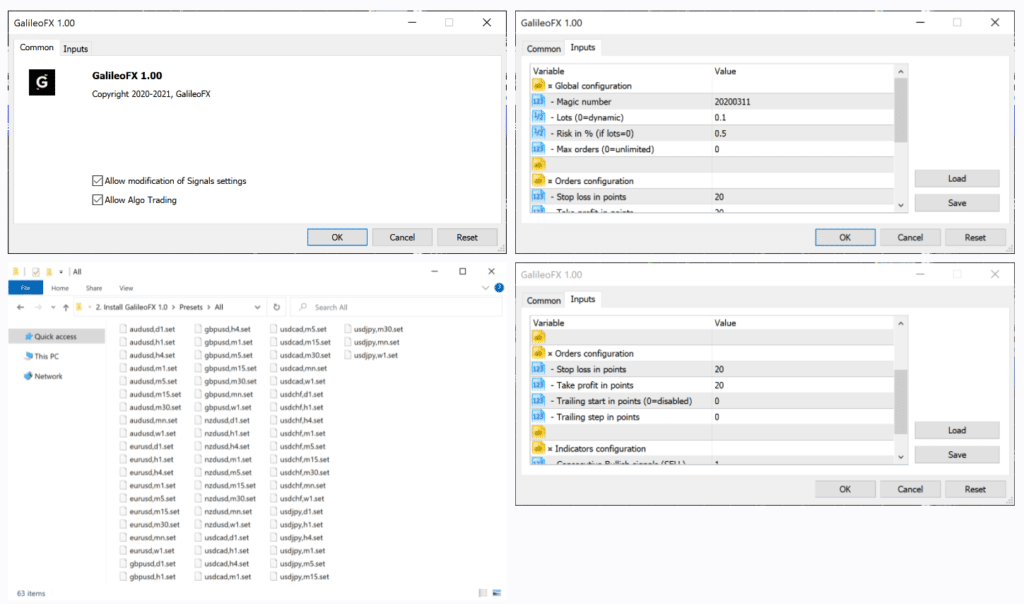 The system can be used on various types of accounts like Micro, Mini, and Standard. 
The advisor isn't sensitive to execution speed or spreads. So, we can work with it from home. 
Price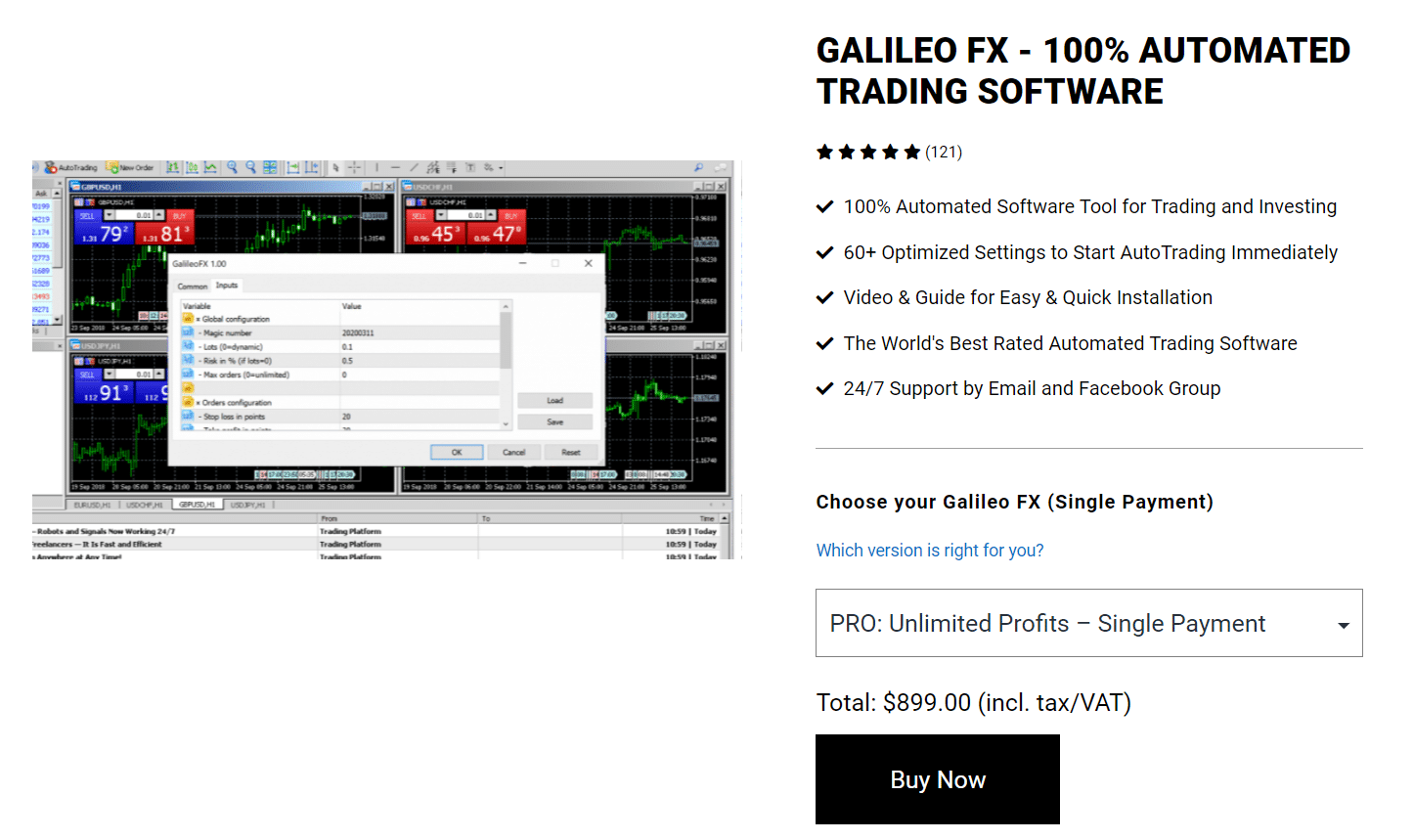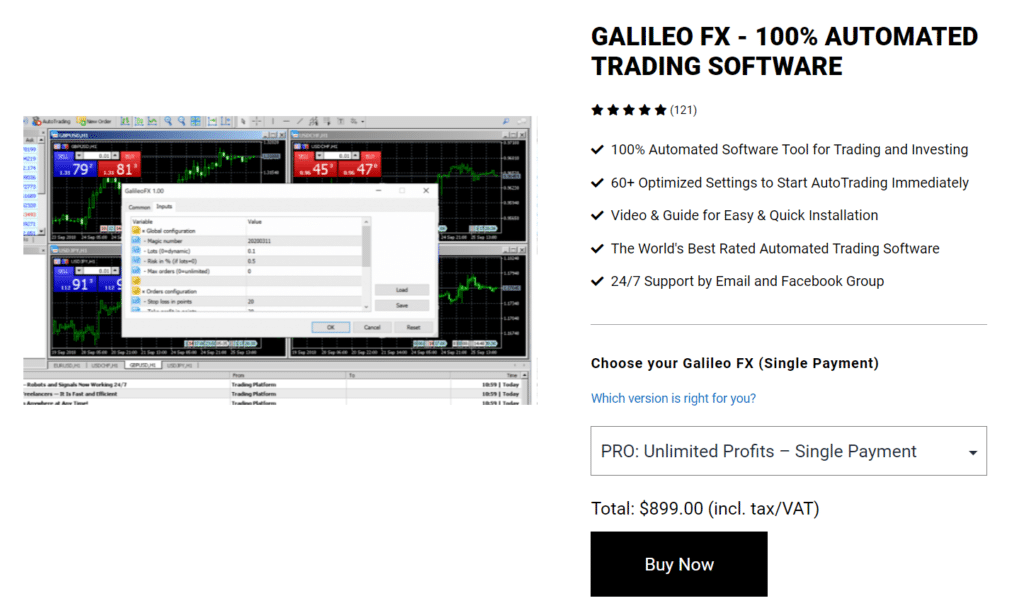 We have several packages available on the board. The personal pack can be bought for only $199. It allows obtaining a $1000 monthly profit. The maximum package is available for $399. It provides up to $5000 of the monthly profits. The unlimited pack that doesn't lock on profits costs $899. We have no refund policy covered if something goes wrong. It's a one-way ticket.
Trading Results
There's a video with some explanations of what results the backtest could achieve:
Galileo FX Backtest – EUR/USD ($4398 Total Net Profits) + Settings
Total Net Profit: $4398.40
Gross Profit: $5132.40
Gross Loss: -$734
Account Info:
Broker: IC Markets
Platform: MT5
Version: Galileo FX Pro
Period: 1 Jan – 11 Jun 2021
Timeframe: H1
Settings:
Lots = 0 (dynamic)
Risk = 0.5
Max Orders = 0
Stop Loss = 0
Take Profit = 1000
Trailing Start = 0
Trailing Stop = 0
Consecutive Bullish Signals = 9
Consecutive Bearish Signals = 9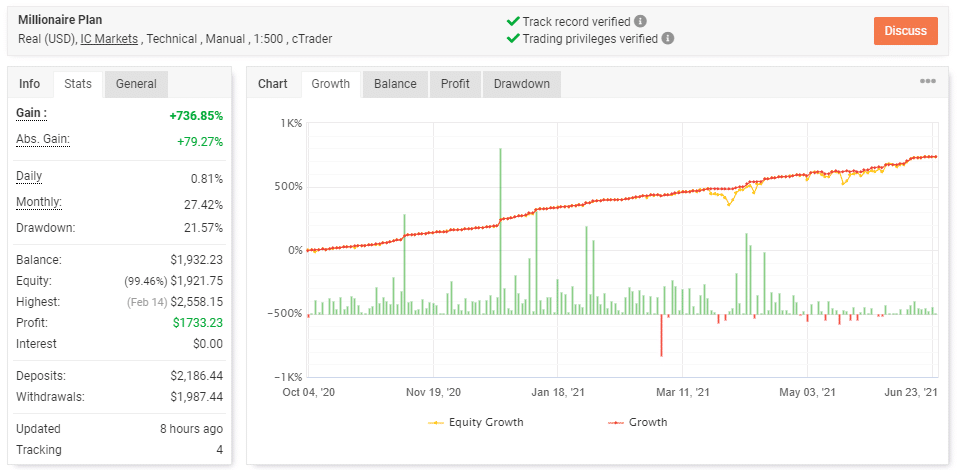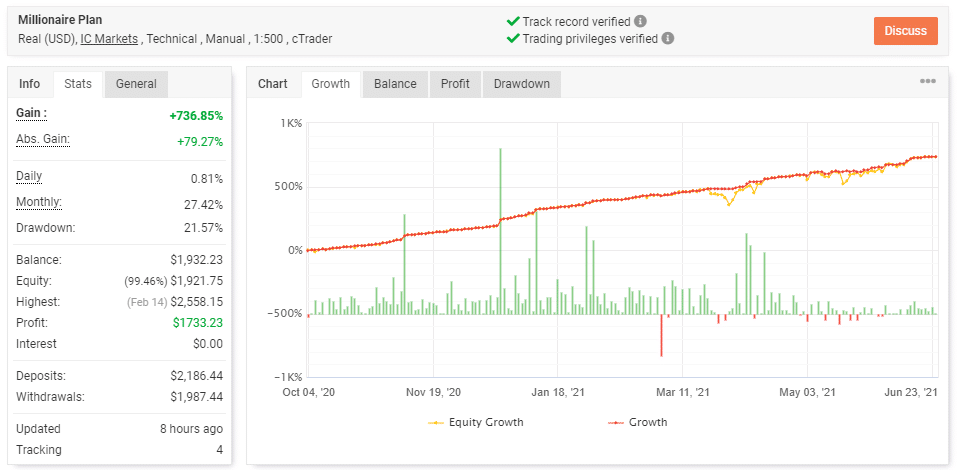 We have a link on the robot running on a real account on IC Markets. For some reason the dev deleted this trading account from his website. Oddly. There is no explanation what the reason for this was.
This is a real USD account running on cTrader platform. The leverage is 1:500. The account has a verified track record and verified trading privileges. It was created on October 04, 2020, deposited at $2186, and withdrawn at $1987. The absolute gain has amounted to 736.85%. An average monthly gain is 27.42%. The maximum drawdown is 21.57%.


Galileo FX closed 1564 orders with 14,612 pips. An average win is 12.74 pips when an average loss is -8.93 pips. The accuracy rate is 87% for Longs and 80 % for Shorts. An average trade length is fourteen hours and fifteen minutes. The Profit Factor is 4.18.


The system opens orders on three symbols, but the only traded currency pair is XAGUSD.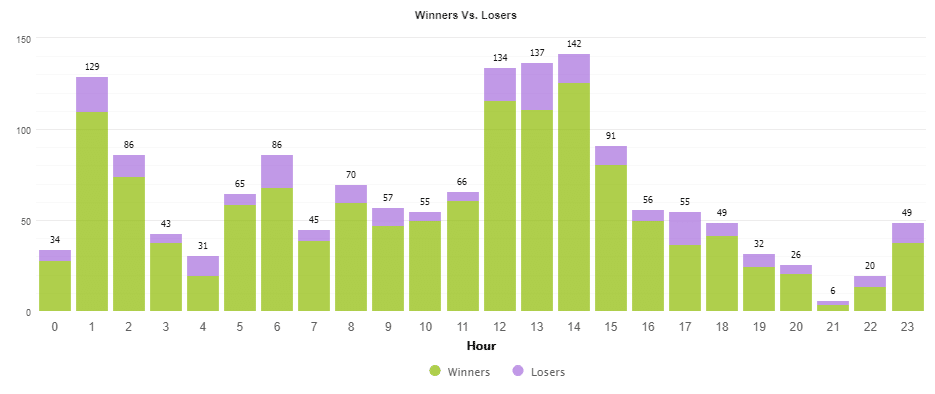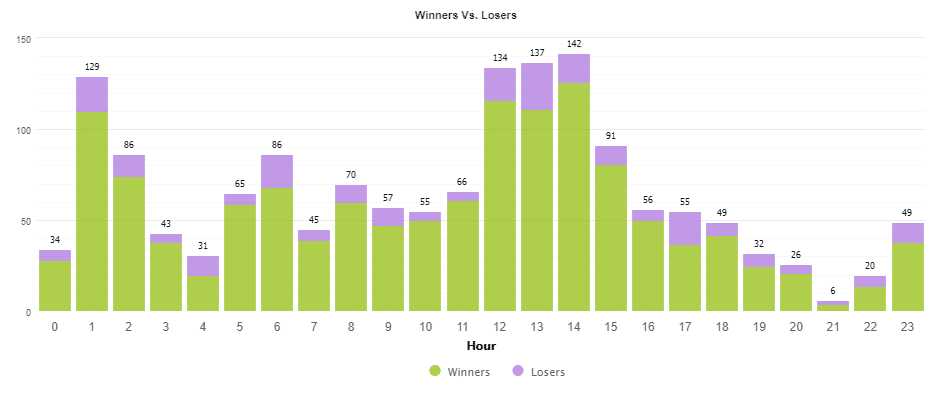 The advisor trades European trading hours and the opening of the Australian trading session.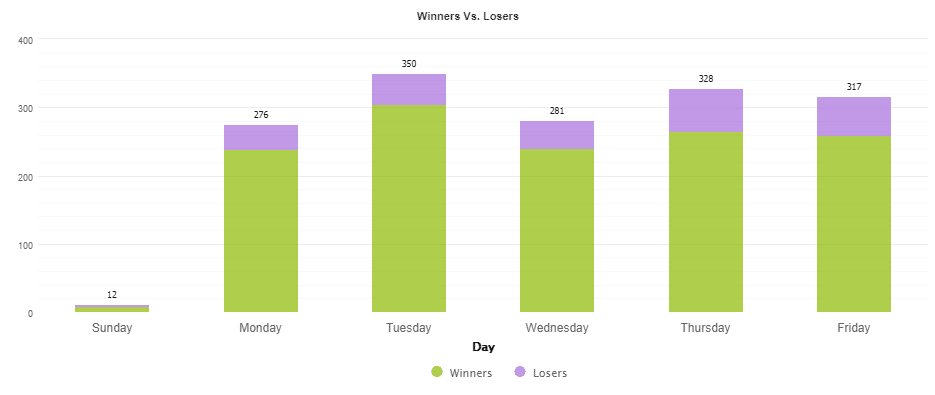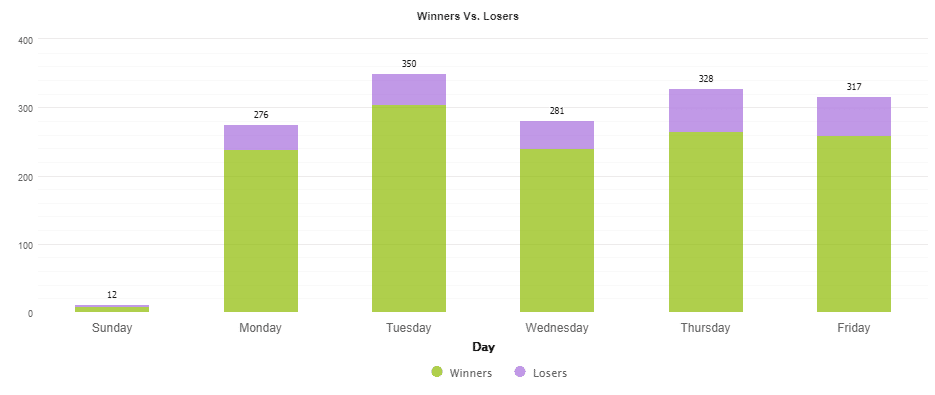 It's weird to see Wednesday among the less traded days (281 orders) when the most traded is Tuesday (350).


The advisor runs the account with low risks.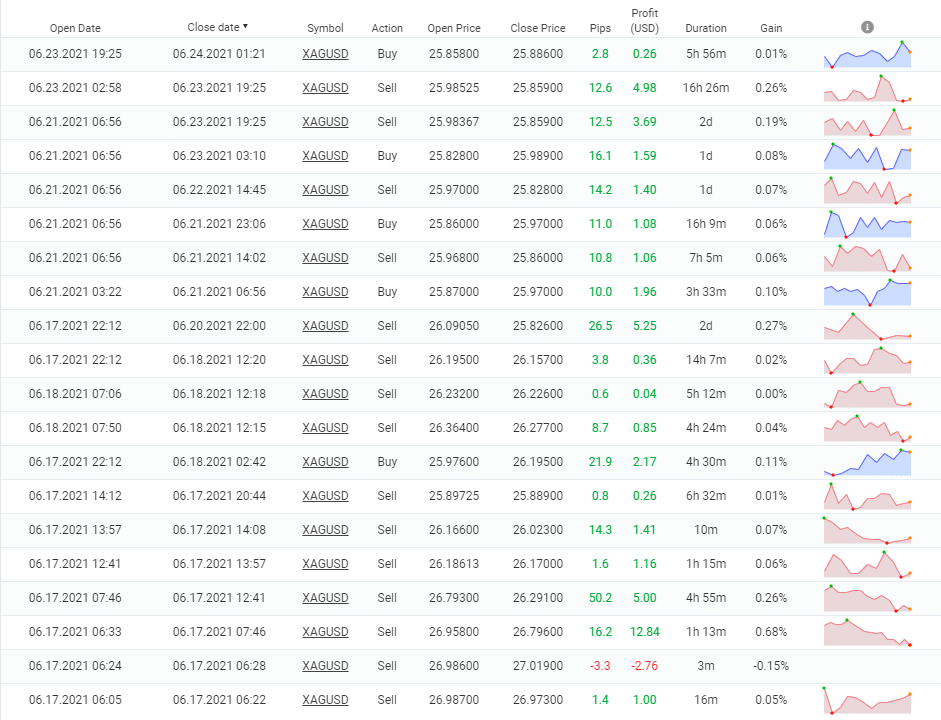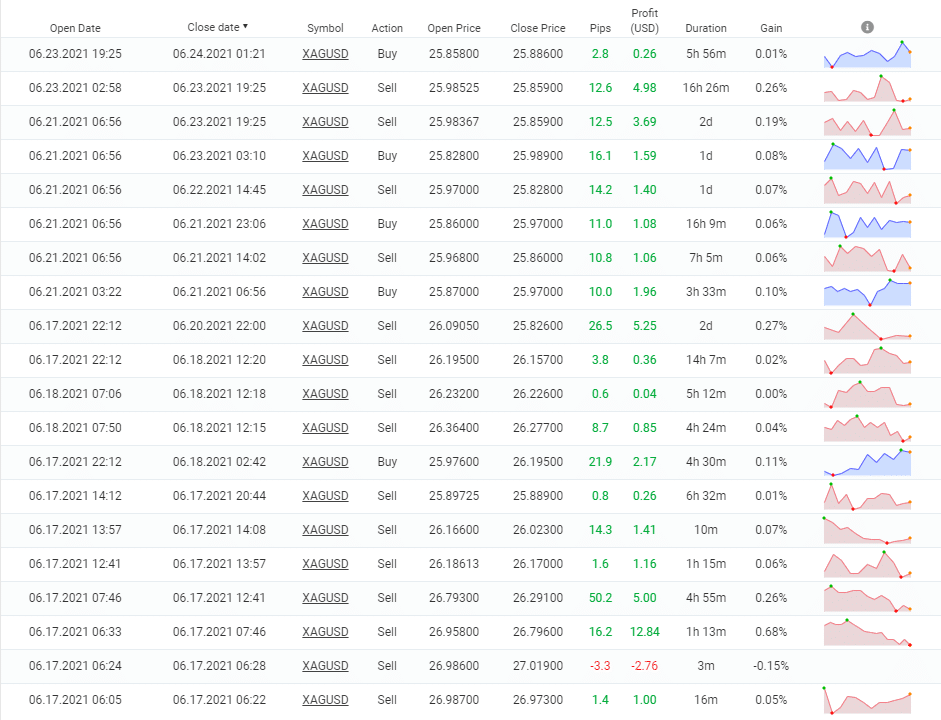 From the last 20 deals, 19 were closed with profits.


The monthly profits vary depending on the month. It looks like June 2021 will be closed with bigger profits than May 2021.
People Feedback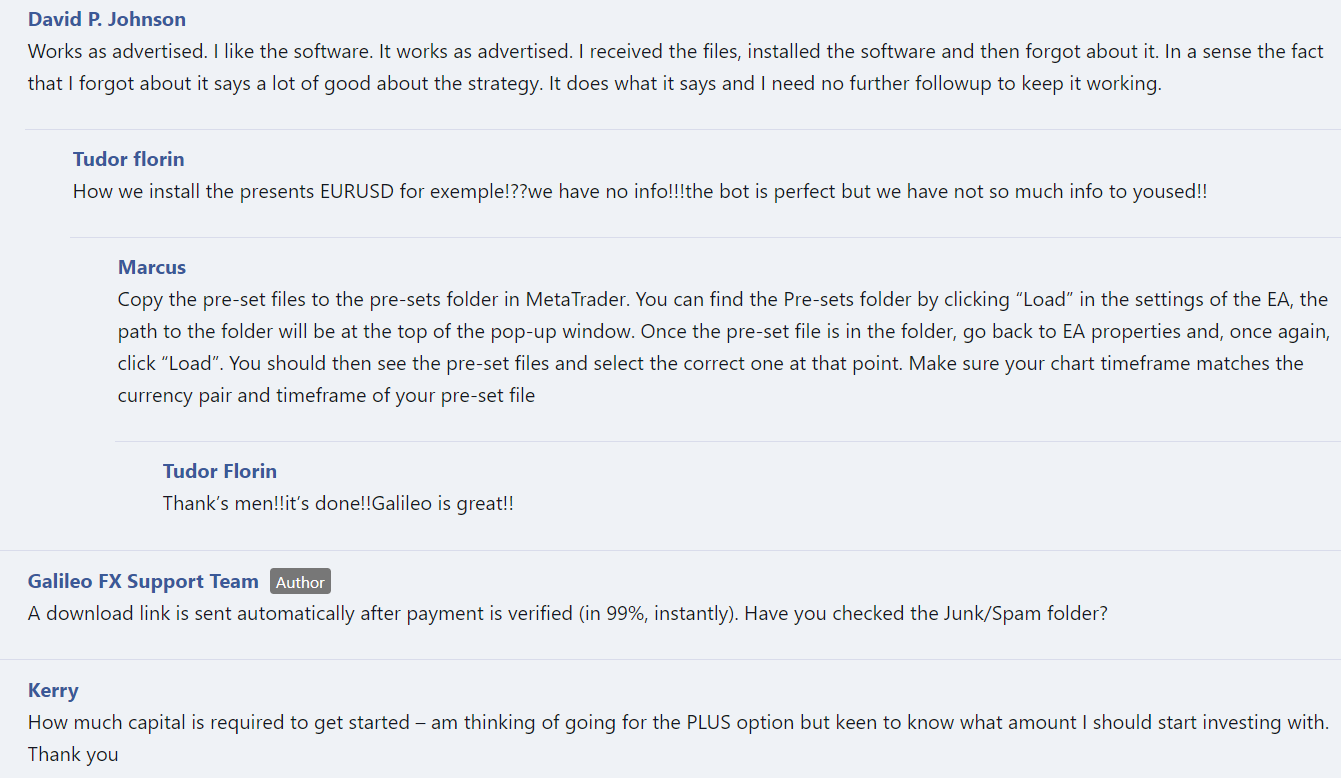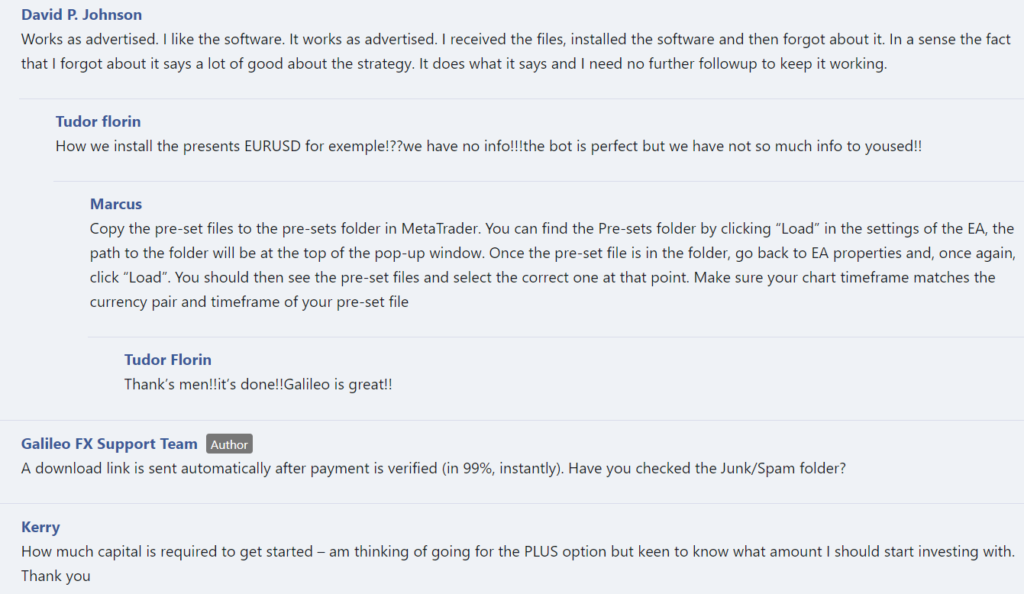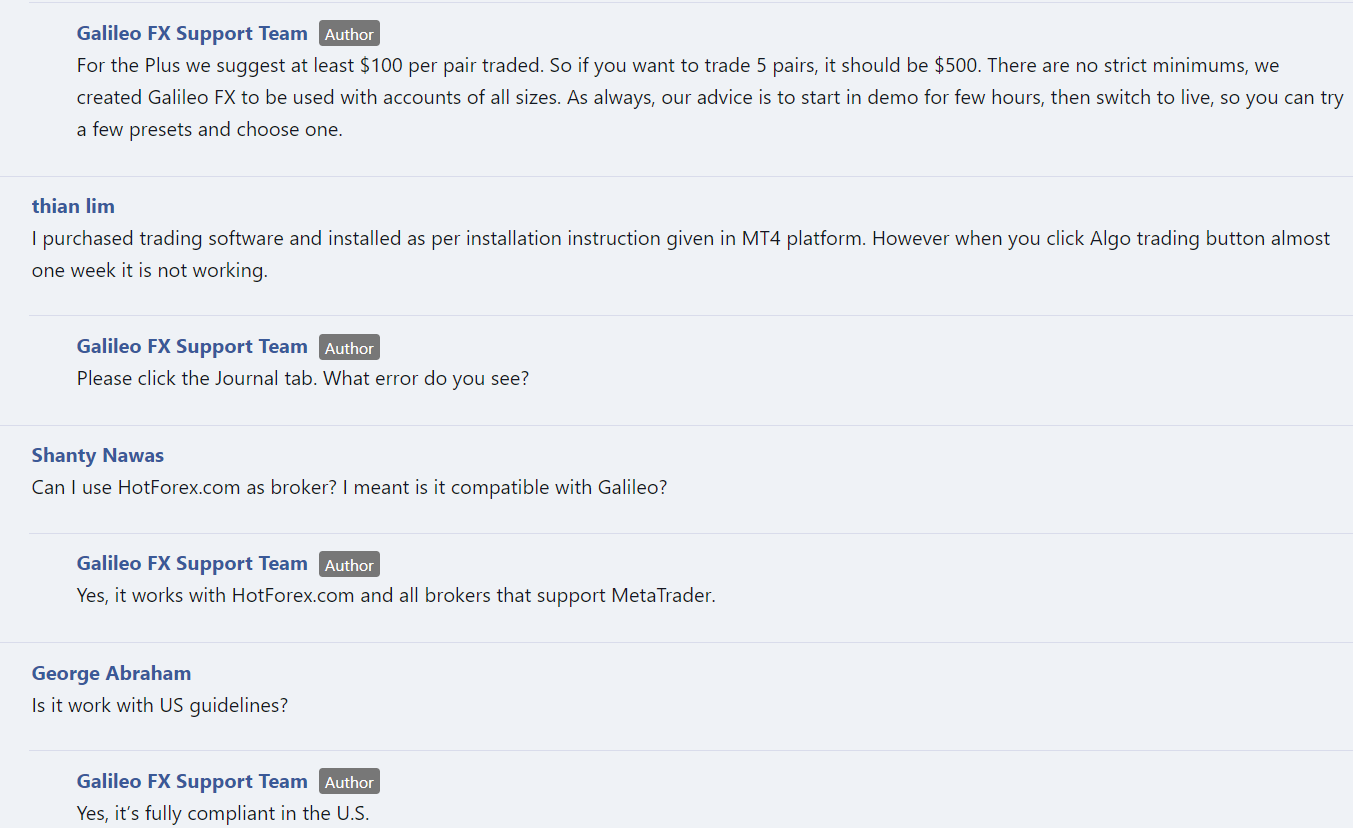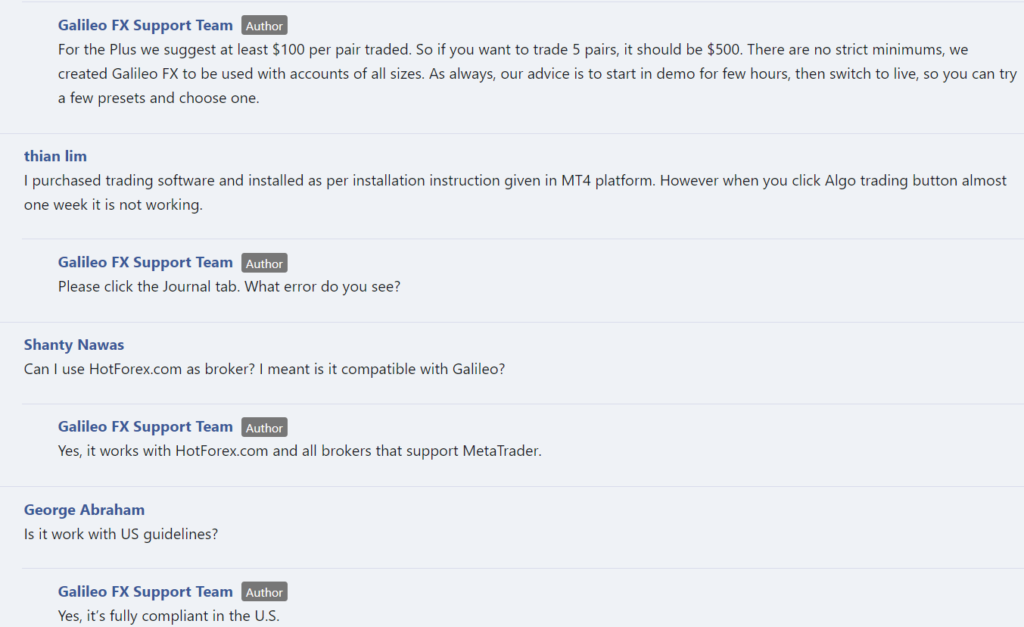 We have a part of the presentation where people can write their comments. We can't be sure that all of this is not a game.
Summing Up
Strategy – score (2/10)
Functionality & Features  – score (4/10)
Trading Results – score (4/10)
Reliability – score (3/10)
Pricing – score (2/10)
Conclusion
Galileo FX is a trading advisor that has verified results only for a single currency pair – XAGUSD when the backtest told us that the system was well tested on the EURUSD cross pair. It looks like a miscommunication. If we add to this the fact that the system is delivered without a refund policy, it looks like not the best option to work within 2021.